I wanted to text Cerita to let her know that we arrived to the guesthouse, but it appears that Verizon doesn't have any cell coverage in Kenton. If you're looking for a place to stay in the Oklahoma panhandle, you're probably one who can manage without your cell phone for a few days anyway. The guesthouse is a perfect compliment to getting away for the weekend. Bring your own food and there is everything else you need here. Grill up some steaks for dinner, drink some beers on the front porch and watch the sun go down and make sure you stay up late enough to see the stars, very few places in America can you get a better night time picture of the sky. Cerita and Eddie are great hosts, if you're ever in the area and need a place to unplug from everything, this is your place. 100% recommendation!
Kevin
2016-06-13T00:00:00Z
I needed some peaceful downtime and knew I was at the right place when a flock of wild turkeys visited me at the front door. The hosts were very nice, beds comfy and the house had everything one needed. A beautiful hiking spot located in a beautiful secluded valley.
James
2016-07-09T00:00:00Z
My husband and I stayed here two nights while visiting the area to hike Black Mesa, the state's highest point. The area is very remote and quite beautiful. This home can accommodate a lot of people and was more than enough for two adults and two dogs. The kitchen had everything we needed and we found the home very relaxing. Cerita was easy to reach and communicate with. The best part was seeing the huge expanse of stars, clearly on display!
Laura
2016-12-29T00:00:00Z
Our stay at the guest house was great! We stopped there on the way back to Tulsa from Colorado. We wanted to stay somewhere other than a typical hotel off the interstate. We took the back roads and saw some amazing country. Beautiful part of Oklahoma that most don't see. I've never seen so many stars in my life!
Lindsey
2017-01-02T00:00:00Z
Cerita and Eddie were such wonderful and flexible hosts. We needed to adjust our reservation by one day, and they happily did so with very little notice. Their spacious home allowed us to spend some much needed time relaxing and resting after a week of camping on the ground. Thank you Cerita and Eddie for sharing your amazing home with us.
Susan
2017-03-16T00:00:00Z
The stay was great! Really cool place to have discovered. Everything was nice, in order, and felt very homey. I do intend on going back.
Matt
2016-05-15T00:00:00Z
This was a lovely place to stay, and it felt like we were staying at a relative's house who had left for the weekend. Everything was just as pictured, and the house was extremely comfortable and roomy. The view was amazing. We enjoyed the first night so much that we asked to stay another night, and Cerita was very nice to accommodate us. She was quick to respond to emails with us. She even gave us directions to a few places to visit that we didn't previously have details on or didn't even know about! So we had such a great time. This is a great location to stay while visiting Oklahoma and surrounding spots in other states. We didn't want to leave.
Cathleen
2015-07-26T00:00:00Z
Cerita & her husband were unable to be nearby due to a family celebration. Never the less, she emailed me about the trip and kept in touch by email and phone to make sure we had found the Guest House and that all was well. This was an isolated home, so Certia cautioned us to have enough food for the evening & following morning. The house had a very friendly outdoor cat that certainly made us feel welcome. All electronics [TV] use was clearly explained if we'd wanted to use them. We preferred sitting on the front porch & watching the cows in the field & listen to bird songs. We were so pleased to stay at this Guest House as it was close to our hike at Black Mesa Nature Preserve near Kenton, OK. We very much enjoyed the restful country evening. They had a brochure for Capulin Volcano, not far away. So we took off driving through a very beautiful country road alongside the Cimmeron River on NM 456 highway & about 17 miles of dirt road to the volcano.
Beverly
2015-05-03T00:00:00Z
Tipo de Quarto
Casa inteira/apto
---
Tipo de Imóvel
Casa
---
Acomoda
12
---
Quartos
Kenton, Oklahoma, Estados Unidos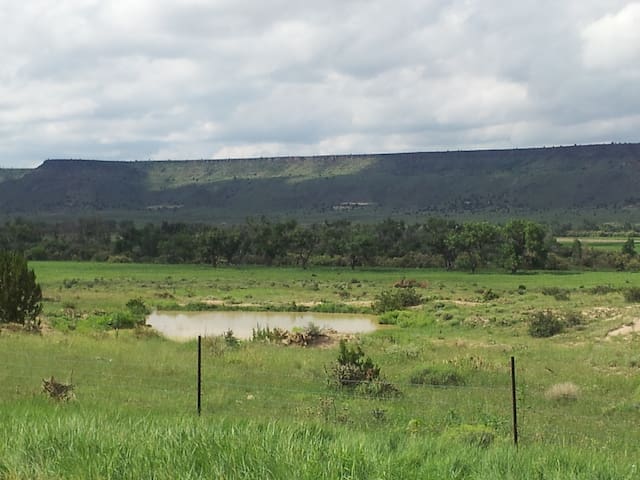 Insira as datas para ver o preço total. Taxas adicionais aplicáveis. Podem ser adicionados impostos.