Una casa perfectamente reformada en un lugar ideal para encontrarte con la naturaleza, en pleno picos de Europa. A 1hora de León e Ideal para Esquiar en el Puerto de san Isidro(15 min) una de las estaciones más baratas de España pero muy completa. El senderismo es casi obligado por sus múltiples rutas aunque hay zonas de escalada. Al estar en mitad de la montaña y con el río Porma, también se puede realizar barranquismo, rafting o vía ferrata entre otras. Esta situado a 50 min al norte de León.
La casa en si esta genial, es nueva remodelada y se le saco la piedra para dar un ambiente más rústico y vistoso. Tiene alrededor de 170 metros cuadrados. Pero lo mejor es el paisaje, indescriptible se puede disfrutar en todas las temporadas aunque personalmente para mi lo mejor es otoño e invierno. Y no se puede olvidar las delicias del Bar-Restaurante Madrid, una visita indispensable para los paladares exigentes.. Mi alojamiento es bueno para parejas, aventureros y familias (con hijos).
La zona es muy tranquila, pero plagada de bares, tienes 9 bares para un pueblo de 300 habitantes!
Boa casa, espaçosa, bom (URL HIDDEN) restaurantes e mercados perto. Recomendo!
Ana
2017-03-05T00:00:00Z
Todo perfecto, cumple muy bien con lo que ofrece.
Diego
2017-02-13T00:00:00Z
La casa esta genial. Totalmente equipada muy calentita. No necesitas llevar casi nada: secador, champú, detergente lavadora y lavavajillas, aceite, sal....lo único que le falta es el tostador. Muy acogedora
monica
2017-02-28T00:00:00Z
La casa está decorada con mucho gusto y perfectamente equipada. No hemos echado en falta nada. The house is quite pretty and fully equiped. We have missed nothing
Jaime
2017-03-20T00:00:00Z
Excelente casa. Cuidado hasta el más mínimo detalle. Genial comunicación con el anfitrión. Recomendado
Marcos
2017-02-18T00:00:00Z
Tipo de Quarto
Casa inteira/apto
---
Tipo de Imóvel
Casa
---
Acomoda
5
---
Quartos
Puebla de Lillo, Castilla y León, Espanha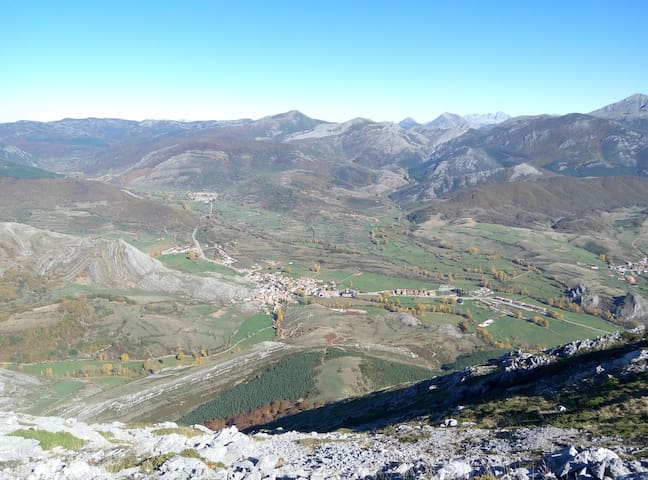 Casa acogedora, íntima, llena del encanto del pasado, pero con las comodidades y confort de hoy en día. La piedra y la madera son los elementos básicos. Tiene dos habitaciones con una cama de 135cm. en una y dos camas de 90 cm. en la otra habitación, cuarto de baño completo y cocina equipada con espacio para comerdor.
Tipo de Quarto
Casa/apto inteiro
---
Tipo de Imóvel
Casa
---
Acomoda
4
---
Quartos
Valdepiélago, Castilla y León, Espanha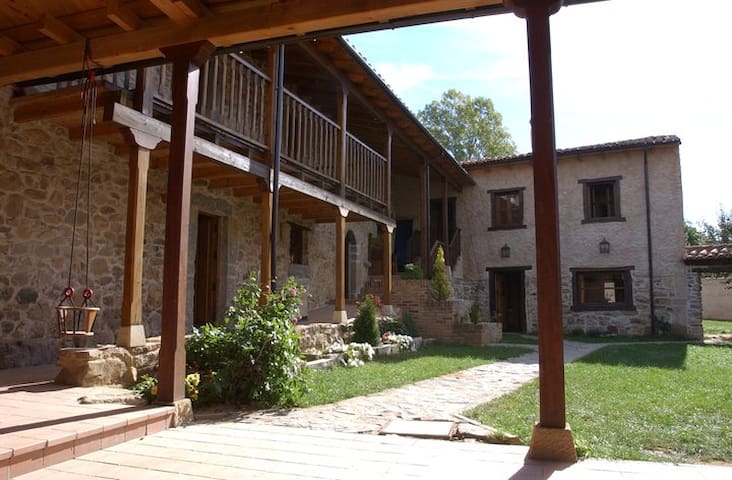 Village house with 5 double rooms with private bathrooms in the Natural Park Place. The house is shared. The environment offers an incredible setting, surrounded by nature, where you can appreciate and observe life in a rural setting, relax and enjoy.
Muy atentos y encantadores. Ubicación perfecta en un entorno maravilloso. El pueblo y su gente, genial. Estuvimos encantados. Repetiremos seguro!
Helga
2016-09-18T00:00:00Z
Excelentes vacaciones gracias a la hospitabilidad de Yas, Tamara, Chelo y Humberto. Nos han hecho sentir parte de su casa y del pueblo como si hubiesemos vivido toda la vida ahi. El paisaje y el entorno no pueden ser mejores, tranquilidad, paz, aire puro y mil cosas por hacer en la zona, algunas las pudimos hacer, las que no nos alcanzó el tiempo las dejamos para el año que viene.
Javier
2016-08-27T00:00:00Z
Tipo de Quarto
Quarto privado
---
Tipo de Imóvel
Casa
---
Acomoda
2
---
Quartos
Sobrefoz, Principado de Asturias, ES, asturias, Espanha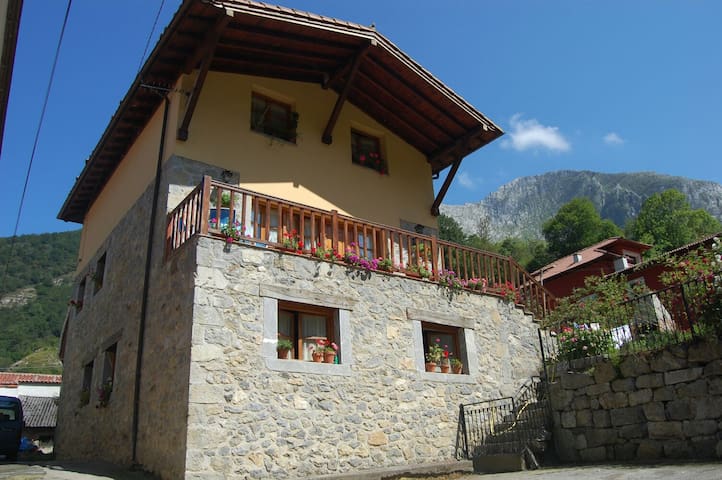 Casa Rural sitiada en el Parque de Riaño y Mampodre, junto al Parque Nacional de Picos de Europa. Puede realizar actividades como senderismo, escalada, micología, raquetas de nieve, paseos en barco, montañismo, visitar museos, ver La Berrea, esquiar...
Si te gusta la naturaleza, está es tu casa, tiene capacidad para 10 personas y dispone de 2 camas supletorias y cuna
Tipo de Quarto
Casa inteira/apto
---
Tipo de Imóvel
Casa
---
Acomoda
10
---
Quartos
Liegos, Castilla y León, Espanha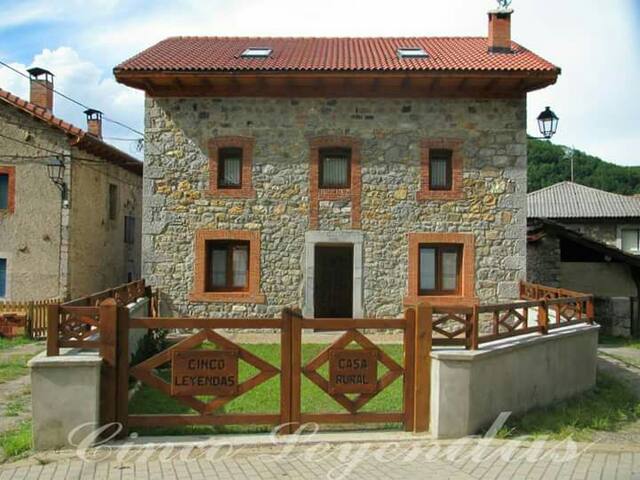 Moradia localizada em Llamera, uma pequena aldeia a 5 km de Boñar no vale do Alto Porma, perto do Museu Valdehuesa e Mineração Sabero, 40 minutos, na fronteira com o pântano Vegamian, a estância de Inverno de S é . Isidro-Fuentes de Invierno.
Casa com sala, cozinha, três quartos: um com cama de casal e outro com duas camas de solteiro cada, uma casa de banho. A pacata aldeia de Llamera tem uma vista espectacular de Peña Valdorria, Pico Cueto, Bonar Valley. E é um trânsito de pequenas e médias caminhos de viagem.
personas verdaderamente attentas y preocupadas por el bienestar de nosotros , casa muy agradable y region maravillosa si quieren pasar unos dias de tranquilidad y visitar es fantastico les recominedo este lugar
ANGELA
2016-08-02T00:00:00Z
Todo genial, repetiremos
Arantxa
2016-06-24T00:00:00Z
A great welcome. A great house, all facilities included a home from home. God storage for our bicycles. Many thanks.
Louise
2016-10-13T00:00:00Z
Jesdús Alberto se ha portado de una forma extraordinaria haciendo todo lo posible para que me sintiera de lo mejor. Una persona recomendable.
Guille
2016-08-19T00:00:00Z
La casa tal y como aparece en las fotos. Tuvimos una estancia muy agradable, no nos faltó de nada : )
Pino
2016-08-07T00:00:00Z
Lo recomiendo 100% anfitrión encantador y una casa maravillosa, en un entorno muy tranquilo. Una experiencia única.
Lorena
2016-08-24T00:00:00Z
El alojamiento es exactamente como se describe. Muy buena atención.
Pablo
2016-10-31T00:00:00Z
Fue una estancia muy cómoda, me ha sorprendido el baño y el salón-cocina, sin duda lo mejor de la casa. Por ponerle alguna pega, la estancia está algo lejos de la estación de esquí de San Isidro, el motivo de nuestro viaje.
Alba
2017-02-13T00:00:00Z
Tipo de Quarto
Casa/apto inteiro
---
Tipo de Imóvel
Casa
---
Acomoda
4
---
Quartos
Llamera, Castilla y León, Espanha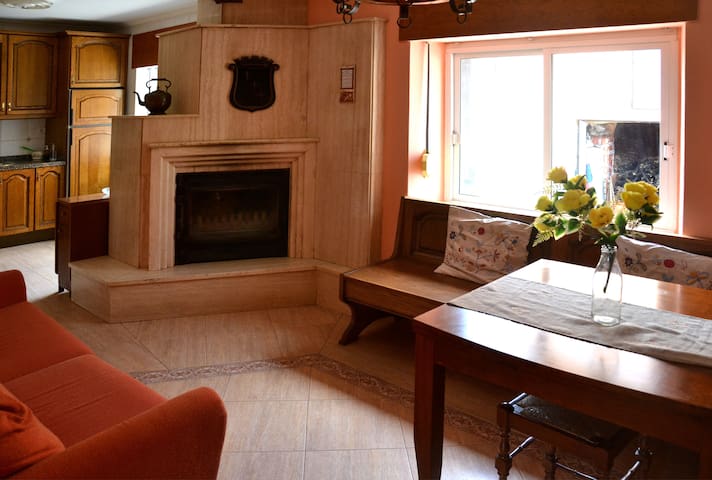 Disfruta de esta casa de nueva construcción en el año 2.001 y de los Parques Nacional y Regional de Picos de Europa Remarcar su calidad de construcción y su gran aislamiento térmico y acústico debido a su estructura de hormigón y el grosor de sus paredes internas y externas. El aspecto exterior sique un diseño tradicional, con terrazas tipicas de la zona y reutilizando piedra y madera de antigüas casas de la zona. Dispone de jardín y zonas de ocio aisladas con muros de piedra y forja.
Within the Regional Park of Picos de Europa, is newly built home offers traditional style (stone and wood) fully furnished which has large bright rooms. It has 4 bedrooms each with ensuite bathroom, and 2 bedrooms have large terraces below deck, spacious lounge, kitchen with all appliances, hall, garage, parking for two cars and enclosed garden with masonry wall and wrought iron. Located in the Shire "Mountain of Riano" in the village of Buron (Leon) small town rebuilt after Riano Swamp where they are also at your disposal two bars, a hostel and a restaurant. In the middle of the Regional Park of Picos de Europa, between the Picos de Manpodre, Burín (Yordas) and near Peña Santa and other Picos de Europa, is of particular value to enjoy nature at its best: High Mountain, rich fauna , extensive indigenous forests and beech, oak, yew, holly ... where rivers are born Esla and Sella and where you can find flora and exceptionally preserved. In summer festivals are common in villages and a regular good time.
La casa está en el centro del pequeño pueblo de Burón, provincia de León, desaparecido bajo las aguas del Pantano de Riaño y posteriormente reconstruido en sus orillas. Un lugar especial para disfrutar de la naturaleza que encontrarás excepcionalmente conservada. En el pueblo de Burón hay dos bares, un hostal, un restaurante y se encuentra en medio de un espacioso valle con hermosos ríos y extensos bosques milenariosque con otros seis bonitos pueblos y rodeado de montañas de más de 2.000 metros (Mampodre, Burín-Yordas, Peña Ten). A solo 13 km. tenemos los Picos de Europa y a 20 Km de la ruta del Cares. Estamos también cerca del barco(catañarán) con el que podrás recorrer el impresionante pantano de Riaño, de estaciones de esquí (San Isidro y San Glorio) y a poco más de 1 hora en coche del teñeférico de Fuente Dé y de las mejores playas del cantábrico. Otra faceta no menos importante es el poder practicar alpinismo, senderismo, esquí, piragüismo, micología, observación de fauna (osos, lobos, rebecos, corzos, venados, aguilas…), bosques milenarios de hayas, robles, tejos, acebos... En 15 km a la redonda de Burón nacen los rios más emblemáticos del norte de España: Esla, Sella, Nalón y Cares. En verano son muy frecuentes las fiestas populares y ciertas manifestaciones culturales como la típica "lucha Leonesa"
Habitação localizada numa aldeia de montanha, que entendemos adequada para conhecer os Picos da Europa. Excelente comodidade, com quatro quartos com casa de banho privativa, e uma cozinha bem equipada com tudo o que é necessário. Varandas com vistas bonitas sobre as montanhas. A casa dispõe de roupa de cama e toalhas em todos os quartos, e tudo estava impecavelmente limpo. As fotografias e o conteúdo do anúncio correspondem à realidade da habitação. Excelente recepção pelo proprietário José Carlos, muito simpático e disponível para ajudar. Aldeia situada perto da albufeira da barragem de Riano, e que nos permitiu conhecer espectaculares desfiladeiros, montanhas e vales, e ainda bonitas aldeias de montanha. Particular interesse, entre outros, para o desfiladeiro de Las Hermidas (rio Deva), o desfiladeiro do rio Sella, e sobretudo o desfiladeiro do rio Cares, com um espectacular trajecto pedonal. A localização da casa permitiu-nos, ainda, visitar Oviedo, Cangas de Oniz e Covadonga (nas Astúrias) e Potes e a região de Liébana (na Cantábria). Pudemos ainda conhecer o património arquitectónico, popular e religioso, algumas tradições e alguma gastronomia de toda esta região. Como apreciamos o sossego de umas férias na montanha, podendo observar a fauna e flora selvagens, rios e belas paisagens de vales e picos montanhosos, esta propriedade rural tem uma boa localização. E as características da habitação permitiram-nos uma estadia muito confortável.
Manuel
2016-08-14T00:00:00Z
After a million curves by motorcycle on perfect roads upon arrival in Buron, we found Carlos' house easily and we had a tremendous 'wauw' effect. What a wonderful place to stay. Carlos' and Marian's warm welcome helped amplify the effect. Wonderful people and excellent hosts. The bikes were parked in the private garage, out of side and protected against the weather. We were with a group of 3 and had the most beautiful rooms in the Picos. We stayed for 4 days and had a wonderful experience, much thanks to our two hosts.
William
2015-09-03T00:00:00Z
Excelente experiencia. La casa está reformada y limpísima. Bien equipada. La ubicación es buenísima para desconectar c vistas a las montañas en el pueblo de Buron. Los dueños súper atentos y amables. fuimos 2 parejas con 5 niños de 3 a 8 años, lo pasamos muy bien. Nos gustaría repetir en otoño es una zona q tiene mucho encanto. Gracias a Carlos y a su mujer x su acogida.
Felipe
2016-08-26T00:00:00Z
We were a group of 6, every couple had their private bathrooms which made getting ready in the morning very smooth! The house exceeded our expectations would recommend to anyone. Location also ideal if interested in visiting the Picos de Europa. Jose Carlos and his wife were lovely and very welcoming they would check in daily to see whether we needed anything. All the group loved the time we spent there! Highly recommend
Tessa
2015-09-23T00:00:00Z
Carlos et Mariam nous ont accueillis de façon adorable. La maison est magnifique, typique de la région, très confortable, permettant à chacun d'être indépendant. Nos hôtes ont été très disponibles pour répondre à nos demandes, qu'elles soient matérielles ou plus touristiques. L'environnement est superbe, avec une vue depuis les chambres extraordinaires. Nous avons regretté que le séjour soit trop court pour pouvoir faire tout ce que nous avions envie de découvrir. Nous avons pu malgré tout aller sur des sites incontournables, mais ce qui est agréable c'est que vu la localisation il est possible de partir randonner directement de la maison sans prendre forcément la voiture. Nous étions 6 tout le monde a été ravi de ce séjour.
Joëlle
2016-08-17T00:00:00Z
Buenas tardes viajeros, Carlos y familia son un encanto, atentos en todo momento nos han hecho sentir como en casa y eso que no es fácil porque viajábamos una buena tropa. La casa es tal cual la describen en el anuncio estando realmente muy bien equipada destacando sin duda alguna tres puntos esenciales : 1º el gran salón-cocina muy amplio e iluminado. 2º el hecho de que cada dormitorio tenga su cuarto de baño lo consideramos esencial y más viajando con tantos niños. 3º un precioso patio-jardín donde hemos disfrutado mucho. La zona donde está enclavada la casa es una pasada, teniendo un paraíso natural al alcance de la mano tomes la dirección que tomes. Sin duda recomiendo la casa a todo el que quiera disfrutar a tope de la naturaleza en una de las zonas más espectaculares de España. Muchas gracias Carlos y familia por hacernos pasar unos días fabulosos. Arriba León!!!!!!!!!!!!
Javi
2015-08-16T00:00:00Z
Tipo de Quarto
Casa inteira/apto
---
Tipo de Imóvel
Casa
---
Acomoda
9
---
Quartos
León, Castile and León, Espanha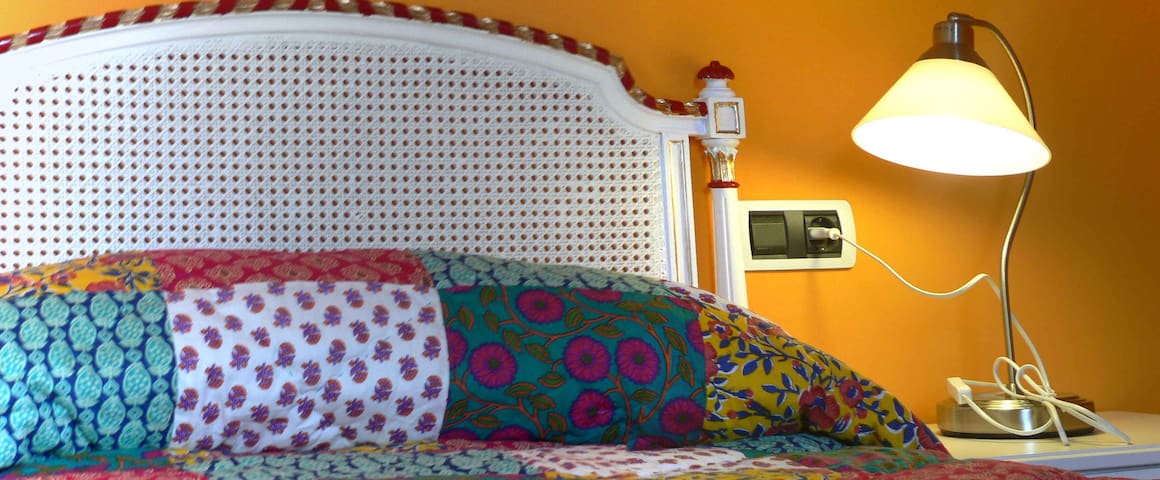 Mi alojamiento es bueno para parejas, aventureros, y familias (con hijos).
La casa está genial, es muy grande, la verdad es que nos impresiono a primera vista. La casa es muy bonita y tiene mucho detalles en la decoración. El pueblo es muy chiquitito y tranquilo, pero tiene muy buena comunicación con los pueblos de al lado, no más de 5 minutos en coche. En la casa disponíamos de todo.
Guadalupe
2016-08-15T00:00:00Z
Tipo de Quarto
Casa/apto inteiro
---
Tipo de Imóvel
Casa
---
Acomoda
10
---
Quartos
Ranedo de Curueño, Castilla y León, Espanha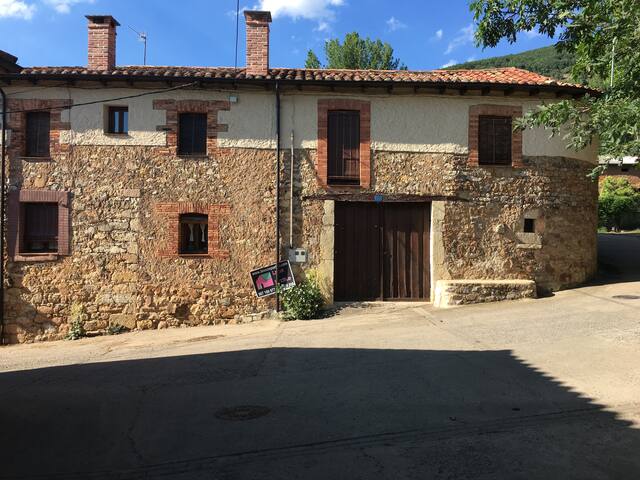 Casa de Aldea con 5 habitaciones dobles con baño privado, en el Parque Natural de Ponga. La casa se encuentra en una pequeña aldea en un entorno rural en plena naturaleza, donde relajarse y disfrutar del paisaje.
Tipo de Quarto
Quarto privado
---
Tipo de Imóvel
Casa
---
Acomoda
2
---
Quartos
Sobrefoz, Principado de Asturias, Espanha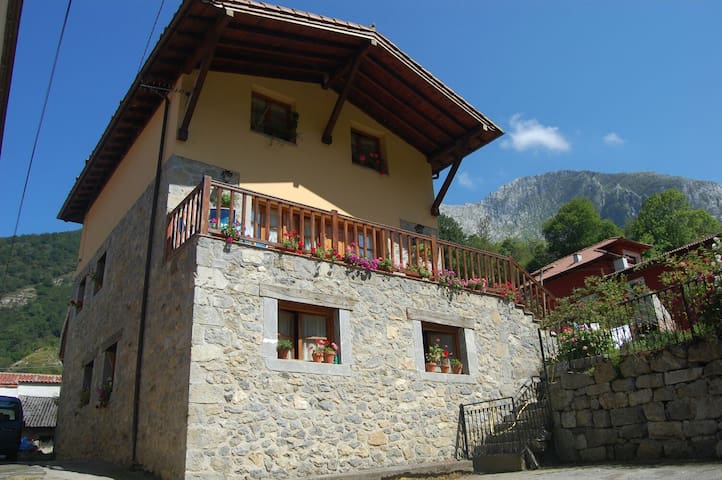 Casa La Tanda se trata de una construcción de piedra, con una antigüedad de más de un siglo, se situa en un enclave natural y cuenta con una galería de madera desde donde podrán disfrutar de las maravillosas vistas del Picu Tiatordos, Peña Taranes
La Tanda esta en el interior del Parque Natural de Ponga está situado en plena montaña, con acceso a numerosas rutas de montaña, y con la posibilidad de practicar turismo de aventura dentro del concejo, con una gran riqueza faunística y uno de los principales montes de Asturias. A menos de media hora de Cangas de Onis , Picos de Europa
het was een rustige en aangename verblijfplaats. Je moet je wel organiseren voor het winkelen, maar dat was geen probleem in combinatie met uitstappen. we hebben enorm genoten van de rustige avonden na een dag stappen en de omgeving verkennen.
Luc
2016-07-31T00:00:00Z
Tipo de Quarto
Casa inteira/apto
---
Tipo de Imóvel
Casa
---
Acomoda
4
---
Quartos
Tanda, Principado de Asturias, Espanha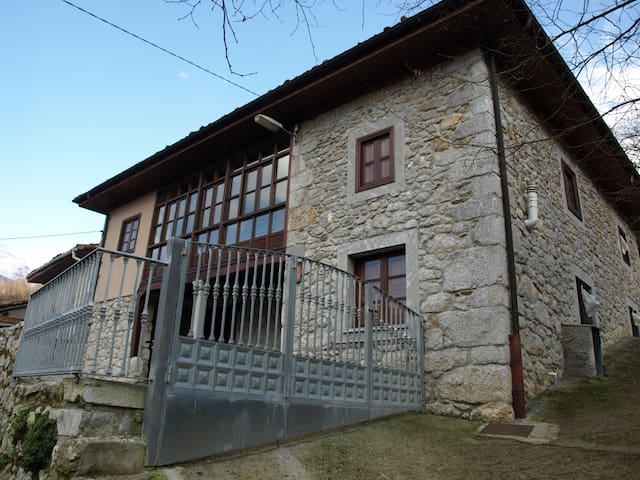 In the heart of the National Park Picos de Europa, it is the village of Oseja. Surrounded by lush forests, wild rivers and amazing mountain routes, you are the rental cottage. Just 30 minutes from Cangas de Onis and 25 minutes from the start of the Ruta del Cares. equipped with flat tv and pellet stove with front air outlet and access to the upstairs where the rooms are home. Very cozy.
old wood and stone house with wooden floors and a large outdoor gallery. The windows are fitted with wooden shutters, no curtains. The house is located in the neighborhood of Ribota de Abajo, once low down the road there is a small fountain, the house is opposite the fountain. The house is yellow. Stone and wood. The house has an electric water tank 100 liters.
Tranquility and nature
É uma antiga casa requalificada para hospedes num local encantador, tendo a natureza como envolvente. A casa está munida de tudo o necessário para uma estadia confortável, embora em condições de temperatura mais adversas, como o frio e ou a neve poderá ter necessidade de aquecimento adicional.
João
2016-10-03T00:00:00Z
Un paraje envidiable en un lugar de ensueño. Desde alli fuimos a la ruta del cares, covadonga y a Ribadesella, muy muy bien situado. Un lugar para volver
David
2017-03-20T00:00:00Z
Desde el primer momento Adrián supo solucionar con nosotros la hora de llegada, su familia era majísima y nos estuvieron esperando hasta que llegamos ya que nos retrasamos, a pesar de ello nos enseñaron todo de muy buena gana y nos sentimos muy bien recibidos. La casa es increíble, muy cómoda y está en un lugar muy especial, por donde pasa el río Sella, además es una zona muy tranquila, totalmente recomendable tanto para desconectar como para hacer actividades al aire libre. Espero volver a los Picos otra vez y sin duda repetiría mi estancia aquí. Muchas gracias por todo!
Belen
2016-10-23T00:00:00Z
La casa es preciosa y el entorno natural impresionante. Adrian y su familia fueron muy amables a nuestra llegada. Muy recomendable para unas vacaciones en familia
Laura
2016-08-11T00:00:00Z
La casa es espectacular, muy muy bonita totalmente restaurada pero con el encanto de una casa antigua, mucha madera y piedra, las sabanas impecables y el pueblo super tranquilo... Para desconectar completamente . Nos recibio Carmen, la tia de Adrian nos presento la casa con mucho cariño ya que es donde ella nacio . La recomiendo completamente
Maria Laura
2016-07-11T00:00:00Z
Un sitio increíble, la casa es grande, acogedora y tranquila, además de bonita, no le falta de nada, los alrededores son preciosos, la zona es tranquila y relajante, los anfitriones son muy amables y simpáticos, tanto Adrián como la señora Carmen, ha sido un placer y esperamos repetir en otra ocasión. Unas vacaciones inolvidables, hasta la próxima.
Sara
2016-08-26T00:00:00Z
La casa está muy bien, limpia y acogedora. Al llegar ya estaba preparada y calentita. Adrián fue muy atento y nos resolvió todas las dudas que teníamos. Repetiríamos sin duda.
Oscar
2017-03-13T00:00:00Z
Lugar muy acogedor y tranquilo para el que quiera desconectar teniendo a su alcance todo tipo de aventuras. Lugar muy recomendable.
Jon Ander
2016-12-06T00:00:00Z
Tipo de Quarto
Casa inteira/apto
---
Tipo de Imóvel
Casa
---
Acomoda
7
---
Quartos
Oseja de Sajambre, CL, Espanha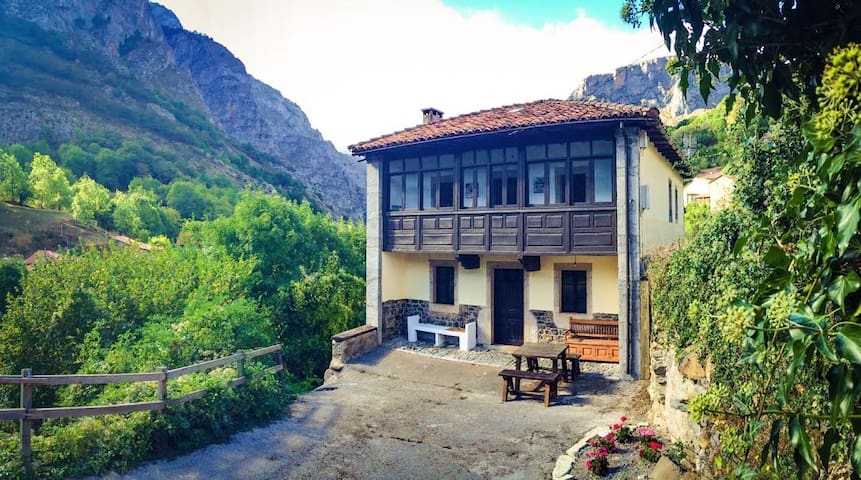 Great cottage in a little village in Picos de Europa Mountains. Ideal for 2 persons wanted to enjoy this green part of Spain. Asturias. Check out the photos. "Just what you see from any window of the house worth paying every penny that is well aprovechado.Una good distribution, simple, but charming and welcoming, we really enjoyed the area and have been very agusto. I will come back"
Two main spaces: Bedroom with insuite whirlpool and great views over the valley. Sitting room with chimeney and american kitchen. Fully fitted Nice and fresh Bathroom with shower.
Location in a very small village, in the Picos de Europa. With great views over the green valley. Nice stroke to the local and very old church. The road to the village is stremely quite and wonderful for a walk for a couple of kilometres in the afternoon. The place is called CAZO.
Buena experiencia
Benat
2017-04-02T00:00:00Z
Simple, beaux et agréable, voilà ce qui qualifie le logement et l'ambiance ! Merci Ramon ! :)
Jonathan
2017-03-05T00:00:00Z
It's a very nice apartment in a tiny little village in the middle of the mountains. It also has a very nice jacuzzi :)
Jasper
2016-07-08T00:00:00Z
Logement au premier étage uniquement. Face à la montagne, pour nous tout seuls, les pieds dans l'eau dans le jacuzzi, à l'heure de l'apéro, tout va bien. Décoration phénoménale!!!. L'essentiel juste pour se faire un peu à manger et deux canapés pour se relaxer. Il manque un petit balcon pour être dehors ou un coin de jardin. Village très fleuri en haut de la montagne, penser à faire ses courses à la sortie de la vallée à Cangas de Onis ou mieux au marché du dimanche. Les sentiers de randonnée sont très bien fléchés, demander des précisions à chaque office de tourisme des trois vallées pour ne pas se tromper sur le niveau des randonnées. Chaque route est une découverte de paysages et de villages extraordinaires, chaque vallée est unique. Une dégustation de fromages dantesque, un menu gastronomique avec les dents du fond qui baignent, du cidre à déguster sans modération. Je rajouterais bien un grille-pain et une bouilloire et un peu plus de matériel de cuisine pour se faire vraiment à manger. Alojamiento de primera planta sólo. Frente a la montaña con nosotros mismos, con los pies en el agua en la bañera de hidromasaje en la hora del cóctel, todo bien. Decoración fenomenal!!!. La clave para simplemente hacer un poco de cocina y dos sofás para relajarse. Carece un pequeño balcón en el exterior o una zona de jardín. Pueblo muy adornado a la aldea de montaña, piensa ir de compras a la salida del valle de Cangas de Onís o mejor al mercado de los domingos. Las rutas de senderismo están bien señalizadas, pedir aclaraciones a cada oficina de turismo de las tres valles para coger bien el nivel de senderismo. Cada ruta es un descubrimiento de extraordinarios paisajes y pueblos, cada valle es única. Degustación de quesos, Dantesco, un menú gourmet con los dientes posteriores que bañan, sidra para degustar sin moderación. Yo añadiría a través de una tostadora y hervidor de agua y un poco más de equipo de cocina para realmente hacer la cocina.
Sophie
2014-08-28T00:00:00Z
Ramón y Arancha son geniales y se ocupan de todo para que la estancia sea perfecta. La casa es absolutamente acogedora y tiene todo lo que se necesita para pasarla de maravilla, en una zona increíblemente hermosa en donde sólo se respira paz y tranquilidad. Desde luego el jacuzzi hace que la estancia sea todavía más espectacular, pero aún si no lo tuviera las vistas, los pájaros, el clima, el pueblo, la calma y la ausencia de cualquier stress hacen de este el lugar perfecto para desconectar 101%. No dudamos en volver ni por un segundo, ni en recomendar este sitio a quien quiera que pregunte. No falta nada ni sobra nada... es simplemente perfecto.
Bernardo
2017-03-20T00:00:00Z
Tipo de Quarto
Casa inteira/apto
---
Tipo de Imóvel
Casa
---
Acomoda
2
---
Quartos
Ponga, Espanha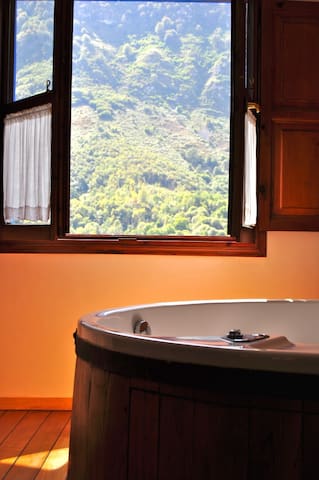 Lugares de interés: Pistas esqui Montaña . Te va a encantar mi lugar debido a el ambiente, las zonas exteriores, la naturaleza. Mi alojamiento es bueno para parejas, aventureros, familias (con hijos), y grupos grandes. Si se necesita se puede añadir una cama en el salón. Se pregunta También se pueden preparar desayunos bajo disponibilidad, se ruega que se informen antes.
3 dias geniales. Anfitriones encantadores. Paraje de sueño. Limpieza inmejorable. Volveremos
Jorge
2017-03-20T00:00:00Z
Tipo de Quarto
Casa/apto inteiro
---
Tipo de Imóvel
Casa
---
Acomoda
6
---
Quartos
Barrillos de las Arrimadas, Castilla y León, Espanha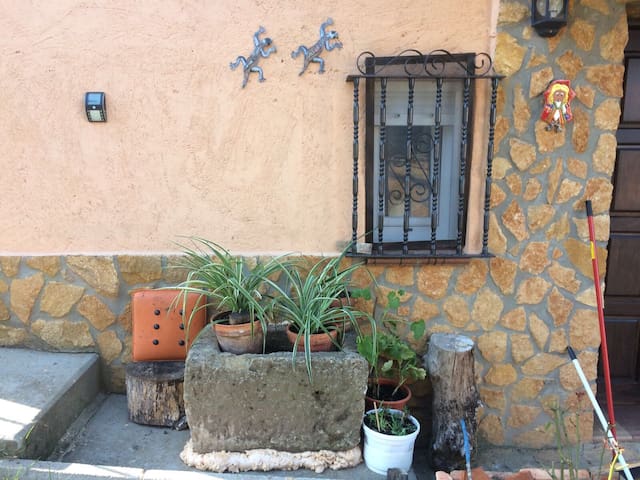 Nuestra casita se trata de un lugar encantador en medio de la montaña, dónde se crió mi familia y ahora muchas otras familias pueden disfrutar en este mismo ligar. Consta de dos alturas, dos habitaciones, rincón de lectura, baño, despensa, cocina totalmente equipada y calefación a leña. Bajo petición hay una cama supletoria. Tiene unas preciosas vistas, está situada en el pueblo de Tejerina. En el Nacimiento del Cea y en el Parque Regional de los Picos de Europa.
El alojamiento consta de dos plantas. En la primera planta se encuentra la cocina, la despensa y el baño. En la planta superior hay una habitación de matrimonio y otra habitación con dos camas, así como el rincón de lectura. Existe la posiblidad de añadir una cama supletoria. En el exterior, se puede colocar una mesa con sillas, y hay un banco para relajarse. Hay lugar de aparcamiento para dos coches. Disponemos de ropa de cama, mantas, toallas y plancha. Además disponemos de información sobre las actividades que se pueden hacer en las cercanías.
La Casa Tejerina, is located in the Regional Park of the Picos de Europa, with great encreíble and surrounded by greenery. Within the village of Tejerina, a very peaceful place. You can find restaurants, bakery, pharmacy shops and 7 km in Prioro.
Foi muito bom. Uma experiência unica. Um local muito bonito e agradável. As pessoas muito acolhedoras e simpáticas. Recomendo vivamente uma passagem por esta aldeia.
Regina
2016-07-26T00:00:00Z
The host canceled this reservation 3 days before arrival. This is an automated posting.
Konstantin
2016-08-25T00:00:00Z
Muy lindo lugar en un pueblo de montania, a partir del cual se puede caminar en lugares muy pitorescos, con riachuelos y muchos cerezos. Tejerina queda a 7 km de Prioro donde hay un pequenio supermecado. Se duerme muy bien gracias al aire fresco de montania en epocas de gran calor en los lugares turisticos como Leon (a una hora y pico de Tejerina). La familia de Nerea nos recibio muy amablamente y la gente del pueblo es simpatica y conversadora.
Abigail
2016-08-12T00:00:00Z
Un sitio ideal para desconectar y pasear acompañados del murmullo del agua de fuentes y huertas. Y en un entorno bellísimo.
Félix Manuel
2016-08-12T00:00:00Z
We had a great stay in this very idyllic little house at the edge of a mountain village. The front of the house has a lovely view on an orchard. It was great to sit and read on the porch and greet the (sometimes very old) people who walk bye to ward their vegetable gardens in the afternoon. The family who owns the house lives close bye and was very sympathetic and helpful. The village is situated on the very south edge of the 'Picos de Europa' area and gives plenty of opportunities for walks in nature. Not all the trails are that clear though so you might want to take a walk with a local.
Hans
2016-08-07T00:00:00Z
Tipo de Quarto
Casa inteira/apto
---
Tipo de Imóvel
Casa
---
Acomoda
4
---
Quartos
Tejerina, Castilla y León, Espanha
Casa completamente restaurada en un paraje único y sin descubrir en el corazón de Asturias. Acogedora y romántica, con vistas espectaculares y una habitación a dos alturas deliciosa para niños. Ideal para realizar rutas de montaña, paseos por el bosque, barranquismo, pesca y actividades náuticas en el Sella, y a 40 km de la playa más próxima, Ribadesella. Situada en una aldea pintoresca, dónde disfrutar de la fauna y flora propias de la zona, osos, corzos y jabalíes, en sus hayedos y castañares.
Parejas Montañeros Familias
Tipo de Quarto
Casa inteira/apto
---
Tipo de Imóvel
Casa
---
Acomoda
6
---
Quartos
Viboli, Principado de Asturias, Espanha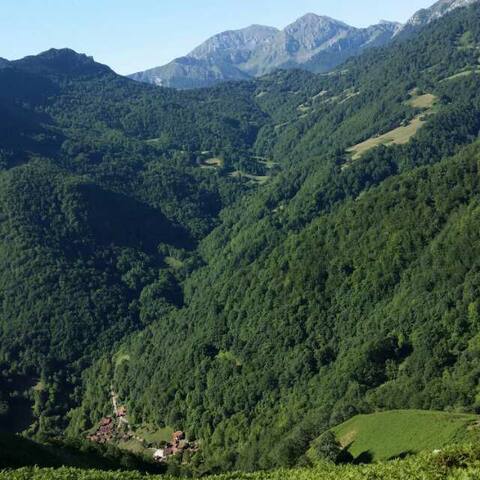 casa de pedra restaurado na vila em 1300 m de altitude. absoluta tranquilidade. Esqui Valgrande apenas 25 minutos A casa tem uma sala de estar com lareira, cozinha e churrasqueira pátio privacon. No primeiro andar, 2 quartos com 2 casas de banho privativa. Este toda a casa está localizada em Villanueva del Pontedo. 4 pax em 2 quartos, cada um com seu próprio banheiro. Nossa casa está localizada no campo, o que lhe permitirá desfrutar de paisagens inesquecíveis,
exterior: terraço, móveis de jardim, estacionamento, jardim individual, vista para a montanha, 28 m2 terraço distribuição: 2 quartos duplos, cada quarto tem uma casa de banho com duche, banheira e bidé, 1 cozinha independente, 140 m2 total interior: lareira, TV, TV a cabo / satélite, Internet / Wi-Fi, aquecimento, berço, secador de cabelo Cozinha e electrodomésticos: frigorífico, forno, microondas, ferro, café Informações adicionais: Animal de estimação, carro é recomendado idiomas: Espanhol, Inglês, Alemão, Holandês
A casa fica no centro da vila, onde no inverno apenas 5 pessoas vivem. Você pode desfrutar de tranquilidade absoluta aqui
The host canceled this reservation 208 days before arrival. This is an automated posting.
pilar
2016-12-18T00:00:00Z
Ha sido un fin de semana muy acogedor y tranquilo. Una casa y un entorno fantásticos! 100% recomendable, nosotros repetiremos!
Andrea
2016-09-11T00:00:00Z
El lugar es increíble. Lo recomiendo para una escapada de fin de semana, ya que estás rodeado de montaña y paisajes hermosos. La casa es muy amplia, completamente equipada y tranquila. La gente del pueblo es también bastante amigable y dispuestos a ayudar en cualquier oportunidad. Hay bares/ restaurantes para desayunar, comer y cenar muy cerca (en coche) del lugar y con comida deliciosa. Incluso hay fábricas de chorizo, cecina y demás muy cerca. Miguel es una persona muy accesible y amable, estuvo al pendiente de nosotros todo el tiempo y lo agradezco infinitamente.
Gaby
2016-09-18T00:00:00Z
La casa es genial, tal cual se ve en las fotos. Esta perfectamente equipada y más limpia imposible. El lugar es increible para pasar unos días, tranquilos y agradables. Miguel nos ofrecio toda la ayuda posible para llegar sin problemas a la casa y no hubo problema con la hora de llegada, muy amable. Sin duda una experiencia muy buena.
Jesus
2016-09-25T00:00:00Z
Hemos pasado un fin semana increible en un sitio privilegiado. La casa es preciosa ,mucho mas de lo que aparece en las fotos. Hermosa ,acojedora,bien equipada con el toque rustico perfecto. Facil acceso ,el pueblo situado en una valle impresionante rodeado de las montañas con muchas opciones de rutas. La tranquilidad, paz y silencio es lo que mas define el sitio. Seguro que vamos ha repetir. Damos la gracias a Miquel por tener la oportunidad de disfrutar de su hermosa casa. Recomendado 100%.
Nadia
2016-09-06T00:00:00Z
La casa muy bonita, cuidada y limpia! La zona, espectacular! Hemos estado con nuestra perrita y las tres hemos estado muy cómodas. Sin duda, repetiremos! 100% recolendable! Miguel muy agradable y atento!
Ainhoa
2016-10-09T00:00:00Z
Tipo de Quarto
Casa inteira/apto
---
Tipo de Imóvel
Casa
---
Acomoda
4
---
Quartos
Villanueva de Pontedo, Castilla y León, Espanha
The typical Asturian house, located in a quiet area with panoramic views of the Picos de Europa, is ideal for a couple. It is located in a very quiet place in a small town called Viego. It is located in the municipality of Ponga. A few kilometers there is a zip line, numerous hiking trails (Beyu pen, angon valley, Peloño mountain lookout Bedules them ..).
Tipo de Quarto
Casa inteira/apto
---
Tipo de Imóvel
Casa
---
Acomoda
2
---
Quartos
Viego, Principado de Asturias, Espanha
House in Prieres, region of Caso, Asturias, in the Natural Park of Redes. Central heating, two rooms, aditional bed, living room with chimney, terrace. Two floors.
Posibility of visiting a traditional "lagar" of asturian cider, that is next to the house, and tasting (free).
ESTUVIERON ATENTOS EN TODO MOMENTO. NOS LLAMARON PARA PREGUNTAR SOBRE QUE HORA LLEGARIAMOS.NOS DIERON INFORMACION DE LA ZONA , LA CASA ESTA GENIAL Y EN UNA ZONA TRANQUILA Y PRECIOSA. LA CASA ES MEJOR INCLUSO QUE COMO SE VE EN LAS FOTOS. TIENE TODO LO NECESARIO PARA PASAR UNOS DIAS GENIALES . LO RECOMIENDO. UN DIEZ GRACIAS Y SALUDOS
ALBERTO
2016-08-08T00:00:00Z
Todo muy bien, es la segunda vez que venimos porque nos encanta. Tal cual se describe en el anuncio, si bien la casa es en realidad mejor q en las fotos :-)
daniel
2015-12-28T00:00:00Z
Irène s est montrée très accueillante, le lieu est propice au repos, aux balades, nos enfants ont beaucoup aimé déambuler dans les petites rues de Prieres.
Dorothee
2016-08-22T00:00:00Z
Hemos estado 5 chicas durante un fin de semana. La zona es preciosa incluso con el tiempo nublado. La vista desde el salón es increíble. La casa está muy completa y muy limpia. Como si más que una casa de alquiler fuese una vivienda habitual. Incluso nos dejaron leche y unas magdalenas, algo que no es frecuente. Tanto Irene como su padre han estado muy pendientes a cualquiera de nuestras necesidades y preguntas pero sin agobiar en ningún momento.
Eva
2016-09-19T00:00:00Z
Perfecto. Una experiencia inolvidable en una casa con todas las comodidades y preciosa en un enclave rural de ensueño. El acceso es complicado pero es lo que tiene buscar un lugar recóndito y con encanto. La atención de los anfitriones tambien fue muy buena!
Araceli
2014-09-06T00:00:00Z
Staying for 4 days in Irene's family house was a lovely experience. The family is very welcoming and makes sure their guests have the best time in the house and the village. The place - high up in the mountains - is charming and a great place to get away from busy places. The house, rigth in the middle of a tiny village is ancient and completely refurbished, and oversees the mountains.
Anne
2014-07-31T00:00:00Z
Beautiful location in a small village overlooking valley in the Redes National Park. We had a wonderful time exploring the area, which is also within driving distance of the Picos de Europa and the coast around Gijon and Oviedo. We spent seven nights there and didn't manage to see everything, especially in the area around Prieres which deserves to be better known. The flat itself is absolutely beautiful, refurbished, and well-equipped. Irene is a friendly host who can give advice on where to go and what to see, and is eager to help visitors experience the best of the Asturias region.
Maria Chiara
2014-08-10T00:00:00Z
A wonderful village, warm welcome. Everything on your doorstep. Went on some beautiful local walks. House perfect for a family, well equipped, with stunning views. Thanks Irene & family for a great experience.
Vicky
2014-08-18T00:00:00Z
Tipo de Quarto
Casa inteira/apto
---
Tipo de Imóvel
Casa
---
Acomoda
5
---
Quartos
Prieres, Principality of Asturias, Espanha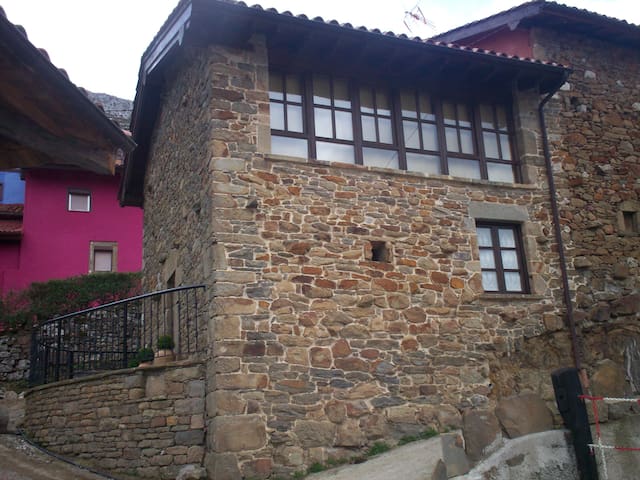 Casa rural próxima a los Picos de Europa con diferentes espacios para adultos y niños. Construida con materiales naturales de alta calidad.
Tipo de Quarto
Casa inteira/apto
---
Tipo de Imóvel
Casa
---
Acomoda
10
---
Quartos
Fuentes de Peñacorada, Castilla y León, Espanha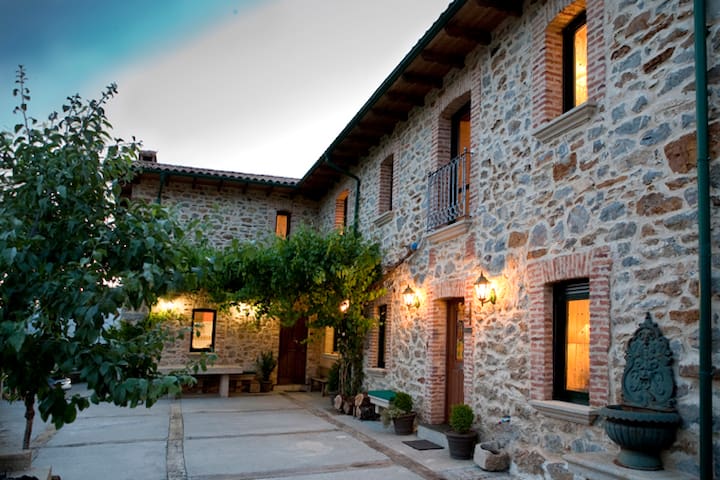 Puebla de Lillo - Airbnb
:
Média de

4.6

de

5

estrelas, de acordo com

115

avaliações de hóspedes
1

–

18

de

70 Casas para Alugar
Insira as datas para ver o preço total. Taxas adicionais aplicáveis. Podem ser adicionados impostos.