178 Apartamentos para Alugar
2 Doppelbett Erdgeschoss-Wohnung in einer modernen Entwicklung mit ausgezeichneten Buslinien, die ins Stadtzentrum, weniger als 4 Meilen entfernt gesetzt.
Beide Schlafzimmer und das Wohnzimmer sind mit modernen Stilmöbeln es einen entspannten und sauberen Raum machen zu stützen Ihre Reise nach Edinburgh vor kurzem renoviert worden.
In der Umgebung von Longstone am Rande des Stadtzentrums von Edinburgh, mit einfachen Zugang zum Stadtzentrum durch regelmäßige lokale Busse, In einem ruhigen moderner Entwicklung.
Tipo de Quarto
Casa inteira/apto
---
Tipo de Imóvel
Apartamento
---
Acomoda
4
---
Quartos
Edimburgo, Scotland, Reino Unido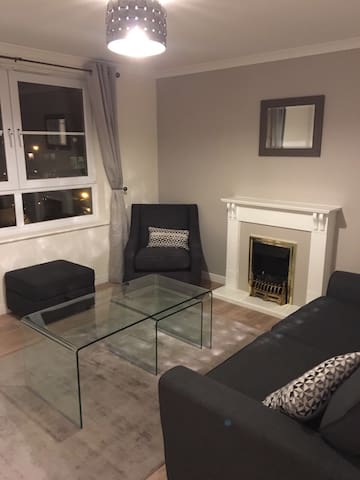 Nově zrekonstruovaný 3-pokojový byt vyšla až po velké zahradě s tekoucí potok vám dává dokonalý skotský venkov zkušenosti se snadným přístupem do všech dopravních spojích. Jen několik minut mimo M8 snadno vás dovezou do Edinburghu, letiště a pěší vzdálenosti od vlakového nádraží (20 min vlakem do Edinburgh), golfové hřiště, restaurace, obchod s potravinami a veškeré vybavení. Bránou velký jízdy poskytuje dostatek parkovacích míst s vlastním vstupem a pozdní check-in / out dělat to ideální místo!
3-ložnice walk-out byt, který je součástí vlastní rozvoj, který má poskytovat dech beroucí scenérii z obývacího pokoje a terasou s výhledem do zahrady.
Veškerá občanská vybavenost je jen několik minut chůze od hotelu, včetně obchodu s potravinami, lékárna, salon, holičství, ubytování ve všech typech jídlo s sebou a italskou restauraci.
The Apartment are so nice, we had one whole floor for us, with nice garden view next to the river. Quiet area where you can have nice rest; nice living area with amazon prime movies and netflix, warm cause of good heater, well equipped kitchen, will be perfect if we can cook (hope it will be available soon). Suhail is so nice and friendly, his wife even made us sandwiches. Thanks for the great hospitality :)) Recommended one.
sherly
2017-01-02T00:00:00Z
I was staying here for business reasons, and the location was the most important factor, however the accommodation was very nice, clean and comfortable.
Andrew
2017-02-20T00:00:00Z
Lovely big apartment, great communication with Aisha and Suhail. Nice extra touches of shampoo amd conditioner and milk! Would definitely stay again.
Rebecca
2017-02-26T00:00:00Z
Suhail was a great host, ensured we had all the amenities for a comfortable and memorable stay! The house is located in a tranquil surrounding, a gentle river flowing nearby that added a touch of beauty to the property. We were 5 of us and the rooms were comfortable. One of the rooms did not have windows and my friend found it stuffy in the night. The house is a 4 min walk from the bus stop, the bus takes you all the way to Princes Street. So distance did not matter much even though we were situated further away from the city center. Uber and trains provide other modes of transport, so do not worry much about living far from the crowd! Thanks Aisha and Suhail, would love to visit your place next time!
Ranjini
2017-01-01T00:00:00Z
We had a great time at Aisha and Suhail's place in Uphall. It's the large house at the start of the street, not one of the flats, as we first mistakenly knocked at the wrong #1. Their finished basement was lovely and spacious. We drove into Edinburgh each day, and it was a quick and easy trip. We ate breakfast each morning at a local diner called Dotty's which was great. Mainly communicated with Suhail who is a lovely, friendly guy, and very quick to respond with anything we needed. We would definitely stay again. Thank you!!
Lauren
2016-12-30T00:00:00Z
The Appartment is very good to visit scotland.Its clean and big.Very good communication with Suahil
Kersten
2017-04-07T00:00:00Z
很漂亮,而且wifi 很快!很大!
康文
2017-02-04T00:00:00Z
Tipo de Quarto
Casa inteira/apto
---
Tipo de Imóvel
Apartamento
---
Acomoda
5
---
Quartos
Uphall, Scotland, Reino Unido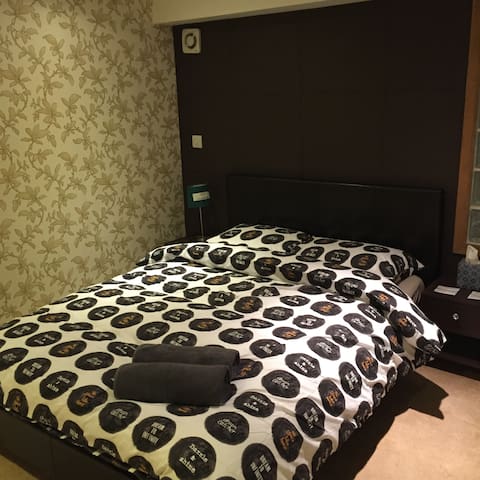 Unsere kühlen und komfortable Wohnung verfügt über traditionelle Edinburgh Features und ist gut zwischen Stadtzentrum und dem Flughafen entfernt! Schöne Doppelzimmer zur Verfügung, mit allen Annehmlichkeiten für Sie wünschte genießen Edinburgh voll. Das Schlafzimmer verfügt über ein hohes geborgt Lichtfenster.
Unsere schöne Wohnung zur Verfügung stehen und liegt nur zwei Straßen entfernt von der Hauptstraße, die Sie von Edinburgh Flughafen in das Stadtzentrum führt. Die Busse fahren auf dieser Strecke alle zehn Minuten.
In der Umgebung finden die Wohnung in Corstorphine gelegen ist ein schöner Vorort von Edinburgh mit einer reichlichen Versorgung in der Nähe von Cafés, Restaurants, Geschäfte und Supermärkte. Unsere Wohnung liegt in einer ruhigen Straße, aber dennoch günstig nur zwei Straßen entfernt von der Hauptroute in Edinburgh mit öffentlichen Verkehrsmitteln. Es gibt kostenlose Parkplätze auf der Straße.
I had a lovely stay in this beautiful apartment, close enough to the city to enjoy all the attractions but far enough away to make it feel homely. The flat was clean and had everything we needed, including a lovely kitchen to make meals in. The links to the city and the airport were excellent, and close enough for a £5 taxi journey back after a late night out. I would recommend to anyone!
Alice
2017-04-03T00:00:00Z
Very roomy and cosy apartment in a perfect area for visiting the city. Plenty of local shops and pubs plus very easy access to the city centre via bus. The kitchen is clean, well equipped and ideal for people who want to stay in and cook. Overall a genuinely lovely place to stay in Edinburgh.
Tom
2016-07-26T00:00:00Z
Great stay here. Close to transport and lovely apartment which was very clean and felt homely. Thanks for letting us stay :)
Hannah
2016-10-17T00:00:00Z
Very clean, modern, comfortable flat. Location very convenient for shops, bars and restaurants. Jourdan was away at the time but kept in touch to ensure all was well - which it was. Highly recommended.
Kevin
2016-10-21T00:00:00Z
Ich bin Rachel und Jourdan nicht begegnet, da sie verreist waren. Die schriftliche Kommunikation (mit Jourdan) lief aber bis auf ein paar technische Schwierigkeiten am Schluss gut, ich habe den Eindruck gewonnen, dass es nette Leute sind. Ihre insgesamt schöne, gut ausgestattete Wohnung war fünf Tage lang mein Zuhause, und ich habe mich dort nach anfänglichem Erschrecken gut arrangiert. Allerdings wäre es mir unmöglich gewesen, in dem mir zugedachten Zimmer zu schlafen, wo das Bett schon bezogen war. Es hatte nämlich KEIN FENSTER, darunter verstehe ich eines von diesen Dingern, durch die man frische Luft hereinlassen und ins Freie blicken kann. Was es gab, war nur eine Art Verglasung zur Küche hin. Ich kann mich nicht erinnern, dass ich das in der Beschreibung gelesen hätte. Und es erstaunt mich, dass bei all dem positiven Feedback niemand diese Kleinigkeit erwähnt hat… Da ich allein in der Wohnung war, habe ich das Sofa im Wohnzimmer (s. Bild) ausgezogen und dort geschlafen, somit hat es für mich gepasst. Die Gegend hat mir gut gefallen.
Monika
2016-07-31T00:00:00Z
If you're looking to stay somewhere with home comforts and beautiful cosy decor, cose to Edinburgh city centre but no so close to the noisy hustle and bustle then this is the perfect place for you. I stayed with my partner for 2 nights and 3 days and we couldn't have enjoyed it more than we did. We didn't meet Jourdan and Rachel as they were away, however they were great at keeping contact and checking that everything was as it should be for us. Also my first time at using Airbnb and it has been very successful.
Kate
2016-12-29T00:00:00Z
Jourdan's in a great host and his place is excellent. It is a very well located apartment with free on street parking. Ideal if overnight between flights at EDI or visiting Edinburgh but coming with a car. Great kitchen and really cosy living room. Highly recommended. Thanks
Alastair
2016-12-18T00:00:00Z
Bel appartement, très accueillant et bien situé. Jourdan est très professionnel et gentil. Merci pour cette location je recommande eT y reviendrai avec grand plaisir.
Aurore
2017-04-09T00:00:00Z
Tipo de Quarto
Casa inteira/apto
---
Tipo de Imóvel
Apartamento
---
Acomoda
2
---
Quartos
Edimburgo, Edinburgh, Reino Unido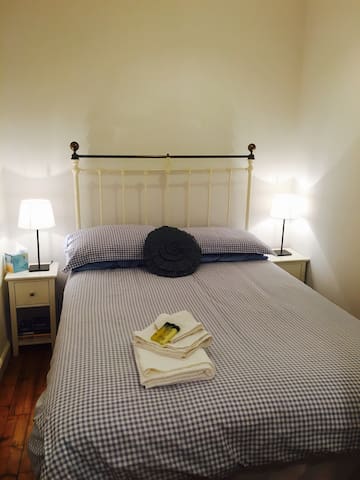 Este 3er piso, a sólo 10 minutos del aeropuerto de Edimburgo, cuenta con maravillosas vistas a las pintorescas cabañas frente al mar de Cramond Village en el río almendra. Disfrutar de un paseo de 5 minutos hasta el puerto o al otro lado de la calzada de las mareas a la isla de Cramond; a lo largo del río o en la otra dirección a la playa. Situado a 15 minutos del centro de Edimburgo.
La propiedad se puede llegar por escaleras y ascensor a la 3ª planta. Al entrar en la propiedad recientemente renovada hay un baño completo a la izquierda del vestíbulo de entrada con ducha en el baño. Al final de la sala varias puertas conducir a dormitorio(URL HIDDEN)la brillante; amplio salón que conduce a una cocina moderna recién instalado por separado. La zona histórica de Cramond está situado en una zona tranquila de Edimburgo, pero a poca distancia del centro de la ciudad. El aeropuerto de Edimburgo y los puentes sucesivamente se encuentran a 10 minutos en coche. Hay una plaza de aparcamiento en la propiedad y una serie de espacios comunes.
Tipo de Quarto
Casa inteira/apto
---
Tipo de Imóvel
Apartamento
---
Acomoda
4
---
Quartos
Edimburgo, Scotland, Reino Unido
V blízkosti letiště, ZOO a 3 minuty z dopravy do Princes St a centra města. Restaurace a jídelny k dispozici během 10 minut chůze. Bright jižní orientace bytu s výhledem na Pentland Hills. Zamilujete si své místo, protože tichém předměstí. Tiché ložnice a jižní orientace obývací pokoj a jídelna. Soukromé off parkování na ulici. Tento apartmán je vhodný pro páry, sólové dobrodruhy, a obchodní cestující. Rodiny vítány, ale nejsou ideální pro malé děti, pokud jsou použity sporák
Překvapivě světlý a prostorný byt. Pohledy do kopců Pentland na jih.
Centrální jako veřejný dopravní uzel, Drumbrae (Corstorphine) umožňuje rychlý přístup na letiště, nádraží a do centra města. odečtení než půl hodiny ke všem atrakcím, do centra města nebo na letiště.
The house is really nice, feels like home, everything clean and very comfortable. The hosts gave us privacy but was always helpful when needed, which was perfect! The neighbourhood is gorgeous, very close to the bus stop that goes to the city centre and quiet. I recommend it to everyone that wants to explore Edinburgh, its a really nice place to stay. :)
Nikki
2017-01-02T00:00:00Z
I stayed at Vincent's as part of a business trip. The space is great and we'll thought out. It had everything I needed including a very well stocked kitchen (and the chromecast on the TV was a good touch). Location was much quieter than I was expecting (which was a good thing!) with the flat situated on a very quiet side street. Excellent value for money and very much recommended for business or leisure travellers.
John
2017-03-30T00:00:00Z
Modern and spacious flat. Well equipped. Fantastic view over the Pentland Hills. Shops nearby. Very convenient access by car and public transport. Very welcoming and responsive hosts. Would stay there again without any hesitation.
Guenole
2017-03-20T00:00:00Z
Overall everything was great. The apartment is freshly renovated and clean. Vince was super responsive and helpful. The house is a bit far from the city centre, the neighbourhood is nice and quiet. Recommended for families.
Nikolai
2016-10-10T00:00:00Z
We're from Edinburgh - just needed temp accommodation in-between a house move. This was our first airbnb experience and we weren't disappointed. This place is fantastic. Clean, warm, spacious, all mod cons! And the price is amazing - great value for money. Much cheaper than a pokey hotel room! The only drawback for the tourist may be the location, in that the house is in the suburbs and a 15/20 minute bus ride into town. However, the area where the house is situated (Corstorphine) is one of the better areas in Edinburgh and unless you want to be right in the centre, this is a nice quiet area that was perfect for us. Cannot recommend highly enough.
Jason
2017-04-08T00:00:00Z
An excellent host and place. No complaints whatsoever. I will highly recommend.
Ayaz
2016-12-03T00:00:00Z
Really lovely couple who have created an excellent home away from home, and provided everything one needs to enjoy one's stay in Edinburgh. VERY clean space, fully equipped kitchen, modern bathroom/shower, plenty of storage space, great size bedrooms, and plenty of clean linens and towels. Key pick up was easy, I was met at the door and shown around, then had a lovely chat with Jane (Vince's wife). Both Vince and Jane are kind, hospitable people, very quick to respond to any issues, and very sweet. The flat is a 3 minute walk from the bus stop that takes one directly into the city centre in 20-25 minutes. Close to the airport, but no airport noise at all. There's a 24 hour massive Tesco Extra 7-8 minutes walk away, also near the high street, restaurants, and located in a safe and quiet area close to the city centre. Fantastic, flexible hosts!
Penny
2016-09-07T00:00:00Z
Tipo de Quarto
Casa inteira/apto
---
Tipo de Imóvel
Apartamento
---
Acomoda
3
---
Quartos
Edimburgo, Scotland, Reino Unido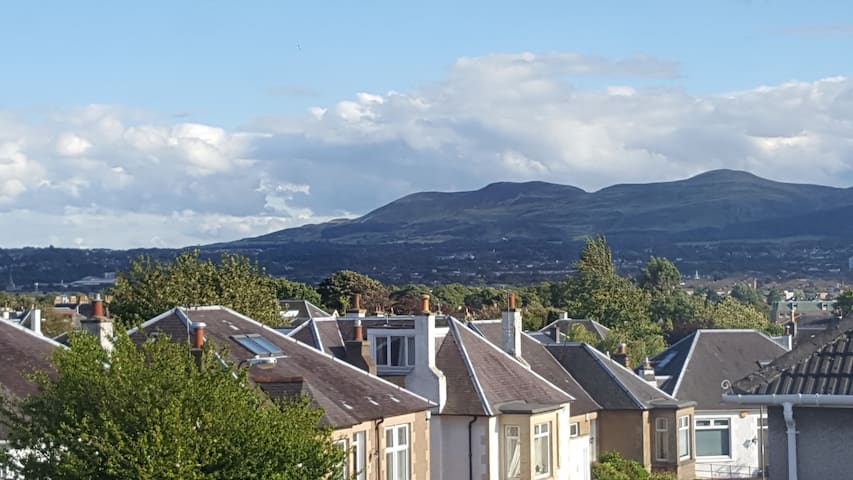 En l'històric poble Corstorphine, aquest és un modern però acollidor plana. Sol trampa jardí privat amb taula, cadires i graella / barbacoa. Té una plaça d'aparcament privat. El dormitori principal amb llit doble i bany privat; Gran sala de caixa amb un llit doble plegable; Moderna cuina amb rentavaixelles; Sala d'estar amb taula de menjador, portes que donen a un jardí privat; lavabo de convidats. 3,5 milles / 5,3 quilòmetres / 25 minuts amb autobús de Princess Street amb autobús i la ruta d'autobús a l'aeroport. Pub al costat, però no una sorollosa!
Estimo el meu pis i espero que va encantar a! Còmode i acollidor, compta amb tot el necessari per a una agradable estada a la capital d'Escòcia. Un dormitori principal amb bany i una sala de caixa amb doble llit doble, aquest apartament pot allotjar fins a quatre persones. Disposa d'un bany de visites addicionals i una gran cuina. El que fa que sigui absolutament, tot i que és el jardí privat directament fora de la sala d'estar. Orientada cap al sud, es posa el sol (quan brilla!) Des de l'esmorzar fins al vespre. Hi ha una taula i cadires per menjar a l'aire lliure i alguns dos hamaques còmodes. També hi ha una barbacoa / graella disponible per al seu ús, però és necessari per proporcionar el combustible. També hi ha una plaça d'aparcament dins d'una àrea segura i tancada al costat de la plana, que està disponible per al seu ús.
Hi ha un pub gastronòmic al costat de la plana que té una gran varietat de cerveses artesanals, si això és el que t'agrada! Però no és un pub sorollós i mai he estat despertada per persones alienes. També hi ha un papershop uns 10 peus de distància si et ve de gust un diari durant l'esmorzar. Hi ha 24 hores Tesco a uns 5 minuts a peu, així com un Sainsburys, Coop, carnisser local i un nombre de botigues, perruqueries, altres esteticistes i floristes a la carretera de Sant Joan.
The host made us very welcome and was readily contactable by phone throughout the stay if any problems did arise. The arrival process was absolutely fine and everything was as expected. Very secure property and a lovely, clean apartment with all the amenaties needed for a comfortable city break. The neighbourhood was perfect. Pubs and shops (large Tesco). Also the public transport into the centre of Edinburgh is easily accessible. A great place to stay.
Joseph
2016-12-11T00:00:00Z
This apartment is absolutely adorable and was perfect for our short stay in Edinburgh. Everything is decorated to a high and modern standard, everything was exceptionally clean, the rooms spacious, the garden quaint. We couldn't have asked for anything more. The host was very friendly and always quick to respond to any queries we had.
Thomas
2016-09-11T00:00:00Z
Catriona's Airbnb was an amazing experience. She went above and beyond to make us feel at home. When we arrived the flat was exceptionally clean and organized, with a guide in the kitchen to not only her flat but Edinburgh and the surrounding area. She provided small shampoo bottles and toothpaste, an entire array of snacks and drinks in the refrigerator, and she went out of her way to provide the keys the night of our arrival. The outside patio with the bbq was perfect after a long day and our race. We grilled outside with food from the nearby (5-10 min) walk to Tesco which is open 24 hrs making life really convenient. Cat's place is also conveniently located next a homely pub which was a sight for sore eyes after our long flight, and then the hike the next day. She's also located next to an all you can eat buffet for £5 and her place very conveniently located on the bus route to the Airport; if in a group it's also not expensive to just take an Uber. I couldn't recommend this flat and Catriona enough. She's an avid traveller so she understands travelers and she went out of her way to communicate quickly and really made us feel at home during our time in Scotland - absolutely amazing and the best Airbnb I have stayed at yet.
Ben
2016-07-25T00:00:00Z
Catriona was a great host. She was very helpful and responded to questions efficiently. The flat was great. Overall it was a great experience. Would recommend to anyone.
Laura
2016-08-01T00:00:00Z
Fantastic apartment with everything close by including the city centre which has loads of transport links right on the door step
Jonathan
2016-10-30T00:00:00Z
This was our first trip to Edinburgh and Catriona was extremely helpful with answering our queries - her replies were instant! Catriona has a very beautiful flat - exact to the descriptions and photos provided on airbnb. It was clean, well-equipped and very conveniently located to local shops and transport to the city centre. Unfortunately we could not meet Catriona in person but she made sure that we were well equipped for our stay with a very detailed booklet, and she made us aware of her contact number in case it was needed. Overall we thoroughly enjoyed our stay in Edinburgh and we hope to book Catriona's place again for any future Edinburgh trips.
Cam Ly
2016-08-31T00:00:00Z
Synopsis: a lovely two bed flat in a calm neighbourhood. Catrionas flat is immaculate. Tastefully decorated, very warm and homely. Exceptional communication with the host. She even left us some goodies for our stay. We definitely recommend this flat.
Eleanna
2016-12-26T00:00:00Z
We loved the apartament. It was very comfortable and warm. Good place and have a closed car park.
Mindaugas
2017-02-19T00:00:00Z
Tipo de Quarto
Casa inteira/apto
---
Tipo de Imóvel
Apartamento
---
Acomoda
4
---
Quartos
Edimburgo, Reino Unido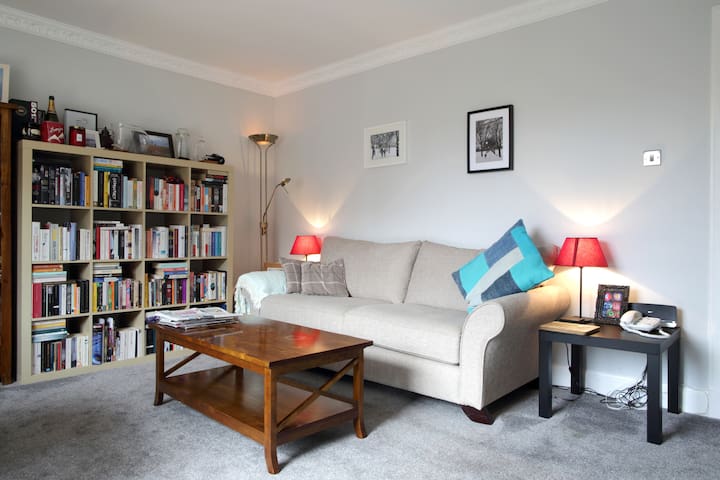 Diese Mews Wohnung ist hell und modern. Voll ausgestattete Küche. Offene Ess- und Wohnbereich. Kostenloser WiFi & Sky-TV einschließlich Filme und alle Sportkanäle. Es gibt eine private Zufahrt 2 Fahrzeuge zum Parken.
Corstorphine ist ein historisches Dorf 4 Meilen außerhalb des Stadtzentrums mit großem öffentlichen Verkehrsmitteln in die Stadt. Es hat viele Cafés, Bars und Restaurants.
A very comfortable, clean, warm flat. Kirsty left us some welcome complimentary 'bits' in the fridge. Full amenities for self catering. The flat was ideal for our needs. The Tram Station was a 12 minute 'comfortable' walk away. The flat had excellent 'offroad' parking. We would definitely consider again when we visit Edinburgh in the future.
Brychan
2017-02-26T00:00:00Z
Great for a weekend stay in Edinburgh, very handy to the tram which is a cheap and easy way into the centre and walkable to Edinburgh Zoo. Flat itself was super for four of us, comfy beds, good warm shower and had everything you needed for a city break and to relax in if needed. Breakfast stuff was a nice touch!
Robert
2017-04-02T00:00:00Z
Kirsty's place is quiet, fully equipped and really comfortable. Spotlessly clean. Kirsty was realy helpful recommending places to eat and local transport. She was super prompt at responding to messages. We loved her thoughtful breakfast pack and information about local amenities. We will definitely return-it's 15 minutes bus/tram into town- only £1-60. It was lovely to pop into the city centre and return to our safe haven.
Patsy
2017-02-05T00:00:00Z
A perfect location for access to the city without being in the hustle and bustle. Clean, comfortable and cosy accommodation with a fabulous kitchen for self catering if required. Little extras provided are much appreciated. Kirsty is a lovely and most obliging host.
Leanne
2017-01-21T00:00:00Z
Great apartment, just like the pictures. Lovely place to stay with great transport links. Perfect for visiting or working in Edinburgh. Perfect host and very clean.
frank
2016-10-09T00:00:00Z
Lorsque l'on arrive tard et que l'hôtesse vous accueille avec gentillesse, que les ingrédients pour le petit déjeuner sont dans le frigo, on se sent bien. Les conseils prodigués pour les moyens de communication et itinéraires nous ont été précieux. Merci Kirsty!
Marie-Blanche
2016-08-09T00:00:00Z
Lovely apartment, clean and tidy. Fairly central, short walk to the zoo, 10 minutes to the tram which takes maximum 10 minutes to the town centre. Lovely touches such as a few supplies in for breakfast x
Angela
2017-03-19T00:00:00Z
We had a nice stay at Kirsty's apartment. It is well equipped and warm place. Kirsty is very nice person
Yerzhan
2016-09-18T00:00:00Z
Tipo de Quarto
Casa inteira/apto
---
Tipo de Imóvel
Apartamento
---
Acomoda
4
---
Quartos
Edimburgo, Reino Unido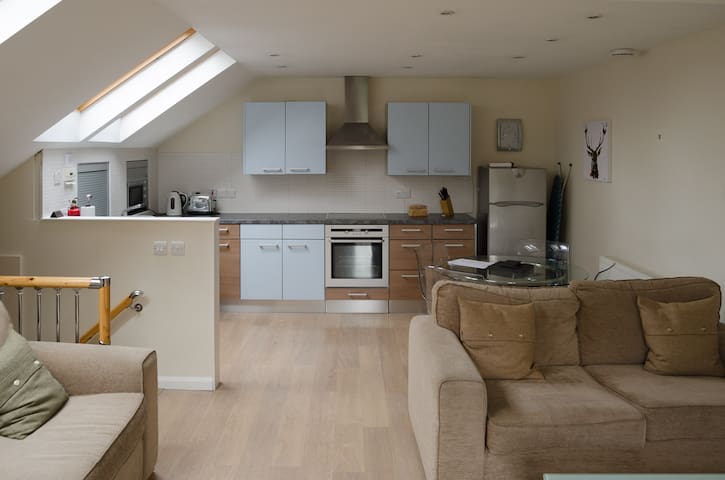 Aconchegante e confortável estúdio plana, recentemente remodelado, numa localização fantástica, com acesso sem fio. Excelentes ligações de transportes para o centro de Edimburgo, 15 minutes.Airport 10 minutos. O estúdio está situado dentro do recinto de uma casa de família e tem a sua própria entrada e estacionamento. As amenidades locais estão a 5 minutos a pé.
El estudio está muy bien amueblado y justo sido totalmente renovado. El cuarto de baño es de un buen tamaño con una corriente eléctrica luces de la ducha y de la característica. La zona de cocina está totalmente equipada con lavadora, microondas, olla a presión, tostadora y mini cocina, plancha y tabla de planchar y una pequeña mesa de comedor y dos sillas. Hay una cama doble, pero tenga en cuenta la cama está en un receso y no hay lugar a ambos lados de ella. Hay wifi gratuito, tomas de corriente del cargador USB y una televisión con TDT y secador de pelo.
A vila de Corstorphine é cheia de história e encantador para explorar. Existem vários restaurantes e bares a uma curta distância. O premiado restaurante indiano "Spice Lounge Kitchen" é apenas 1 minuto de distância.
Tracey is a guest host! She's always there to help. The studio is newly decorated and very functional. The location is quite convenient, easy to go to centre of Edinburgh. Perfect for our stay in Edinburgh. Highly recommended!
Qi
2016-08-26T00:00:00Z
Fantastic, self contained studio flat, great location for getting into the city centre, close to amenities, and Tracey was a fab host and will definitely stay with her again! Thank you xx
Eleanor
2017-03-26T00:00:00Z
We had a great experience at Tracey's apartment. Everything we ever needed. Perfect for our last night in Scotland. Tracey was so accommodating and helpful. I'm so going to miss the lovely friendly Scottish hospitality. Thank you Tracey for making our stay so memorable. Kate and Tony x
Kate
2016-09-22T00:00:00Z
Lovely weekend in Edinburgh! Tracy was incredibly helpful, couldn't have asked for more. Lovely spot with regular buses into town.
Kelly
2016-11-27T00:00:00Z
One of the best equipped apartments we have ever stayed in with Airbnb. Everything thought of, great space, and so close to Edinburgh city centre and the airport too! Great facilities and the bed was really comfortable. Tracey and her family were fab hosts, 100% would stay again and definitely recommend to anyone visiting Edinburgh.
Kirstin
2016-10-23T00:00:00Z
Cracking self-contained flat, and host's could not be more helpful or genuine
Ronnie
2016-10-09T00:00:00Z
Tracey was a fantastic host, both before and during the stay. She was in regular contact and provided a warm welcome on arrival. The apartment exceeded my expectations, with more space than perhaps the photos show and the location is really well connected for getting into the city centre. Local amenities were good too and Tracey pointed everything out. Would definitely recommend to anyone and stay again.
Ssegawa
2016-09-25T00:00:00Z
Tracy was fantastic, she gave us clear direction on how to get to her place from the airport (which was only 15 minutes on the bus) and then as soon as we got their she presented us with maps and leaflets to help make our stay as best it could be. There was still a guest there when we arrived but she allowed us to leave our luggage with her so we could go explore the town a bit more before settling in. The place itself was beautiful and exactly what we needed for a long weekend. There was a small kitchen that she kitted out with bread, biscuits, tea, coffee, jam, butter and juices, this was great as we made our own breakfast and lunch whilst staying to save on money. Everything was clean and the shower was always hot. Tracy even provided us with a mini work top oven/ stove. She quick at texting back and is even helping me sort out getting back my wallet that I had stupidly left in an Uber on my last night there! All in all it was a fantastic stay, made even better by Tracy's hospitality and lovely little converted garage.
Ellie
2016-11-07T00:00:00Z
Tipo de Quarto
Casa inteira/apto
---
Tipo de Imóvel
Apartamento
---
Acomoda
2
---
Quartos
Edinburgh , Midlothian, Reino Unido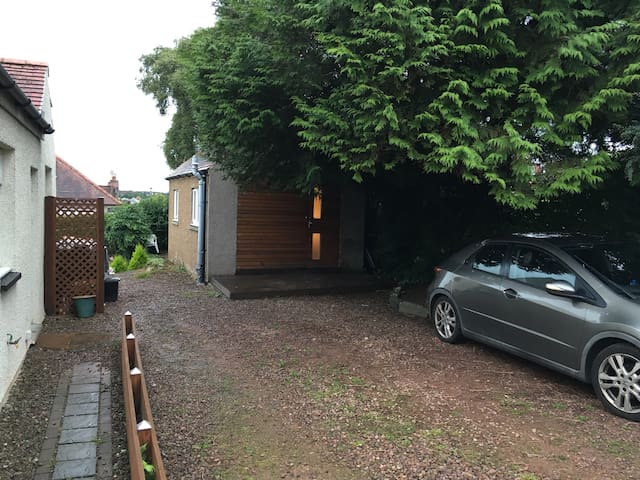 Dieses moderne Studio ist sehr schön mit den berühmten Forth Bridges nach vorne und Eisenbahn Spur nach hinten gesetzt. Clever Design erlaubt es dem Glasfront Wohnraum komfortabel Wohnen, Schlafen und Kochen aufzunehmen. Die malerische Küsten Schlepptau von SüdQueensferry ist weniger als 10 Meilen von Edinburgh und verfügt über eine hervorragende Verkehrsanbindung. Wenn Sie möchten weiter reisen Queens ist hervorragend aufgestellt, um den Rest von Schottland Attraktionen zu bekommen. Es ist einfach ein schöner Ort zu bleiben!
Great little studio with stunning views of forth bridges. Ideal location for us visiting family and although only the 2 of us the nook would be great value place for a family with young children with a cool bed space! Easy checkin/out process and communication from Alison.
Gordon
2017-03-16T00:00:00Z
Great host. Excellent communication from Alison. We have travelled a lot and this is definitely up with the best. Everything you need is there on arrival, including some nice biscuits. Yum. Great location, great view. Great instructions to find keys and arrive in your own time. Highly recommended.
Ross
2016-08-06T00:00:00Z
Cookies and a studio with great feng shui!
Susan
2016-10-17T00:00:00Z
The Nook is a fantastic place to stay! It's design utilises the space available and is perfectly placed to get into Edinburgh on the train very easily. The views from the decking of the bridges is a lovely sight to wake up to. The apartment is comfy and kept clean and tidy with a good shower room. We stayed here for the weekend for a friends wedding at Hopetoun House - only 10min by taxi away, and it was really excellent. Alison was a perfect host - great communication before we arrived and whilst we stayed. And she always offered to be on hand if we needed anything - not that we did! Highly recommended for anyone to stay here!
Christopher
2017-02-26T00:00:00Z
Clean comfortable place in the heart of Queensferry. Beautiful views. Alison and Darren couldn't have been more helpful. Will definitely be back.
John
2017-03-23T00:00:00Z
Velbeliggende studiolejlighed, fin til mindre familie, og med flot udsigt, fin til køreture ud og tæt på Lufthavn og Edinburgh. South Queensferry er en meget hyggelig by. Trafikken på de omkringliggende motorveje kan være en smule tung morgen og sen eftermiddag, vær opmærksom på det, hvis du/I skal med en flyafgang på et af disse tidspunkter.
Claus
2016-10-04T00:00:00Z
The Nook is an incredible place with fantastic views across the Firth of Forth and the bridges, a great atmosphere, is very quiet and ideally situated for both quiet country walks and to get to Edinburgh. We felt completely relaxed and well looked after by Alison. Everything from communicating our arrival to where to find things and places worked really well - I cannot recommend The Nook enough :-).
Kerstin
2016-10-11T00:00:00Z
Tipo de Quarto
Casa inteira/apto
---
Tipo de Imóvel
Apartamento
---
Acomoda
4
---
Quartos
Queensferry, Reino Unido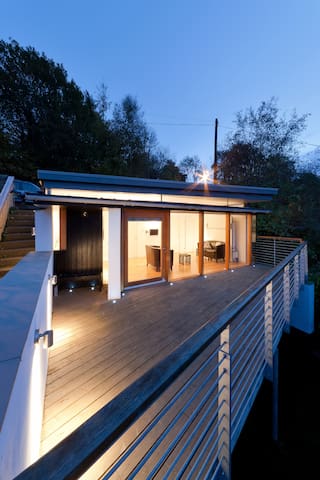 Nosso apartamento tem uma casa de banho e cozinha privada, bem como espaço de estudo, segurança 24 horas, Wi-Fi ilimitado e TV de tela plana. Nós oferecemos um refúgio pessoal do centro da cidade movimentada, embora seja de fácil acesso das principais atracções de Edimburgo.
Tipo de Quarto
Casa inteira/apto
---
Tipo de Imóvel
Apartamento
---
Acomoda
1
---
Quartos
Edimburgo, Reino Unido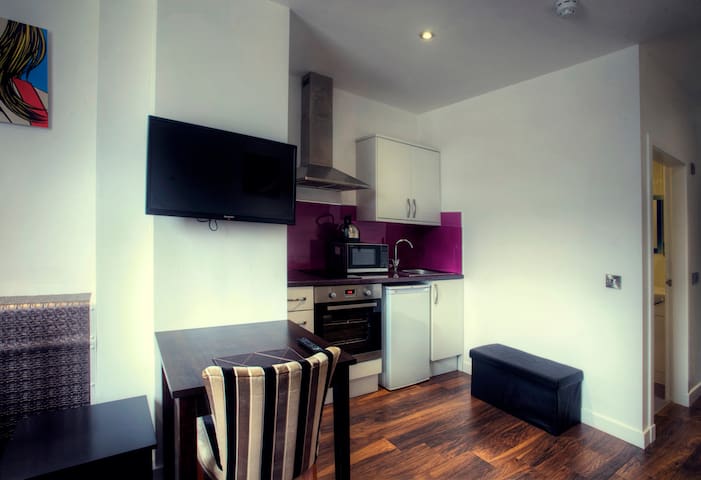 Tipo de Quarto
Casa inteira/apto
---
Tipo de Imóvel
Apartamento
---
Acomoda
5
---
Quartos
Edimburgo, Scotland, Reino Unido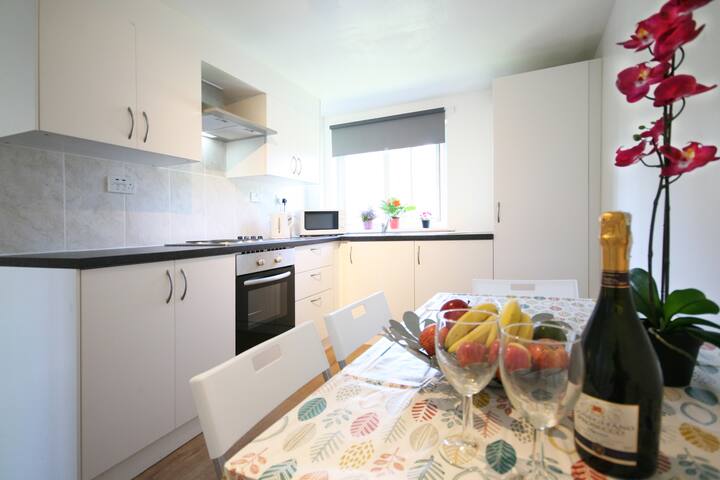 Ma place est près de la gare Haymarket et bon lien vers l'aéroport. Vous allez adorer ma place à cause de Arrêt de bus en bas, à 5 minutes du centre-ville en bus. 5 minutes de l'aéroport de 24 heures son service.
The host canceled this reservation the day before arrival. This is an automated posting.
Paul
2016-06-23T00:00:00Z
Tipo de Quarto
Quarto privado
---
Tipo de Imóvel
Apartamento
---
Acomoda
1
---
Quartos
Edimburgo, Reino Unido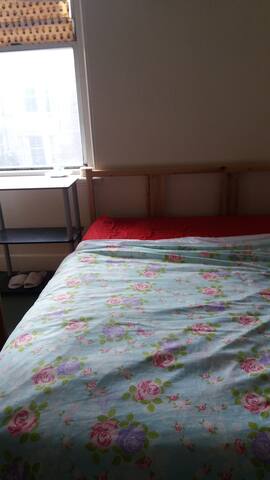 Tento přízemní byt se nachází v historické budově s výhledem na historickém přístavu na řece Almond. Nachází se 20 minut od centra města s pravidelnou autobusovou linku 41. Existuje mnoho procházky přímo od vstupních dveří; přes přílivovou hráz na Cramond Island, podél řeky minulého omílání pády nebo podél dlouhé písečné pláže.
Tato hlavní dveře studio se nachází přímo na promenádě u Cramond. Krásný výhled na nábřeží lze vidět při pohledu z okna nebo procházky ven ze dveří. Ubytování je otevřená dispozice plan studio zahrnuje kuchyňský kout s barovým pultem, ložnice koutem, obývací částí s pohovkou, TV a požáru, jídelním koutem a výhledem na nábřeží. V koupelně je vana se sprchou. V kuchyni je mikrovlnná trouba, lednice, pračka / sušička, rychlovarnou konvicí a toustovačem, pokud byste chtěli večeřet doma díval na nábřeží nebo dohnat s praním. Jakmile budete chodit ven vašich dveří budete mít okamžitý přístup ke krásné procházky podél pobřeží nebo podél řeky Almond. Tam je místní hospodě za rohem, a dvě kavárny se podává snídaně, oběd a občerstvení a dvě obchodní centra na dosah ruky. Těchto 41 autobus vás zaveze do města za 15 minut a na letiště Edinburgh dojedete za 10 minut. To je ideálním místem, pokud chcete mít možnost využívat všech Edinburgh má nabídnout ještě zůstat na nábřeží.
Cramond je krásná malebná vesnice stojí na historickém Edinburghu nábřeží.
John's cottage was a great find! Well located away from the bustle of Edinburgh but close enough to drive into the city within 10-15 min. The apartment has cooking facilities (pots pans microwave kettle) so we were able to make a simple meal for ourselves. And there is a Tesco close by. The area around the house is very picturesque with great views of the harbour. Would definitely stay here again!
Mitra
2016-08-01T00:00:00Z
We spent a lovely 2 nights at John's place during a road trip holiday this autumn. The location is brilliant, looking directly out onto the waterfront and around the corner from the beach and Cramond Island. The pub 2 minutes away serves a great selection of ales and has a lovely atmosphere though unfortunately the food wasn't great (or we didn't pick well - we both had pies). For our 2nd night we cooked in and the kitchen was perfectly equipped for a cosy meal in. There isn't a shop within walking distance but they're not far by bus or car, and John very generously stocked up on milk, juice, tea, coffee and snacks. We enjoyed hopping on the bus into Edinburgh, rather than driving in, and enjoyed some exploring. Such a beautiful and interesting, and friendly, city. I would definitely recommend this property as a cost bolt hole to explore Edinburgh from. If you are tall this grade b listed cottage has low-ceilings.
Jessica
2016-09-29T00:00:00Z
Beautiful area and John's place was an excellent base. Lots of lovely walks and the city 20 mins drive. Lovely stay. Thank you!
Sarah
2016-10-23T00:00:00Z
Lovely stay, excellent location on the waterfront. Easy link into Edinburgh with a frequent bus service. John was a very good host.
Graham
2016-12-04T00:00:00Z
Excellent little cottage in a beautiful location. John was also very helpful when we got lost! Would recommend every time. Thank you.
Joseph
2016-08-22T00:00:00Z
John was a really nice host - left some juice, cookies and milk in the apartment...really appreciated! The area is lovelier than expected - go for a walk to the island, you will love it! Great stay here.
Esme
2016-10-30T00:00:00Z
John was very friendly and nice. He offered us to take us to the local bank and a supermarket as both is quite far away from the cottage. He was very kind and allowed us to pick up our luggage after check out time. Thank you! Cramond is a lovely little seaside village. It is quite picturesque and we had a fantastic time there with many nice walks along the river Almond and to Cramond Island. The bistro next door serves lovely breakfast and the Cramond Inn is a wonderful place to grab a drink in the evening to chat with locals and sit in front of a lovely fire place. They serve superb single malt and beers. A must for everyone who visits Cramond!
Connie
2016-10-20T00:00:00Z
Très bon séjour chez John. Les photos et la description sont conformes au logement. John nous a indiqué des coins sympa aux alentours du logement. Le centre ville n'est pas très loin en bus. Le bord de mer est vraiment sympatique. Un grand merci pour ce séjour.
Mélanie
2016-11-27T00:00:00Z
Tipo de Quarto
Casa inteira/apto
---
Tipo de Imóvel
Apartamento
---
Acomoda
2
---
Quartos
Edimburgo, Reino Unido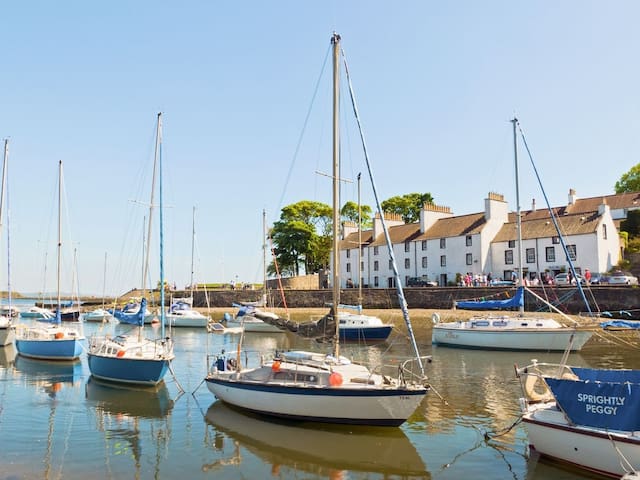 Fantástica localização para visitar Edimburgo. O apartamento tem seu próprio jardim privado e é completamente separado de qualquer outro tipo de alojamento. É perto do aeroporto e está na rota principal para o centro da cidade com um serviço de autocarro frequente. Locais lojas, bares, restaurantes, bancos e supermercados na porta. Este é um local muito popular como tão perto de um campo de golfe, jardim zoológico, estação de trem de Murrayfield, Haymarket e do aeroporto. Todas as principais vias de acesso ao norte da Escócia também estão muito próximos. Este é um deve ficar!
Como o apartamento é um apenas prédio estande não há vizinhos residenciais que se preocupar. Você tem o seu próprio jardim privado com mesa, cadeiras e guarda-sol. Há também uma linha de lavagem se necessário. Esta área é totalmente seguro para precisar se preocupar com as crianças brincando.
Lovely place, friendly host and good acess to the centre
Corinne
2017-03-20T00:00:00Z
The flat was lovely and in a fantastic location close to shops bus stations.
Manolis
2017-03-31T00:00:00Z
Matty from wexford. Through little gem is a wonderful place to stay. Everything is so easy to get around including transport shops (URL HIDDEN) all in 2 minute walk away.Overall was fantastic and especially if you have kids.
Matthew
2017-03-07T00:00:00Z
Tipo de Quarto
Casa inteira/apto
---
Tipo de Imóvel
Apartamento
---
Acomoda
6
---
Quartos
Edimburgo, Scotland, Reino Unido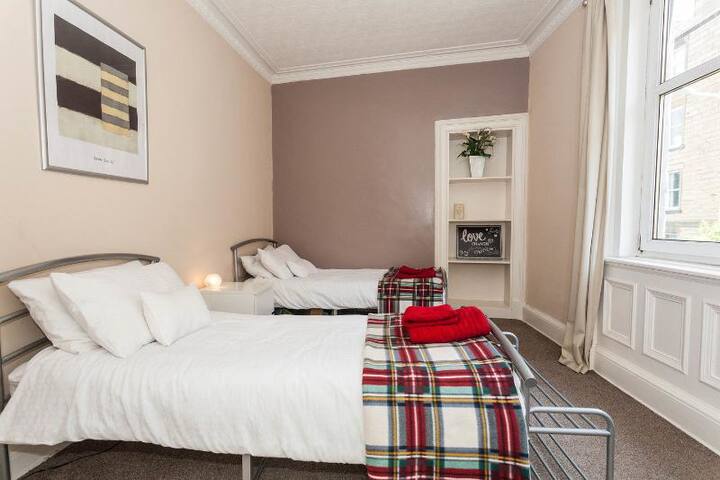 Luminosa y amplia villa en zona residencial tranquila, a pocos minutos a pie de las rutas de autobús y tren en Edimburgo. Gran local a pie en el agua de Leith pasarela y las colinas de Pentland. Casa está amueblada con un estándar muy alto y acogedor, con un gran anfitrión!
Mi hermosa casa tranquila, en las estribaciones de los Pentland está disponible para alquilar, todas o cada habitación. Todas las habitaciones han sido fotografiados, para que pueda elegir. El precio es por todo el lugar y tiene capacidad para un máximo de seis personas.
The host canceled this reservation 12 days before arrival. This is an automated posting.
Yuefeng Peter
2016-07-10T00:00:00Z
Michelle was very welcoming, the accommodation was great and I highly recommend anyone to stay there. We only stayed one night but would liked to have stayed longer.
Nicola
2016-01-02T00:00:00Z
I recommend this place. It was big, in a good area and the landlady was very nice and helpful. The cleanliness of the bathroom wasn´t so good as it should have been though.
María del Carmen
2016-08-14T00:00:00Z
Tipo de Quarto
Casa inteira/apto
---
Tipo de Imóvel
Apartamento
---
Acomoda
6
---
Quartos
Currie, Reino Unido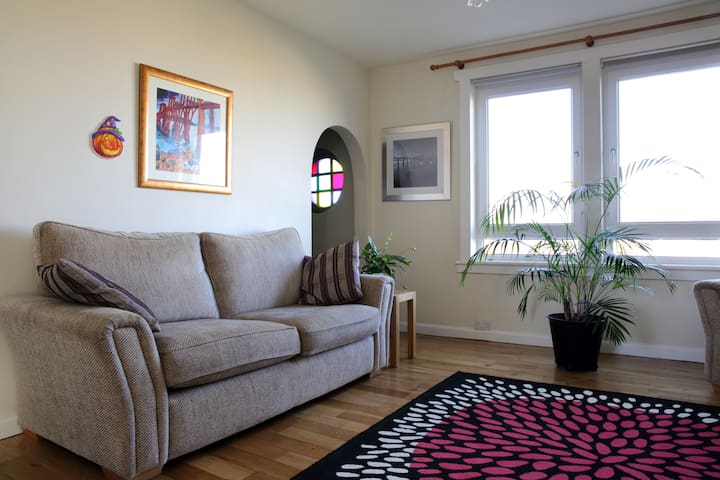 10 Minuten Bahnfahrt ins Zentrum von Edinburgh. Doppelzimmer in einer ruhigen, grünen Wohngegend von Edinburgh mit kostenfreien Parkplätzen. Gemeinsames Bad und Küche (Wärme und essen nur) mit mir. Privates Schlafzimmer zur Verfügung: maximal 2 Personen.
Schöne, helle, geräumige Doppelzimmer mit Blick auf Kingsknowe Park. Das Zimmer hat ein Doppelbett-Betten und gemütlichen Decken zur Verfügung gestellt aswell als Handtücher. Es gibt eine Kommode, ein Schrank, die viel Platz zum Aufhängen einschließlich Kleiderbügel, Regale, Lampe, TV und Beistelltisch bietet. Das Zimmer verfügt zudem über ein großes Fenster mit Verdunkelungsrollo und Vorhänge. Es gibt ein Bügeleisen, Bügelbrett und Wäschetrockner in Ihrem Zimmer zur Verfügung. Es gibt einen Wasserkocher und eine Auswahl an Tee, Kaffee und süße Leckereien für Sie in Ihrem Zimmer sowie einen kleinen Kühlschrank zu genießen. Es gibt auch eine Reihe von Informationsbroschüren in Ihrem Zimmer über lokale Aktivitäten und Touren in Edinburgh und die Umgebung. Ein leichtes kontinentales Frühstück in Ihrem Zimmer (Selbstbedienung): Fruchtsaft, Tee, Kaffee, Milch, Marmelade, Porridge, Müsli.
Tranquilo barrio residencial de Edimburgo, gran parque detrás plana con equipo de gimnasio, canal camina, las vistas de las colinas de Pentland y Forth puentes de carretera. Las tiendas locales al final de la carretera- 10 minutos a pie. 15 minutos en coche del estadio de fútbol del estadio de Murrayfield y Tynecastle. 5 minutos de la Bolsa de Edinburgh Corn. unidad de 10 minutos a la Universidad Heriot Watt y la Universidad de Napier.
La anfitriona nos mostró la casa y todos los medios para poder utilizar los electródomesticos. Nos enseñó el barrio, indicándonos los medios de transporte al centro Tren y Bus, nos acompañó a la primera comprar en una gran supermercado y estuvo siempre atento con nuestro itinerarios Mi hija se sintió muy bien y le da las gracias desde aquí pro su gratitud y familiaridad, apretándole películas de CD, pintándole las uñas y celebrando con nosotros su cumpleaños,
Lorenzo
2015-08-24T00:00:00Z
Lovely stay, Kim was welcoming and everything was as stated on the website. Would recommend and I will hopefully be staying again soon.
Matthew
2016-11-07T00:00:00Z
3rd stay with Kim and was lovely again. Great communication throughout
Matthew
2017-01-17T00:00:00Z
Very nice room with comfortable bed. Location is also great, bus stop with buses going to HW university and city center is nearby. Kim is also super friendly person. Really recommend. :)
Vlasta
2016-11-19T00:00:00Z
Kimberley was extremely kind and welcoming and the room was so tidy, cozy and certainly quiet. She really thought of the details to make the guest have a pleasant stay. I would definitely stay here again and I truly recommend it!
Aline
2016-08-15T00:00:00Z
Had a great stay with Kim, lovely place and so close to train station to get into city centre in couple of stops & went to Glasgow from there. Backs onto park and canal so plenty of walking tracks around area. Definitely come back :)
Amy
2016-10-26T00:00:00Z
Though it was my first experience with Airbnb, I found everything very organized. I stayed for two nights on late September. The place was exactly as shown in the pictures, very clean and tidy. The room was equipped with all the amenities a traveler might need, like a hairdryer, adaptors that convert plugs to UK electrical system and a fridge containing basic food for breakfast. The block of flats was located in a quiet and peaceful neighbourhood surrounded by green areas. However, I had to walk around 10 minutes to the nearest bus stop that drives to the city centre, as the bus stop outside the flat is only served by a bus that's not very frequent on weekdays and doesn't serve at all on Sunday. But truth is that I didn't bother searching for alternative ways of commuting, so there might be another means of transport. Generally, the place was great value for money.
Olga
2016-09-25T00:00:00Z
Another lovely stay with Kim, would definitely recommend.
Matthew
2017-03-20T00:00:00Z
Tipo de Quarto
Quarto privado
---
Tipo de Imóvel
Apartamento
---
Acomoda
2
---
Quartos
Edimburgo, Reino Unido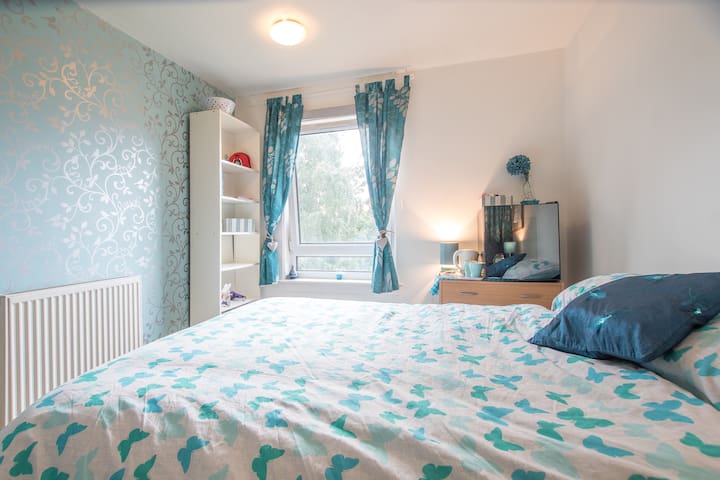 Brilliant one bedroom flat in south queensferry ten minutes outside the centre of Edinburgh. The flat also has an open plan kitchen and living area with a double sofa bed. The flat is a 2 minute walk to dalmeny train station which in turn is a 10 minute train ride into the centre of Edinburgh. 7 miles from Edinburgh airport. Also a short work to the local amenities, bars and restaurants of the historic town of queensferry. Sleeps 4 max.
What makes this flat unique is the surroundings of queensferry yet only ten minutes from the centre of Edinburgh.
Newly built neighbourhood in queensferry which is a beautiful and historic town. Very good rail and bus links into the centre of Edinburgh and the airport.
Tipo de Quarto
Casa inteira/apto
---
Tipo de Imóvel
Apartamento
---
Acomoda
4
---
Quartos
South Queensferry, Scotland, Reino Unido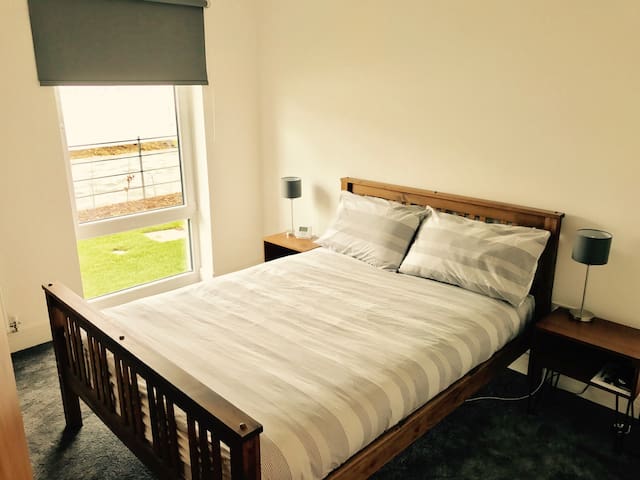 Cosy flat located on the Main Street of a small town in the outskirts of Edinburgh, 10 mins from Airport, 40 mins to city centre (with direct transport links) close by, in South Queensferry, an array of bars and restaurants (10 mins away)
Having lived in my flat for 8 years, I have made it a modern and comfortable place to relax and live in. Kirkliston is a small friendly and family oriented town. It is a great base for many activities, being only 10 minutes away from the airport, 40 minutes away from the city centre (direct by bus), and 10 minute bus/drive to South Queensferry, the iconic home of the Forth Crossings that boasts spectacular views.
Lynsay made us feel welcome and everything was just perfect; nice bed, bathroom with everything you need, quiet place, nice talk, great hospitality.
Fien
2016-08-19T00:00:00Z
Lynsay made us feel at home and was so accomadating. Her flat is in such a cute little town with a nice little park and easy access to everything you need via bus. She went over and above in making our stay relaxing and ensuring we had what we needed and more.
L
2016-08-26T00:00:00Z
Lynsay was a very friendly and lovely hostess. Unfortunately we didn't have the time to become acquainted with each other but we felt very welcomed. Moreover the room was cosy and the bed very comfortable. Perfect, thx again!
Regula
2016-09-17T00:00:00Z
Although my friend and I were staying for only one day the host made sure we had everything we needed and was very hospitable. The flat was really modern and clean, just like in the photos. Good location to get to the airport which is nearby.
Anna
2016-08-04T00:00:00Z
Everything was just perfect!!! It was a great stay. And it was a pleasure to meet Lynsay.
Jana
2016-08-28T00:00:00Z
Everything was perfect, great commuunication, helpfull from the beginning to the end, Lynsay want you to feel at home and you do! Really nice and tidy place, absolute hotel standards. Great experience.
Dorian
2016-08-19T00:00:00Z
We had the best sleep ever here, the flat was so so nice and so so clean. Lyndsay was extremely kind and wonderful to us in our few hours spent with her. Unfortunately we had to leave early in the morning to catch our flight and couldn't spend more time at this amazing AirBnB. 100% recommend!
Nicolas
2016-10-11T00:00:00Z
Chambre parfaite à l'arrivée de l'aéroport d'Edinburgh et qui permet de partir directement le matin pour le nord
clotilde
2016-11-30T00:00:00Z
Tipo de Quarto
Quarto privado
---
Tipo de Imóvel
Apartamento
---
Acomoda
2
---
Quartos
Kirkliston, Scotland, Reino Unido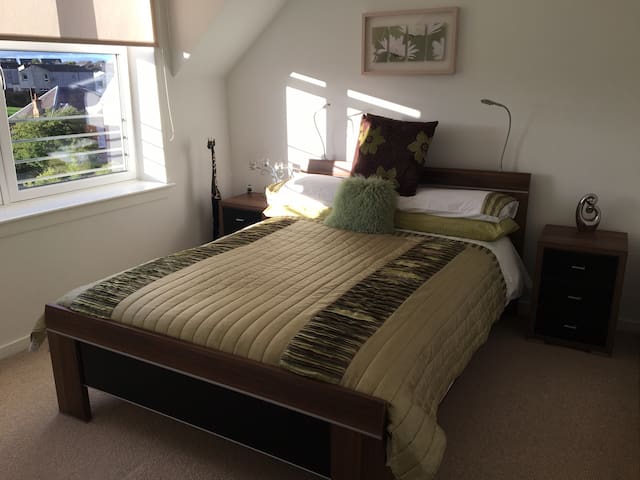 1

–

18

de

178 Apartamentos para Alugar
Insira as datas para ver o preço total. Taxas adicionais aplicáveis. Podem ser adicionados impostos.