STONEHENGE INN IS AN ICONIC COUNTRY HOTEL & RESTAURANT LOCATED IN RIDGEFIELD, CONNECTICUT. AMENITIES INCLUDE: PICTURESQUE LAKE WATERFALL 10+ BUCOLIC ACRES WALKING PATHS A NATURE LOVER'S DREAM (SENSITIVE CONTENTS HIDDEN) STONEHENGE INN & RESTAURANT TO VIEW SPECTACULAR PHOTOGRAPHS OF HOTEL PROPERTY, ROOMS AND RESTAURANT STONEHENGE INN & RESTAURANT IS CONVENIENTLY LOCATED CLOSE TO MAJOR HIGHWAYS
A classic inn set on beautiful grounds in a lovely part of CT. It was just what we were looking for. A major perk is the restaurant, which is very nice, with excellent food. I recommend a stay.
David
2017-01-29T00:00:00Z
Comfortable, quiet rooms on a lovely property with accommodating hosts. I would definitely return.
Sean
2017-02-20T00:00:00Z
Stonehenge Inn is in a delightful location and has a great reputation. When the renovation is complete it will be perfect
Raymonde
2017-02-05T00:00:00Z
Stonehenge was great, excellent service, the food at the restaurant is delicious and the scene was very picturesque. Very pleased with our stay.
Barbara
2017-01-16T00:00:00Z
We had a spectacular stay!! The staff was professional, attentive and accommodating. The rooms are spacious and appointed perfectly. The service in the attached restaurant was impeccable and the food was DELICIOUS! I will certainly stay at Stonehenge the next time I am in the area!
Ron
2017-01-28T00:00:00Z
Tipo de Quarto
Casa inteira/apto
---
Tipo de Imóvel
Hotel boutique
---
Acomoda
2
---
Quartos
Ridgefield, Connecticut, Estados Unidos
One 400 sq ft room in small house. Studio has separate entrance & separate living area from rest of the house. Walk to state park or enjoy natural surroundings from studio side yard overlooking lake. Drive 4 miles to downtown area. No cleaning fee!
Studio has its own full bathroom & kitchenette. It is the lower level of a 3 bedroom house and is above ground. There are 2 closets. Wifi is included but cell signal is limited. Kitchenette = mini-fridge, microwave, sink, countertop & cabinets. Toaster oven, coffee maker and hot plate. There is no stove. Picture window overlooking lake across street Ceramic tile floor.  Street parking. Furnishings: Full-size real bed, desk and chair. comforter, sheets, pillow, towel, soap, futon couch, kitchen items. Mattress has hygienic cover. Location: Ridgefield, 3.3 miles south of i-84. This is a remote lake community in a natural environment. Birds, turtles, and night sounds. Closest grocery store is 4 miles away. State park is a 10-minute walk away. Distances: Closest Metro-North RR in NY is Purdys, 11 miles, 20 minutes away. Closest Metro-North RR in CT is West Redding, 4.5 miles, 10 minutes away. Stamford center 20-25 minutes on back roads. Wilton center 15 minutes on Rte 7. Norwalk center 20-25 min on Rte 7.
Birds, beavers, crickets, frogs, & turtles. This is a beautiful, natural and very quiet neighborhood.
It was good for what I needed it for, quiet. It was very quiet and in a beautiful area.
Gregg
2016-09-22T00:00:00Z
This listing was perfectly as described. I expected no frills and there were none. However the wi-fi capacity was all and more than I needed. The surroundings were very quiet. I got some great nights of sleep which is what I needed as I was in the area for a two-day orienteering competition.
Gordon
2016-09-19T00:00:00Z
I really enjoyed my 2 weeks here. The studio was exactly as described, and Joan was very responsive and easy to communicate with. I highly recommend the Lakeview Studio, and I'll definitely be back. Great experience. Thank you Joan.
Phil
2016-06-19T00:00:00Z
Joan was very helpful and gave clear directions to find the place. The place was spacious, and the location was secluded and peaceful. There is very little cell phone signal, but the Wi-Fi was fine, so it was not an issue. I stayed in the summer, so the room was a quite humid, but it stayed cool without the need for AC. The neighbors are friendly, and it's a great place for a getaway.
Ana
2016-08-31T00:00:00Z
This was a room without personality and ambiance.
Timothy
2016-08-16T00:00:00Z
This is in a remote, scenic area. It is nice to have a separate entrance and the neighbors are very nice. Joan responded immediately to questions/concerns.
Dorothea
2017-03-10T00:00:00Z
Tipo de Quarto
Casa/apto inteiro
---
Tipo de Imóvel
Apartamento
---
Acomoda
1
---
Quartos
Ridgefield, Connecticut, Estados Unidos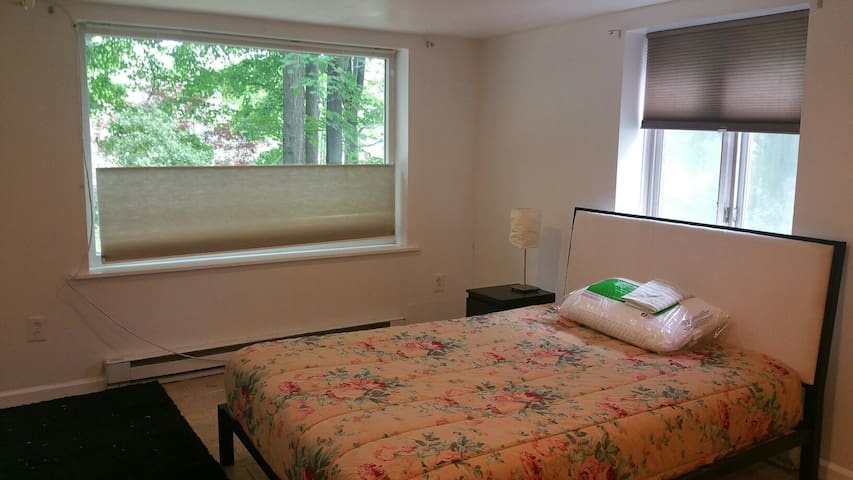 Recently updated colonial on quiet street very close to Town of Ridgefield. Great open hang-out-space for a comfortable stay. A great selection of activities nearby in Ridgefield and surrounding areas.
This is the perfect space for family or friends to get together. This 2900 sqft house has 5 bedrooms and 2 bathrooms on the second floor. On the main floor is a large open family area with kitchen, breakfast table, dining table, and TV/lounge-area with a fireplace for cooler nights, laundry, a half bath and a play room/TV-room and a second living room with couches, fireplace and a piano. A double garage is attached to the house and conveniently enters through the family room with easy access to the kitchen for unloading groceries.
Quiet friendly neighbourhood on dead end street. Close to all amenities of Town of Ridgefield. A short drive to Martin Park Beach.
The host canceled this reservation 94 days before arrival. This is an automated posting.
Howard
2017-03-24T00:00:00Z
Tipo de Quarto
Casa inteira/apto
---
Tipo de Imóvel
Casa
---
Acomoda
13
---
Quartos
Ridgefield, Connecticut, Estados Unidos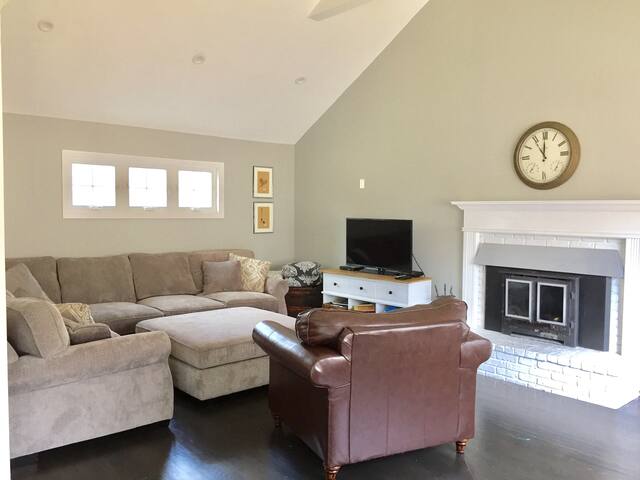 We're located minutes from Rt 84, lots of great local restaurants and the $2 movie theater in town. This spacious, bright Art Studio/Apartment is located right above our Yoga Studio. You'll have FREE access to classes during your stay. Enjoy the art vibe or use the space to create your own art. Bring your own art supplies. There's a half-sized fridge, tea pot, and a panini grill for your convenience. Best for a couple yet up to 2 kids can share a futon or large couch.
Feel free to use our easels, drafting table, and sink for art projects. Get messy, it's OK. Yoga classes are usually Tuesday 6:30 - 8:00pm, Wednesday 4:30 - 6:00pm, Thursday 6:30 - 8:00pm, Saturday 9:00 - 10:30am. You may use the bathroom in the main house during yoga classes. We have a friendly cat and dog.
The main house is a 250 year old antique farm house. Situated on 5 acres. During the warmer months use the pool and outdoor shower. Easy access to I-84 and commuting.
JoJo and Phil were lovely, and helped us get settled in their beautiful art studio space. My friend and I took a girls trip to the East Coast, and this place was just what we needed. Their home and property are also gorgeous, and they were so welcoming. We wished we could have stayed longer to enjoy the area and the comforts of their studio. Would highly recommend!
Olivia
2017-03-26T00:00:00Z
This is a beautiful room above a Yoga studio. Lodgers are welcome to participate in the Yoga classes which is an added plus. Phil and Jojo are warm and hospitable and they go out of their way to ensure that you have a pleasant stay. Highly recommended!
Howard
2017-02-08T00:00:00Z
The place was just as beautiful as the photos and JoJo and Phil were so nice!! The bathroom is in the yoga studio, downstairs from the main space, which for some reason we didn't realize at first and was slight inconvenient but honestly no big deal for a short stay. Super gorgeous area, v cozy stay. Would def return!
Haley
2017-03-18T00:00:00Z
The place was comfortable and fun for a couple. We stayed one night and everything we needed/wanted was available. Great space, no complaints!
Nolan
2017-03-13T00:00:00Z
Very nice place.
CALVIN
2016-12-18T00:00:00Z
This space is totally gorgeous! The sunlight streaming in every morning was almost surreal it was so beautiful. The space is awesome, there is a heater right behind the bed so it can keep you warm even on cold nights without wasting a lot of energy. Everything that you could possibly need was provided, and they had extra blankets and pillows and stuff in case you got cold (which we didn't, the heat worked great). Overall, absolutely fantastic place. We will definitely be back!
robert
2017-02-28T00:00:00Z
A lovely place! Great light and inspiring place to work or just hang out. Jojo and Phil were super nice and very accommodating. I will definitely book it in the future.
Matthew
2016-12-12T00:00:00Z
It was a really cool place. If you are artistic in anyway, this is a great place to stay. Even if you aren't it's still cool.
Stephen
2016-12-21T00:00:00Z
Tipo de Quarto
Casa inteira/apto
---
Tipo de Imóvel
Apartamento
---
Acomoda
3
---
Quartos
Newtown, Connecticut, Estados Unidos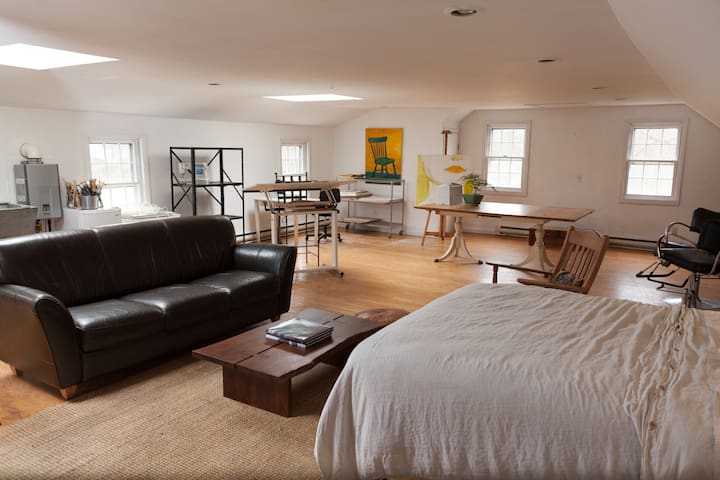 My cozy, secluded and very private guesthouse is where people feel replenished. A very special, quiet & beautiful energy fills the space. Best for couples, but you can make room for a child. A true getaway.
We are totally secluded and private. Most people have no idea the guesthouse space even exists!
Newtown and the surrounding area is just beautiful countryside. Lots of walking/hiking and parks. Great drives.
This was the perfect get-away for us. It was private, serene and cozy. The setting was picturesque with a view into the woods. The suite was appointed with charm and had everything we needed. Yolie was very accommodating and made us feel very welcomed. We will definitely be back!
Laurie
2014-12-18T00:00:00Z
We had quite the pleasant stay in Newtown and Yolie was an exceptional host. The barn is very secluded from the rest of the property and is very quaint and cozy. Before we arrived, Yolie provided us with delicious scones and croissants for breakfast as well as top notch libations for the evenings. Yolie left no stone unturned in making sure that we had a comfortable stay. Though the property was absolutely beautiful with all of the snow on the ground, we are very tempted to make a return trip in the summer and use the fire pit!
Mitch
2015-01-12T00:00:00Z
This property is fantastic, the barn is perfect, and hey Yolie is a total babe. She recommended a great restaurant (The Foundry. Go to there, right now) where we ordered everything on the menu. Our pups came, they had an even better time than we did. A+ !
Dave
2015-01-26T00:00:00Z
Yolie was a fantastic host, and her home is absolutely beautiful- we had a great time! The space was rustic, peaceful, and well maintained, and we loved walking around the property as well. Great experience all around.
Celine
2015-01-03T00:00:00Z
Lots of beautiful green spaces surround this private and wonderfully warm get away. Yolie was a perfect host and made our stay better than to be expected with no complaints! Will definitely be returning :)
Pete
2017-03-26T00:00:00Z
Yolie was an exceptionally nice and interesting person who took care to be sure that we had a good stay. The bed was comfortable and the view fantastic. Restaurants abound in the area. I am eager to go back when all of the beautiful trees are fully out and the plantings are in full bloom.
Ted
2017-04-02T00:00:00Z
Really loved my stay at the guest suite. It was rustic, cozy, unique, very comfortable and tastefully done with everything could need. It felt very secluded with really beautiful surroundings, great neighborhood and places to explore. Yolie really went above and beyond to make sure I had everything I needed. Very welcoming and great communication throughout my stay. I hope to return very soon!
Rhonda
2016-12-08T00:00:00Z
great, peaceful place to stay for a brief or extended trip!
Kevin
2017-01-24T00:00:00Z
Tipo de Quarto
Casa/apto inteiro
---
Tipo de Imóvel
Casa
---
Acomoda
2
---
Quartos
Newtown, Connecticut, Estados Unidos
Lovely apartment above the garage of a true Colonial home built in 1760. The home is in the Borough and within walking distance is Starbucks, grocery stores, restaurants and Main St. Great walking neighborhood and easy access to I-84.
Two large rooms share a bathroom in the apartment above our garage. The apartment is adjoined to the main house but has a separate stairway and is very private. There is a bedroom with two full size beds. There is a single futon in the outer room, suitable for a child. There is no kitchen in the space (no stove, dishwasher, kitchen sink) but the outer room includes a small refrigerator, microwave oven, Keurig-style coffee maker and a hot water pot. The main house was built in 1760 and sits on a large flat lot with lovely gardens and lawns. The home is conveniently located in a friendly, walkable neighborhood near Interstate Highway 84 and the center of Newtown. Take a short walk to coffee shops, grocery stores, a $2 movie theater, library and restaurants, among other things. Information about Newtown from the New York Times... (URL HIDDEN)
I love that we can walk to just about everything. Edmond Town Hall has $2 movies every night, Caraluzzi's is a great grocery store, Starbucks is at the end of the street...
My stay at Andrew's place was fantastic! From my initial contact all the way through my stay, Andrew and Rebecca were extremely communicative, everything was exactly as promised and they even accommodated a very late night arrival with clear instructions for gaining access. The apartment was perfect for my mother and I to have separate beds for a comfortable rest, is situated in easy access to the highway and the kitchenette provided us the ability to not need to eat out for every meal. Fall here was gorgeous and gave us Californians just the country escape we needed at an incredibly affordable rate. I have no complaints and would definitely stay here again! Thanks Andrew and Rebecca!
Natalie
2016-10-23T00:00:00Z
This neighborhood was safe and quaint and very close to shops and the main streets. Andrew was great! And made our stay very smooth. The apartment was lovely. It was spacious and comfortable and private.
Divya
2016-10-23T00:00:00Z
As earlier reviews point out - the accomodations are very spacious, very quiet, very clean, very private, very comfortable and extremely convenient to the interstate and local shopping, not to mention very economical. Andrew is very gracious and generous. Thanks for the beers - we needed them after a hectic day of wedding preparations. Unfortunately, our time with Andrew was short (late arrival and early departure). This was our first airbnb experience - Andrew has set the bar very high, it will be hard to beat this.
John
2013-08-05T00:00:00Z
Spacious, comfortable beds. Rebecca was responsive to my questions about tv. Dark, country road so you can't really walk at night to shops/ town. Host provided disposable utensils. Appliances could have been cleaner. All-in-all I had a good time with my college roommate.
jane
2016-10-09T00:00:00Z
The space was perfect for us. The only bump was that the heat was not working upon our arrival. Rebecca, the on-location care-take,r gave up her evening out and communicating with Andrew had the problem resolved within an hour. The next day Andrew sent us a partial refund! Appreciated, but certainly not necessary! We highly recommend this space.
Roxanne
2016-11-05T00:00:00Z
Easy peasy from start to finish! Great folks, great stay.
Caroline
2016-09-19T00:00:00Z
This is a nice family home in a great town. Lovely family including the dog. Nice place to stay in lew of a commercial hotel. Bring your own coffee and snacks. Small Fridge and microwave is there.
Robert
2013-09-15T00:00:00Z
We had a great stay! Our hostess, Rebecca, was very accommodating. Beds were super comfortable! Apartment was very spacious.
Kathleen
2016-09-09T00:00:00Z
Tipo de Quarto
Casa inteira/apto
---
Tipo de Imóvel
Apartamento
---
Acomoda
4
---
Quartos
Newtown, Connecticut, Estados Unidos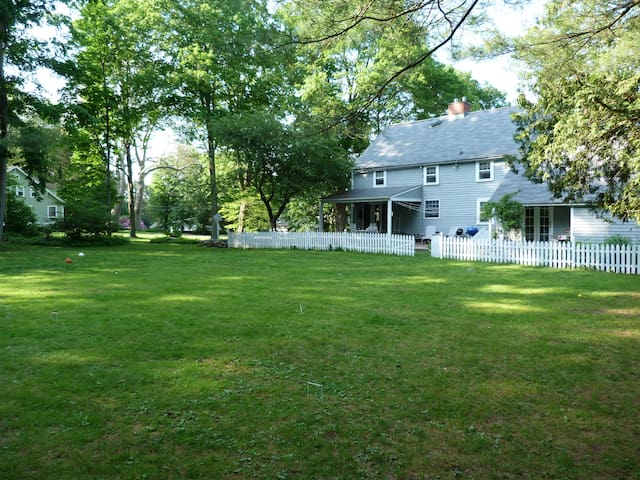 Our rustic River Houseboat is on the edge of the Pootatuck River on our lower pond.
Our rustic River Houseboat is on the edge of the Pootatuck River on our lower pond. The Houseboat has a comfy queen bed and a screened porch complete with two antique rocking chairs. The River Houseboat is often preferred because it is located close to the main Stone Barn and parking lot. The Stone Barn is open 24 hours and has a hot shower, toilet, and common room with internet and books. Keep in mind that because this cabin is located at the base of the mountain it is not as secluded as the other cabins. At this time there is only a fully equipped communal Rustic kitchen located at the top of the mountain. PLEASE keep in mind that this kitchen is located a 10-20 minute walk from your cabin, pace depending. If we are available we are happy to give a lift with groceries but we don't allow private cars to drive up and down the mountain. The Stone Barn has a grill outside that guests are welcome to use and we are happy to provide a cooler with ice but cooking requiring prep space and such needs to be carried out in the Rustic Kitchen. There is no kitchen available in the Stone Barn. PLEASE NOTE -The bathroom is not located in the cabin. Both the bathroom and showers are located a one minute walk away in the Stone Barn -There is a small bonfire pit located near the cabin. Five log bundles are available for $5. -DOGS are not allowed in this cabin -Candles are not allowed in the cabins -We do have wi-fi in the stone barn that reaches this cabin but it can be a little undependable
Though there is lots to do in the towns of Newtown, Monroe, Easton and Fairfield, surrounding Sticks and Stones Farm, most guests prefer to kick back, stay put and enjoy the quiet energy of the farm setting.
Celine and Sam are wonderful hosts and the property is incredible!!! Most of the cabins are secluded but the houseboat is NOT, it's right next to the main building (with flush toilets and a real kitchen) and during the week was pretty loud but depending on what you are looking for it may be fine. The grounds are stunning, rich moss and rocky mountains, a sweet little stream and lots of places to explore. There's an enormous 20ft high rope hammock/loft thing, we spent hours one day just hanging out among the trees. During our stay we also spent a night in the pagoda cabin which we loved, there is a fire pit, it's pretty secluded from other cabins, and it's close to the "rustic kitchen." We came for our 6 year anniversary and we can't wait to come back with our kids! The breakfast add on for $10pp was really nice for some of the days, good coffee, eggs from their own chickens, and they even made my partner gluten free muffins both days!! It's a family farm and Celine and her mom, Sam, just took it over a few months ago. I can't wait to come back next year and see what they've done with the place!!
Melissa
2015-07-26T00:00:00Z
Very friendly host very helpful and accomodating. A nice community feeling. We enjoyed the farm and surroundings and it exceeded our expectations. It was very peaceful and I would strongly recommend to anyone looking for a quiet time in nature, in a setting remote, yet close to the city and surrounded by rustic beautifully crafted cabins. The cabins were wonderful, clean and comfortable. They had regular very interesting activities that we were encouraged to participate in, which was a nice touch. We loved the staff and exploring the property.
savitri
2015-06-29T00:00:00Z
Loved it! Beautiful place. Beautiful people!
Luke
2015-08-01T00:00:00Z
The farm was very beautiful and the everyone very welcoming. The houseboat was particularly charming. And of course there were two adorable kittens roaming around.
JN
2015-08-20T00:00:00Z
We had great weekend at the river houseboat on Sticks and Stones farm. Desre was a friendly and helpful host, happy to give tips about the area and help us get anything we needed. The houseboat was charming and relaxing, and we enjoyed reading or admiring the wildlife from the deck. We definitely plan to come back!
Matthew
2014-08-11T00:00:00Z
Super quiet, rustic and beautiful. Totally recommend.
Tj
2014-08-13T00:00:00Z
Celine and her family are so incredibly welcoming and Sticks and Stones is absolutely magical. We did a photoshoot at the River Houseboat (it was a dream!) and then my fiancé and I stayed the night. The kittens came in and out of the cabin and even snuggled with us a bit before bed. Kitten therapy for the win! You DEFINITELY need to give Sticks and Stones a visit. So unique and so peaceful - I'm embarrassed to say I've lived 25 minutes from here all my life and never knew it existed.
Cassandra
2015-10-13T00:00:00Z
Beautiful grounds/setting!
Christine
2015-10-26T00:00:00Z
Tipo de Quarto
Casa inteira/apto
---
Tipo de Imóvel
Cabana
---
Acomoda
2
---
Quartos
Newtown, Connecticut, Estados Unidos
Reproduction Barn on 300-year-old property. Cozy, secluded and private. Come and feel replenished in our guestroom. Located 5 mins from the historic Sandy Hook Center, local hiking trails, wineries and more. Best for a single or couple only.
Totally secluded and private on 4 wooded acres approximately 1.25 hours from NYC. We have the perfect special place for a relaxing getaway and are in close proximity to Fairfield/Litchfield County attractions. The Barn is well situated for day trips to state parks, museums in Hartford and New Haven and several wineries on the CT Wine Trail. The guest room is separate from the main house. There is no kitchen, but we do have a Keurig coffee maker, refrigerator & microwave in room--all the amenities you would find in a hotel room.
The property is situated on a quiet cul de sac that is heavily wooded. My property is unique and used to be a working apple orchard.
Kimberly's daughter wrote a beautiful welcome message for me on the chalkboard.
Darcelle
2016-10-30T00:00:00Z
Kimberley was a very responsive hostess who made every effort to make our stay comfortable at her four acre estate. She welcomed us via a blackboard greeting, had wine for us, and if we needed something was quick to supply it. The location is very rural but there are stores within a few miles in Newtown and Sandy Hook. We really enjoyed the railroad museum in Durban, also.
Eleanor
2016-10-25T00:00:00Z
I loved staying in the loft at Kim's. It's just what I like - a very private and cozy space, comfortable and super clean. The entire property is peaceful and quiet, immaculate and beautifully maintained. Kim is a very attentive host who responded to any of my questions almost instantly. My Papillon loved the spacious lawns and surrounding woods that are so large he could run happily around without a leash. Terrific restaurants within an easy drive as well.
gail
2016-10-09T00:00:00Z
This was a beautiful spot, and Kimbely was truly fantastic. My one year old son and I were made to feel very welcome, not just in the room itself but on the grounds around the house. Kimberly was extremely gracious and communicative from the moment I made the reservation. She looked after my baby while I unloaded my car, and left muffins and fruit for me my second morning. The lodging was clean, tastefully decorated, and had everything I could have needed. Nothing bad to say here!
sarah
2016-05-18T00:00:00Z
Kimberly's barn apartment was the perfect place for us--a comfortable, clean, amentity filled room that was a pleasant surprise. And, during a particularly hot couple of days, it was helpful to have the option to switch on the air conditioner. Lovely gardens and a stack of books to peruse were a nice touch, too!
Audra
2016-07-16T00:00:00Z
The host, Kimberly, was charming and welcoming. The accommodations were clean and very well appointed. I so appreciated the small details, such as cold drinks in the refrigerator, coffee service, and bathroom amenities. I will definitely stay again!!
G. Peter
2016-06-16T00:00:00Z
Kim was a great host. Her design and décor of the space was very well done. A boutique hotel feel. Her books on CT were fun to read especially about the origins of the Alcort Sunfish. We had met Al or Cort at a cocktail party along the way but only knew a little of their story, My wife photographed some of the decoration as inspiration for our own cottage. Stay was unfortunately too short as we had to leave early in the morning due to babysitting commitments. I would highly recommend Kim's barn to anyone that wants to experience the quieter rustic side of New England.
David
2016-06-25T00:00:00Z
I was in the area visiting family. Kim met me when I arrived and was very warm and welcoming. She showed me the room, which I found very clean, private, and quiet (I enjoyed listening to the birds in the morning). The room was stocked with fresh fruit, drinks (water, orange juice, and wine), and clean towels. Although I was a little weary about using Airbnb, Kim was an amazing hostess and I could not have asked for a better stay (she even brought me muffins)! If you are looking for a quiet place to catch up on sleep, relax, read, or do absolutely nothing, this is the place for you! This is now my "go-to" place when visiting family in Connecticut!
Adrian
2016-03-13T00:00:00Z
Tipo de Quarto
Quarto privado
---
Tipo de Imóvel
Outro
---
Acomoda
2
---
Quartos
Newtown, Connecticut, Estados Unidos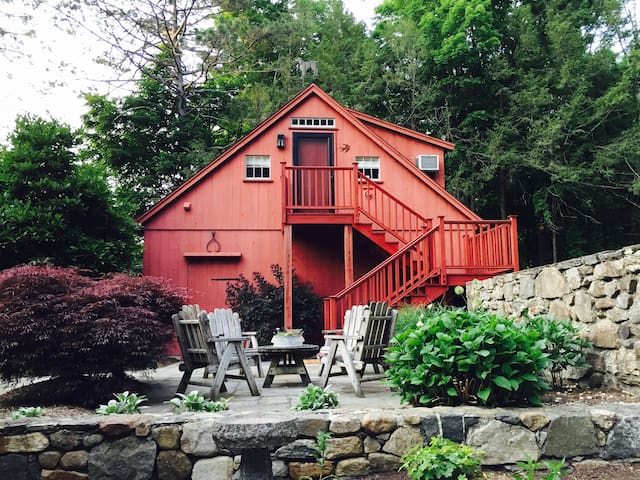 You'll love our place because of the ambiance and beauty of an 1890 Victorian home. An elegant and comfortable spot for couples, solo adventurers, and business travelers. You over look a peaceful pond, a yard that beckons a picnic, barbecue or simply relaxing.
This house radiates old Victorian charm with the convenience of modern amenities. A compact stylish kitchen, a cozy living room and working comfortable office. An elegant compact retreat.
New England grace, within walking distance to a country deli. Easy to reach all of Western Connecticut and 70 miles to Manhattan. A private elementary and preschool is nearby as are old colonials, horse farms and early churches. We have great dining nearby, from take outs to gourmet. We will be delighted to share our favorites.
The host canceled this reservation the day before arrival. This is an automated posting.
Brian
2017-03-03T00:00:00Z
Tipo de Quarto
Casa inteira/apto
---
Tipo de Imóvel
Apartamento
---
Acomoda
4
---
Quartos
Newtown, Connecticut, Estados Unidos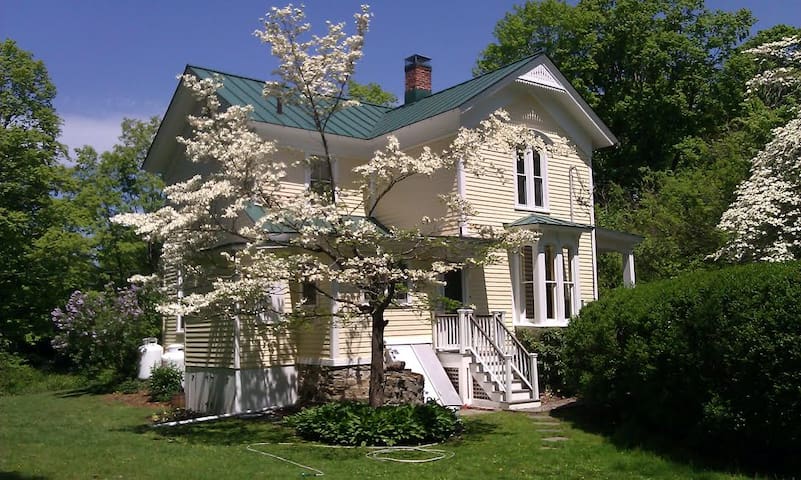 You will be in a two room suite, with private entrance, on a magnificent property with 40 acres of open space and a trout stream. Hike or just relax around the seasonal pool. Close to I84, about 75 minutes from NYC.
Room with private entrance and full bath. The mill, surrounded by 30 acres of open space is only 1.25 hours from NYC. It's a great place for a relaxing getaway. Enjoy the seasonal swimming pool, patio, cable, WiFi internet and close proximity to Fairfield/Litchfield County attractions. As we are in the country, you will need a car. Some guests from NYC take Metro North to Danbury on the New Haven Line or Southeast on the Harlem Line and have Enterprise Car Rental meet them. The mill is well situated for day trips to state parks, museums in Hartford and New Haven and several wineries on the CT Wine Trail. Sorry, no smoking or pets.
A wonderfull two day stay at Dons lovely place. He is a kind and generous man, sincerely interested in making the stay perfect. Great area, beautiful nature. Nice pool og great rooms. Highly recommended!
Janne
2016-07-11T00:00:00Z
My husband and I had a blissful stay at Don's home. The entire place was beautiful, inside and out, with touches of artistry everywhere. Our room was perfect, the bed truly comfortable, the breakfast coffee & cake delicious, and the views gorgeous. Why would anyone stay at a hotel when you can be here? Don is a warm and gracious host, and his cat Chyna will melt your heart. Nature enthusiasts will love the rambling stream, amazing landscape, rock walls and little patios around Don's property, as well as "Shakespeare's Garden" up the road just a bit. A bit of heaven...!
Patrice
2013-10-28T00:00:00Z
This place is SO magical and Don is so welcoming. He has put in so much work to the place, it was amazing to hear his story and the story behind the mill. So much to explore, my girlfriend and I's only downfall was that we didn't stay longer! Don is a great guy, very down to earth and professional yet friendly. I highly recommend staying here, I also recommend making the trip JUST to stay here (which we might do again!).
Chris
2012-07-29T00:00:00Z
Beautiful property and a beautiful room! Wish we had more time to explore all the property. Our only complaint is that we came too late in the year to be able to sleep with the windows open to enjoy the fresh air.
Michael
2012-11-24T00:00:00Z
We absolutely loved our long weekend at The Mill. Don is a gracious host. Beautiful home and grounds that felt remote yet are close to the interstate. The trail behind The Mill is wonderful, a treat to explore. The area is full of great restaurants and shops too. We would love to return for another relaxing visit.
Laura
2014-07-29T00:00:00Z
Don was a perfect host and set the bar pretty high on our first experience with airbnb. The grounds were absolutely beautiful! In the mornings we would sit and enjoy coffee, scones and banana nut bread, provided by Don, while enjoying the view of the grounds, pool, and could listen to the sounds of the trout stream. Lovely time, would love to go back!
Christal
2015-09-03T00:00:00Z
We stayed for 2 nights in the 200 year old mill. Don was a great host and we enjoyed a relaxing time with very restful nights. Don had thought of everything. From a corkscrew to muffins and fruit were all there. The beautiful surroundings are relaxing completely.
Laura
2013-09-11T00:00:00Z
Perfect spot! Really gorgeous grounds and lovely, private rooms. Dan was a wonderful and welcoming host. It was a terrific week. Thank you so much!
Daisy
2016-07-31T00:00:00Z
Tipo de Quarto
Quarto privado
---
Tipo de Imóvel
Casa
---
Acomoda
2
---
Quartos
Newtown, Connecticut, Estados Unidos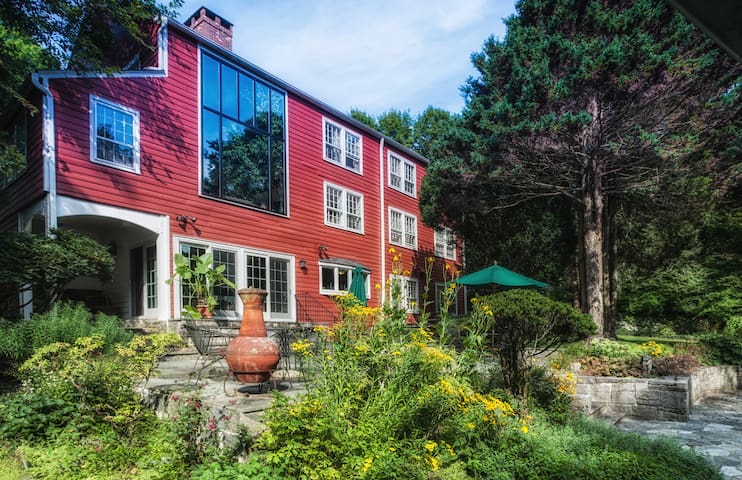 Entire house on a quiet lane makes for a peaceful getaway, access to lake for kayaking, canoeing or paddle boarding, minutes from great restaurants and cafes in Sandy Hook center and abundance of nearby hiking trails, wineries, 1.5 hours from NYC!
House sits on the end of a quite road, adjacent to the hosts house which is on a peaceful inlet of Lake Zoar. Access to the lake is a short walk next door and guests are welcome to use the hosts canoe, paddle board or two kayaks. The house is .5 miles from a beautiful winery with hiking trails and multiple state parks are close by. A large and sunny eat-in kitchen with new appliances is for your cooking/dining pleasure for when you choose not to explore the restaurants and cafe's of Sandy Hook and nearby towns. Two bedrooms with queen beds and two full baths make this home perfect for a family, friends or couples getaway.
The quaint village of Sandy Hook with great restaurants and local shops is just a 3 mile drive from the house. Hiking trails, state parks and wineries surround the area and are a walking distance or a short drive away.
Jo and Norm had the house ready, the AC going and a warm greeting when we arrived. The house nicely appointed. Beautifully decorated, great bedding, towels and soooo comfy! We felt more like family visiting than guests. They offered their garden of fresh veggies to us, their deck overlooking the lake and even gave us paddle board instructions!
Ella
2016-07-18T00:00:00Z
Norm and Joanne's place was clean, spacious , and very private. The beds were comfortable, and the kitchen had everything available for cooking. Would definitely stay here again if ever in the area. Great Value
Jeffery
2016-07-22T00:00:00Z
Cozy, spotless, quiet and comfortable. Norm is a super-host; friendly and accommodating. Would definitely recommend.
susan
2017-01-22T00:00:00Z
Norm and Joanne's place was an absolute winner. Norm welcomed us as soon as we arrived and gave us info about the surrounding area. The house quickly felt like home. Lots of quiet areas to sit and relax and large living area to be with friends. Absolutely beautiful!! We will definitely be returning again!!
Heidi
2017-03-27T00:00:00Z
What a beautiful home away from home! I was in town with 3 friends attending a 1 week conference in Southbury. Norm was so kind upon check-in, orienting us to the natural highlights surrounding the home and to places to eat and explore in the surrounding areas. After long days of training we were nurtured by Norm starting fires for us to cozy up to a few nights during our stay. The kitchen was stocked with everything we needed to make large meals to share. We appreciated the cleanliness of the home and the presence of the breathtaking Eagles that we often spotted nearby. We would certainly recommend this sweet spot and plan to stay here again in the future for further trainings! Thanks Norm and Joanne for sharing this space with us!
Jenny
2017-03-09T00:00:00Z
This was our first airbnb experience and it will be hard to beat! We are recently retired, having sold our house in Newtown and are traveling for an extended period of time. We needed a homebase for the holidays and time with our family. This house is beautiful! It has been put together with an excellent eye for design but more importantly for the comfort and care of the guests. The house has two exterior areas to relax in and additional patios and a dock at the rivers edge. The location is lovely, private and secluded, while being only a few minutes away from stores, restaurants etc... Norm and Joanne are the perfect hosts. They are immediately responsive to any request. The house is well stocked but they are quick to offer items from their own home if desired...you need only ask. They encouraged us to treat this home as if it was ours. We put up a 9 ft Christmas tree and decorations. We had some large family parties here and some small dinner parties! We truly feel like we have found our home away from home. One final and important insight into this experience they have given us. I got sick the last few days of our stay. Next I knew, Norm brought me a delicious pot of homemade chicken soup that Joanne had cooked for me! Amazing and lovely people! We have made two new friends. We plan on returning next year to this lovely home for our holidays with our family!!
nancy
2017-01-09T00:00:00Z
We absolutely *loved* our vacation at Norm and Joanne's house. We are a family of six, plus we brought my wife's father, too. Norm and Joanne were amazingly accommodating. They truly made us feel at home. When we arrived, the house was spotless and ready for use. Norm and Joanne showed us everything around the house. And during our stay, anytime we needed anything, they would bring it right away. As for the house, it's spacious, full of light, fully furnished (and tastefully so!), and has ample a/c and fans that were able to handle 94 degrees with high humidity. And then there's the tranquil inlet and adjoining lake. Most of the time there were no other boaters. And with a beautiful wooden canoe, paddle board, and two kayaks, the whole family (sans grandpa) could set out together and soak in the nature - and some water, too, when the kids decided to go swimming. BTW, the inlet is extremely shallow (~6-24 inches), which adds to the safety dimension. Norm often helped out with guidance and physically moving life jackets and boats as needed. Norm and Joanne are also really friendly, chatting here and there as well as offering to hang out. They even encourage guests to try the herbs and vegetables growing in their garden. Yet at the same time, they also give you full privacy. In short, Norm and Joanne are wonderful hosts, and the house and lake are a dream. We definitely look forward to staying there again!
Robert
2016-07-16T00:00:00Z
What a fantastic property. The house is comfortable and located in a quiet, wooded, residential area. Excellent location as a home base for day trips or to sit back and relax by the lake or drink tea on the deck. Norm & Joann are friendly and so easy to work with. Our comfort was their priorty. Amazing location for a wonderful vacation.
Melody
2016-10-26T00:00:00Z
Tipo de Quarto
Casa/apto inteiro
---
Tipo de Imóvel
Casa
---
Acomoda
6
---
Quartos
Newtown, Connecticut, Estados Unidos
A tranquil cottage nestled on a lavish estate in a private lake community. A perfect place to relax and unwind, enjoy natures surroundings in this perfectly manicured setting.. Just 40 minutes north of NYC, this Pound Ridge escape offers an endless array of activities including, outdoor adventures, nearby apple picking, pumpkin picking, fine dining, high end shopping in quaint CT villages, antiquing or enjoying the peace and quiet in this lush setting!
The cottage amenities include a full kitchen, high end furnishings, dining room, living room and king size bed. The open concept floor plan is great for entertaining. The cottage features a wrap around deck, gas grill, fire pit, and outdoor furniture. The space includes a full bath, full washer/dryer, plenty of storage,, central heat and air, two 55" TV's, Cable, Wifi, Netflix, HBO and much more. Privacy abounds in this amazing cottage….come be our guest!
Enjoy world renowned restaurants including Jean George's Inn @ Pound Ridge or Michael Whites Campagna's @ Bedford Post, Play a round of golf at the Pound Ridge Golf Course…rated one of Westchester's top courses, take a leisurely walk or hike on one of Pound Ridge's many hiking trails, go to nearby apple picking & pumpkin picking, enjoy the fall foliage and seasonal fairs and festivals or just relax and enjoy this peaceful cottage.
Incredibly beautiful area and grounds The home was perfect for a romantic quite time:-) Can't say enough good things about it so just this! Perfection!! Thank you for sharing!!
Carlene
2016-11-16T00:00:00Z
This is the sweetest upstate escape! It's very quiet, clean, and private. We loved going to dinner nearby at The Inn at Pound Ridge and the lake just down the road. Walker was incredibly helpful leading up to and during our stay.
Elizabeth
2016-12-11T00:00:00Z
This was our second stay at Walker's place and it was just perfect. We spent New Year's Eve there and I was able to find everything I needed to cook a special meal. (The stove is electric, and there's no dishwasher, so if those things are important to you it may not be your cup of tea, but I could care less). What makes it so special is the secluded location so close to NYC and near cool towns like Ridgefield and Bedford, lots of country walks at the many preserves run by the Nature Conservancy, and the chic decor that reminds me of the Hamptons. We hope to return soon.
Cat
2017-01-02T00:00:00Z
The cottage is cozy and comfy and in a neighborhood with lots of character (winding roads, cool houses, lakes). The bedroom is up a spiral staircase and the bathroom is on the main floor... not a problem, just of note if you get up in the middle of the night. The secluded feel of the place is great for relaxing!
Janice
2016-12-26T00:00:00Z
Perfect and better than the pictures! Walker was a great, thoughtful and communicative host! Would definitely recommend.
Amy
2017-01-22T00:00:00Z
We had an fantastic wknd. It was rainy so we snuggled in the big and very cozy bed. We ate at a few great restaurants very close by and visited a pumpkin patch and apple orchard also minutes away. The house has everything you need. Will stay again for sure!
Olivia & Nicholas
2016-10-02T00:00:00Z
Walker's place was perfection. Exactly as pictured and described. Very secluded and self contained. Everything we needed was there and the place was pristine (not to mention very beautifully designed and decorated). Walker was extremely easy to communicate with and made our stay a pure joy. We would recommend this place to anyone and everyone.
Jonathan
2016-09-27T00:00:00Z
We loved Walker's place! A perfect home- cozy but luxurious! We loved cooking in the kitchen, watching movies, hiking nearby, and dinner at the Inn at Pound Ridge. The place could not have been more perfect for a nice getaway weekend!
Tara
2016-10-16T00:00:00Z
Tipo de Quarto
Casa/apto inteiro
---
Tipo de Imóvel
Outros
---
Acomoda
2
---
Quartos
Pound Ridge, Nova York, Estados Unidos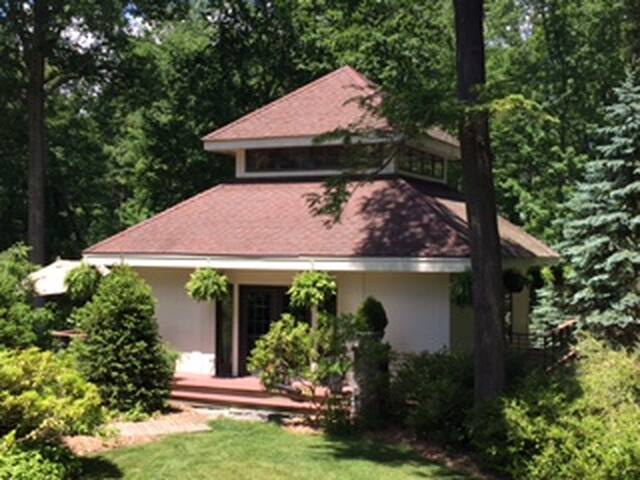 This apt is close town, shopping, restaurants and dining, close to local lakes and beaches, family-friendly activities, nightlife, 15 min to train station.. You'll love my place because of the beautiful and peaceful 5 acre estate the apartment sits on. I offer a tennis court, indoor basketball court and heated inground pool. The inside is light, cozy, beautifully furnished and impeccably clean. . My apt. is great for couples, solo adventurers, business travelers, and families (with kids).
The apartment is above a 3 bay garage
My residence is on a quite side street walking distance to town.
Lovely place, as described. Spacious and very clean. Private setting. Stayed one night.
Brian
2016-10-09T00:00:00Z
An excellent place! You would get less for twice the price at any hotel.
Karl
2016-10-16T00:00:00Z
Tipo de Quarto
Casa inteira/apto
---
Tipo de Imóvel
Apartamento
---
Acomoda
3
---
Quartos
Newtown, Connecticut, Estados Unidos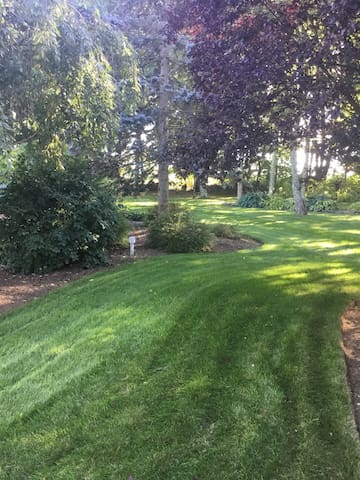 Separate suite with living room and fireplace, full bathroom and bedroom with singlebed.
Best for a single person, although the leather couch can accommodate another person quite comfortably.
Tipo de Quarto
Quarto inteiro
---
Tipo de Imóvel
Casa
---
Acomoda
1
---
Quartos
Pound Ridge, Nova York, Estados Unidos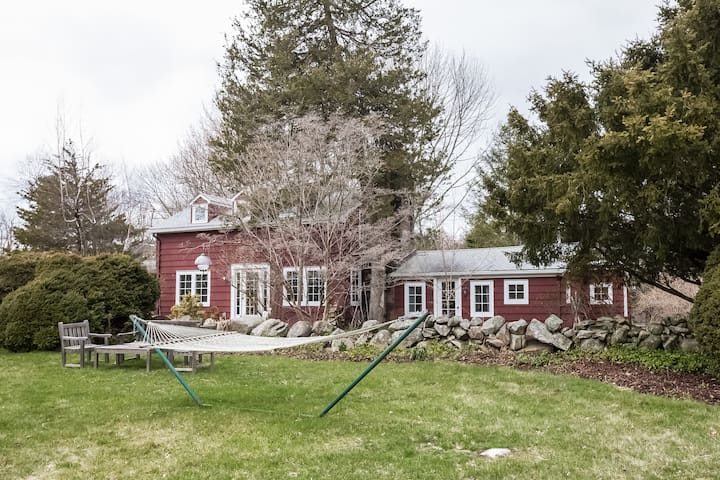 A truly unique house, located just 1.5 hours from NYC, features fireplaces, a ping pong table, and indoor lounge areas. The house sits on a 50 acre property with a brook, wooded trails, and plenty of nearby activities. Perfect for a relaxing trip!
The house features 5 bedrooms, 4 full and 3 half baths. The large kitchen is fully equipped with plates, pots, and utensils and has a large island with stools, great for cooking with a group. There are three separate terraces for hanging out in small groups, an entertainment room with a large TV, and a full-size ping pong table for indoor entertainment. Guests need to provide their own towels (indoor and outdoor if needed), sheets, and pillow cases. Pillows and comforters w/ covers or blankets for each bed are provided. In addition, the following amenities are included: *Kitchen with the essentials, a stove, refrigerator, and microwave *Wifi & Smart TV *Indoor fireplaces *Large charcoal grill and ample outdoor seating *Outdoor games, croquet set, and board games *A/C, heating, doorbell and dimmable lights *Washer / dryer *Hangers and closet space
The house is surrounded by a beautifully wooded area, a brook, historic dirt road, as well as lake Lillinonah. There are nearby walking trails and always a sense of serenity. If you'd like to take a break from relaxing, there are some great places to eat, a winery, mini-golf, theater, and plenty of shopping and entertainment within a 10-20 minute drive. Check out the Guidebook / Map for a few of my favorite places.
Isabelle was very accommodating throughout the entire experience. The house was exactly as described and very spacious - accommodating large groups. Beyond the house, the property was amazing! We took runs, visits to the creek - amazing. The neighbors were also pleasant and friendly.
Alexis
2016-02-21T00:00:00Z
Our stay at Isabelle's house was wonderful! The house could comfortably accommodate our group of nine (with more room to spare), and was a beautiful location for a weekend away. So happy to have been able to stay in the home, and it was a pleasure working with Isabelle to secure it!
Kate
2015-07-26T00:00:00Z
If I could give this listing & my experience at this house more than 5 stars, I absolutely would! Isabelle was a pleasure to work with - a great communicator and very flexible with our needs. The house itself was spacious, clean, comfortable and had everything we needed (outdoor grill, firepit, great kitchen, huge outdoor space, access to short hikes, ping pong table, outdoor sports equipment, board games, smartTV, and a lot more)! Supermarket was easily accessible, kitchen was well stocked, and there was plenty of space for everyone to sleep comfortably. Overall, the other reviewers are right, the pictures do not do this place justice! It's a beautiful home and I would happily come back anytime.
James
2016-05-31T00:00:00Z
The Unique Woodland Retreat was absolutely fabulous! We were looking for a location that was central to Boston, NYC, Philly and DC to accommodate a group of high school friends and their families. 1. The rooms were spacious and comfortable with plenty of bathrooms for our group. 2. The backyard was a perfect space for the kids to run around and explore the brook at the bottom of the hill as a nature walk. 3. The downstairs kitchen/living room and upstairs living are were great spaces to engage with the entire group while cooking and upstairs after the kids went to bed. Isabelle was extremely hospitable, accommodating, and gracious in advance of the stay to ensure that we had everything that we needed for our stay. The directions were clear and the property was even more impressive than the listing. I would highly recommend the property and her as a host! Thank you for a great visit to Newtown! Best, Max
Max
2015-08-30T00:00:00Z
Fantastic house! Everything was very clean, the wifi worked very well, and there were plenty of dishes to use. Lots of space! A great place to spend a weekend away.
Meg
2016-08-21T00:00:00Z
We had a fantastic time at Isabelle's house. The place is exactly as described if not any better. Extremely spacious with a unique architecture. The house is privately located in the woods, so that we could enjoy our groups company without disturbing anyone, or being disturbed. Isabelle was super responsive and attentive before and throughout our stay. She even took the extra mile with a sweet surprise for our group. Which was highly appreciated. All in all we had a great 4th of July, and grateful to Isabelle for sharing such a beautiful place with us and airbnb community in general. Superb place, excellent host, what else can you possibly ask for?
Aykut
2015-07-05T00:00:00Z
There were 9 of us staying in the house for the weekend. The house is a wonderful size and layout for a large group of people. Every couple had its own room and bathroom with plenty of areas to lounge. The kitchen was stocked with nice pots, pans, utensils, and dishware. We ate every meal outside (also comfortably fitting 9 people) overlooking the greenery and trees, which is particularly lovely in fall. The house was extremely clean. Isabelle had good communication with us before our stay.
Zachary
2015-09-27T00:00:00Z
Stayed here for two nights with a group of friends to relax and get away. The place was perfect for us. Lots of outdoor space for games, large grill and plenty of comfortable rooms to sleep in. The house was even better than the photos. Would definitely recommend this house.
Matthew
2016-04-25T00:00:00Z
Tipo de Quarto
Casa/apto inteiro
---
Tipo de Imóvel
Casa
---
Acomoda
12
---
Quartos
Newtown, Connecticut, Estados Unidos
This cottage is what I call a "Happy Home." It was loved and cared for by a couple for 40 years who just retired and are living their dream. It's nestled at the end of a beautiful, small cul-de-sac and surrounded by protected land. The natural beauty, peacefulness and coziness are palpable. A wonderful and special energy infuses every inch. Come enjoy the quiet relaxation of this neck of the woods. Bring your loving, kind energy and get recharged!
There is plenty of room to add another guest or two. There is an aero-bed and a fully finished basement that is not pictured. Just let me know what your needs are.
walking distance to Sticks & Stones. A magical place with a labyrinth.
We stayed at Yolie's cottage to have a short weekend away from the city, and it was wonderful! The cottage was spacious, clean, and cozy. The property is surrounded by trees, with a beautiful river in the backyard. The kitchen is fully stocked with cookware, so we were able to cook meals and spend most of our time relaxing by the fire. Yolie made sure we had everything we needed, and was easy to communicate with. Highly recommended for a restful trip to relax and recharge.
Cailyn
2017-01-02T00:00:00Z
Yolie was a great host. The house was clean, cozy, and private. It was a peaceful getaway.
Terence
2017-02-05T00:00:00Z
Yolie is such a gracious host, I arrived to her immaculately clean home to find fresh orange juice, bagels, and wood waiting for me for a fire. The location of this home is great if you want to feel "off the grid" for a bit and it is close to state parks for some outdoor time. Very peaceful place.
Maryellen
2016-12-05T00:00:00Z
I loved staying at Yolie's! Beautiful, warm, comfortable home exactly what we were looking for. Yolie is also extremely sweet, attentive and easy to reach. Would definitely recommend!
Mark
2016-12-27T00:00:00Z
If you are lucky enough to learn of this place, come quickly, breathe deeply, and sleep soundly. Here is a place of warmth, tranquility, beauty. During my stay our hostess Yolie had put up a Christmas tree- it's warm and beautiful lights twinkling through the windows as we arrived ( she also had food in the fridge for breakfast). When it snowed, she herself plowed the driveway with her own snow plow. This home and it's hostess are priceless.
louvonia
2016-12-22T00:00:00Z
Yolie was a very attentive but not intrusive host- it was the perfect balance! She was right there when we needed her but never made us feel like the house wasn't completely ours for the weekend. The house is the cutest thing ever! We fell asleep by the fire every night after cooking dinner in her well stocked kitchen which was such a treat. We were completely surrounded by trees, peace and quite all weekend- it was FABULOUS!! Exactly what we needed! And it was only a 90min drive from Manhattan which was the icing on the cake.
Arianna
2017-02-20T00:00:00Z
Tipo de Quarto
Casa/apto inteiro
---
Tipo de Imóvel
Casa
---
Acomoda
4
---
Quartos
Newtown, Connecticut, Estados Unidos
"Where the healers come to heal!" Heated mattress pad and down comforter. Wall of mirrors brings the large windows looking onto woods inside and is wonderful for yoga or dance. The bed is a queen sized Sleep Number bed that you can adjust. Soft lighting enhances the relaxing vibe. Read our excellent reviews. You will love it here. Catch up on sleep! We have hosted happy nurses, massage therapists, yoga teachers and more!
Join us in our light bright happy contemporary home on 3 acres in the woods. Nature surrounds us. We have a deck surrounded by trees and winter water view of the pond. Our woodstove in the living room makes it super cozy throughout. We may have 3 bedrooms available in our Pound Ridge home, giving you space for a larger party. The listings to look for on airbnb are 1. "Relax in the Country, Airy and Bright" which is a deluxe master suite with a full bathroom, with tub, shower, and two sinks en suite, and a balcony with 2 Adirondack Chairs. It's like staying in a luxury treehouse! 2. "Treetop View" is a small bedroom with a big window looking out at the treetops, that you can see from the beds in this bright airy room with a skylight and sunset view. Beachy decor, in the treetops! Shared bathroom down the hall.
Pound Ridge is a very special town, very beautiful, the most rural town in Westchester County. A hidden gem in the woods. It's like a charming Hamptons town without the traffic. We have fine restaurants and shops including Jean-Georges Vongerichten's Inn at Pound Ridge, named by the NY Post as one of the "8 sexiest restaurants in NY" on May 31, 2014. And Bernard's Restaurant in Ridgefield, CT. And Richard Gere's Bedford Post in Bedford. Bedford horse country and New Canaan, CT and its tony shopping street and restaurants are adjacent. Stamford, CT is a full service small city with shopping and restaurants. The Pound Ridge area is a biking and hiking mecca. Pound Ridge has a charming downtown with 5 restaurants, Plum Plums cheese shop, Booksy Galore, Antique Tools of Trade and Business, AvantGarden, and more. Jean Georges "The Inn at Pound Ridge" is 2 miles away. North Star Restaurant in town has a rocking Thursday night music and social scene. The Pound Ridge Harvest Festival is in October with brews, wines, food, music, and fun. The Pound Ridge Car Show is every fall. Check out our FBPage - "Pound Ridge is Cool" to see what else is happening here! We are convenient and have hosted guests going to IBM in Armonk and Somers, Jet Blue in Darien, CT, Ward Pound Ridge Reservation, Lyme Disease Clinic in Mount Kisco, NY, Wooster School in Danbury, CT. We can do film shoots here too. Convenient to Mahopac, NY. Guests visiting the Lyme Disease clinic in Mount Kisco or family at Silver Hill Hospital in New Canaan will find this lodging a wonderful respite. Pound Ridge is adjacent to Bedford, NY and South Salem, NY. Also adjacent to Stamford, CT and New Canaan, CT. You can easily reach Mount Kisco, and Katonah, NY. Near CT towns of Greenwich, Wilton, Norwalk, Darien,and Westport. New York City, Long Island and Beaches, and New Haven are other points of interest at about 50 miles away. Trains to New York City are available a short drive away in New Canaan, CT, Stamford,CT, and Bedford Hills,NY.
Amazing!!!amazing!!!amazing!!!! She is so friendly and clever,the room is so clean and has lots of closet,the house is like a museum,furniture decoration is unique ,full of interesting stuffs!!!totally the room is more than nice the photos!!! The bed is totally comfortable and the temperature of home is great!you can adjust the temperature yourself,the bathroom also is clean and taking shower give you amazing sense!!!!you must try it!!! The area also is beautiful and the house is on the hill and the view is soft!!!like a painting!!! You can cook on the kitchen and she helps you!!! She knows everything!!!She teaches us so many things,her knowledge is great!!!and she teaches a very interesting game! We spend together nice times, I give her 5 stars,but if i can give more,surely i give her more!!!! I cannot described how much we enjoyed in her home, You must try it ,don't hesitate !!!!!!
Atefeh
2015-10-24T00:00:00Z
Lauren was flexible with my arrival time. When I got lost on the way to her home, she returned my phone call quickly to provide directions. Her male friend initially greeted me outside and showed me where to park. Once inside, Lauren was friendly and gave me a tour of her home. I put my food in the fridge. Was provided with a bar of soap and towels, in the small, yet clean bathroom upstairs, a stone's throw from the room I rented. The room was clean, yet a bit chilly, because Lauren left the windows open to let the hardwood floors dry, because she mopped the floor before I arrived. The bed seemed to be an air mattress in a frame, yet was still comfortable for the few hours I needed to sleep. Even after closing the windows the room was still a bit cold and there was only a sheet and thin blanket on the bed. I brought my own heating blanket with me, so I didn't ask Lauren for a warmer blanket, but I am sure she would have provided one for me. When I needed an iron and ironing board, she told me where I could locate it in the house. Lauren was not in the house with me during my stay, but was very responsive to my texts for things. She asked me if it would be ok to run some errands while I was there, and I said yes, so I knew she would not be around. This arrangement worked perfectly for me as I am a nurse working the night shift, and also a grad student, and just needed a quiet place to sleep and study from 11am - 8pm, before returning to work. The room is clean and the house has interesting and unique artwork throughout. I was able to use the wifi and do my studies at the large dining room table downstairs. Although I would have liked to talk with Lauren a bit more, I am 100% happy with the way my stay worked out, because I needed to sleep and study without interruption. Lauren's house also has a a few beautiful outdoor areas wish I wish I had the time to enjoy! There is also a hammock in the front yard, which also looked very inviting. Overall, the pictures are accurate. The room and bathroom are clean. The house has many indoor and outdoor spaces you can enjoy, and Lauren is a flexible and friendly host! Thank you, Lauren!
Eli
2015-10-12T00:00:00Z
Had a great stay in Pound Ridge and Lauren was a wonderful host. The room was just as described and the bed was very comfortable. Would definitely recommend.
Lauren
2016-05-02T00:00:00Z
Lauren was an absolute sweetheart; she is very friendly and accommodating towards her guests. I cancelled the last day of my trip and Lauren was understanding of my situation. The room is very spacious and bigger in real life than in the pictures. Since the house is located in the woods, it can get chilly but Lauren provided a heater so my stay was very comfortable. The bathroom is very clean and has all the toiletries one needs. I would definitely recommend this place!
Jenny
2015-11-27T00:00:00Z
Lauren was a great host. When my original requested room wasn't available, she upgraded me to her other room at no extra charge. She kept in touch with me about the stay, and her home is very comfortable and inviting and in a very pretty country area outside of town. What I loved the most was how she generously invited me to participate in a dinner with a delightful couple from Iran also staying with her. She clearly enjoys hosting, and I felt relaxed and warmly welcomed.
Linda
2015-10-29T00:00:00Z
Lauren was an awesome host. First the room and the house were very clean and comfortable. The area is a beautiful escape from the hustle and bustle. I slept amazingly on the sleep number bed. Definitely one of my best experiences.
Eugene
2015-11-07T00:00:00Z
We stayed for two nights. It is a big house, on a huge private land terrain, in the middle of forest. Very quiet place. The host was away during the weekend that we stayed there, so practically the whole house was accessible for us: kitchen, TV room, big patio... Our room was quite big (the other room is even bigger!), with a comfortable bed. The bathroom is across the hall, but it was OK, since we were the only ones who used it. We made coffee in the morning, and used the refrigerator to store our food. Lauren is very friendly and explained everything in details when we arrived. Overall, very positive experience.
Dmitri
2016-09-19T00:00:00Z
Lauren was a great host, very welcoming and was helpful with my late arrival. The house is neat and clean and situated in a very nice wooded setting. I will definitely repeat when in the area.
George
2015-10-15T00:00:00Z
Tipo de Quarto
Quarto inteiro
---
Tipo de Imóvel
Casa
---
Acomoda
2
---
Quartos
Pound Ridge, Nova York, Estados Unidos
This unique "spaceship" built on an old pontoon boat will be sure to offer seclusion with only the gurgling brook to hear. This is the only cabin that dogs are allowed to stay in.
This is the only cabin we allow dogs in. This unique "spaceship" built on an old pontoon boat will be sure to offer seclusion with only the gurgling brook to hear. The lodge is screened and glassed in. Think of it as a glorified tent! It can be rather creaky because it is made of recycled materials but the integrity of the structure is sound. The bed is lofted 10 feet off the ground and accessible only by a ladder. Also please be advised that the bathroom and shower facilities are located a few minute walk away in the stone barn. This cabin has two small lamps, drinking water and board games. The lodge has a stone table and chairs, a private fire pit and a small charcoal grill. Our communal Rustic Kitchen located on top of the mountain is available for more extensive cooking needs. It is furnished with utensils, plates, cookware, a grill, bonfire pit, stove, and running water. Please keep in mind that the Rustic Kitchen is located on the top of the mountain. If we are available we will gladly give you a ride with groceries up there but we cannot guarantee this service. There is a propane grill located in front of the Stone Barn guests can also use but there is no kitchen available here. PLEASE NOTE -The bathroom is not located in the cabin. Both the bathroom and showers are located a few minute walk away in the Stone Barn -There is a small bonfire pit located near the cabin. Five log bundles are available for $5. -DOGS ARE allowed in this cabin but because the bed is lofted they are not allowed to sleep in the bed -Candles are not allowed in the cabins -We do have wi-fi in the stone barn but it can be a little undependable
Though there is lots to do in the towns of Newtown, Monroe, Easton and Fairfield, surrounding Sticks and Stones Farm, most guests prefer to kick back, stay put and enjoy the quiet energy of the farm setting.
Celine and her father and her two kittens created such a beautiful experience for us. We'd definitely recommend Sticks and Stones to anyone needing a retreat. They were relaxed, accommodating, attentive and friendly.
Anna
2015-09-28T00:00:00Z
Celine and Tim were great hosts. Very personable people. The farm is an amazing experience. The integration of the unique lodgings throughout the property had something to do with it. As described the labyrinth lodge was basically a glorified tent, but it had plenty charm and was very cozy. It got a little bit cold at night, but there were sufficient covers to keep warm. I only stayed for one night but I would definitely return to explore more of the farm's trails. I really had a great time.
Anthony
2015-09-13T00:00:00Z
The owners of the farm are so welcoming and inviting. We instantly felt like we could just hang out and chill the moment we got there. The Labyrinth Lodge was really cool, however I would highly recommend to book during the spring/summer/early fall. We had an unexpected temperature drop and it got pretty cold in there...however it was really warm in the bed with all the blankets. The hiking trails were beautiful and the views were gorgeous! I highly recommend this place for a break from the city.
Angela
2015-10-19T00:00:00Z
We loved staying in this little cabin. I only wish the images online did even better justice to this spot, because the place was so pretty and charming, with better amenities than we expected. The cabin itself is in a nicely secluded spot on the property, so you're really surrounded by greenery and water, but it's still only a short walk to the main barn and bathrooms. Celine was helpful and flexible but left us to our own devices and privacy. I'd love to stay again!
Laura
2016-10-10T00:00:00Z
Staying in the Labyrinth Lodge was a dream. We'd made the booking quite late, and thought it would be a cute place to crash for a couple of nights — but it was way better than that. The surrounding forest, pond, moss mountain, and sculptures make Sticks And Stones Farm a destination: we spent our time rambling round the forest, cooking on the grill, making a fire, and generally soaking up the nature. The cabin itself is cute as a button, and we loved the elevated bed. It was super cozy and comfortable. The cabin is only 2 or 3 mins from the Stone Barn, which has an indoor bathroom and wifi. As the chef who does breakfast was off, we were kindly given use of the kitchen too, and stored our food in the fridge. We spent most of our time exploring outside however, and were sad to leave. We would def recommend, and would love to come back. Thanks so much to Celine for looking after us!
Ruth
2016-08-26T00:00:00Z
We had a great time at Sticks and Stones. The Yurt was such a special place to spend a night...definitely an experience we'd love to repeat :)
Meg
2015-08-18T00:00:00Z
The host canceled this reservation the day before arrival. This is an automated posting.
Annie
2015-10-18T00:00:00Z
Honestly could not have imagined a better stay! Celine and her parents were incredibly welcoming and helpful. They answered all of our questions, made sure we had everything we needed to feel at home, and even let us play with their twin kittens (!!!) as long as we wanted. The lodge was awesome: easily accessible from the main barn but also secluded enough where we could mellow out peacefully. We'll definitely be back and can't reccomend more highly!
Emily
2015-08-31T00:00:00Z
Tipo de Quarto
Casa inteira/apto
---
Tipo de Imóvel
Bed & Breakfast
---
Acomoda
2
---
Quartos
Newtown, Connecticut, Estados Unidos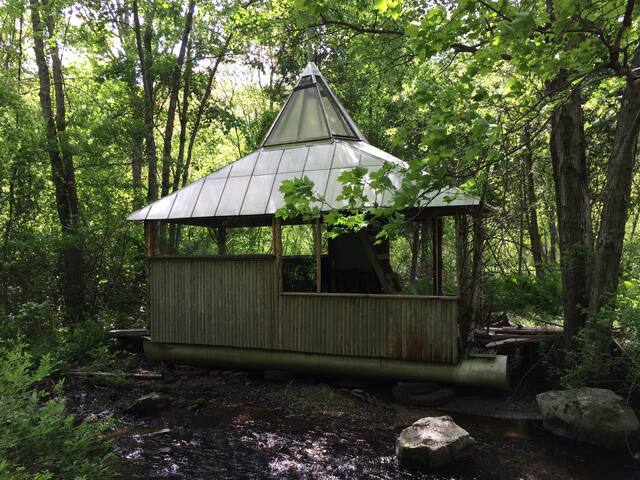 Insira as datas para ver o preço total. Taxas adicionais aplicáveis. Podem ser adicionados impostos.