300+ Alugueres de Apartamentos
The apartment is 120 meters from the beach, in a very quiet, a few meters from the center, train, and basic services area. It has a communal pool. It has a double bed, single sofa bed and a twin mattress
quiet and family area. Supermarket, restaurants, pharmacy and shops within walking distance
Jaume es muy atento y educado. El apartamento es super cool y muy bien situado. Los vecinos super agradables. Ideal para parejas o padres con un hijo
Pol Y Gabi
2016-09-04T00:00:00Z
Квартира находится недалеко от моря, рядом магазины, рестораны, бары. Хозяин вежливый молодой человек, помог добраться от вокзала до квартиры, мы ехали семьей и это было очень кстати. Сама квартира чистая и уютная, отдых нам очень понравился.
Eugenio
2016-08-12T00:00:00Z
Очень хорошее расположение квартиры в двух шагах от моря. Квартира соответствует описанию на сайте. Все очень понравилось. Отдельное спасибо Jaume за теплую встречу. Очень приветливый и дружелюбный хозяин. Единственный минус квартира маловата для 4 человек.
Анна
2016-09-15T00:00:00Z
estando pendiente todo el tiempo de nosotros
Angelica
2016-08-17T00:00:00Z
Tipo de Quarto
Casa inteira/apto
---
Tipo de Imóvel
Apartamento
---
Acomoda
4
---
Quartos
Sant Salvador, Catalunya, Espanha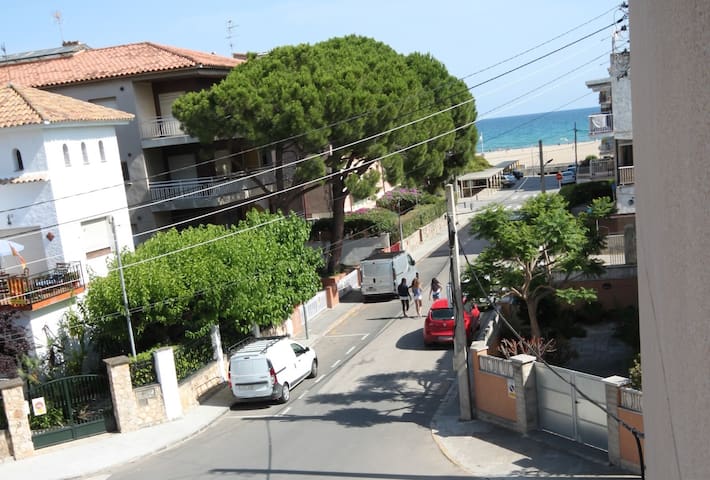 Beautiful spacious apartment, bright and elegant with beautiful terrace and private garage. It is facing the sea, 15 minutes from Sitges, 20 of the Roman city Tarragona and 45 minutes from Barcelona. San Salvador is also known for its beautiful museum along the beach. It is ideal for a holiday close to nature and his family and to recharge fully.
Tipo de Quarto
Casa inteira/apto
---
Tipo de Imóvel
Apartamento
---
Acomoda
6
---
Quartos
Sant Salvador, Catalunya, Espanha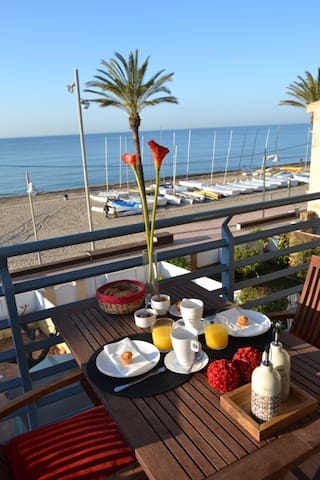 My accommodation is good for couples and families (with children).
Tipo de Quarto
Casa inteira/apto
---
Tipo de Imóvel
Apartamento
---
Acomoda
4
---
Quartos
Sant Salvador, Catalunya, Espanha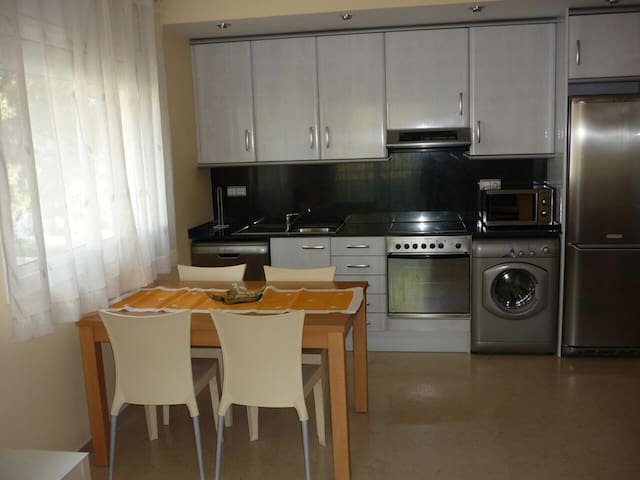 Attractions: The apartment is located 50 meters from the sea. The beach is wide and quiet, where they can practice all kinds of water activities. Connected by rail, road and motorway with Tarragona and Barcelona. Close proximity to water parks and Port Aventura. .
La estadía fue estupenda, el piso una maravilla; cómodo, amplio, a pocos metros de la playa, bien conectado con los pueblos aledaños y cerca de la estación de tren. Esta muy bien equipado y en un sitio bien tranquilo.
Marcela
2016-11-20T00:00:00Z
The host canceled this reservation 7 days before arrival. This is an automated posting.
Diego
2016-12-19T00:00:00Z
Tipo de Quarto
Casa inteira/apto
---
Tipo de Imóvel
Apartamento
---
Acomoda
6
---
Quartos
Sant Salvador, Catalunya, Espanha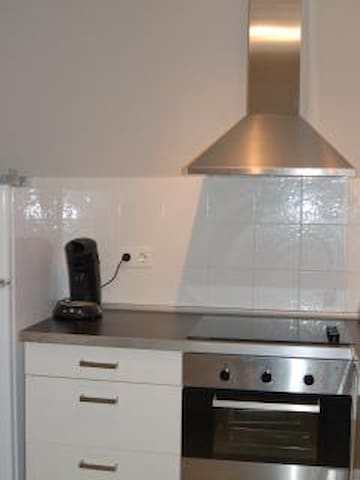 On the beach, in front of the sea, nearby and between Barcelona (40 min. by train or car) and Tarragona, beach of El Vendrell (Catalonia, Costa Daurada, Sant Salvador de Coma-Ruga) Rather quiet, familiar location, really long beach. 3 bedrooms (2 doubles), one of these going to private terrace (35 m2) and little private garden, with barbecue. 2nd terrace in front of the sea, looking from living-room. 1 bathroom and kitchen, fully equiped. Washingmachine, vitro cooking, microwave, coffee-machine and stove, TV, hairdryer, ironer and board, towels and bed linen, etc..Solarium. 6 people capacity, convertible bed, Animals are wellcome. Private Parking place included, arriving to it with elevator. Ready for disabled people. For the colder days or nights there is a fireplace, wood is available free of charge. Thera are also heaters, heating costs according to consumption. House and apartment with environmental components. Shops, Restaurants, Bars, W-Lan (free of charge), etc. nearby, within easy walking distance. Bike rental is mediated. Visit bodegas, museums, etc.. If you want further information, write indicating the selected period, number of people, etc.. Minimum stay: 5-6 days. In January, February and March special weekend arrengements, from 100 Euros. We speak english.
Quiet area, ideal for kids, right on the beach, no road, only promenade.
Wir hatten einen schönen Urlaub in Hampers und Margas Ferienwohnung! Beide haben sich gut um uns gekümmert und waren sehr nett. Die Wohnung ist wie beschrieben. Von der Terrasse schaut man direkt aufs Meer. Hier haben wir sehr schöne Morgende und Abende verlebt. Einfach eine wunderbare Lage!
Leni
2016-10-29T00:00:00Z
Margo and Hamper were great hosts answering all our pre visit questions quickly and helpfully. On arrival we found Hamper waiting for us at the apartment and he gave us a quick tour pointing out the essentials. When going out later that evening we bumped into Hamper again who helped us order our food, much appreciated after a long day travelling. The apartment was very clean and well looked after and had everything we needed. It is right on the front of the beach about 5 metres from the sand, ideal for the kids. Despite it being the end of October we found the sea warm enough to swim in. San Salvador is at the quiet end of the long beach promenade which was great. Its an easy walk into Coma Ruga along the promenade. Although many of the restaurants were shut for the season there was still enough open to give a choice and there were several small grocery shops open between San Salvador and coma Ruga to make it easy to get supplies. We made visits to the old castle at Calafel, to the Roman remains at Tarragona (the viaduct is particularly impressive) and into Barcelona to see how the Sagridia familia was getting on. All in all the apartment was a great base for our holiday, everything went very smoothly and the kids voted it their best holiday in recent years. A big thankyou to Marga and Hamper for allowing us to use their apartment from Ewan, Emma, Tony, Briagha, Eilidh and Ruaraidh.
Ewan
2015-10-31T00:00:00Z
The host canceled this reservation 334 days before arrival. This is an automated posting.
Ramon
2015-07-20T00:00:00Z
Marga and Hamper have been really good hosts, great communication, and there have been attention on our wellbeing through the entire stay. The apartment was very good, right out to the beach. We would definitely come back, and also recommend people to stay there:0)
Sara
2014-11-06T00:00:00Z
Marga replied immediately to all my questions and had been waiting for us even late at night (cause of night flight). They were also there early in the morning when leaving the place. Location cannot be any better! Right in front of the beach. Would definitely stay there again. Thanks again
David
2016-11-05T00:00:00Z
Nous avons été très bien reçu par Marga et Happer. Ils ont été très attentifs à notre bien être et très accueillants. Ils ont répondu très vite à nos questions avant notre arrivée. L'appartement est super: très grand avec 3 chambres , traversant avec un jardin à l'arrière très grand et à l'avant une terrasses avec vue direct sur la plage comme le montre la photo. C'est extraordinaire ! Il y a tout sur place et tout est très très très propre et bien rangé. Prévoir une petite laine pour le matin et le soir en période hors saison. Il y a aussi des radiateurs électriques portatifs mis à notre disposition. Coma Ruga, Sant Savaldor est une très agréable et petite station balnéaire , très bien située à 25 min de Tarragone et ses criques et 1h de Barcelone ( gare avec train toutes les heures située à 10 min en voiture ou 20 min à pied) . Tout était parfait et nous garderons un merveilleux souvenir de nos vacances .
Sophie
2015-04-27T00:00:00Z
Realmente excelente. El apto frente alar esta en un lugar impagable. Nos han tratado de maravilla desde el inicio. La zona es preciosa con mucho boliche, tienda y más. La playa sin palabras.
Emilio
2016-06-04T00:00:00Z
Wir sind gerade zurück aus Coma Ruga. Alles war so wie beschrieben. Die Betreuung durch Herrn Hamper war ausgezeichnet. Die Lage direkt am Strand ist sehr schön, da sich vor dem Balkon nur die Strandpromenade befindet. Wir können dieses Quartier nur empfehlen.
Hans-Dieter
2016-05-04T00:00:00Z
Tipo de Quarto
Casa inteira/apto
---
Tipo de Imóvel
Apartamento
---
Acomoda
6
---
Quartos
Coma-ruga, Catalonia, Espanha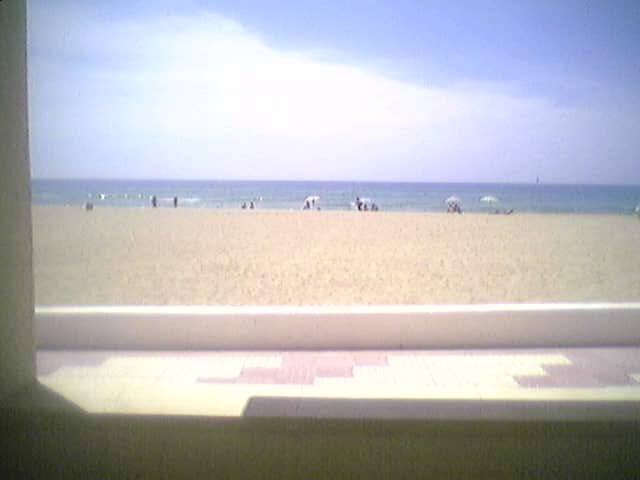 Piso nuevo en 1 linea de mar, gran terraza, 3 habitaciones centico, cerca de restaurantes y comercios
Tipo de Quarto
Casa inteira/apto
---
Tipo de Imóvel
Apartamento
---
Acomoda
6
---
Quartos
Coma-ruga, Catalunya, Espanha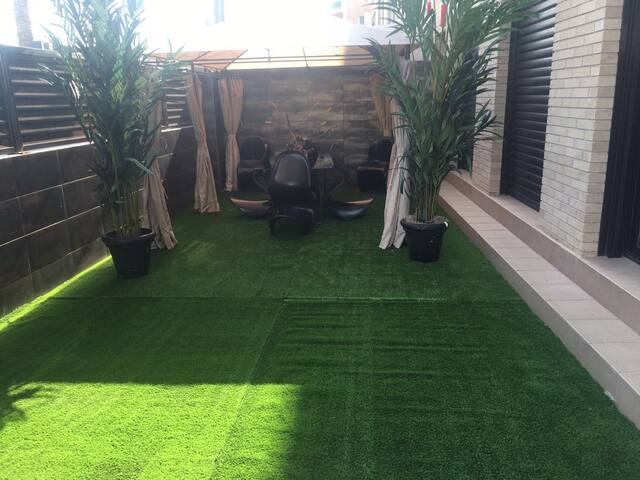 Tipo de Quarto
Casa inteira/apto
---
Tipo de Imóvel
Apartamento
---
Acomoda
4
---
Quartos
Sant Salvador, Catalunya, Espanha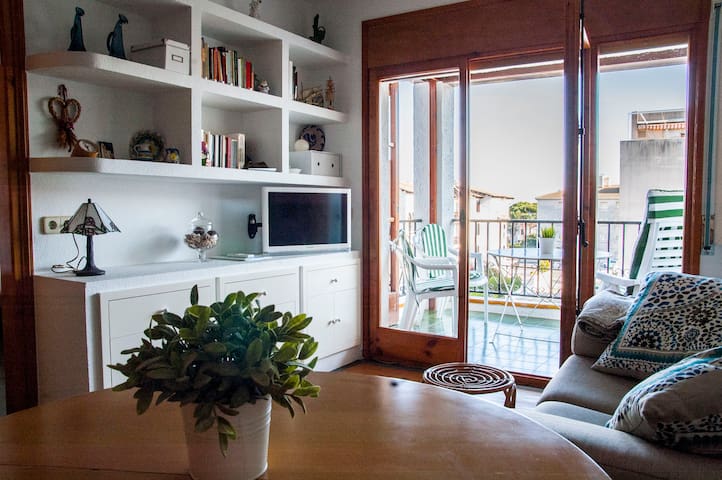 It is a beach apartment with two bedrooms, one double and one with bunk beds plus another two beds. It has two terraces and a woman on the street and the other in a landscaped area with swimming pool and parking. It has a bathroom with bath and a living room / kitchen. It is 800 meters straight to the beach. It is a 10 minute walk from the railway station. In San Salvador is found Pau Casals museum and the neighborhood is Sea Vendrell.
Tipo de Quarto
Casa inteira/apto
---
Tipo de Imóvel
Apartamento
---
Acomoda
5
---
Quartos
Sant Salvador, Catalunya, Espanha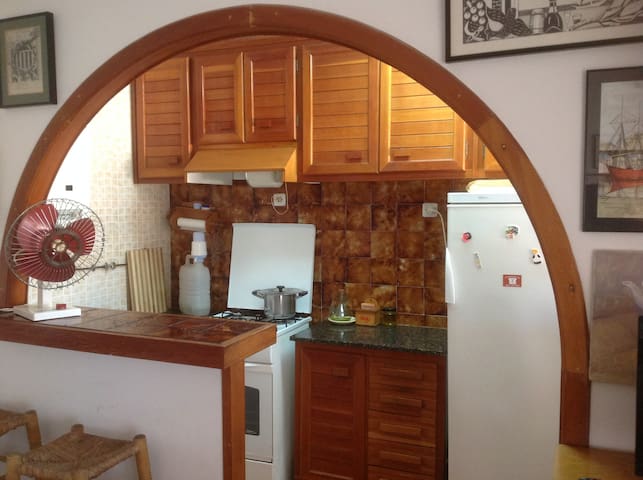 The apartment is located second line beach in Sant Salvador. El Vendrell beach one block from the boardwalk. It has a maximum capacity of 6 persons. Internet and wifi
The apartment is on the second line of beach. The beach is 50 meters. A block from the promenade of Sant Salvador and 30 meters from supermarkets, bakeries, and complimentary public (bus and taxi). The apartment is located in a quiet building. It is a third party without elevator. The apartment has three bedrooms. One of marriage. Another where there is a bunk with an extension and a single room. It has a capacity for 6 people. The apartment has a kitchen with all utensils and cooking appliances, a large living room where will be able to relax watching a movie after a day of a lot of fun. It also has a balcony / terrace very wide where you can make your night the moonlight dinner. The apartment has 2 bathrooms.
The neighborhood is very quiet and summer tourism. It is a beach area with beach bars, supermarkets, restaurants and pubs. It has a promenade 7 kilometers long that connects San Salvador with Calafell and the free.
Le logement correspond parfaitement à la description, propre et spacieux : 3 chambres, l'une avec un lit double, des lits superposés et 2 lits une personne. Le quartier est super (tout près de la plage). L'hôte est arrangeant (pour avancer l'heure du check-in) mais nous ne l'avons pas rencontré directement donc pas d'info sur le quartier, sur les lieux à visiter. Au global, très bon séjour.
Nyf
2016-07-22T00:00:00Z
Todo perfecto, buen trato, limpieza, estancia y la ubicación frente a la playa (200 metros) perfecta! Un placer.
Jorge
2016-07-26T00:00:00Z
La casa es amplia y comoda, la ubicación muy buena, estas a un paso de la playa.
Anabel
2016-08-22T00:00:00Z
Tipo de Quarto
Casa inteira/apto
---
Tipo de Imóvel
Apartamento
---
Acomoda
6
---
Quartos
Sant Salvador, Catalunya, Espanha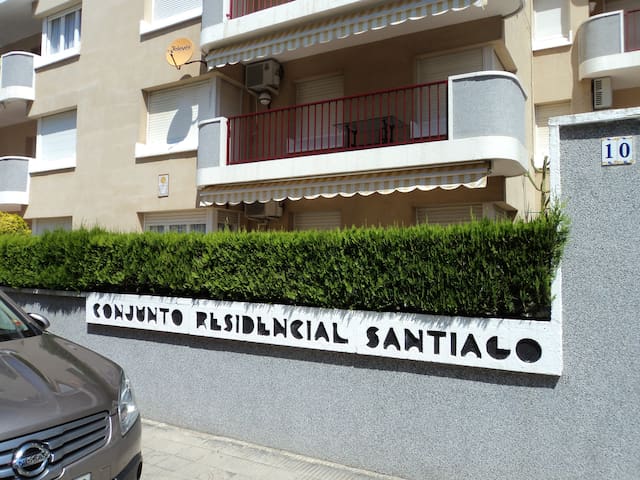 BEACH - 1min walk BARCELONA center - 1h by train, 45min by car PORT AVENTURA - 1/2 by train o car Shops, bars... Good weather Wine Tourism Golf, SPA Doorman, social salon - Optional caregiver Great cultural, sporting and gastronomic offer
Third floor with elevator Sea views , garden and pool . Comfortable , quiet, sunny . All refrigerated rooms with ceiling fans , and vegetation in front and behind it cools . The terrace is wonderful , overlooking the sea, garden and pool , sunny and protected from the wind .
IDEAL FAMILIES - Protected noise. The clubs are just outside. BEACHES - Long golden sandy, safe for children and adults TERMAL CITY - Hot Springs mineral- declared by the Royal Academy of Medicine of Barcelona - Can enjoy them: - The "Riuet Comarruga" - free access - Hotel Spa - beauty and health treatments RURAL ROADS BETWEEN VINEYARDS PUERTO - Boating, sailing lessons ... AUDITORIUM - musical program all year MUSEUMS: - Vil.la PAU CASALS - summer residence of the musician - Museu DEU THE KARTING VENDRELL ADVENTURE TOURS - Alberg Santa Maria Restaurants, bars, pubs - Great deal - Our favorites are: - BAR PRIVATE apartment - Vil.la PAU CASALS - Fine cuisine - Located in his summer mansion, facing the sea. - Vil.la dels Angels - Good kitchen - Facing the sea, in a mansion with gardens. - The Nansa - Good kitchen - Building with excellent sea - The Casinet - Fine cuisine - The building is the old casino, meeting place for fishermen. - The Popet - very good Tapas - Chrysanthemum - very good Tapas - La Jijonenca - Ice very good - Fargi - Jardins de l'Alberg - Bar on public garden in front of the sea - El Passeig - bar - Bars on the beach
Nuestra estancia en el apartamento ha sido muy agradable. El apartamento está bien equipado, con todo lo necesario. Francesca nos dió la bienvenida con una botella de cava. El apartamento está muy bien ubicado, cerca de la playa y la piscina de la comunidad está muy bien, con un jardin bien cuidado. La terraza es una gozada para comer y cenar. La zona es tranquila, perfecto para ir con niños. Solo hay dos pequeñas pegas: la plaza de parking es pequeña y no entraba el coche, pero en la calle hay mucho espacio para aparcar, y el ascensor no era lo suficientemente grande para meter el capazo sin tener que plegarlo.
Jason
2015-07-18T00:00:00Z
L'estada ha sigut genial! Francesca molt amable, el porte ha sigut molt amable i atent. El lloc es genial per estar de relax
Rocio
2016-09-02T00:00:00Z
Nous avons passé une très bonne semaine. Le logement était conforme à l'annonce. Il était très très bien équipé avec tous ce qu'il fallait pour cuisiner et passer de bonnes vacances. La résidence est très bien située à coté de la mer (3 min à pieds) avec une piscine à notre disposition. La résidence est très calme, il y a également une salle avec des jeux pour les enfants. Le gardien Alfonso était très gentil. Nous recommandons vivement ce logement.
sylvie
2016-08-28T00:00:00Z
Tres belle appartement;bien situé juste a quelques pas de la plage coma ruga;belle vue et environnement calme.l'appartement tres bien equipe avec tout ce que nous avions besoin pour la semaine passe.Residence tres calme bien entretenu par le gardien Alonso qui est tres sampa et tres gentille.piscine tres froide pour la saison mais espace piscine tres agreable.sur le balcon nous prenions le petit dejeuner avec la vue sur la mer.en a passe une tres belle semaine et en remercie Francesca pour le corbeille de fruits qu'elle nous a laisse en guise de bienvenue.juste il manque internet dans l'appartement,elle est situe dans le hall en bas.et la connexion par wifi est impossible dans l'appartement.une tres bonne location à recommander.pour passe de bonne vacance.
Salim
2015-10-26T00:00:00Z
Nuestra estancia fue muy buena. Francesca estuvo pendiente en todo momento y nos facilitó todo lo necesario. El portero, Alfonso, muy majo, nos ayudó en todo momento. La casa es tal cual indica en el anuncio. No nos encontramos con ninguna sorpresa, estaba equipada con todo. La única pega, la plaza de parking, imposible meter el coche, las columnas y el poco espacio hacían imposible poder meter el coche. Por lo demás, un barrio muy tranquilo y accesible a todo lo necesario en pie. Sin duda, repetiríamos!!
Rosalía
2016-09-25T00:00:00Z
Good location, comfortable and clean appartment.
Sergey
2016-09-16T00:00:00Z
Les photos sont identiques à l'appartement loué, agréable, bonne situation proche de la mer et avec piscine mais à ces dates, l'eau était trop froide.
MARTINE
2016-04-24T00:00:00Z
Very nice apartment in a quiet area, only three minutes to walk to the beautiful beach of Coma Ruga. The apartment was equipped with all we needed for our ten days in Spain, Francesca even left us a big fruit basket as a welcome-present. We had breakfast on the sea-view-balcony every morning and could hardly motivate ourselves to leave the wonderful atmosphere for trips ;) Internet-connection only in the lobby, which actually is a good thing as you don't want to be a reachable all the time when you are on holidays ;)
Jochen
2015-09-26T00:00:00Z
Tipo de Quarto
Casa inteira/apto
---
Tipo de Imóvel
Apartamento
---
Acomoda
6
---
Quartos
Coma-ruga, Tarragona, Espanha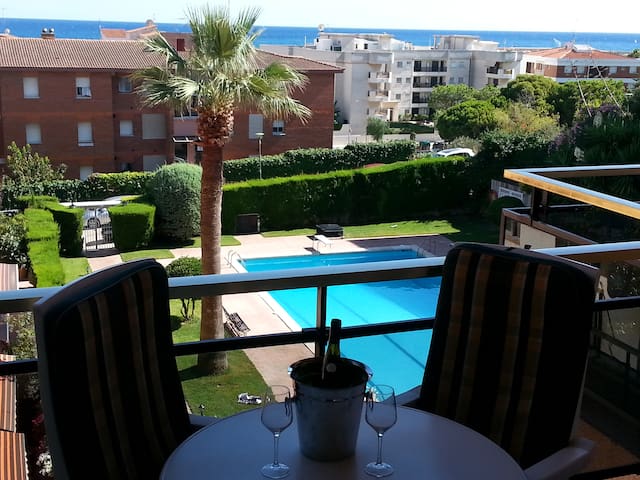 Amplio y céntrico apartamento frente a la playa de Calafell. Para 5 personas: 3 habitaciones, dos con cama de matrimonio, 1 con cama individual, 2 baños y balcón con fantásticas vistas a la playa y el paseo marítimo. Completamente amueblado y equipado.
El apartamento está situado en la 1a planta de un edificio situado en el corazón del paseo marítimo de Calafell. Es un lugar estupendo para que disfrutes tus vacaciones en familia, dispones de todo tipo de actividades y diversiones que gustarán desde el más pequeño hasta el más mayor. Nada más salir del edificio encontrarás restaurantes, pubs y una zona comercial. Lo mejor de este apartamento es su gran comodidad y la fantástica vista desde el balcón.
Calafell se encuentra en un lugar estratégico, a solo 65 km de Barcelona y a 40 de Tarragona y Port Aventura. La estación de tren está a solo 5 minutos del apartamento y desde allí dispones de trenes cada hora en cualquiera de las dos direcciones. También tienes muy cerca la autopista. En solo una hora de trayecto, ya sea en tren o en coche, estarás disfrutando de Barcelona, Tarragona o Port Aventura!
Fabiana es increíble y el lugar es un sueño. Sin duda, este es el sitio para relajarse y para tener todo a su disposición por un tiempo maravilloso. La playa, los restaurantes y la estación están a sus pies.
Saul
2016-05-17T00:00:00Z
Fabiana a été tres accueillante, le logement impeccable et spacieux pour 5 personnes
Elodie
2016-11-01T00:00:00Z
Polecam Calafell jako świetne miejsce na wypoczynek - plaża na wyciągnięcie ręki, blisko do Barcelony, a jednak z dala od tłumów turystów. Mieszkanie - komfortowe. Właścicielka bardzo miła i pomocna.
KRYSTYNA
2016-07-15T00:00:00Z
Great apartment in a great town! We loved the location right on the water. We watched the sunsets and sunrises every day and loved that too. The apartment was well appointed and Fabiana showed us the ins and outs of the apartment so we knew what was going on. Well done and I can't recommend this apartment enough, we will definitely come back someday!
William
2016-12-31T00:00:00Z
El apartamento esta en primera línea de playa. Fabiana nos atendió rápido y muy educadamente. La terraza resulta pequeña para la ocupación del apartamento. En líneas generales muy bien. Volveremos seguro..., si nos lo permite Fabiana.
Miguel Adolfo
2016-10-02T00:00:00Z
I LOVE THIS PLACE. I want to go back very soon. Our flight from USA thru London was over 2 hours late. Instead of midnight, we arrived at nearly 3 am. Fabiana was sweet and we called her from a local cafe/bar 3 streets away (still open). She is gracious and understanding. The place is very clean, and an amazing value! Right on the beach. This is a small town, and though we had a rental car you do not need one. Everything is is walking distance. If you are an international traveler, but do not have mobile or wifi in Spain, you will need to go to wifi zone (bar, or coffee shop) to use Airbnb app on your phone, or borrow phone. Great place for my wife and 2 boys (24 and 22). A little sleepy in October, but perfect for us and perfect weather. THANK YOU FABIANA.
Peter
2016-10-05T00:00:00Z
We had a wonderful time in Calafell. Fabiana's apartment is comfortable, clean, and in an excellent location.
Jaid
2016-09-02T00:00:00Z
Fabiana is wonderful. She greeted us and made sure our stay was good. The place is literally steps from the beach. Lots of great restaurants nearby. We totally recommend it.
Barney
2016-10-09T00:00:00Z
Tipo de Quarto
Casa inteira/apto
---
Tipo de Imóvel
Apartamento
---
Acomoda
5
---
Quartos
Calafell, Catalunya, Espanha
Apartment 2 minutes from the beach and shopping center of Calafell. Fully equipped to enjoy a family holiday.
Molt aprop de la zona mes animada de Calafelll i a la vegada aprop de la zona del hotel Ra que és mes tranquila. L'amfitrió és molt amable.
Silvia
2016-08-21T00:00:00Z
Coqueto apartamento en una zona tranquila de Calafell, a un minuto de la playa y de las zonas de ocio. Todo perfecto. Ildefons y su mujer muy buenos anfitriones, atentos en todo momento. 100 % recomendable. Para repetir!
Leyre
2016-07-13T00:00:00Z
Since the beginning ildefons was very helpful and flexible cuz of the dates of booking on a high season period and cuz our flight got changed. We arrived and felt very well welcomed by him. He saw us from the terrace and ran after us cuz we looked lost :) We felt very comfortable with his warm welcoming and the apartment was great! Really good for a relaxing vacation with the family! We loved the flat and we loved calafell! The location of the flat is excellent!
Pola
2016-07-29T00:00:00Z
Lovely apartment in a quiet part of Calafell minutes walk from the beach. We very much enjoyed our stay
Robyn
2016-09-14T00:00:00Z
Tipo de Quarto
Casa inteira/apto
---
Tipo de Imóvel
Apartamento
---
Acomoda
3
---
Quartos
Calafell, Catalunya, Espanha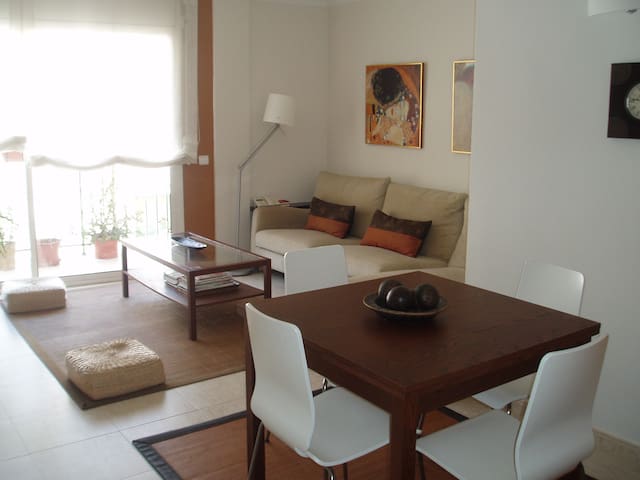 Mon logement est proche de les restaurants, la plage, les activités adaptées aux familles et la vie nocturne. Vous apprécierez mon logement pour l'ambiance, les espaces extérieurs, le quartier et la luminosité. Mon logement est parfait pour les familles (avec enfants).
de la documentation pour les différentes visites a notre disposition
Maryse
2016-08-27T00:00:00Z
Tipo de Quarto
Casa inteira/apto
---
Tipo de Imóvel
Apartamento
---
Acomoda
4
---
Quartos
Coma-ruga, Catalunya, Espanha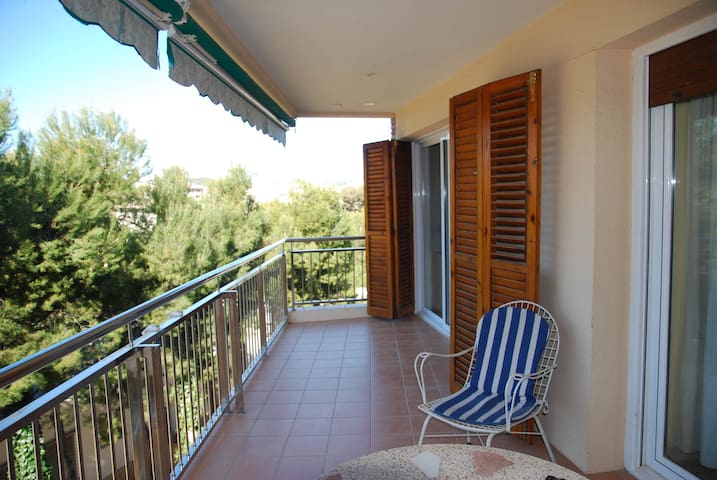 Užijte si výhled na Středozemní moře z naší 60 metr čtvereční terasy. Penthouse ve třetím patře (bez výtahu) s jednou manželskou postelí a oddělené oblasti v obývacím pokoji s palandami, které lze snadno proměnil kancelářské prostory. Nachází se v klidné, privilegované rezidenční čtvrti, vedle tenisového klubu s bazény, a v pěší vzdálenosti od centra Calafell s živou moře obchodů, restaurací a rekreačních aktivit. 50 min jízdy autem nebo vlakem-jízda do Barcelony
Nachází se v obci El Vendrell, ale v blízkosti centra města Calafell Playa. V klidné rezidenční čtvrti se dvěma tenisovými kluby, které poskytují sportovní a leissure pro obyvatele a turisty. V blízkosti muzea a koncertní síně v St Salvador pojmenované po legendárním hudebníkem Pau Casals.
Tipo de Quarto
Casa inteira/apto
---
Tipo de Imóvel
Apartamento
---
Acomoda
4
---
Quartos
Calafell, Catalunya, Espanha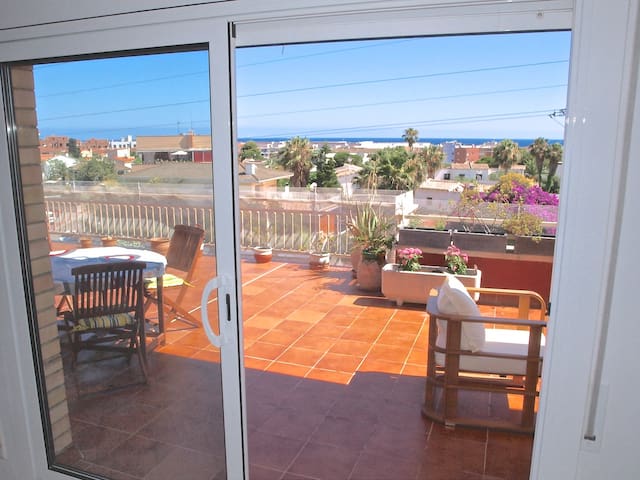 Apartament situat a la bonica i tranquila platja de San Salvador, a 10' de Sitges i a 30' de BCN. Ideal per a una familia amb nens, l'apartament disposa d'una habitació de matrimoni i una segona habitació amb una llitera doble. Totalment equipat.
Apartament de dues habitacions que permet allotjar bé fins a 6 persones. Ideal per una familia amb nens.
Just sota l'apartament hi ha un supermercat i al davant un forn de pa. En la mateix carrer hi ha diversos establiments on fer la compra diaria i restaurants diversos, des de menjar ràpid a una bona paella (restaurant el casinet- not to be missed!!!)
Eva is very open and warm person. She equipped us with detailed guidelines on San Salvador and was in online contact with us, checking if everything is fine. The place is cosy and in excellent location, close to the beach and restaurants. We particularly liked the fact, that the flat was very well equipped, with new sheets and towels and all you need during the stay in the kitchen. We enjoyed the visit in Eva's place a lot, hoping to return in the future! :-)
Anna
2015-07-11T00:00:00Z
The apartment is just great, there is everything or almost anything you may need for your holiday in it. It is situated in a beautiful building near a wonderful sandy beach. The amenities are just nearby. Thank you very much to Eva for renting us this amazing apartment, we've had a wonderful holiday.
Ekaterina
2015-08-27T00:00:00Z
Nuestra estancia en el apartamento de Eva fue estupenda. La zona es muy tranquila pero tiene todo lo necesario cerca (supermercado, restaurantes, bares) y la playa a 2 minutos. El apartamento es muy correcto, tal como se ve en las fotos, y tiene todo lo necesario para pasar unos dias. El trato con Eva fue muy bueno, fue muy flexible tanto en la llegada como en la salida y la comunicacion fluida, nos hizo sentir como en casa! Totalmente recomendable :-)
Jordi
2016-09-12T00:00:00Z
Nous avons passé un bon séjour. La proximité de la plage est très plaisante. Le parking est quasiment obligatoire en pleine saison pour éviter de se garer loin et de tourner en rond pour trouver une place. L'appartement est conforme à l'annonce. Les enfants ont été ravis de voir qu'ils avaient chacun un grand lit. San Salvador est très bien situé, entre Barcelone et Tarragone.
SANDRINE
2016-08-21T00:00:00Z
L'appartement d'Eva était vraiment super. Il ressemble exactement aux photos et il est très pratique car à 2 pas de la plage !! Nous avons vraiment profité de nos vacances grâce aux conseils (restos/sorties) qu'Eva nous avait envoyé par mail. Malheureusement nous n'avons pas pu rencontrer Eva en personne, une autre fois... Merci beaucoup pour ce séjour, à bientôt !
Margot
2016-06-19T00:00:00Z
Our family is grateful to Eva for the opportunity to relax in such a wonderful location a few steps from the beautiful sandy beach. Eva apartments are ideal for holidays with family or friends . The apartment is cozy and stylish . Eva is very responsible and pleasant person in communication, always was in touch with us, for it is always possible to seek advice . Hope to come again in the future.
Vladimir
2015-09-26T00:00:00Z
Eva was welcoming and very helpful. Her apartment was comfortable, clean and well stocked. It was a very nice place to stay and a fantastic location. You can see the ocean from the balcony and walk to the beach in under a minute! A superb beach side spot!
Rowena
2016-09-09T00:00:00Z
Eva nos atendió muy bien, el apartamento era confortable y coqueto, la zona tranquila y agradable, a pesar de ser plena temporada. En resumidas cuentas estuvimos agusto y relajados, a pocos metros de la playa y con comercios cercanos. Contentos y cómodos.
Mcarmen
2016-07-11T00:00:00Z
Tipo de Quarto
Casa inteira/apto
---
Tipo de Imóvel
Apartamento
---
Acomoda
6
---
Quartos
Coma-ruga, Catalunya, Espanha
Apartamento en primera línea de mar, situado en una urbanización con jardín. Es una zona muy tranquila, perfecta para familias. Para llegar a la playa sólo hay que cruzar un paseo peatonal y ya estás en la arena! La playa es ancha y el agua limpia.
El apartamento está en primera línea de mar, aunque la visión de la playa es lateral. La zona es bastante tranquila para lo que suele ser una zona turística de playa. El piso tiene 85 m2, con 3 habitaciones con 5 camas individuales de 90. Dispone de 2 baños, aunque uno de ellos es pequeño. Cocina totalmente equipada y terraza amplia.
La zona es bastante tranquila, perfecta para familias que quieran disfrutar de la vida diurna. Para disfrutar de la noche hay diversas opciones por la zona, pero la recomendación es acercarse a Calafell, a 5min en coche, que dispone de mucha más oferta.
le logement était comme annoncé, les propriétaire nous ont bien accueilli et ce sont montré très gentils et disponible. l'endroit est très bien juste au bord de la digue et de la plage
patrice
2016-07-28T00:00:00Z
Todo fenomenal, pero no recomiendo demasiado el alojamiento para familias con bebés. Es un tercero sin ascensor con una escalera bastante angosta lo cual hace que la "logística" se complique bastante :) Recomiendo pedir la compra en Mercadona, Lidl... y que te la lleven a casa ;-) Lo mejor... que te separan 10 pasos de la arena. A los anfitriones se les nota que ponen muchas ganas e ilusión. Por mejorar (opinión personal) la cocina de gas con su horno para alguien como yo que tiene pavor a estas cocinas. El agua caliente es difícil de regular. La plaza de garaje si tienes un coche grande es un poco justa. Pero... como comento, son temas menores y muy particulares, no hacen que desmerezca para nada la calidad de la estancia. ¡Volveremos!
Javier
2016-08-29T00:00:00Z
Le envie mil preguntas y siempre respondio rapidamente y con mucha amabilidad. Puso mas fotos, nos describio con todo lujo de detalles todo lo que preguntamos... Encantados con Ignacio y toda su familia. Muchas gracias por todo.
Montse
2016-08-23T00:00:00Z
Tipo de Quarto
Casa inteira/apto
---
Tipo de Imóvel
Apartamento
---
Acomoda
5
---
Quartos
Coma-ruga, Catalunya, Espanha
Ubicado en zona residencial céntrica. Dos magníficas terrazas con vistas a zona verde ideal para relajarse. Amplios jardines con zona wifi gratuita. Sala de ping-pong.
Es todo exterior, espacioso, luminoso, muy buena ventilación.
El Riuet y el Estany son dos zonas cuyas aguas fueron declaradas mineromedicinales. Por sus propiedades se han catalogado como aguas termales cloruradas alcalinas, bromuradas y casi isotónicas. La playa dispone de la reserva marina de La Masia Blanca.
Maria Luisa was vriendelijk, comunicatief en altijd snel ter plaatse als we iets nodig hadden of wilden weten. Het appartement was wat we ervan verwachten: dichtbij het strand, voorzien van wat we wilden, schoon en met een fijn balkon.
Fredrik
2016-08-05T00:00:00Z
Hemos estado muy bien. Cerca de la playa, en un apartamento muy amplio, con una terraza muy agradable y un jardín comunitario ideal para las niñas.
Marta
2016-07-27T00:00:00Z
Perfect place who want to relax at the seaside
Kovács
2016-07-21T00:00:00Z
La experiencia ha sido muy positiva. Gracias a María Luisa que nos dio todo tipo de explicaciones sobre el piso y las condiciones de contratación.
Mercedes
2016-08-06T00:00:00Z
Tipo de Quarto
Casa inteira/apto
---
Tipo de Imóvel
Apartamento
---
Acomoda
7
---
Quartos
Coma-ruga, Catalonia, Espanha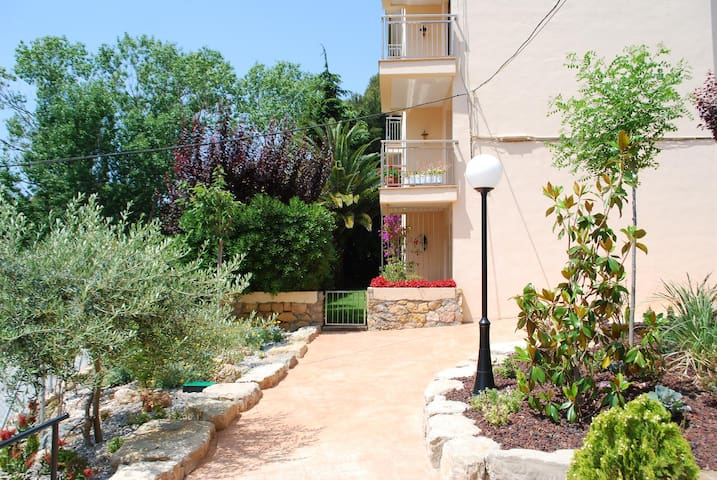 Confortable apartament de 55 m2 (a l'edifici modernista "Ancora Romana"). Té una habitació amb dos llits + 1 sofà llit, capacitat per a 4 persones. Hi ha un bany i una cuina totalment equipada. La sala d'estar (amb una vista a l'exerior) té un televisor de plasma i un còmode sofà. accés wifi gratuït a tot l'edifici. Situat a la dreta a la part posterior de la platja (menys de 50 metres) Tranquil·litat està garantida. La principal zona comercial i d'oci de Calafell és a 5 minuts a peu, amb restaurants, botigues i ambient nocturn. La ciutat de Tarragona (35 km) - l'antiga Tàrraco, fundada pels romans, es troba a 25 minuts amb cotxe. excursions fàcils a Barcelona (65 km) amb tren, l'estació està a prop de l'apartament. En 55 minuts s'arriba a l'estació central de Barcelona-Sants. Calafell és un antic poble de pescadors, situat a la millor zona de la Costa Daurada, amb platges llargues de sorra daurada amb aigües tranquil·les i poc profundes, riques en iode. És ideal per gaudir en família, ja que hi ha moltes activitats recreatives. Des de 1992, la bandera blava de la Unió Europea cada any ones a la nostra platja.
Estem en un lloc privilegiat, a dos minuts de la platja, en una zona residencial tranquil·la ia cinc minuts de la zona d'oci i comercial.
Мы отдыхали вдвоем с мужем в июне 2015 года. Квартира уютная, чистая. Есть все необходимое-дмже кофеварка, тостер и микроволновка!до моря 2 минуты, пляж очень чистый, людей мало. Все кафе рядом. И супермаркеты тоже. Роза очень приятная и гостеприимная хозяйка. Спасибо за прием, будем рады еще раз у вас остановится!
Marina
2015-06-27T00:00:00Z
Très bien reçus par Rosa dès notre arrivée. L'appartement correspondait exactement à la description : propre et agréable. Plage magnifique à perte de vue et à côté de l'appartement. Le centre ville et les commerces sont à proximité. Merci Rosa pour votre panier d'accueil très chaleureux.
Martine
2015-09-27T00:00:00Z
Appartement propre et très bien situé. Cuisine à part. Rosa à été très disponible et adorable. Elle est même venue nous chercher à la gare alors qu'on rentrait de Barcelone d'une visite un soir. Je recommande cet hote.
Emmanuel
2016-08-11T00:00:00Z
Отдохнули отлично! Роза и ее сын очень гостеприимны! Они живут в этом же доме, на 4 этаже, можно по любому вопросу обращаться. Квартира состоит из небольшого зала, спальни и кухни. На кухне есть все необходимое для приготовления еды. Есть малюсенький балкончик, повесить вещи сушиться. Кстати, машинки стиральные находятся на первом этаже, на связке есть ключ от прачечной. Кровать в спальне удобная, мы спали с мужем и ребенком 5 лет. А вот диван в зале не очень удобный, в разложенном состоянии отодвигается вторая половина) и матрасы разные по высоте. Там спал мой брат) Море очень близко, завернуть за дом и "рукой подать"., там же променад с магазинами и кафе. Недалеко магазины Lidl и Mercadona. Еще, яндекс карты выдают адрес не тот, как будто дом находится через железную дорогу и дальше от моря. Реально, дом возле моря, возле отеля Меридиан.
Viktoriya
2015-09-10T00:00:00Z
Perfect location, central, but tranquil; and excellent apartment, spacious and with everything you can need on holidays, very clean and cosy! The host, Rosa and her sons were extremely nice and helpful, and we have been met very well! We have been there 10 days, with a 4-years old boy and he loved the place. I would highly recommend this place for everyone who will choose Calafell or Costa Dorada for vacations!
Max
2014-07-25T00:00:00Z
Nous avons passé un excellent séjour dans l'appartement de Rosa. L'appartement est conforme au descriptif, il est effectivement à quelques pas de la plage et des commerces. Le wifi est parfois capricieux mais permet tout de même de consulter sa messagerie, la place de parking privative s'adresse plutôt à une voiture moyenne mais notre voiture est restée dans la rue en stationnement gratuit devant l'appartement sans aucun problème. C'est un excellent rapport équipement / confort / emplacement et prix. Cet appartement nous a convenu. Rosa est très disponible et de bons conseils. Merci pour tout à Rosa et son mari.
Francis
2016-07-17T00:00:00Z
Останавливались в этих апартаментах с мужем и маленьким сыном (8 месяцев), остались очень довольны! Сам городок расположен близко к Барселоне, квартира практически в центре, до ресторанов и кафе минут 7 пешком. Ночью было тихо и спокойно. До моря идти минуту, пляжи отличные. В самой квартире много посуды, на кухне тостер, микроволновка, духовка, кофемашина. Все чисто, уютно. Мы приехали в 6 утра, Роза спокойно дала ключи, все показала, дала много брошюр по Калафелю. Роза гостеприимная хозяйка, очень нам помогала! Буду всем советовать эти апартаменты, ну и сама не откажусь еще раз там побывать!
Margarita
2015-07-18T00:00:00Z
Rosa is lovely. She provided a welcome box of tea and wine etc and brought us tourist information in English which was very helpful. Rosa booked us a taxi on our last day which made our journey home much easier.
Chris
2016-06-25T00:00:00Z
Tipo de Quarto
Casa inteira/apto
---
Tipo de Imóvel
Apartamento
---
Acomoda
4
---
Quartos
El Vendrell, Catalonia, Espanha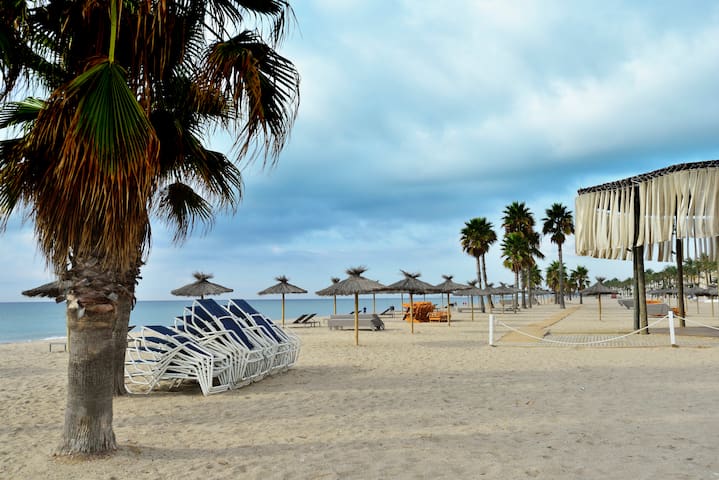 Sant Salvador - Airbnb
:
Média de

4.44

de

5

estrelas, de acordo com

110

avaliações de hóspedes
1

–

18

de

300+ Alugueres de Apartamentos
Insira as datas para ver o preço total. Taxas adicionais aplicáveis. Podem ser adicionados impostos.