JECARA FARMS' Raven Cabin is located high on the Oak Ridge Moraine. The view directly north is a wonderful century+ old farmstead accentuated with a 25-30 acre marsh area as well as a small bass pond directly in front of the Cabin (quiet and private)
The cabin exceeded our expectations. It was clean, comfortable and picturesque. Although it wasn't actually too far, it felt like a complete getaway thanks to the landscape and atmosphere. We were worried about the outside stove/BBQ situation, but it was actually nice to be outside while cooking.
bora
2016-02-21T00:00:00Z
Great place ! Brett and Emma we're welcoming and provided us with every thing we needed. The time was peaceful and relaxing
Mellie
2016-06-19T00:00:00Z
The Raven cabin is the perfect little getaway! So close to the city and yet so secluded- we couldn't have asked for better. In the winter, it's the perfect place to sit by a fire with a good book, which is exactly what we did. Brett and Emma were easy to get a hold of and welcoming. Thank you!
Brittaney
2017-01-22T00:00:00Z
Bretts wife was there when we arrive, we where late but she was very helpful , great person. their property is paradise, i have absolutey no complains, i recomend this beautiful paradise
Merlina
2016-08-02T00:00:00Z
Jecara Farms is an awesome get away from the city. Brett is a down to earth kinda guy who will go out of the way to accommodate his guests. The property itself is immaculate & eco-friendly, and is diverse in its agricultural & arboreal landscape. Raven cabin is equipped with all your needs, and was one of the coziest, loveliest places I've had the pleasure of visiting. My dog Rafi & I enjoyed our days exploring, sitting by the fire & generally enjoying the peace & quiet that Jecara Farms offers. I highly recommend it!
Eleni
2015-12-13T00:00:00Z
We had a lovely 2 night stay at the Raven Cabin. Emma was very helpful when we arrived and gave us a tour of the property and cabin. It was very relaxing and the scenery was beautiful. Swimming in the natural pond was a great way to cool off after our run. Everything is provided for you...water, dishes, bbq, outdoor chairs, paper towel and toilet paper. We highly recommend a stay here. We can't wait to go back with the kids. Thanks Emma and Brett for a wonderful last weekend before heading back to teaching.
Hilary
2016-09-04T00:00:00Z
It's hard to put into words just how wonderful this place is. We rented it while I had to work in a nearby town, and it was such a pleasure to come home every evening to the peace and serenity of the cabin. Even though the listing says there is no kitchen, it's well stocked for cooking on the barbecue (which has a side burner), and there's a full supply of tableware, glassware, etc. You just need a cooler and ice for perishables. Brett and Emma are the perfect hosts -- responsive when you need help, but otherwise they let you enjoy the solitude. If I have to come back for work in the area again, I know exactly where we'll be staying!
Catharine
2015-10-16T00:00:00Z
We loved our evening at the Raven Cabin. I would highly recommend staying here if you are looking for a rustic getaway. The BBQ works really well. The hosts were communicative and very welcoming. We will definitely be back!
Darcey
2016-05-23T00:00:00Z
Tipo de Quarto
Casa/apto inteiro
---
Tipo de Imóvel
Casa de campo
---
Acomoda
2
---
Quartos
Schomberg, Ontário, Canadá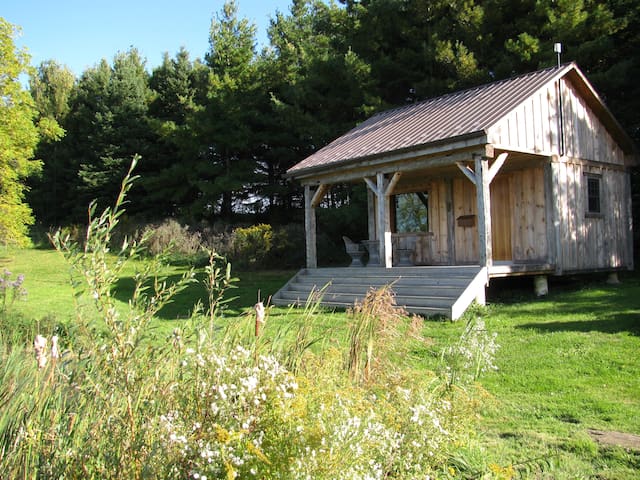 FEATURES: -solar power -wind generator -woodstove heat -compost toilet -barbeque (outdoor only) cooking -secluded, private, peaceful -fresh water, linen, kitchenware, propane and firewood – all included
For more than 10 years, we've hosted a long weekend family BBQ gathering. Special children's games such as Manhunt, Scavenger Hunts, Tag, and Hide and Seek all take place. Roasting marshmallows, campfire guitar sing-a-longs, corn roasts, horseshoe pits, beach volleyball, tetherball and other fun events took place eventually became regular routine. With most of us sleeping in tents and campers for many years, things have progressed to the point where the old cabins and shacks on the property have been renovated and upgraded. We decided to preserve the all natural, outdoor, off-the-grid and rustic type theme…and we now offer to share it with you and your friends and family. Starting with reclaimed century old barn beams, the frame structure of each cabin was created. From there the solid wood doors and picture frame windows were designed and installed to close in the four walled, simple, insulted, one room cabin design. As the years passed, the little finishing details of the cabins were developed. A compost toilet and a woodstove were added. Solar panels and a wind generator charge the battery bank and power these cabins sufficiently enough to runs the few lights, power a radio and run the compost toilet. Custom barn beam type kitchen tables and benches added to the original barn board flooring complete with original type turn-of-the-century nails. The rustic century-old feel continues with no running water or showers and all cooking is done outdoors on barbeques or over the open fire. Fresh water for drinking and washing up after supper is supplied as is propane for the barbeque and firewood. Regular swims in the pond keeps guests clean and cool in the warmer months and warm cosy quilts, fluffy pillows and a beautifully glowing woodstove fire help create a one of kind peaceful and secluded retreat. We've had the pleasure to welcome guests from distant countries as well as some regular repeat visits from friends and family that live locally and just like to get away for a night or two. Other occasions include business retreats, team building, weddings, honey-moons, anniversaries, birthdays plus much more!
Peaceful, quiet, farmland
Beautiful lodging, can't wait to see it in the summer again.
Dylan
2017-02-20T00:00:00Z
Had the loveliest time with my girls staying at Bear Cabin. We were a bit nervous about the lack of running water at first, but everything turned out amazingly. Emma was so generous to bring/provide us with everything we needed including a water jug, extra dishes and extra candles. We were able to cook our food out on the BBQ on the porch. Brett and Emma were super friendly and accommodating. We were all very happy with our stay in the cozy Bear Cabin!
Karen
2016-12-28T00:00:00Z
Brett's wife Emma greeted us on arrival and showed us to the cabin. She gave us a quick orientation to everything, and made sure to let us know that herself and Brett were available for anything we needed. The rest of the weekend was quiet, easy, and peaceful - even with other guests on the property, we felt like we were really alone in nature which is exactly what we were looking for! On top of it all, the farm was an easy 45 min drive from Toronto. An amazing spot! We'd definitely love to come back.
Amanda
2017-01-02T00:00:00Z
Brett and his family have a wonderful property, remote and secluded but deceptively close to the city. My fiance and I spent a weekend in Bear Cabin during the late fall. We found the cabin spotless and homey. I had many questions in the days ahead of our trip and Brett was always reachable and happy to answer them, it definitely made our weekend away that much easier. We were kept warm in the beautiful cabin by the wood stove, which was well stocked when we arrived, and Brett supplied extra firewood for at a moment's notice. All included. This really added to the charm and experience of staying "off the grid". We cooked all our meals on the outdoor BBQ, with a beautiful view over the large pond in front of the patio. I even managed to get in a paddle! Whenever given the chance to get into a canoe, I take it. So when one was provided for us, we spent an afternoon paddling around the marsh in light snow. A perfect saturday afternoon. We also thoroughly enjoyed the walkways around the property, and explored all that we could, with our canine in tow. It was a treat to see all the animals you'd expect at a working farm, and next time I'll skip the store and will have to ask about buying fresh eggs and beef, right on the farm! Though we were staying right on the family's farm, Joanne and I felt totally secluded and remote, as if we were the only ones there. Until I had a question or request for Brett, who was just a text away. A fantastic stay, one we will be back to soon. Thanks so much for having us! Joanne, Jon & Oscar.
Jonathan
2015-10-18T00:00:00Z
Emma and the whole farm are awesome! Bear Cabin is beautiful and a perfect get a way. The farm is so peaceful! We had such a fun time relaxing and wandering the property. We will definitely be back!
Adrian
2016-08-16T00:00:00Z
I booked the cabin for a weekend getaway for me and my wife for our anniversary. We were deffinetly not dissapointed by what we saw. We will be back in the summer for another stay. It was great to get away from some electronics and just enjoy each others company and the quietness of the country.
david
2016-01-24T00:00:00Z
Great place! Clean, Plenty of room, and right in front of a picturesque swimming pond. Hosts were responsive and fun.
Luke
2016-10-10T00:00:00Z
Great Stay! Can't wait to come back. Beautiful property. Great host
Cody
2016-03-04T00:00:00Z
Tipo de Quarto
Casa/apto inteiro
---
Tipo de Imóvel
Casa de campo
---
Acomoda
5
---
Quartos
Schomberg, Ontário, Canadá
A hidden treasure overlooking a 25 acre wetland area. Enjoy the smells and sounds of frogs, ducks, geese and even the odd swan amongst the other wildlife. Relax reading a book or enjoy the outdoor fire pit. Ideal for a romantic get away for 2.
From the moment you arrive, you feel well cared for. Host drove us down to the cabin, ran us through the wood stove and other "off the grid" complexities and then ensured we had everything we needed. Wood for the outdoor fire pit, water and a clear understanding of the property and where to hike, relax and enjoy the views. Just lovely!
S Glen
2016-11-06T00:00:00Z
Great location. Peaceful and secluded. Perfect setting for a few days break from the city.
Mark
2016-08-01T00:00:00Z
We had a wonderful stay at the cabin, it's situated on a beautiful property and is very cozy. Our host was very gracious and welcoming I would not hesitate to book a stay in the future.
Aleks
2016-01-31T00:00:00Z
Snake Cabin was an amazing, secluded getaway. We spent two nights here and loved every moment! We met Emma, Brett's wife, when we arrived and she showed us around the property and our cabin. She was an absolute pleasure and really set our time there off to the right start! Brett was accessible and kind when we needed a few extra supplies. There is a fabulous swimming pond steps from the cabin and the view from the porch is unbelievable! It was pouring on Saturday and the sound of it on the roof was so relaxing! We can't wait to return and have already shown our families and friends the pictures/property so they can stay as well!
Molly
2016-08-14T00:00:00Z
We loved this place! Beautiful cabin and only an hour outside of Toronto. We'll be back for sure.
Steve
2016-07-11T00:00:00Z
Great & nice neighbor hood. Host explained all required safety tips & provides their contact number in case of emergency.
Ajaib
2016-11-02T00:00:00Z
The cabin is perfect for summer time. It was so comfortable and chill all the time even without air conditioner. And of course the view is fantastic. My boyfriend and I have thrilled with the beauty of nature here. It was a unforgettable experience. We did have a chance to talk to Bret but his wife, Emma is so nice and take time to explain how things work to us. We glad that we have found and stayed in this phenomenon cabin which is next to nature pond. Definitely recommended to everyone that looking for a weekend getaway. Trust me, you won't be disappointed!!
Cindy
2016-06-26T00:00:00Z
What a beautiful time my partner and I had at snake cabin! We will definitely be going back in the summer. It was a winter wonderland!
Leah
2016-02-13T00:00:00Z
Tipo de Quarto
Casa/apto inteiro
---
Tipo de Imóvel
Casa de campo
---
Acomoda
2
---
Quartos
Schomberg, Ontário, Canadá
You'll love my place because it's a beautiful custom made house with mature trees and pond.. Need a car in this area. Kitchen/wet bar - no cooking. Washer/Dryer sheared. 2 big couch for extra guests.
This was a wonderful place to stay, it was beautifully furnished, very comfortable and has all the amenities you need! I will be back hopefully!
Jenna
2016-07-25T00:00:00Z
Tipo de Quarto
Quarto privado
---
Tipo de Imóvel
Apartamento
---
Acomoda
2
---
Quartos
Schomberg, Ontário, Canadá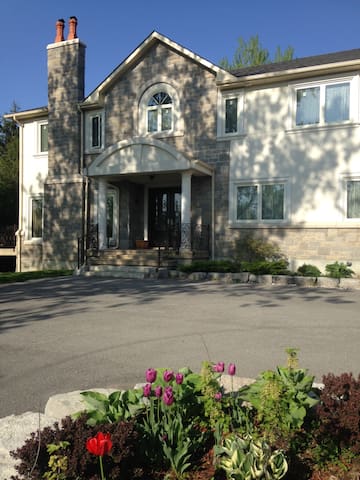 Our country get-away is perfect for those looking to get out of the city and back to nature for a short or extended stay!. Be part of the landscape coming to life as things warm up, gardens bloom and trees bud. You'll love our location, full kitchen, access to camp fire, wifi internet, 40" TV, three piece bathroom, laundry facilities and more. Cabin does Enjoy our trails, biking, being close to nature and much more. Located about 50 min. from Toronto, 25 min. to Canada's Wonderland.
Located almost in the middle of no where and yet just 10 min. from Hwy 400, our space lets you get away from it all while still close to all you need. The space is an open concept cabin featuring full kitchen, three pull out bed sofas all in a relaxing atmosphere and great view over the picturesque Holland Marsh. The Kitchen includes full size refrigerator, stove, pots, pan and most everything you'll need for cooking. Note that the cabin is not by a lake or river and does not have a pool or other area to swim. Enjoy our newly added and renovated three piece washroom and laundry facilities. Washroom features 36" glass shower with built-in niche, toilet, vanity and lighted mirror with built-in bluetooth speaker. In keeping with our property's "green" theme and giving it some rustic chic, we are featuring our own barn board (taken from our barn renovation project from a few years ago) and reclaimed wood paneling acquired from a home being demolished. This is a "green" property featuring 60 KW of solar electricity generation supplying this green energy to the electricity grid. We have also done extensive green building projects on the property including a home addition to the property's century farm house using many strategies and products that significantly reduce our carbon foot print and reduce our energy usage.
This is a quiet farming area with the cabin on a 100 acre farm property with a 40 acre tree bush lot. The local town of Schomberg is a quick 10 min. drive to local small village shopping including a 24 hour Foodland grocery store, Tim Hortons and more.
We've had a fantastic stay. Our daughter, a friend and her coach were staying at the cabin whiich is extremly close to the Calendon Equestrian Park in Palgrave ( 12 minutes door to door ) with Tim Hortons and Food land right around the corner and a few restaurants as well. We highly recommend the cabin for future equestrian events at the part.There's also room for an extra two campers, if needed. We'll be back for sure. Thom and his family were very helpful and accomodating at all times .Great place , great memories .
Christine
2016-09-05T00:00:00Z
i would recomend this to any couple or if you just want to get away for a day.
Marlon
2017-04-02T00:00:00Z
Exactly as advertised. Very well maintained and extremely clean. And it comes with all of the necessities for your stay. Thom was available upon arrival to walk us through everything we needed to know. The location itself is very relaxing and provides for a great place to unwind. I would highly recommend as a quick getaway from the city!
Mike
2016-09-05T00:00:00Z
自然に囲まれたとても素敵な場所でした。 リスやウサギや鳥たちに毎日会えます。 thomさんもご家族を含めて皆さんとっても親切でフレンドリーで快適に過ごせました。 コテージはソファベッドが二つありキッチンも冷蔵庫も大きくて使いやすいです。 2週間という長期滞在でスーパーなどにも足を運ばなければなりませんでしたが私たちは車を持っていなかったのでthomさんがバス停まで送迎してくれたり、都合が合えば直接スーパーまで連れて行ってくれたりと助かりました。 大自然の中で心身共にリセットできた滞在でした。 ※1歳の娘と家族3人での部屋探しは結構大変でしたが快く歓迎してくれました。
Reimii
2016-07-23T00:00:00Z
it was a great time to me to stay in this house ,very quiet place and Thom was really gentleman and all his family was so nice , the place have every thing to feel your self at home ,easy to axis to hwy 40 , . also for those how love camping they have a great chance to have so much fun,sure i will going to this home again.Thanks Thom
Iskander
2016-08-15T00:00:00Z
Great place to stay amazing location if u need to go to wonderland. Host was amazing with helping out had no problems with this place would stay again. Was there with my wife and 4 kids.
Chad
2016-08-23T00:00:00Z
Everything listed was accurate, Thom is extremely friendly, always willing to help, and always responds quickly to whatever you need. The area is beautiful and peaceful no matter what time of the day it is, so be sure to bring a camera or so because you can capture some awesome photos. I personally love the little house, it has everything you need in there, lots of windows for natural lighting and the views, A/C, TV that comes with a ps3 for watching videos, Wifi, full kitchen, board games to play, seating outside to just relax, trails to explore.. I didn't want to leave. This was my first official Airbnb trip and I was nervous in general being new to the website and staying elsewhere from home but I'm glad this was my first experience, it was perfect so I definitely feel comfortable going forward using Airbnb again for the future. Thoms location is definitely a recommendation of mine to anyone looking into it!
Andre
2016-08-05T00:00:00Z
My friends and I had a great time staying at Thom's place! Our expectations were pleasantly exceeded.
Emily
2017-02-26T00:00:00Z
Tipo de Quarto
Casa inteira/apto
---
Tipo de Imóvel
Cabana
---
Acomoda
6
---
Quartos
Schomberg, Ontário, Canadá
Our place is close to McMichael Art Gallery, Newmarket, Kleinberg, Nobleton, Canada's Wonderland. You'll love our place because of 12 acres of rural property with a 19th century Barn, huge treehouse and 2 large ponds and creek with paths throughout. Our place is good for couples, solo adventurers, and business travellers, but if you have kids they can sleep on the couches in the extra room in the suite.
The spacious suite is the entire second floor of the original 1880 farmhouse. It has been completely renovated into a beautiful 2 room suite. There is a large sitting room with 2 couches and a comfy chair with a small fridge and a tv with satellite and dvd. It also has a Juliet balcony overlooking one of the ponds. There is a large bedroom with a comfy mission-style oak queen bed, chest of drawers and roll-top desk. There is a large closet and an en-suite bathroom with sink, toilet and bathtub with shower.
Our home is at the end of a 900 foot driveway, through some trees and over a creek. It is extremely private and I want to say quiet but the frogs can be very loud.
It was a really great experience staying here. The hosts were very welcoming and the house and land were beautiful! We could have spent a full day just exploring the forest paths, creek, ponds and buildings.
Riley
2016-08-05T00:00:00Z
Tipo de Quarto
Quarto privado
---
Tipo de Imóvel
Casa
---
Acomoda
4
---
Quartos
Schomberg, Ontário, Canadá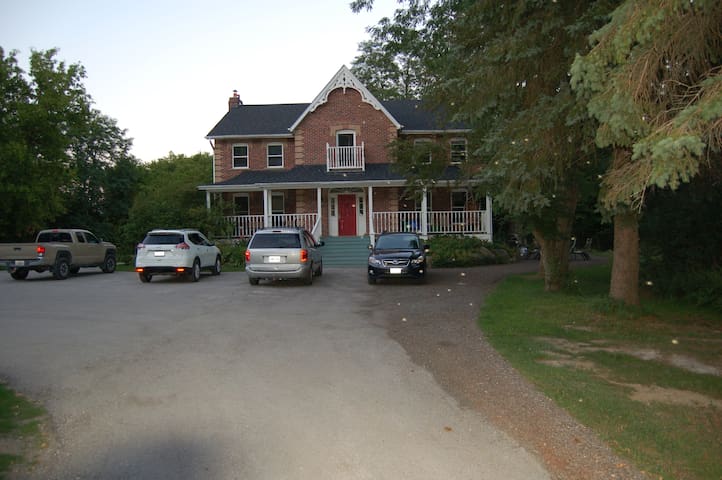 1920's 3 bed, 2.5 bath cottage is surrounded by trees, walking distance to Main Street with coffee shops and restaurants; 15 mins drive to Caledon Eq. Park; 1 hr from CN Tower; 30 mins to Wonderland and McMichael Museum. Large deck, garden.
Our cottage was built by the descendants of Jesse Lloyd, the founder of nearby Lloydtown, and was a leader in the Upper Canada Rebellion of 1837.
We live on a tree-lined street with century-old homes; we are about 10 minutes from the Main Street where there are pubs, restaurants, coffee shops, post office. A little further is a supermarket and other essentials.
Tipo de Quarto
Quarto privado
---
Tipo de Imóvel
Casa
---
Acomoda
2
---
Quartos
Schomberg, Ontário, Canadá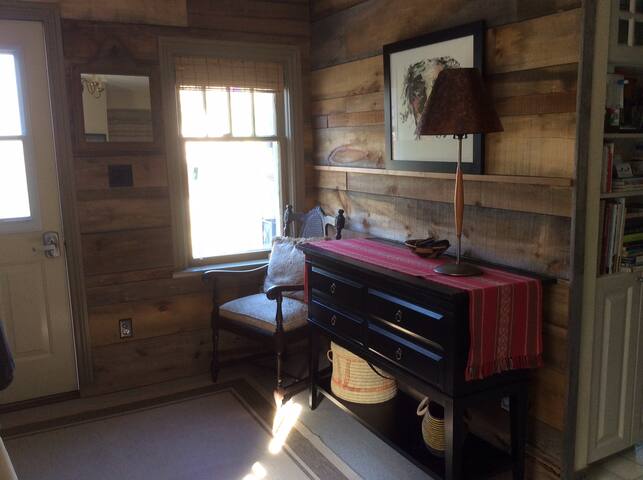 Need a meeting space? Love to take a corporate, business or social meeting out of the city? We have your space. Perfect for any of these applications, featuring about 700 sq ft of space that can seat up to 40 people theatre style, 30 people table seated for dinner or configured in other ways including a comfy space. Ready for video and presentions including white board, projector, 5.1 sound sound, Apple TV, Chromecast and wifi. Note: Location not for sleeping accommodations.
Located in the country side about 35 minutes North or Toronto and 15 min. West of Newmarket, our meeting space is perfect for groups that are looking to get out of the city and host their meeting in a quiet rural environment. The meeting space is located on a large farming and bush lot property with access to walking trails, lots of out door area, etc. The space also features a full three bathroom perfect for those presenters that may need to prepare before a session. Note that the space is on a lower level and must be accessed via stairs. It is not accessible for those that can not use the stairs.
Tipo de Quarto
Casa inteira/apto
---
Tipo de Imóvel
Casa
---
Acomoda
16
---
Quartos
Schomberg, Ontário, Canadá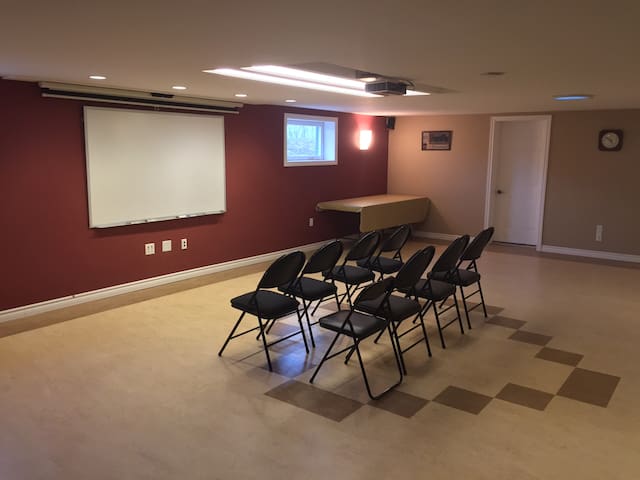 Rise with the sunset, walk down to the pond over the 50 acres of greenery. Vintage farmhouse, firepit at night; 20 minutes from Toronto and 20 minutes from cottage country. Love the big city, but breath the clean air. Gluten-free breakfasts!
Yvette has been a very kind host, she welcomed us in her beautiful house during our trip in Ontario. She advised us to a very nice pub in Schomberg where we have passed a good moment too. Thank you for moments shared with you
Eloy
2016-08-02T00:00:00Z
Yvette is a very welcoming and friendly host - made up for the less than comfortable beds/pillows :). Very clean and convenient for our specific activities. Breakfast accommodating our GF/DF needs was much appreciated - and conversation was most enjoyable. 2 bedrooms, access are through shared spaces so not private but guests given free run of house.
Lynn
2016-08-01T00:00:00Z
Le logement est simple et accueillant, parfait pour les personnes qui cherchent la simplicité et l'authenticité. Yvette est une hôte très agréable, aux petits soins pour ses locataires, elle nous a conseillé une bonne adresse pour le diner, Schomberg pub. Yvette est avide de communications, de partage et une belle ouverture d'esprit, passionnante, on pourrait rester des heures à parler. Yvette se débrouille bien en français, cela aide les francophones. Les chiennes sont affectueuses. L'environnement est calme et l'accès facile. Merci pour cet accueil.
pascal
2016-07-30T00:00:00Z
We enjoyed staying at Yvette's lovely farmhouse. It was a great location for our needs. Everything was clean, comfortable and laid back. My husband appreciated the GF breakfast. We were quite busy during our stay so didn't have a chance to walk around the property but enjoyed our conversations with Yvette at breakfast, meeting the dogs and looking around the shop.
Jennifer
2016-08-07T00:00:00Z
Yvette was a very gracious and accommodating host - laid back and helpful. The proximity to Schomberg was perfect (5 min bike ride, 15 min walk). The upstairs bedrooms were perfect for our needs - good sized rooms, double bed in each, fresh linens and towels. The shared bathroom was clean and had excellent water pressure, the side porch was a nice place to sit and chat. I'm sure your stay with Yvette will be great! When you aren't rushing off and have time to sit with Yvette (and her beautiful, very friendly husky) , you will discover she is a terrific storyteller and will share her thoughts and experiences openly. At the same time, if you're bounding out the door, she'll give you the space you need. PS: DO take the time to chat...Yvette has some great stories!! ;-)
Jason
2016-06-13T00:00:00Z
Accueil et maison très agréables, Yvette est toujours disponible et serviable. Merci pour ce petit séjour. Je recommande.
Sandra
2016-08-04T00:00:00Z
I had a great experience staying with Yvette in her lovely farmhouse. Yvette is an excellent host and has so many stories of her travels and experiences. I would definitely stay here again!
Katie
2016-07-25T00:00:00Z
My first experience of airbnb, great host and a perfect clean place. Yvette was incredibly friendly and hospitable would definitely come again :)
Owais
2016-08-14T00:00:00Z
Tipo de Quarto
Quarto privado
---
Tipo de Imóvel
Outro
---
Acomoda
4
---
Quartos
Schomberg, Ontário, Canadá
We offer a camp site perfect for a family camping outing for a day, an evening, a weekend or more. We provide a secluded camp site, fire pit, wood, tent, camping gear; or you bring your own. You bring your own food. We are located 45 min. North of Toronto, 15 min. from Canada's Wonderland, 15 min. from restaurants and groceries, plus 10 min. to a Go Express route to Toronto. We offer a quaint out house as bathroom facilities and shared shower in separate home. Site doesn't have a lake or pool.
The space is located just outside of our 40 acre tree bush property. There is a pond near by (not suitable for swimming or fishing) walking tails in the bush. Enjoy a camp fire by the fire pit. Perfect for a camping experience with tent or trailer. Like to enjoy a camping experience but don't have the gear. We can offer a large 12 man tent, gear for cooking, lighting and other items if you need them; or use your own which most prefer to do. Also can provide electricity for camper trailers. It is a great space to get doors, enjoy a camp fire all under the stars close to the Toronto area. Additional Pricing for items per night: Large 12 man tent - $15, Camp Stove - $7, Camp Light - $5, Sleeping Bags - $5 / bag The items you wish to use should be noted in your reservation request. We can add them as a special offer at the time of booking or simply paid in person upon check in.
This is a quiet rural area with a 40 acre tree bush lot. The local town of Schomberg is a quick 10 min. drive to local small village shopping including a 24 hour Foodland grocery store, Tim Hortons and more.
Thom was great! He was very helpful to us. Everything was as is described. If I am ever back in the Toronto area I would definitely stay here again!
Mike
2016-07-31T00:00:00Z
Tipo de Quarto
Casa inteira/apto
---
Tipo de Imóvel
Tenda
---
Acomoda
12
---
Quartos
Schomberg, Ontário, Canadá
A private fully furnished and stocked modern apartment that walks-out below a country chalet, on a serene, private country property - 5 ski resorts within an hour. Half hour north of Toronto Airport, 15 min to theater and Upper Canada Mall, local small-town restaurants and coffee shops, LCBO, library and new modern gym.
Completely private with your own kitchen, 3pc washroom, dressing room, and open concept living/dining/kitchenette. Free wifi, satellite TV, brand new space, with private use of the gorgeous patio and backyard area. Enjoy extreme peace, a deer or wild turkey now and again, and the freshest air possible. Air conditioned and extra space heaters if necessary for your comfort. Loads of storage space. I live above, but very quiet.
Schomberg is a small, quaint hamlet. Our home is 3 kms from the hamlet, on a very quiet dirt road. Our backyard is an oasis of evergreen trees, so beautiful and private. We are 15 minutes west of Newmarket, half an hour to the north is Barrie and half an hour to the south is Toronto, so it's a wonderful location. There are a few small town restaurants and breakfast locations closeby and a 24-hour grocery store, liquor store, pharmacy and small hardware store. Upper Canada mall is only 15 minute drive away, with a major theater and everything needed. McDonalds, pizza take-out, Tim Hortons are 3 km away
A very beautiful place which was a perfect getaway. Such a peaceful property. Ilona was such a great host. Loved it!!!
Sara
2016-07-19T00:00:00Z
It was an overall pleasant experience to stay with Ilona. I was there for 2 months. She was very accommodating and helpful with providing information about the area and immediately made me feel comfortable. She was also great with providing me my space and not being intrusive. The suite was cozy, clean and well equipped.
Terrie
2016-05-01T00:00:00Z
We had a lovely stay at Ilona's cottage. The apartment is very clean, modern, and spacious for two people. Ilona was very welcoming and responded very quickly to our questions.
Elizabeth
2016-07-04T00:00:00Z
Thank you for a great stay and making us feel welcome and let us settle in quickly. This was a very clean place, new furniture and appliances. Better then most hotels nearby. We bought some groceries at store nearby and were able to hangout comfortably, watch TV and rest!! (Very quiet area) which was great. 12 minutes from Caledon Equestrian Park. First AirBnB experience was a great one.
Victoria
2016-05-16T00:00:00Z
Ilowa was a really great host. She was really available ! The house was very clean and exactly like the pictures on Airbnb. The neibourhood was quiet and safe. Me and my bestfriend liked the experience we had with Ilowa, A place to recommend!
eve
2016-08-02T00:00:00Z
The stay at this perfect piece of heaven was only made better by the hospitality of this amazing host. For my stay I wanted a private get away and in an amazing and natural way I was able to get way more that I could have ever expected. From the kind token of a bottle of wine left for me to the extra heaters provided during my stay to handle the unusually cold temperatures. It was all perfect. The only negative part of my stay was that it had to end. I would recommend this host and this property 100 times out of 100 the perfect experience.
Trivelle
2016-02-14T00:00:00Z
Spacious and clean. Very comfortable stay. Friendly welcome. Thanks, Ilona!
Clifford
2016-07-03T00:00:00Z
My spouse and I stayed at Ilona's for a month and half. The place was cozy, had lots of closet space for all our belongings and looks exactly like the pictures provided. My spouse and I can not say 1 bad thing about this place it was perfect and Ilona was an amazing host and so accommodating towards our needs. We can only hope that our next Airbnb stay will be the exact same experience. We rate this place 5 stars.
Jennifer
2016-09-29T00:00:00Z
Tipo de Quarto
Casa inteira/apto
---
Tipo de Imóvel
Apartamento
---
Acomoda
2
---
Quartos
Schomberg, Ontário, Canadá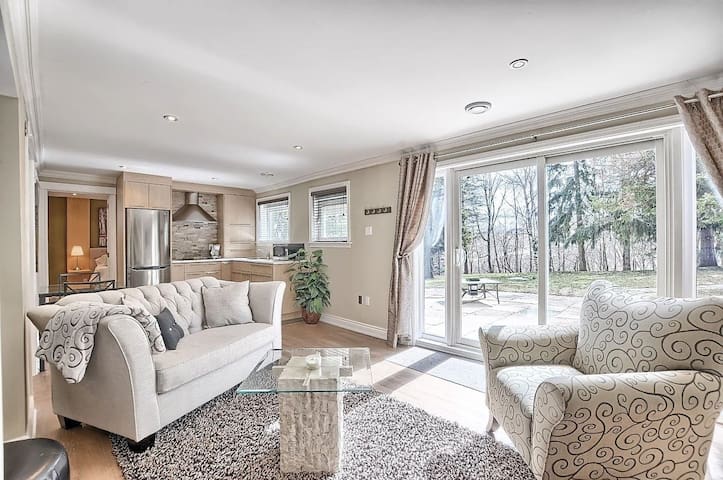 Spacious, brand new one bedroom with ensuite and kitchenette in a countryside modern home. Located in King Township with hiking & biking trails, near Caledon's equestrian events, outskirts of the quaint village of Schomberg with year round events.
Located outside the quaint village of Schomberg, surrounded by farmland and horse farms, this oasis of serenity has all of the modern comforts in a very clean and quiet home.
Schomberg is the heart and soul of King Township. Our annual "A Main Street Christmas" with the famous Farmers Parade of Lights on the first Sat. of December, is a must see event. Biking through the hills and trails is also a lovely daytime activity.
This was our first Airbnb experience, and it SO exceeded our expectations. Angela is a very warm and welcoming hostess. The accommodations are spacious and inviting. The location is close to whatever anyone could possibly need, but tucked into a lovely quiet countryside. We can't say enough about how much we enjoyed the total experience.
Donna
2015-07-15T00:00:00Z
we were welcomed on time and shown the very large space for us to use in her friendly home. As we were only there for 1 night and going to an event till late we weren't able to relax outside in the country air but it would be a nice option for others. we were even given a nice little breakfast in the AM. quiet and restful. Glenn
glenn
2015-05-03T00:00:00Z
Angela is such a warm and welcoming host and the setting is so beautiful.
Jen
2016-06-13T00:00:00Z
Tipo de Quarto
Quarto privado
---
Tipo de Imóvel
Casa
---
Acomoda
2
---
Quartos
Schomberg, Ontário, Canadá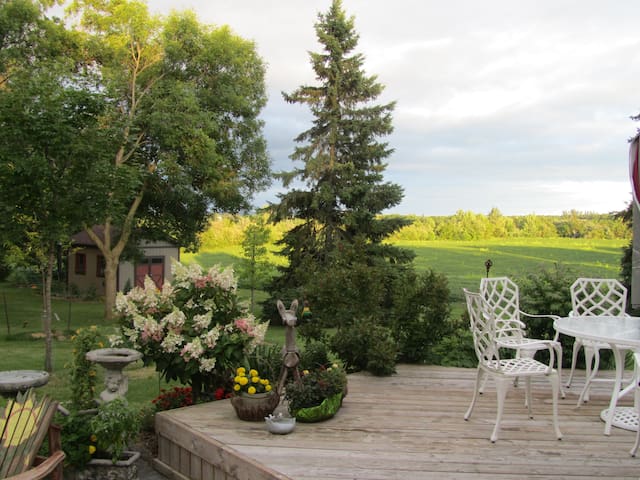 This is a B&B built in 1875 and still has the 1950's kitchen and plank hardwood floors. Above an art gallery on main street in Schomberg 1 bathroom; 1 kitchen, fridge (all shared) There are three rooms: 1 bunk room (2 single) double futon granny supersingle (1900's bedframe)
best town in the world
(URL HIDDEN) (URL HIDDEN) (URL HIDDEN)
Tipo de Quarto
Quarto privado
---
Tipo de Imóvel
Apartamento
---
Acomoda
5
---
Quartos
Schomberg, Ontário, Canadá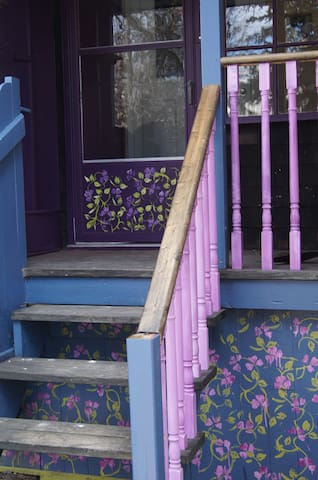 A camp site suitable for groups and camping events. We provide a secluded camp site, fire pit, wood; you bring your own tents, gear, etc. We are located 45 min. North of Toronto, 15 min. from Canada's Wonderland, 15 min. from restaurants and groceries, plus 10 min. to a Go Express route to Toronto. We offer a quaint out house as bathroom facilities but does not showering facilities. Site doesn't have a lake or pool.
The space is located just outside of our 40 acre tree bush property. There is a pond near by (not suitable for swimming or fishing) walking tails in the bush. There is enough space around the pond for up to 10 tents making is perfect for groups or those that are looking for camping event. If you are interested in hosting an out door party, alcohol is permitted as long as you as the host have approproate liability on your personal policy or have purchased a PAL Canada policy. Additionally, if alcohol is part of the event, we require designated supervisors an that everyone stay on the property. It is a great space to get doors, enjoy a camp fire all under the stars close to the Toronto area. You may also be interested in our close by cabin space as listed at https://www.airbnb.ca/manage-listing/13770805
Tipo de Quarto
Casa inteira/apto
---
Tipo de Imóvel
Tenda
---
Acomoda
10
---
Quartos
Schomberg, Ontário, Canadá