Come visit our beautiful country home, in a quiet neighborhood. Located just 2.5 miles from Hwy 99 and 15 minutes South of Fresno. Less than 2 hours away from Yosemite, Sequoia and King's Canyon National Parks!
Comfortable room with Tempurpedic mattress and television. Private bathroom and separate bathroom with shower access. Breakfast and coffee provided.
Ashley was not around this week but Darle her mom was and was very helpful and welcoming.
David
2016-08-06T00:00:00Z
I was welcomed with open arms. Ashley's mom was very kind and occomidating. I felt like I was at a resort.
David
2016-07-24T00:00:00Z
This gorgeous estate, located less than five minutes off the freeway, is hosted by two lovely women, who made us feel welcome from our arrival. If you want a stunning place to stay amidst miles of vineyard, look no further! The back yard has a natural pool and spa, a pond, and some emus and even an ostrich! These are grounds that beg a wedding or stellar event on them; Stonehaven will "wow" you from first sight. We arrived road weary and stressed, but our stress melted right away in the spa, where we could unwind in quiet, beautiful surroundings. I cannot say enough about the hospitality. Even though we only stayed one night, the hosts were so accommodating and friendly, we felt we were leaving friends when we had to go. We will definitely be back! There were a few little extra surprises that I won't reveal; I'll let you find out for yourself! The room is elegant and well appointed, with a tempurpedic mattress and luxurious bedding. The private bathroom has a spa tub that looks out into a tiny private garden complete with a water feature. The care and love poured into creating a luxurious and relaxing space shows everywhere you look at Stonehaven. The pictures don't do it justice. We have stayed at airbnb places before, but we really felt we lucked out when we booked here. What a gem! Thank you thank you, Ashley and Darl. We know we will see you again!
Jamie & Cindy
2015-07-23T00:00:00Z
After a long day of traveling and playing on a scholarship audition, this was exactly a place me and my boyfriend needed! Ashley and here mom are wonderful people and absolutely impeccable hosts, we immediately felt like home. It was a great pleasure to meet them and to share couple of interesting conversations. Their home is absolutely amazing! We felt huge respect for the way they build this house and the thought it was put into it. Would definitely love to come back and spend some more time here!
Julijana
2016-03-07T00:00:00Z
A wonderful weeks stay in the Valley! The central location and being convenient to a freeway exit made this an easy commute to both Visalia and Fresno for business meetings. The accommodations were comfortable and quiet. Breakfast was lots of great options and healthy too. A+ coffee!
Jeff
2016-02-13T00:00:00Z
Our stay ay Stonehaven was great. The house, garden and spa were beautiful and was very relaxing after a long drive. The room was also very nice and we slept great. Ashley's mom was our host and she was lovely and very hospitable from beginning to end. She even drove with us to the gas station and showed the best place to eat and shop. A big plus were all the animals; the two enthusiastic dogs, the ostrich and the emus made our stay complete. We only stayed for one night, but we wished our stay could have been a little longer.
Timmo
2015-07-26T00:00:00Z
From a cost vs. benefit perspective ... the value is off the chart. Yes, it's Fowler -- not San Francisco, but this is the easiest 5-Star AirBnB rating ever. Seriously, if there was a Ritz Carlton & a Four Seasons on both sides of it ... I'd choose Stonehaven ... even if all 3 were the same price. The hosts are truly committed to exceeding guest expectations. The treatment is royal, their home is impeccably clean, fragrant and quiet, and the bed is very comfortable. The property itself, covered in other reviews, is quite unique and really a cool oasis/wildlife sanctuary. I'm looking forward to returning !
Bryan
2015-08-14T00:00:00Z
It's such a comfortable experience that StoneHaven has become my home away from home. They treat me like an honored royal new guest each time ... even though I stay there every month.
Bryan
2015-11-13T00:00:00Z
Tipo de Quarto
Quarto privado
---
Tipo de Imóvel
Casa
---
Acomoda
2
---
Quartos
Fowler, Califórnia, Estados Unidos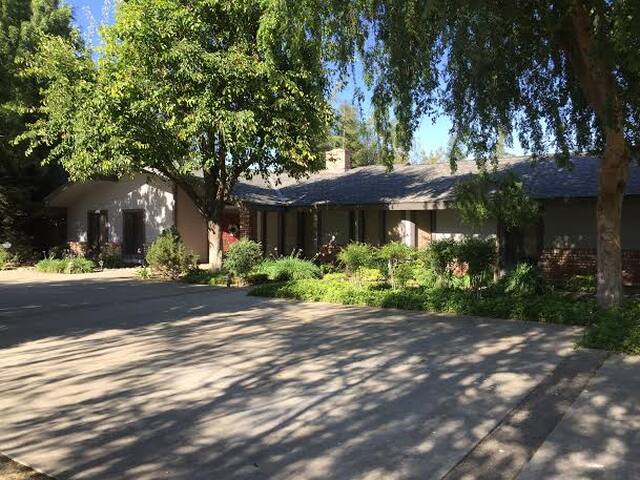 Great getaway on the road to Yosemite, Kings Canyon National Park and Sequoia National park. Great midway point between Los Angeles and San Francisco. Private detached room, with King size bed adjacent to home. Private entrance to guest room.
Private bed and bath in nice neighborhood. Great access to National Parks.
Quaint Swedish heritage make up Kingsburg. Great downtown and "Mayberry" type feel.
We stayed only one night but it was a pleasant and comfortable stay, the room is spacious with all comfort (the carpet is so thick and soft) and very well equipped: mini fridge, microwave, coffee machine, good wi-fi ! thank you Cheri for the pop corn to prepare in the microwave, I loved it ! Room and bathroom are very clean. Very nice area and very practical to park in front of the house, we had to leave early in the morning but we took time to visit shortly the Little Sweden center of Kingsburg: charming ! La chambre est spacieuse (grand lit large) et très comfortable, elle est bien aménagée avec de beaux matériaux de qualité, la moquette est bien épaisse et moelleuse !! Il y a un petit frigo, un micro -onde, une machine à café. Cheri avait mis du pop corn à préparer au micro onde, délicieux ! Tout était parfaitement propre. Il y a un patio avec une petite fontaine, c'est plein de charme mais nous n'avons pas eu le temps d'en profiter. Le quartier est calme et résidentiel. Nous venions du parc Sequoia et c'est à 1h30 à peine, très pratique, jolie route. Nous n'avons pas rentré Chéri personnellement, nous sommes restés juste une nuit mais elle a été très rapide à répondre à nos messages et a fait tout pour que nous passions un bon séjour. Je recommande vivement cet endroit.
Cécile
2016-11-10T00:00:00Z
Was easy to figure out everything with the owner, house was so welcoming and cozy!
Elliot
2016-08-16T00:00:00Z
Cheri was very accommodating to our late arrival and and last minute need for a room. The room itself was wonderful! It's set up with all of the accommodations of a hotel room - coffee maker, mini fridge, towels, soap/shampoo. It made it very easy to travel lightly. Great location for those traveling to Yosemite from the South!
Carolyn
2016-07-10T00:00:00Z
A completely 5-Star experience ! Cheri is such a great hostess and her place is 1st rate. There just aren't ANY missing amenities !
Bryan
2016-09-21T00:00:00Z
Cheri's listing was just fabulous!!! The room was spacious, clean and comfortable. It had all the amenities you needed. The bed was amazingly comfortable. Location was awesome close by to restaurants and stores and also just an hour's drive to the Sequoia and KC National Parks. The private entrance made it easy to get in and out without having to disturb the host. We met Cheri the day we checked out and she was absolutely wonderful. I very highly recommend this place if you are in Kingsburg or visiting the National Parks.
Moses
2016-07-05T00:00:00Z
A relaxing home away from home! What a wonderful place to stay. It is quite and private. The room is clean, spacious with many lovely decorations and great amenities. My girlfriend and I especially love the farm grown peaches as much as the flavorful Peet's coffee. Such hospitality makes us feel very welcomed. This is the best relaxing and comfortable place to stay after a long hike. We would definitely come back. Highly recommended.
Derrick
2016-08-21T00:00:00Z
From the moment I walked into this casita, I felt welcome. Cheri has done a great job in creating a relaxing and welcoming atmosphere here for travelers-- from the complimentary fresh fruit to the information booklet with restaurant suggestions and a brief history of the town, I was very pleased by all of the small details that were executed to make this a great stay. Thank you, Cheri!
Grace
2016-08-01T00:00:00Z
Wow, what a great spot! Would definitely come back
Nick
2016-11-03T00:00:00Z
Tipo de Quarto
Quarto privado
---
Tipo de Imóvel
Casa
---
Acomoda
2
---
Quartos
Kingsburg, Califórnia, Estados Unidos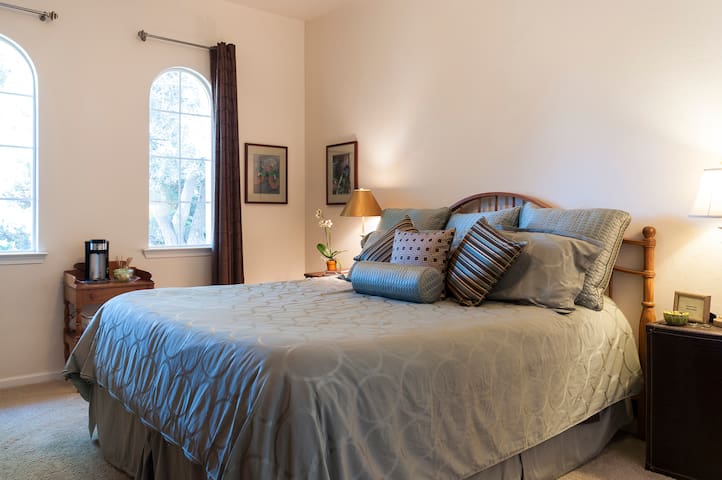 This is the King Bed and is a very comfortable! When the shades are closed you can really sleep in.
We are excited to open up our home to guests who want to experience the Central Valley. We live in Kingsburg, CA. which is a wonderful Swedish town with a lot of history. The nice part about living where we live, is that we are an hour away from the mountains, a little farther to Yosemite and only 2.5 hours from the Coast. We can accommodate up to 4 people. One guest room has a queen size, which is this room, very comfortable bed and the other guest room has a trundle bed. Each room sleeps 2. You would have access to your own guest bathroom and full use of our kitchen. In the warm part of the year, we have a built in swimming pool for you to use as well.
Jeff and Krista are the sweetest! They are very welcoming and they will work with you when it comes to arrival times. Their house is extremely clean, which to me is always a big deal. They bed was incredibly comfortable and the room located conveniently near the entrance. Krista is kind enough to provide with shampoo, conditioner and towels in your own restroom. Again, their home is beautiful and they are extremely friendly people! Thanks for letting us stay with you! Best, N. Ayala
Nailea Fabiola
2015-06-29T00:00:00Z
Krista was kind and helpful coordinating our stay with another Airbnb person staying in their home. Everything was clean and nicely kept. The neighborhood was nice tract homes and we felt safe and good being there.
Cricket
2015-02-13T00:00:00Z
Jeff and Krista are awesome! The house is very clean, everything is just as it is described and they are helpful and friendly. The pool was wonderful during the hottest week of the summer. Max is one of the friendliest dogs you'll ever meet. Definitely will check this listing next time I visit my brother.
Beth
2016-08-02T00:00:00Z
Nous sommes arrivées tard dans la soirée. Lieu parfait pour ensuite aller au Séquoia Park. Krista est très accueillante. Le terme adorable convient mieux. Des attentions touchantes envers ses visiteurs qui rendent le séjour encore plus agréable.
Marie
2014-09-10T00:00:00Z
Krista and Jeff are very nice couple, there house is beautiful in nice and quiet neighborhood. I had very relaxing evening in there backyard in front of the pool after my long day. I would gladly come back to stay with them on my way up North next time. Olga
Olga
2014-08-11T00:00:00Z
THE STAY AT KRISTA/ JEFF WAS GREAT... VERY ATTENTIVE HOSTS AND LOVELY NEW HOME... SPOTLESS AND GREAT DECOR WHICH A DEFINITE PLUS IN MY BOOKS.... GREAT CONVERSATIONS WITH KRISTA BEFORE AND AFTER WORK ;)MAX- THEIR HANDSOME DOG WAS SO LOVEABLE.... WOULD DEFINITELY RECOMMEND YOU BOOKING UR STAY AT THEIR LOVELY HOME.... ;) ELIZABETH
Elizabeth
2014-02-14T00:00:00Z
It was a realy nice house. It is a great expiriance to visit Jeff & Krista. A nice pool and coffee every morning. Thank you.
Andreas
2014-08-20T00:00:00Z
Krista and Jeff made me feel at home during my short stay there. Their house is beautiful and the bedroom where I stayed was extremely comfortable. They even made me coffee the morning before I left! I would definitely come back and stay with them in the future. Highly recommended!
Yalile
2014-12-19T00:00:00Z
Tipo de Quarto
Quarto privado
---
Tipo de Imóvel
Casa
---
Acomoda
2
---
Quartos
Kingsburg, Califórnia, Estados Unidos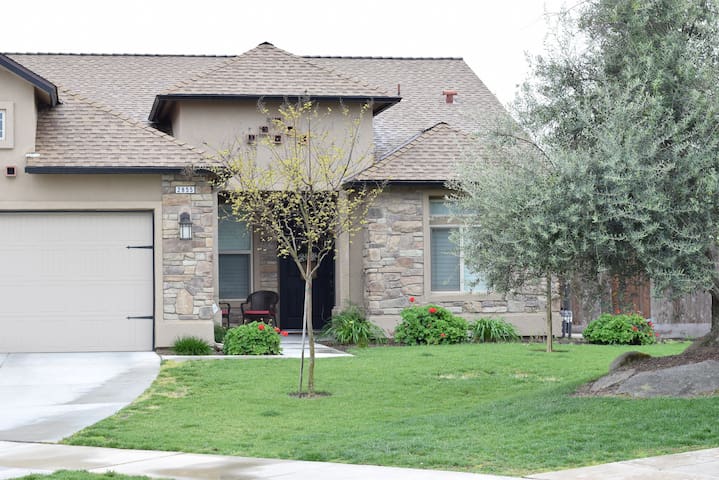 Our bungalow is located in the heart of the central valley of California near the Swedish town of Kingsburg. It is a beautifully appointed one bedroom with full kitchen, laundry facilities, surround sound DVD, and wi fi. We look forward to seeing you
Craig, we loved your guest house and hope to visit again sometime soon. We were blessed to enjoy the beauty of the apricot orchard and the surrounding farms. The privacy, quiet, and your welcoming, generous hospitality!
Mickey
2016-02-25T00:00:00Z
Craig made us feel extremely welcome! The listing was clean and exactly as described. It's a convenient location for those coming or going to one of the national forests or parks. Be sure to check out his other listing (the restored (URL HIDDEN) only regret is that we didn't know about it sooner!
Sophie
2016-07-25T00:00:00Z
The bungalow is perfect. Great location, very convenient to visit Sequoia and Kings Canyon National Park. The house is very beautiful and extremely cozy, we enjoyed everything here. Craig is a very wonderful host who offered us detailed helpful suggestions about our trip. He even offered us a fruit basket, and the peaches are sooooo good. We love it. Craig also showed us his excellent barn that will accommodate two people. Highly recommend! Though we only stayed there for two nights, we feel like part of the family! Thank you so much Craig!
Sijie
2016-08-20T00:00:00Z
We had a wonderful time at Craig's place. Craig was very welcoming and very good at making sure that we were enjoying our stay. The property is very peaceful and we slept very well there after spending most of our days in the parks. Kingsburg is also a charming town. We highly recommend this place :)
Jose Daniel
2016-09-16T00:00:00Z
This was our first Airbnb experience. We are sold on the idea now that we had an awesome stay. It started with getting lost and needing to call Craig for assistance. He was wonderful, kept us on the phone until we actually drove into the driveway. Come to find out he was out of town when helping us. Wow!! Customer service was impressive right from the beginning. His wife, Hope, greeted us with a warm welcome and showed us our home away from home. The pictures on the web are exactly how we saw the place including being there in April with all the roses in bloom. It was breathtaking. Thanks again to Craig and Hope, our hosts for making us feel comfortable. We would definitely stay there again.
Lorraine
2016-04-26T00:00:00Z
Craig and Hope went out of their way to make sure I was comfortable and had everything I needed. The bungalow is cozy, cute and a nice resting stop.
Christina
2016-03-11T00:00:00Z
Craig was the perfect host! Before we arrived, Craig had contacted us with information and making us feel welcome. The cottage was spectacular!!! It was the white picket fence cottage that we all dream to have. It was well kept, clean, and peaceful. The only sounds were of beautiful birds. Craig took the time to pick fresh fruits from his farm and brought them to us. They were delicious. This was certainly a wonderful experience. I hope to return some day!
Arleen
2016-06-23T00:00:00Z
We love this little cottage. It is very clean and comfortable. Not big but fully functional. Mr. Craig was also very helpful when we checked in. Plus, it is a real farm, walking around in the morning, breathing the fresh cold air was amazing...
Oremine
2016-11-22T00:00:00Z
Tipo de Quarto
Casa inteira/apto
---
Tipo de Imóvel
Casa
---
Acomoda
5
---
Quartos
Kingsburg, Califórnia, Estados Unidos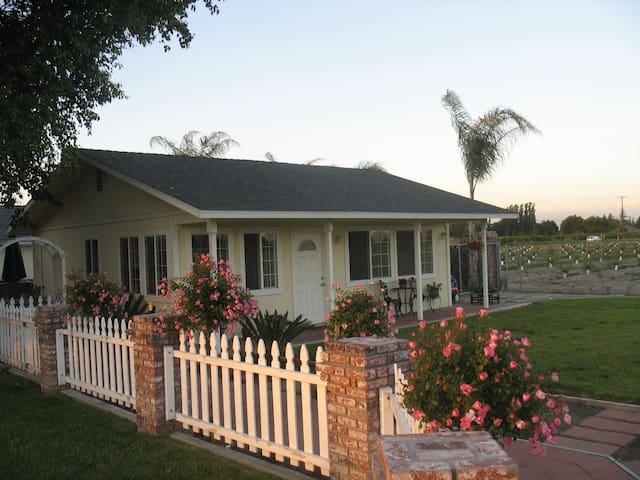 1

–

4

de

4 Casas para Alugar
Insira as datas para ver o preço total. Taxas adicionais aplicáveis. Podem ser adicionados impostos.