Insira a sua data de check-in no formato dd/mês/ano
Insira a sua data de checkout no formato dd/mês/ano
Anúncios que pode reservar sem ter de esperar pela aprovação do anfitrião.
6 Alugueres
· Seram Island
6 Alugueres
· Seram Island
Insira as datas para ver o preço total. Taxas adicionais aplicáveis. Podem ser adicionados impostos.
Em julho e agosto deste ano poderá experimentar hospedar-se num dos nossos 100 espaços mais bem avaliados, em todas as gamas de preço, e experimente Sonoma pelo olhar de quem mora lá. Check-in 24 horas, Reserva Imediata e vinhos e petiscos da região permitem-lhe simplesmente relaxar e aproveitar a sua viagem.
Roneela Cottage is located in Rumah Olat, an island in Maluku Tengah, Indonesia. Roneela Cottage has a beautiful landscape towards the sea and other islands. From here, you can do islands hopping with our speed boat.
Roneela Cottage has several units such as family unit that can accommodate up to 10 people, double unit that can accommodate up to 4 people, and a single unit that accommodates two people. As a guest at Roneela Cottage, you will be able to access the karaoke area, the swing by the beach, banana boat, and exploring Rumah Olat village uphill from the cottage. Roneela Cottage also provides tour packages called "Roneela Tour" where you can go to other islands and places.
Tipo de quarto
Casa inteira/apto
---
Tipo de Imóvel
---
Acomoda
10
---
Quartos
5
North Seram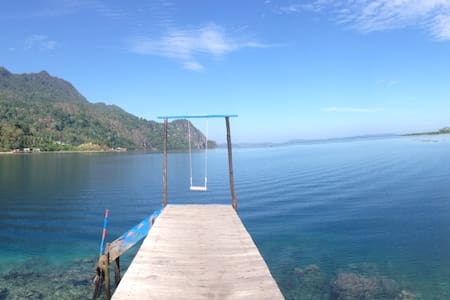 It's a simple tree house around 50 metres above the ground. Attached to a giant tree of Ulin, right in the heart of Manusela National Park. The biodiversity is very rich and you will see a lot of birds and butterflies. The morning sounds are amazing.
To sleep here has been a wonderful experience. You can sleep on the top of a forest where just the birds will be your neighbors. The view from up there is amazing. The accomodation is basic but you easily feel that you don't miss anything at all: you are just part of the nature! Mo can not only allow you to sleep in such an amazing place but he knows very well Lombok and other Indonesian islands. He speaks perfectly English and he has a very nice family with who is very nice to spend time with! You will enjoy the place and if you will have the luck to meet Mo and family you will enjoy their company!
sara
September 2015
Tipo de quarto
Casa inteira/apto
---
Tipo de Imóvel
---
Acomoda
10
---
Quartos
1
Maluku Tengah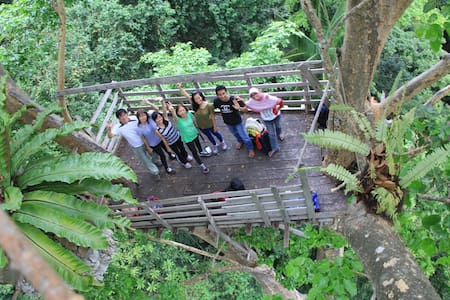 We provide rooms including breakfast, lunch and dinner. The mentioned price is per person. We can also provide pick up (or drop off) from airport or harbour with extra charge. Also we have boats if you would like to explore the beautiful surroundings
Tipo de quarto
Casa inteira/apto
---
Tipo de Imóvel
---
Acomoda
10
---
Quartos
6
Pulau Seram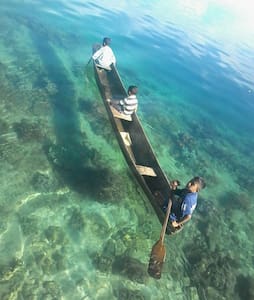 Room in my house suitable for backpacker and tourists who want to find cheap lodging.
Tipo de quarto
Quarto privado
---
Tipo de Imóvel
---
Acomoda
3
---
Quartos
1
Sirimau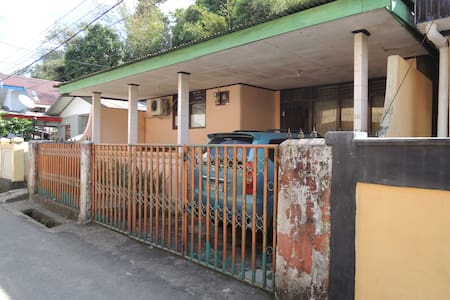 Patra close to Pattimura Internationa Airport, Ambon, 5 minutes from Airport, close to the beach with famous spot for snorkeling/diving (muck diving). Have very nice view behind Lodge, You can see on our Photo Gallery here. (www_penginapanpatra_com)
Located in Laha village (Regional Airport Ambon Pattimura), Laha is a tourist village, especially for snorkeling / scuba diving (Muck Diving), is one of the tourist sites with the habitat of marine life that is very unique and special, many fish species that are not found The rest of the world is here. Approximately thousands of foreign tourists visiting each year to Laha, for snorkeling / scuba diving. Most of them just enjoy the holiday, and others are also doing research on the marine life, or just take a picture published in a magazine for diving, as well as other professional purposes. In Laha we also can enjoy a panoramic view of the bay of Ambon in the day or night, which passed by vessels of various types and sizes that come from outside or heading out to the island of Ambon. When You stay here, You can get more benefit like: - Free to snorkeling in one of famous dive spot in the world, and - You can doing scuba diving (muck diving) on 3 dive shop/center around Patra, they will love to support You, with lower price/competitive price. - You can also doing tour to Around the island (ambon) by using Professional Tour Guide, providing by iLMi Tour (www_ilmitour_com) - You can enjoy the village and meet the local people to know more about Mollucans. You can free to ask anything that can make You stay in here happynest. We have Professional Tour Guide from iLMi Tour that can help You to explore Maluku, or other thing that can make You love to stay more in Ambon.
Patra base in Laha village, whic is the famous spot in the world for scuba diving (muck diving) and that make the village unique. And location in area of Airport. You can go by reguler minicar/Angkot to the city of Ambon, You can go around or to Airport with Ojek (motorbike) or with Taxi (normal family car). You can hire tour guide to visit tourism spot. Stay here and using iLMi tour service to explore Ambon, that mean You already bring contribute for our social program for the village.
I used this place only for its convenient proximity to the airport (5 minutes by ojek) and Ambon island in general only as a transfer hub. As with the entire rest of Ambon island and as opposed to many other places in Indonesia, prices are way too steep for what you get but for me it was still a better option to stay here than staying in Ambon City. So if you have a 1 day stopover on the island, I can recommend staying here.
Cem
December 2015
Tipo de quarto
Casa inteira/apto
---
Tipo de Imóvel
---
Acomoda
16
---
Quartos
10
Teluk Ambon