Our home in the historic part of L.A. is on a quiet street close to public transportation, restaurants and walkable streets. Our home is welcoming for our guest to feel at home and we are available for help and assistance.
You can live the L.A. lifestyle in this charming Spanish Revival home in the West Adams Historic neighborhood. This home has been featured on progressive dinner tours and its 5 bathrooms are featured in the book, Bathrooms Across America. It is a quiet residential neighborhood centrally located to everything L.A.: minutes to Downtown, L.A. LIve, The Grove, Hollywood, Santa Monica, museums, sports venues, LAX, USC & UCLA, Venice Beach and 2 minutes to the 10 freeway that zips you to all the tourist attractions. Every Sunday morning there is a vegetarian farmer's market steps away. Starbucks, grocery store and several restaurants are 2-5 minute walks. Your private room is a very large master suite on second floor with garden views, an en suite dressing room and large bathroom with separate shower and deep soaking tub. Lots of storage, closets, dressing mirrors, hairdryer and lotions. All fresh linens. For your sleeping pleasure: queen bed + twin bed + sofa + recliner + double blowup. Free Cable TV & WIFI. The living room includes grand piano & fireplace, you may cook and prepare meals in our fully equipped kitchen including restaurant stove and gourmet amenities. And, included are coffee, tea, toast/cereal/yogurt, fresh fruit and condiments to accent any meal you want to prepare. There are 5 dining areas: 2 indoors and 3 al fresco in the courtyard or around the pool area. Full laundry room available includes detergent. Fish pond, pool, jacuzzi and gardens. There is plenty of street parking. There is convenient public transportation steps away, and a transportation guide in your room to all destinations in Los Angeles. Shuttles to & from LAX are Supershuttle $24 for 1 person, $9 for additional person. ShuttleLAX $20 for 1 person, $12 for additional person. Reservations can be made ahead of time online or catching the Shuttles outside baggage claim at each terminal. Taxi from the airport is approximately $50. We can shuttle guests back to the airport for $35. We know L.A. and can give tips, guidance and a memorable stay so you can the most out of your visit. We can also give a personal tour to orient you to L.A. for $35 an hour. We love sharing our home and allow our guests to enjoy their trip as comfortably as possible.
Estadia foi ótima o local é muito bem localizado, Georgia é muito hospitaleira, pessoa incrível, Sterling muito educado, quarto e banheiro bem confortáveis, enfim, voltaria pra lá sem dúvida alguma.
Eduardo
2017-03-26T00:00:00Z
完全符合房主人的描述,房间非常的大, 拥有独立的卫生间,主人给我们安排了一个儿童床与儿童书籍与玩具,这让我们感觉很好,房主人是非常热心的。从这里距离超市之遥5分钟时间,去迪士尼和好莱坞上高速也是非常的方便。
凯峰
2015-06-11T00:00:00Z
Good location. Great house.
Steve
2015-11-19T00:00:00Z
If you are visiting LA and looking for a place to stay, look no further! Sterling and Georgia are the best hosts anyone could ask for. Immediately I felt at home in their beautiful place and wished my visit was longer. :)
Jasmine
2011-03-19T00:00:00Z
This is the best place ever! Very Clean, tidy, comfortable, and elegant! very close to all the best things you want to see in LA! Sterling and Georgia are simlpy the best, it was like home for us! we shared our food and we had a great time together! I was travelling with other 2 friends, and the room was perfect for the 3 of us! Very very very raccomanded!
Matteo
2011-05-08T00:00:00Z
I booked Georgia and Sterlings airbnb for my brother and girlfriend who were visiting LA from Europe. I live in LA myself but unfortunately my place is just a small studio and way to small to have guests. They loved it, here is what they said.....fabulous house (very interesting 1930's modern style, both the exterior and interior), nice people, comfortable bed, very clean, quiet, easy parking and great access to the freeways, great location..... And don't forget the facilities like the professional kitchen, washing machine, dryer, pool, jacuzzi and wifi. JP and Pam strongly recommend their place and will be back their on their next visit to LA. Hermine
Hermine
2011-11-04T00:00:00Z
Georgia and Sterling have a wonderful home and it was such a pleasure to be able to stay with them. We really enjoyed their warm hospitality and would definitely return there. The house is well situated in a lovely quiet neighbourhood within easy access of LAX as well as LA attractions.
Diane
2013-12-10T00:00:00Z
Georgea and Sterling are very nice to host us. We felt comfortable to live there about three days. Though we had a tight schedule, we still talked with Georgea and Sterling in time slot who gave us kinds of useful information about local traveling. In general, we are happy to live there. One special experience I had there was about parking. In that street there are many places to use, however one rule is that on wendesday left side is not available during 10:00 a.m. and 12:00 a.m.. We didn't notice that and received a ticket which is a little expensive. It's not convenient to us to pay and Georgea is so nice that she would handle it for us and even pay by herself. I appreciate that very much. With Georgea we also talked about the history and her paintings, sculptures. Georgea is a person with rich and wide knowledge. All in all, thank you Georgea and Sterling to make us enjoy the trip in L.A. Hope next time I still have chance to live there.
Qing
2014-02-01T00:00:00Z
Tipo de Quarto
Casa inteira/apto
---
Tipo de Imóvel
Casa
---
Acomoda
4
---
Quartos
Los Angeles, Califórnia, Estados Unidos
Free Parking & Private Patio Cable TV ☆ FAST Wifi! ☆ Total Privacy! Last Minute & 24Hr Check-In MOST Centrally LOCATED Stay! Host REVIEWED by 700+ Guests!
Q: WHAT IS THE SPACE LIKE? A: The space is a Single detached unit, a Guest House separate from the main house. We face a lovely park only steps away. Surrounded by a high fence on all sides. We can sleep 4 Guests maximum with 3 Beds - 1 Queen Size & 2 Twin Beds. The room has an en suite bathroom (basin, shower and toilet): this means only accessible from your room and for your private use. Fresh set of towels will be ready for you there. Approximately 500 Sq ft total between the patio & large studio unit. It's a single room, but there's nothing small about it. We have great high ceilings and lovely hand tiled bathroom. It's compact yet spacious, Clean and inviting. HDTV with cable. Lovely fluffy towels, lots of them. You enter from the driveway, using the private entrance on the side. The private patio has a covered seating area with it's own heat lamp. A wall of windows & french doors open into the room & gives the room a light airy feel. Blackout curtains make it dark for those early mornings, when you need a little extra sleep. HERE'S WHAT OUR GUESTS SAY ABOUT US: "All and all I can't say enough about their friendliness, professionalism and cleanliness of their space!" Michael - November 2012 "I would highly recommend anyone who is visiting LA to book Jens place! Her place is very beautiful, lovely and super cozy. She is super friendly and helpful. Her place was conveniently located to all the places of interest. I would definitely come back to her place again if i'm visiting. Cheers!" Imran - October 2012 "Can't sing the praises of this place highly enough. Great space, good location, clean and tidy and our hosts could not have been more welcoming. Sad we only had two nights there. Would definitely recommend." David - July 2012
Q: WHAT'S THE NEIGHBORHOOD LIKE? A: View Park - Windsor Hills (from Wikipedia) The two neighborhoods are part of a band of neighborhoods, from Culver City's Fox Hills district on the west to the Los Angeles neighborhood of Leimert Park on the east, that compose the single largest and one of the wealthiest geographically contiguous high upper-class communities in the western United States. This corridor also includes Baldwin Hills and Ladera Heights neighborhoods. Wikipedia It's very safe, friendly people & super convenient to get to most of LA quickly. We have tons of lovely parks around. We even have one right across the street. And did I mention LAX Airport is only 15 minutes away? If you go down the street we have a huge mall with a TARGET for all of your shopping needs. As well as a SPROUTS organic market, across the street from the mall. Visit the Newest TRADER JOES location next to the Westfield Plaza. All less than 10 minutes drive. "I had a great time in LA and I enjoyed having this place as my home base. It's really easy to catch the bus up Labrae to two different Metro lines or stay on the bus to the centre of Hollywood. The accommodation was super quiet and private, nicer and cleaner than I expected. I was made to feel welcome by my host and also by the friendly neighbours who always said hello around the neighbourhood and were happy to chat at the bus stop. It gave me a much more interesting and local feeling experience than staying at a hotel." Darren - March 2013
Is the glass half full or half empty? Is it a cute suburban experience, or is it a converted garage with a thin veneer of quaint? I felt very safe. There is a man and a dog keeping watch 24/7 less than 12 feet away. Park across the street for kids, so very quiet neighbourhood at night. Privacy was totally respected. Not senior-friendly. Distance from bed to TV too much for these old eyes and ears. Non-standard step to bathroom is gonna trip you sooner or later. Tiled floors can be cold in February (bring slippers). Easy to have a smoke, rare in California. The parking bothered me, I felt trapped (I wasn't, just felt that way). The hot water confounded me with a few cold shaves. Hosts were instantly available, courteous and helpful. It's a fair deal.
David
2016-02-25T00:00:00Z
This is a great value in LA. In particular, the host is super nice, Jen's father has been really helpful, he was always trying to help. He even let us leave the luggages in the place since our flight was 10pm. Thanks and we really enjoyed the stay there!
Wendy
2012-04-14T00:00:00Z
Me and my girlfriend stayed at Jen's place for a week on our trip to LA. They were brilliant, really kind and left us to do our own thing but were always there if we needed anything. The room is excellent, perfect size and has everything you need. If I was in LA again and had to stay in that particular area then this the only place I would stay.
Richey
2013-07-10T00:00:00Z
Great place to stay in LA.
Chris
2011-08-20T00:00:00Z
A perfectly located "guest casita" with great hosts. Private, clean, safe and easy access to Staples Center for three of us lucky enough to see Barbra Streisand in concert. Very well supplied and the private patio was a nice extension of the casita. Driveway parking for 2 cars. Priced right very convenient! Thanks Jen and John!
Patrice
2016-08-04T00:00:00Z
WOW! What a great experience. This was my first time using airbnb and any expectations I had were blown away. The accommodations are immaculate and everything thing you need for a great trip is provided. Jen is very good at communicating in a timely manor and makes sure you have everything you need. I will definitely contact Jen next time I am in LA.
Matt
2015-02-12T00:00:00Z
Great place to stay once walk in you feel at home. Recommended if your in this area to stay..only like 15 mins away from airport what makes better..Had a great stay and will stay here again when come back to la..
Devin
2015-01-30T00:00:00Z
Nach einem Abstecher nach San Francisco kamen wir nochmal für eine Nacht in das Apartment zurück. Es war zwischenzeitlich nicht benutzt worden. Die Betten waren gemacht worden, die Handtücher erneuert. Es war wie nach Hause kommen. Sehr angenehm. Vor dem Gartenzaun ein Basketballkorb für unseren basketballbegeisterten Sohn. Wir kamen sogar ein par Tage später nochmal zum Ladera-Park, um dort im Schatten alter Bäume auszuruhen, und auf dem tollen Basketballplatz zu spielen. Wir fanden keinen so schönen, grünen und gepflegten Park mehr in L.A. Die Gegend ist wunderbar.
Brigitta
2014-04-19T00:00:00Z
Tipo de Quarto
Casa inteira/apto
---
Tipo de Imóvel
Casa
---
Acomoda
4
---
Quartos
Los Angeles, Califórnia, Estados Unidos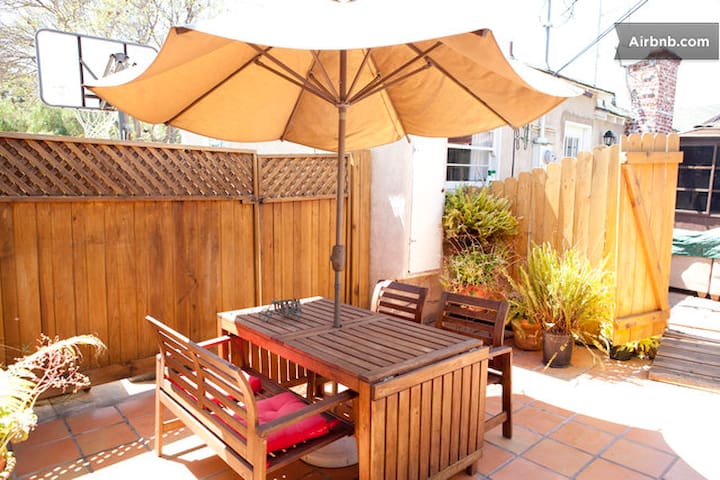 Comfortable well appointed guest house with full kitchenette conveniently located near LAX in Windsor Hills with unparalleled ocean and city views. Close to Shopping, freeways and within 10 minutes of Beverly Hills, Venice Beach & Hollywood. Our listing is a good fit for the autonomous traveler who appreciates affordable, comfortable,and exclusively private accommodations. Rental car on site through Turo! Please review amenities & house rules to be certain our listing is a good fit for you.
Cozy comfort for two. Conveniently located to LAX. Easy freeway access. Close to shopping, restaurants, attractions. Free parking. Central Air & Heat. Rental car on site thrugh Turo! (URL HIDDEN) Private 24 hour access to guest house fully equipped kitchenette; and complimentary coffee bar, Netflix & streaming Roku TV. Out of sight but not out of mind. Our guest enjoy complete privacy but we are just a call/text away when needed. Beautiful Windsor Hills Cul de Sac. Centrally located near LAX, shopping, dining, attractions and freeways. Centrally located. Easy freeway access. Close to public transit. 10 minutes from Beverly Hills, Venice Beach, Hollywood , Melrose, and most tourist attractions. *note about ants- in summer there is a predisposition to ants if food is left out. Guest who mentioned ants either left food out; candy wrappers on the floor or spilled wine on floor, etc. The unit is kept in pristine condition- so if you don't leave spills or food out- ants will not be drawn in.
Beautiful Windsor Hills Cul de Sac. Centrally located near LAX, shopping, dining, attractions and freeways. (URL HIDDEN)
The Guest House was very cozy and clean as described. The access to the place was also well described. The location is great to have a quiet weekend in LA while not being too far from everything. There was no personal interaction with Michelle. As airbnb guest, I like personal interaction with the host. It is definitely a matter of preference and nothing bad as such if there is none though. To enter the house, one needs to use an app to open the door (Kevo). Without internet on your phone or a dead battery, access to the house is impossible. All in all the stay was a good experience and I would recommend it if lack of personal interaction and using the Kevo app are not a problem for you.
Marit
2016-02-15T00:00:00Z
We enjoyed our 3 night stay in the guesthouse. We've only met Michelle briefly, but she showed us how to get in the guesthouse and gave us some tips to do some shopping (after our bagage got lost after the flight) and places to eat. The guesthouse looked exactly like the pictures. And has a great location in LA. The neighbourhood is really beautiful and quiet.
Christian & Rowan
2016-08-02T00:00:00Z
Michelle is a great host. The gust house has everything for comfortable staying. The place is also great - 10 minutest to ocean and 10 minutes to downtown. Thx a lot Michelle!
Vitaliy
2016-10-11T00:00:00Z
We had a great stay with Michelle! The room was a perfect size for 2. Everything was clean and fresh. Although we never met, Michelle was very responsive to anything we needed. Thank you for the great stay!
Kiana
2016-03-30T00:00:00Z
Great spot... wow. On a quiet road with space age electro entry and exit into the house. Love the mirrored wall and perfect for my GF to do her ballet. Amenities were great, and having option to watch TV while in bed was great... through our Netflix acct no less. We have no television at home so this was fun. Coffee available was great and it was so nice having a stand alone spot to come to after the day around LA. We'll be back!!!
Douglas
2016-04-16T00:00:00Z
This was my first time using airbnb and my experience was phenomenal. My stay in guest house was great and I have no complaints at all. Michelle was very communicative and responded in a timely manner whenever I had any questions. Thanks Michelle for a great experience!!
Vanessa
2015-09-29T00:00:00Z
Michelle made us feel welcome and was kind. There was a beer waiting for us in the fridge though we actually never ended up drinking it! We weren't at the apartment a lot but instead out and about but it was a nice anchor to our days. It was a good location in that it was close to the airport and some shopping spots, however, the backyard that the guest house is in needs some cleaning up. Also a heads up that the internet isn't great (my phone worked better) so if you are planning to stay indoors most of your stay might want to use your own. The place was nice & tidy with plenty of closest space. Small thing that we dealt with was that there isn't a key to the place just a Kevo lock. So if my battery was getting low, I was really concerned about not being able to get back inside, and of course not being able to contact Michelle if I couldn't get into the place. Otherwise, it was a very nice stay and I would recommend it!
Alisa
2016-06-21T00:00:00Z
Our stay at Michelle's guest house was absolutely wonderful!!! She had towels, shampoo and conditioner, an iron, free Wi-Fi and Netflix for us and so much more. The view from the room was gorgepus. This was by far the best airbnb experience me and my husband have had so far.
Elizabeth
2016-07-21T00:00:00Z
Tipo de Quarto
Casa inteira/apto
---
Tipo de Imóvel
Casa
---
Acomoda
2
---
Quartos
Windsor Hills, Califórnia, Estados Unidos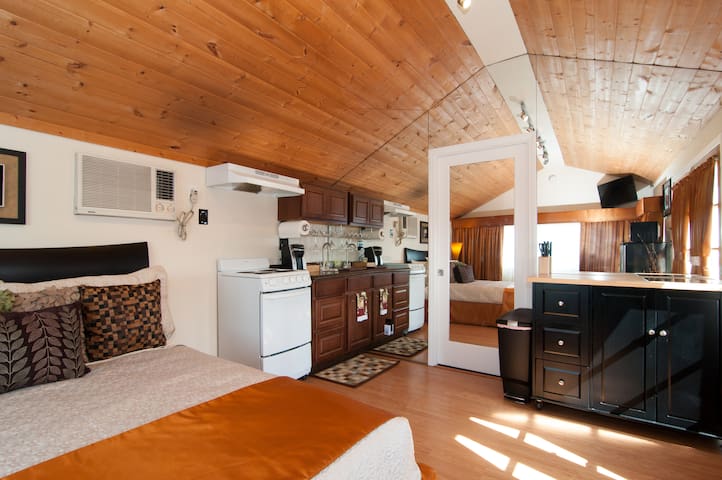 Guests should realize it is not Beverly Dr. but in a sound central residential area. If cottage still meets your needs I'm happy to have you. Please rate with this understanding.
Cozy and secluded where restful privacy is emphasized. Not a bedroom in someone's apartment but a unit with reserved parking entirely for you. Modest budget cottage with personal kitchen, bathroom and courtyard area as featured comforts for travelers on business or holiday. Away from hustle-bustle-traffic of Downtown/Hollywood but close to freeways 405, 91 and 2 blocks straight into 110 which put it at the crossroad to all major city destinations. Visiting places of interest with a car is recommended from this location. Guests are welcomed to variety of fruits from trees around the sheltered courtyard during their stay. Court area smoking OK. Includes dine/cook wares and appliances, bedding and bath essentials, iron, BBQ, washer/dryer, WiFi, cable TV . Ladder to loft to store luggage and stuff. A successful Los Angeles experience starts with a well planned itinerary which includes accommodation selection. If determined that my location fits your needs, I'll provide the affordable safe/sound home-base thing so you're free to do the amazing LA thing.
Tivemos uma viagem inesquecível. Mr.Dean é um excelente anfitrião ! Tivemos tudo o que precisávamos em sua casa . Sempre preocupado com nosso conforto , Dean será sempre lembrado como um amigo gentil que trouxemos em nossos corações ! Se você deseja ter bons momentos e conhecer uma pessoa memorável....você precisa ir para a casa do Dean.
Tony & Juliana
2016-06-27T00:00:00Z
As first time users of Airbnb my wife & I were not sure what to expect. We are happy to report that Dean was a perfect host. He maintained contact with us prior to our stay & greeted us on our arrival. Everything represented in the presentation of his cottage was spot on. From the sharing of fresh mangos, oranges, & bananas to the availability of a portable evaporator cooler to make our stay more enjoyable. We felt very comfortable and Dean was easy to talk to & available when needed. He made us feel quite at home.
Michael E.
2016-09-27T00:00:00Z
This was our second time staying with dean and it was great, Dean is super welcoming and always nice. We would love to stay here again. Highly recommended.
liliana
2012-04-22T00:00:00Z
Dean is really the most wonderful host you could ever imagine. Besides putting up with our lateness on the first day at the airport, stocking up the studio with groceries and basic necessities to making sure we had ample privacy, he also made us feel welcome and shared the joy of his family with us by inviting us to spend time with them on Christmas and New Years. It was truly a wonderful experience meeting everyone and I really enjoyed my stay thoroughly. We will definitely head back to stay in this studio without any hesitation and are truly grateful to have met Dean and getting to know him better because he really made our stay a really pleasant and enjoyable one.
Fiona
2012-01-02T00:00:00Z
Dean is a consummate host. I truly enjoyed my stay at his BnB. Very close to everything, but cosy & quiet a hideaway away from the hustle/bustle of LA. I felt very comfortable and safe during my time at Deans. I had a great time talking to Dean and his brother, although my stay was short they treated me more as a friend then a tenant. I hate to say this because it'll be harder to secure his place the next time I visit LA, but I highly recommend this quiet oasis in Carson. Karl Raleigh, NC
Karl
2015-03-11T00:00:00Z
dean is a very good man. This house is very comfortable and cozy, clean. If i go back in the LA , also want to go this house.
태준
2016-01-28T00:00:00Z
Dean is a great host - very nice and friendly, we enjoyed talking to him. And we fell in love with his cottage - an amazing place to stay its quite, great location and it has everything what you need (and even more! private garden,fully equipped kitchen, towels, beach chairs and umbrella etc) to have a great holiday! Thank you very much Dean! Roman and Julia
Julia
2013-09-10T00:00:00Z
Excellent séjour chez Dean hôte très sympathique studio impeccable est très bien situé Nous recommandons de venir séjourner chez Dean sans aucune hésitation
Anne-Lise
2015-08-21T00:00:00Z
Tipo de Quarto
Casa inteira/apto
---
Tipo de Imóvel
Casa
---
Acomoda
2
---
Quartos
Carson, Califórnia, Estados Unidos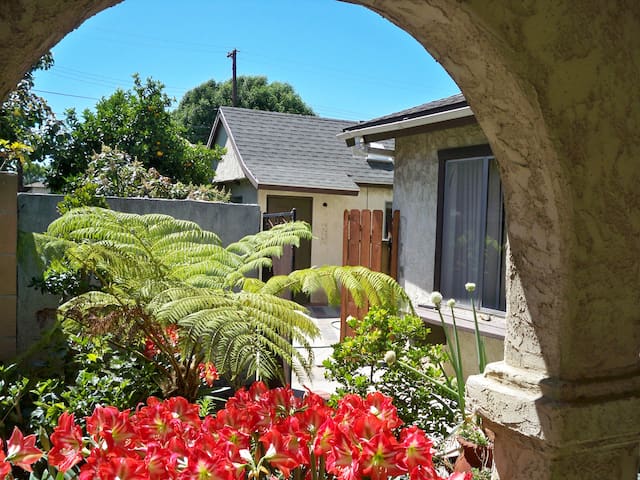 A 500sq ft guest house (completely - full kitchen, queen bed, washer/dryer on premises. Private bathroom. Directv, dish ware, etc... Private entrance shared back yard friendly dog on premises
Private, quaint guest house in a very cool part of town. Easy access to Downtown, Silverlake, Los Feliz, and immediate proximity to 5, 101, 2 and 110 freeways, making all of LA accessible. Sheets, towels, toiletries, kitchen ware, washer/dryer (in the small shed in the first photo). I have a 1 year old dog who is remarkably friendly. If you travel with a pet as long as your pet is dog friendly, all is good. (The property is 20 stair steps up from the street, so there is a little climb when you arrive)
Echo Park is one of the fastest growing neighborhoods in LA. Amazing restaurants, bars, cool shopping, etc... Also, amazingly close to downtown, where the coolest new bars and restaurants are. Walking distance to Dodgers Stadium, and minutes away from the Staples Center.
Josh's place was central to everything we wanted to do while in L.A. He and his house mates were very friendly and accommodating- we loved his sweet dog! It was a great place to come back and crash. No problems with finding parking, quiet area and heavenly bed!
Alana
2015-10-29T00:00:00Z
The guesthouse was small, but it was equipped with everything we needed for our stay. The location was convenient and Josh was very responsive.
Sarabeth
2016-09-10T00:00:00Z
Quaint. The backyard made you feel truly on vacation. Mickey was awesome. :)
Mai
2017-03-15T00:00:00Z
A+, you couldn't really do much better
Rebecca
2017-03-30T00:00:00Z
Extremely hospitable with no issues whatsoever. Beers in the fridge were a major plus!! Thanks again
Sidsherwin
2016-07-25T00:00:00Z
Josh and his roommates were amazing, just all around great people. Josh went out of his way to make us feel at home, even provided us with a packnplay crib for our daughter! I would highly recommend staying here, it was a great experience!!
Josh
2016-10-24T00:00:00Z
Josh was wonderful and very informative, giving us the inside scoop about LA. The place was exactly what we were looking for, very clean and the bed was VERY comfortable. Really appreciate the reservation at the Varnish which was a lovely bar! Thanks again for having us.
Ryan
2015-10-26T00:00:00Z
Josh wasn't around much, but he was very accessible through text. His roommates helped out too. They brought us a vase when we got flowers and the garage clicker when we wanted to get our motorcycle out. The listing description is accurate. It is a small building that holds everything you need, similar to a studio apartment. The bed was very comfy and the space was clean. In the neighborhood there are many fun things you can explore, for example a vegan cafe, a bookstore, a health food store, and thrift shops.
Connie
2016-05-07T00:00:00Z
Tipo de Quarto
Casa inteira/apto
---
Tipo de Imóvel
Casa
---
Acomoda
2
---
Quartos
Los Angeles, Califórnia, Estados Unidos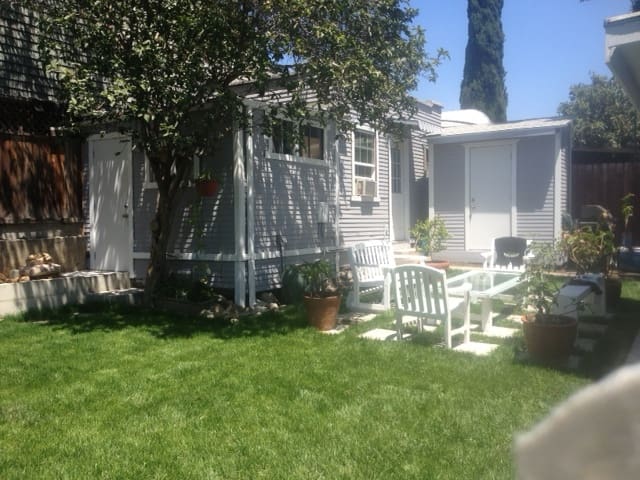 A private and cozy home. Full size bed with shared bathroom, Clean linens, towels as well as complimentary soap and shampoo provided. Free WiFi. and street parking. You are welcome to leave your luggage in case you arrive early or leave late. From LAX, you can take the Flyaway to the Union Station for $8. From Union Station take gold line train to Pico Aliso, the house is 3 minutes away from the station. Less than a mile from the 5 freeway, 10 freeway, 60 freeway, 101 freeway, and the 710 freeway. A mile away to Starbucks, Yogurtland, Wurstkuche, Pie Hole, Zip Fusion Sushi, Nola's New Orleans, District Korean BBQ, Woori Korean Market, Urth Cafe, Daikokuya Ramen House, Sushi-Gen, Mikawaya Mochi Ice Cream Store, Phillipe's French Dip, Olvera Street, Gill's Indian Cuisine, Weiland Brewery and Restaurant in Little Tokyo. Places to see around are The Japanese American National Museum, Japanese Village, The Art and Fashion District, LA Live, Museum Of Contemporary Arts. Staples Center, LA convention center, LA's historic The Pantry for breakfast that's never closed since it opened (don't have high hopes for the food, but still a spot to visit). Keck Hospital of USC is less than 3 miles away. White Memorial Medical Center is 0.6 miles. ID or Passport is a must upon check in.
Lugar tranquilo e com ambiente familiar. Zarah e seus filhos foram ótimos. Quanto à localização, fica um pouco distante dos principais pontos turísticos de LA, mas não chega a ser um problema já que tudo em LA se faz de carro mesmo. Super recomendo.
Clara
2016-02-08T00:00:00Z
Zarah é uma anfitriã incrível e mega atenciosa! Sempre preocupada em como eu e minha amiga estávamos, e em nos proporcionar uma ótima estadia. Sua casa fica a uma distância muito pequena da estação (pouquíssimos minutos a pé) e isso nos facilitou muito na nossa locomoção!
Mariana
2015-08-20T00:00:00Z
Zarah e seu filho nos fizeram sentir muito confortáveis. Sua casa e exatamente conforme a descrição. E limpa e aconchegante. Eles abriram espaço para nos na geladeira, mantiveram tudo limpo e fácil de achar. Ela nos deu um cartão de estacionamento para parar na rua, facilitando a entrada na casa. E um local seguro e tranquilo.
Osvaldo
2015-06-30T00:00:00Z
Wir sind am späten Nachmittag bei Zarah angekokmen und wurden sehr herzlich von ihr und den beiden Jungs sowie der kleinen Katze begrüßt. Wir haben sofort den Parkausweis bekommen, so dass wir gleich vor dem Haus parken konnten. Zarah ist sirklich sehr nett und hilfsbereit. Das Haus liegt nur zwei Stationen von der Union Sation entfernt und so ist mann ruck zuck am Metro-Knotenpunkt. Bis zur Haltestell der golden line sind es nur 5 Minuten zu Fuß. Die Nähe zum Freeway 101 macht es etwas laut. Das Haus und das Zimmer sowie das Bad waren gebraucht sauber, nicht picobello, aber m.E. völlig in Ordnung. Für eine Erkundung von LA ist die Lage wirklich gut. Strandnähe wäre natürlich besser... und Zarah ist eine tolle Gastgeberin. Unsere Wäsche hat sie auch noch gewaschen... toll! Wir würden auf jeden Fall wiederkommen... Zarah was a great host. Very friendly and helpful and easy-going. House, room and bathroom were comfortable and normally clean. Location is a bit loud but really close to downtown; perfect for public transportation. Parking was easy with her parking permit. We would certainly come back...
Kai
2015-06-04T00:00:00Z
This was our first time booking something through airbnb and we couldn't be happier. The host was supernice, she picked us up and dropped us off even though it was very late. We felt very welcomed and comfortable in her home. The room was very clean and even had a couch and big closet. We were free to use any food and drinks in her fridge, as well. Furthermore the house was located close to the public transit station (5 min walk). Should we ever come back, we'd love to stay with her again and can recommend this room and host to everyone :)
Baolinh
2014-08-06T00:00:00Z
zarah is a great host, since day one she and her sons make us feel at home, everything was very clean and it was just like the add, we would be able to use the kitchen wherever we want, near downtown and union station, we definitly recomende her place
Natalia
2016-04-08T00:00:00Z
We had a brilliant stay at Zarah's. It's a lovely, very clean house in a great location with a great host. Thank you!
Elen
2016-08-21T00:00:00Z
非常满意。房间特别干净舒适。交通也很方便。zarah是非常好的房东,让人有回到家的感觉。很幸运住在这里。
Shuixian
2016-06-18T00:00:00Z
Tipo de Quarto
Quarto privado
---
Tipo de Imóvel
Casa
---
Acomoda
2
---
Quartos
Los Angeles, Califórnia, Estados Unidos
Centrally located between LA and the OC and only minutes from LAX, our cozy and comfortable two bedroom home is perfect for a couple, a group of friends or a small family looking to explore the city. It has been purposefully designed to make you feel like you're right at home. Enjoy a dip in the outdoor Jacuzzi, fire up the grill or simply relax in our well groomed backyard.
Easy access to major freeways. 15 minutes to LAX airport (with no traffic). Centrally located between LA and the OC. 20-30 minute drive to Disneyland, Knotts Berry Farm, Hollywood and Highland, Downtown LA, Santa Monica Beach, Venice Beach, Manhattan Beach (with little to no traffic) .
Walter and his house are really good! We are all enjoying our time in the house!
俊文
2017-01-31T00:00:00Z
Walter's home was perfect! We had a great time with family, enjoyed the jacuzzi and toasted some smores in the backyard. The location is perfect and close to grocery stores, etc. Thanks again for having us this weekend!
Gabrielle
2017-03-12T00:00:00Z
Our stay here was great! Cutest house, very cozy with a great yard. Jacuzzi was awesome and relaxing. The neighborhood is quiet and everyone was friendly. Check in was smooth even though I was later than I expected. The house is close to everything you'll need and a short drive from downtown. The pup is so sweet! Overall amazing! Would definitely book again.
Allie
2017-03-25T00:00:00Z
We stayed here for our trip to The Bike Casino. It was an easy drive. The neighborhood was very nice and the house was comfortable and clean. I'm sad we never had time to try out the hot tub. W&B were great with the communication. Would def stay here again.
Liz
2017-03-10T00:00:00Z
Walter & his family are great! They made sure we had everything we needed & made themselves available whenever we needed them to answer questions. They made this process so entirely easy.
Paige
2017-02-13T00:00:00Z
Tipo de Quarto
Casa inteira/apto
---
Tipo de Imóvel
Casa
---
Acomoda
4
---
Quartos
South Gate, Califórnia, Estados Unidos
My place is close to public transport. My place is good for couples, solo adventurers, business travelers, and furry friends (pets).
Great backyard!
Tipo de Quarto
Casa inteira/apto
---
Tipo de Imóvel
Casa
---
Acomoda
2
---
Quartos
South Gate, Califórnia, Estados Unidos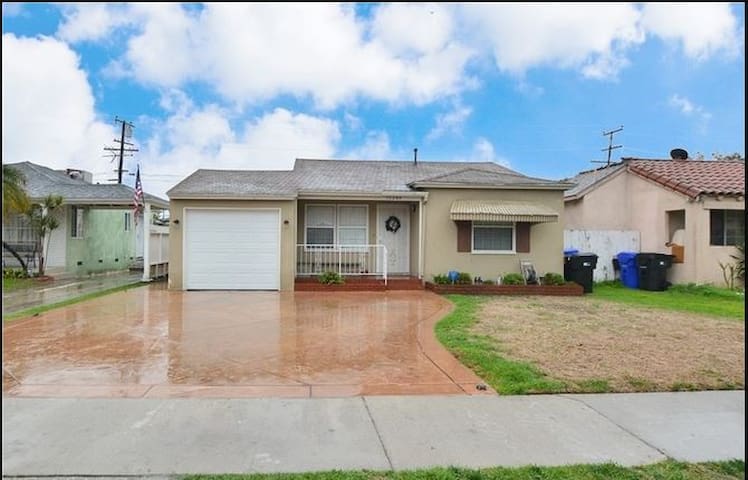 Quiet Neighborhood, plenty of street parking available, upstairs bedroom with shared bath. Center to LA just minutes from the 710 and 105Fwys and close. 20 minutes to LAX, Long Beach and Downtown LA without Traffic. No Smokers. Stay & Enjoy!
Recently remodled downstairs and Upstairs remodel Coming Soon. Pool Table, Friendly Atmosphere. Centrally Located to nearby shops in Downey as well as Central to Los Angeles, Orange County and Long Beach.
Its a quiet, nice townhouse community with two pools, grassy areas and many trees for scenery. Everyone keeps to themselves. Within 5 minutes your in Downtown Downey and Downey Landing with unlimited shops and restaurants. Great environment and local freeways to take you anywhere. Minus the traffic in LA my location is central.
The host canceled this reservation the day before arrival. This is an automated posting.
Imani
2016-07-23T00:00:00Z
Steve was friendly and the house had everything you would need. I would stay with him again if I am in the area.
Chris
2016-06-15T00:00:00Z
I only met Steve twice, once entering his home and my last day. Let me start out by saying I thought Steve was pretty Kool and figured this was a good fit, being a Batchelor pad. But then it got weird. Room promised wasn't available and move in date changed three times. When I finally arrived Steve was leaving the country and said I could use his room. But I would have to buy sheets and pillows which I agreed to. Moved in boxes everywhere in the room and cluttered with his stuff, there was a TV. After a few days met downstairs room mate, seems like a nice person but wasn't thrilled with the Airbnb going on in his place. His hall bathroom was off limits. Second bathroom was in Steve bedroom. A little awkward. Steve did provide a bottom sheet and lumpy blanket and pillow, that was a surprise, the comforter was not a comfort and asked if it was his dogs. The home in general has received upgrades but is still undergoing completion. Laundry facilities are in the garage, that has provided the room for rent in the townhouse. During Steve absence, down stairs room mate had a couple of very loud parties. No skin off my chin, but Im doughtful, if I had a party, it would have been popular. Steve returned and first day wrote me a text, declaring I had violated his rules and Trust. I was absolutely stunned, offended and stated it seemed like everything was fine until he came back. I did move into the room I had originally paid for, I think it is 7 foot by 10 foot, one outlet that is falling out the wall, no TV as advertised, no dresser and still had some of his stuff in the door less closet. Fell far below expectations and I politely stated as much. That obviously upset Steve, made me feel very uncomfortable. I packed the next morning cleaned up a bit and left, wasn't sure if I would be back. The next day I received several slanderous remarks from Steve, this just added to the other slanderous rematks. I think Steve is an obsessed control freak. I would recommend he seeks professional counseling. That is putting it politely. I would recommend a hotel than stay at this guy's flat.
David
2016-06-05T00:00:00Z
Steve was an awesome host and great person to get to know while I was there. Everything was organized well and met my needs. I'd definitely stay at his place again if given the chance.
James
2016-09-05T00:00:00Z
A great place for budget travelers. Steve was a great and cool host. Thanks for everything!
Yuyan
2016-09-26T00:00:00Z
Steve is a wonderful host! His townhouse is cozy, clean and comfortable. Great communication and fast response.
Terrivio-Wesley
2017-02-08T00:00:00Z
The host canceled this reservation the day before arrival. This is an automated posting.
DaQuan
2016-05-11T00:00:00Z
very nice, had the full home for myself. everything available.
Andrei
2016-08-25T00:00:00Z
Tipo de Quarto
Quarto privado
---
Tipo de Imóvel
Casa
---
Acomoda
1
---
Quartos
South Gate, Califórnia, Estados Unidos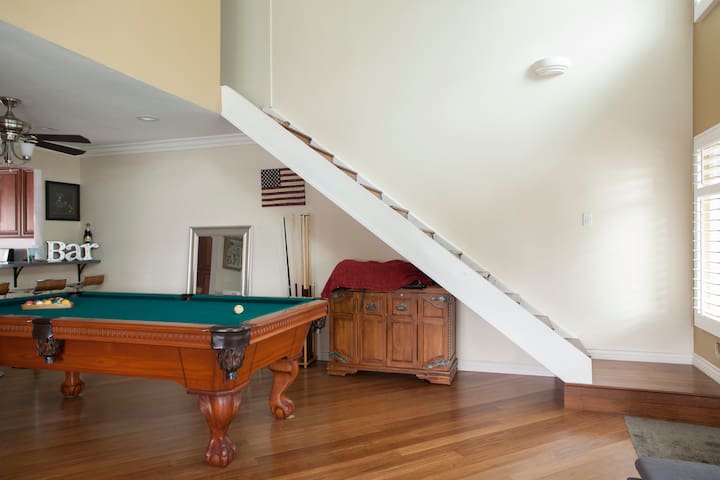 This Remodeled 1 Bedroom with its Own 1 Bath has separate own Entry overlooking the beautiful back yard. Enjoy the out side patio. Comfy Queen size bed, Direct TV, Yummy goodies like bagels, cream cheese, breakfast cereal, milk, soups, ️orange juice and waffles. Walk in closet for your clothes and bathroom has a window.
I love this neighborhood as it is very safe.
Tipo de Quarto
Quarto privado
---
Tipo de Imóvel
Casa
---
Acomoda
2
---
Quartos
South Gate, Califórnia, Estados Unidos
2Bed,1 Ba Highland Park cozy, bright, quiet yet accessible. 1 luxury queen bed and 1 full/double bed. Looking for nice, respectful travelers who'd like to enjoy my space in one of LA's most exciting areas. Views, hot tub, keyless access, plenty of natural light, and more!
Comfy, bright space. Not a professional AirBnB but I work hard to provide an urban getaway for a nice couple or small group.
Walking distance to local restaurants, fast food, pharmacy, and bars. 15 min walk to Metro Gold Line Highland Park station. Instant access to 110 Parkway to Downtown Los Angeles, Rose Bowl, or Old Town Pasadena.
Well, it finally happened: 20+ Airbnbs in 1 year and I finally found my favorite. I can't begin to tell you how wonderful Vince's home was for me, but I will certainly try. The layout is simply perfect: intimate but not small, private but not secluded, quiet, open, bright & airy, and with thoughtfulness put into every square foot. Entry was straightforward. Going out onto the deck I felt spoiled with beautiful views and sunsets from the hot tub (views that would've never made me believe downtown LA was only a 5-10 minute drive away). The bed was as comfortable as they come and I spent an entire rainy day relaxing on it and watching movies. The bathroom was spotless and modern with a nice hot shower and good water pressure. Cooking in the kitchen was great and it has everything you need. The funniest part about my stay was my girlfriend visiting for the weekend and continuously pointing out all of the commonalities between my home in SF and Vince's home. She called it 'Parallel World Zach House'. Vince was traveling during my stay so I unfortunately didn't get to meet him in person. He was a great host and was quick to respond any time I had a question, or simply to tell him how much I liked his place. :)
Zach
2016-04-12T00:00:00Z
Vince was very prompt in his responding to my inquiries. He provided further information about the place a few days in advance. Not only was Vince nice, but his place was very modern and just as shown in the pictures. The bathtub was amazing too. He also left a bottle of sparkling wine for us to celebrate the NYE 2016 at his place. Couldn't have asked for a better New Years experience.
Arman
2016-01-02T00:00:00Z
Beautiful property, very comfortable, and easy to get around. Overall great experience can't wait to head back. Thanks Vince
David
2016-06-28T00:00:00Z
Vince's house is one of my favorite Airbnb experiences. It was perfect. I hope to stay here again.
Rachel
2016-08-17T00:00:00Z
It was a smooth check in and check out. Vince was flexible with the check in time. I really appreciated being able to start my relaxation sooner. The house was wonderful! Love the view!
Monica
2016-03-21T00:00:00Z
My boyfriend and I had a fantastic stay here! The place is set back from the street so it's very quiet. There is plenty of sunlight and a great view from the deck. This is a perfect place to come home to after excursions in the city. The hot tub and the serene atmosphere Vince has created makes you feel totally chill. It is super clean and comfortable inside. I love the location because it is close to restaurants and markets, but feels hidden away. Vince was very responsive and gave us all of the details we needed to have an enjoyable stay. Thanks Vince for being a great airbnb host!
Jennifer
2015-06-08T00:00:00Z
Ve didn't get to meet Vince, but he was very responsive with any questions we had. He allowed us to check in early and also check out a little late, which was very nice for our schedule. The location of the home is great. The home is very clean and cozy. We enjoyed relaxing in the hot tub each evening. The only slight issue we had is that we could not figure out the cable TV the night we wanted to watch it and it was too late to bother Vince.
Carla
2016-07-17T00:00:00Z
Everything was just perfect! we loved the place and location, very convenient and 25 minutes away from Downtown. Thanks to Vince because he was aware of our needs.
Andres
2016-06-06T00:00:00Z
Tipo de Quarto
Casa inteira/apto
---
Tipo de Imóvel
Casa
---
Acomoda
4
---
Quartos
Los Angeles, Califórnia, Estados Unidos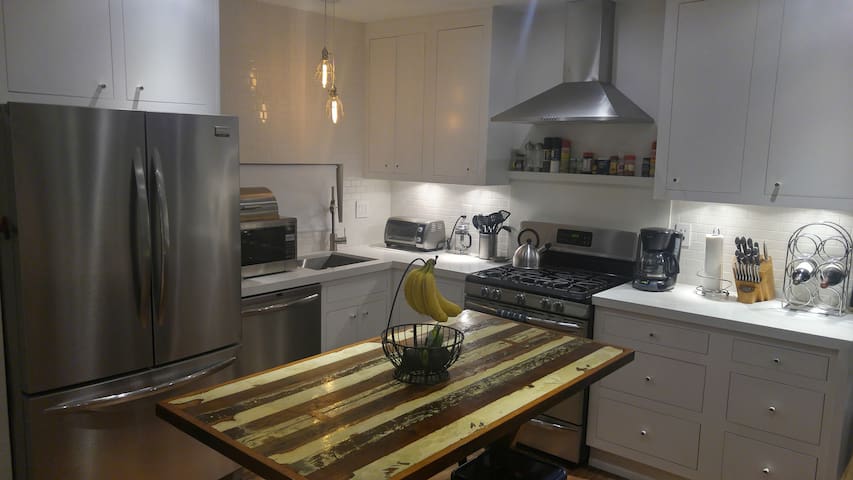 Central to Los Angeles and Long Beach fun.
Central to La and Long Beach perfect for affordable vacation and business travel.
The host canceled this reservation the day before arrival. This is an automated posting.
hamza
2016-11-10T00:00:00Z
Tipo de Quarto
Quarto privado
---
Tipo de Imóvel
Casa
---
Acomoda
2
---
Quartos
South Gate, Califórnia, Estados Unidos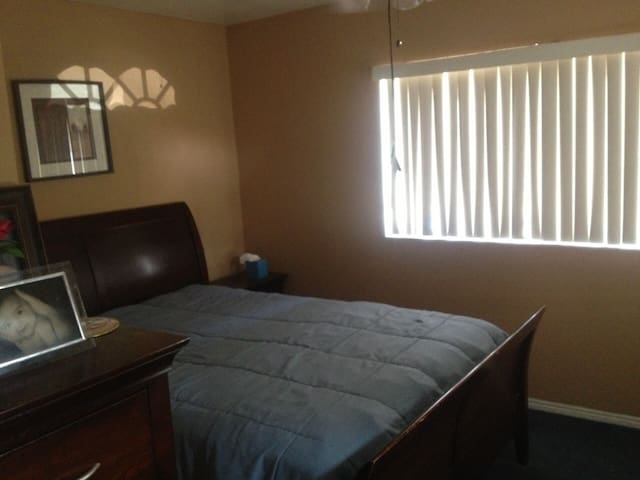 Modern decor, with lots of open light and natural sunlight through out the day. Big open space and great for BBQ outside. Near by restaraunts and plazas Walmart, cvs, rite aid, vons walking distance
Nice welcoming two bedroom house. One bedroom open for use. Nice quiet neighborhood
Quiet and peaceful
Tipo de Quarto
Quarto privado
---
Tipo de Imóvel
Casa
---
Acomoda
4
---
Quartos
South Gate, Califórnia, Estados Unidos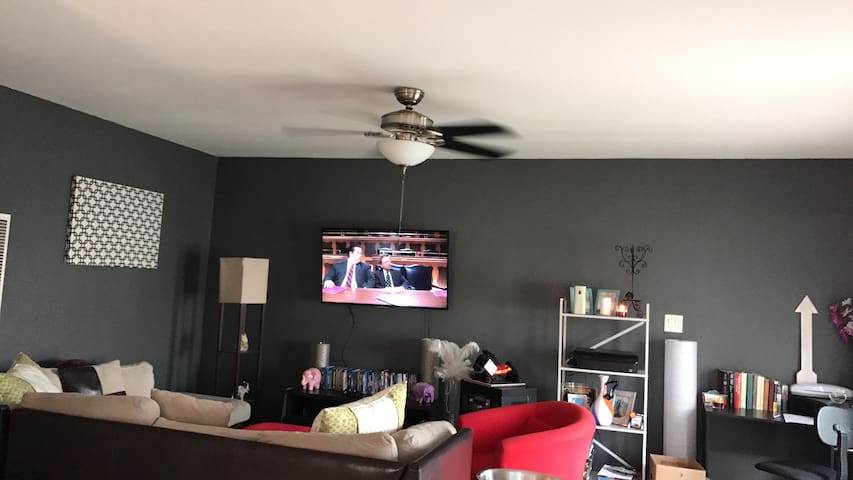 All are welcomed to stay at this lovely Home, kitchen with granite countertops, FREE breakfast your first nights, FREE WIFI, nice yard, comfy beds, extra pillows & lots of towels. This beautiful Home Is close to all freeways, LAX, shopping places close by, Disneyland & Knotts in friendly safe neighborhood.
The BEST and most beautiful home here in LA is located close to ALL FUN places, freeways and is in a wonderful family neighborhood. Entire Home is being rented. FREE breakfast includes eggs, ham, waffles, toast, orange juice, milk, and breakfast cereal.
This lovely Home is in a nice neighborhood in Los Angeles County. Has a wonderful park near by, close to all fun places California is popular for and new shopping places at the Azelea Shopping Center.
House is very well kept and maintained. House is beautiful and very comfortable. Safe area with parking available. Would recommend house to family and friends.
Sylvia
2017-03-20T00:00:00Z
Vivian was an awesome host, very easy to reach through her phone, and very attentive to the needs of me and my two roommates. She made us all immediately feel at home and I would recommend this place to anyone who needs a comfortable and convenient place just outside of LA!
Jeff
2017-02-11T00:00:00Z
House was great in a good neighborhood had everything we needed plus breakfast. I would recommend this place to anybody!
eduardo
2017-04-03T00:00:00Z
Lots of cooking supplies, nice backyard. Comfy sheets.
Ryan
2017-03-15T00:00:00Z
The host canceled this reservation 3 days before arrival. This is an automated posting.
osama
2016-12-22T00:00:00Z
Tipo de Quarto
Casa inteira/apto
---
Tipo de Imóvel
Casa
---
Acomoda
5
---
Quartos
South Gate, Califórnia, Estados Unidos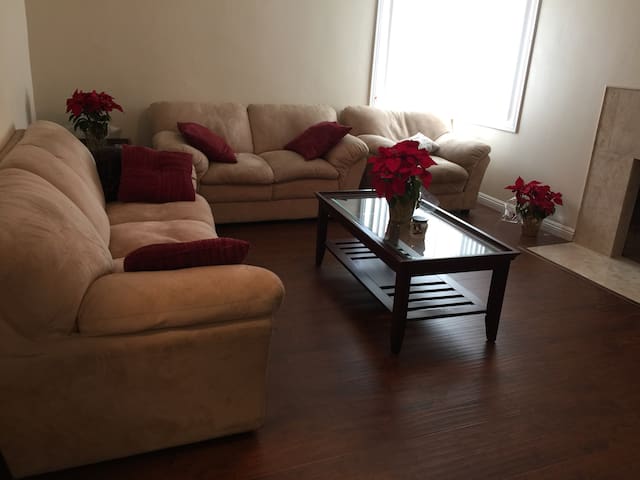 Spacious 300+ sqft Master Bed & Bathroom in 3 Bedroom Townhouse available for booking. 55" TV in bedroom with private bath and Queensize Memory Foam Mattress. Desk available for your laptop use or other study / work needs. Welcoming home with open floor plan and large common area. Perfect for long stays, especially those in the medical field or on vacation to play at the nearby casinos and affordable nightly stays central to majority of LA/OC/LB areas.
Large Upstairs Master Bed & Bath in Quaint Townhouse community of Downey South Gate Neighborhood. Great for those in medical field, interested in casinos or cheaper stays compared to other areas of LA at a much higher nightly rate. Only 20 minutes from the beaches and city. Central to LA, LB, OC, SFV and SGV. Local shopping walking distance with many bars, clubs, Portos, StaterBros, WalMart, Target, Downey Landing all within a 5 minutes drive.
Very central part of LA. Newly built shopping centers in both Downey and South Gate with nearby banks, eateries, bars, hopsitals, casinos and multiple freeways. LA has its traffic issues but central to DTLA, USC, OC, LB, IE, SFV and SGV areas.
Liked it
JOEL
2017-03-14T00:00:00Z
It was a great place for my bf and I to stay the night while we apartment shopped in the Hollywood. Steve was a great host even all the way from Thailand! Thanks again.
Stacey
2017-03-19T00:00:00Z
I stayed at Steve's place for a month for medical rotations. The house is also located only half a mile away from Target, LA fitness, and other commercial centers. Steve's place was a great place to live in! The location was perfect being only 5-10 minutes away from the hospital I was rotating at for that month. The whole house was very clean and organized with great amenities. The host was not there during my month-long stay but he was always available for quick communication which I really appreciated. Parking can be tough in the neighborhood, but I only had trouble finding parking one or two times during my 4 weeks there. I would definitely come back here again if I'm in the area in the future!
Christine
2017-03-11T00:00:00Z
Steve's place was brilliant! Brilliant value for money overall, communication was top notch and I feel like any renovations of the property can only lead to betterment. Definitely staying here when I'm back in the near future!
Dipesh
2017-04-02T00:00:00Z
The host canceled this reservation the day before arrival. This is an automated posting.
Jerriell
2017-01-31T00:00:00Z
You'll find Steve's place just on the corner of a quiet well groomed neighborhood safe and secure not far from the (PHONE NUMBER HIDDEN) and 5 freeways. Lots of wonderful near by restaurants and shopping spots to choose from. We arrived just minutes from the 5 frwy and found parking not far from Steve's place, little trouble with the lock box, not use to his kind but figured it out and let ourselves in. Just like the pictures, pool table, Vault ceiling, nicely well clean manicured kitchen and TV viewing area, our private room is clean, nice comfortable bed and bath with TV. Steve communicated with us consistently as to our questions and or needs i.e. parking Mon one side & Tues other side 7:30am to 11:30am, no problem if you are leaving early next day, most times parking was available near the house and if not, not a far dash away). Steve left instructions and details on ABNB chat as well as on the fridge (Emergency contacts etc..). We met very nice other guests briefly and one in particular (T) that offered any assistance if we needed anything and was there when we needed him, super guy. For the most part we were left to ourselves and all was quiet the entire stay as we made ourselves comfortable and enjoyed the accommodations. Nice place to rest up and prepare for work or play the next day. Steve is a wonderful Host and his place is a nice place to BNB.
Hector
2017-04-10T00:00:00Z
Apartment was so beautiful and it had everything we needed. Steves friend Terrivio was very helpful and nice guy. We will definitely stay here again! Highly recommend.
Sofia
2017-03-28T00:00:00Z
Comfortable, and a lot of things to do near by. Restaurants, shops, movies, etc
Fernando
2017-03-25T00:00:00Z
Tipo de Quarto
Quarto privado
---
Tipo de Imóvel
Casa
---
Acomoda
2
---
Quartos
South Gate, Califórnia, Estados Unidos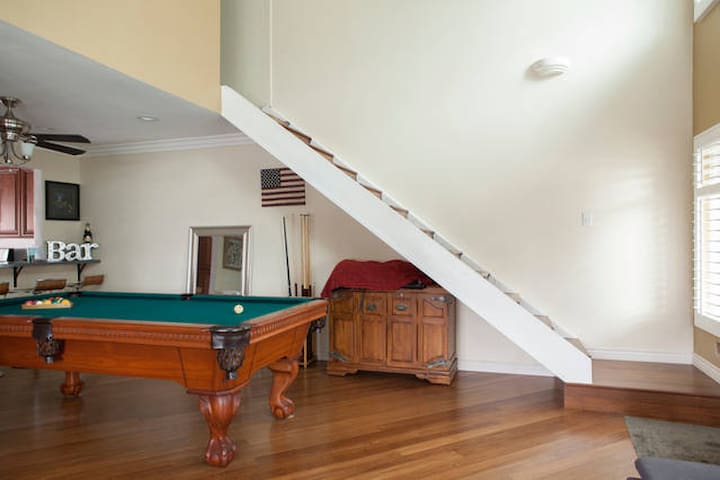 3 bedroom, 2 bath house, 2 story townhouse available. Total 5 or even 6 beds. Each room has a bed and the couch can sleep 2-3 people along with an air-mattress. Each room has a standard bed along with the air mattress, so in total 5-6 sleeping places are provided with additional space throughout the home if bringing your own airbed or sleeping bag. Great home for a family getaway or vacation. No loud or obnoxious parties allowed. Prefer non-smokers but smoking is only allowed outside.
Two story home close to all major attractions, centrall located between Long Beach, Downtown LA, Orange County and LAX.
Very welcoming home with plenty of space and a nice layout. Could not have asked for a better rental.
coby
2016-11-14T00:00:00Z
房间两层,设施很齐全,交通方便,离便利店和超市也很近。街区很安静。
舒婷
2016-11-27T00:00:00Z
Steves place was great ! I didn't even know it had a back patio. It was perfect. The pool table was okay. But everything was perfect. Only thing I can say is one of the three rooms are small. But everything was comfortable and clean. I got instant responses from host. And felt comfortable and safe with the location. Had a nice get together with some friends and everything went perfect
Joshua
2016-11-05T00:00:00Z
Tipo de Quarto
Casa inteira/apto
---
Tipo de Imóvel
Casa
---
Acomoda
5
---
Quartos
South Gate, Califórnia, Estados Unidos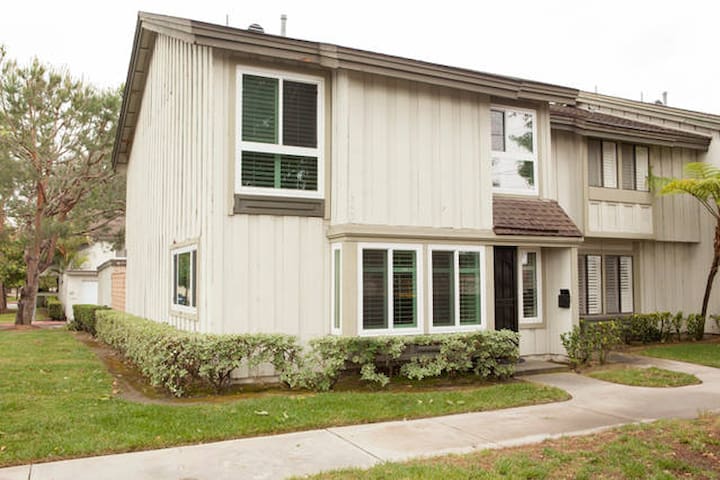 My place is close to family-friendly activities, nightlife, and the airport. You'll love my place because of the vaulted ceilings, central location, the coziness, and the people. My place is good for solo adventurers and business travelers.
Good for a one or two night stay! Very good a communicating and very friendly hosts. Thanks for letting me stay
Felicity
2017-04-04T00:00:00Z
This location offers a very good set of basic needs. I was not really prepared for the parking situation, but the walk down the street wasn't terribly long. I was here for some time at the two nearby casinos and the location for that objective was superlative. Almost as good as staying on property at much less cost. I would recommend to other solo travelers and I would stay again;
Michael
2017-03-09T00:00:00Z
I enjoyed staying at Steve's house. The bed was comfortable and I slept well every night . There were no noise issues or anything else to complain about.
Anthony
2017-02-09T00:00:00Z
Great place to live . Good hosting .
Anthony
2017-03-28T00:00:00Z
Steve was a great host; I felt welcome the moment I stepped in the door. The space was as describes online and was super convenient for me to cut down on commute. I would recommend anyone to stay with Steve.
Christian
2016-10-06T00:00:00Z
Very close to PIH Downey. Ideal for rotations at the hospital for medical student.
Henry
2017-01-22T00:00:00Z
Steve was an excellent host I also had the pleasure of meeting Wesley who improved my stay.
Jocquinn
2017-03-20T00:00:00Z
The host canceled this reservation the day before arrival. This is an automated posting.
David
2016-08-15T00:00:00Z
Tipo de Quarto
Quarto privado
---
Tipo de Imóvel
Casa
---
Acomoda
2
---
Quartos
South Gate, Califórnia, Estados Unidos
Our charming and comfortable studio has access to an outside patio and garden in historic Boyle Heights. Well equipped with bedroom, bathroom and kitchen essentials. Fits two persons comfortably and is centrally located near Downtown Los Angeles, USC+LAC Medical Center & Little Tokyo. Metro Gold Line & Bus Stations, restaurants, cafes and major freeway entrances are near by. We look forward to welcoming couples, solo adventurers, and business travelers from all backgrounds!
Some of the best multicultural restaurants and grocery markets in Los Angeles can be found near by. The space includes Wifi, flatscreen TV with Netflix, a comfortable bed, alarm clock, clean bed room linens, open closet with shelf space, clothe hangers, hamper basket, an iron and small ironing board, bathroom with basic toiletries, hair dryer, hand wash, hair shampoo and conditioner, kitchen area with a table and two stools that can be used for eating, meal prep and as a work station, essential appliances, coffee and snacks & meal prep utensils, and AC/Heat unit.
Our studio is located a residential community in the heart of Boyle Heights. Some of the best iconic and new Asian/Mexican fusion, French, German, Japanese, Mexican, and Salvadoran restaurants can be found near such as 7 Mares, Al & Bea's, Baco Mercat, Bar Amá, Bestia, Blossom Restaurant, Cha Cha Chili, Church & State, Daikokuya, El Mercadito Mariachi, El Salsabor, Guisados Tacos, King Taco, La China Poblana, Las Molenderas, Mariscos Jalisco, Otomisan Restaurant, Philippe The Original, Sushi Gen, Tepeyac Café, The Pie Hole, Un Solo Sol Kitchen and Wurstküche. Local street vendors selling some of the best cemitas, burritos and tacos can also be found in the neighborhood. A list of recommended places will be available in the space.
This place is one of those secret hidden treasure that hasn't had enough rates and reviews to get out on top of the list in the search engine. But I would highly recommend this place for anyone who's going to L.A., the kitchen itself is very neat and fancy, almost all the tools are brand new. The bed is extremely comfy and the snacks that they provide are VERY nice also.
Justin
2017-03-22T00:00:00Z
Fantastic quiet spot. House was very clean and exactly what the pics showed. Brenda was such a great host and there in a flash when we needed her. Bed is super comfy. Would recommend to anyone
Kasey
2017-04-10T00:00:00Z
Brenda and her husband Javier were really lovely hosts. We had no problem checking in or out. We had everything needed Wifi and a bed they also had activities we could do around the area, public transport etc. We would stay with them again! :)
Ashley
2017-03-30T00:00:00Z
Brenda was always available through text. The studio was exactly like the pictures the studio was clean, the kitchen had all the plates and pots you need to prepared a meal. The bathroom was clean, and included bath towels, shampoo, conditioner. I was pleasantly surprised. I would stay and Brenda's studio again.
Elizabeth
2017-04-02T00:00:00Z
Room was great, bed was comfy, complimentary snacks and water helped. The always available parking spot was a life saver .
Danny
2017-03-28T00:00:00Z
The room is super spacious and clean. It's like a guest house, so the main house is built next to it but not connected. It was cool to have the backyard to ourselves during the stay, and Brenda is such a sweet person. I felt very accommodated with all the complementary snacks, tea, and coffee. I would stay here again to be honest!
Natasha
2017-03-11T00:00:00Z
Brenda and Javier's little studio apartment was so clean and had all the things we needed for our stay. The distance to downtown LA was perfect because you could take back roads without hitting that LA traffic. Thanks again!
Jazmyne
2017-03-25T00:00:00Z
It was very tidy and cute. Would definitely stay again
Lauren
2017-04-05T00:00:00Z
Tipo de Quarto
Casa inteira/apto
---
Tipo de Imóvel
Casa
---
Acomoda
2
---
Quartos
Los Angeles, Califórnia, Estados Unidos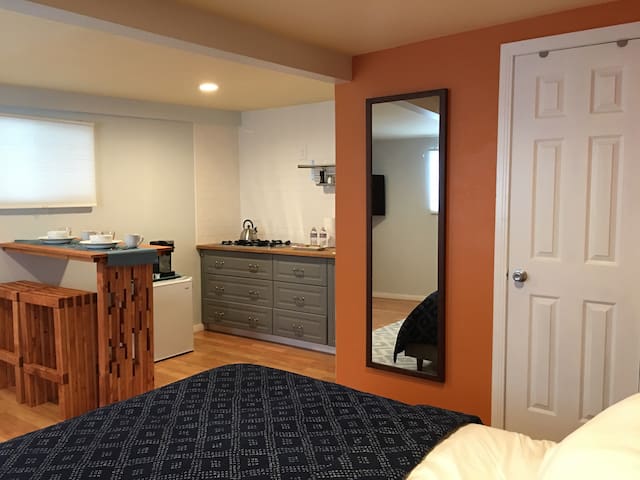 South Gate - Airbnb
:
Média de

4.86

de

5

estrelas, de acordo com

1687

avaliações de hóspedes
1

–

18

de

300+ Alugueres de Casas
Insira as datas para ver o preço total. Taxas adicionais aplicáveis. Podem ser adicionados impostos.