Spacious warm studio room with comfy king size bed, leading onto large lakefront patio with spectacular views. Modern en-suite with mini kitchenette, Storage wardrobe/closet, relaxing chairs, TV, coin operated laundry, and close to local amenities.
You have your own private apartment with your own private balcony! Our location is perfect for the upcoming snow season with NZ Ski transport pick up and drop off just a stones throw away on the main road :) There is a mini kitchenette area complete with mini fridge, washing up liquid, dining ware, microwave, sink and kettle. There is unlimited wifi and Netflix that can be viewed. If staying with us for 3 nights or more let us know what wine you lean more towards (red or white) and we'll have a bottle waiting to greet you while you take in the breath taking view.
We are located right on the Frankton track between Queenstown & Frankton, beautiful and scenic easy walk to or from town right beside Lake Wakatipu. If you walk up towards Frankton on the walking track you'll be at the very tip of the Frankton Bay which is has a beautiful park over looking the lake, great for stunning sunset pics! Our favourite healthy place to eat is Rehab which is located in the heart of Queenstown. Fresh juice, expertly blended smoothies (all dairy free), amazing breakfast bowls, healthy lunches with vegan and meat eaters options. Queenstown may be small but you are spoiled for choice from all the restaurants and bars. I am a Remedial Massage Therapist with my own clinic in Queenstown. During your stay if you have any aches or pains or just want a bit of relaxation, let me know and I can book an appointment in for you! Whether you're here in Winter or Summer (or anything in between) there are loads of things to choose to fill your day. From walking trails, to jet boating, to sky diving or a bungee and wineries, we'll list all those kind of things in our handy dandy guide book.
Fantastic place to stay. Lovely view and very comfortable. Great advice provided by host as well. Would definitely stay again!
Jessica
2016-05-15T00:00:00Z
Megan was great with communication, and her place was sooo comfy and clean!! Unfortunately, we encountered some very cold, wet weather when we arrived to Queenstown - so her Netflix on the Tv was perfect to watch when we weren't checking out the cozy pubs in town!!! Would highly recommend!! Our view of the lake was stunning!!!
Jess
2016-05-14T00:00:00Z
We instantly fell in love with this apartment. It's beautiful, ultra clean (this coming from a total neat freak) and very spacious. The heater in the bedroom is brilliant, especially in chilly spring time when we were there, and it regulates the temperature you set. The king size bed is absolute heaven, the comfiest we've ever slept in with extra snuggly bedding. Pair that with the stunning view of the lake and mountains and you'll understand why we didn't want to get out of bed every day. You have your very own large balcony and there is nothing between you and the lake, it's a perfect view - the photos don't do it justice. There's a table and chairs to sit on out there which we used as a desk for working on our laptops. The shower is huge and water pressure is excellent, and there's lots of space to put toiletries in the bathroom which was so useful. There's also a heater in the bathroom so you don't freeze when getting out of the shower. The wifi speed was pretty good though understandably slower on the balcony. Having Netflix was a huge bonus and a luxury we really enjoyed. The apartment is only 15-20 mins bus ride from the airport (no. 11, $8.50 each) and about 10 mins from the centre of town ($5.50 each). You can buy tickets easily on the bus and the bus drivers are very helpful. The bus stop is directly outside the apartment complex so very convenient but it is quite a steep climb up the hill to get to the main road and even more challenging with 20kg of luggage so may not be suitable for those less able to walk. The Frankton track is right outside the apartment front door so very handy for a scenic walk round the lake to the centre of town, but it's not quick so be prepared to walk anything from 45-60 minutes. We didn't meet Megan but she was a great host and were blown away by the cleanliness and styling of the apartment that she maintains. We had trouble logging into wifi at first and then issues receiving messages from Megan to resolve it, but once she realised this she promptly contacted us to make sure we had everything we needed. It's hard to put into words just how amazing this apartment is. Literally the only thing that could improve what is already a wonderful place is a slightly bigger kitchen, as there's not much worktop space to play with (and using the microwave was slightly challenging because it's on a high shelf) but it's enough to make tea and coffee (which Megan kindly provides) and simple snacks. We would without doubt book to stay here again if and when we return to Queenstown.
Siew Lee
2016-10-16T00:00:00Z
The apartment is very clean, and Megan has everything sorted with a guide book prepared. The view from the balcony is spectacular. As advised by Megan, do keep the windows closed or keep any light off at night. I totally understand that the next morning when I woke up seeing insect bodies on the balcony. Glad I read the guidebook! The bed is very comfortable and I like how the shower room has constant hot water. That's a plus! Location wise, it's just within 10 mins drive to Queenstown Town Center.
Peony
2016-02-15T00:00:00Z
This is such a beautiful location! Maybe the best views of the whole trip. It is well worth the money and the amenities are just perfect!
Brett
2016-03-04T00:00:00Z
Megan was very helpful however she also gave us plenty of privacy. The house was clean and well kept, the view is better than the photos. We would love to come back and stay here.
Therese
2016-04-29T00:00:00Z
We really enjoyed our stay in Queenstown and the apartment made it all the more welcoming. The view from the balcony was spectacular. The apartment itself was very well decorated and clean. Being able to watch Netflix after touring Queenstown for the day was a nice benefit. Communication with Megan was terrific. I would definitely recommend a stay.
Dave
2016-05-03T00:00:00Z
Megan's place is a lovely, quiet apartment just a few minutes drive from town. We enjoyed being away from the energy of town, but close enough to get in and out quickly for dinner. Her apartment had everything we needed, and the beautiful view along the lake was lovely. Megan was sweet and attentive, and she helped us out quickly when there was a mix up with our arrival. Would stay here again if back in Queenstown, and would highly recommend this place to others. Thank you Megan!
Kristi
2016-11-16T00:00:00Z
Tipo de Quarto
Casa inteira/apto
---
Tipo de Imóvel
Apartamento
---
Acomoda
2
---
Quartos
Queenstown, Otago, Nova Zelândia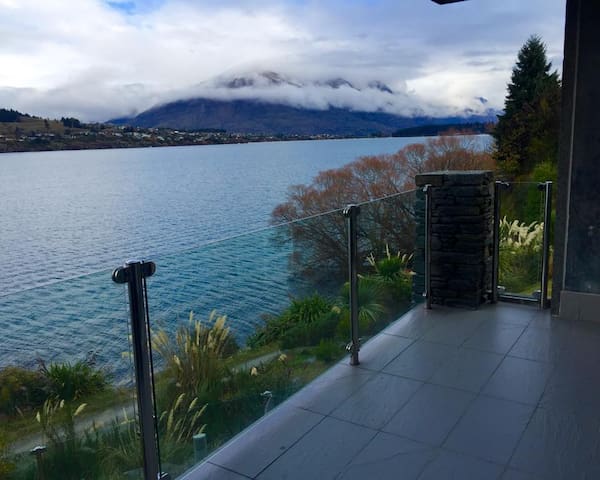 A view to Love. We look out onto the lake & mountains with only 30m to the lake front. Our family Home for since 1977 and build in 1946 with additions through the years. A bach with a view in a quiet home by the lake. We are only 7km from town so a short drive or 55min walk along the lake edge.
The Beach Batch is a self contained apartment underneath our home (36 years in the family) located just 10 seconds walk from Lake Wakatipu in Frankton, Queenstown. The house was built in 1947 and has been added to and well maintained all these years. You'll feel like your going on summer holidays with relatives at your favourite place to have fun. We are a non smoking property, so please do not smoke anywhere on the property. The apartment features an open plan lounge and kitchen, with a cosy feel, just how a batch should. Relax on the soft leather couch while taking in the vistas of the surrounding mountains and down to the lake as far as you can see. There is one very, very large bed room with 1 Queen size bed and a set of bunk beds. The other room has a queen bed, giving families with different age kids flexibility at bed times. The kitchen is small but functional with toaster, hot plate, microwave, jug & all utensils needed. A BBQ just outside is for your use as well. There is no ventilation over the cooker so we ask that you cook outside where possible. There are plenty of food options within a 5 minute walk if you want. From fast food to very nice dinning. The bathroom/toilet is small and consists only of a shower. The apartment has a TV, but we are sure you won't spend time watching. The view is too good. All linen is provided along with a porta cot if needed(provided on request). Breakfast can be provided by prior arrangement. Please order when booking room. Our aim is to make you feel comfortable and at home while you stay in Queenstown. New beds and some mod cons will make sure you enjoy your stay. Other Information: - City Centre 10 minutes drive, 55 minute walk - Shopping Centre 9 minutes drive, 25 minute walk - Cafés/Restaurants/Fast food 5 minute walk - Right on the Trails Trust cycleway - Off street parking - 30 seconds to lake side beach & walking/bike trail - Airport 7 minutes drive - On the bus route to Queenstown and Arrowtown We have a Laso Alpsa/Maltese cross dog named Harper whom might come to visit. She is very friendly and does not shed or bite. She only wants to get a pet or look for food. Harper might wander in if the door is open. She will leave if asked or told to get out. WINTER June to September: these months are very cold in Queenstown and for a few weeks in the middle of July/early August we don't get sun on the house. It can be icy at times and getting cloths dry is an inconvenience at times but worth it! We still have great views and awesome skiing. Please let us know if you have any questions. Weekly Rates Available May/June and Oct/Nov please ask
We are one property back from the Lake but have access to the lake. There is a row of 30 or so houses along the shore that have been here for years and years. Many have been rebuild but quite a few of us have kept the original houses and just done them up.
Very good location. Drive 10 mins to town center and 5 mins to airport/supermarket.
成
2015-04-27T00:00:00Z
Stayed at the beach batch for one night during a quick trip to Queenstown. Host was welcoming, the batch was very comfortable, view was incredible, and we had just about everything we needed and more (even some movies!). Would definitely stay again without hesitation, highly recommended.
Mike
2013-05-21T00:00:00Z
We had a great time at the Beach Batch. Great location and hosts. Beautiful view. I highly recommend this B&B for future visitors to Queenstown.
Nina
2015-02-20T00:00:00Z
We really enjoyed while we stayed in beach batch. It was a nice and cozy place, comfortable beds, nice shower. We loved the view outside the window. Thanks paul and leone
Devi
2014-07-01T00:00:00Z
房东太太人非常好,房间很大很舒服,用具很全,厨房居然还有筷子。位置就在湖边,窗可以望到湖边。
Jin
2016-03-26T00:00:00Z
We stayed here in March 2013. We loved it. Paul & Leone have the right attitude for hosting guests & we appreciated their local tips (& muffins). The "batch" is located under their house & is completely self contained. Great views of the Lake, modern & comfortable.
Murray
2013-03-22T00:00:00Z
The rooms very clean and provided heater. The host is very warmhearted.
ruobin
2015-02-09T00:00:00Z
The reservation was canceled 22 days before arrival. This is an automated posting.
Owen
2013-12-11T00:00:00Z
Tipo de Quarto
Casa inteira/apto
---
Tipo de Imóvel
Apartamento
---
Acomoda
5
---
Quartos
Queenstown, Otago, Nova Zelândia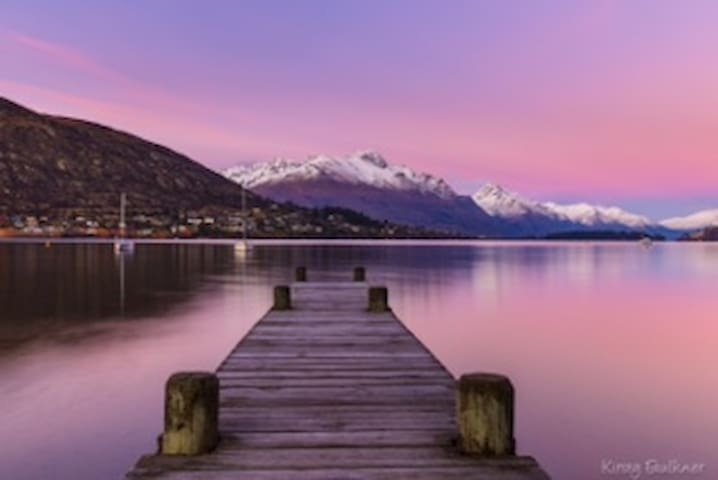 1 bedroom private studio apartment with private entrance attached to modern 3 bedroom home in Marina Village, Queenstown. Fully furnished with a full private bathroom, wardrobe, heat pump for winter warmth. SkyTV (sports channels available). There is no capacity for extra beds in Studio.
A lovely private studio suitable for two guests. Full bathroom, large wardrobe and all kitchenette appliances.
Over the main highway to the Marina (home of the world famous KJet ) and other boating activities. Also in Marina is a Cafe 'The Boat Shed' lovely lakeside setting - open 8 till 5.
What a great place to stay in Queenstown! Beautiful scenery, super clean, comfortable and comes well equipped. Also only a short drive to the main sights. Joan is a wonderful host. We arrived quite late but she was very welcoming and made sure we were settled in. She even left us slices of yummy cake! The fridge was well stocked with breakfast foods which we really appreciated. Communication leading up to the stay was always fast and so helpful. Really wish we could have stayed longer! Highly recommend anyone looking for a stunning place to stay in Queenstown.
Mei
2017-03-29T00:00:00Z
非常热情的房东!我们从订房开始就一直联络,她介绍了很多当地的旅游景点给我,为我的行程提供了便利。门口就有停车位,租车的住客会很方便。这里虽然不是皇后镇中心区,但顺着6号公路进去只要5分钟车程。十分安静的街区,不会因为游客很多而很喧闹。房间十分整洁,设施充足而且很好用!强烈建议大家选择这个房源!
韩荫
2017-01-07T00:00:00Z
Joan's studio was easily the best airbnb I have ever stayed! The amount of detail and care that she puts into it is amazing, it felt just like staying in a hotel, but even better. She was there when we arrived, to show was around and explained everything about the place and the communication with her was very smooth. From the amenities in the bathroom, to the fruits and food in the fridge, the beautiful decor - everything was well thought of and beautiful. We are very grateful to you Joan and can't thank you enough for such an amazing place. The only bad side is the you will miss the amazing bed once you are back home. If you have the chance to stay there, do it.
Julia
2016-01-18T00:00:00Z
Joan is a marvelous host. She was so welcoming and helpful. Always ready to go the extra mile. We truely enjoyed her hospitality. The room was lovely and warm with everything provided, including snacks Joan placed in the fridge. The bus stop is really close and we had no trouble getting to the ski fields.
Carla
2016-07-19T00:00:00Z
Joan is a wonderful host who made us feel immediately welcome. The studio is very comfortable, and well equipped. Everything we needed for breakfast was already in the fridge. In addition, Joan gave us prices of a delicious cake that she had baked that day. Thoroughly recommended, we would not hesitate to stay there again.
Christopher
2016-03-23T00:00:00Z
Wow! Do not hesitate to book this place. Location- perfect. Scenic looking out over the beautiful lake. Tucked away enough to be quiet but so close and convenient to queenstown. We also visited Glenorcy (highly recommend) which is only about 45 mins stunning drive around the lake with ample opportunity to stop for photos, amazing walks and swimming if you dare! Host- Joan is sooo lovely. She was a wonderful host, friendly knowledgeable and we feel honoured to have met her. She is such a nice genuine person and makes you feel at ease. Accommodation- a perfect little appartment. Lovely modern and super comfy. Breakfast provisions were very very generous and the museli to die for. Also there are so many things kindly provided you can want for nothing. Check in- We arrived so late due to road works and us coming a long way and Joan stayed up to help us and make sure we found the place ok and had everything we needed. So nice of her. A little home from home. Nicest place we have stayed in by far. Hope to come back some day :) thanks Joan
Louise
2017-02-24T00:00:00Z
We enjoyed Joan's studio. Perfect location close to Queenstown and airport. As advertised, now, nice, clean and gray location for a drive or jus a walk around the lake.
Bob
2016-04-01T00:00:00Z
Lovely space, really peaceful and relaxing, perfect for what we needed for our stay
Samantha
2016-04-16T00:00:00Z
Tipo de Quarto
Casa inteira/apto
---
Tipo de Imóvel
Apartamento
---
Acomoda
2
---
Quartos
Queenstown, Otago, Nova Zelândia
Novo apartamento chique funky à moda. Particular e isolada, com vistas deslumbrantes sobre a montanha em um local calmo e sossegado. Aconchegante e acolhedor, com lareira, frade vidros duplos no sol durante todo o ano com um terraço encharcado com o fluxo de interior e exterior. estacionamento de linho wi-fi gratuito e 24 horas de check-in
Elegante apartamento de um quarto novo com fluxo interior ao ar livre e vistas deslumbrantes sobre a montanha. privacidade absoluta e ambiente tranquilo entre as árvores. Deitar na cama e apreciar a vista de tirar o fôlego, aconchegue-se pelo fogo ou relaxar no terraço ensolarado grande. A cama de dia para esse hóspede extra A fuga perfeita! Apenas a 5 minutos de carro para a cidade ou a 15 minutos de carro do campo de esqui. Belos passeios, rio, piscinas quentes, atividades e restaurante todos a curta distância
Ponto de Arthur é de Queenstown melhor manter em segredo a sua tão pacífica e tranquila, mas apenas uma rápida cinco minutos de carro para a cidade. Nas proximidades, há belos passeios para o rio e as montanhas circundantes, piscinas quentes, pista de bowling, Shotover jet boat e várias opções para refeições
Place just as described. Cute spot and clean. Was able to host with short notice.
Brock
2015-02-08T00:00:00Z
We had a great stay at the Love Shack despite our 14 year feeling 'awkward'
Angela
2015-10-09T00:00:00Z
The Love Shack was the perfect location for our stay in Queenstown. The flat has everything you need and is very comfortable and homely. Lisa was a great host and really easy to communicate with. We really enjoyed our stay!
Nilay
2016-04-04T00:00:00Z
Lovely comfortable stay at The Love Shack. Gorgeous location, out of town but a very quick drive to downtown Queenstown. Loved the quirky decor and the wood burner was an added pleasure. Internet was rock solid, self check-in was easy, instructions all easy to follow. Super comfy bed and a lovely bathroom. We would definitely stay again, thank you :-)
Rachel
2016-05-08T00:00:00Z
Amazing place!Perfect location and great experenice stay in Love Shack,and good communicate with Lisa!Book of queenstown/arrowtown also help us a lot!
Jossie
2015-10-06T00:00:00Z
The Love Shack was a great place to get away just 10 minutes from town. The tiny kitchen was just what we needed and we loved the fireplace!
Hutton
2016-05-24T00:00:00Z
The host canceled this reservation 415 days before arrival. This is an automated posting.
Ann
2016-11-08T00:00:00Z
We absolutely loved the love shack! Lisa took care of us and really made sure we felt cosy and comfortable for our stay. It was great having such an amazing apartment to ourselves that was so close to Queenstowns centre. I would definitely recommend the love shack for any couple that are looking for a cosy/ beautiful getaway in Queenstown :)
Tash
2015-07-19T00:00:00Z
Tipo de Quarto
Casa inteira/apto
---
Tipo de Imóvel
Apartamento
---
Acomoda
3
---
Quartos
Arthurs Point, Otago, Nova Zelândia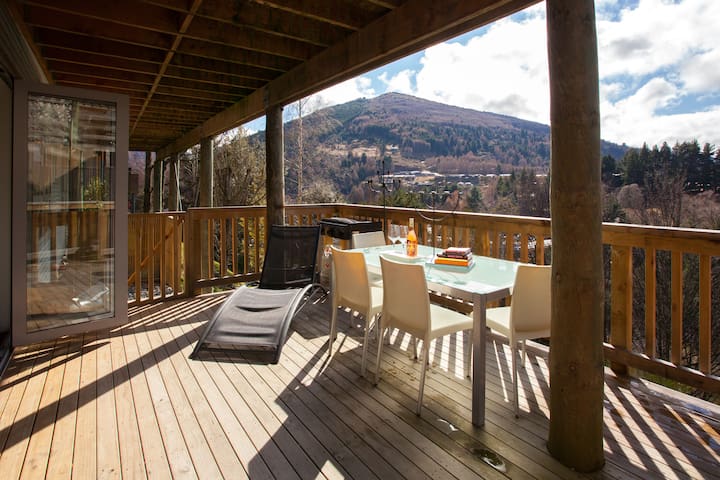 Ensolarado privado casa chique de 2 quartos situado entre as árvores, com vistas deslumbrantes sobre a montanha. Lareira para aconchegar-se ao lado e um spa ao ar livre para relaxar depois de explorar as delícias da bela Queenstown. O lugar perfeito para relaxar e descontrair. cheque 24 horas, acesso sem fio e lençóis incluídos
Privada, Vista para a montanha, Spa e lareira Modern house quarto chique 2 com vistas deslumbrantes da montanha, spa ao ar livre e sol todo o dia. Relaxe junto à acolhedora lareira vinho beber ou sentar-se no exterior estrela spa admira. Acolhedor e quente, ensolarado e isolada em um local calmo e sossegado aquecendo no sol o ano inteiro. Grandes portas bifold que se abrem para um terraço encharcado. Indoor fluxo porta para fora. Se a sua umas férias de esqui ou férias de verão que você está procurando olhar mais longe Estadia para duas noites, duas semanas ou dois anos ... A escolha é sua Instalações: Churrasco, Wifi, Secador de roupa, loiça, DVD, Lareira, Frigorífico, bomba de calor - Ar Condicionado, Micro-ondas, a cobertura móvel - Telecom Mobile e Vodafone, Forno, Duche, piscina de hidromassagem, TV, máquina de lavar roupa todos os confortos modernos cama trundler extra no segundo quarto * Roupa de cama fornecida e incluído no aluguel. * Limpeza fornecidos e incluído
Ponto de Arthur é melhor manter em segredo de Queenstown apenas 5 minutos de carro para a cidade com uma parada de ônibus no final da estrada ou uma pista de caminhada para a cidade leva 40 minutos. Tão perto da ação ainda tão geladas e descontraído longe da agitação
Excellent location and accommodation, quick and easy communication - very smooth
Calvin
2016-09-13T00:00:00Z
A very convenient place just outside of Queenstown. Excellent self contained facilities. Thanks!!
Jen
2014-03-11T00:00:00Z
Easy check in and out, only 5m drive into town. Great spacious house. People stay above and it's very noisy, you can hear them walking around floor creaks etc they took a shower at midnight and you could hear heavy water on the ceiling it's like paper thin walls hearing upstairs neighbours talk too and being loud the entire time. If you're a light sleeper the place isn't for you shower upstairs is loud and sounds like very heavy rain on the ceiling: not far from the airport 10m drive, lovely views and well equipped kitchen and warm fireplace. Apart from the noise the place is homey.
Natalie
2016-07-02T00:00:00Z
Lisa was most helpful during the booking process, the house was well equipped and all the instructions were easy to follow. The area is beautiful and the house is well located relative to town and snowfields.
Rory
2015-08-05T00:00:00Z
Fantastic, fantastic, absolutely fantastic. Lisa's place is one of the best AirBnb accommodation I have stayed so far and my mates absolutely enjoyed every single bit of our stay over at Arthurs Point. Not only was it convenient, it was more than well-equipped, spacious with breathtaking views (shotover river was just below us) and it was indeed just so enjoyable. Thank you Lisa for allowing us to enjoy your place. The best part was the private spa pool which was hot and nice in winter. I give it 4 thumbs up and would definitely go back again and recommend it to anyone looking for an awesome time in Queenstown. Best house I've stayed so far! :)
Joash
2015-06-18T00:00:00Z
Lisa was fantastic from the start of my inquiries and very helpful! The House was lovely and we felt at home straight away.
Jodie
2014-05-10T00:00:00Z
We loved our stay and Lisa made our booking and check in process very easy. The apartment is lovely with gorgeous views and it was a pleasure to return there after all the hustle and bustle of Queenstown. We were so pleased we stayed there rather than the centre of town. Lisa has thought of everything and we really appreciated the plentiful supplies (shampoo, conditioner, washing powder, etc.) and everything we needed in the kitchen. It was great to be able to eat out on the terrace, relax in the spa or on the comfortable sofas. Needless to say, we'd highly recommend it to anyone wanting a great place to stay that's very close to Queenstown.
Roberta
2017-02-25T00:00:00Z
The Treehouse was beautiful and cozy after a full day of activities in Queenstown. The view was stunning and the proximity to the city was just right to get groceries/dinner/activities. The kitchen was great and had everything we needed. Pity that we did not get to spend a lot of time in the property or use the spa facilities/game sets available. Lisa was prompt in responding to our queries and everything was as described. It will be perfect if the extra bed provided wasn't placed in the store room together with the cleaning tools that made it seemed dirty. But all in all, we really enjoyed our stay there!
Agatha
2015-11-19T00:00:00Z
Tipo de Quarto
Casa inteira/apto
---
Tipo de Imóvel
Casa
---
Acomoda
5
---
Quartos
Arthurs Point, Otago, Nova Zelândia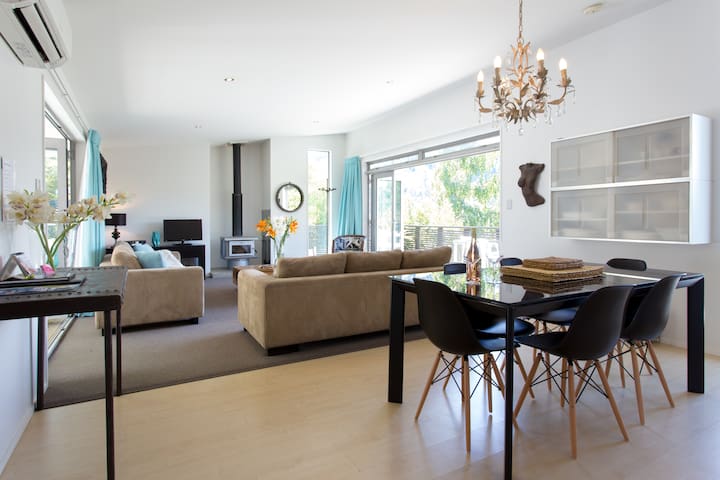 Self contained - Private - Cosy Stone Cottage - 5 mins from Arrowtown. Secluded area, away from it all- yet not too far from what Queenstown has to offer!!
The cottage accommodates 4 comfortably -ideal for families. It has 1 double bed in the bedroom, 2 single beds on the mezzanine, and if you need more bed arrangements, we can set a fold out single bed in the living room. It ain't 5 star, but it is our home -for your homely stay. Comes with bedding & towels, free wifi, plenty of parking, own bathroom & kitchen. If you don't feel like cooking, there are 21 eateries within 8 mins driving who will cater you from breakfast, lunch & dinner- from fine dining to takeaways. We farm cattle, deer, olives, garlic, chickens, pigeons, an 8 year old girl, a pig, a cat & a friendly dog.
Quiet & secluded area- away from it all, but not too far from what Queenstown has to offer.
Such a beautiful farm to stay at away from the overly commercialized downtown Queenstown. The owners were lovely and friendly.
Sam
2014-03-13T00:00:00Z
Ika was very considerate before we arrived offering summer or winter sheets and letting our son arrive early. There was excellent email communication. the location was great in a very peaceful spot close to Arrowtown. A great place to be for the start of the first Queenstown marathon. We really appreciated the farm fresh eggs and other food provided especially the nuts from Ika's daughter.Thank you Ika and Chris we loved our stay. Gabrielle
Gabrielle
2014-11-23T00:00:00Z
Ika and her family were incredibly welcoming and made our stay very memorable! I would recommend Ika's place to anyone wanting a unique and family-friendly stay away from the hustle and bustle. It is only a short drive to some fantastic restaurants, pubs and cafes in beautiful Arrow Town (highly recommended!) and Queenstown.
Ange
2016-11-27T00:00:00Z
This is a peaceful bucolic setting, yet not far from the hubub of Queenstown. Quaint and historic Arrowtown is close, as are the wineries around Cromwell. Everything is the property description is accurate.
PAUL
2015-01-17T00:00:00Z
Ika and Chris are the sort of lovely and interesting folk you always hope to meet - they were friendly, helpful and very generous hosts and we felt at home and at ease straight away. The cottage is just as described - self-contained and very cosy even when it's snowing outside. Its also a unique hand-built home, beautiful inside and out, utterly clean and tidy, very well-appointed and in a stunning country / big mountains / big rivers / big chickens setting. We explored the farm, immediate surroundings and the huge mountains / rivers / forests / sausage rolls, coming and going as we liked - we wish we'd had more time to just hang out and chat! Honourable mention to Bob the dog - always looking out for us. Close-by is Arrowtown, home of the best food ever, and both the Remarkables and Coronet Peak are visible from the doorstep. Ride a bike and jump off the original bungy bridge. Explore the gold mining history a bit further down, or Queenstown 10 minutes down the road. Don't go anywhere and read a book, I know I did. This has to be the ultimate place to stay in the world, surely. Certainly it was beyond any of our experiences or expectations. 11 Stars. -Max, Dennis, Jono and Kiri.
Max
2014-07-06T00:00:00Z
We are very lucky that we got to share Ika and Chris paradise for a couple of days. Interesting, very friendly and welcoming hosts combined with a fantastic scenery and a lovely cottage made our stay a great memory. We really hope to be back some day! Thank you! Teresa and Petter
Teresa
2015-02-14T00:00:00Z
Dear Ika, thank you so much so sharing your cozy cottage with us! It was warm and homey and a very wonderful place to rest after those long days of driving. Your hospitality was superb and much appreciated :) We would definitely recommend your place to anyone staying in Queenstown!
Gurkeert
2015-06-08T00:00:00Z
We had a truly wonderful stay with Ika and family. It was such a beautiful spot to spend a few nights, perched down the end of the road in between the two rivers. The cottage itself was gorgeous and Ika insured that there were lots of toys as well as a high chair for our little one. It was also wonderful to try the home made jam and home grown eggs, as well as the tira misu as a special treat! Many thanks again for such a wonderful part of our trip! .
Simon
2016-01-19T00:00:00Z
Tipo de Quarto
Casa inteira/apto
---
Tipo de Imóvel
Outro
---
Acomoda
5
---
Quartos
Arrow Junction, Otago, Nova Zelândia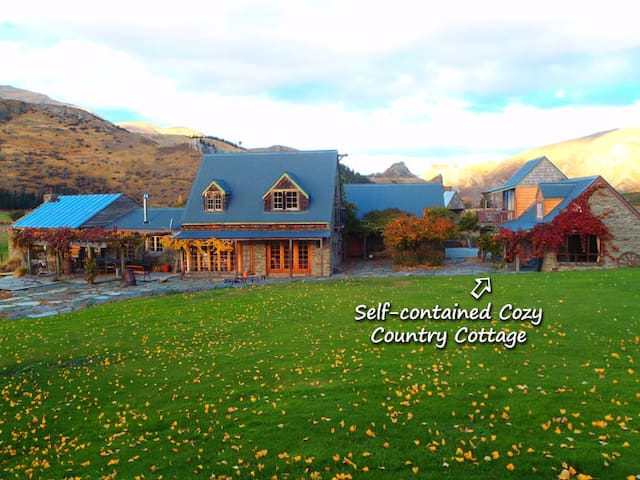 Our home is beside a reserve and pond and both rooms have outstanding views of the pond and Remarkables mountain . The extra bedroom has a queen bed,sleeps a maximum of 2 and charged out at an additional $35.00 per person.Exclusive use of a full bathroom and seperate toilet which both have underfloor heating. Free unlimited Wifi. Continental breakfast and snacks supplied.Located in a family home but quite seperate with your own entrance, not shared with any other guests.Very quiet neighbourhood.
Location adjoining a reserve and pond with resident ducks and bird life with picturesque outlook to the mountains.
Very safe,friendly, neighborhood. In a great location with Arrowtown 10 minute's and Lake Hayes 5 minutes by car, and Queenstown 12 k's away.We are across the road from the Queenstown Trails Trust link for walking and biking.Coronet Peak skifield just 25 minutes, Remarkables and Cardrona Skifields 45 minutes. A local cafe/restaurant/bar (Graze) is a 5 minute walk,also a small convenience store all located beside a playground and bike park. Supermarkets, shopping centre, laundromat,petrol, a 5 minute car ride.
This is a wonderful place to stay. Lyn is welcoming and friendly and has thought of everything to make for an enjoyable stay. There were snacks provided in our room and she was a wealth of knowledge on the area. I would highly recommend it as a place to stay!
Hanna
2017-01-04T00:00:00Z
The place was absolutely amazing. Close to Queenstown, the house was new with great amenities and was easily accessible.
Josh
2016-12-29T00:00:00Z
Lyn was amazing host. She made us feel like family. All her local suggestion was good. The place 20 mins away from city, which gives a very peaceful and comfortable place to stay and enjoy a relaxing holiday. I have to thank for the little cupcake that was left for me on my birthday. That was so special.
BAMINI
2016-12-08T00:00:00Z
About a 15 or so minute drive from Queenstown in a very quiet neighbourhood. Perfect place for those who needs a good night sleep. Lyn and Ross are both very friendly and nice. Room and toilets are clean. Breakfast is provided as well.
Stanley
2017-01-21T00:00:00Z
Lyn is a very friendly and helpful hostess. We felt very well. Highly recommended.
Juergen
2017-01-02T00:00:00Z
Great place to stay, quiet area, nice neighbourhood, comfortable bed and great shower. Nice and clean. Lyn was very friendly and welcoming.
Marleen
2016-12-09T00:00:00Z
Lyn was very welcoming and took the time to chat to us about our travels. She made sure everything was available to us and the house was very clean and modern. We felt right at home.
Kevin
2016-12-30T00:00:00Z
We really liked Ross and Lyn's place, the room is tidy, comfy and has all you need.
Alexandra
2017-01-03T00:00:00Z
Tipo de Quarto
Quarto privado
---
Tipo de Imóvel
Bed & Breakfast
---
Acomoda
4
---
Quartos
Lake Hayes Estate, Otago, Nova Zelândia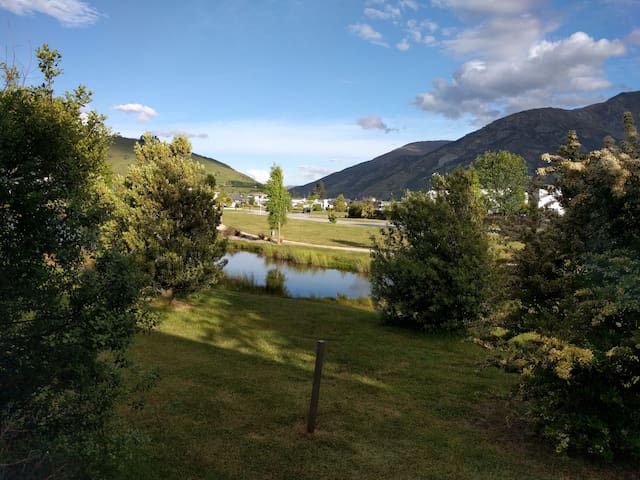 Very quiet and peaceful retreat in sought after Dalefield location. Our house is a unique country style house with lots of character, set on 8 acres of picturesque land with stunning views of Coronet Peak. Just 15 minutes drive to Queenstown and Arrowtown and the airport. Own bathroom and toilet. Extra bedroom available. Free Wi Fi Contact us if you need earlier check-in or later check-out - usually OK. You can drop you luggage off early.
The house and location are peaceful and quiet, in an amazing setting nestled among the countryside. If you want to bring additional guests or family there is another double bed room ( at$40 per person -share bathroom).
Dalefield is a beautiful, quiet rural area in between Queenstown and Arrowtown. 15 mins from Airport and 15min from Queenstown CBD and Arrowtown. The district is packed with wineries, restaurants, attractions, activities and trails.
We felt welcomed by Mi Ae and Wayne by their friendliness and smiles when we arrived. Everything was ready for our stay. It was a wonderful experience as part of our trip to the South Island.
Leslie
2016-02-04T00:00:00Z
Ondanks een moeilijke start door ziekte hebben wij bijzonder genoten van ons verblijf bij Mi Ae en Wayne. Het karakteristieke huis in een prachtige omgeving is zeer de moeite waard. De gastvrijheid en reisadviezen van onze gastvrouw en gastheer waren eveneens voortreffelijk. Een oase van rust wanneer je de drukte van het nabijgelegen Queenstown wilt vermijden.
Ton
2015-02-15T00:00:00Z
Mi Ae and Wayne are the most friendly, helpful and funny hosts we have ever had. The chemistry between the couple is just out of the world, and that itself should have been written into their Airbnb profile too. It was already an absolute pleasure to simply sit at the dining table to long conversations with them. Not to mention, their lovely house sits at an incredible location with the best views of the mountains at Queenstown. We spent time lazing around their house, chasing chickens (and a new handsome rooster), and feeding apples to alpacas. All in all, possibly the warmest house you could find in Queenstown because the hosts will make you feel so warm and fuzzy in your heart by the end of your stay :)
Si Hui
2016-04-09T00:00:00Z
We reached Queenstown very late and worried that it may be too late for them to wait for us. But Mi Ae were very flexible to accommodate us. She prepared breakfast for us despite we have to leave very early to join the Milford Sound tour. We didn't get the chance to chat very much with Mi Ae and her husband as it was a short stay and we were out most of time. But whenever we meet them, they were very friendly and made sure we are OK. This is our first time staying in a country house and we love it.
MK
2015-11-09T00:00:00Z
Very lovely house on the beautiful mountain. The room is very warm and comfortable. The enthusiasm hosts gave us many useful advice and made delicious breakfast. Thanks for letting us use the kitchen again. Ps: these alpacas they feed are very cute
ZHENZHEN
2016-09-16T00:00:00Z
My daughter and I had a wonderful stay at Miae and Wayne's place. A beautiful house with a mountain view and clean air. Easy access to the airport, Queenstown, Arrowtown, Glenorchy. We ventured out to Wanaka as well, as a day trip. Miae and Wayne were perfect hosts, warm and welcoming. I enjoyed talking with them over delicious breakfast every morning and really appreciated their advice on places to visit and things to do. Great experience and fond memories. Highly recommend this place!
Young
2016-01-17T00:00:00Z
Mi Ae and Wayne are a lovely couple always in action. Their home and the bedroom look like a chalet in mountain. We spent two quiet and peaceful nights and enjoyed the talk about France we had in the evening and before leaving in the morning ! Every day, we received many advices from Mi Ae to discover NZ and Wayne is always singing and enjoying life !
Arnaud
2015-12-31T00:00:00Z
Mi Ae and Wayne are wonderful hosts who made us feel very welcome. The place was comfortable and warm, we enjoyed the big bath tub and Mi Ae's breakfasts every morning. Great place to unwind after a day of exploring!
Sophie
2016-08-18T00:00:00Z
Tipo de Quarto
Quarto privado
---
Tipo de Imóvel
Bed & Breakfast
---
Acomoda
2
---
Quartos
Dalefield, Otago, Nova Zelândia
BRAND NEW!! FREE UNLIMITED WI-FI!! Your own private suite in brand new modern home. Large spacious, cosy, WARM room with PRIVATE ENSUITE bathroom, tea and coffee making, fridge, microwave, heatpump, own entrance and patio. Designated park right outside your door!
Large, spacious, sunny space. Plenty of room to rest, relax and enjoy the gorgeous mountain views surrounding you. Sit outside on the patio with a wine and enjoy uninterrupted views of Coronet Peak and the Remarkables. Tea and coffee making, fridge, microwave and enough kitchen basics to make a bit of brekkie or a light meal. Queenstown also has many great restaurants! For laundry you are more than welcome to access the laundry facilities in my home. PARKING - right outside your door !! RESPONSE - I am usually able to respond to your booking request within the hour. Unless overnight and I will respond first thing.
My home is in a lovely new sun soaked subdivision, Shotover Country, beautifully positioned close to Queenstown, Arrowtown, both ski resorts - Coronet Peak and the Remarkables and the Queenstown Trails. Away from the hustle and bustle of central Queenstown yet still handy to the airport and all the many facilities Frankton has to offer it has great appeal. Being surrounded by all the mountains yet still being basked in sunshine is the icing on the cake :) Queenstown is an easy 15 min drive or alternatively we are on the Queenstown trail route so biking and walking tracks at your doorstep. Graze Cafe (the local) a short walk for morning coffee or an evening meal (daily except Monday night).
We have got a Super host, Lynne. She is friendly, helpful and simply fantastic. Everything is superb from the arrival until checking out. Need to mention that you can park your car right in front of your room. We will definitely recommend this to anyone.
Wayne
2016-09-13T00:00:00Z
Our lovely host Lynne greeted us warmly after a long days journey and we were looking forward to relaxing into our accomodation with a cuppa and bit of TV. Our self contained accomodation was clean, warm, and spacious. Kitchenette for quick meals, wifi access and own ensuite bathroom made our stay more private. Steeping out of our accomodation into a private courtyard, quiet surroundings with breathtaking views of the Remarkables and Queenstown to the south. You could either have breakfast privately (in the courtyard) or join Lynne in her shared kitchen by way of internal access into the main house. Convienietly located we journeyed to Frankton within minutes for shopping and cafes, further onto Queenstown for adrenalin activities and scenic Arrowtown where we were fortunate to enjoy the Autumn Festival with markets, food stalls & parade. Then at the end of our day we would arrive back to our accomodation where we had our own private parking and entrance. Lynne's local knowledge on Otago history only enhanced our experience. A most relax enjoyable stay. Thank you Lynne for making us feel most welcomed. We look forward to a return trip.
Colleen
2016-04-25T00:00:00Z
Lynne was the most helpful and considerate host. It was our first time using Airbnb and we did not know what to expect. We stayed at Cute n Cosy for two nights and loved the place so much that we decided to extend an extra night. The place is very new, neat and definitely cosy. It has a kitchenette with dishes, kettle and microwave. There is even a view from the room glass windows. The home is in a very quiet area and parking is just outside the room. We definitely recommend Lynne's home to anyone and would also definitely come back when we are in Queenstown. Alisa & Hamish
Alisa
2016-09-25T00:00:00Z
Eine sehr schöne, gemütliche Unterkunft. Wir waren leider nur eine Nacht dort. Das Bett ist super bequem. Sehr empfehlenswert!
Corinna
2016-11-24T00:00:00Z
This is by far our best air Bnb stay. Lynne is fantastic, so lovely and helpful we felt like we were at home we didnt want to leave! The room is great everything you need and so nice to relax after a day of exploring. Lynne helped us plan the rest of our travels and her recommendations are great. We can't thank you enough you made our stay in queenstown even better. highly recommend to stay at Lynne's you would be silly not to! Thanks Lynne
Marisa
2016-07-03T00:00:00Z
Fantastic room in a fantastic area. Helpful host. Would love to stay again
Max
2016-11-03T00:00:00Z
Lovely space and great host. Recommend if you are looking for a private space that offers a small kitchenette and a place to relax.
Jenn
2016-08-12T00:00:00Z
Lynne was an excellent host. The studio was very comfortable, warm and we'll appointed. Thanks for a great stay!
Lee
2016-07-17T00:00:00Z
Tipo de Quarto
Casa inteira/apto
---
Tipo de Imóvel
Outro
---
Acomoda
2
---
Quartos
Queenstown, Otago, Nova Zelândia
Large Bedroom, Ensuite, Fridge & Breakfast -Central Heating! Warm! - King Sized Bed - Sofa Bed - Table & Chairs - Fridge - Microwave - Toaster, Kettle & Coffee Plunger Breakfast is conveniently in your room: - Fresh milk, Espresso Coffee, Teas, Nesquik - Bread,Tinned Peaches,Selection of Cereals Lovely Views Private/Seperate Entrance 15 mins walk to the River, Playground, Cafe/Bar(Graze), Bike/ Walking Tracks. Close to Everything (Supermarkets,Airport,Town)
- Private Entrance to keep your privacy! - Your room is only accessible from the sliding door and locked internally from the rest of the house.
Shotover Country is a lovely, new, quiet, family neighbourhood. We are very close to the Shotover River (just a 10 minute walk) By Car: 7 Minutes drive to the airport. 10 minutes drive to Arrowtown 15minutes drive to Queenstown 5 minutes drive to Lake Hayes 5 minutes drive to Frankton 3-5 minutes drive to supermarkets, petrol station, cafe/bar,playground,bike tracks,walking tracks,cafes,shops, Aqualand Swimming Pool/Gym. Closest Cafe/Restaurant/Bar is Graze in Lake Hayes Estate (2-3 mins drive)
Kate's place is great! Close to queenstown, convenient to go toMilford, arrowtown. Nice view over the mountain. It's perfect to have kitchen/sink. Highly recommend for ones want to live near Queenstown, value for money!
Nguyen
2017-02-03T00:00:00Z
Lovely B&B! Perfect for a getaway from the hustle and bustle of Queenstown. Close enough to public transportation that we could walk and take transit to Arrowtown and Queenstown. Very quiet and comfortable.
Hillary
2017-02-12T00:00:00Z
Very nice and clean private room near Queenstown. Highly recommended for people enjoying some quietness but still wanting to be close to the city centre, since it's just a quick drive to town.
Gabriela
2017-02-20T00:00:00Z
Kate's place is nice, clean and has a nice mountain view, own access & car park. Kate also has been a very good host, catered for all our needs, including supplying toy box for my son - really appreciate it. :) The place is also closed to the supermarkets, e.g.: Countdown and Pak'nSave. Highly recommended!
Hendi
2017-02-02T00:00:00Z
Kate's place is very nice, clean, and comfortable. It's modern and well equiped. We arrived late, so we didn't get to meet Kate, but it was easy to communicate with her online. We really enjoyed the stay. :)
Alina
2017-02-27T00:00:00Z
Beautiful home with glorious views. Far enough out of town to be quiet but easy to drive in. Quiet neighbourhood.
mike
2017-01-28T00:00:00Z
Thank you Kate. Nice room. We really enjoyed it. It's a unique experience of having complete separated suit room outside your main house.
Allen
2017-04-04T00:00:00Z
Kate的家可以看到小镇的风景,视野很好,东西很齐全,有自己的私密空间,很舒服,推荐。
Nina
2017-03-15T00:00:00Z
Tipo de Quarto
Quarto privado
---
Tipo de Imóvel
Casa
---
Acomoda
3
---
Quartos
Otago, Otago, Nova Zelândia
New, warm and comfortable home with private double room & en-suite with sliding doors out to private lawn and garden. Close proximity to bike trails, ski fields, Queenstown and historic Arrowtown. Only 5 minutes from Queenstown Airport.
Das Hotel liegt in einem neuen ziemlich Vorort in der Nähe Frankton und weg von der Hektik von Queenstown. Das Haus ist neu, sauber und ansprechend präsentiert. Bisherige Gäste haben mir gesagt, dass dies eine der besten airbnb ist die übernachtet haben.
Es ist ein familienfreundliches sicheren Bereich. Sie werden einen ruhigen Aufenthalt haben
My worst airbnb experience so far...
Noga
2017-01-01T00:00:00Z
Nice accomodation with a friendly and helpful host family
Benoit
2015-12-18T00:00:00Z
Such a nice stay - the room was absolutely perfect and the ensuite has the best shower! Moira is a generous and warm host. We were lucky enough to visit her at the Kiwi Conservation centre where she works. Highly recommended as an activity for a stay in Queenstown. The house itself was modern and clean, and the kitchen is great to use. Thank you Moira!!
Hannah
2016-01-25T00:00:00Z
Moira is a lovely host and is very accommodating. Check in was easy and Moira communicated well with us. Wifi was reliable, bed was comfortable, dog was friendly, shower was warm and good pressure, parking was good, access to airport was good but need a car to be able to easily access Moira's house. Breakfast was appreciated and readily available. I would recommend staying at Moira's house.
Natalie
2017-01-13T00:00:00Z
Check in was no problem and easy. Bedsheets were definitely not clean and could not reach host to make request. Also no towels. There was also a kitten which was not listed, so beware those who are allergic to cats.
Matt
2017-03-15T00:00:00Z
A comfortable home. Moira made us feel welcome. We appreciated the included breakfast, the comfortable bed, the ensuite, the friendly dog (Lily), the cleanliness, the reliable wi-fi and the beautiful view of the mountains. A nice house in a lovely new estate about 10mins drive from the centre of Queenstown allows for peace and quiet even though it is not far from the airport. We recommend staying here, especially if you have a car.
Natalie
2017-01-12T00:00:00Z
Great place to be based, very close to Queenstown!
Nik
2017-03-13T00:00:00Z
Nice place with affordable price. Just that breakfast are no provided.Her dog is super friendly !!
Joyce
2016-04-22T00:00:00Z
Tipo de Quarto
Quarto privado
---
Tipo de Imóvel
Bed & Breakfast
---
Acomoda
2
---
Quartos
Otago, Otago, Nova Zelândia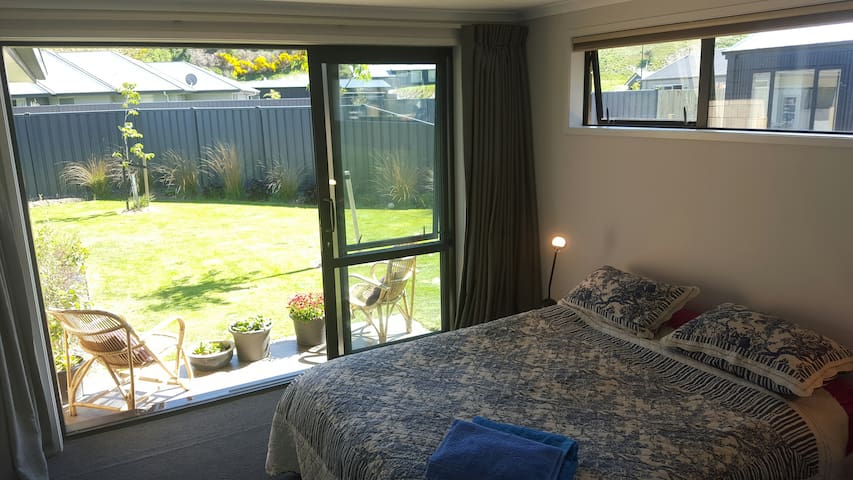 NEW TO AIRBNB! Our charming country guesthouse, with a rustic country feel is located in an elevated position overlooking the picturesque Queenstown mountains. Drenched in all-year, all-day sun, you'll relax with the majestic countryside panoramas and reflect back on your day watching the sunset over the mountains. Fully self-contained, with free internet, this is the perfect accommodation for a relaxed country holiday, centrally located between Arrowtown, Frankton and Queenstown.
Our guesthouse is the perfect location to relax on your visit to Central Otago. Pines Cottage is fully self-contained and has everything you'll need to ensure you'll feel comfortable and relaxed during your stay. You'll enjoy a modern, well appointed kitchen, stunning bathroom, sunny dining area and free unlimited internet. Washing machine in the cottage. We're located in the heart of spectacular countyside between Queenstown, Arrowtown and close to the famous Central Otago vineyards. Our home enjoy all-day, all-year-round sunshine and incredible views of Queenstown's iconic mountains! The bedroom is on the upper level with a king bed and a single bed. (King can be split into 2 singles). You will be provided with clean, comfortable linen, heating, blankets and electric blankets for extra warmth (in winter.) A flat screen TV with access to Freeview is also provided, with a sofa to relax on. Downstairs is an open plan dining and kitchen area. The well equipped kitchen is available for use and has all the essential utensils and equipment you'll need to cook a great meal during your stay. A bench top toaster oven can be used to grill/bake a small dish, a 2-element hotplate can be used to cook on and there is a microwave. Also included is complimentary tea, coffee, and a modest selection of condiments including herbs and spices and herbal teas - own food must be provided. An espresso machine and a blender are also included for those who like to really kick start their day with a coffee or smoothie/juice! Included in the cottage is everything you'll need for laundry, including washing machine, ironing facilities and detergent. The bathroom is on the ground level and offers a walk-in tiled shower, toilet, wall-mounted heater and heated towel for extra warmth in winter. Luxury, soft, towels, shampoo, conditioner, bodywash and handsoap are also provided. Our guesthouse will be fully prepared for your arrival, including fresh, clean linen, towels and will be pre-heated in winter. For bookings of seven days or more the cottage will be serviced mid-stay. If you require additional servicing during your stay, please arrange this prior to arrival and we can advise of the charges involved. Small groups of up to three people are accepted - the King bed can be split into to King Singles (configuration of the bed must be requested at the time of booking). Strictly a maximum of three persons per booking permitted.
Dalefield is a peaceful, quiet and sought-after residential location, conveniently located centrally between Arrowtown, Queenstown and the Queenstown International Airport. The historic gold-mining town of Arrowtown is seven minutes drive with three of Queenstown's famous golf courses and two luxury day spas. Charming and quirky Arrowtown is on every visitors' itinerary and has incredible walking tracks, regular festivals, a boutique cinema, sophisticated souvenir shops and some of the best cafes and restaurants in the area!
We loved our stay here. The place was clean, up-to-date and beautiful. The views were unreal! The area felt secluded but was minutes away from Queenstown and Arrowtown and not far from awesome vineyards. The hosts were friendly and gave us tips on where to fish. Would highly recommend this place!
Carrie
2017-02-15T00:00:00Z
Great hosts and a great place to stay within easy reach of Queenstown. Verygood communication and so helpful during our stay!
Paul
2017-02-13T00:00:00Z
The Pines Cottage marked the end of a two-week adventure for my husband and I. It was one of the more conventional spots we stayed in but it had everything we needed for a comfortable stay. Ironically our GPS didn't have this road on it but it gets you close enough that you will find it no problem just by knowing the address. The owners have an arrangement that allows you to arrive at any hour of the day (the more we Airbnb the more we value that!). There is private parking for you. The Cottage is a separate building from the owner's house but there is a personal office attached to it. It seemed rarely occupied. This cottage was the only place we stayed during this whole trip that had a cooling air conditioner. It has wifi...and it's good wifi! They have added large privacy curtains for the downstairs kitchen windows. The kitchen includes a microwave, refrigerator with little freezer, toaster oven, hot plate, and washer (no dryer). The bathroom sits downstairs and is spacious and well-equipped, including a really great hair dryer too. The bedroom is upstairs and it is large with a king-sized comfy bed, couch, single bed, and a big TV as well. The Pines Cottage is nestled perfectly between Arrowtown and Queenstown. Arrowtown is a sweet little place with great bars (i.e. Fork & Tap and Blue Door...both have live music on Wednesday nights!), restaurants [i.e. La Rumbla --> say Hi to Jessica (the hostess with the mostess) and Simon (the bartender)], ice cream shops, bakeries, shopping, epic cuteness, etc. Queenstown is a bigger city and there are countless things to do there. If you stay in this Cottage you will be centrally located between these towns (15-20mins) and not far from Wanaka (also a wonderful town to experience! Though the drive to/from Wanaka is a bit of an adventure! Also this Cottage is just 15-20mins from the Queenstown Airport. This one little place is a great place to stay for several days while you travel about!
Kate
2017-02-22T00:00:00Z
The room was quiet, clean, well equipped, surrounded by a large farm, a great experience
武
2017-02-01T00:00:00Z
Nice quiet location with great views
Andrew
2017-03-26T00:00:00Z
とてもフレンドリーなホストでした。宿泊施設も景色も良くCOZYでした。また機会があれば泊まりたいと思います。
Masa
2017-01-05T00:00:00Z
I really enjoyed my stay here. The views from the cottage are stunning. Great place to call home outside of the downtown.
James
2016-12-16T00:00:00Z
The Pines Cottage is absolutely stunning. It is very scenically located and is new, fresh and modern inside. The kitchen, living and bathroom facilities are all great too. The Cottage was close to everywhere we needed to get by car - 10 mins to Queenstown, Arrowtown, hiking spots and grocery and retail shops. Stu and Kate are lovely hosts and offered fresh eggs during our stay which was great! We would definitely recommend this property. Thanks again guys - we loved our stay.
Descenna
2016-11-20T00:00:00Z
Tipo de Quarto
Casa inteira/apto
---
Tipo de Imóvel
Casa de hóspedes
---
Acomoda
3
---
Quartos
Speargrass Flat, Otago, Nova Zelândia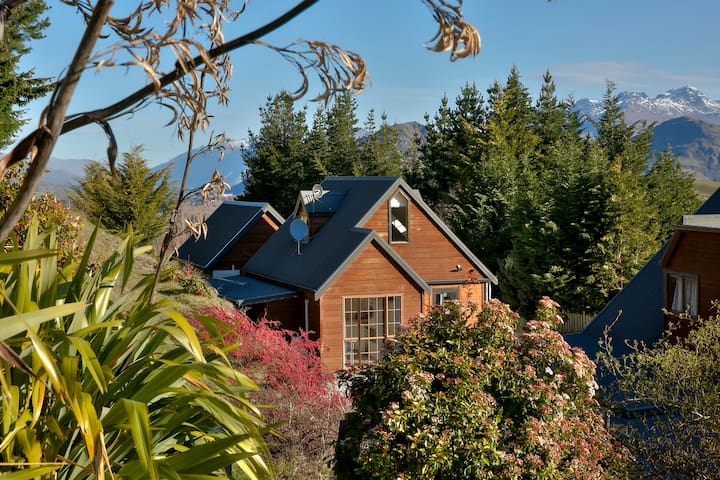 Desfrute de uma suíte master realmente privado na ensolarada Shotover País. acesso próprio e chumbo deck privativo para um quarto grande com confortável cama super rainha, TV vista livre, banda larga de fibra super, próprio frigorífico e sala de jantar. além de uma grande caminhada no guarda-roupa e muito bem acabado casa de banho privativa. chá / café e pequeno-almoço no quarto, portanto você tem o seu próprio refúgio privado para relaxar após um longo dia de atividades. Para os viajantes com crianças e bebês, portacot e / ou cama de acampamento pode estar disponível
Very clean and comfortable, great communication, looks like a brand new place. Overall excellent!
Vivaek
2017-01-21T00:00:00Z
Sarah's place was very clean and a got a big enough room for a comfortable stay. It also has a big bathroom and luggage storage area. WiFi internet access was excellent. It also has private access to the room from outside.
Susil
2017-03-13T00:00:00Z
Sarah's place was very comfortable for our short trip to Queenstown. The room and ensuite are modern, warm and welcoming. Perfect for a couple. Sarah provides cereal and milk for easy breakfasts which was appreciated and helped us save some money on dining out. The main house is adjacent to the studio, but we heard hardly any noise from the family and the children. Lovely location near Lake Hayes, Stoneridge Estate and Amisfield winery with mountain views. It is helpful to have a car to get into central Queenstown. Very close to the airport.
Emma
2017-03-18T00:00:00Z
Sarah house is really really good and beautifull..its really enjoyable and comfort..the house is kids friendly..very recommend to stay here
pandoe & anissa
2017-02-17T00:00:00Z
The place is fantastic. It's quiet and close to town. Highly recommended people to stay.
Nick
2016-12-27T00:00:00Z
A réserver sans aucune restriction
Nathalie
2017-02-21T00:00:00Z
Our stay at Sarah's place was fantastic! The little apartment is brand new, and super comfortable. The en-suite is beautiful. In an ideal location for exploring Queenstown and Arrowtown. Sarah was great with communicating, and we felt very welcome. Would love to stay again.
Tom
2017-02-02T00:00:00Z
It was a real pleasure to spend the night in this private cosy modern room. Sarah is in every detail, from a very complete selection of cereals for your breakfast to an archive full of brochures with info from all around. We will be back for sure!
Analia
2017-03-22T00:00:00Z
Tipo de Quarto
Quarto privado
---
Tipo de Imóvel
Casa
---
Acomoda
2
---
Quartos
Otago, Otago, Nova Zelândia
Our Peaceful Cottage is located in upmarket Walnut Grove which is close to the local Cafe 'Graze' with family-friendly activities such as walking and biking. You'll love our cottage because it is quiet,clean and cosy . Peaceful Cottage is good for couples, solo adventurers, and business travelers
Is private, with off street parking, and and has an outdoor sunny seating area, the cottage is very cosy with a heatpump to use on those colder nights. It is fully self contained, with full kitchen facilities, including coffee and tea facilities supplied.we are a short 5 minute drive to 5 Mile shopping centre which has cafes,supermarket and local shops
We are situated 15mins from Queenstown central and 10 minutes to Arrowtown. It is a quiet subdivision which is located by the river. Only a short 10min walk to the beautiful river trail or Lake Hayes. It is 5 minutes drive to 5 mile shopping centre which has a selection of great shops including a large supermarket. Ski Queenstown. 50 minutes drive to Cardrona or Snow Farm 25 minutes drive to Coronet Peak 50 minutes drive to Remarkables ski area
While we did not get the opportunity to meet Carly, communication was excellent! The place itself (Lake Hayes) is a little far from the main touristy town of Queenstown, but this is okay with us and no issue at all if you are driving. To compensate, their place was quite private and scenic (near Lake Hayes and the foot of the Remarkables). The place is convenient as there are 2 major supermarkets nearby (would recommend you shop here rather than the very expensive 4 Square in the middle of town) and also laundry drier (Carly's had a washing machine). Overall, we had a fantastic stay and would highly recommend to the airbnb community.
Anthony
2017-01-23T00:00:00Z
An absolutely fabulous stay and we enjoyed the privacy too ;)
Ngaio
2017-01-13T00:00:00Z
Great place to stay; clean, comfortable and well equipped. Queenstown, Arrowtown both easily accessible.
Tracey
2017-04-04T00:00:00Z
Great comfy and cosy place. Has everything you need with a full kitchen. Modern, fresh and clean.
Vanessa
2017-01-29T00:00:00Z
I spent one night at this place and enjoyed it very much. It was very clean and had everything i needed. I can recommend this place if you have your own car as it is quite far from the city. Unfortunately it has no wifi.
Marco
2017-01-10T00:00:00Z
Wonderful Airbnb! Lots to do in the area, close proximity to downtown Arrowtown and Queenstown, lovely hosts and very helpful and communicative. Would highly recommend to any visitors!
Eileen
2017-03-19T00:00:00Z
Carly was very friendly and helpful. The place was cosy and comfortable with good amenities. A good alternative to the accomodation available in central Queenstown which can get quite busy. Beautiful scenery and not far from the shops.
Esmond
2017-01-15T00:00:00Z
It is a lovely space. 15-min drive into Queenstore. 5-min drive to supermarket. We enjoyed staying there.
Tim CH
2017-01-06T00:00:00Z
Tipo de Quarto
Casa inteira/apto
---
Tipo de Imóvel
Chalé
---
Acomoda
2
---
Quartos
Lake Hayes Estate, Otago, Nova Zelândia
Enjoy some quality alpine living in this contemporary holiday home, complete with outdoor fire and panoramic mountain views. *Spa hire available* please enquire for more information
Interior: warm alpine meets modern in this light-filled home. Sweeping vistas from the open plan living area. Three double bedrooms, plus the convenience of a fold-out sofabed for added guests. Laundry nook adjacent to the modern kitchen with stainless appliances. Outdoors: great outdoor living options! Recline on the outdoor sofa and take in the views from the balcony, or light the outdoor fire and dine alfresco overlooking the wintery peaks of The Remarkables. The scene is set for fantastic holiday options. Parking: well catered for with a double garage and off-street parking. *SPA HIRE AVAILABLE!*
Close to everything on the lower slopes of Queenstown Hill, Peregrine Views offers guests so many options: peaceful contemplation, alfresco dining all year round, easy-access to the adventures and activities Queenstown is famous for.
Tipo de Quarto
Casa inteira/apto
---
Tipo de Imóvel
Casa
---
Acomoda
8
---
Quartos
Queenstown, Otago, Nova Zelândia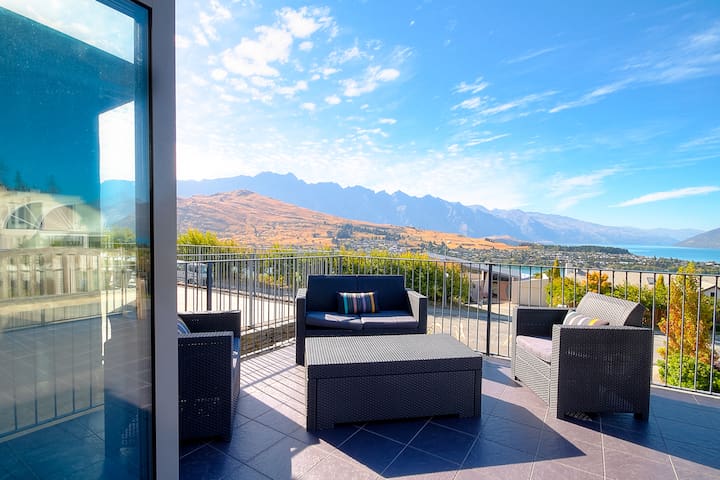 Hi everyone! Our brand new home is located in Shotover Country. It is highly recommended to have a car as our place is a 5-minute drive to the shopping area, an 8-minute drive to the airport and a 12-minute drive to central Queenstown. Public transport exists but unfortunately does not work great and is a bit expensive. We are a couple and we love to spend time in the outdoors, meet new people and eat good food. We look forward to hosting you in our lovely and tidy home!
The Guest area has two bedrooms and one full bathroom to SHARE between the two rooms. Please respect the shared areas and keep them clean both for you and the other guests. This private room has two single beds and sleeps a maximum of 2 people. The room is small but very clean and comfortable with plenty of storage space. Towels and bed linen are provided. It also has free unlimited Wi-Fi. As this is a brand new house we ask you to please respect and take care of it as if it was your own. We like keeping everything clean and tidy and we like that our guests leave all the facilities as they were before using them. We also have a second room listing in Airbnb, which has a queen size bed and sleeps 2 maximum.
We are located in the new Shotover Country housing estate, located on State Highway 6 close to Ladies Mile and Lake Hayes. The house is backdropped by the Remarkables mountain range, has an outstanding outlook to Coronet Peak, Cardrona, Cecil Peak and Walter Peak and borders both the Shotover and Kawarau Rivers. We have very easy access to excellent biking and walking tracks along the Queenstown trail network and there are a number of nearby parks.
Ótimo lugar, um casal muito querido, fiquei muito a vontade! Eu recomendo.
Alexkis
2017-01-14T00:00:00Z
Fantastic host! Elia and her husband were so welcoming and lovely. House was beautiful, and warm. We had the best time in Queenstown and can't wait to go back. Will definitely be staying with Elia again.
Kirstee
2016-09-29T00:00:00Z
We had a lovely stay at Elia and Joan place. We had a very comfortable twin room in the ideal location, just 15mins drive from queenstown. Elia and Joan were very welconing and friendly. We will be happy to stay again when we are next in queenstown.
Beat
2016-12-18T00:00:00Z
A very clean and warm place to live during your trip. We didn't have much time to talk to the host couple but they are very nice. Well care and prepare for guest. Recommend if you want to have a clean and tidy place to stay.
Hien
2016-11-30T00:00:00Z
thank you for letting us stay in your place!
Aubry Ann
2016-11-14T00:00:00Z
Elia and Joan are the perfect hosts. They have a lovely home and made us feel so very welcome. They gave us tips on where to eat and what places to visit. We cannot recommend this accommodation highly enough - a credit to AirBnB.
Kevin
2017-02-18T00:00:00Z
Brand new house in quiet area near Queenstown. Simple, comfortable room with nice bathroom. Communicativ hosts with local tips. Recommend!
Kai
2017-01-23T00:00:00Z
Modern cosy house. Super hospitible hosts. Quiet location out of the hubbub of Queenstown and close to Arrowton. Highly recommended.
Graham
2016-11-10T00:00:00Z
Tipo de Quarto
Quarto privado
---
Tipo de Imóvel
Casa
---
Acomoda
2
---
Quartos
Otago, Otago, Nova Zelândia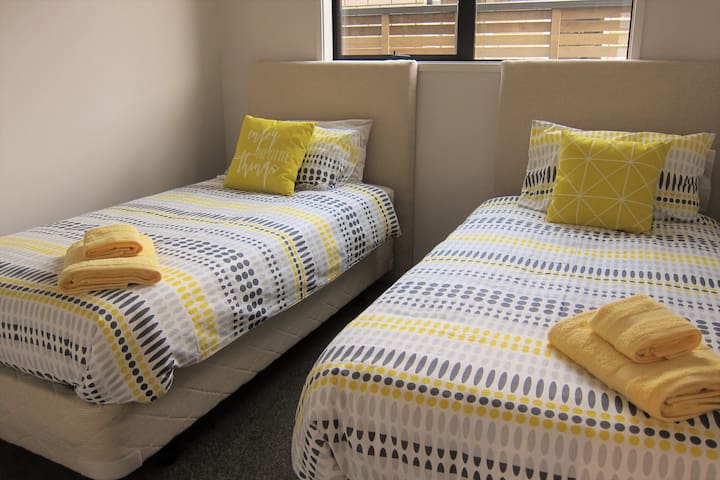 Our private 2 storied unit is the perfect place for a Queenstown getaway! Nestled into picturesque Arrowtown, you are a two minute walk away from the Main Street and 10-20 minute drive away from Coronet Peak skiing and vibrant Queenstown. You will never want to leave!
A detached two-storied unit with its own courtyard and car park. Very modern decor with a living area, bathroom and kitchenette downstairs and bedroom upstairs. Centrally located in Arrowtown, only a 2 minute walk from the Main Street, walking tracks and the famous gold mining village. If you are here for a skiing getaway, then you will be happy to know the Coronet Peak ski mountain is only an 8 minute drive away. It will take you about 15minutes to drive into Queenstown, and about 20minutes to drive to the bottom of Remarkables ski field. The Bnb will sleep two people but is a space you could comfortably bring a few friends around to to chill out. The kitchen has a fridge, toaster, microwave and kettle. Along with all cutlery and dinnerware you may need. There is a television with Freeview and also a wifi connection. We have just installed a heat pump which keeps the unit beautiful and cosy!
Arrowtown is a quaint and beautiful village. It surrounded by amazing landscape, walking tracks, a river and Lake Hayes only 5 minutes away. You get an escape from the hustle and bustle of Queenstown and get to truly relax and retreat. I hope you will fall in love with Arrowtown as much as I am!
Perfect in every way. Great location Great price Great host
Jessica
2016-06-16T00:00:00Z
We enjoyed a relaxing 3 days in Arrowtown, walking 10 minutes to town, exploring the area on bikes & taking advantage of the well-supplied & reasonably supermarket across the road.
Tony
2017-03-05T00:00:00Z
Shantelle was a lovely host! Although we did not get to meet her she was very responsive and made sure we had everything that we needed. Her recommendations of places to eat and drink were perfect!! The unit was lovely and the perfect place for a couple to holiday. Couldn't have asked for a better stay.
Emma
2016-07-15T00:00:00Z
We didn't meet Shantelle, but did meet her parents. The accommodation was private and within walking distance of the town center. Just be careful if you are tall, the ceiling is low in the upstairs bedroom area!!
Andy
2016-03-31T00:00:00Z
We loved our 9 night stay. Very clean and well equipped. We stayed during winter. Bed sheets were lovely and warm with the option of heated blankets which we didn't need. Chantelle was available if we needed anything and provided more clean towels during the stay which was lovely. Arrowtown is absolutely beautiful and I would highly recommend staying. Our 2 favourite places to eat were unwind cafe for coffee and breakfast and slow cuts for lunch or dinner. I would most definitely stay again.
Cara
2016-07-04T00:00:00Z
Shantelle and her parents were very welcoming! We arrived quite early and she was happy enough to leave us the key. The guide for Arrowtown/Queenstwon were very helpful. Thanks again.
Cynthia
2016-07-13T00:00:00Z
We didn't get to meet Shantelle in person but the cell phone communication we had with her was enough to ensure that our arrival, stay and departure went smoothly. The unit was comfortable and private. The location is great, close to the village centre. The heat pump warms the space up really quickly. We would absolutely love to stay again next time we are in Arrowtown. Thanks Shantelle!
Helen
2015-10-14T00:00:00Z
Shantelle contacted us before we were due to arrive and made sure we knew where the key was and she had the heating on for us. The space felt clean and dry and welcoming. There are views of snow capped mountains from almost every window and the area is quiet and peaceful.
Mandy
2016-07-31T00:00:00Z
Tipo de Quarto
Quarto privado
---
Tipo de Imóvel
Bed & Breakfast
---
Acomoda
2
---
Quartos
Arrowtown, Otago, Nova Zelândia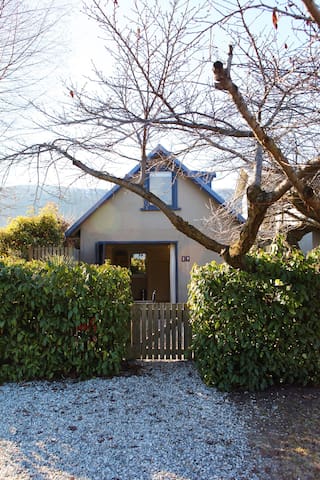 The Cabin is quiet and private, close to our house with your own carpark. A 3 minute walk to Arrowtown river, walk/bike tracks and central Arrowtown with cafes and shops . The cabin is small and cosy.((Think George Clark's small spaces TV show. Beautiful views of the Arrowtown hills and a private outdoor seating space. You have your own bathroom with a shared laundry a short walk from the cabin at the rear of our house. Kettle, fridge, cutlery, crockery,toaster, microwave, heater, all in Cabin.
The private outdoor area in front of the Cabin has a small table and two chairs plus there are two sun loungers for your use. You are welcome to use the BBQ in our garden.
Arrowtown é um belo, cofre subúrbio, tranquilo. Há muitas árvores, casas antigas, reservas e passeios, mas também grandes instalações no pequeno município que é uma curta caminhada a partir da cabine. Temos as nossas refeições favoritas / cafés: The Chop Shop, La Rumbla, disposições. Arrowtown padaria também é bem conhecido e a lista continua ... Em Arrowtown é o Lakes Museum District Centro de Informação e apenas a uma curta distância a pé. Também muitas oportunidades para o ouro pan no entanto, temos um ouro pan você está convidado a usar. Arrowtown também tem um pequeno cinema boutique; Dorethy Browns quais telas uma variedade de filmes. A quatro supermercado quadrado é uma curta distância a pé a partir da cabine.
These two lovely people and their beautiful little space were/was fantastic. Kind people, thoughtful, welcoming, outgoing, room clean and exciting, comfy bed ...I could keep going and going. Great location. The decent bowl of raspberries for us were magic too. Exactly what we needed sheltering from 120km/hr winds during our camping road trip. Was meant to meet these lovely folk and his little gem along the way, sometimes stuff just works well. Same will be for you if you stay here I reckon.
Melissa
2017-01-25T00:00:00Z
Lovely stay, lovely hosts. Thanks!
Thomas
2017-02-21T00:00:00Z
Warm and welcoming hosts; cosy, warm and comfortable accommodation - complete with lovely little touches. We loved our stay here and highly recommend to other travelers. Thanks Glenda & Val for a wonderful stay!
Liselle
2017-01-24T00:00:00Z
Stayed a couple of nights at Glenda & Val's Cool little cottage in Arrowtown. My hosts could not have been more welcoming & made me feel comfortable immediately. The accomodation was more than adequate, clean and homely. All round a great experience Thanks again Glenda & Val. If I get bck to Arrowtown, I would definitely try to book your accommodation first.
iain
2017-02-04T00:00:00Z
Great location in the heart of historic Arrowtown
Jackie
2017-03-28T00:00:00Z
We had a great stay with Glenda and Val. The room is small, but cosy and very comfortable. They were very friendly and we would stay again if in the area.
Ben
2017-03-18T00:00:00Z
What wonderful hosts, we really enjoyed our stay and five star ratings on all fronts. Couldn't be faulted.
David
2017-02-26T00:00:00Z
We absolutely loved the little cabin. Reviews are accurate, that bed is SO comfortable and the view is incredible, we cancelled morning plans to lay in. The Main Street and all restaurants river etc is all walkable. It rained while we were here which was so perfect and cosy in the nice little cabin. We enjoyed tea and toast, there was butter and jam provided with a kettle, fridge and toasted. Perfect! Glenda was so helpful and overflowing with great recommendations. She even offered us her gold pan to search the river! We wish we could have stayed longer and were certainly made to feel welcome. If we are back in New Zealand again we will definitely book again. Ps - Glenda even let us know that it snowed overnight which was exciting for us and told us the best tips to see the new dusting of snow :) thank you!
Madison
2017-02-13T00:00:00Z
Tipo de Quarto
Quarto privado
---
Tipo de Imóvel
Cabana
---
Acomoda
2
---
Quartos
Otago, Otago, Nova Zelândia
Speargrass Flat - Airbnb
:
Média de

4.87

de

5

estrelas, de acordo com

1504

avaliações de hóspedes
Insira as datas para ver o preço total. Taxas adicionais aplicáveis. Podem ser adicionados impostos.