Fantastic base for visiting the less touristy sequoia sites. I live here, and will be able to help you shape an itinerary that reflects your interests. Once you book and I can email you, I will send you a list of all the things you can do in the area. I look forward to meeting you!
My home is right in the center of Springville; you can walk to the market and the few restaurants. I work during the week, but I will have coffee, tea, and bread for you to make your breakfast. Great hiking, cycling, and just hanging out. No TV, but free wifi and long distance land line. I will tell you all the best, secret places to go to! Lately, I have been sharing options with my guests of what to see/do beyond my area, and how to put that together. Guests have mentioned that they wish they would have spoken with me *before* arriving and making all of their other commitments. (Some places they could have stayed longer, some shorter, some added, some omitted.) So, if you have some ideas of what you would like to see in CA and would like some feedback about the logistics, feel free to ask. The details part of this site is a little confusing. I have 4 bed rooms, each has a queen bed and can only accommodate 2 people per room. The suite and the room with the view have private bath rooms; the other two rooms share a bath (though you will never have to share with someone not in your group). If your group has more than 2 people, you will need to arrange for (and pay for) more rooms.
My house is perfect for visitors because though I am surrounded by acres of cattle land, I am also a two minute walk into town (though "town" is only about two blocks long.) There are two Mexican restaurants, a home cooking cafe, and , a burger place, as well as a small grocery store if you would rather cook.
Michal is an incredible host and I had such pleasure meeting a wonderful person. The home is spacious and comfortable; it was exactly what I was looking for. I also enjoyed having my morning coffee in the tree house/roof deck which was a great experience. Highly recommend Michal's place plus the location is absolutely breathtaking.
Noorah
2014-10-06T00:00:00Z
Great Energy is such a beautiful and relaxing place. We arrived at the end of our road trip and were welcomed by Michal who showed us around and made us feel at home. Her house is beautiful and we loved swimming under the stars and using the roof top deck to star gaze some more! During the day, Michal recommended some incredible hikes and horse back rides that made the last few days of our road trip spectacular. One of the most special parts of our stay was our long conversations with Michal. She is a really warm and inspiring human and educator.
Briony
2016-06-29T00:00:00Z
Incredible experience! Our room was spacious with wonderful views, comfortable bed, chair and ottoman for reading, a desk for journaling and plenty of storage in the bathroom. The interior common areas were inviting and comfortable but the amazing outdoor areas were truly spectacular. We spent one evening by the pool and another on the tree-top deck enjoying the stars. Michal is extremely knowledgeable about the area and has a detailed map with plenty of day hikes that she will review with you. I can't say enough great things about Michal, the accommodations and the property.
Stacy
2015-06-30T00:00:00Z
The room was absolutely beautiful and super clean. Michal was kind and gave us great recommendations for the area. Would definitely recommend staying in Springville !
微(Wei)
2016-04-13T00:00:00Z
We couldn't have asked for a better host or space for the weekend. Michal was interesting to chat with, full of excellent recommendations, and kept her house very clean. We were so comfortable- Thank you for a wonderful stay!
Ashlee
2014-08-18T00:00:00Z
It was just amazing place to be. Michal was very welcoming and sweet to us and had lots of information about the area. We pretty much followed what she planned out for us and it was great! The room is clean with great views. It is perfect for quick getaway. The roof deck was something of its own. We spent good time just look at stars.
Jung
2015-09-22T00:00:00Z
It was such a treat to stay in Michal's house. Our group booked the entire house (4 bedrooms) for a weekend we were in town for a wedding. Michal goes above and beyond and could not have been more helpful. We had many people going in and out all weekend helping to prepare for the wedding, and Michal was so friendly to everyone who came through and had great suggestions for things to check out in the area. She even offered to be our designated driver and shuttled two full cars to and from the wedding site. All of the bedrooms and bathrooms were very clean and well appointed. I wish we could have stayed longer!
Kiyoka
2014-06-17T00:00:00Z
Michal was an awesome host. So accommodating and helpful. Her house was the perfect ending to our trip. Secluded, peaceful and relaxing. I wish I could have stayed longer.
Lisa
2015-10-06T00:00:00Z
Tipo de Quarto
Quarto privado
---
Tipo de Imóvel
Casa
---
Acomoda
2
---
Quartos
Springville, Califórnia 93265, Estados Unidos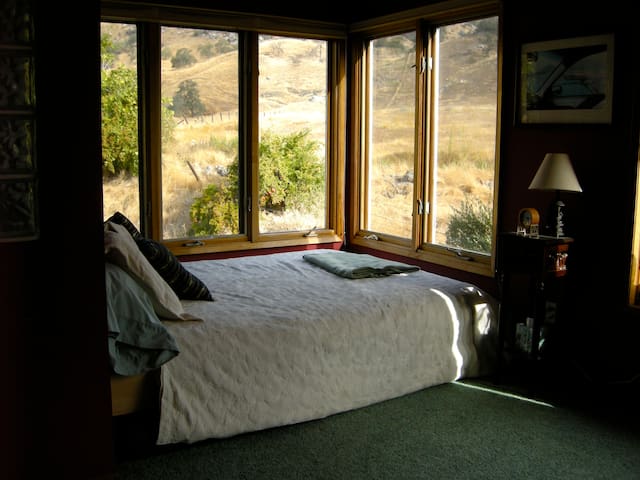 My place is close to great views Sequoia National Forest. My place is good for couples, solo adventurers, business travelers, and families (with kids).
Close to Lake Success.
Springville House is located close to the Sequoia Forest and a few miles away from Lake Success.
Great place I happened to be her first guest and there were little issues which she fixed in a timely manner. I believe the place will improve really fast and be perfect for the guests after me. I think it's a perfect place for a getaway.
Erdal
2017-02-23T00:00:00Z
it was ok, no sofas at the living room
boaz
2017-02-28T00:00:00Z
Tipo de Quarto
Casa inteira/apto
---
Tipo de Imóvel
Casa
---
Acomoda
6
---
Quartos
Springville, Califórnia 93265, Estados Unidos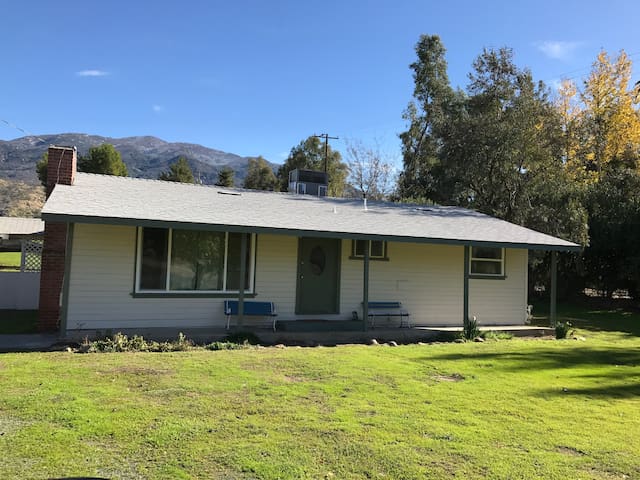 An option for small families with young children, where you are happy to have 2 simple rooms (listing says 1) and share a bath room. You can still use the pool, kitchen and common areas, but this is more economical than booking the suite and studio. And, I live here, will likely be here; it is not a party rental house.
My home is right in the center of Springville; you can walk to the market and the few restaurants. I work during the week, but I will have coffee, tea, and bread for you to make your breakfast.
Springville is safe and quiet and dark enough at night to see the stars. It's a great base for exploring the mountains and the sequoias, and it is before the winding roads. In the summer you will enjoy the pool and the small village. My house is perfect for visitors because though I am surrounded by acres of cattle land, I am also a two minute walk into town (though "town" is only about two blocks long.) There are two Mexican restaurants, a home cooking cafe, and , a burger place, as well as a small grocery store if you would rather cook.
It was absolutely wonderful staying at Michal's place from the beginning to the end. We felt very welcomed, relaxed, almost like being at home. The kids especially enjoyed the pool and sleeping on the deck under the stars- not to mention meeting cute cats ( but they should not be regularly fed as much as when our younger daughter was there!). Michal gave us great advise at what to do, where to eat, how to cope with rattle snakes or any other concerns coming along. Also we enjoyed wonderful chats with Michal. So far the best AirBnB host we had!
Catarina
2015-07-29T00:00:00Z
We had such an awesome experience staying with Michal! She is an incredible woman and her home is comfortable and charming. Having grown up in the area I can assure that there is no better place to stay! Michals good energy bed and brekfast is truly a gem!
Elise
2015-05-25T00:00:00Z
Wir waren sehr zufrieden. Ein toller Ort und eine sehr aufmerksame Gastgeberin!
Adrian
2015-07-18T00:00:00Z
De verhuurder was erg behulpzaam en het was een knus en gezellig huis.
Renee
2016-09-17T00:00:00Z
We had a real nice stay in Michals house. The house is lovely and Michal is a very good host. We were with 3 teenage girls and the swimmingpool is absolute perfect for them. We had a lot of private space and we shared the common room and kitchen with the other guests. The nearby nature is wonderful and we loved the drive to the stagg tree. We want to thank Michal for sharing her special house with us. We also visited sequoia national park which is about two hours drive away. In total we spent 4 nights with Michal and had great time there alternating the sightseeing in the wonderful nature and leisuring near the swimmingpool.
Ferrie
2015-08-02T00:00:00Z
Great night at Michal's house! The place is perfect and peaceful: couch next to the pool, special roof in the trees to watch the stars, confortable bed and bathroom, and finally the kitchen where we were able to cook. Thank you Michal for your welcoming and special congrats for the delicious breakfirst bread!! ;)
Christine
2015-09-10T00:00:00Z
Our stay here was beyond expectation! The house is so relaxing with beautiful views. I went with my 3 kids and they couldn't get enough of the treehouse and the big backyard ... Michal is a great hot with plenty of good tips for touring around the area! Thank you so much ! We hope to be back soon !
arianna
2015-05-29T00:00:00Z
Excellent location in close proximity to lot of activities around Sequoia National Forest. Very comfortable rooms. Michal is very helpful, knowledgable and informative
Rohit
2015-11-29T00:00:00Z
Tipo de Quarto
Quarto privado
---
Tipo de Imóvel
Casa
---
Acomoda
4
---
Quartos
Springville, Califórnia 93265, Estados Unidos
Welcome to Springville CA, only 3 hours North of LA and 3.5hours south of San Jose in the foothills of the Sierra mountains. We are 90 minutes South of Sequoia National Park and 45 minutes West of Balch Park, home of the largest trees in the world. Our home is on the 13'th fairway of River Island Golf Club right across the street from the clubhouse. The house makes the perfect getaway for family gatherings, the neighborhood is quiet and private and makes for a great place to stay.
We have worked very hard to provide something for everybody. There are many fun things to do outside like Bocce ball, Corn Hole, Horseshoes & Frisbee. We have 2 BBQs (Gas & deep pit charcoal) and we supply the gas and charcoal. We just built a new game room called "Park" that hosts a Ping Pong table, electronic darts. Sonos music and other fun stuff. It is a playful room that is comfortable, quiet and spacious. It will likely be the favorite room in the house. We have HD Direct TV as well as Sonos music in every room with with Pandora, XM & Spotify music services ready to play your favorite tunes. This is the perfect house for a large group, 5 Bedrooms, 4 baths, (3 of the bedrooms are suites with private baths) and lots of outdoor areas to enjoy. The home sleeps 10 comfortably but can accommodate more, perfect for large groups, weddings, reunions or family vacations. We recently insulated the entire house and installed a new A/C & heater so the house will stay at your preferred temperature during any season. We have a new large Fridge/Freezer with an ice maker and a second one in the game room that can be used if requested. We have designed the outdoor living areas to take advantage of the perfect Springville weather. It is a wonderful house for your large group. River Island Golf Course (The highest rated course in the Central Valley) provides preferred tee times for our guests. This house has 2 large indoor dining tables (One flips over as a professional Poker table) Poker chips and cards are provided. We have a huge 10' picnic table outside to take advantage of the perfect Springville weather. Because the house is so centrally located and is one story, it is the perfect home for all ages. The house is very popular for families with young kids as well as older family members. With new beds and a quiet location, it is a favorite with everybody. We have had a number of groups use the house for the older members of the family for wedding parties and family reunions since access is so easy. Whatever the size or age of your group, purpose of your trip or time of year, we really do have it all. Hot water: Please note that for our larger groups, the hot water supply can be depleted quickly if all the showers are used at the same time. We recommend spacing showers out to avoid this from happening. We also recommend running the dishwasher at night.
This neighborhood is quiet and private and makes for a great place to stay.
The host was awesome! Timely response & the house was great! It was spacious, the sound system was awesome, backyard was really nice! The heater worked great too cause it was a very cold couple of days. Thanks for everything!
Giuly
2017-01-02T00:00:00Z
Great house for a large group; plenty of bathrooms to go around and a big dining room table. Well-equipped kitchen. We didn't use the audio or video but it seems extensive. Could use more comfortable sofa and chairs in the living room. Pool and spa are not heated -- summer use only.
Elizabeth
2016-12-30T00:00:00Z
It is a great house, very spacious with all required amenities for a family and a large group of friends. Sound system is great!!! Location is also scenic within manageable distance from Sequoia/Kings National park. Owner is also very easily reachable for any questions.
Prasad
2017-02-22T00:00:00Z
Was excellent. Inside of house was cool with A/C on.
Moochin
2015-09-15T00:00:00Z
Steve is really kind and helpful, he was really patient to answer all my questions. The location is very nice and easy to find. I have to say that I love the house, it is big with all the nice decorations, that really makes you feel like home.
Ivy
2015-12-02T00:00:00Z
House on the golf course with pool and air conditioning...perfect for our large family reunion. Everyone for 12 yar old twins to 85 yea old grandmother enjoyed our visit.
Nancy
2016-08-02T00:00:00Z
Check in was easy. Everything we needed was there except for the food. Steve provided suggestions for local activities and sights to see. The house was clean and inviting. It's much bigger and spacious than I expect. The pool was great. Its deep and very big. Easily handled our four adults and five kids without feeling crowded. Although it was hot during the mid day, the mornings and evenings were cool and pleasant. This location is far away from it all. But there were still shops and other resources a short drive away. Keep in mind that your might not have reception on your mobile phone in this area and plan accordingly.
Noemi
2015-07-27T00:00:00Z
My family of 10 (2 grandparents, 4 parents, 4 kids ages 5-16) spent a long weekend in this house. Highlights: sitting by the pool in the evenings, watching the kids play; enjoying the darts, ping pong, games and puzzles provided by the hosts; private baths for all couples with an extra one for the children; family dinners with plenty of space for everyone to sit; lovely views of the golf course and hills in the background. The house is less than a 2 hour drive from the center of Sequoia National Park. Dining and shops are a 30-40 minute drive; we really enjoyed lunching in Exeter and walking around the town there. Overall a great trip! The house is a bit dated, as you would expect, but very clean and comfortable with all the basic necessities. There are five bedrooms: 2 have two double beds, 1 has a single double bed and 2 have 2 twin beds. Plenty of beds but be prepared for the smaller double size if you are accustomed to a queen or king. Also, the hosts prefer that you shut down the A/C if you are out for the day, which is understandable, but it can take an hour or two for the house to cool down when you return. The gas barbecue is huge and worked beautifully, definitely a plus. Steve was very responsive to my inquiries and couldn't have been more accommodating as host. We would not hesitate to stay here again. Thank you Steve!
Gretchen
2015-08-11T00:00:00Z
Tipo de Quarto
Casa inteira/apto
---
Tipo de Imóvel
Casa
---
Acomoda
14
---
Quartos
Springville, Califórnia 93265, Estados Unidos
Our Ranch-Resort has all the amenities you want. Swimming, fishing, hiking, pool, all on our property. Balch park has great sequoia's, horse back riding, fishing, hiking. Balch Park and the Sequoias are less than an hour away.
Todo muy bien
Gilbertto
2016-07-01T00:00:00Z
Jeff's home was better than we could have hoped for, and the pictures don't do it justice. My family and I stayed here for a long needed family vacation, and it was perfect. Springville holds a special place in our hearts anyway, and this home emphasized it, from the stunning views out all windows, the great pool, jacuzzi, and game room, to the lake to fish in and the paddle tennis court....all on one property. And Jeff was an excellent host who answered all my questions promptly, and checked in to make sure we had all we needed. He helped make it a truly exceptional weekend.
Holly
2016-09-20T00:00:00Z
I just have to say, Hafuma Ranch is an amazing place to stay, and Jeffrey is an even greater host. He was careful and attentive to our whole trip. We encountered some minor hot tub issues the first night, and Jeffrey literally had a handyman come over within 30 minutes of calling him. Your whole family will love Hafuma Ranch. There are just so many things to do there. It truly is a magical place.
Brian
2016-11-16T00:00:00Z
The host canceled this reservation 47 days before arrival. This is an automated posting.
Micky
Jeff was a great host. I called him when I first made the reservation, which was a few months before the reservation date, and he answered all my questions and was very friendly. He was also very helpful when I called him the day before the trip with last minute questions. The house itself was huge, beautiful, and great for my group of 9. It was a wonderful place for my extended family to relax and bond. We had a small issue with one of the heaters during our stay, but Jeff was great when I called him about it and his house caretaker was very helpful and went out at midnight to buy some portable heaters to tide us over until the next day, when the handy man could come and fixed the heater. The rest of our stay went great and my dog had a ball running around the huge property Overall a great stay and highly recommended, especially for groups!
Wendy
2016-01-09T00:00:00Z
This place is beautiful and was perfect for our 3 family weekend. The pool and the acreage were the highlights. We'll definitely be coming back.
Darius
2016-08-10T00:00:00Z
Had a great time. A place to relax and unwind and spend time with friends.
Chip
2016-05-24T00:00:00Z
Jeffrey is a fantastic host. He is extremely helpful in helping us getting the location right as the ranch is somewhat off the major roads. Additionally, the house itself is equally awesome with great amenities such as pool table, pool, tennis court, etc. We had six people and all of us can stay in the house comfortably as it has more than enough of bedrooms and bed to accommodate all of us. It took us 2.5 hours to drive to the Sequoia National Park but that was to be expected before we even booked the place. I will definitely recommend this place to others.
Seth
2016-06-01T00:00:00Z
Tipo de Quarto
Casa inteira/apto
---
Tipo de Imóvel
Casa
---
Acomoda
10
---
Quartos
Springville, Califórnia 93265, Estados Unidos
A small bedroom with two beds (or one large), private bath in our home on 12 acres on the Tule River in the Giant Sequoia National Monument is surrounded by mountains and offers outdoor relaxing spaces and river access. Guided rock climbing, biking, hiking tours, and MEALS available thru hosts.
Our spaces are very private, no neighbors, completely dark night skies, and is a spiritual as well as recreational location. The Indoor Bedroom is in our home. It is a unique dwelling open to the views and perfectly suited for two (three if you are a child). The beds can be twin or pulled together into a double. There is a private bath with tub (no shower yet), shared kitchen and living room, outdoor dining room and many relaxing spots on the property. We expect guests on out home to manage all their own cleaning and cooking.
Springville is one of the gateways to the Giant Sequoias and many recreation opportunities. The town is small and our place is located just out of town at the end of a very rural road.
Mehmet and Xico were amazing hosts. They took extreme care of us and made us feel like at home. One of our best Airbnb so far, the location is perfect, in the middle of the nature and the hosts will help you with every tips you need. They are really interesting, thoughtful, and open minded people. We can't wait to come back in this paradise !
Sarah
2016-02-11T00:00:00Z
The host canceled this reservation 17 days before arrival. This is an automated posting.
Christos
If you like nature, beautiful surroundings, lovely animals and friendly and very helpful hosts, it is a perfect place to stay. We were there in January so we booked a room inside. We had a comfortable bed and because of the tall windows much daylight, which was a wonderful start in the morning. Xico was there, whenever we needed something and it was also amazing talking to him. For us it was perfectly located in order to visit the Sequioa National Park.
Joachim
2017-01-15T00:00:00Z
Really friendly hosts, made us feel welcome. Excellent breakfast, all home grown food. Would recommend if you're looking for a simple, close to nature experience. But if you like your creature comforts this isn't the place for you. The two guard dogs are amazing so no need to feel alarmed by the noises of local wild animals!
Claire
2016-06-15T00:00:00Z
Mehmet and Xico have an absolutely beautiful property and it was a fun place to visit. Communication was prompt and the property was as depicted in the listing. It is a very relaxing place to stay and both Mehmet and Xico were excellent hosts. Both were very friendly and helpful throughout the course of my stay.
John
2016-06-08T00:00:00Z
What a fantastic place Mehmet and Xico's home is. I really loved everything about my (only 2 nights) stay there, it is beautiful, relaxed, friendly and comfortable. Mehmet was a perfect host, and I had the unexpected pleasure of an evening around the fire with his friends, family and dogs. I would highly recommend their home, this was one of my best Airbnb experiences in years!
Rebecca
2016-04-10T00:00:00Z
Appealing Eclecticism My husband and I recently (Early April 2016) enjoyed a three-night stay in the indoor room at Mehmet and Xico's place near Springville. These two gentlemen are warm and welcoming hosts. They had several guests the weekend we visited, one other Airbnb guest and personal friends of theirs. We were invited and gladly participated in their socializing activities and a communal meal. This place is set on twelve acres bounded on one side by the Tule river, and the sound of the water coursing over its rocky coarse and the many birds provide a very nice audio background. The hosts have cut several pleasant walking trails into the property and were actively improving them during our visit. We availed ourselves to the extra fee breakfast and it was well worth it. Xico's has experience as a hotel chef in San Francisco and the breakfast he served was sumptuous and delicious. We unequivocally recommend this place and are will return soon.
Amy
2016-04-08T00:00:00Z
Our experience was beyound expectations. The hosts were unbelievably welcoming and so much attention was paid to detail. We had the most relaxing time and so much fun. We felt like we were in our own little paradise. The river was private and peaceful. The house and property so Zen. I don't care for dogs but I wanted to take theirs home. So sweet! If you go, get the breakfast..oh when I got home I had to buy oranges and make fresh juice..I don't know how they made it so good!! For a private get away this is the place to go!
Constance
2016-06-23T00:00:00Z
Tipo de Quarto
Quarto privado
---
Tipo de Imóvel
Casa
---
Acomoda
2
---
Quartos
Springville, Califórnia 93265, Estados Unidos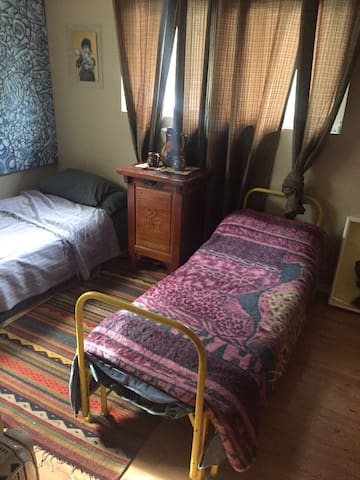 My home is close to Sequoia National Park and Sequoia National Monument. You'll love my place because of the ambiance, the light, and the great energy! My place is good for couples, solo adventurers, families, and medium sized groups. I live in my home and offer four rooms, each with a queen bed, to guests. The price here is for 3 rooms for 6 people. The 7th person, if a child, may sleep on a mat on the floor for $25 a night more. Eight people will need 4 rooms which will cost $460 per night.
Michal's home is gorgeous, secluded and very comfortable. I enjoyed our conversations and the opportunity get to know the other house guests. Would've loved to stay longer. I recommend this spot for small and medium-sized groups. Our family of seven had a great time here. Make sure to take a dip in the pool and stargaze on the observation deck. Don't miss this gem!
June
2016-08-14T00:00:00Z
For the family that loves road trips, we could not have asked for a better place to stay than the home of Michal's. We are a family of seven, who can no longer find adequate accommodations easily, and with our summer road-trip through the Sequoias, we found a home away from home here. She had welcomed our big family in, even when the season was busy, and finding a place was difficult. Her place offered us a warm bed with view of the stars, my parents a cozy retreat, and even an amazing outdoor experience for my boys to sleep under the stars. For any weary travelers, whether small or large, Michal offers a beautiful home that is off the beaten path that is sure to feel like you have escaped the tourist bustle. I could not ask for more. We all would highly recommend this little gem to anybody looking for a night or nights to recharge, recoup, and relax on their journey.
Alice
2016-08-07T00:00:00Z
Thank you!
Cara
2016-10-20T00:00:00Z
Tipo de Quarto
Quarto privado
---
Tipo de Imóvel
Casa
---
Acomoda
8
---
Quartos
Springville, Califórnia 93265, Estados Unidos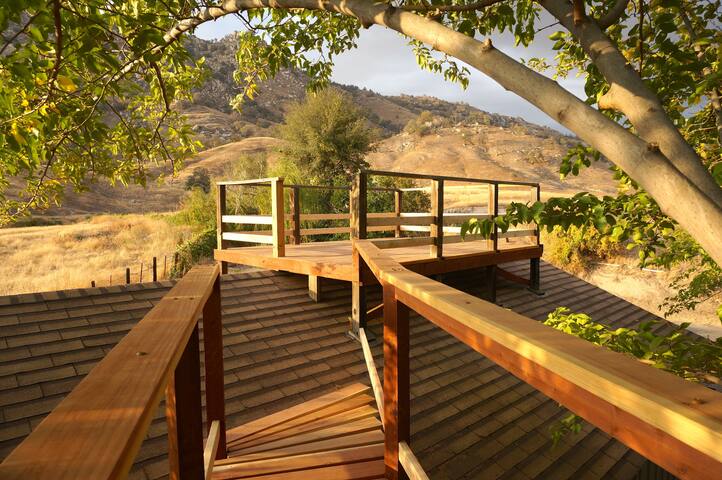 The Holland Ranch is a 7 acre hillside home located 3 miles from the Sequoia National Forest. Enjoy the newly remodeled cooks kitchen and wide open spaces. The views from the cantilever deck are breathtaking and only 26 miles up to the big trees.
The ranch sits just 2 miles from the edge of the Sequoia National Forest in the foothills of the Sierras. Giant granite boulders tower and others rest in the sweeping pastures surrounded by horses and cattle. The Home lies high above these pastures with spectacular westward views. The surrounding area is beautiful with lots to explore: Ride bikes, Take a long walk around Globe Drive (6 miles), Go to Lake Success for a swim or fish. This is a rural setting with plenty of indigenous wildlife to include: Mountain Lion, Black Bear, Coyote, Raccoon, Bobcat, Rattlesnake, Golden Eagles, Red Tails, Blue Heron, Egrets and many songbirds etc...**** THERE IS ONLY AT&T cell phone service in the rural Springville area. !****
The Location is gorgeous. Amazing mountain views with large boulders and rolling pastures. Nicely paved roads for biking, hiking abounds! Let us know if you need bikes for a ride around Globe Drive. Explore the Sequoias the gateway is just 5 miles away. Lake Success is a nice lake where you can swim or if you have a boat or jet ski you can use them there. In the nearby town of Springville, there are a few restaurants and shops. I have a hand book for you that lists everything to see in Springville and surrounding area. The local Giant Sequoias are within 23 miles (Balch Park) & 75 (The Generals) miles. It is rural community with a mixture of local ranchers as well as professionals and retirees. .**** THERE IS ONLY AT&T cell phone service in the rural Springville area. !****
A perfect escape. Feels like a real getaway, beautiful spot to relax with friends and family or explore the nearby parks. Host has been fabulous about everything. Already want to come back!
Perri
2016-11-12T00:00:00Z
We enjoyed our stay at Artists Home. It was an ideal location for family to gather for our daughter's wedding weekend. The home was clean and comfortable. We were welcomed with fresh fruit, complimentary white wine, and some Snickers bars!
Rebecca
2015-10-29T00:00:00Z
Tipo de Quarto
Casa inteira/apto
---
Tipo de Imóvel
Casa
---
Acomoda
6
---
Quartos
Springville, Califórnia 93265, Estados Unidos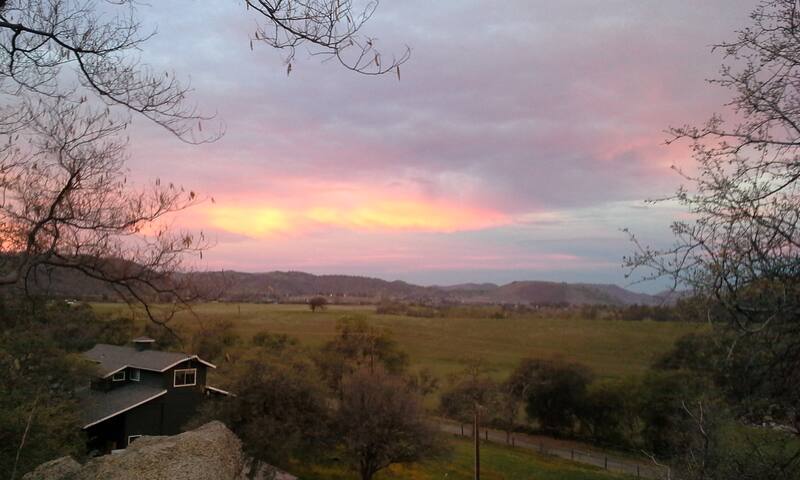 1

–

8

de

8 Casas para Alugar
Insira as datas para ver o preço total. Taxas adicionais aplicáveis. Podem ser adicionados impostos.