147 Apartamentos para Alugar
Large studio (37m2) in the center of Szczecin! The apartment furnished with cable TV and the Internet. Guests can use everything that is in the apartment. Always clean sheets and towels. Have a nice stay :)
The apartment has a mezzanine where is a double bed.
Mieszkanie jest przyjemne. Kawalerka godna polecenia. Fajna lokalizacja w centrum, wszędzie blisko, komunikacja miejska na wyciągnięcie ręki. Właściciel mieszkania jest bardzo uprzejmy. Wszystko było w jak najlepszym porządku.
Karolina
2016-08-28T00:00:00Z
Ładne przestronne studio godne polecenia.
Robert
2016-09-30T00:00:00Z
Tomasz is very nice, his flat is adorable, has everything you need and is perfect for two. The location is great and very central. We didn't have any problems with the flat nor the host and the coordination with Tomasz was easy and pleasant.
Teresa
2017-01-02T00:00:00Z
It was a pleasant stay in a sweet cozy apartment. It had everything you need and was located in walking distance to the main station (20min) and everything to see in Szczecin. Public transportation and grocery stores were less than a 5min walk. Tomasz was a friendly host and easy to contact when we needed something! 10/10
Paul
2017-03-28T00:00:00Z
Dejlig lejlighed med alle faciliteter og rigtig god beliggenhed. Gode billige pizzaer og döner lige omkring hjørnet, flere gode indkøbs muligheder i nabolaget. Kan varmt anbefales.
Martin
2016-11-24T00:00:00Z
Tomasz' place is very central and a good place to stay in Szczecin. The apartment is spacious and nice, perfect for young travelers on a budget. It is located on the ground floor, with busy trams and buses right outside, but the apartment itself is very quiet. It has all the basic stuff you need for a shorter stay. Tomasz and his girlfriend are very welcoming and nice people - thanks for having us. :)
Oda
2017-01-28T00:00:00Z
Great little apartment with everything you'd need, walking distance to restaurants and bars.
Audra
2016-09-25T00:00:00Z
Die Wohnung war sehr sauber und die ganze Stadt ist von hier gut zu erreichen. Uneingeschränkt empfehlenswert!
Philipp
2016-09-24T00:00:00Z
Tipo de Quarto
Casa inteira/apto
---
Tipo de Imóvel
Apartamento
---
Acomoda
2
---
Quartos
Szczecin, Województwo zachodniopomorskie, Polônia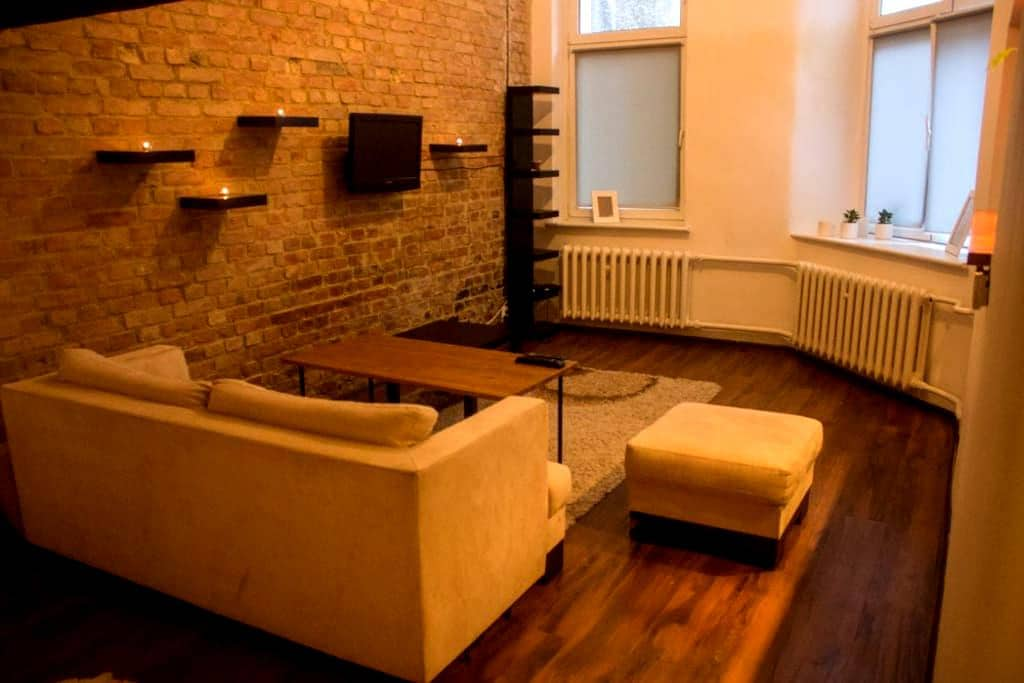 The apartment is located in the center of the old town, next to the cathedral and castle, and approx. 560 meters of Wały Chrobrego, next we have wonderful restaurants, park for a peaceful rest, and Shoping hall Kaskada. In the immediate vicinity we also have the best ice cream parlor in Szczecin, and the Academy of Arts. You'll love my offer because of the amazing atmosphere that prevails in the area, amazing place discovered each time anew. My apartment is ideal for couples and singles
This is in my opinion the most charming place in Szczecin , both for fun and life.
Great location, and a great host. A shame there was no wifi
Sophia
2017-02-05T00:00:00Z
Great neighborhood! Tiny bathroom, not a real bed, just sofa bed, other than that we were really happy and enjoyed the place :)
Michal
2016-10-29T00:00:00Z
Mieszkanie czyste, wszystko zgodne z opisem, lokalizacja idealna. Zdecydowanie polecam.
Krzysztof
2016-10-23T00:00:00Z
Wszystko w jak najlepszym porządku. Miejsce czyste i ładne. Dobra lokalizacja. Z chęcią odwiedzę to miejsce jeszcze raz!
Michał
2016-10-08T00:00:00Z
I didn't meet the host but his friends/associates. I know Polish hospitality and this was just as good as it gets. Place is lovely, cosy, warm and I will defo stay there again.
Barty
2016-10-31T00:00:00Z
Wszystko było zorganizowane poprawnie. Pobyt miły, lokalizacja świetna, wszędzie blisko.
Małgorzata
2016-11-23T00:00:00Z
Great place to stay and very comfortable. Would highly recommend for anyone - business or pleasure. A hidden gem!
Ruaidhri
2017-04-07T00:00:00Z
Dobra lokalizacja lokalu, miła okolica, mieszkanie takie, jak w ogłoszeniu. Pan Marcin dba o swoich gości. Polecam!! Flat well located, nice neighbourhood, the listing describes the place accurately. Marcin takes care about his guests. Recommended !
Magdissi
2016-10-27T00:00:00Z
Tipo de Quarto
Casa inteira/apto
---
Tipo de Imóvel
Apartamento
---
Acomoda
2
---
Quartos
Szczecin, Województwo zachodniopomorskie, Polônia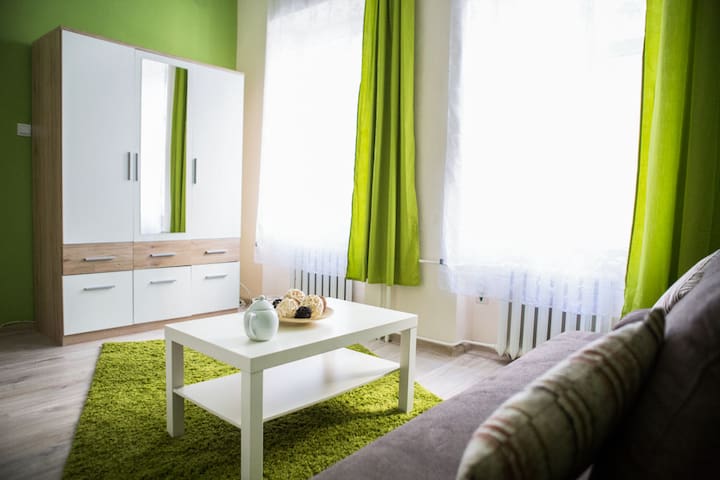 All tourist attractions of the old town and two big parks are nearby. You will feel absolutely at home in my place because it is cosy and comfortable, with an artistic touch, very well-located and generally, very much homely. The bedroom is perfect for a solo traveller, a couple, or even three people (has an extra couch). And last, but not least, you can freely use the kitchen and the living room, and I will be there for you to give you all the tips.
Great host! It was just perfect! The room is even more lovely than the photo can describe. Anna is very kind and it was very nice talking with her. Additionally, she has great secret tips of Stettin. I would always recommend her.
Philipp
2017-04-06T00:00:00Z
Great value, awesome host... always again.
Robert
2017-04-01T00:00:00Z
We really enjoyed the room we had at Anna's place. Her apartment has a really unique feel. The bedroom has lots of cool light options, the bed was cozy and the room was quite spacious. Anna was very friendly and she showed us some maps and helped us find some websites where we could find information on what was going on in Szczecin.
April
2017-03-20T00:00:00Z
We were really happy to stay at Anna's apartment. We had a big room in the city centre. Anna is a very hospitable and kind host. She was always happy to help whenever we had any questions
Oleg
2017-03-16T00:00:00Z
Annas Zimmer war genauso wie beschrieben. Sie ist sehr herzlich und gastfreundlich. Wir durften alles mitbenutzen und die Kommunikation verlief reibunglos und unkompliziert. Vielen Dank!
Malena
2017-04-03T00:00:00Z
Très grande chambre décorée avec goût dans un logement spacieux. Chambre bien équipée avec un lit double très confortable, un bureau, un placard. Parking dans la rue facile et gratuit. Une hôte toujours à l'écoute, aux petits soins. Elle a même promené mon chien et partagé des petits plats fait maison.
Dorothée
2017-02-03T00:00:00Z
Anna's place is wonderful! It is pleasure to took her house in our trip, everything in her house is well-organized, even in the room has a lovely balcony, which could enjoy the sunshine. Also she is an elegant lady, very enthusiasm, and especially recommended us all those attractions, restaurants and bars in the city. In the morning she offered us coffee and we had a good conversation. Strongly recommend all the people who will go to Stettin, do not miss this perfect house.
Chloe
2017-04-02T00:00:00Z
Had a great time at Anna's cosy apartment. Wonderful host, comfortable room, original design and style. Clean.
Tomasz
2017-02-13T00:00:00Z
Tipo de Quarto
Quarto privado
---
Tipo de Imóvel
Apartamento
---
Acomoda
2
---
Quartos
Szczecin, Województwo zachodniopomorskie, Polônia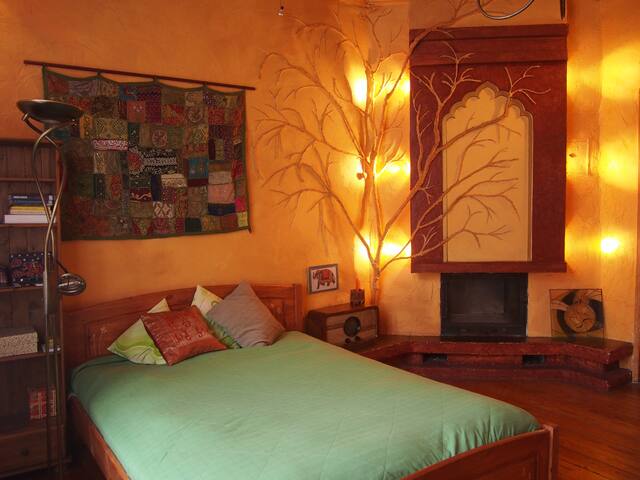 The apartment is spacious, newly renovated, fully furnished and equipped.
Tipo de Quarto
Casa inteira/apto
---
Tipo de Imóvel
Apartamento
---
Acomoda
1
---
Quartos
Stargard, Województwo zachodniopomorskie, Polônia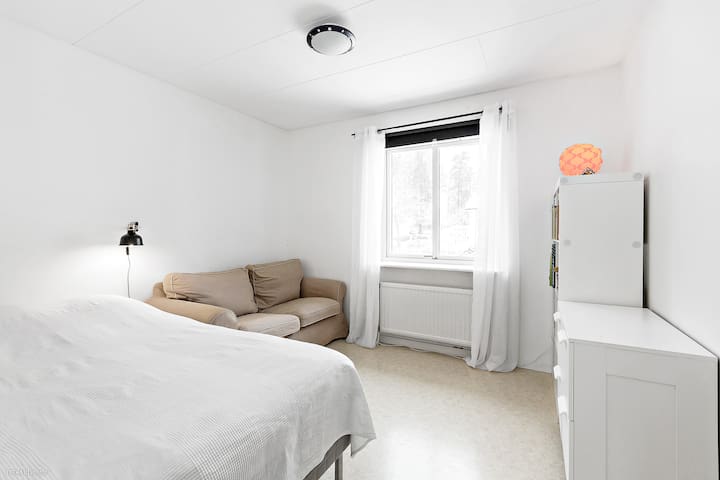 Skandynawski apartament w centrum, dla max 4 osób,idealny dla par i podróżujących samotnie.Z prywatnym, monitorowanym parkingiem, gdzie nie musisz martwic się o to gdzie zostawisz auto.
Nowe budownictwo zlokalizowane samym centrum,gdzie możesz w spokoju odpocząć,a także ruszyć na miasto.
Uwielbiam za ciszę, mimo, ze znajduje sie w samym centrum,Jestem na miejscu, wiec mogę służyć ...
Szybki i bardzo miły kontakt:) Mieszkanie czyste i bardzo ładne:) Polecam
Marika
2017-02-07T00:00:00Z
Cozy and comfortable apartment. Would very much recommend staying here. Easy walk into the city center. Well connected by public transport. Great experience.
Alexandra
2017-03-12T00:00:00Z
Really friendly host! Cosy , very clean and modern apartment. You reach the center within 15 min by foot and same for harbor But there are also diffrent puplic-transport near by. Over all very recommended if you want to explore Stettin.
Rebecca
2017-01-02T00:00:00Z
Mieszkanko bardzo przytulne, czyste i komfortowo wyposażone w nowoczesnym stylu. Spełniło wszystkie nasze oczekiwania. Kontakt z wynajmującym bardzo dobry. Szczerze polecam. Małgorzata
Apartments Sopot
2017-01-08T00:00:00Z
Awesome little Apartment 10 Minuts by foot away from the Centrum. We were realy happy with it.
Lennart
2017-02-26T00:00:00Z
Bardzo cicha okolica blisko centru
Kinga
2017-02-19T00:00:00Z
Very modern apartment in the new part of Szczecin about 15 minutes walk to the centre. It is very well equipped with a range of tea, coffee and toiletries. The host Krzysztof was extremely helpful and even arranged a lift for us from the train station. If I return to Szczecin then I would have no hesitation in saying here again.
Ian
2017-03-05T00:00:00Z
Dobrze zlokalizowane, nowocześnie wyposażone mieszkanie z prywatnym miejscem parkingowym, czego chcieć więcej na wyjeździe krajoznawczym, polecam gorąco. Warto wspomnieć o doskonałym kontakcie z gospodarzami, zostaliśmy mile przyjęci i oprowadzeni po apartamencie, a gdy mieliśmy problem z samochodem dzięki nim znaleźliśmy warsztat który się uporał z usterką od ręki :)
Przemysław
2017-03-02T00:00:00Z
Tipo de Quarto
Casa inteira/apto
---
Tipo de Imóvel
Apartamento
---
Acomoda
4
---
Quartos
Szczecin, Województwo zachodniopomorskie, Polônia
The apartment is well located, well connected and very clear and clean. You'll have a double bed, private bathroom, full-equipped kitchen, free WiFi 30Mbps. The Central Station is only 10 minutes by walk. Tram stop 100m -the same distance to grocery.
Bardzo dobra lokalizacja, blisko do centum, pomocny gospodarz. Polecam
Aleksandra
2016-08-10T00:00:00Z
The apartment's location is great: close to the very center of Szczecin and beautiful view on the harbour! Only our nights spent have been quiet loud; there must be a club or something nearby. The host and our communication have been very friendly and uncomplicated. The apartment's furnishing is quite basic but convenient: everything you need in the bathroom, the kitchen and to spent the night. All in all a great value-for-money ratio!
Maggy
2016-05-23T00:00:00Z
Good location, great view from the balcony , close to public transport
Adam
2016-06-19T00:00:00Z
Pretty flat with a nice view. We enjoyed our stay very much. Wieslaw is a great host who took care of every small problem we had as fast possible. Absolutely recommendable.
Ludwig
2016-09-27T00:00:00Z
Top room very friendly guy picking us up and everything
Vitalij
2016-05-31T00:00:00Z
Very friendly, picked me up from the central station! The communication was perfect and the flat has a beautiful view! Ever again
Marek
2017-02-19T00:00:00Z
Pan Wiesław sam zaproponował nasz odbiór sam (przyjechaliśmy późno pociągiem) i podwiózł nas z dworca do mieszkania. Mieszkanie ma wiele zalet (rozkład, duży balkon, wszystkie podstawowe rzeczy potrzebne na co dzień - dosłownie jak w domu), ale główna to widok z okna. Chce się tam po prostu wracać. Lokal mieści się w spokojnej okolicy, bardzo blisko dworca. Na starówkę chodziliśmy na piechotę bo też znajduje się bardzo blisko. Po prostu idealny lokal. Polecamy.
Kamil
2016-09-18T00:00:00Z
Our stay at Wieslaw's flat was perfect. It's great value for money and very well-located, right next to the tram station Potulicka and to the main train station. Wieslaw was so helpful in picking us up from the train station and giving us tips about the local area. We wouldn't hesitate to stay here again.
Helen Sabina
2016-09-25T00:00:00Z
Tipo de Quarto
Casa inteira/apto
---
Tipo de Imóvel
Apartamento
---
Acomoda
2
---
Quartos
Szczecin, Województwo zachodniopomorskie, Polônia
Fully equipped apartment with 3 bedrooms and sunny balcony. Family friendly with equipment for kids. Walking distance to whole city and riverside. 2 minutes from the main walking street area with restaurants and night life. High speed internet/Wifi included. Fantastic HD-TV package with over 40 English speaking channels, including Disney, Eurosport and BBC. Host is from Denmark.
Only 2 minutes walk from "Deptak Boguslawa" walking street with restaurants and nightlife. Trams are only yards away. Large sunny balcony facing west, which means afternoon and evening sun! This is not a "built for AirBNB" type IKEA/Castorama apartment. It was our home for 7 years, and we have cared for every little detail in it. No way we could let it go when we left Szczecin, so now its yours to try out. The apartment is 114 m2, very nicely restored, smack in the center of Szczecin in a building over 100 years old (high ceilings). Beautiful kitchen and bathroom. 3 vis-a-vis living rooms/salons/bedrooms, and a master bedroom. One bedroom has a comfortably firm ergonomic double bed and a walk-in closet, the other also a double bed. In one salon there is a 2 person sleeping sofa and a couch. The second salon can be quartered off and thus act as a third bedroom. There is also a fold out couch and one person can sleep on the main sofa. There is also a baby crib, toys, a stroller/push cart and even a baby play mat. High speed internet connection (WiFi) which you are free to use. The TV package is Full HD with over 40 English languaged channels, including CNN, several BBC channels, National Geographic, Discovery, Eurosport and plenty of kids favourites like Disney. Possibility of ordering additional cleaning if you are here for a longer period. From Szczecin it's possible to make many nice day-trips in both Poland and Germany. The border to Germany is less than 10 miles away. There is no border control between the two countries any more - in fact it's a 60 mph highway crossing with no stopping or even slowing down (Schengen). Here are some nice day trips from Szczecin: Polish Baltic Seaside Międzyzdroje at the seaside, with many annual festivals Swinoujscie, where the ferries part for Denmark and Sweden Peenemunde, home of the V1 and V2 rockets Rugen, the big German holiday island Rostock, classic German city Berlin, well.... Zoo in Ueckermunde. Also a nice place for seafood. Poznan, perhaps by train? Gdansk, weekend trip visiting the famous shipyard and Solidarnosz museum. Sachsenhausen, former concentration camp, later Russian POW camp. Local WWII sights for those with a historical interest. We can map out a "tour" for you.
Restaurant/bar areas: General Area: Stare Miasto (the old town, riverside) Its a general area full of restaurants. It includes the Thai restaurant and Public Cafe mentioned below. General Area: Deptak Boguslawa Near the apartment, the northern end of ul. Boguslawa is now a walking street, with plenty of bars and places with simple cheap food, including a good burger place. This is where the young crowd hang out. There is a price war on beer, so you can have a big draft beer for 1 Euro. The burger place there is quite good also. "Pope street" Area with outdoor cafés and pubs. Specific restaurants and bars. All places have websites now a days, so simply (SENSITIVE CONTENTS HIDDEN) the names for their website and precise location. **In general, a lot is happening in Poland these days. Look at Tripadvisor for the latest restaurants** 30% discount plan at 3 riverside restaurants. This is quite a good deal, as it applies anytime and to the whole meal with drinks. (URL HIDDEN) (use (SENSITIVE CONTENTS HIDDEN) Chrome to translate) The restaurants are: Colorado Christopher Columbus Porto Grande + a bar "Chrobry" near the restaurants. **Important** When you go to one of the places, you must tell them before ordering, that you would like to join the discount plan. They will then give you a credit card type card with your account number etc.. After the meal, they will credit 30% of the whole bill to your account. This credit is then valid for 2 weeks. Now..., at the particular place you have just been, you cannot redeem your credit until the next day - however, you can immediately go to one of the other places, or even the Chrobry bar, and use it there the same day - even for cocktails! When you want to redeem credit, you must inform the waiter before ordering. In general, to be on the safe side, always tell the waiter immediately that you intend to collect or redeem credit and give the waiter your card. Radecki ((URL HIDDEN) French/fusion. Best restaurant in Szczecin for steak. Karczma Polska: Touristic, but the best one for Polish traditional food (well, traditional northern European food) All things wild, like rabbit, wild boar, quail, lamb, duck We always invite non-Polish friends here, for a taste of local food. Ladoga (the ship) Its located on the river. It has both a restaurant (quite romantic), and a nice bar on the upper sundeck. Food is average to good, but the view is great! Buddha Thai & Fusion: Reasonably good Thai food. Its often #1 on Tripadvisor. Riverside - casual looking place for fish; At the northern end of the riverfront (the very end), underneath Porto Grande restaurant, there is a new very inexpensive looking place for fried/broiled fish. They have different kinds of fish, but trout seems to be their specialty. Try it, and let us know if its good. Unfortunately, the times we went there, it turned out to be closed. Pizza/pasta: Public Cafe has 2 places in town. The best one is in the old town, as the one on "Pope street" has a new owner. Don't buy pizza anywhere else, it won't be..... Burgers: There are two casual but good burger places in the near vicinity. Homemade burger patties and buns! Don't eat burgers anywhere else, its not...! see map below: Night Club: The main one we know well is Rocker Club. Its for the 30+ crowd. Even at 60, you won't feel old there. (URL HIDDEN) Café: Café 22 is a 360 degree panorama café, on the 22nd floor. (URL HIDDEN) Paris Paris: Nice relaxed place in walking distance of the apartment. Owned by a (real) Frenchman. Young crowd. Bar across the street. Very (very) local bar/pub. Friendly owner, who speaks only Polish. For the young crowd during weekends. Weekdays there are few people, but its usually open.
The apartment is spacious, has a nice sunny balcony and is in an A location. The communication with our host was perfect and very friendly. Great bathroom and kitchen. Can't think of any negative things. Highly recommended!
Gerber
2016-08-25T00:00:00Z
Excellent place to stay, right in the centre of Szczecin. Beutiful apartament, very spacious! The host is very helpfull and easy to communicate. Highly recommend the place!!
Michał
2017-04-02T00:00:00Z
Nice clean flat in the centre of Szczecin, very big for groups and well equipped. I would definitely recommend it to all other guests!
Ka Hou
2017-03-26T00:00:00Z
Vi ble tatt godt i mot. Paulina ordnet med transport fra flyplassen og rett til leliligheten, hvor hun ventet for å ta i mot oss. Veldig hyggelig dame. Leiligheten er enda finere enn på bildene og beliggenheten er helt perfekt! Leiligheten var veldig ren, selv 4 husmødre fant ingenting å sette fingen på ;-) Vi vil absolutt komme tilbake til denne leiligheten dersom vi reiser til Szczecin igjen! Tusen takk Allan og Paulina for en flott langhelg!
Nina
2016-05-24T00:00:00Z
Very nice apartment! Clean, very good equiped and nice atmosphere. Kind and very well organized support. I will definitely recommend to friends to go there!
Sebastian
2016-08-29T00:00:00Z
The flat is very big and very nice. Its very central , everything is in the near. Parking space directly in front. Also indoor garage. Fast WLAN , Big Freezer , everything what you need for cooking , cleaning mashine for the dishes , big Balkon , 2 TVs and many more things. The flat is also very comfortable and it feels like home there. Is big enough for 6 Adults and maybe 2 Kids. When we arrived everything was prepared , very clean and a little bit welcome food , fruits and drinks. Paulina is very nice and she respond always very fast and was always there when we needed her. Price is perfect . Contact was very fast and nice. You should take this flat if is not taken yet... Big thank you.
Andre
2016-05-30T00:00:00Z
Lovely appartement with a lot of space and lovely host Paulina. Everything went great.
Antje
2017-03-19T00:00:00Z
Gute Lage, unkomplizierte Schlüsselübergabe, viel Platz - alles top!
Tom
2017-01-29T00:00:00Z
Tipo de Quarto
Casa inteira/apto
---
Tipo de Imóvel
Apartamento
---
Acomoda
9
---
Quartos
Szczecin, Województwo zachodniopomorskie, Polônia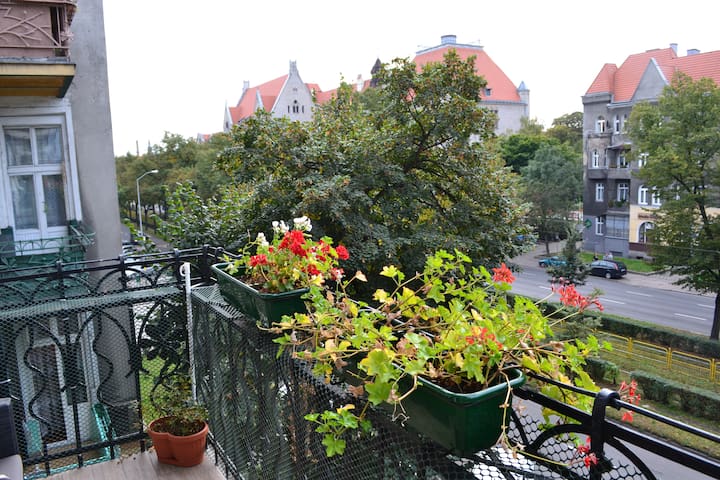 Good news! if you are looking for a cosy place located exactly in the centre of Szczecin, you have just found it :)
We offer a 30 square meter apartment on the 4th floor of a stylish pre-war listed townhouse. As you can see in the pictures, the front elevation and staircase has been recently renovated so they are super fresh and clean. The apartment would be comfortable and spacious for maximum three people. It has high ceiling, typical for pre-war buildings and very unique, huge windows overlooking back part of the building, each with a wide wooden window sill where you can sit comfortably and enjoy your morning coffee. There are two rooms, kitchen and bathroom. In the room painted in blue you will find plenty of storage places, TV and folding couch, easily converting into double bed. The green room has a dining place, mirror, shoe cabinet and coat-stand. Recently there has been added a comfy ikea chair bed, that can be used as an armchair or a single bed (1,88 cm long). Please have in mind that two rooms are separated with a wall but there are no doors between them. The kitchen (painted in red) is well-equipped with dishes, pots as well as tea and coffee. Feel free to use a washing machine, too. There is a bathtub in the bathroom. Clean bed linens, duvets, pillows, towels and soap are all provided. There is no elevator in the building.
The apartment is located in the oldest part of the city, the most interesting for visitors. The location is just perfect: • all kinds of public transport are easily available- buses, trams, nightbuses, you can even take a 5 minutes walk to the port and catch a boat cruising along the Odra river :) • our gate faces the White Eagle Square surrounded by the Ionian Palace, the Classicistic Palace and impressive the Palace Under the Globe where the Academy of Arts is located. • just few steps far from the Pomeranian Dukes' Castle (you can literally see the peak from the window). This is where all main cultural events take place for instance concerts from Szczecin Music Fest. • the second spot that you can see from the window is a new concert hall. The building which won several awards for the most interesting construction made in 2014, is definitely worth visiting. • just one block away from the Cathedral Church of St. Jacob with recently fully restored tower after the damage during II WW. • 3 minutes walking from the recently opened Breakthrough Museum, presenting the Solidarity movement in this province. • 5 minutes from Waly Chrobrego Promenade, beautiful terraces spreading along the Odra river. • AND you will not get hungry here :) just downstairs there is a lovely pizzeria, one of the best Szczecinian's ice-cream parlour and Wild Goose restaurant serving very traditional polish dishes in a modern style.
Hi, das Apartment von Basia ist sehr gut gelegen, mitten in der Altstadt von Stettin. Dadurch sind viele Ziele in wenigen Minuten zu Fuß erreichbar. Im Apartment war alles sehr sauber. Basia hat uns freundlich in Empfang genommen und alles erklärt. Insgesamt sehr zu empfehlen!
Julian
2016-07-29T00:00:00Z
We had a wonderful time in Basias apartment. Her mother gave us the key and was super friendly and helpful. We can recommend this place to everybody who wants to visit Szczecin. Apartment was well equipped, super tidy and also very central. Thank you!
Monika
2016-08-22T00:00:00Z
We had an excellent time in Basias's apartment. It is very tastful furnished and painted, very central located - all sights are in walking distance. Basia and her mother are wonderful hosts. Everytime again! we enjoyed very much!
Hans-Hermann
2015-07-19T00:00:00Z
Great location, decent conditions. We'll be back!
Artur
2015-11-04T00:00:00Z
Friendly host and a nice apartment in the middle of the center. Very quiet! They have free coffee & tea for the breakfast, like ;)
Tillmann
2016-09-18T00:00:00Z
Basia and her mother took well care of us and made sure we had a good and comfortable stay and a wonderfully central location. We need to come back with more time!
Hannes
2016-08-08T00:00:00Z
We were warmly welcomed by Basia and Kryszka's mother. The apartment is nicely furnished and has got a fully equipped kitchen with several things like coffee to use right away. The bathroom has even got an bathtub! The apartment is situated right in the old town of Szczecin therefore very close to everything you may want to see. Parking is safely possible directly in front of the house. Overall we can just recommend this apartment to everyone!
Martin
2014-08-25T00:00:00Z
Nice and tidy apartment , good location. As described. I am happy with the stay.
Ronnie
2014-12-12T00:00:00Z
Tipo de Quarto
Casa inteira/apto
---
Tipo de Imóvel
Apartamento
---
Acomoda
3
---
Quartos
Szczecin, Województwo zachodniopomorskie, Polônia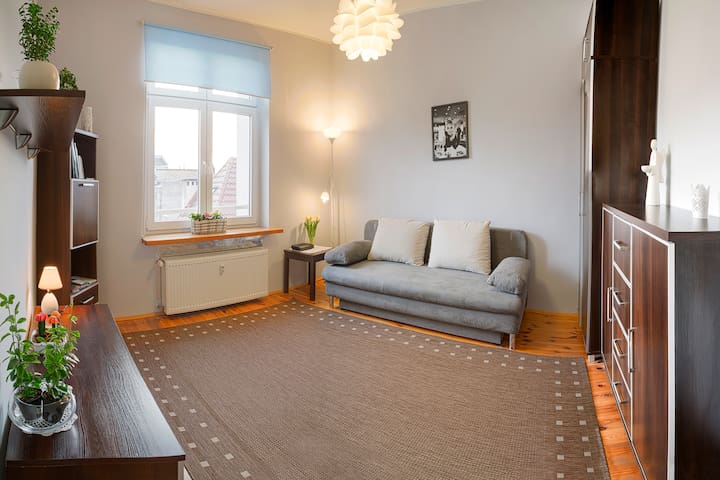 Moja oferta jest w pobliżu: Wały Chrorego, Teatr Polski. Moje miejsce jest dobre dla: pary, podróżujący w interesach, rodziny (z dziećmi) oraz futrzani przyjaciele (zwierzęta).
Przytulne i sympatyczne mieszkanie skąd blisko do najciekawszych miejsc w centrum Szczecina. Polecam.
Krzysztof
2017-02-12T00:00:00Z
Apartament czysty i przestronny. Blisko do Wałów Chrobrego. Pani Edyta miła i rzeczowa. Polecam
Marta
2017-04-07T00:00:00Z
Schöne, ruhige Unterkunft mit Parkplätzen vor der Tür. Mit Hund super, da großer, schöner Park um die Ecke. Super Preis-Leistung-Verhältnis, nette Gastgeberin
Barbara
2017-02-22T00:00:00Z
Dom w starej dzielnice. Mieszkanie czyste, dobrze wyposazone. Edyta nawet zabiezpeczyla nas, glodnych podroznikow, legka kolacja. Rekomenduje
Sologubov
2017-02-05T00:00:00Z
Bardzo udany pobyt. Świetne miejsce na nocleg i doskonały kontakt z panią Edyta. Zdecydowanie polecam!!
Pan
2017-01-07T00:00:00Z
The host was very welcoming once we finally were able to get in contact and get into the building. She talked us through the flat facilities and responded quickly when we texted her with other questions.
Marah
2016-12-10T00:00:00Z
Świetne miejsce, polecam wszystkim planującym odwiedzić Szczecin!
Jakub
2017-03-26T00:00:00Z
Wir waren mit zwei Hunden da. Die Unterkunft war wie beschrieben. Die Kommukation auf englisch ist recht schwierig aber der vermieter war dennoch sehr nett und flexibel :-)
Jasmin
2017-03-12T00:00:00Z
Tipo de Quarto
Casa inteira/apto
---
Tipo de Imóvel
Apartamento
---
Acomoda
4
---
Quartos
Szczecin, Województwo zachodniopomorskie, Polônia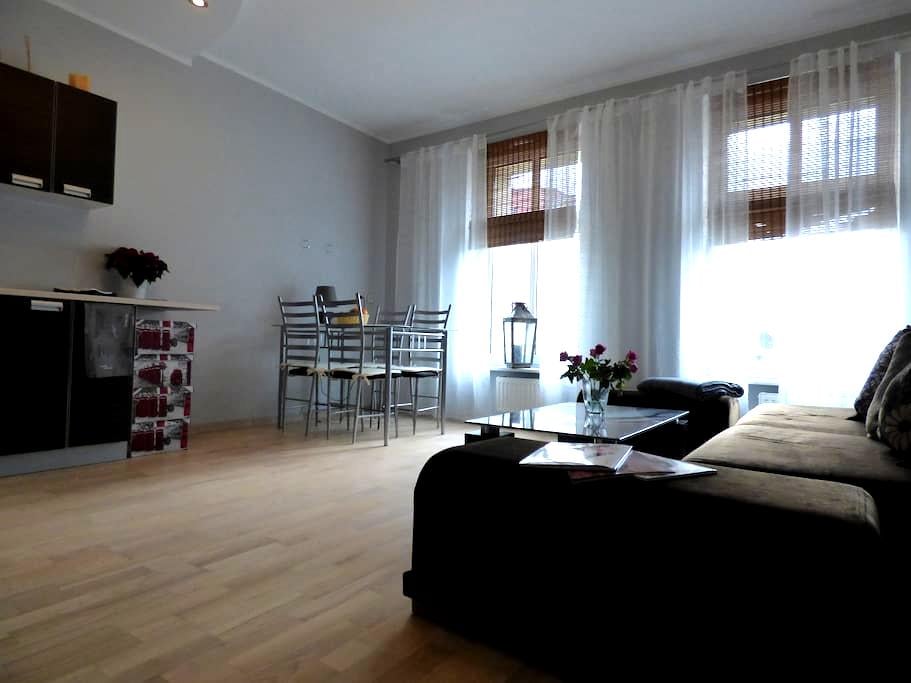 Climatic place in the center of Szczecin. Good for couples, couples with a child or business travelers. In the nearby cafes, restaurants, public transport and railway station. The place is decorated minimalist and modern with touches of vintage, the room is bright, it has a comfortable bed 130x200, a sofa (70x160), a dining table and a charming balcony. To my guests available shared kitchen, bathroom and 2 stylish city bikes.
Pokój jest przestronny, jasny, słońce od rana. Posiada część wypoczynkową - sofa, cześć jadalną - duży stół rozkładany z możliwością adaptacji na miejsce do pracy oraz część sypialną - kanapa 130x200 ( opcjonalnie materac dla trzeciej osoby). Kuchnia w pełni wyposażona, nowa łazienka, całe mieszkanie po remoncie. Do dyspozycji gości 2 miejskie stylowe rowery po wcześniejszym zgłoszeniu chęci ich wykorzystania.
Okolica na piechotę: 1 min do piekarni 2 min do najbliższej kawiarni, sklepu spożywczego 5 min do Kina (Pionier-najstarsze działające kino na świecie, Helios) 5-10 min do najbliżej restauracji, piwiarni, klubu/dyskoteki 10 min do strefy zakupów ( Kaskada, Turzyn) 10-15 min do Katedry i strefy zabytków 15 min do Pasażu Bogusława ( kawiarnie, restauracje, bary, kluby) 15 min na Stare Miasto ( restauracje) i bulwary nad Odrą 30 min Jasne Błonia
We absolutely loved staying with Paulina. She was an amazing host, and made our stay in Szczecin one of our favorites. Paulina was flexible with our check in time because we were running late, provided us a personal map of the city of her favorite places, and was a great person to swap travel stories with! The room is very comfortable and clean, with lots of space. Paulina is one of the kindest,sweetest people we have ever met on our travels and we hope to cross paths with her again.
Abigail
2016-09-25T00:00:00Z
I had an absolutely wonderful experience in Szczecin with Paulina! She is an incredibly attentive host and goes beyond what you would expect an Airbnb host to do for you. She is an incredibly warm person and you will feel instantly welcome with her in the apartment. The apartment was lovely too. I would highly recommend every one to stay here for a lovely host, place and great conversation. I will definitely be back in the future! Love from London!
Charlotte
2016-10-16T00:00:00Z
We had a great stay at Paulina's apartment in Stettin The booking and planning process was not complicated at all, she replied quickly and with all the information we needed. It was easy to find the address and Paulina was waiting for us there - she showed us her lovely place and explained everything! Paulina was extremely courteous! She had a self-made map of the city and had answers for all our questions about the life and the opportunities the city had to offer. Dear Paulina thank you for everything you made us feel very at home in Stettin and your place!
Daniel
2016-06-19T00:00:00Z
You just found a perfect accommodation in Szczecin (no kidding!). The location is great, the flat is beautiful and very comfortable, and the host is incredibly kind, thoughtful and interesting to talk to. Next time I'll be coming to Szczecin I will definitely check the availability of this place!
Agata
2017-02-08T00:00:00Z
Paulina is a nice Host, who was dedicated to make my stay comfortable as possible. Thumbs up!!!
Stefan
2016-10-20T00:00:00Z
Nocleg u Pauliny to połaczenie komfortu przestrzeni urządzonej ze smakiem, z dbałością o wygodę i dobre samopoczucie niemal w każdym detalu, z ogromną serdecznością gospodyni, która w magiczny sposób sprawia, że już od pierwszych chwil można poczuć się u niej jak w domu, nie tracąc jednocześnie własnej prywatności. Polecam!
Lukasz
2016-06-10T00:00:00Z
Paulina war eine sehr nette Gastgeberin. Die Unterkunft ist sehr sauber, modern ausgestattet und komfortabel wie beschrieben und auf den Fotos zu sehen. Die Lage ist sehr zentral und in der Nähe des Bahnhofes. Ich kann die Unterkunft zu 100% weiterempfehlen und komme gerne wieder!
Klaus
2016-07-19T00:00:00Z
We had an excellent stay at Paulina's place. Paulina is a friendly and welcoming host. She is willing to give advices and assistance if needed and wanted. We would like to return some other time.
Tove
2016-08-04T00:00:00Z
Tipo de Quarto
Quarto privado
---
Tipo de Imóvel
Apartamento
---
Acomoda
3
---
Quartos
Szczecin, Województwo zachodniopomorskie, Polônia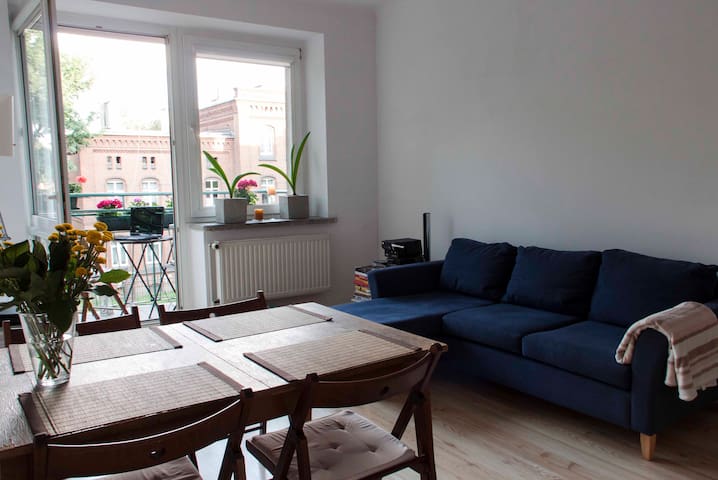 Modern apartment in the heart of Szczecin - Street Tkacka 69. Building with elevator, everything new and fragrant! Near the old town, beautiful buildings, restaurants, Cathedral and Castle. A few steps to the shopping mall Kaskada. This studio has a separate sleeping area (bed 140x200), livingroom (sofa bed), kitchenette and bathroom with shower. The apartment has 29 sqm, is very cozy, comfortable and fully equipped.
Die Wohnung ist klein aber sehr gut eingerichtet. Die Lage ist perfekt. Anna als Gastgeberin kann ich wärmstens empfehlen. Bei Gelegenheit komme ich gerne wieder. Stettin ist einen Trip wert!
Irena
2017-03-19T00:00:00Z
Anna was a very good host. Commmunication was good, she also speaks german. The flat was like the pictures, very clean and beautiful. The Location of the flat is also very good, restaurants, shopping, harbour are in the near. Parking was also no problem and free. We definetely come back, maybe then there will be better wheather, that was the only problem ;)
Angelique
2017-02-05T00:00:00Z
I stayed there for almost 3 weeks in December during holidays. Perfect location. Walking distance to all the major stores, shopping malls, restaurants and all key attractions/monuments that Szczecin has to offer. This is a brand new place. It has anything that you may possibly need - from a washing machine to high speed internet. I will definitely come back. The owner is super nice. Fully recommend the place.
Maciej
2017-01-03T00:00:00Z
Das Apartment ist sehr neu und liegt sehr zentral. Alles ist gut zu Fuß erreichbar (Shoppingmöglichkeiten, Restaurants, Clubs, Bars). Parken kann man am Straßenrand (am Wochenende kostenlos). Ausstattung des Aparments ist sehr gut mit der Möglichkeit das Sofa als zweites Bett zu nutzen. Insbesondere das Badezimmer ist sehr großzügig mit toller Dusche ausgestattet und hat uns sehr gut gefallen. Anna ist sehr freundlich und war sehr zuvorkommend bei unserem Check-in. Alles in allem eine tolle Unterkunft für einen Kurztrip nach Stettin.
Thomas
2017-01-15T00:00:00Z
Mieszkanie przygotowane na przyjazd. Czyste i schludne. Dobrze wyposażona kuchnia. Blisko centrum i komunikacji miejskiej. Kontakt bezproblemowy. Bardzo polecam.
Anna
2016-12-11T00:00:00Z
Anna was a great host and accommodated our late arrival as well as late departure without any hesitance. The studio is indeed very cosy and as small as described, but the space used very smartly. We enjoyed our stay a lot and would be happy to be to stay at Anna's place in the future.
Maximilian
2016-11-06T00:00:00Z
Oferta godna polecenie. Świetna lokalizacja, nowoczesne mieszkanie w nowym budynku, aż pachnie nowością. Właścicielka bardzo przyjazna, komunikatywna i pomocna.
Monika
2016-09-18T00:00:00Z
Pani Anna była bardzo pomocna i uprzejma. Nie mieliśmy żadnych problemów z kontaktem. Mieszkanie pachnie nowością, jest w nim wszystko, czego mogliśmy potrzebować. Lokalizacja idealna. Zdecydowanie polecamy!
Agata
2016-10-02T00:00:00Z
Tipo de Quarto
Casa inteira/apto
---
Tipo de Imóvel
Apartamento
---
Acomoda
2
---
Quartos
Szczecin, Województwo zachodniopomorskie, Polônia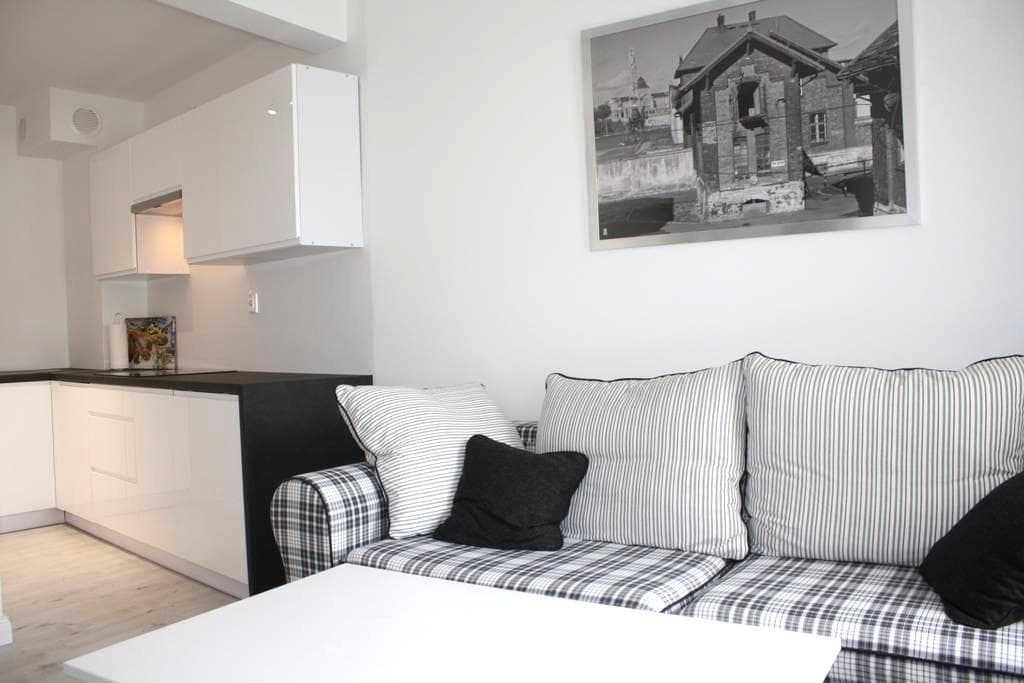 Apartament położone jest na samych Wałach Chrobrego w Szczecinie, ok. 300 mentrów od zamku i starego miasta. W najbliższej okolicy są 3 wyśmienite restauracje z pięknym widokiem na rzekę. Pokochasz moją ofertę z uwagi na cudownie urządzony pokój, z bardzo wygodnym łóżkiem oraz sofą dla dodatkowych gości, wspaniałą przestrzenią którą możesz dzielić z innymi gośćmi oraz niesamowitą okolicę :). Moje miejsce jest dobre dla: pary, przygody solo, podróżujący w interesach, rodziny oraz dużej grupy.
Gospodarz czekał już na nas, wszystko objaśnił naprawde godny polecenia.
Piotr
2017-01-08T00:00:00Z
Betalte for oppholdet og fikk øyeblikkelig kontakt med verten, nøkler levert innen en time. Fin leilighet med nødvendige utstyr og fasiliteter. Nærmt sentrum og god standard 10/10 Good and fast meet up with the host. Apartment was good standard with all needed items. Cheap and close to the city centrum. 10/10
Øystein
2016-10-29T00:00:00Z
Polecam.
Pati
2017-01-25T00:00:00Z
Polecamy z ręka na sercu ! Super :) przemiły gospodarz
Jessica
2017-02-05T00:00:00Z
SUPER!
Tomasz
2017-03-30T00:00:00Z
The host canceled this reservation 4 days before arrival. This is an automated posting.
Sara
2017-04-09T00:00:00Z
Good value for price. The owner tried to give us a different place for some reason. Address doesn't match what's in AirBnb.
Maciej
2017-03-27T00:00:00Z
Bardzo ladne mieszkanie, wygodny naroznik, funkcjonalna kuchnia. Mieszkanie usytuowane w super okolicy. Polecam :)
Klaudia
2017-03-31T00:00:00Z
Tipo de Quarto
Quarto privado
---
Tipo de Imóvel
Apartamento
---
Acomoda
4
---
Quartos
Szczecin, Województwo zachodniopomorskie, Polônia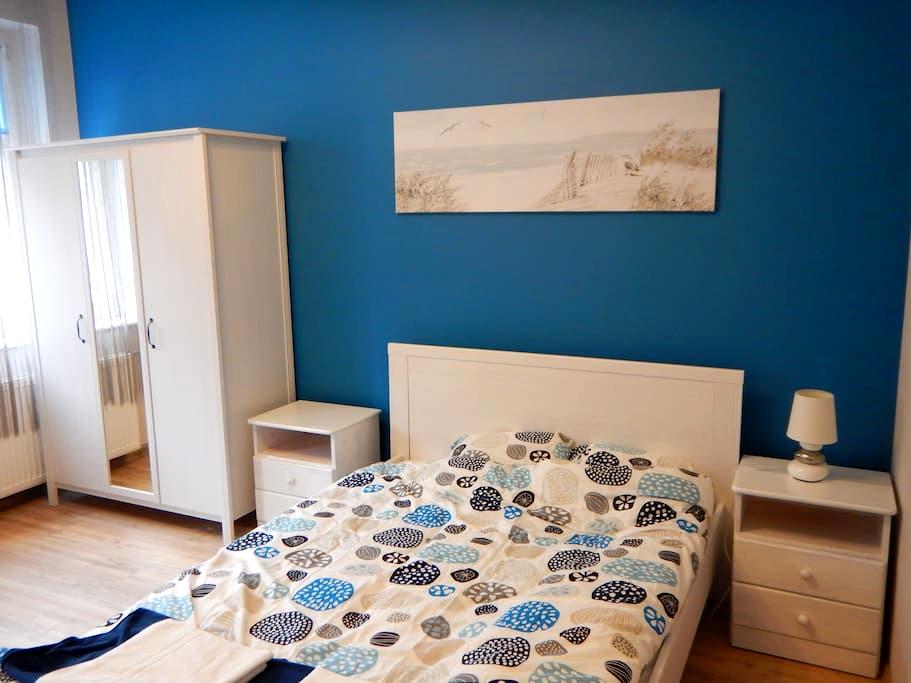 Studio apartment with kitchenette and bathroom, in the center of Szczecin! Accommodation for max. 4 people, parking included!
Super location in the Center! The apartment was completely renovated and has modern design! The apartment has approx. 27 m2 and is fully furnished and equipped - sofabed for 2 persons, bunk bed for 2 persons, kitchenette ( fridge, two-burner hob), bathroom with shower, tv, chairs and table. Parking in the yard in the price. Apartment near the Shopping Center Kaskada and Starbucks, near the Old Town, restaurants, pubs and discos, as well as the Castle. Easy highway exit. The price includes also Wi-Fi, bed linen and towels, coffee, tea, cutlery, crockery, spices.
The property is located in the center of Szczecin - close to everything!
Wir hatten eine wunderbare Zeit in der schönen, kleinen Wohnung! Anna hat sich um alles toll gekümmert. Die Wohnung hat alles zu bieten, was man für ein paar Tage in Stettin braucht :-)
Christina
2016-10-04T00:00:00Z
Lovely, snug flat in city centre with a view of st Jacob Cathedral. Great localisation, everything is near. Apartment is just above a grocery which is a nice additional convenience. I have to say that a sofa bed is really comfortable, same with bed sheets which are provided by host. Host herself is really helpful and nice. She told some useful tips about Szczecin and gave few guide books. I strongly recommend this apartment if you want to spend a nice time in Szczecin!
Dawid
2016-05-04T00:00:00Z
Anna Barbara was always reachable and gave us lots of recommendations, which was really helpful. the apartment has everything you need and the beds are comfortable, the only thing that guests should know in advance is that it's located at a very big and noisy street so it was necessary to keep the windows closed. the neighborhood is not as pretty as the old town but still very convenient since you get everywhere fast and by foot.
Katharina
2016-09-04T00:00:00Z
We loved this spot! The house was super conveniently located to the train station and city center. The studio itself is charming and spotless! She was very accommodating with our arrival and departure as well.
Taylor
2015-09-25T00:00:00Z
Wygodne mieszkanko, świetna lokalizacja, przemiła i pomocna pani Ania, polecam
Pawel
2016-11-20T00:00:00Z
We had everything, what we need and a good contact to Anna. Thank you very much!
Hanna
2016-02-23T00:00:00Z
Lovely space, great value & good location!
Charlotte
2016-03-24T00:00:00Z
The apartment is very nice, clean and well located. You can go everywhere by walk or easily rent bikes (cheap). There is an interesting bunker nearby and we loved to take a walk through the awesome parks. It was easy to communicate with Anna. Thank You
Tonix
2016-04-06T00:00:00Z
Tipo de Quarto
Casa inteira/apto
---
Tipo de Imóvel
Apartamento
---
Acomoda
4
---
Quartos
Szczecin, Województwo zachodniopomorskie, Polônia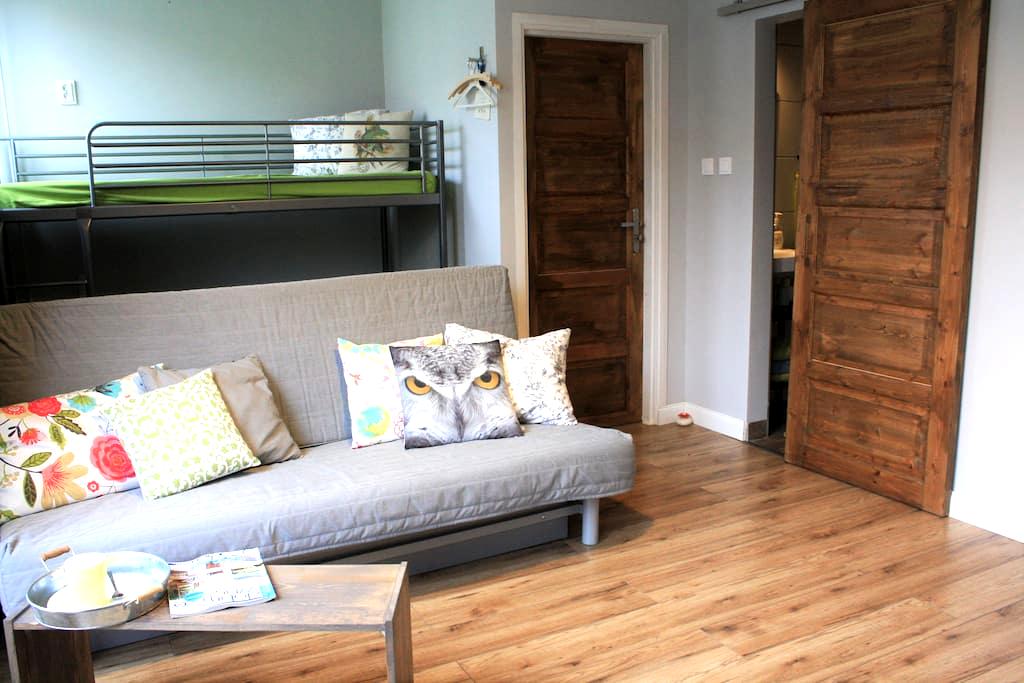 Oferujemy możliwość noclegu dla 4 osób (prywatny pokój - chwilowo jest materac; w salonie - 2-osobowa kanapa). Dostępna wspólna kuchnia i prywatna łazienka. Nowoczesne mieszkanie oddalone 3 km od ścisłego centrum miasta. We offer accommodation for max 4 people: private room and bathroom, couch in living room, common kitchen. Wir bieten Gelegenheit für Unterkunft für 4 Personen: einen privaten Zimmer und Couch in Wohnzimmer.Unsere Gäste können die Küchen und privaten Badezimmer benutzen.
Nasze osiedle jest ciche i spokojne, a jednocześnie położone blisko centrum miasta. Our district is quiet and calm. Additionally it is near to the city center. Die Siedlung ist sehr ruhig, c.a. 3 km von Stadt Mitte.
Mieszkanie jest oddalone od ścisłego centrum o 3 km, a osiedle posiada dogodne połączenia komunikacyjne (tramwaje, autobusy). Okolica jest pełna zieleni (Jasne Błonia, Park Kasprowicza, Arkonka). W pobliżu znajduje się kilka sklepów spożywczych (Kaufland, Netto, Biedronka, Żabka, Stokrotka). Flat is near the city center (only 3 km). Our district has very good connections (trams and coaches). Big park Kasprowicza and Jasne Błonia are near. Several shops are here (Kaufland, Netto, Biedronka, Żabka, Stokrotka).
The host is a very warm welcoming, easy going and friendly couples. The room is clean and comfortable. The apartment is on the top floor and you have an partial overview of the city. There are plenty of public transportation connection throughout the city from the apartment. It was a nice stay and I highly recommend the apartment.
Tall
2016-06-27T00:00:00Z
We had a great time in Szczecin. Justyna and Lukas were so friendly and the apartment was very nice and clean. Also they gave us a map of the city which was very helpful. Thank you for having us.
Valentina
2016-08-13T00:00:00Z
Szczecin definitely is a nicer place thanks to Justyna and Blazej! We will be going back for sure. Thanks again for everything!
Agata
2016-09-07T00:00:00Z
Definitely stay for the night here! Private bathroom, everything really clean, a lot of privacy. Justyna and Blazej are extremely helpful; they search for information, want to help you with everything. City centre is easily reachable by tram (the station is 100 meters away). Staying in this room makes your stay in Szczecin perfect!
Erwin
2016-07-07T00:00:00Z
De verhuurder heeft er echt alles aangedaan om mij welkom te heten en thuis te laten voelen! Blazej & Justyna zijn echt een leuk echtpaar, en heel gastvrij en mee-denkend en meelevend. Ze zorgen echt goed voor je! Toen ik bij hun verbleef, gaven ze mij echt een heerlijke avond maaltijd, en dito ontbijt de dag erna! ;) Verder zijn ze echt heel behulpzaam in het uitleggen waar je iets kan vinden in Stettin, wat leuke en mooie plekken zijn om te bezoeken, etc.
Ezra
2016-02-29T00:00:00Z
We had a really pleasant stay with lots of useful tips what to do in stettin from lukas and justine. they were really caring and superflexible - thanks for that! next time we would totally stay there again.
laura
2017-02-27T00:00:00Z
Justyna and Blazej were very welcoming! Sadly we only stayed one night but everything was perfect! They gave us a city plan and recommended very good restaurants, shopping malls, museums etc.. We want to recommend them to anyone who wants to see Szczecin and need welcoming hosts! Thanks for everything!
Stéphanie
2016-11-13T00:00:00Z
Wir hatten einen sehr schönen Aufenthalt in Stettin. Dies lag unter anderem auch daran, dass die Gastgeber alles getan, um uns eine entspannte Zeit zu ermöglichen, was ihnen gut gelang. So bekamen wir beispielsweise detaillierte Tips zu Bars, Restaurants und Sehenswürdigkeiten. Die Unterkunft selbst ist sauber; die Schlafoptionen sind für einen kurzen Aufenthalt sehr gut. Die Aussicht vom Blakon ist grandios und eignet sich, um in der Abendsonne den Tag ausklingen zu lassen. Danke für den Aufenthalt und eure Gastfreundschaft.
Niklas
2016-08-09T00:00:00Z
Tipo de Quarto
Quarto privado
---
Tipo de Imóvel
Apartamento
---
Acomoda
4
---
Quartos
Szczecin, Województwo zachodniopomorskie, Polônia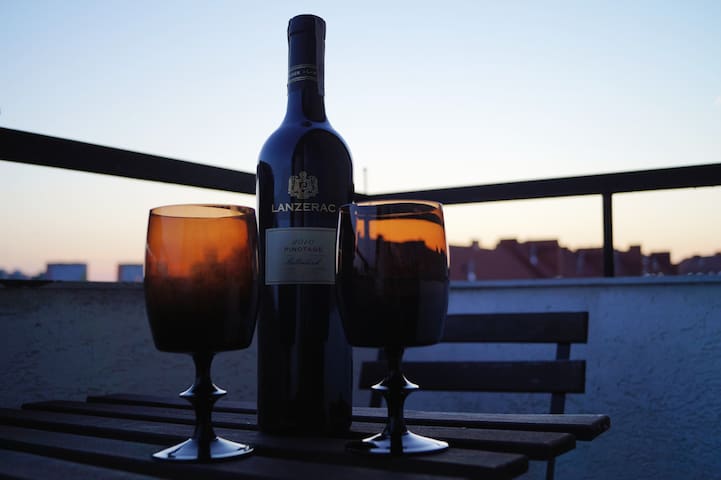 Die Wohnung ist Stadtnah und zum Wasser benötigt man ca. 5-10 Min. Zu Fuß. Die Wohnung hat eine Einbauküche, ausgestattet mit einem Cerankochfeld/ Backofen. Das Badezimmer ist einheitlich gefliest und gekachelt und besitzt eine Badewanne. Ein Balkon rundet das ganze ab.
Tipo de Quarto
Casa inteira/apto
---
Tipo de Imóvel
Apartamento
---
Acomoda
3
---
Quartos
Szczecin, West Pomeranian Voivodeship, Polônia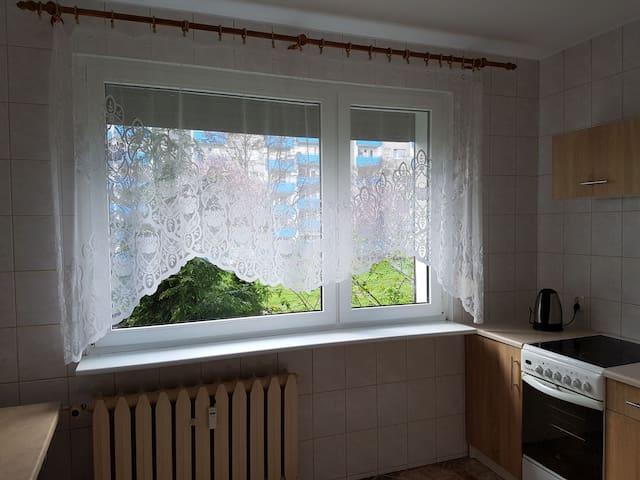 New, well designed, split-level apartment located in the heart of the city in antique neighborhood. All interesting places in walking distance from apartment. Is set in the way that you won't hear any noises from the streets which makes it a really silent and peaceful area. Here you will taste the right comfort during your stay in Szczecin. Excellent choice for a couple or alone traveler. Be most welcomed!
Fully revitalized space with: 1. The bright bedroom on antresole with comfortable double bed. 2. Living room with Sofa that can be used as an extra bed if needed, flat tv 3. Fully equipped kitchenette (fridge,dishwasher, oven, french press, coffe mugs, wine glasses, plates) 4. Elegant bathroom with bath, washing mashine
Apartment is located in antique neighborhood of The Szczecin Art Academy and art galleries.There are dozens of cafes and restaurants. Grocery shop right next to you. It's impossible to be more central if you stay in this apartment as it's literally few minutes from well known, famous and historical attractions. It!s just about 2 minutes on foot to : The Pomeranian Dukes' Castle, Philharmonic Symphony Orchestra, THE KANA THEATRE, Art Gallery - Community Centre 13muz, Within a short walk (about 5 - 10 minutes): The Old CITY with many cafes and classy restaurants, OldTown Hall And Historical Museum of Szczecin Wały Chrobrego - most representative embankment situated alongside the Oder river with The National Museum and Szczecin's Contemporary Theater Kaskada Gallery shopping center
Sehr gemütliche und persönlich eingerichtete Wohnung mitten in der Altstadt. Sehr charmante Vertretung der Gastgeberin, die uns auch mit Tipps behilflich war. Wir fühlten uns hier herzlich willkommen.
Dirk
2017-01-02T00:00:00Z
Tipo de Quarto
Casa inteira/apto
---
Tipo de Imóvel
Apartamento
---
Acomoda
2
---
Quartos
Szczecin, Województwo zachodniopomorskie, Polônia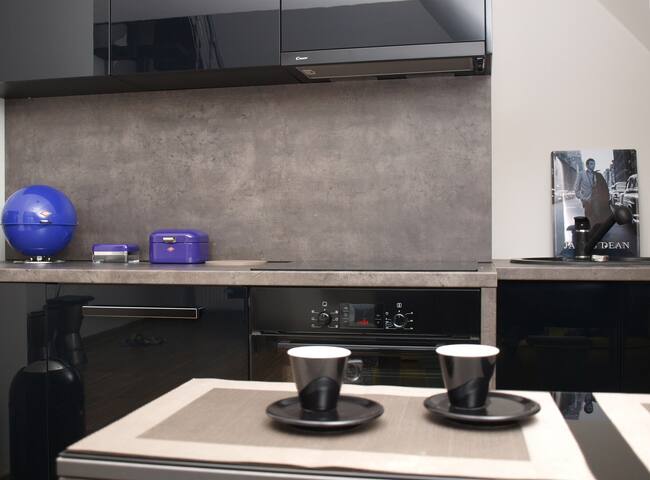 Moja oferta jest w pobliżu: Apartament Sweet Center Szczecin usytuowany jest 2,0 km od dworca kolejowego Szczecin Główny oraz 1,5 km od bulwarów Odry gdzie znajdują się liczne atrakcje turystyczne i knajpki. 20 minutowym spacerkiem dojdziemy na Wały Chrobrego . Moje miejsce jest dobre dla: pary, przygody solo, podróżujący w interesach, rodziny (z dziećmi), duże grupy oraz futrzani przyjaciele (zwierzęta).
W kompletnie wyposażonym aneksie kuchennym do dyspozycji Gości jest lodówka z zamrażarką, zmywarka do naczyń, kuchenka mikrofalowa, płyta gazowa , ponadto ekspres do kawy oraz sokowirówka. Łazienka posiada wannę z hydromasażem wraz z panelem natryskowym oraz suszarkę do włosów. Do dyspozycji Gości są również kosmetyki kąpielowe, pościel i ręczniki oraz pralka automatyczna. Cały obiekt posiada bezpłatny dostęp do Internetu poprzez Wi-Fi
W niedalekim pobliżu apartamentu znajduję się Zamek Książąt Pomorskich, Filharmonia szczecińska, Muzeum Narodowe oraz Bazylika archikatedralna. Na nowym mieście oraz deptaku Bogusława X znajdują się liczne restauracje i puby, w których można skosztować nadmorskich przysmaków. Na jasnych błoniach, ogrodzie różanym oraz na pobliskich miejskich jeziorach można natomiast odetchnąć od miejskiego zgiełku.
Ogromnym plusem jest miejsce parkingowe
Natalia
2017-04-02T00:00:00Z
Wonderful apartment. Well equipped, clean, friendly and helpful host. We can only recommend this place.
Katharina
2017-04-09T00:00:00Z
Great apartment in a great location. Kazimierz and his daughter went above and beyond to make us feel at home during our stay at the apartment. The apartment is VERY clean, and has all the amenities to make you feel right at home. Well equipped kitchen, TV with a ton of English-language channels, spacious bathroom with a ton of towels, all the amenities and a washing machine. Kazimierz has even put two bowls for our dog in the kitchen! It's worth noting that the apartment comes with a private parking space- it definitely helps if you have your own car as parking downstairs gets quite busy.
Matt
2017-02-15T00:00:00Z
Great apartment! Clean, beautiful, perfect!
Tania
2017-03-05T00:00:00Z
Everything from booking the apartment, communication to arriving and staying was excellent. Apartment is very clean and comfortable, located in a quiet street but short walk to city centre - shops, restaurants, train etc. We had a pleasant stay with my husband, two kids and a dog. Host cery friendly. Took care of all our needs, even got bowls for our dog. Highly recommend. Bardzo fajne mieszkanie, czyste, dobrze wyposażone, ciche i bardzo blisko do sklepów i restauracji. Kazimierz był bardzo przyjazny i zadbał a wszystkie nasze potrzeby, nawet miski dla psa. Nasz pobyt (rodzina z dwojgiem dzieci i psem) byl bardzo przyjemny, nawet zostaliśmy trochę dłużej. Polecamy!
Monika
2016-12-28T00:00:00Z
I really enjoyed staying at Kazimierz's place, it's super clean and extremely modern and comfortable! The check in process was very smooth and the hosts were very flexible with the check in times!
Buyun
2016-12-04T00:00:00Z
Great apartment near the city center, everything was perfect!
Hélène
2017-03-26T00:00:00Z
Es war echt eine super schöne Ferienwohnung. Schön sauber und groß, nah zu Stadt Zentrum, viele kleine Details in der Wohnung wurde berücksichtigt. War schönen Urlaub.
Cui
2017-04-07T00:00:00Z
Tipo de Quarto
Casa inteira/apto
---
Tipo de Imóvel
Apartamento
---
Acomoda
6
---
Quartos
Szczecin, Województwo zachodniopomorskie, Polônia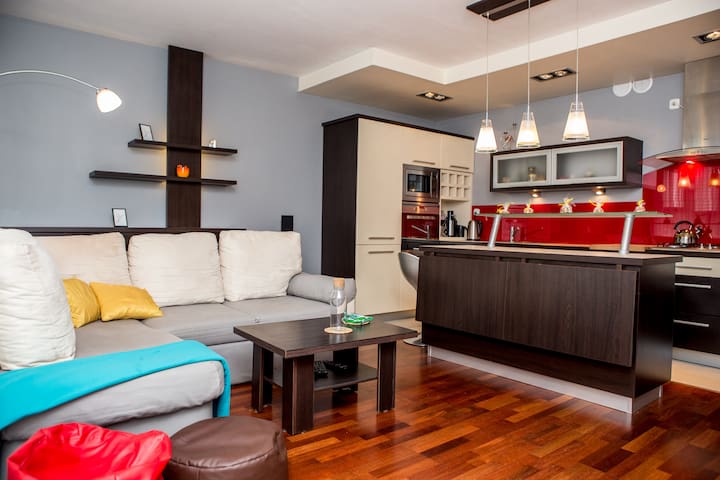 Cicha okolica mieszkaniowa blisko ścisłego centrum. Słoneczny apartament w starej kamienicy, z wygodnym łóżkiem i sofą. Kuchnia, łazienka i balkon do wyłącznej dyspozycji gości. Darmowe miejsca parkingowe. Quiet residential area close to the center. Sunny apartment in an old tenement house with comfortable bed and sofa. Kitchen, bathroom and balcony for exclusive use. Free parking lots.
Apartament na wyłączność składa się z dwóch pokoi (salon i sypialnia), kuchni, łazienki i przedpokoju (w sumie 46m2). Do dyspozycji gości jest też słoneczny balkon. W sypialni znajdziesz wygodne łóżko dla dwojga, a w salonie dużą sofę dla dodatkowego gościa. Na życzenie zapewniamy rozkładane łóżeczko dla dzieci. Privat apartment consists of two rooms (bedroom and living room), kitchen, bathroom and hallway (total 46m2). There is also a balcony. Comfortable double bed in the bedroom and large sofa for extra guest in the living room. We provide baby bed on request. Apartament: - Comfortable bed 140x200cm - A large sofa bed 120x200cm - Equipped kitchen - dishwasher, sink, stove, oven, pots, pans, plates, bowls, cups, glasses, cups, cutlery, knives, etc. - Dinign table and four chairs - Window roller shutters
Piekarnia znajduje się po drugiej stronie ulicy. Kawiarnia to tylko 300m, a niedroga naleśnikarnia to około 4 min. spaceru. Park, sklepy, piekarnie, lodziarnie, przystanki w zasięgu spaceru. In front of the building you will find a good bakery. The nearest café is just 300m far and large restaurant with pancakes is about 4 min walk from the apartment. Parks, shops, bakerys, ice cream shops, bus stops are in a walking distance.
Tipo de Quarto
Casa inteira/apto
---
Tipo de Imóvel
Apartamento
---
Acomoda
3
---
Quartos
Szczecin, Województwo zachodniopomorskie, Polônia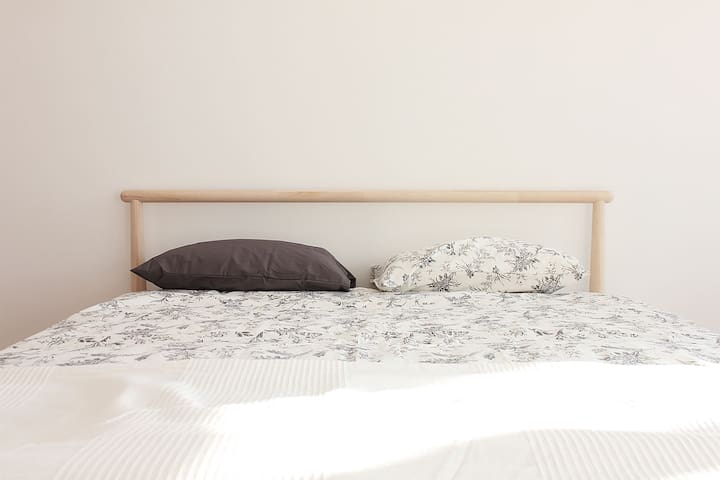 1

–

18

de

147 Apartamentos para Alugar
Insira as datas para ver o preço total. Taxas adicionais aplicáveis. Podem ser adicionados impostos.