Relax before, during or after your South Island tour! Rural lifestyle property 30 mins from Christchurch airport 30 mins to the city 15 mins to supermarket 1 hour to the closest ski field Spacious Quiet Comfortable Queen or twin room available Private lounge Breakfast anniesairbnb on Instagram
We hope you will feel welcome in our home. Your sunny, spacious queen bedroom has an adjoining private living area which has its own entry and opens out onto a shared outdoor paved area. The additional rooms - one with 2 x KS beds (twin room) and another with 1 x SB (single room) makes the area suitable for up to 5 guests on the same booking. Enjoy tea and coffee making facilities in your living area and homemade muesli and Greek yoghurt for breakfast. There are also porridge sachets available in your room. The queen bedding is a Tempur memory foam mattress with a feather duvet & pillows. We use eco and hypoallergenic soaps, laundry and cleaning products. All rooms can only be booked on the same booking so your privacy is always ensured. No time to shop? Let me know in advance as I have a New Zealand products snack box available for purchase - contains crackers, chutney, fruit juice, crisps, camembert cheese, mini chocolate $30
We are situated in a quiet no exit street amongst other small lifestyle blocks, many growing olives. We have a very popular local market which is held in Ohoka every Friday rain or shine - a great opportunity to shop for all your artisan and everyday foods - don't miss it! The web site below gives you a great overview of our area (URL HIDDEN) Ohoka is a suburb in Waimakariri and is located about 10 kilometres from central Rangiora. European settlement in Waimakariri began in 1852 with the development of a saw mill in what is now known as Rangiora. As farms and orchards began to develop around the area in the late 1800s, Rangiora became their service town. Suburbs around the area are still rural in nature, containing mostly farmland and some new residential developments. Ohoka itself contains a wealth of recently developed lifestyle sections, most with brilliant homes on sweeping sections, commanding stunning views of the surrounding areas. Ohoka has a great community with a thriving farmers' market held each weekend to showcase the local produce, arts and crafts. Ohoka does not contain a wide range of amenities, though some specialty stores can be found there. Shopping is mostly done in nearby Kaiapoi or Rangiora, both containing ample shopping and dining opportunities.
Amazing place to stay for a couple of nights! You will have everything you need and LOTS of space! It's the small things, which will make you feel comfortable or even home in an instant. You will be greeted with chocolate and biscuits, breakfast is fantastic and decoratively supplied. Lesley puts a lot of effort into the details, which is why this place stands out compared to other AirBnB experiences. Also, Lesley was of great help, when we were planning our (short) trip through South Island and provided us with lots if information and recommendations, so we really had three perfect weeks in NZ! Thanks a lot!!
Christian
2016-09-30T00:00:00Z
I and my friends had a wonderful week staying with Lesley and her partner. Great experience & perhaps the best said an example for what a "Home" is all about. Lesley and her partner are very friendly and warm-hearted. Very neatly maintained property & most courteous people I have come across in the near past. The bedroom was spacious and very comfortable plus the living room has great view of coffee estate. Last but not least, the breakfast is awesome! We really enjoy staying here and definitely will come back again! Highly recommended all our friends too! =)
Jazlyn
2016-08-13T00:00:00Z
Extremely beautiful place. The only thing I didn't like about this listing is that the pictures doesn't do justice to the beautiful house. It's clean and comfortable. The host is really nice and thoughtful!! Everything was perfect. We would have loved to stay longer. It's probably the best accomdation for us in Christchurch. 101% recommended!
Shawn
2016-10-02T00:00:00Z
Amazing house. She had some wonderful biscuits and tea available for us and a great healthy breakfast. We only stayed one night but it was great.
Zechariah
2016-11-05T00:00:00Z
Fantastic!! Everything was perfect! The room is clean and big (private living room and private access to outside), the bathroom is modern, welcome biscuits&chocolates, nice house, and Lesley and her husband are very friendly. So... don't hesitate, book it now!!! :)
Robin
2016-09-18T00:00:00Z
We thoroughly enjoyed our stay at Lesley's house. After camping and hiking around New Zealand, staying at Lesley's felt like home. The house is clean and everything was top notch. We felt like we were at a five star resort! The amenities she provides are spectacular and her attention to detail is incredible. We only regret that we weren't able to stay longer and enjoy it more due to an early flight time. Thanks for the wonderful stay!
Tyler
2016-11-24T00:00:00Z
A lovely place. Kids totally loved it. Hosts were very friendly and really nice. Beds are comfortable. Nice quiet neighbourhood. Short 10mins drive to Rangiora and Kaiapoi. About 20 minutes to Christchurch International airport.
Esther
2016-11-26T00:00:00Z
Lesley and Winston were great hosts. Very knowledgeable about the south coast. We took on board his plan for road trip and were not disappointed. The home was very clean, our area had absolutely everything we needed. Very comfy bed, beautiful surroundings. Would love to stay again if in the area.
Glenda
2016-10-05T00:00:00Z
Tipo de Quarto
Quarto inteiro
---
Tipo de Imóvel
Casa
---
Acomoda
5
---
Quartos
Ohoka, Cantuária, Nova Zelândia
Lifestyle section 独立别墅 20 minutes drive from Christchurch airport. Guests have their own private space/apartment at our bnb. We are a friendly and easy going family. 中文英文都可以. Continental breakfast is included. Free SKY TV plus SKY Sports channels available in your lounge :)
You'll have your own entry and your private area (bedroom, bathroom and lounge/kitchen). You don't have to share anything with us. The swimming pool is just outside of your bedroom door. We are on a lifestyle section which is at the end of Millcroft Ln - you will enjoy the quiet and peaceful environment. We could accommodate max 3 people (1 queen size bed and 1 single size bed in your bedroom). It's perfect for a couple and also great for a small family. However due to the swimming pool safety concerns, kids between 1-6 years old are not allowed. Thanks
All of our neighbors are very friendly and quiet. No party families on our lane. If you like quiet environment to stay, our area is the best choice.
Lin and her family have a great place. It is very luxurious, big and everything is very clean. The kitchen/livingroom area is great and we love to have all the sky channels. Also Mickey the dog is a lovely animal and nice to play with!
Lisanne
2017-01-20T00:00:00Z
My partner and I really loved our stay at Lin's cosy place. It is really clean and spacious. The amenities were great too. Lin had been very hospitable and thoughtful in hosting us. We will definitely recommend this place. :)
Jian Ming
2016-11-29T00:00:00Z
Wonderful stay at Lin's place. Spacious
Zhihao
2016-12-04T00:00:00Z
Lin's place was amazing, would defiantly recommend this place to everyone. Lin was thee at checking and made us feel right at home. Bedroom and living space are furnished very well and pool was great for a swim after a long drive.
Dan
2017-02-02T00:00:00Z
Had a wonderful little stay here! Lin was a delightful host and showed us around the place. Super nice and modern place with an Xbox and PS3 and a flat-screen TV! The area is really pretty and scenic, just a few minute drive out from the nearest market but far enough that it was quite and had a charming country feel. She left us milk and cereal and other goodies for breakfast. Had a fun stay, would definitely recommend! Was very relaxing, wish we could have stayed all week!
Connor
2017-03-23T00:00:00Z
Fantastic place to stay. So comfortable and had everything we could have wanted.
Peggy
2017-03-13T00:00:00Z
Lin is the best host I have ever met. Her house makes us feel like at home. It's quiet, clean and super comfortable. Five mins' drive to a town where you can find everything you need. Don't want to leave!lin的房子给我们家的感觉!还给了我们开胃菜支撑了我们一路!强烈推荐!
Yating
2017-01-19T00:00:00Z
Property as described, almost rural and very quiet, breakfast choices were plenty and in the room for you to have at your leisure. Beers etc also in fridge for your pleasure at nominal charge - nice touch as were the other little extras. Plenty of heating, spacious rooms (ie bedroom and Kitchen/living room. Facilities to cook if needed. Would recommend for those with own vehicle looking for something rural but not too far from Rangiora township.
Maxine
2017-03-21T00:00:00Z
Tipo de Quarto
Casa/apto inteiro
---
Tipo de Imóvel
Casa
---
Acomoda
3
---
Quartos
Ohoka, Cantuária, Nova Zelândia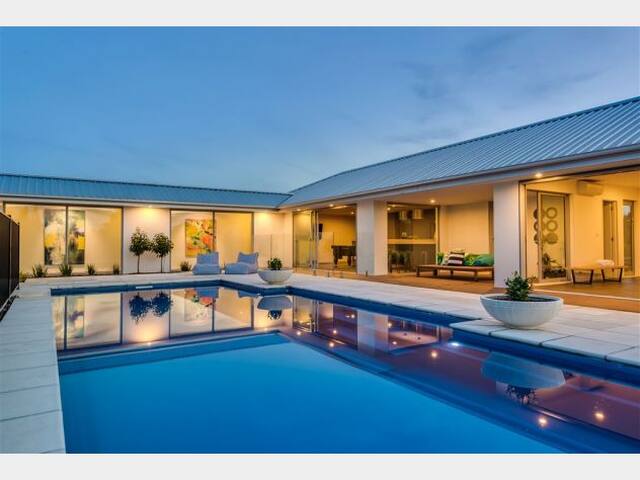 Our place is close to Kaiapoi. You'll love our place because of the kitchen, space and rural views out the back. Our place is good for couples and families (with kids). It's on a 10-acre established section.
Very peaceful, rural location.
Rural Ohoka, peaceful with plenty of space between houses (most are 10 acre sections).
Simon's house is great - a real home away from home; we spent two very pleasant weeks here. The house is spacious, comfortable & well furnished. The open plan kitchen is equipped with all the modern appliances and full sized dining table looks out over green pastures. Very reasonably priced and within an easy drive to Christchurch. Simon was quick to respond and helpful with any questions we had. A first-rate home and great host, highly recommended.
Corrina
2016-08-19T00:00:00Z
Beautiful and spacious place to stay, would surely come back again!
Shi Yu
2016-09-29T00:00:00Z
A magical place to relax, so close to Christchurch. The house is warm and inviting, the view from the house is delightful. Spring has arrived around the house in all its glory: We enjoyed the nesting Starlings, the hopping bunnies in the field. 4 teenagers had their best sleep ever in the wonderful beds and are ready to tackle exams which are coming their way soon. Thank you for opening your home to us, Simon.
Brekja
2016-10-24T00:00:00Z
This is a great place for peace and quite love the country life bunnies included Very comfortable home
Shirley
2017-01-28T00:00:00Z
Big whole house and space. Much nature and wild animals like 3 rabbit as a family. Not far from CH. very comfortable accommodation.
Kei
2017-02-21T00:00:00Z
Really enjoyed our stay. Nice big home and beautiful location.
josh
2017-03-13T00:00:00Z
We traveled from Canada as a family of 5 and this was our first stop in New Zealand! This character property is full of warmth, charm, and full of the creature comforts of home. A beautiful setting for the kids to roam around, in fact they were never inside! Fully equipped with everything and more and not a far drive to the local stores for supplies. Highly recommended for couples and families, there were stock piles of crafts and board games for the children to share if need be. We will be rebooking when our family and friends come to visit ! You will not be disappointed we couldn't have picked s better place to start our New Zealand Adventure! Thanks to all x
Nicola
2016-09-07T00:00:00Z
We couldn't expect such a huge and cosy house for this price! The absolutely loved to take our breakfast outside on the terrasse, in a very quiet garden. We loved to chill in both living room with netflix and the beds were awesome! There was everything we needed in the kitchen. Simon was very good in communication and allowed us to stay a few hours longer because our flight was late : thank you Simon! We definitively recommend this place for people who would like to have a quiet rest before a flight in Christchurch Airport.
Christophe
2017-01-13T00:00:00Z
Tipo de Quarto
Casa/apto inteiro
---
Tipo de Imóvel
Casa
---
Acomoda
5
---
Quartos
Ohoka, Cantuária, Nova Zelândia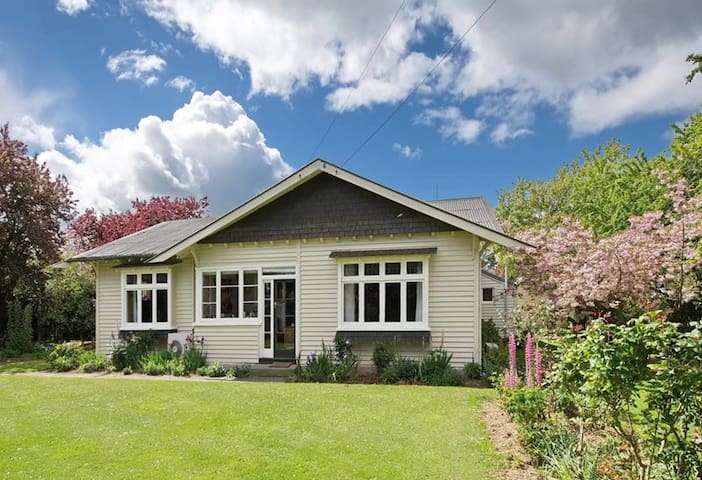 Located less than a kilometer from the airport on the main arterial into the city. Bus stop at the door and a large park opposite. Shops and restaurants less than 5 minutes walk on Kendall Ave. large comfortable and warm 15 SQM meter bed room with separate toilet and bathroom immediately opposite your door. Pick up and drop offs by arrangement. You are welcome to share our house, me my daughter and two small bichon cross dogs.
Cosy house in which you will have a comfortable private room. You will enjoy access to amenities, laundry (dryer in cures a $2 additional charge), kitchen, living and dining room with access to outdoor patio, tv lounge with tv and dvd with rj45 connect to data projector. Unattended access where required by means of a lock box. A more detailed information sheet available.
Burnside is a nice and safe neighbour hood. I specifically like living opposite Burnside Park as it's relatively attractive and makes things seem more relaxing.
Very friendly and welcoming, Steven dropped us at the airport which was very helpful ! The room was exactly how we needed it. Easy access to bathroom and kitchen.
Gabriel
2017-03-14T00:00:00Z
It's a convenient and lovely place. Though it is quite near airport, it's very quiet then. And Steven is kindly and very helpful. We arrived late but he still wait for us. Many thanks:p!
KATHY
2017-02-05T00:00:00Z
Steven's place is very close to the airport. He is a great person. Made us feel home and in turn making the stay very lovable. There are quite a few restaurants close by and it's a quiet locality. Would definitely recommend this place.
Shiva
2016-12-17T00:00:00Z
warm and cosy room with good breakfast. Near the restaurant and airport. Steven is friendly and willing to share his life with you. I really have good time here. :)
佩含
2017-01-28T00:00:00Z
Steven's place was perfect for us. I was able to drop off the hire car and walk to his house. We then took an uber for our early morning flight which only cost 8 bucks! Steven was very friendly and a great host. The price was also great value for money.
david
2017-03-21T00:00:00Z
Everything great!!! Very nice and convenient room, kind, helpful and hospitable host, quiet surroundings. This place is really worth the reccomendation!
Izabella
2017-03-18T00:00:00Z
Steve is a great bloke, the room is comfy and about a 20 min walk from the airport. Definately recommended.
Peter
2017-03-16T00:00:00Z
What a wonderful time spent at Steven's place. He is such a kind person. If you need something or advice, Steven is always there to help you. It was like my own home for 4 weeks. Steven borrowed me a bike to go to school and to go at gym. The place is at 2 seconds from the bus stop 29 to the center city. It is a wonderful place to stay. Thank you for everything Steven. You are the perfect host!
Audrey
2017-03-12T00:00:00Z
Tipo de Quarto
Quarto inteiro
---
Tipo de Imóvel
Casa
---
Acomoda
2
---
Quartos
Christchurch, Cantuária, Nova Zelândia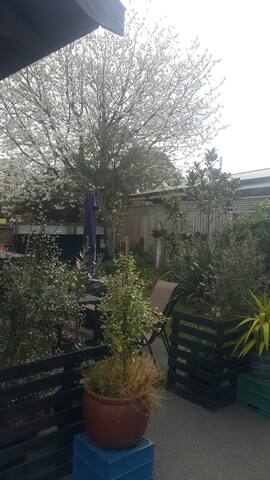 Near airport!!Our house is close to the city center about 6km. Best choice for the backpackers. Clean bedroom in the second floor and a kitchen you can use in the first floor. You can take coffee or some simple food in the kitchen. Please feel free like home.
Near the airport and you can cook as you like
Very nice and clean house, very close to the airport. I recommend !
Léopold
2017-03-08T00:00:00Z
Linglin was very helpful and accommodating even with a last minute booking the evening of check in.
Jonah
2017-03-05T00:00:00Z
Great value quiet place close to the airport. Would recommend, thanks.
Elliot
2017-04-03T00:00:00Z
The room was simple, but perfect for my one night stay in Christchurch! Linglin was very good at communicating quickly. I didn't see her at all during my stay, but she made it very clear how to check in and get to my room. Thanks Linglin!
Julia
2017-03-07T00:00:00Z
Nice place! Great location!
Ignacio
2017-03-25T00:00:00Z
Tipo de Quarto
Quarto privado
---
Tipo de Imóvel
Casa
---
Acomoda
1
---
Quartos
Christchurch, Canterbury, Nova Zelândia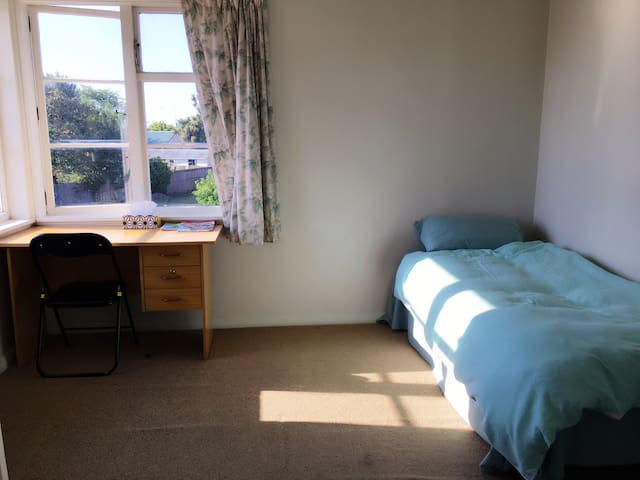 We are close to the airport just less than 3 minutes away, a park is right at the front door and the few meters to public transport, to the city and the airport. The university is about 3 km away. You'll love this place because of the location, the neighbourhood and the minimalistic simplicity. My place is good for couples, solo adventurers, business travellers, families (with kids), and groups.
This is a newly renovated house in a leafy suburb close tothe airport and on a very convenient bus route to the city and shopping malls. All basic facilities are provide and follow a minimalistic approach. The house has three rooms all with Queen size beds.
The house is in the leafy suburb of Burnside just opposite a public park.
Herman is a nice, responsive and detail-minded host. Convenient and clean house which is just 5 mins away from the airport.
Kelly
2016-11-01T00:00:00Z
The house was close to the airport, but I never knew it was under remodel until we got there.
Michael
2016-11-09T00:00:00Z
the place ia really good near the city and airport. also the owner is easy to communicate. A rating for me
Vincent Angelo
2016-10-30T00:00:00Z
My family and I stayed a night at Herman's place. It is very near to the airport which is really good and convenient. (5 mins drive away) Part of the house was still under renovation at the time we stayed (laundry room and the space between kitchen & living hall). There were some paint odour but overall it was quite clean. Beds were comfortable. Kitchen has got most things we need even though the oven was not usable at the time we stayed. The main problem that we faced was the water pressure of the shower. Water can go extremely hot and turn cold the next second even though we did not adjust the tap. Herman is aware of the problem and I believe he will get it sorted soon. Overall we were quite happy with our stay at this rate and at this location. Thanks for hosting us, Herman.
Tong Nee
2016-10-28T00:00:00Z
人非常满意的房子,性价比非常高,房东热情。总之,今人愉快
晖哥
2016-11-17T00:00:00Z
close to the airport,big house with everything u need .
bin
2017-01-15T00:00:00Z
good location , close to the park and airport.
Xan
2017-03-01T00:00:00Z
房子很不错,所有配套设施都很完善
tianyan
2017-03-12T00:00:00Z
Tipo de Quarto
Casa/apto inteiro
---
Tipo de Imóvel
Casa
---
Acomoda
6
---
Quartos
Christchurch, Cantuária, Nova Zelândia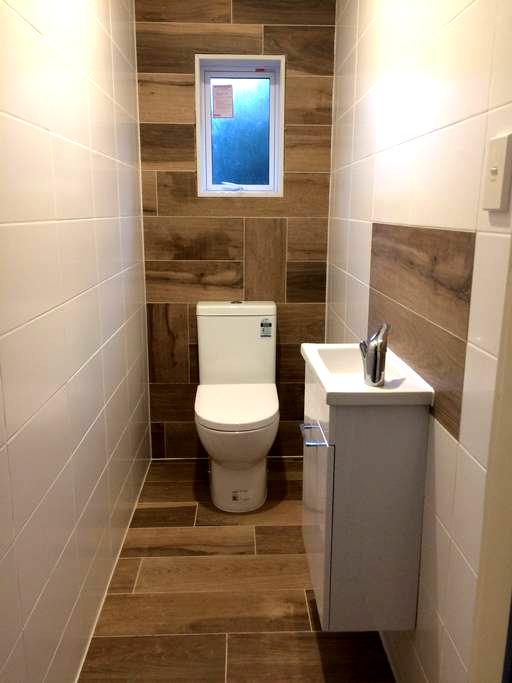 My place is close to Airport, University, Riccarton and Northland malls. Easy access in and out of the city, quiet and sunny. Bus stops nearby
Very nice and clean room and close to the airport. Bus stop is a minute walk from this place, can take a "Purple Bus" from the airport or if you want to go to city. Ample of street parking available and also there is a very nice Sports Pub across the road. Mrs. Gillian is very friendly and helpful. It's a great place to stay, go for it.
Waka
2017-03-25T00:00:00Z
Arrived late but Gillian was very hospitable and accommodating! Thanks Gillian!
Ellen
2017-03-22T00:00:00Z
Gillian's place was perfect for our last day in Christchurch before heading back to Canada. It is close to the airport, so the cab ride was easy, for our very early morning departure. She was very responsive to emails and our booking request. Also nice to talk to, and helpful on arrival. The room is very comfortable with a nice bed and enough space. Everything is very clean and tidy. We had a great experience.
Jean-Marc
2017-04-02T00:00:00Z
Very nice and comfortable place! It's close to the airport. Gillian is also very patient and kind.
达
2017-03-20T00:00:00Z
Gillian readily welcomed us to her clean home. She had one AirBnb bedroom which is directly opposite the shared bathroom and toilet. Gillian's home was within 10 minutes walk of a good value Countdown supermarket. It is also within 11 minutes bus ride from Christchurch Airport with bus 125 plying frequently (at about 10 minute intervals) with a bus stops almost directly outside and opposite her home. The Purple bus which operates at 30 minute intervals stops about 5 minutes walk from Gillian's property. A little tip - take or alight from the bus at the airport and pay $8.50. However, I alighted at a stop a short walk outside the airport to collect a rental car and the fare was $4.
Chin Lee
2017-03-21T00:00:00Z
how already said ... really very very nice! :)
Mareike
2017-03-16T00:00:00Z
My stay with Gillian was perfect! The location is awesome and so close to the airport. The bed was comfortable and Gillian couldn't be kinder. Definitely had a "home away from home" feel. I'd highly recommend!
Nelsy
2017-03-19T00:00:00Z
Very nice place to stay! You feel really comfortable here. It is very clean and cozy. absolutely to suggest!
Mareike
2017-03-09T00:00:00Z
Tipo de Quarto
Quarto inteiro
---
Tipo de Imóvel
Casa
---
Acomoda
2
---
Quartos
Christchurch, Cantuária, Nova Zelândia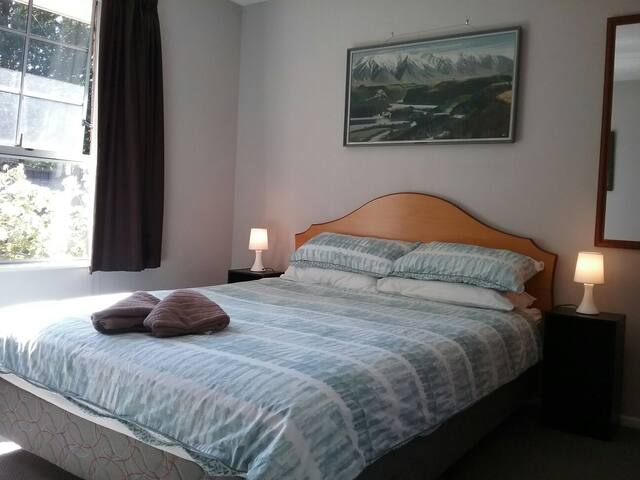 Nice home in the suburbs to relax, have fun, find yourself before continuing your journey in New Zealand.
Good inflow-outflow. nice size room not cramped. House very light and comfortable.
Nice quiet leafy suburb. very safe.
Gavin very helpful and giving such a great hospitality for us. The room is very comfy and the facilities are great and very clean. He also help us to organize taxi in the early morning to airport and assist us to go around city. Highly recommended.
Leny
2016-11-12T00:00:00Z
Gavin is a great host. He picked us up from train station at night and took us to China Town to get some food, and even drove us to the airport the next morning, we felt sooooo moved and thankful. Gavin got really nice house, everything was tidy and clean, and I also felt that the house was full of stories from all the unique decorations. I would definitely recommend the accommodation to you!
Iris
2016-05-02T00:00:00Z
Gavin is a very nice man. He suggested something we should notice, like we should take the bus to the airport but not walking to there because it's dangerous to cross the fast road.(Because we need pick up the car near airport next day) And he also pick up us from the airport. That's let us feel at ease. And the house is very tidy and warm.
Meng Chiao
2016-10-09T00:00:00Z
Gavin and his place were both equally great. He was able to accommodate an early check in and allowed us full use of the house's amenities. We loved chatting with him and hearing about his experiences as a host (we are hosts as well). We were close to the airport and it was easy to get a ride to our flight. We would recommend Gavin and his place to anyone looking to explore Christchurch or for a place to stay before or after a flight.
Julia
2017-02-15T00:00:00Z
非常值得推荐,干净舒适,家具感好,房东人很友善,值得推荐。 my family fell so good,clean,comfortable when we live in the house. we will live again, strong recommend.
sophie
2017-01-19T00:00:00Z
A great stay with Gavin who is a warm and interesting local host. The house is situated in a peaceful location with a beautiful garden. Lovely to arrive on a winter evening to a warm fire in the living area. Fresh muffins and jams were appreciated at breakfast, and a free ride to airport - thanks Gavin. Gavin gives lots of useful advices about travel in NZ too. A great place to stay and I would happily return. Many thanks Gavin.
硕
2016-08-15T00:00:00Z
Gavin is a cool and informative guy. He recommended places to stock up on food for our road trip. He was helpful to drop us at the airport to collect our rental car the next morning. His place is quiet and serene. It was so quiet we could literally hear a pin drop. The bed was so comfortable that the moment I lied down, I fell into a comma and woke up the next morning. Perfect for our first night in New Zealand. Thanks Gavin.
Ming Kim
2016-09-18T00:00:00Z
Gavin is a great guy! We met tons of problems, and got very late check in but he waits for us until we arrived and helps us a lot. The room is clean and cozy with a lovely lemon tree in front of the house. Definitely a must stay reason in his house next time. Highly recommended!
Helen
2017-02-03T00:00:00Z
Tipo de Quarto
Quarto privado
---
Tipo de Imóvel
Casa
---
Acomoda
2
---
Quartos
Christchurch, Canterbury, Nova Zelândia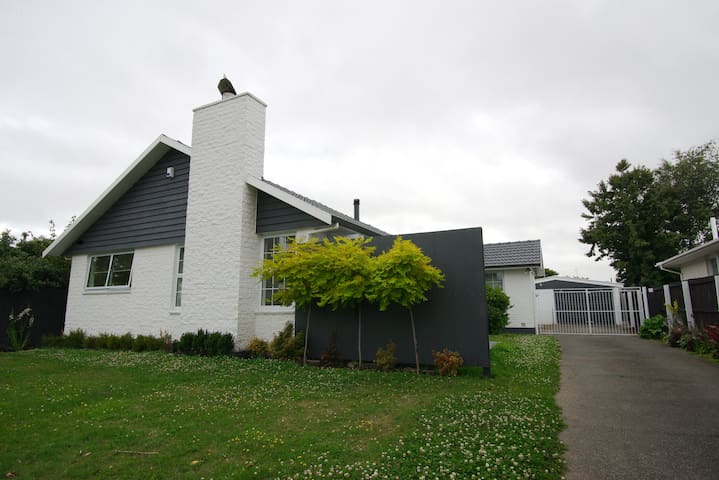 If you're starting your holiday, or on your way home and need a restful nights sleep, we have a super comfortable king-size bed in a gorgeous bedroom for you. And when you wake, you can start your day with a sumptuous continental breakfast - complimentary. We are only five mins from the Airport in a beautiful part of Christchurch. Three mins walk to food outlets, mini supermarket and 2 min to public transport. We look forward to meeting you, see you soon.
Your lovely room has a separate bathroom and a separate toilet, which are for the guests only. Relax and spread out in the lounge, on one of three, triple seat couches. Or in summer, enjoy the warmth of the day around the ample outdoor seating and table. For a relaxing walk, take a stroll in the expansive park only minutes from the house.
We're in a quiet culdesac, only a minutes walk from a lovely tree lined park. The local village mall is only 4 minutes drive away or other fast food outlets 3 mins walk. Stay a night before you explore NZ or, stay longer to experience all our great province has to offer.
Peter and Sharon were both very welcoming. They were detailed and took the time to explain on bus routes to the town center, which was a shame that we didn't go as my husband and I had a tiring drive from Dunedin back to Christchurch and departed the next morning. Peter dropped us at the airport despite our flight time was at 6am! Their place is clean and had everything from hot showers to wifi. As their place is just 5 minutes away from the airport, we will definitely return for our next trip - this time, a longer stay! Thank you both!
Sharene
2016-09-20T00:00:00Z
I really enjoyed my second stay here. Really comfortable room in a great location and wonderful hosts. I would love to come back. Thanks so much.
Lindsay
2017-03-14T00:00:00Z
Peter and Sharon were welcoming, friendly hosts who made our one night stay extremely pleasant. They were very accommodating with our late check in (after midnight!) and were able to give lots of useful tips over a yummy, healthy (provided) breakkie in the morning. The room was cosy, and clean and we had access to our own section of the house. A great place to start or end your trip in Christchurch.
Rebecca
2017-01-13T00:00:00Z
Fabulous bed, great shower, rounded off with a delicious continental breakfast in good company. Peter and Sharon were excellent hosts. A mere 10 minute drive from the airport and highways to the South and West coast ... We would definitely stay again if our travels bring us back this way.
Judith
2017-01-21T00:00:00Z
Peter and Sharon were very friendly and helpful, we had a wonderful stay! Home was beautiful and near the airport. Would definitely recommend!
Linda
2016-09-19T00:00:00Z
非常完美的两位房东,如果你晚上或者下午抵达基督城建议住在他们家!距离机场很近,peter也非常nice,亲自到机场接我。第二天一早又亲自送到租车店,简直无微不至,并提供了好多旅程建议!以致我回程也选择了继续住在他们家!很温馨真的性价比超级高,不容错过的选择!回程我的飞机是早上六点半的,peter又一早五点开车送我去机场,真的很感动!
zijun
2016-06-19T00:00:00Z
Loved our stay at Peter and Sharons, great accomodation, helpful hints from our hosts and Sharon even found time to do our washing, highly recommended- Ian and Julie Perth WA
Ian
2017-02-21T00:00:00Z
Hi Sharon and Pete, Thanks a lot for the great welcome in Christchurch and hosting us for one night! The transfer from the airport and the transfer to the camper location was very kind and much appreciated. Chatting with you was great and the breakfast supet delicious. You are only recommendable Best, Karolin and Conny
Sophie Karolin
2016-12-14T00:00:00Z
Tipo de Quarto
Quarto privado
---
Tipo de Imóvel
Casa
---
Acomoda
2
---
Quartos
Christchurch, Canterbury, Nova Zelândia
Upmarket Townhouse beautifully furnished simply the best.Free parking straight outside.Very warm and sunny double glazed with inside /outside living. .Sky TV. Handy to Christchurch Airport, bus stops and local restaurants and cafes.Ideal for professional business people and out of town visitors and tourists.Relax and enjoy the comforts I provide.
My townhouse is just 4 mins from airport .Centre City is 15 minutes drive.Bus stops directly outside my place for going to City and airport Fast -Unlimited Wi-Fi is included.
Neighbour hood is a safe ,well established residential area.Supermarkets and cafes are just 5 mins drive.A local fish shop takeaway is just across the road ,plus the award Winning Copenhagen bakery which is a must to visit, you won't be disappointed.Large swimming Centre and Mall are within 5 mins plus Petrol Station.The ever popular Russley and Clearwater golf Club are just 5 minutes from my place..Easy access to Southern and Northern Motorway.
Lovely, but brief, stay. Modern house, nicely fitted out. Lexia is a very friendly and professional host. Close to the airport. Very comfortable room. Highly recommended.
Steve
2016-02-11T00:00:00Z
Lexia was a fantastic host. She allowed us to arrive in a very short time frame after her guests the night before left. She was polite, friendly and overall a joy to stay with. I would highly recommend her place to anyone going through Christchurch.
Derek
2016-11-14T00:00:00Z
Very nice house and the decorations are very cool,we love all of them.Lexia gave us a very warm welcome, and made us feel at home. I will never forget the experience to stay with Lexia.
Yu
2016-01-12T00:00:00Z
房间的布置很别致,有让人放松的香味,房东热情地帮我们解决问题,离机场很近,周边的餐厅和商场也比较多
WENHAO
2016-02-27T00:00:00Z
Lexia was very accommodating to our early morning arrival time. Although we didn't get to meet her we still felt very looked after. The room was perfect, neatly kept, with beautiful decor, dark and quiet at night and upon opening the blinds beautiful and sunny in the morning. Lexia also offered breakfast but we declined simply due to the fact we had to leave early. The bathroom was also very clean with nice decor and fresh towels. Highly recommended, a beautiful place to stay and the bed was super comfy.
Jason & Steph
2015-12-23T00:00:00Z
Lexia was an amazing host! The only thing better than her beautiful home was her personality. She made us feel like family/long-term friends from the beginning. Her home is easy to reach from the airport, and the bus into town is right outside. She was super helpful helping us plan and we wish we could stay longer.
Chase
2016-01-25T00:00:00Z
The apartment looked so much like a designer flat! Was really impressed! Looks better than in photos. Lexia was warm and friendly, gave us clear instructions on how to get into the house as she was not around when we checked in. Really near the airport which is great for travelers who need to go to catch a flight at odd hours like us. Amenities were well provided.
Cheryl
2016-05-04T00:00:00Z
Lexia is a great host, she was very helpful and welcoming. We had a wonderful experience at her lovely house.
Mathieu
2015-12-19T00:00:00Z
Tipo de Quarto
Quarto inteiro
---
Tipo de Imóvel
Casa
---
Acomoda
2
---
Quartos
Christchurch, Cantuária, Nova Zelândia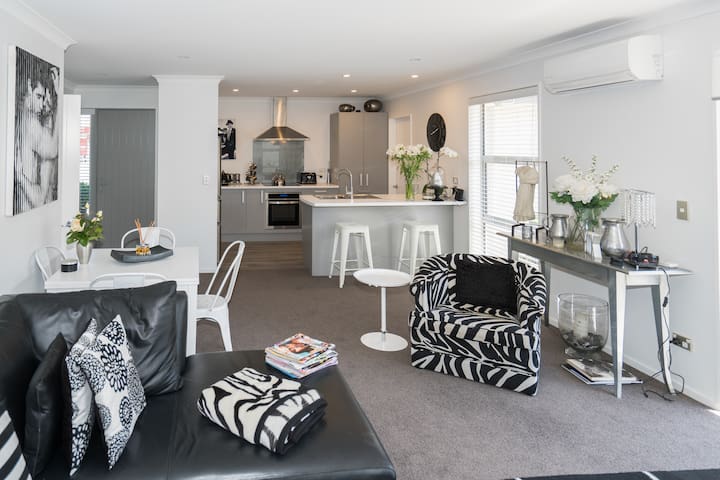 Close to airport, new subdivision. Very quiet area, safe. Own separate bathroom to use, shower, toilet and bath. Brand new. Clean & modern. You have a walk in wardrobe, ceiling fan and heater. Upstairs in the house. Beautiful and warm. Unlimited internet - full use of kitchen & lounges.
Fantastic neighbourhood really safe area. Can see southern alps from your bed! New house, own shower, bath and toilet
Quiet, new subdivision, park nearby for children or to to go running around.
The place is very close to the airport. Simon is a great host, the bedroom is clean and spacious for one night
Eve
2017-01-01T00:00:00Z
It felt exactly like coming home when we arrived at our accommodation. The room looked perfect like the picture and we were blown away at how grand your home look. Thank you Kate and Simon for allowing us to stay there. We can't wait to visit again.
Daljinder (DJ)
2016-10-02T00:00:00Z
Kate and Simon are so nice and kind people,and their house is very clean and comfortable,they have a lovely cat!highly recommend!
丽娜
2017-02-19T00:00:00Z
We stayed with Kate and Simon for one night, it was in a great location for the airport and the house is lovely! We met Simon, who was very friendly and spoke to Kate through messages. They were both great hosts. We loved meeting their super friendly cat Hugo too.
Matt
2017-03-05T00:00:00Z
Thanks for the hospitality, a pleasant stay.
Ewen
2016-10-07T00:00:00Z
We really enjoyed to stay at Kate's and Simon's house. The room and bathroom were very modern, clean and really big. The bed was fantastic and really comfy. The information provided was very helpful and it was easy to travel by bus into town centre. Kate and Simon were nice hosts who made us feel very comfortable. No problems to use kitchen for cooking. Thank you very much :)
Lisa
2017-04-03T00:00:00Z
very nice house and a beautiful night, thanks Kate
XING
2017-03-29T00:00:00Z
房子很大很漂亮,去各种地方打uber会很方便。主人很爱干净也很nice,制作了非常贴心详细的周边设施地图。而且他们还有一只炒鸡可爱的猫!(˶‾̫‾˵)
Cheryl & Lee
2017-03-10T00:00:00Z
Tipo de Quarto
Quarto privado
---
Tipo de Imóvel
Casa
---
Acomoda
2
---
Quartos
Christchurch, Canterbury, Nova Zelândia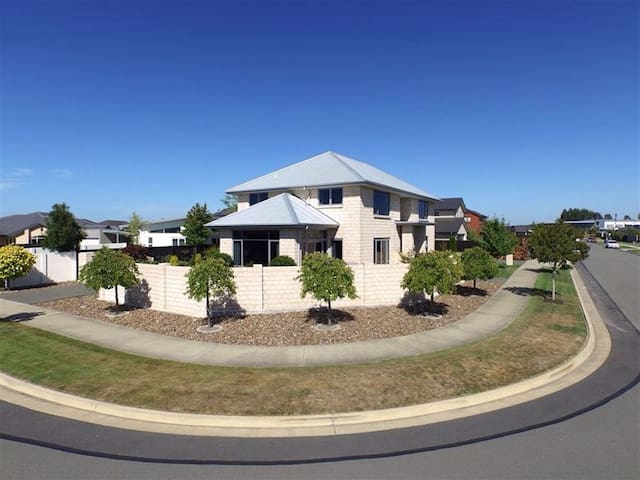 Our beautiful home is set out in the country, just 20 minutes from Rangiora, and 25 minutes from Christchurch International airport. We offer a quiet tranquil home with plenty of space to relax. The kitchen is expansive equipt with all the modern conveniences. You will love meeting the pet sheep, Rascal the goat and Tui the dog. We are central to many wonderful attractions, including The thermal resort of Hanmer Springs, The whale watching town of Kaikoura and the wonderful Mt Hutt ski fields.
The listing is for one bedroom but if you have more than four staying we can accommodate with extra rooms, All bedrooms have their own ensuite
We live in the country side, with beautiful views of the Southern Alps. Oxford and Cust are both 10 minutes drive away. These two cute little villages offer some wonderful shopping and dining experiences.
I can't tell Tracy how much I appreciated your kindness and great service. It was a delight to see a loving family ,beautiful home and enjoy each other's company. Tracy has created a great home atmosphere .
Sandeep
2017-03-23T00:00:00Z
This home is as lovely as Tracy's wonderful hospitality. She's the perfect host and she made our stay delightfully comfortable, as if we were staying with family. The home is situated in a lovely location and the darling animals that occupy the property are a charming addition to the place. Tracy is a five-star communicator and made planning our stay so easy. She went above and beyond to ensure our needs were met and that we were comfortable in every way. We absolutely recommend this gorgeous home to the world--THANK YOU, Tracy for everything!
Megan
2017-02-20T00:00:00Z
Tipo de Quarto
Quarto privado
---
Tipo de Imóvel
Casa
---
Acomoda
11
---
Quartos
Rangiora, Canterbury, Nova Zelândia
Only 5 minutes drive to airport although very peaceful. Feel at home and enjoy the large grass area to relax in. We keep our home warm. Your room has single bed, built in wardrobe, set of draws, full length mirror, desk, heater, free Unlimited WiFi. We are Kiwi and Thai. We can pick up and deliver to airport for $15 Basic breakfast Toast/Cereal. instant coffee, tea
Best value
Terence
2017-03-06T00:00:00Z
Arthur and Sopar collected me from a very early flight at the airport and also let me check in to the house several hours before official check-in time. Much appreciated! Great hosts and great stay :-)
kate
2017-01-27T00:00:00Z
I had a late flight and from the start the stay was great. Arthur and Sopar picked me up from the airport. The room was clean and the bed was nice and comfy. I had a dinner with them at a Thai restaurant and afterwards Arthur dropped me off at the airport at 3 in the night even though he had to work the next day! I would recommend this stay to everyone who needs a place to stay in Christchurch.
Richard
2016-12-18T00:00:00Z
My hosts were absolutely amazing, going above and beyond to not only pick me up in the early morning, but to also offer me food and drop me off at my next destination. During our short time together, Sophar was absolutely delightful, warm and hilarious. A lovely couple, lovely home, would definitely recommend even for solo travelers!
Jina
2016-11-27T00:00:00Z
My second time staying with Sopar and Arthur and it was a treat again! They are such lovely and caring hosts and I would love to stay with them again!
Theresa
2016-09-03T00:00:00Z
I felt very welcome!! The room was cozy and warm. Arthur and Sopra are wonderful hosts - kind and generous. I enjoyed my short stay there. Only downfall is it's a little far from town. But Arthur is helpful with directions! I would recommend it :)
Crystal
2016-07-09T00:00:00Z
Friendly couple and willing to help people with extra mile services
Cindy
2016-07-22T00:00:00Z
Arthur and Sopar were a truly lovely couple. I really enjoyed staying with them. They made everything perfect and the room was just cozy and nice. They even offered a ride to the airport very early in the morning, which was of course really helpful. Overall, I highly recommend this place!
Yoko
2017-01-07T00:00:00Z
Tipo de Quarto
Quarto privado
---
Tipo de Imóvel
Casa
---
Acomoda
1
---
Quartos
Christchurch, Canterbury, Nova Zelândia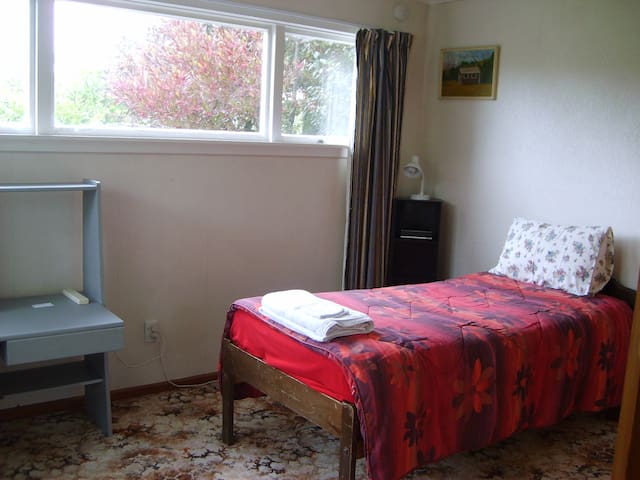 Approximately 20 minutes from Christchurch International Airport and Central Christchurch in upmarket Ohoka. Very private and set amongst mature Olive trees, with plenty of parking for your vehicle. Relaxing family atmosphere where you can wander the grove or play a game of tennis on the private Court shared with our community. Our house is heated and air-conditioned with FREE Wireless WiFi.
You have your own well appointed private bathroom. Shared use of kitchen, living, lounge areas, laundry, and outdoor areas.
John promptly confirmed our booking, sent the directions for their home and arranged to meet us on arrival. It is a lovely home on a quiet estate. John and Alannah were most welcoming, showed us around, and left us to it. We caught up and talked to them both several times over the weekend. They were very friendly and accommodating hosts.
Gay
2017-01-02T00:00:00Z
John and Allanah were great hosts, it felt more like staying with friends than renting a room. You do need a car if staying here but if you have one the location is wonderful.
Beverly
2016-12-25T00:00:00Z
A very comfortable large bedroom with your private bathroom just a few metres down the passage. The lovely spacious home is set on a lifestyle estate with lots of olive and fruit trees which allows plenty of space for walks. John and Allanah are very friendly and easy going hosts and they are most helpful. You will enjoy spending time with them. Richard and Wendy
Richard
2017-01-15T00:00:00Z
What a fabulous home! John's home is located down a beautiful tree-lined road and makes you feel truly part of the Olive estate. John's home is of a beautiful quality, is meticulously kept and is obviously a much loved home. John made us feel at home and was very welcoming, while at the same time allowing us to have our own space. I recommend this place to others looking to stay in Ohoka - a great find.
Hannah, Koi and Aaron
2016-02-29T00:00:00Z
We had a lovely stay with Anna and John. Anna was very hospitable sorry we missed you John. John gave us a courtesy call a couple of days before just to confirm details which was great
Wendy
2015-11-29T00:00:00Z
John and Allanah made us very welcome, and provided a very comfortable bed for us in between houses (we were moving that day). As we were totally exhausted we appreciated the quiet solitude of the environment, but felt that we would have liked more time to look around the property. Our late arrival and early departure did not allow that exploration. We did manage to have lovely chats before we collapsed though. Recommended.
Pat
2016-06-30T00:00:00Z
A most appreciated warm and friendly welcome was given to a lovely home set in an idyllic rural area. A wonderful place to be!
Stephen
2016-01-10T00:00:00Z
Tipo de Quarto
Quarto inteiro
---
Tipo de Imóvel
Casa
---
Acomoda
2
---
Quartos
Ohoka, Cantuária, Nova Zelândia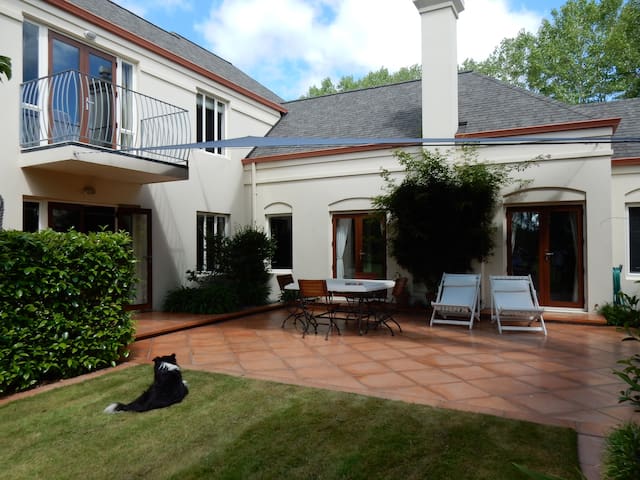 My place is close to the airport, the city centre, parks, and art and culture. You'll love my place because of the private feel, the cosiness, the relaxed room with beautiful furnishings. My place is good for couples, solo adventurers, business travellers, and families (with kids). If families would like to stay I can provide up to three more beds (please enquire first). We also have a baby cot and high chair if required. Airport pick up and drop offs can often be arranged with the hosts.
The bedroom is on the second floor and has its own couches to provide private space for the guests. There is a double and a single bed in the room. The bathroom and toilet are shared with other Airbnb customers. There is a beautiful outdoor area for relaxing.
The house is located in a cul de sac in a quiet neighbourhood. It is very close to the airport, and quite close to a variety of cafes and takeaway food outlets.
Perfect position, quiet but close to the airport and malls. Laurence and Georgina could not have been more welcoming. Highly recommended.
Hilary
2017-03-01T00:00:00Z
It is a nice experience to stay with Laurence and Georgina. The house is warm, tidy and clean. Everything has been prepared perfectly! Recommend to other guests! We will definitely come back again! Thanks so much;)
Chelsea
2017-02-28T00:00:00Z
A wonderful place to stay !!! Laurence and Georgina are to most friendly hosts I have ever met, they are really kind, helpful and answered every question about anything ! So at al one of the nicest places we've had on Airbnb! And we highly recommend this apartment !
Luca
2017-02-06T00:00:00Z
Thanks so much for hosting Tam & I at the last minute! Very accomodating and great to deal with. Room was amazing and homely - would come back again for sure! Thanks for being so friendly!
Tom
2017-01-27T00:00:00Z
Great stay! Laurence was super friendly and it's close to the airport.
Philipp
2017-02-24T00:00:00Z
Very clean and tidy place close to airport. Laurence and Georgina are gracious and helpful people.
Jan
2017-03-21T00:00:00Z
Laurence and Georgina's place is perfect for staying! The rooms are tidy and nicely decorated. They're extremely nice, Laurence picked us up at the airport and offered rides to surrounded areas. The location is great, close to airport, grocery store, and various restaurants. Great value, highly recommended!
Zhaohui
2017-02-21T00:00:00Z
We have had a fantastic stay with Laurence and Georgina. They are very welcoming hosts and even took us to a nearby viewpoint overlooking Christchurch. Very close to the airport, perfect cosy and clean room. Absolutely recommend and would definitely go back
Andy
2017-02-20T00:00:00Z
Tipo de Quarto
Quarto privado
---
Tipo de Imóvel
Casa
---
Acomoda
3
---
Quartos
Christchurch, Canterbury, Nova Zelândia
Our Home is Large and Spacious, Modern and Homely in a lovely and quiet neighbourhood. I'm sure this won't disappoint.
The total top floor is spacious, warm, and private for your use exclusively. The large double bedroom has its own private bathroom and a separate toilet. Extra guests from your own group can be accommodated in 2 other double bedrooms-again, on the top floor.
Liz & Neville are fantastic hosts- made us feel very welcome & the room was A1 - very clean & comfortable. We will certainly be returning next time we are in the area
Murray & Eunice
2016-10-14T00:00:00Z
A stunning spacious home with wonderful hosts. Liz and Neville made us feel very welcome. It is located in a quiet location but still close to all amenities. Highly recommended and will certainly be returning next time we are in the area.
Kobus
2017-01-28T00:00:00Z
A simply excellent place to stay. Very well appointed, comfortable, a lovely part of town, and a great breakfast. And wonderful, warm friendly hosts.
Robin
2017-02-11T00:00:00Z
Liz and Nevil were the perfect hosts!! A stunning spacious home! The guest area is the upper level of the home and is very private from the rest of the house, the hosts were very cruisy to get along with and we had some good laughs! Loved my big bedroom and bathroom! There are 2 bedrooms up stairs so could be quite handy for 4 ppl. I also was able to take my small dog which Liz even brought a wee treat for. Fantastic location and very easy to find too.
Tash
2016-08-15T00:00:00Z
Great welcoming family. Thanks for your kind hospitality and definitely a place to stay on the next visit:)
Donghwi
2017-02-28T00:00:00Z
Liz' place is a ten star rating . Immaculate a gorgeous home with fantastic hospitality the absolute best ! Fantastic quiet up market location Devine bedroom, top class linen roomy bathroom and toilet. Nicer than any top hotel Liz and Neville are warm friendly top hosts marvellous hospitality , lovely people. Highly recommended
Christine
2016-12-31T00:00:00Z
Tipo de Quarto
Quarto inteiro
---
Tipo de Imóvel
Casa
---
Acomoda
2
---
Quartos
Rangiora, Cantuária, Nova Zelândia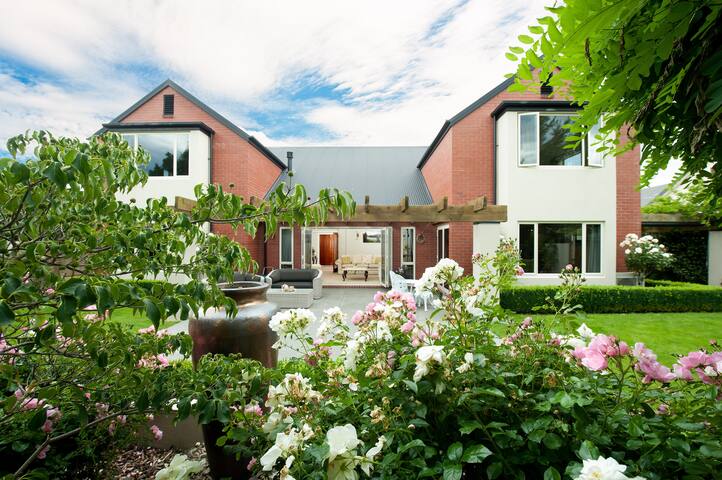 You'll love my place because of the great location - it's modern, friendly, warm and welcoming. It is great for couples, solo adventurers, and business travellers to relax. I am close to a supermarket, restaurants and takeaways (all 3mins walk away), public transport, a big public swimming pool, gym and sauna and park are across the road. It's close the university and the airport.
Your room will be in my new townhouse. It is cosy-warm with double bed, an electric blanket and lots of wardrobe space.
I am in a lovely, leafy, suburban neighbourhood. It is eight minutes drive to the airport, ten minutes drive to town and two to the university. I am very lucky to have six excellent eating places just down the road as well as a supermarket.
Really nice house and beatiful garden. The bed was so comfortable.
Kathrin
2017-01-19T00:00:00Z
Really nice stay in Kaye's lovely new house. The house and room are great, very modern and clean. The location is close to the airport and not too far from the center. Kaye was welcoming and friendly, overall a good place to stay if you are visiting Christchurch.
John
2016-10-16T00:00:00Z
Great. My first airbnb. I'm convinced
Ray
2016-11-16T00:00:00Z
Kaye is a wonderful lady who is friendly and nice. We just had lovely chats with each other. The room here is also great with big wardrobe and a really soft bed to sleep. I strongly recommend you guys come here and enjoy Christchurch!
Matt
2016-09-19T00:00:00Z
Kaye is such a great host with good communication and being very thoughtful. The place is what you need for a proper trip with great value:) Thank you for hosting me. Highly recommend to future travellers to Christchurch.
Richard
2016-11-30T00:00:00Z
I enjoyed my stay! Kaye is quite nice.
YANGYANG
2016-12-04T00:00:00Z
Wonderful place to stay! comfortable bed, beautiful house, close to the airport. Kaye is a very nice and helpful person! She provided us with breakfast and everything we needed!
Andreas
2017-03-07T00:00:00Z
It was very nice staying with Kaye! Her house is modern and clean ans Kaye herself is very nice. I would go there again!
Lena
2017-02-04T00:00:00Z
Tipo de Quarto
Quarto privado
---
Tipo de Imóvel
Casa
---
Acomoda
2
---
Quartos
Christchurch, Canterbury, Nova Zelândia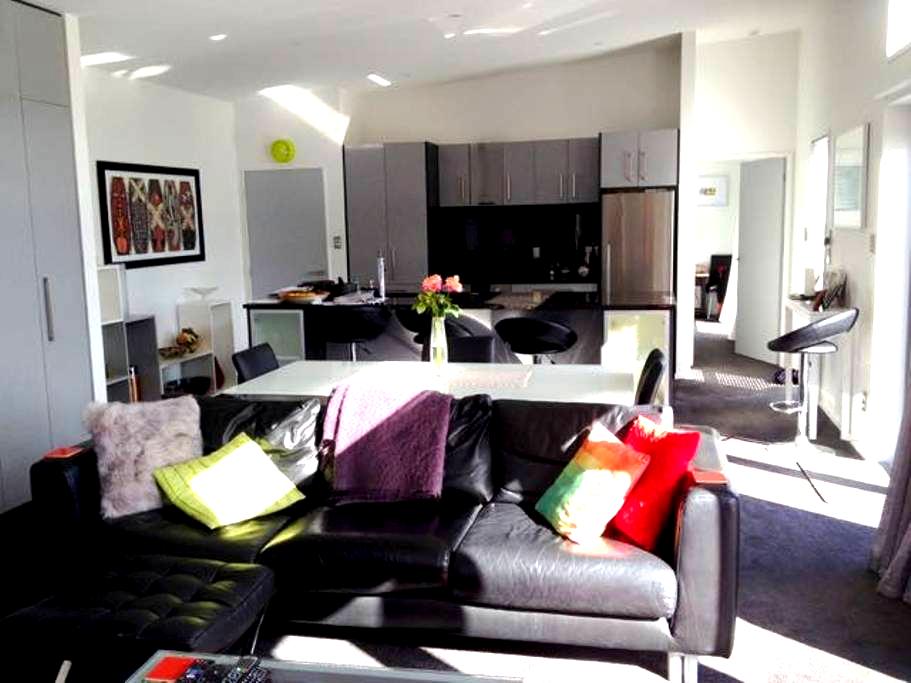 Enjoy the tranquility of the country while being only moments away from the city. Our warm, modern 2 bedroom cottage is surrounded by beautiful gardens, and being only 7- 10 minutes (4kms) from the airport, it is the perfect place to unwind on your city stay.
Newly refurbished this historic granary has been turned into a purpose fitted out modern, spacious 2 bedroom cottage set amongst 4 acres of beautiful gardens. The Granary offers a sunny, open-plan living area with flat screen smart TV with Netflix, wireless internet, A well-appointed kitchen, 2 large bedrooms with comfortable queen-sized beds and quality linen, shower with amazing water pressure and washing machine! The Granary has full central heating and air conditioning for year round comfort as well as a cosy fire for Cosy nights in. The living areas open out onto a sunny garden room and private courtyard where you can enjoy the serenity of the surrounding gardens and countryside. This all adds to a unique kiwi rural experience only 6 mins from the airport, 9 minutes to Riccarton Mall and 15 minutes to the Central city!
Located in a rural neighbourhood surrounded by gardens and open paddocks. On the fringe of town, close to the airport, supermarket, cafes and amenities.
Awesome and close to airport.
Bharath
2017-01-20T00:00:00Z
Sean's cottage is a find! What a cozy and stylish place nestled in nature. We found the fireplace on upon our arrival which was lovely as it had been cold and rainy, so we could relax right away in the living room area. The bathroom is super stylish and clean and the bedrooms are designed so well! We slept in the most cozy cotton on top of a wonderful mattress. All around our stay in Christchurch was well worth it, what a beautiful location! Well worth a return visit!
Susanne
2017-01-06T00:00:00Z
Not far away from the airport. It's easy to find from main western road. The garnary is in a big garden with beautiful flowers, high trees, rabits and cows. The room is very neat with well equipped. We cooked delicious beef and salads here. Really enjoy the staying.
Kay
2017-01-16T00:00:00Z
Great place. Close to the airport.
Jeremy
2017-03-18T00:00:00Z
great great great!perfect view,beautiful house,great facility!
haiwei
2017-01-03T00:00:00Z
A beautiful and well presented house. Sean made checking in so easy with clear and easy to follow instructions. We had everything we needed and more. Thoroughly enjoyed our stay.
Anil
2017-03-05T00:00:00Z
Very tasteful decor and well kept place. Has everything you need. The owner has clearly put his heart into the design of the place to make it feel like home. Will stay here again if visiting New Zealand. Extremely close to airport if driving.
Cyril
2017-03-23T00:00:00Z
The place was clean, upscale and all the furnishings were beautiful. Located close to the airport (7-8 minute drive, was ideal for us as we had an extremely early flight out). Sean provides everything you need, included Netflix if you're feel like having a quiet night in. The beds and blankets used were of very high quality. We only stayed one night, but if we are ever back in Christchurch we would definitely recommend staying again!
Emily
2016-12-19T00:00:00Z
Tipo de Quarto
Casa inteira/apto
---
Tipo de Imóvel
Casa
---
Acomoda
4
---
Quartos
Christchurch, Canterbury, Nova Zelândia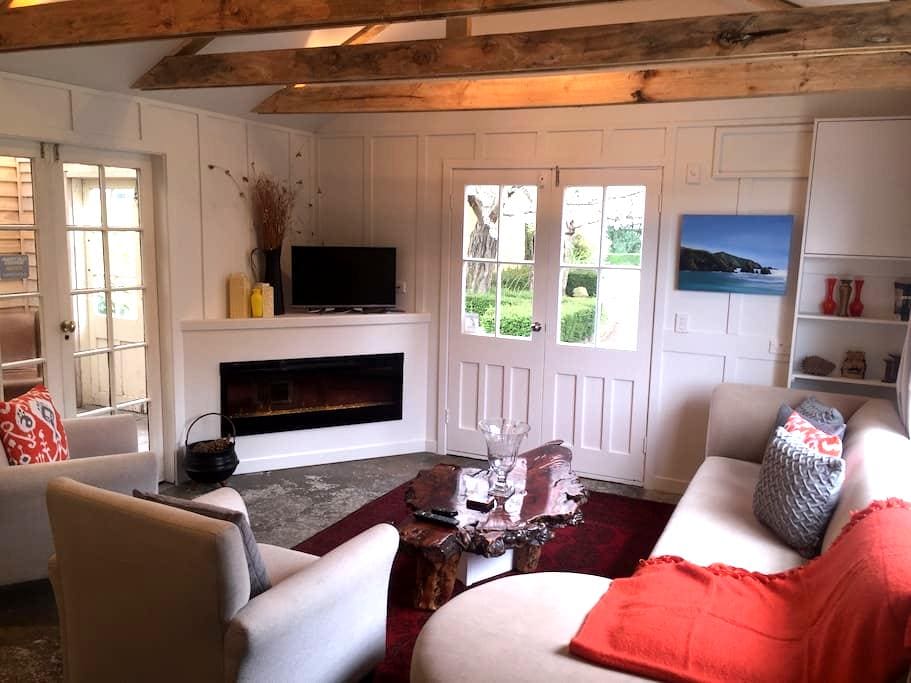 Swannanoa - Airbnb
:
Média de

4.95

de

5

estrelas, de acordo com

822

avaliações de hóspedes
1

–

18

de

300+ Alugueres de Casas
Insira as datas para ver o preço total. Taxas adicionais aplicáveis. Podem ser adicionados impostos.