2 bedroom weekender located on the Tanglewood Estate, adjacent to the leafy environs of the Cudgen Nature Reserve, 4kms to Cabarita Beach and Bogangar Village. The lofted chalet shares a communal swimming pool.
The listing was very accurate and she gave a amazing directions to the home
Dean
2016-07-09T00:00:00Z
Tanglewood is a great stay to disconnect from everyday life - no wifi and also cell reception was limited but we loved it! A great spot nestled away from the main road but close enough to the local town. The chalet has everything you need for a pleasant stay. Marianne was a great host, she replied promptly to my booking request and ensured an easy arrival process.
Mala
2016-09-24T00:00:00Z
Staying at Tanglewood chalet was absolutely delightful. We needed some down time to relax and this place is in the most beautiful environment. Our host Marianne was quick to respond to any inquiries and provided us with all the information to find the place easily. Tanglewood is just a five minute drive to shops and the beach. There's a large expansive lawn where we played frisbee. Mobile phone reception is intermittent in the chalet, but we drove to town/beach each day and caught up on anything we needed to in that regard, so we did not find this a problem. Tanglewood was beautiful and relaxing.
Jill
2016-05-19T00:00:00Z
Nice place, instructions made it easy to find, overall no complaints at all!
Jacob
2016-07-12T00:00:00Z
I was very happy with my stay at Tanglewood. The communications and instructions with Marianne were very clear. All was as stated…my bed was very comfortable…the chalet tastefully appointed and had all we needed.
Roseann
2016-05-31T00:00:00Z
We thoroughly enjoyed our stay at this unique house close to Cabarita Beach. House is fully equipped in a nice, quiet and beautiful area. Would definitely recommend staying here to others.
Craig
2016-10-26T00:00:00Z
We have spent some great days in Tanglewood. Marianne replied very fast and with her instructions we had no issues in finding the house. The house is a little older but clean and it has everything you need. We found it as described or better. We could have easily spent some more days in Tanglewood if we didn't have to move on. Thanks!
Daniel
2016-10-09T00:00:00Z
We really enjoyed our stay in Tanglewood! The house is very fresh with a big balcony where we had a lovely bbq. The surroundings around the house were beautiful nature, with a short driving distance to the beach and shops. I recommend this chalet if you want a quiet stay near the beautiful coast of Australia.
Dani
2016-04-26T00:00:00Z
Tipo de Quarto
Casa inteira/apto
---
Tipo de Imóvel
Casa
---
Acomoda
5
---
Quartos
Tanglewood, New South Wales, Austrália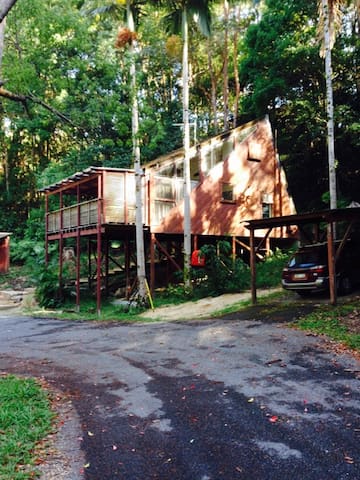 An open plan self-contained cottage set on 6 peaceful acres, 3 km from beautiful Cabarita Beach. Access to shared pool. 20mins from Coolangatta Airport, 30mins to Byron Bay. Sleeps 4 . Queen Bed, 2 singles plus fold out sofa-bed. Includes linen
Tanglewood Cottage is on a quiet acreage, surrounded by tall trees with the beach only minutes away by car. Cabarita Beach is a small coastal village with cafes, restaurants and an art gallery plus the convenience of a Woolworths supermarket. The cottage is equipped with a fridge, microwave, cook-top, kettle, toaster, blender, TV, CD and DVD player, free Wi-Fi, shower, Ironing board and iron, upright fans, and a wood burning fire for winter. It is an open plan style with a relaxed tranquil decor featuring original paintings. It would comfortably fit a family (or friends) of 4 but an extra 2 can be accommodated on the sofa bed if needed. The cottage is an open space with the queen bed partitioned off to provide a little privacy. Start up provisions provided: dish washing liquid, tea towels and all other linen, soap, crockery, cutlery and cooking facilities. Tea, Coffee are supplied as well as generous breakfast provisions for your first morning. Linen will be changed and the cottage cleaned every 7 days if staying longer than a week.
There are many things to do in the area. Local markets are on every weekend, Mt Warning National Park is 40mins away, Tropical Fruit World and Currumbin Wildlife Sanctuary are both close by. We are only 2km from the freeway exit with easy access to Byron Bay(30mins) or north to Gold Coast. Gold Coast Airport is 20 mins drive. We are also close to Music festivals such as Byron Bay Bluesfest, Falls Festival and Splendour in the Grass.
The cottage was very comfortable with all the convenience you could wish for. The host was so welcoming and had pleasure to meet. We loved the picturesque, relaxed setting and felt very comfortable. The only thing we would change would be to bring our children next time and stay abit longer.
Ingrid
2017-02-24T00:00:00Z
We had a lovely stay at Tamara's cottage. It's located in a quiet, peaceful location and is close to the beach and restaurants. The cottage has been decorated tastefully to give it a nice cozy feel and the bed was extremely comfortable. We'll definitely visit again. Thanks for letting us stay!
Kellie
2016-11-19T00:00:00Z
Tamara rang me prior to our arrival day to tell me she would not be home when we arrived. She made our arrival time very flexible, had emailed me very clear instructions on how to get to Tanglewood Cottage and when she did get home came and introduced herself and showed me her artwork in her home. Very well set up kitchen and breakfast supplies. Nice to have a tea pot. Perfect location for visiting the Madura Tea Plantation. Very comfortable bed. Nice selection of toiletries.
Penny
2016-03-23T00:00:00Z
Tamara was very welcoming. There is a file of useful information. Lovely, peaceful stay. Swam in their pool. The accommodation is light and open. Very comfy bed and well supplied kitchen.
Jessica
2015-11-23T00:00:00Z
I couldn't have picked a more perfect place to stay. The hosts are wonderful people, warm and welcoming, yet respectful of your privacy. The cottage is very well-equipped, very clean, and in a lovely natural setting. Although it feels like a world away from everything when you are there, it is just a quick 5 minute drive to shops, cafes, and the beach. I highly recommend Tanglewood Cottage and its hosts.
Bronnie
2014-02-12T00:00:00Z
We had a perfect little break for our trip up north. To be able to turn off one of Australia's busiest motorways and in minutes be in this relaxing home-away-from- home is just perfect for travellers. Your family has plenty of room in this spacious cabin, all the kitchen facilities and equipment, and very above standard breaky provisions. We also enjoyed the pool, mossies were ok, just bring repellent and enjoy the tranqil nights too. Tammy is a gracious and creative lady who's art and love of nature is inspirational. This is truely a hidden gem surrounded by bush and nature, we loved it.
Lara
2016-04-13T00:00:00Z
Tarmara and David are fantastic hosts! There is something unique about them, their energy just draws you in and makes you feel warm and welcome. The cottage is more spacious than I thought it would be, very comfortable and quiet. Our privacy was very much respected, but we also really enjoyed our conversations with our hosts. I defiantly recommend a stay here, I wish we could have stayed longer. Very close to shops, beach and lake. But further enough away from the chaos. Thank you so much Tamara and David for our rejuvenating weekend away. Much much love.
Corinne
2016-10-16T00:00:00Z
Tamara is a lovely host made us girls feel at home, even provided breakfast. Beautiful cottage surrounded by the forest but not to far from the local shops. Would highly recommend to anyone looking for a warm beautiful getaway close to Byron.
Angie
2015-07-28T00:00:00Z
Tipo de Quarto
Casa inteira/apto
---
Tipo de Imóvel
Bed & Breakfast
---
Acomoda
4
---
Quartos
Tanglewood, New South Wales, Austrália
Mein Platz ist in der Nähe zum Strand, öffentliche Verkehrsmittel, Parks, der Flughafen und das Stadtzentrum .. Sie werden meinen Platz lieben wegen der Lage. Mein Platz ist gut für Paare, Solo-Abenteurer und Geschäftsreisende und nur 30 Minuten Fahrt nach Byron Bay.
Unsere schöne Einliegerwohnung ist der perfekte Aufenthalt für einen kurzen Urlaub. Es verfügt über eine Küche mit Herd, großem Kühlschrank, Wasserkocher, Toaster, und alle Geschirr, Tassen und Besteck. Das Bad hat eine schöne Dusche und WC und ein komfortables Queen-Size-Bett mit einem Ventilator und Klimaanlage.
Wir leben nur 5 Minuten zu Fuß zum berühmten Landspitze und den Strand von Cabarita Beach. Nur ein kurzer Spaziergang von den Geschäften und Restaurants.
Great place and adorable hosts. I do recommend for sure.
Lucas
2017-01-28T00:00:00Z
Great stay!
James
2017-02-28T00:00:00Z
A big thumbs up! :)
Rachel
2017-03-10T00:00:00Z
Awesome place - perfect for a couple on a weekend getaway. Thanks for making everything nice and easy Arieke
martina
2017-03-18T00:00:00Z
I loved my stay at Arieke's caba beach cabin! It was clean, modern and just as lovely as the pictures. Arieke was a very friendly and helpful host :)
Rachel
2017-03-11T00:00:00Z
Perfect studio to stay in Caba!!
Candice
2017-04-09T00:00:00Z
Great spot, host was extremely accommodating and friendly. Very private residence and the location was great for a brisk walk to the beach and shops. We will be back soon, thanks again!
Jon
2017-01-19T00:00:00Z
We had a very enjoyable stay at Arieke's. The unit is well set up and very clean. We really enjoyed touring around the area. It was just a short walk to a fabulous beach, stores and restaurants. We would highly recommend Arieke's place.
Liz
2017-03-30T00:00:00Z
Tipo de Quarto
Casa inteira/apto
---
Tipo de Imóvel
Cabana
---
Acomoda
2
---
Quartos
Bogangar, New South Wales, Austrália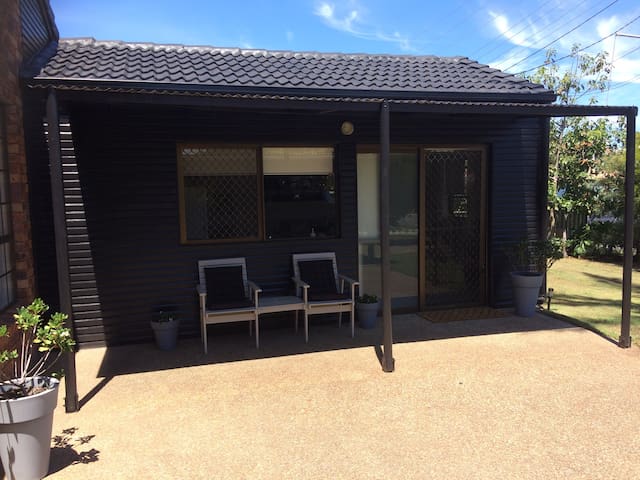 Tipo de Quarto
Casa inteira/apto
---
Tipo de Imóvel
Apartamento
---
Acomoda
2
---
Quartos
Bogangar, New South Wales, Austrália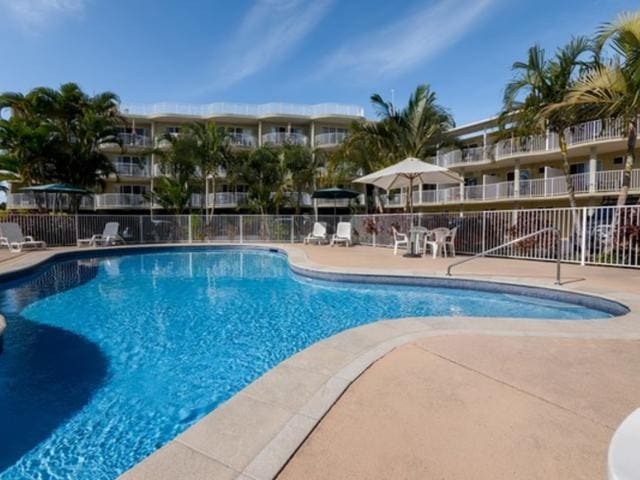 在内地的项目。 由加利树Surounded 100米范围内没有人别的 太阳能供电现场,完美情侣 我们尊重您的隐私
澳大利亚丛林只有2千米,从海洋驱动器。
Best air BnB I've ever stayed in... quaint and quiet and private, perfect getaway, everything we needed was there, so close to the beach and shops if you need stuff. Loved this place!
Pip
2017-02-28T00:00:00Z
Staying in the cabin was absolutely beautiful. Romantic little bush retreat was exactly what we needed. Sunset through the (SENSITIVE CONTENTS HIDDEN)s and a kookaburra sunrise! Alexander made a great space. Thanks dude :)
Blake
2017-01-09T00:00:00Z
Great place to stay for a young couple. Close to the beach and secluded at the same time. Alexander is a great host too. He provided clear communication about the place and was very contactable if we needed him.
Joshua
2016-12-31T00:00:00Z
Perfect little place for a couple escape!
Catherine
2017-03-05T00:00:00Z
Alex's private boutique caravan in the bush is something special. It was clean and well equipped. If you are looking for privacy and something different it is highly recommended. Alex was super helpful. We thoroughly enjoyed our stayed.
Nick
2017-01-03T00:00:00Z
Alex's caravan was the best we have been to! So much privacy set at the top of a hill surrounded by trees.. this place is great for really getting away with full privacy. Also highly reccomend if visiting cabarita or hastings point, as it is only 5-10 mins by bike! Alex is a very friendly and easy to get along with host, and was easily contactable by phone.
Isabelle
2017-01-05T00:00:00Z
Excellent! Great weekend getaway!
Calan
2017-03-12T00:00:00Z
I would say it's for all ages, as long as you like adventure, nature and privacy! It's been as great stay, thank you for making this possible Alexander. What an amazing location and admospere.
Anicha
2017-01-12T00:00:00Z
Tipo de Quarto
Casa inteira/apto
---
Tipo de Imóvel
Cabana
---
Acomoda
3
---
Quartos
Round Mountain, New South Wales, Austrália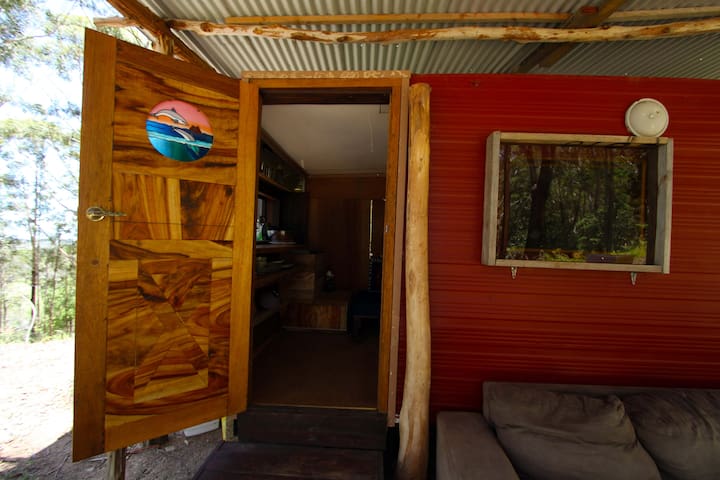 Great place I stay here often. Dave is an awsome host with everything you need.
Trent
2016-10-22T00:00:00Z
My mum visiting from o/s stayed at Dave's cabin for several nights on two occasions during her visit. She was keen for me to book again after the first visit as she said she was very comfortable there, it was clean and tidy, handy for bus stop, had everything she needed and Dave and his wife were lovely and happy to help if she needed anything. She and I would def recommend Daves place.
Mary
2017-02-19T00:00:00Z
We had a great time at Dave's place. Dave and his wife are really nice and friendly. They made sure we were comfortable, they have been very helpful. The place is amazing with everything you need, and clean. We highly recommend them.
Léti
2017-03-11T00:00:00Z
Great value, awesome pool and very cool outdoor lounge area... Did I say awesome pool? Clean and compact, great for a couple overnight!
Jon
2017-01-20T00:00:00Z
Dave's place is a hidden oasis of calm on the coast. If you like your stay to be laid back, friendly and no fuss then you'll love Dave's place. Better than any motel I've ever stayed in and much cheaper to!
Barry
2017-03-19T00:00:00Z
I stayed one night at Dave's. He was friendly and welcoming. I liked the self contained unit. It was behind the house at the end of a tropical driveway, and next to the pool. It was quite private with the double carport between it and the house. Apart from bedroom, roomy bathroom and toilet, the unit had a small but well equiped kitchenette. The unit also had an outside covered patio area. It was only a 2 minute drive or 10 minute walk to the shops and waterfront.
Terry
2016-12-08T00:00:00Z
I had a great stay with Dave. He is a very laid back, friendly and knowledgeable bloke. The room is brand new, fresh from a renovation and the beaches and headland at Cabarita are spectacular and just a few minutes walk away. Dave is a mad surfer, so he had great local knowledge about all the best spots and was only too happy to share that information to give me the best stay possible. The room is fully self contained with a beautiful pool too. A perfect stay and I am certain I will stay there again. The whole area is super chilled, yet close to everything like Gold Coast Airport, Tweed Heads and Byron Bay. Dave even gave me a lift to Byron only for petrol money!!! He is a top bloke!!!
michael
2016-10-02T00:00:00Z
Dave was a great host and the pool side bungalow was great. Very private and relaxing. Wish we could have stayed longer.
Andrew
2016-12-10T00:00:00Z
Tipo de Quarto
Quarto privado
---
Tipo de Imóvel
Cabana
---
Acomoda
2
---
Quartos
Bogangar, New South Wales, Austrália
Perched on the beach dunes looking out over the Pacific Ocean, this is an exclusive location in a beachside village only 20 minutes' drive from the Gold Coast (Coolangatta) Airport. It is the perfect place for a relaxing holiday or weekend getaway; walking along the wide open beaches, whale watching from Norries Head or just sitting on the apartment balcony and gazing out to sea. The self-contained apartment is ideal for a couple, and a second bedroom has a single bed for an extra guest.
This is the perfect location in Cabarita Beach with no roads to cross to get to the beach. The compact 3-room first floor apartment is on the north-east corner of a two story building on the ocean side of Cypress Crescent. It was recently renovated and is a well-appointed apartment ideally suited to a couple but can accommodate an additional person using the wall-mounted fold-down single bed. Included are:- • Balcony:- Fixed railing bench with stools, outdoor chairs and small table, Weber barbeque. • Rooms (all with ceiling fans):- .. o Front Room : Living & Kitchen area with kitchen-table, large sofa, coffee table, flat screen TV and radio/CD player. .. o Middle Room : Bedroom with Queen bed, built-in robe cupboard, large and small chest of drawers, bed-side tables and clock-radio. .. o Back Room : Bedroom/Spare room with a wall-mounted fold-down (single) bed, built-in robe cupboard, chest of drawers, desk, radio, flat screen TV with a built-in DVD player. We usually store our two road bikes on the wall in this room. The room is separated from the hallway by a sliding panel curtain. • Bathroom:- shower, toilet and vanity unit. • The kitchen is fully equipped with cutlery, crockery, glasses, cooking utensils, fridge, electric induction cooktop, microwave and dishwasher. • Internet is available for your smartphone or computer via WiFi using pre-paid Mobile Broadband (complimentary 1GB data offered). • Off-street Parking undercover for one car. • Outside shower. • Separate Laundry Room in the building with communal washing machine. • We supply fresh linen and bathroom towels and this is included in the rental price. Beach towels are available to hire from the local laundry service (ask me for details). The Cabarita Beach shops (also known as Bogangar) are only a 200 metre walk from the apartment and include a Supermarket, Cafes, Beach Hotel Bar & Bistro, Restaurants, Take-away food shops, Laundromat, Bicycle-hire shop and Surf Shop where you can hire a surfboard and get surfing lessons. Also 50 metres away is the boutique luxury 5-star hotel Halycon House with its celebrated Paper Daisy Restaurant which is also open to non-residents.
Cabarita Beach is well known for its beautiful long beaches running north and south, swimming (with local Surf Life Saving Club patrolled beach), popular Surfing points, Beach fishing and Whale watching from the platform on Norries Head. Within a 45-minute drive away is the Gold Coast, Byron Bay, Mt Warning and historic and charming hinterland villages such as Uki, Tyalgum, Tumbulgum amongst many other attractions in the Tweed River region.
Beautiful location apartment just right size for coupes get away
Chloe
2016-09-19T00:00:00Z
Lovely beach apartment . Had everything we needed. Easy access to the beach. Beautiful views. Easy stroll to cafes and grocery store.
Tomi
2017-03-11T00:00:00Z
What a great stay at Hugh's place in Cabarita! The view is absolutely spectacular even on an overcast day but we were lucky to have one amazing morning where the sun was shining bright and the surf was on! We stayed 2 nights and enjoyed the location so much - Right on the beach, close to a couple of really nice restaurants and a Woolworths to grab some snacks for the house too. Everything was in walking distance. The accomodation was very modern and clean. It had all the amenities you'd need to be comfortable and cook your own meals at home if you wish. Thanks so much for allowing us to stay - We will be back!
Adam
2016-10-14T00:00:00Z
One of my favourite places that I have ever stayed at. Everything was fresh and new and all the amenities were perfect and the location and distance to everything you needed was in walking distance. Not to mention the beach front location. Great for a small family or couples getaway or surf trip in a fabulous beachside town. Hugh was super helpful communication was easy. Definitely 5 stars!
Penny
2016-10-10T00:00:00Z
This upstairs 2 bedroom apartment is in a dream location at Cabarita Beach. It's situated off any main roads, facing the ocean with the grass and beach path as a connector. It has sufficient ocean views/glimpses from the patio balcony..not panoramic, but the pristine beach is so close to walk to in just 1 minute! The sea breezes and sound of the ocean is simply phenomenal...you'd hardly know the main shops and cafes etc are just 3 to 5 minutes walk away. The apartment complex is quiet, has its own parking space, is easily accessible up its own staircase and is fantastically secure with a fully lockable louvred door and window system to the balcony and security sliding doors into the apartment. It's actually quite spacious and has fantastic space saving design features with single beds that fold up and out of the way in the second bedroom if you wished to utilise this space for a reading or TV room for kids..or big kids! The kitchen is fully tricked out with Bosch appliances..dishwasher and microwave. It has a cooktop, no oven but has a BBQ if you need to roast or grill anything. Perfect. The toaster is a real modern delight! I'll leave that one to be explored for any potential bookings! It's very space age so my mother advised me :) A certain WiFi data download is included but you may have to purchase more depending on your length of stay. All paraphernalia for this is in the unit and is easily understood. A full set of written instructions and information booklet is provided for your stay and Hugh as a host was wonderful in his pre and post communication via email and texts to ensure our stay went smoothly and without a hitch! We had a marvellous mini break and I have already recommended to my friends that they need to go..and take me with them! Nik
Nicole
2016-11-22T00:00:00Z
Hugh's place was incredible - right on the beachfront, immaculately presented, and outfitted with everything you could need for a long or short stay. The photos don't do the unit or location justice! Hugh was fantastic to deal with and provided a lot of info about local attractions we might not have found ourselves.
Antonia
2017-02-18T00:00:00Z
The listing was accurate. Everything was welcoming, immaculate and so convenient. We would highly recommend this place to family & friends.
Dale
2016-10-22T00:00:00Z
Fantastic spot and wonderfully helpful host. Thanks so much Hugh.
Angie
2016-09-25T00:00:00Z
Tipo de Quarto
Casa inteira/apto
---
Tipo de Imóvel
Apartamento
---
Acomoda
3
---
Quartos
Cabarita Beach, New South Wales, Austrália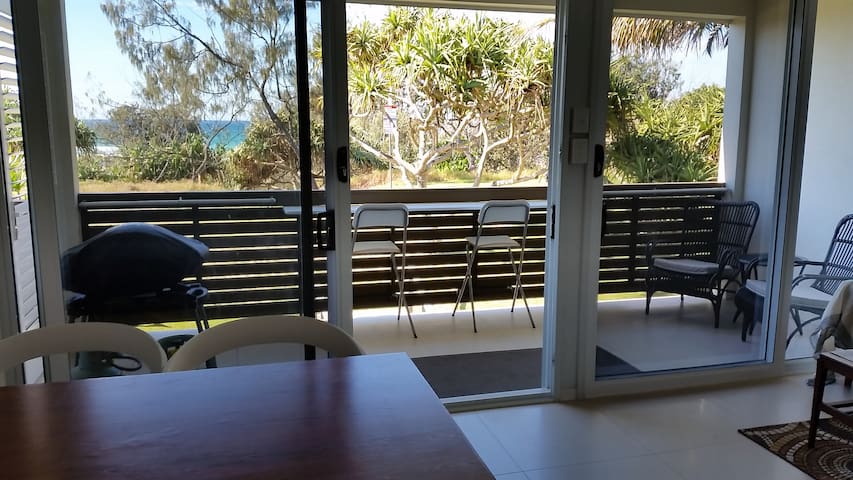 Located right on the beautiful Cabarita beachfront, this comfortable clean apartment is quiet and within walking distance of shops and cafes. Fully self contained, sleeps three people comfortably and there is a salt water pool.
A clean modern refurbished unit in an idyllic location with direct access to a beautiful beach. Ideal for swimming, surfing and fishing or just relaxing. The ground floor unit overlooks the pool and there is a bar-b-que area with views of the ocean.
Cabarita Beach is an ideal base for exploring Nothern New South Wales. The Tweed Valley, Byron Bay and the hinterland are all within easy (20mins- 1hour) driving. The Margaret Olley Art Centre at the Tweed Regional Gallery is a must-see for art lovers. There are cafes and restaurants to suit all within an easy five minute walk. Mount Warning is an easy drive and there are other scenic drives and walks nearby. Surfing lessons are available locally.
This was our second stay at Beachfront Bliss and we are already planning on returning. Absolutely lovely apartment, perfect location and just right for a relaxing weekend getaway. Thanks for having us again.
Ashleigh
2016-10-24T00:00:00Z
Beautiful on the beach scenic location that reflected the description and provided a suitable place for a short relaxing family holiday. Made to feel very welcomed with communication, helpful advice and neighbourly interaction.
Vaughn
2016-07-11T00:00:00Z
This is an apartment unit within a small complex but dont let that put you off. Our family of 3 found this a perfect beach escape and stop off to relax a while before continuing down the coast. Our 5 yr old loved the pool which we had to ourselves (it was very cold in, but over summer will be prefect) and we could supervise him while sipping wine on our verandah, with the sound of the ocean just over the sand dune. The beach is patrolled just a short stroll from the unit, and also has an awesome variety of cafes and shops. Make sure you visit the Coastal Photography Cafe and Gelato shop for amazing fresh food, coffee and gelato, then just drift up to "Drift" - a great little surf shop where the prices were very good on all swimmers, clothing and homewares. Then dine or get takeaway at the locals best kept secret "Thai in fa", the decore does not matter - because the food is the star. All within a 5 minute stroll. This is a holidayers paradise!
Lara
2015-09-30T00:00:00Z
Great spot! We loved going to sleep listening to the waves and walking to cafes and the Thai restaurant around the corner. Check in was very easy with sue there to meet us.
Lauren
2016-04-29T00:00:00Z
We enjoyed a wonderfully relaxing long weekend at Beachfront Bliss. Carol was there to meet us and give us local information on where to eat. The unit is in a great position and was very clean and well maintained. We enjoyed our stay so much we are looking to book again next year.
Tim
2015-10-26T00:00:00Z
We had another lovely time - so relaxing - great location and unit had everything we needed thanks Sue & Carol - great hosts! :))
Alice
2017-02-02T00:00:00Z
Sue emailed us to explain why Carole was not able to meet us,and Carole left a little note to say she would meet us later that dayThey were both informative and friendly hosts. The unit was renovated to a modern standard,light and refreshing to enjoy a relaxing stayThe area was nice and quiet and within walking distance to the shops.We enjoyed poking around all the shops etc and got to know Cabarita a lot better.We thoroughly enjoyed our stay.
Robert
2015-06-09T00:00:00Z
Had a great stay! Excellent location and awesome little town, first Airbnb experience and first time to Cabarita! Will be back again soon!
Luke
2015-10-24T00:00:00Z
Tipo de Quarto
Casa inteira/apto
---
Tipo de Imóvel
Apartamento
---
Acomoda
3
---
Quartos
Cabarita Beach, New South Wales, Austrália
I can highly recommend this accomodation to everyone. Its well equipped, cozy house in the middle of nature. We will definately come back.
Szabolcs
2017-04-10T00:00:00Z
Clean house with an excellent selection of DVDs and books. Really close to shops and beach. Great place for families to stay
Madelaine
2017-03-26T00:00:00Z
Simple and basic, clean and convenient, was very close to the beach which we loved. Had all the things we needed. Nolan was very accommodating at the last minute when we booked because we couldn't get to our other booked stay due to the floods. We were very pleased. Comfortable beds and quiet neighbours.
Joanna
2017-03-20T00:00:00Z
We had a great stay at Nolans place. Everything we needed was here and the kids enjoyed watching the movies that were available.
Sarah
2017-03-31T00:00:00Z
Great location, well equipped unit with everything you need for a comfortable stay!
Janice
2017-03-22T00:00:00Z
Neat little pad. Good value. Quiet. Close to the beach.
Greg
2017-03-12T00:00:00Z
This unit is relaxing, honey , easy to use , and has a lovely honest feel about the care and thought put into serving visitors by the owner . Highly recommended
Sue
2017-03-19T00:00:00Z
Great location so close to a lovely beach and walks.
ann
2017-03-09T00:00:00Z
Tipo de Quarto
Casa inteira/apto
---
Tipo de Imóvel
Complexo de Casas
---
Acomoda
4
---
Quartos
Bogangar, New South Wales, Austrália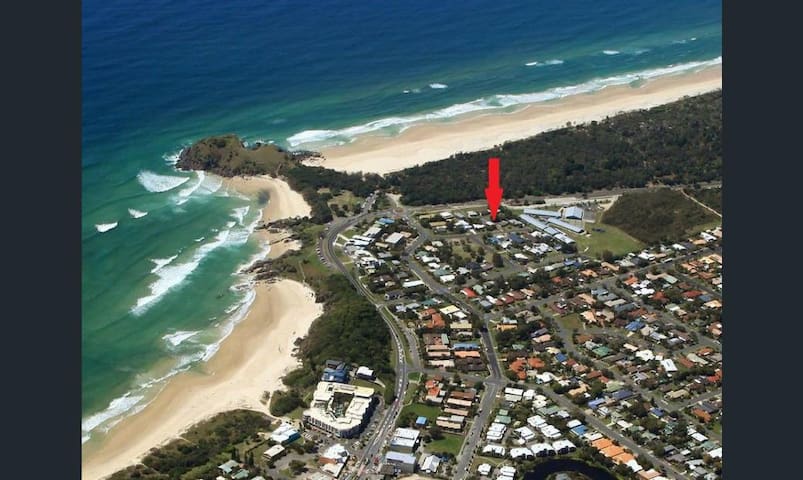 Welcome to our cute beach pad. This is beach life at its best. We're in a sheltered street, 3 min walk to beach, shops and restaurants. An idyllic Surfing spot, Cabarita Beach (Bogangar) is happening as the little sea-side escape, so come see why. Easy drive to Byron festivals.
The room is comfortable, convenient and clean. Sliding doors open onto the front deck and there is an entrance to the backyard via your en-suite. Enjoy a peaceful breeze at night and sun drenching your room in the morning. Drop in to get breakfast over the beach at the boutique luxury hotel Halcyon House, dinner at Marty's Tapas Bar with live music, Thai and also a fresh new Sushi joint. This town is a hidden treasure we are happy to have found. With a modern seaside village feel, beach and nature at your fingertips, a beautiful headland with whales visible in season. There are plenty of walks with paperbark forests and the wilderness of Cudgen lake close by too. Ideal for those wanting a neat festival getaway, we are nice and close to the north Byron sites (20 min) where the big festivals are held now, e.g. Falls Festival, Splendour in the Grass, the Blues Fest. 20 minutes from Coolangatta Airport. 40 minutes from Byron. 10 minutes from Kingscliff.
Cabarita Beach (Bogangar) is a friendly (it really is!) and also low-key place to spend time. Our street is one of the nicest in town, with a parkland feel about it, with more foot traffic than anything else.
Dusk and Alla are lovely! The room is newly built and clean , it's great that it feels separate and private . The proximity to beach and shops and the quietness of the street are great.
Matt
2015-10-12T00:00:00Z
Great place to stay, awesome area,
Nathan
2017-01-02T00:00:00Z
Comfy bed, clean and homely facilities, friendly and helpful hosts. Great stay.
Marcia
2017-02-24T00:00:00Z
Dusk, Alla and their lovely cat made our night simply perfect! Thank you very much for everything!!! :)
Cinzia
2016-01-10T00:00:00Z
We stayed a weekend in Dusk and Allas delightful home close to beach, shops , slsc and restaurants. They were warm and welcoming.The room and ensuite were comfortable and clean. We would recommend their space and hope to return for another trip in the future.
Lyn & Lloyd
2016-04-25T00:00:00Z
Alla and Dusk were great hosts and the room was beautifully situated with privacy as well as being a part of the home. We were warmly welcomed and made feel at home.
Margaret
2015-10-04T00:00:00Z
Beautiful place lovely people recommend any time !!! Thank You :-)
Flavia
2015-12-29T00:00:00Z
Dusk and Alla were charming hosts. Dusk welcomed us when we checked in and advised us about obtaining an evening meal up in the village. Alla was present when we returned and we all sat and chatted for over an hour while they made us a cup of tea. Alla even produced her piano accordion for a short recital which was most enjoyable. We would certainly be pleased to return should we ever be in the area again. We have no hesitation in recommending Alla and Dusk as great Airbnb hosts
Robyn
2015-10-24T00:00:00Z
Tipo de Quarto
Quarto privado
---
Tipo de Imóvel
Casa
---
Acomoda
2
---
Quartos
Cabarita Beach , New South Wales, Austrália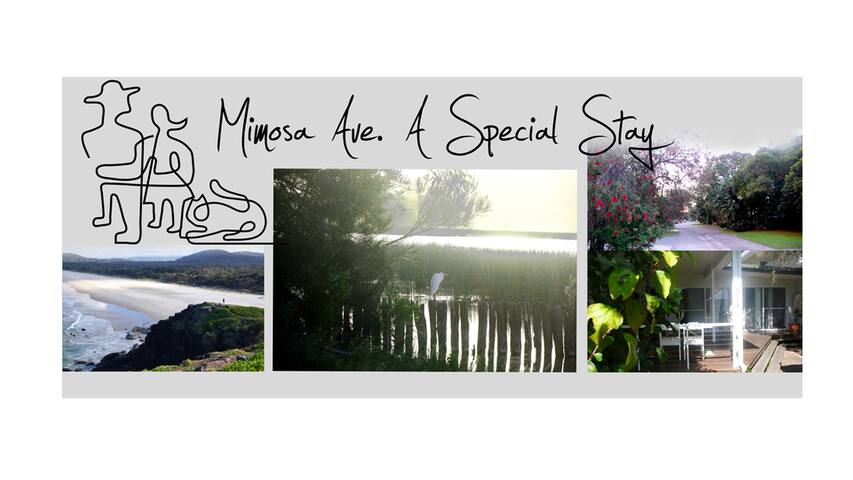 Spacious flat on the lower level of our home. Living area is open plan One section of the large "L - shaped" bedroom has a queen bed and a king single. It would suit a couple or two single friends who can share one extra large bedroom Backs onto Cudgen Conservation Park so great for birdwatching
This home is completely self contained with an open plan full kitchen / dining / lounge / TV area & separate large bedroom The large bedroom in terms of size would be equivalent to three but we have it set up with a queen sized bed and a king single. There is plenty of space for a couple plus a single who don't mind sharing a large space This tranquil flat opens out onto the backyard and Cudgen Conservation Park and has a nice undercover outdoor area to enjoy. Especially in summer There is a BBQ if you'd like to cook outside The hot outdoor shower (2nd) is great to use when coming back from the beach. It's easy to walk along the firebreak to the beach Linen, bath towels and beach towels are provided Basic staples such as oil, salt, pepper & spices are included. Woolworths is only a short walk away if you want to cook for yourself.
Cabarita Beach is a great surfing & swimming beach. You can walk to the beach / village and the lake in 7 minutes Coolangatta airport is about 25 minutes drive Byron Bay is about 35 minutes drive Gold Coast theme parks are about 50 minutes drive
Anna and Jim were fabulous hosts and the accomodation exceeded our expectations. A beautiful spot and perfect roomy apartment for a family holiday to the area. We couldn't be happier. The accomodations were spotless, comfortable and well thought out. Highly recommend!!
Corinne
2017-02-25T00:00:00Z
Anna and Jim were wonderful hosts. We only decided to stay an extra night in Cabarita at 4pm on Saturday afternoon and confirmation/communication was immediate. Anna & Jim were flexible with our last minute booking and the self-contained unit exceeded our expectations. The living area, bedroom and bathroom is huge and very private. We had seperate access to the space (built in under the main house), so it was very private. Full kitchen (gas cooktop & oven + Weber BBQ)meant we were able to cook a good meal for dinner & breakfast which saved money as you can grab supplies from the supermarket which is only 2 mins away. The bed is extremely comfortable and perfect for a lazy Sunday morning sleep-in. The shower has very good water pressure, with basics like body wash + shampoo & conditioner provided. Even has a washing machine if you are staying for an extended period of time. We love the surf in Cabarita and will most certainly be back to stay at Jim & Anna's little unit. Thanks again for having us.
Angela
2017-03-04T00:00:00Z
Such a lovely tranquil area and very close to the beach. Beautiful to sit and relax in the setting and be still. Close to great food and the little village area. Bed was very comfortable and very quiet to sleep at night. Wonderful friendly hosts very welcoming!
Nichola
2017-04-10T00:00:00Z
Anna and Jim were great hosts and very helpful before and after our stay. Very comfy beds and nice little touches like snacks in the fridge and shampoo in the shower. Wish we could have stayed longer!
Yolande
2017-02-05T00:00:00Z
Quiet and private, with a lovely outlook. Great location and very accessible to beautiful beaches, shops and restaurants. Friendly walking, bike riding, skating, surfing locals. Wonderful outdoor shower for those who love getting fresh!
Julie
2017-03-03T00:00:00Z
A lovely place, close to the beach. Anna and Jim were exceptional hosts. Great at keeping in touch during a very inclement weather event. Thanks for a great stay.
Sarah
2017-04-01T00:00:00Z
Anna & Jim's place was great,very spacious, private and 5 min walk to cabarita beach & township. All kitchenmenities provided and beautiful linen. An extra sofa bed in lounge would be beneficial to allow an extra person or couple to stay and make it more affordable to share cost as just one room w beds @ present.
Bella
2017-03-19T00:00:00Z
Tipo de Quarto
Casa inteira/apto
---
Tipo de Imóvel
Casa
---
Acomoda
3
---
Quartos
Cabarita Beach (Bogangar), New South Wales, Austrália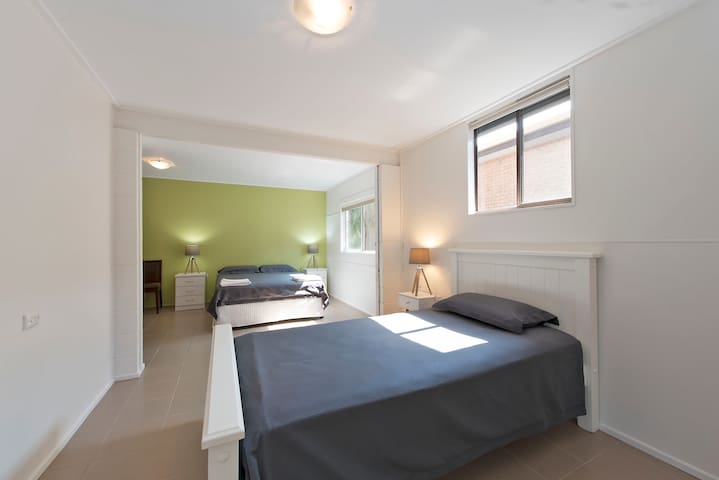 Our studio has separate access and off street parking, so is private. Located in a quiet street, all you will hear at night is the sound of the sea. 5 minute walk to the beach, 10 minutes to cafes and shops. Bring you surfboard or your fishing rod!
This studio is cool, quiet and private. Walk to the beach, shops and restaurants. Cabarita is a lovely seaside village 20 minutes from Coolangatta Airport.
Our neighbourhood is quiet and the people here are friendly.
Blue House studio was a charming comfortable arty place to stay for the weekend just 5 minutes from the beach through verdant banksia and native vegetation. Gabrielle happened to be away for the weekend and left wonderful directions and we maintained contact throughout. Only dilemma was we arrived at the front of the house according to the address except the studio entrance was from a side street . Problem was solved by a phone call to the owners as we wandered around their garden trying to find the key. The garden is delightful with mosaics and art works everywhere plus a lush vegetable patch. Our accommodation was very satisfactory - full kitchen and food needs, good bed, great bread , wine glasses, very hot water, generous breakfast. The surrounding environment is a quiet suburban street which was appealing as we felt less like tourists as normal life was going on around us . The neighbours we did engage with were friendly. Location is perfect - fabulous beach within a few minutes and walking distance to Cabarita shops and restaurants. Will stay again.
Sandy
2016-05-09T00:00:00Z
Gabrielle was very welcoming and flexible. The studio was simply charming and within walking distance to the beach! Loved the little breakfast details - we really wish we could've stayed longer. Highly recommend!
Susan
2015-04-12T00:00:00Z
The Blue Room is wonderful. Calming and spacious a short walk from the beautiful Cabarita beach. Gabrielle was an awesome host who gave us all the privacy we wanted. The fresh eggs, bread and coffee was an unexpected and pleasant surprise. Thank you
Tiana & Joel
2015-10-19T00:00:00Z
We loved our stay at the Blue House studio. Travelling with a 2 year old and a baby, the Blue House worked perfectly for us. We loved how the french doors opened out to the beautiful garden. The whole experience from booking and getting some tips on finding the entrance, to relaxing here was 100% hassle free. Gabrielle provided much more than was required, with some fresh bread waiting for us as well as access to the fresh herbs in the garden. I imagine we will return to the studio in years to come!
Sharon
2016-10-02T00:00:00Z
Cute and quaint accommodation, made a great base for our family holiday. The host's are friendly, with fruit, bread, eggs, tea and (good)coffee waiting in the room. Gabrielle was great regarding being able to accommodate both kids, by providing futon/ mattresses for them. Gabrielle provided all linen which was an enormous help.. We were lucky enough to see whales and dolphins playing out the front of the headland which was amazing.
rebekah
2015-10-04T00:00:00Z
such a lovely place to spend a few nights , from the beach theme that was very tasteful to the organic vege patch that provided fresh greens and tasting chicken eggs , the beach a short stroll , the quite of the night , every part of our journey at the blue house was very perfect thankyou , and wish you well , cheers
Terry
2015-11-18T00:00:00Z
Gabrielle and Tony are friendly, relaxed and welcoming. Gabrielle responded quickly and went out of her way to make sure I had breakfast things that suited me, including fresh passionfruit and lemongrass from her garden. Sweet, simple and quiet little place with french doors that open straight onto the garden, and furniture to sit in the garden, doing some work under cover with internet access for emails. A short stroll to the beach along a grassy path with only one road to cross. There's a timber lined boardwalk up to a beautiful lookout on the headland that's perfect in the early morning for meditation and clearing away the cobwebs.
G
2015-04-26T00:00:00Z
What a beautiful week my young son and I had at this delightful studio cottage. Even though the weather wasn't on our side it didn't stop us from having lots of beach time and lovely walks around Cabarita. To arrive with a delicious fruit bowl including home grown passions fruit, fresh eggs, bread and avocados was a treat plus good coffee and teas. The studio is set up beautifully with everything you need and has very comfy bed. Gabrielle and her husband are such lovely people and made us feel very much at home. Off to start my new veggie patch after their inspiration!
Lauren
2016-08-10T00:00:00Z
Tipo de Quarto
Quarto privado
---
Tipo de Imóvel
Bed & Breakfast
---
Acomoda
4
---
Quartos
Cabarita Beach, New South Wales, Austrália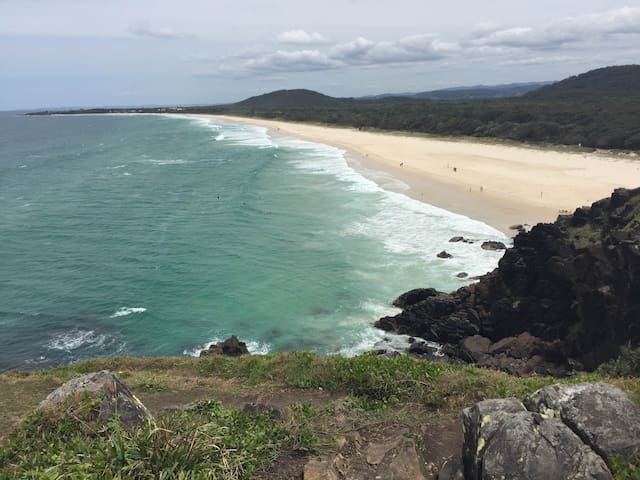 Enjoy this unique A-frame villa just 4 minutes from Cabarita Beach! This is loft-style living with a heavenly king bed upstairs, a downstairs kids room, and convertible sofa bed in living room. Relax and take in the beautiful leafy outlook from the expansive deck. Sleeps 4 adults. Family friendly. Free Wi-fi.
Relax and unwind amongst the rainforest just minutes to beautiful Cabarita Beach. This A-frame villa is full of windows to maximise the leafy outlook. This is a funky older style house with modern amenities. The large upstairs loft bedroom is open-plan with drop down divider blinds for privacy if needed. Enjoy the memory foam adjustable king bed with massage function. Downstairs lounge converts to Queen-sized sofa bed if needed for third or fourth guest. Optional: if travelling with a young child, we have a baby/toddler room full of toys and a cot that converts to a toddler bed. Please advise configuration of bed if needed. Not suitable for children over 3 (use sofa bed instead).
You will feel like you're at a forest retreat or at a school camp, staying in a neighbourhood full of A-frame villas set amongst the forest. It's a very peaceful, private location.
The lodge is located in full vegetation in a complex of 5 or 6 cottages. The bed is sublime, the terrace is superb and the comfort of the cottage perfect. Sure. As soon as I can, I return to the same place !!! Great vacation where you wake up with the birds singing
Katia
2016-12-30T00:00:00Z
Tipo de Quarto
Casa inteira/apto
---
Tipo de Imóvel
Casa
---
Acomoda
4
---
Quartos
Tanglewood, New South Wales, Austrália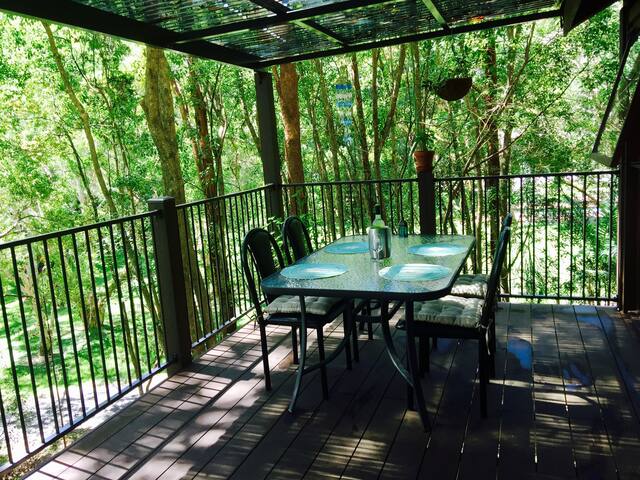 Self contained flat of 2 bedrooms, kitchen/ dining, lounge and lock up garage. Covered outdoor B.B.Q area Separate shower and toilet and a shared laundry. The property is located in a country setting in the beautiful Clothiers Creek Valley. in Northern N.S.W. We are situated about 10 minutes from the patrolled beach at Cabarita and other coastal villages, a variety of shops , cafe's restaurants, clubs and bars. Gold Coast Airport, 20 mins, Theme Parks, 1 hour. Close to National Parks.
Our property consists of 5 acres set in a rural area. We welcome visitors to share the beauty of our area.
Our stay was excellent. The hosts are warm and friendly. Privacy was good. It was peaceful, very clean and well situated. Will highly recommend.
KATH
2017-04-08T00:00:00Z
Tipo de Quarto
Casa inteira/apto
---
Tipo de Imóvel
Casa de hóspedes
---
Acomoda
4
---
Quartos
Clothiers Creek, New South Wales, Austrália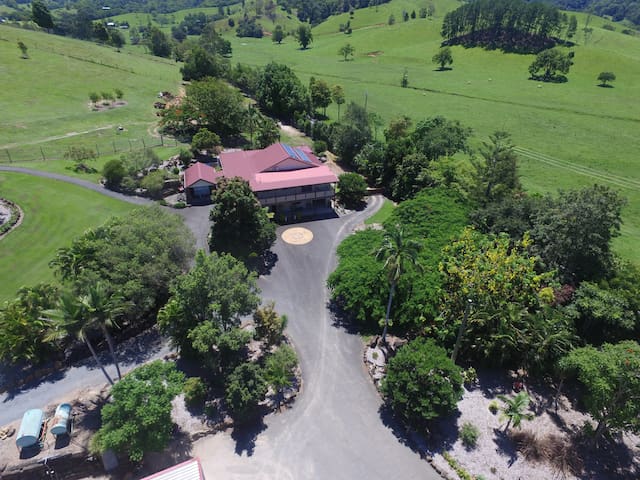 The house was spacious and comfortable in a great location to the beach. Tony was really nice, made everything easy and told us about the local area. Would stay again for sure.
Simon
2017-02-04T00:00:00Z
The host canceled this reservation 34 days before arrival. This is an automated posting.
Zoe
2017-03-04T00:00:00Z
Tony was a great host to my friends and I when we arrived; very warm and friendly. The house was absolutely perfect for us- wide, open and spacious with a great pool, living room and kitchen. All utilities were modern and easy to use, making our stay all that little more enjoyable. Fast Wi-Fi and Netflix was also an added bonus for those nights at home to keep you occupied. Would highly recommend to anybody who is looking for a relaxing time away out of the city. Trust me and hit up Tony for an amazing place to stay- he's your guy!
Blake
2016-11-20T00:00:00Z
Tony is a friendly, welcoming host who was there to meet me on arrival and to show me the house before leaving me to it. The house is spacious, stylish and comfortable and had just been professionally cleaned - as is apparently the case after every booking. Although I was there only briefly, I had a comfortable stay. This house would be perfect for a couple or family - including those wanting to stay for a week or more to explore the area, including the beach and surrounds (the house backs on to the Cudgen Nature Reserve, which is great for a wander), and then to have a comfortable place to come back to relax. The pool looked inviting and would be terrific in the warmer months. The area is safe and easy to navigate, and anything you need is not too far away. All in all a comfortable, affordable stay.
Fiona
2016-07-20T00:00:00Z
Tony was such an awesome host. He showed us all we needed to know as well as giving suggestions on places to eat and where to go, he was really helpful. The house was more than i expected, it was a huge space and a wonderful vibe with so much space. We all felt really comfortable in Tony's home and i definitely recommend the stay! Thank you so much Tony you have a really nice home at a really good price!
jesse
2016-07-26T00:00:00Z
We stayed at Tony's house for one night and it was fantastic. The house was very clean and huge inside. The house is located in a quite and friendly neighborhood. It's great for families who are traveling, I would definitely recommend staying there while you explore the area.
Dennis
2016-07-17T00:00:00Z
The host canceled this reservation 40 days before arrival. This is an automated posting.
Amanda
2017-03-04T00:00:00Z
The house was very spacious and close to the beach. It was a great place to spend Christmas with the family!
Lauren
2016-12-25T00:00:00Z
Tipo de Quarto
Casa inteira/apto
---
Tipo de Imóvel
Casa
---
Acomoda
6
---
Quartos
Bogangar, New South Wales, Austrália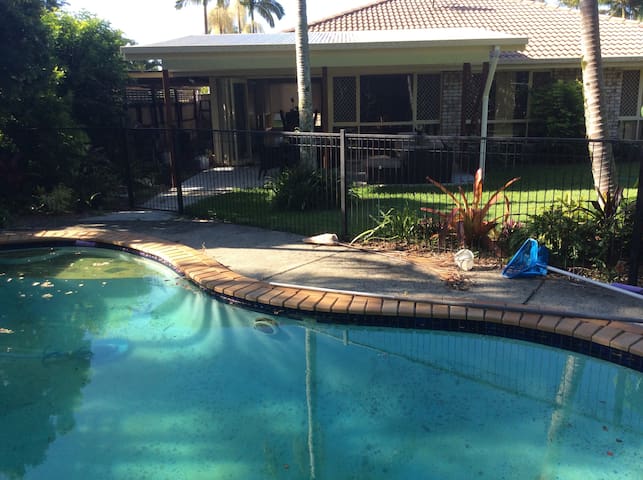 Situated between Byron Bay and the Gold Coast on the beautiful Tweed Coast. Cabarita is a stunning, vibrant village with new facilities. You'll be staying in a family home with a beautiful pool, only 10 mins walk to beach or 2km cycle to shops & cafes.
A 4 bedroom family home, available for rent when we are not in it. Pool, outdoor eating area, gardens, lounge with DVD & movies, some family games, bikes, body boards, pool inflatables. Fully equipped kitchen. Spa bath in ensuite. Quiet cul-de-sac, where children play. Parking on driveway.
Cabarita Area This area is fabulously diverse. Gold Coast is 20 mins away for a tourist vibe. Byron Bay is approx 30 mins, dependent on traffic. Why travel when Cabarita has great cafes, restaurants & beaches? Try out the new boutique hotel -Halcyon for lunch or afternoon tea. Marty's for great food and atmosphere- probably need to book at the weekends. The best coffee is at Kartel at northern end of Cabarita. Late pm drinks on the surf club deck are amazing. Some great restaurants in our area. Lots of coffee shops and lovely places for breakfast - including Pandanus Café overlooking the Ocean at Cabarita. Take your coffee up the headland for a spectacular view and great dolphin and whale watching view point. Lots of surfing options, much quieter than Byron and Gold Coast. Woolworths and many small shops in Cabarita. Leash free dog beach close by. Beautiful Hasting Point creek is 20 mins walk. A lovely spot for a BBQ breakfast, calm water swim or hire a kayak. Head up to Kingscliff (10 mins drive) for more eateries, shops and another great creek. Head in land to Murwillumbah to the art gallery and drive to the waterfall at Natural Bridge and stunning views and walks at Springbrook.
Yvonne hosted a group of us from Melbourne in her lovely home. She provided directions from the Air Port and met us their to handover keys and show us around. We all had a great stay for the weekend. Would highly recommend Yvonne as host and Cabarita Beach is an amazing place for a Holiday.
Shane
2016-05-30T00:00:00Z
Yvonne was fantastic and incredibly accommodating. Beautiful house in a wonderful area. Wouldn't hesitate to rebook. Thank you!
Leigh
2016-01-02T00:00:00Z
Yvonne's place was very well-equipped and she made herself available all weekend via phone to answer questions. We stayed on a really hot weekend so got lots of use out of the pool and outdoor entertaining area. Have to come back in winter now and take advantage of the fire!
Liz
2017-03-04T00:00:00Z
The house was very spacious and homely and was as advertised. Yvonne was easy to communicate with and very accommodating to any request we had. The area was really nice and a great place for a chilled getaway.
Jenny
2015-10-05T00:00:00Z
Had a great stay it was a really nice place
Daniel
2015-09-07T00:00:00Z
Lovely, spacious and comfortable home with everything we needed for a really enjoyable stay. Great communication throughout the booking. We loved the pool and outdoor area, at the house. Amazing location, convenient and relaxing.
Emma
2017-01-28T00:00:00Z
Highly Recommend!! Managed to stay over new years period with some friends. Cabarita beach is very laid back and offers beautiful beaches and plenty of fun time for the family and friends. Yvonne's house doesn't stay behind this statement! Although situated in Cabarita beach 'suburbia' it is still pretty close to the main commercial area/beaches. What appeals to the house is its many living spaces, both indoors and out! It does get warm on the peak summer days, and even the ceiling fans aren't enough, but the pool and beachside quickly eliminates this discomfort! Yvonne has made everything available to us on arrival including an early check in and late checkout! We had a great time during our 2xnights! Thanks Yvonne!! My daughters loved it!!
Hugo
2016-12-31T00:00:00Z
A wonderful quiet home situated in suburban Cabarita Beach in walking distance to the ocean. Yvonne had everything ready for our arrival and is a very considerate hostess
Debbie
2016-01-05T00:00:00Z
Tipo de Quarto
Casa inteira/apto
---
Tipo de Imóvel
Casa
---
Acomoda
8
---
Quartos
Cabarita Beach, New South Wales, Austrália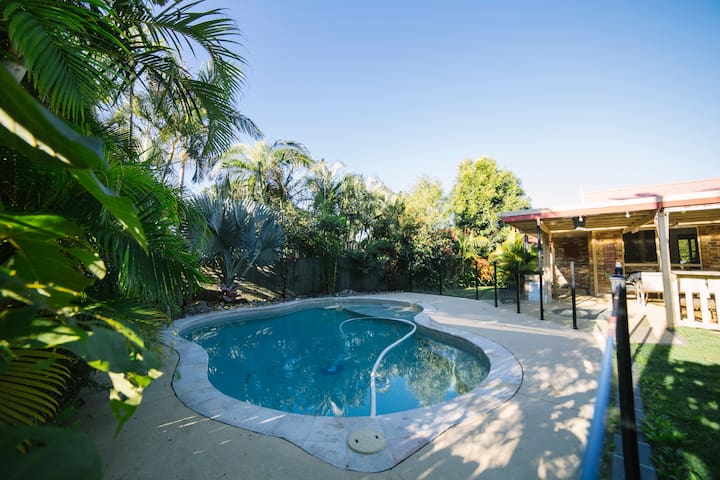 Insira as datas para ver o preço total. Taxas adicionais aplicáveis. Podem ser adicionados impostos.