300+ Alugueres de Apartamentos
Charmoso apartamento de 2 quartos, ideal para 2 pessoas para o Sacré Coeur, entre Jules Joffrin Metro Lamarck e Marcadet Poissonnier para o seu fim de semana ou férias em Paris. E tranquilidade esta nomeação são totalmente ninho equipada.
Charmoso apartamento de um quarto perto do Sacre Coeur, alugar para o seu fim de semana ou férias em Paris. Ideal para duas pessoas, o apartamento está localizado em uma rua tranquila no 3º andar de um edifício típico parisiense (pisos, molduras, lareiras e até mesmo dois ...). Alojamento idealmente combinado com sala de estar, cozinha separada, WC e casa de banho (chuveiro).
E como eu amo minha vida em Paris, eu gostaria de compartilhar com vocês, meus lugares favoritos e apresentá-lo para a vida no bairro!
Clean and minimal apartment in Monmartre, beautiful shops and cafes nearby. Great for a couple who want to see what Paris has to offer, but like relax in a quieter neighbourhood. The apartment was cosy and all you would need for a short trip. The only issue we had was that the bed was not comfortable, it sunk in the middle and kept us up at night.
Zane
2014-10-09T00:00:00Z
We LOVED our time here. The flat is, indeed, charming and has all of what you need. Yes, stairs up to the flat, but this is true pretty much everywhere real in Europe. We enjoyed the light from the windows, the amazing music collection (Clara, please share why it is so excellent?!?!), the coffee maker, and the general sense of safety and privacy. Plenty of space for two. Nice to have a separate toilet closet (tiny but what else to you need in there?!). The shower worked well and we really lacked for nothing I can think of. Thank you!!
Katrina
2015-07-20T00:00:00Z
Fantastic apartment right in the centre of Montmarte, about a 10 minute walk up the steps to the Sacre Couer. Some great restaurants nearby and very reasonably priced cafes and bars, with some good Happy Hours (Demi biere for €2.5 instead of €5 found in most others) Stephaine was great meeting us, showed us around the appt and gave us a few ideas for things to do whilst in the city. The appt is good size, well decorated, luxurious and the bed is extremely comfortable! All in all, a tremendously good value place to stay whilst in Paris, it comes thoroughly recommended! Thank you Clara and Stephaine!
Marcus
2012-11-07T00:00:00Z
Very convenient location of the apartment. Near two subway lines, a lot of shops and restaurants. In walking distance to Montmartre Comfortable apartment, with a separate bedroom and separate living room. Clara wonderful hostess, very quick to respond to all questions. It was very convenient. Thank you, Clara. Larissa.
Larisa
2013-03-11T00:00:00Z
This apartment is fantastic. Super easy to get to, great location and beautiful apartment. The bed is really comfortable. And there is a really nice Lounge area too. We had such a good time we wanted to stay longer. Clara was so helpful an friendly and made us feel very welcome. We would definitely stay again next tie were in Paris. Great value, I strongly recommend anyone stay here.
Gabrielle and Hugo
2013-03-19T00:00:00Z
Had a wonderful stay in Clara's cozy apartment. Would definitely recommend.
Peter
2013-09-24T00:00:00Z
We spent 3 great days at Clara's place. The flat was beautiful and cosy and located in nice surroundings. Everything is nearby and can be reached within a few minutes footwalk (supermarkets, bakerys, pharmacies and so on). The same applies on the two metro stations which offer direct connection in the downtown area and to the main stations. The Sacré Coeur is in the direct neighborhood. In conclusion Clara's flat is the perfect place to be, combining authentic flair with a good location. We can only recommend it!
Lukas
2016-03-23T00:00:00Z
Our best Airbnb experience yet. Clara's home is gorgeous. It's cosy, impeccably clean and smells lovely too. It has everything you want for a short or long stay. The bed is so comfortable with lovely new linen. She has gone to a lot of effort and it shows. We can't wait to come back to Paris and will be looking this place up when we do.
Micah + Stephanie
2012-11-02T00:00:00Z
Tipo de Quarto
Casa inteira/apto
---
Tipo de Imóvel
Apartamento
---
Acomoda
2
---
Quartos
Paris, Île-de-France, França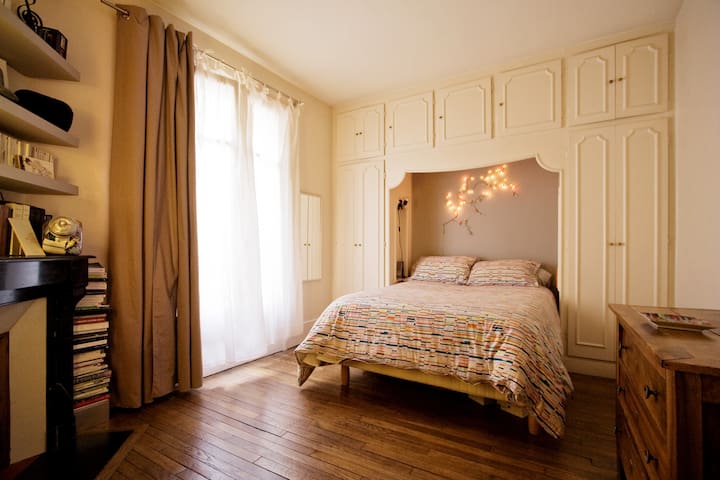 encantadora sala (16m2), em um apartamento luminoso e calmo, seguro e protegido excepcionalmente localizado perto do distrito de Bastille, Le Marais e da Nação. Café da manhã incluído com pão francês fresco. bairros animado. Supermercado, mercearias, padarias. Café da manhã incluso.
O apartamento possui três quartos: mina e dois que estão disponíveis para os hóspedes Airbnb, uma grande cozinha com sala de jantar e um banheiro separado. Eu tenho meu próprio banheiro com vaso sanitário. Há um segundo banheiro com chuveiro apenas para os hóspedes Airbnb. Se necessário, para estadias de longa duração, uma máquina de lavar também está disponível.
O apartamento está muito bem localizado em zona da Bastilha, ao pé da République, Oberkampf e Nation, que são atraentes, bairros animado, com uma grande vida nocturna. Você vai encontrar muitas lojas ao lado e uma deliciosa mistura de locais de refeições requintadas e elegantes. Todas as comodidades ao virar da esquina: supermercados, mercearias, padarias, lojas de vinho, correios etc.
A Maguy é maravilhosa! Nos deixou muito à vontade, foi educada, nos deu dicas de Paris, mas ao mesmo tempo nos deu espaço para ficar bem à vontade. No segundo dia de viagem já estávamos no sentindo em casa. A casa dela é fantástica, acolhedora e bem equipada. A estação de metrô fica próxima e perto do seu apartamento tem várias opções de restaurantes e mercados. A comunicação com ela antes e durante a estádia foi ótima e as direções para chegar a acomodação foram super claras. O café da manhã que ela oferece é simples, mas muito satisfatório. O quarto é enorme, com muito espaço para as malas e nos armários, além de ser muito bonito. O banheiro também é bom e a ducha é forte e quente. Inclusive, Maguy é muito atenciosa em deixar no banheiro sabonete e shampoo, inclusive repondo durante a estadia. A limpeza da casa inteira é impecável e a temperatura é sempre agradável. Recomendamos muito esse local.
Carol
2016-03-25T00:00:00Z
O quarto é ótimo, a localização é muito boa e a hospitalidade de Maguy é excelente. Nos ajudou bastante!
Hacsa
2014-03-14T00:00:00Z
Estamos absolutamente convencidos que quando voltarmos a Paris, o quarto escolhido para ficarmos será em casa da Maguy. Fomos extremamente bem recebidos, colocaram logo ao nosso dispor guias da cidade. A localização da casa é ótima. Apesar de estar no meio da cidade, e bem perto da estação de metro de Charone, o lugar revelou-se extremamente calmo. A casa estava sempre super arrumada, tem um calor aconchegante e é super confortável.
João
2015-02-28T00:00:00Z
o apartamento de Maguy é muito aconchegante, muito bem equipado e iluminado,em um bairro maravilhoso, perto de tudo. ficamos 2 dias muito agradáveis
marjorie
2012-10-26T00:00:00Z
L'abitazione è facile da raggiungere con la metro e le indicazioni fornite erano precise. La stanza è accogliente e curata e la pulizia era ottima. Maguy è molto disponibile, gentile e pronta a dare degli utili consigli per godersi il soggiorno a Parigi. La colazione abbondante e di qualità. Assolutamente consigliato!
monica
2015-04-13T00:00:00Z
Maguy est une hôte agréable et discrète, nous avons passé une très bonne nuit avec un bon petit déjeuner au matin!
Charlotte
2017-02-13T00:00:00Z
We had a lovely experience. We came for a three nights stay in Paris. We had a warm welcome from Maguy who was a lovely friedly hostess and looked after us. She gave us some great tips and info which saved us a penny! We had fresh French bread for us every morning from our hostess as well as a assortment of jams plus coffe, various teas and juice which was very appreciated. The appartement was nice very clean and cosy. The room ws nice, we had a good sleep in very a good bed. It was a great price for such a lovely stay. Thanks Maguy we had a lovely time in Paris!
Boris
2016-10-27T00:00:00Z
Maguy was very kind and had bread, jam, coffee and tea waiting for us every morning. The apartment was clean and we felt like we had plenty of privacy. We were about 2 blocks from the Charonne metro station. I think we made a good choice :).
Danielle
2012-10-09T00:00:00Z
Tipo de Quarto
Quarto privado
---
Tipo de Imóvel
Apartamento
---
Acomoda
2
---
Quartos
Paris, Île-de-France, França
moderno estúdio em um local tranquilo de Paris, com uma grande varanda para admirar o pôr do sol em Montmartre & Sacrée cœur após um longo dia ou ter um pequeno-almoço e um café francês paisibly antes de explorar Paris, perto de metro, idealmente localizado para explorar Paris sem ficar em uma área turística lotado. Muitas mercearias ao redor, não hesite em contactar-me e certamente não hesite em reservar um longo tempo de antecedência! Te vejo em breve
metro localizado Jourdain, Estúdio de 34 m2, último andar com uma vista panorâmica de 180 ° de Paris (exceto Torre Eiffel). Totalmente equipada (cozinha moderna, casa de banho com airdryer, sofá, cama king size, tela plana, varanda) 10 minutos de porta em porta para a estação República e 15 min de metro Chatelet (centro de Paris) através da linha de metro directa e Hotel de Ville (perto de Notre Dame) Jourdain Area é uma ótima distric como uma pequena aldeia com a sua Igreja, e sua loja de alimentos de qualidade (queijo, o vinho, a padaria presidencial também está lá e alguns bons restaurantes pequenos ..), também 3 mercado ao ar livre / semana. 10 min a pé para "Parc des Buttes Chaumont" O apartamento está localizado a 7 min a pé do metro; 3 estação de ônibus perto do apartamento e conveniente (uma direta a Nation, outro direto a "Quais de Loire") Estacionamento disponível com nenhum suplemento, por favor especifique se necessário no momento da reserva Pegue uma gota fora possível no aeroporto ou estação ferroviária com suplemento; envie um email para disponibilidade Cama extra pode ser vestido, colchão confortável, mas no chão.
Minha área é segura, mixity e multicultural, este é o lugar onde "parisienses" as pessoas vivem com acesso completo a pequena café, padaria, Wine & Queijos Loja, supermercado ... etc .. etc você vai estar em uma zona muito calma, com uma vista sobre Paris, 2 parques próximos!
Viajamos no inicio do mês de Dezembro para Paris, e ficamos 7 noites no Studio do Pascal. Eramos 3, eu, o meu marido e o meu filho de 3 anos, e digo-vos que é a melhor opção a fazer quando viajamos com crianças. A reserva foi feita com muito tempo de antecedência (cerca de 4 meses) e o Pascal logo se manteve em contacto connosco. No dia da chegada, tínhamos uma amiga à nossa espera que nos apresentou o studio e nos deu todas as indicações necessárias. O studio é exatamente o que vem nas fotos, ou mesmo melhor. Muito bom, muito bem equipado e muito bonito. Tem tudo à nossa disposição, desde cozinha totalmente equipada com forno/micro-ondas, frigorifico, maquina de lavar louça, maquina de lavar/secar roupa, maquina de café, placa de fogão, torradeira, ... O sofá é muito confortável, tem tv, hi-fi, a cama é grande e muito confortável e a casa de banho tem um chuveiro grande. Studio bem aquecido (estava muito frio cá fora). Tem uma varanda muito boa com uma vista espetacular (vê-se Paris quase todo exceto a Torre Eiffel por causa de um prédio que tem em frente). Está localizado no sitio calmo, e apesar de não ser no centro de Paris, chegasse lá muito rápido, tem 2 estações de metro a cerca de 5 min a pé que nos leva até ao centro em 15 min. Tem muito comércio próximo, supermercados, padarias, talhos, farmácias, e tem um Mercado de rua 3x por semana muito acessível. Ficamos muito bem instalados durante a nossa estadia. Agradeço ao Pascal por disponibilizar o seu fantástico studio que nos facilitou muito a vida. Aconselho este Studio a todos os viajantes para Paris, principalmente para quem tem filhos e para quem tem um orçamento mais pequeno, pois permite que no final do dia se possa descansar à vontade e permite que as refeições fiquem mais económicas, com a vantagens de o pequeno almoço e o jantar serem feitos em casa, sim porque Paris é uma cidade caríssima. Nada a reclamar, foi 5 estrelas. Sandrina, Portugal
Sandrina
2015-12-12T00:00:00Z
O apartamento é recente, limpo e mais do que suficiente para duas pessoas!! A vista è maravilhosa e o bairro està numa zona tranquila, bem servido de supermercados e a cerca de 300 mts do metro!!!! Pascal foi atencioso e prestàvel, teve a amabilidade de ser muito flexivel com a hora de entrada e principalmente com a saida!! Tambèm nos providenciou um colchão extra, se fosse necessàrio!! Recomendo e serà seguramente o meu local para pernoitar em Paris!!
João
2015-09-08T00:00:00Z
O apartamento é incrível, assim como o anfitrião. Pascal foi muito atencioso e simpático, deu dicas do que fazer em Paris e como fazer, nos ajudou com o mapa do metrô. Não fique em dúvida esse é o melhor apartamento de Paris. Supermercados, padarias, local tranquilo, equipamentos de casa super modernos. Nossa hospedagem não poderia ter sido melhor.
Yuri
2015-01-01T00:00:00Z
This was my mother's first visit to Paris and she loved Pascal's apartment. It had everything we needed and more. The view was wonderful and the location was convenient. I would recommend it without reservations. Pascal was very professional and helpful. His instruction were clear, and he even gave us some advice regarding the metro and our tour.
Diana
2015-04-26T00:00:00Z
Pascal met me to let me into the apartment and show me how the gate and door security system works (nothing complicated), and show me around the nice apartment, which was just as described: the view from the balcony is spectacular. The neighborhood is pleasant, with several bakeries and restaurants- more than I could check out on my brief stay, but the bakery nearby on Rue de Belleville with the nice semolina flat breads was great, and there's an excellent fancy cheese shop down the hill just outside the Jourdain Metro stop.
Daniel
2016-07-04T00:00:00Z
Студия с прекрасным дизайном! Ощущение, словно приехал в гости к своему другу! Все мыслимые удобства, чудесная парковка. А панорамный вид на Париж - одно из самых сильных впечатлений за все путешествие!!! Ночью россыпь огней, силуэт Сакре-Кер на холме Монмартра, небо рассекают лучи света с Эйфелевой башни... А утреннее солнце позолотит крыши домов сквозь розовую дымку рассвета... Вот он, пьянящий Париж, у ваших ног!!
Evgeniya
2015-10-03T00:00:00Z
Merci pour tout. On a passé un super WE dans cet appartement. Il est parfait: près du métro, bien équipé et surtout une vue panoramique imprenable sur Paris. Pascal est très sympa et il nous a particulièrement bien accueillie. On reviendra
Elena
2014-02-16T00:00:00Z
Pascal was very accommodating and helpful to us with our stay. We woukd recommend anyone to stay here.. the appartment was very well kept and very clean.
Jonathan
2015-01-22T00:00:00Z
Tipo de Quarto
Casa inteira/apto
---
Tipo de Imóvel
Apartamento
---
Acomoda
3
---
Quartos
Paris, Île-de-France, França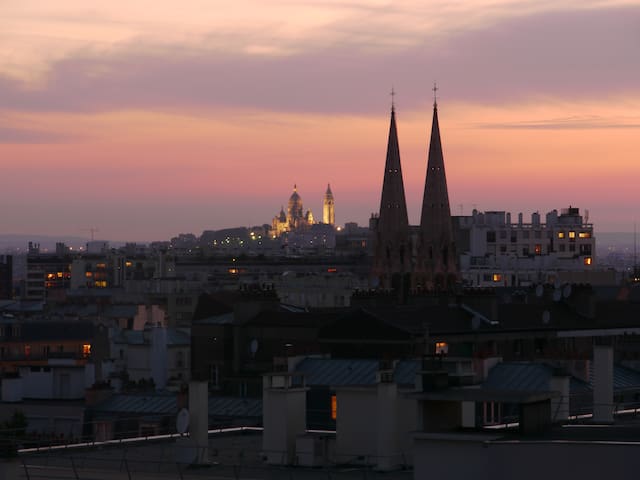 Auto-contido, totalmente mobiliado e bem equipados, e altamente decorada plana arte no 9º arrondissement de Paris. Tamanho: 24m2. (Entrada = 1,5m2 quarto principal = 14,2m2 Cozinha = 3,4m2 Roupeiro = 1,5m2 Banho = 3,4m2). O apartamento tem uma excelente localização. Apenas alguns minutos a pé de Montmartre, da estação principal da Gare du Nord (Eurostar), Gare de l'Est, e há muitas outras estações de metro nas proximidades. A localização do apartamento oferece fácil deslocamento para o Opera, Galeries Lafayette, Le Printemps, Champs Elysees, o Marais, Saint-Ouen Flea Market, casa de leilões Drouot e Aeroportos.
Toda Apartamento / quarto: Auto-contido, totalmente mobilado, bem equipado, e altamente decorada plana arte no 9º arrondissement de Paris. Apenas alguns minutos a pé de Montmartre e do Sacré-Coeur nosso maravilhoso parisiense pied-à-terre é a base perfeita para explorar Paris. Tamanho: 24m2. (Entrada = 1,5m2 quarto principal = 14,2m2 Cozinha = 3,4m2 Roupeiro = 1,5m2 Banho = 3,4m2). Grande disponibilidade, já que não vivem aqui, usamos o apartamento como a nossa casa secundária quando estamos em Paris. O apartamento tem uma excelente localização. Apenas alguns minutos a pé de Montmartre, da estação principal da Gare du Nord (Eurostar), Gare de l'Est, e há muitas outras estações de metro nas proximidades. A localização do apartamento oferece fácil deslocamento para o Opera, Galeries Lafayette, Le Printemps, Champs Elysees, o Marais, Saint-Ouen Flea Market, casa de leilões Drouot e Aeroportos. O apartamento está localizado no 4º andar de um belo edifício com concierge. Existe um elevador e bons portas de segurança. Nós redesenhado e remodelado o apartamento em 2011, então tudo é novo e decorados com mobiliário do século XX e trabalhos decorativos de alta qualidade. O apartamento tem uma sala de estar / dormir espaço com duas grandes janelas com vidros duplos com portadas por isso é uma prova muito brilhante e som. A cozinha é separada e o banheiro é muito espaçosos e design moderno. Ideal como um-a-terre pied para duas pessoas. Puxando para fora sofá-cama / futon (160 cm de largura e 200 cm de comprimento). , Tranquila, apartamento de alta qualidade independente no coração de zonas mais elegantes de arte e lojas de Paris. O apartamento está totalmente equipado todo e assim você não precisa se preocupar com nada, exceto suas roupas e escova de dentes. Wi-fi e TV no apartamento são inclusivas. É extremamente conveniente ficar neste plano como a localização dá-lhe acesso rápido a todas as partes de Paris, permitindo-lhe mais tempo para apreciar as vistas e sons da cidade. Faça deste plano a sua casa! Bem vinda! Locais de interesse, muitos deles a uma curta distância: Montmartre, Basílica do Sacré-Coeur Moulin Rouge Abbesses cabarés Pigalle Bibliothèque-Musée de l'Opéra National de Paris Paris Olympia Music Hall Folies Bergères em 32, rue Richer Fondation Dosne-Thiers da área de Saint-Georges, Rue des Martyrs Hôtel Drouot, leilões Opera Garnier ( "Paris Opera") Galeries Lafayette (loja principal) a 40, boulevard Haussmann Printemps lojas de departamento (loja principal) Musée de la Franc-Maçonnerie, rue Cadet Musée Grévin Musée Gustave Moreau em 14, rue de la Rochefoucauld Musée de la Vie Romantique
Locais de interesse, muitos deles a uma curta distância: Montmartre, a Basílica do Sagrado Coração Moulin Rouge Abbesses Pigalle cabaret Biblioteca-Museu da Opera Nacional de Paris Paris Olympia Music Hall Folies Bergere em 32 Rue Richer Dosne-Thiers Foundation da área de St. George, Rue des Martyrs leilões Hôtel Drouot Opera Garnier ( "Paris Opera") Galeries Lafayette (loja principal) a 40, boulevard Haussmann Printemps lojas de departamento (loja principal) Museu da Maçonaria, Cadet Rue Musee Grevin Gustave Moreau Museum em 14, rue de la Rochefoucauld Museu da Vida Romântica
Escolhemos o Flat através da avaliação pelos comentários e principalmente pela avaliação do David. Faço questão de deixar registrado que 100% do que tinhamos de expectativa foram cumprido, o David é um excelente Anfitrião e nos atendeu com muita atenção em todas as fases, desde a escolha do imóvel, durante a estadia prestando apoio e indicações da cidade e após a saida do imóvel. O Flat é exatamente o que ele cita no site, as fotos são 100% verdadeiras, o imóvel é muito bem localizado e apesar de ser próximo da Gare du Nord, ele fica numa rua tranquila e com excelente acesso a diversas regiões da cidade.
José Eduardo
2016-10-28T00:00:00Z
David oli erittäin hyvä isäntä! Hän piti yhteyttä koko matkan ajan. Hän neuvoi, kuinka päästä asunnolle ja antoi hyödyllisiä osoitteita asunnon lähettyviltä (ruokakauppa, nähtävyydet, leipomot, ravintolat ym.). Asunto oli juuri sellainen kuin kuvauksessa sanottiin kuvien kera! Hienoa taidetta ja ihana tunnelma. Kaikki toimi juuri niinkuin pitikin. Keittiö oli hyvin varusteltu. Muutaman minuutin kävelymatkan päässä asunnosta sijaitsi asema ja melkein alakerrassa leipomo ja kauppa. Asunto oli sijainniltaan hyvien kulkuyhteyksien päästä. Ko. asemalta lähtee juna myös Lontooseen. Kaiken kaikkiaan hyvällä maulla sisustettu, hyvin neliöt käytetty asunto. Pariisilaista tunnelmaa!
Emmi
2015-07-11T00:00:00Z
Had a lovely stay, very clean and functional apartment with everything we needed. Good location with plenty of transport close by, solid WIFI and having a washing machine, iron & board were also very useful. Great communication from host David leading up and throughout our stay. Would stay again.
James
2016-07-02T00:00:00Z
Our weeks stay in David's apartment made our time in Paris feel as though we were staying at a friend's (URL HIDDEN) was very comfortable and practical, as well as being conveniently located. Our only difficulty on finding it was on walking there the short distance from the Gare de Nord on our first arrival, when we accidentally did an extra lap around the nearby intersection, so busy were we on taking in the Paris streetscape. When we took David's advise to wander up to Montemarte / Sacre Cour lookout for a breathtaking sunset later during in stay, it was pure luxury to have such a short downhill stroll to be back "home". And the great patisserie downstairs made getting our breakfast croissant each day so easy! Probably should have taken the stairs more often rather than the lovely old metal lift in order to work off the indulgences. Thank you again David.
Eli
2013-09-10T00:00:00Z
The apartment was everything that we could have wanted . Perfectly positioned in Montmartre with great access to everything that Paris has to offer the traveller. David our host was great, nothing was to much trouble with recommendations on what to do and see in the local area. He was also available by phone should the need arise. All in all it was a very positive experience.
Alan
2014-08-24T00:00:00Z
I couldn't recommend this highly enough - David's flat is beautiful and very conveniently located especially if travelling on the Eurostar. Beautiful decor, cosy, comfortable bed. David is great at communicating before and during the stay to make sure everything is ok. I would recommend this to anyone looking for a small flat in Paris for any length of time!
Katie
2014-03-07T00:00:00Z
The apartment was perfect: cosy, beautifully decorated, warm, very well-equipped, very good shower, good wifi. David was a great host, providing us with all the information we needed and lots of great tips. His responses were always very quick. We would thoroughly recommend the flat to anyone visiting Paris. Thank you David!
Sheridan
2015-02-13T00:00:00Z
David's apartment was a fantastic place to stay during our 5 days in Paris. The location is so convenient to Gare du Nord station and also Montmartre, and the design is so charming. The apartment is small but that is to be expected in Paris, so no complaints. David was extremely hospitable and offered so many Paris tips and recommendations. Overall I would recommend this apartment for an authentic Parisian experience!
Kendal
2016-02-01T00:00:00Z
Tipo de Quarto
Casa inteira/apto
---
Tipo de Imóvel
Apartamento
---
Acomoda
2
---
Quartos
Paris, Île-de-France, França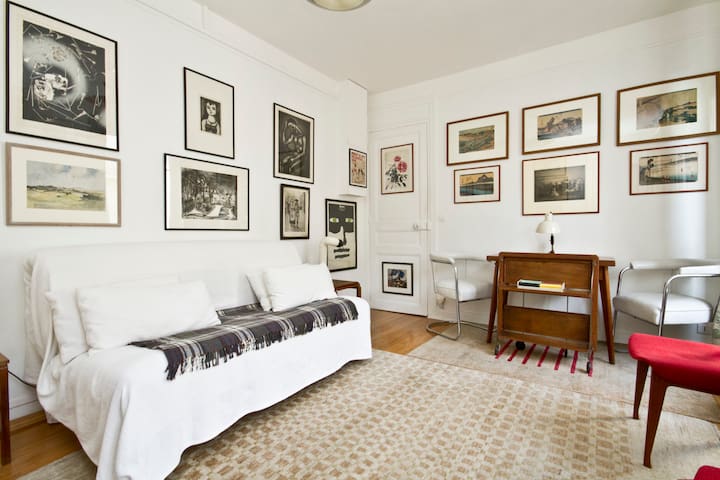 Localizado no 3º andar de um prédio de 5 andares sem elevador. Este estúdio de 18 metros quadrados com vista para um pátio muito tranquilo .Você será capaz de experimentar a diversidade da vida cultural de Paris e, especialmente, histórico bairro de Marais
Localizado rue Notre Dame de Nazareth muito perto Arts et Métiers e Republique, este charmoso apartamento estúdio está a poucos minutos de distância do prefeito de Paris, no coração do famoso "republique" área com a sua grande variedade de produtos alimentares de qualidade, restaurantes e pubs. É também a uma curta distância das principais pontos de interesse, como: Le Louvre, Notre Dame, Ile de la Cité ou Ile Saint Louis. Você terá todo o apartamento com seus eus isso não é nem um share Todas as ruas nas proximidades hospedar muitas galerias agradáveis, lojas, estilistas ateliês, cafés, restaurantes, cervejarias, e lugares menos conhecidos, apenas para que você descubra. Você pode andar durante todo o dia, bem como à noite como o bairro é bastante seguro. Você pode encontrar casualmente atores de cinema, políticos, philosophs e líderes de opiniões. O estúdio está situado num edifício do século 18. O portão de entrada é protegido por um sistema de segurança. este apartamento tem 18 metros quadrados .A estúdio está completamente mobilado com aa cama de casal. , Um chuveiro, pia, 2 placas eletrônicas, um microware, uma máquina de lavar, ferro, frigorífico, secador de cabelo e internet de alta velocidade com WI FI Você vai encontrar tudo o que precisa na mão direita. A 10 -minutos pé do Marais, a 10 minutos a pé do Museu do Louvre, ea 15 minutos da Catedral de Notre-Dame ... o seu tem muitos linha de metro 3 e linha 4 e linha 9, 8, 11. O principal cama de casal está no mezzanine.I irá fornecer-lhe toalhas e roupa de cama. A estadia mínima é de 3 dias. Outros produtos incluem TV, DVD, estéreo e acesso gratuito à Internet, Wi-Fi, e chamadas ilimitadas para toda a Europa e Estados Unidos (telefone fixo). Todos os lençóis incluídos. Haverá roupa de cama e toalhas para você usar O check-in é às 2 da tarde e o check-out é ao meio-dia. E, finalmente, aqui está um vídeo engraçado para preparar a sua viagem a Paris: (Website hidden) (Website hidden)
Se você não sabe o dy área "haut marais", você vai adorar passar o tempo na mais animada e vivendo na área Paris. Você será capaz de andar nas pequenas ruas animadas do Marais, você pode visitar o famoso "Place des Vosges", o hotel Soubise, o Hotel Carnavalet. Nos fins de semana, ele multidão nas belas lojas de moda no lado da rua burguesa francos. O Canal Saint Martin e (5 minutos a pé) é um ótimo lugar para caminhar e tornou-se muito na moda também. Há um 3 supermercados a 50 metros do apartamento e muitas padarias nas proximidades. O Marais (10 minutos a pé - Rue des Rosiers) e Notre Dame e muito perto. Louvres: 15 minutos Champ Elysees: 30 minutos Torre Eiffel: 30 minutos.
A estadia foi maravilhosa no apartamento de Eric. Espaço aconchegante, completo e organizado. Eric é um excelente anfitrião, atencioso e pronto para resolver qualquer problema. A localização é ímpar, perto de duas estações de metro (Republique leva para muitos lugares), bares (tem um beco na Passage Pointe Aux Biches com dois bares badalados), restaurantes, um mercado Monoprix pertinho, e dá pra fazer muita coisa andando (Museu Pompidou). Recomendo!
Pedro
2016-06-01T00:00:00Z
Eu amei nossa estadia com o Eric, o apartamento super limpo e organizado!!! O Eric é uma pessoa de uma hospitalidade incrível, nos recebeu com um vinho assim que chegamos, e nos ajudou com informações, e quando precisamos de um taxi para irmos embora para o aeroporto! O apt fica próximo de 3 estações de metrô, o que é super prático, e o bairro é bem parisiense... Uma delícia! Voltaria com certezaaaaa!!! I loved our stay with Eric, the apartment wad very clean and organized when we arrived!!! Eric is a person of incredible hospitality, welcomed us with a wine and helped us with information we need, and when we need a taxi to go off to the airport he called one for us! The apartment is close to 3 metro stations, which is super convenient, and the neighborhood is very Parisian ... A delight! Unexceptional !!!
Laylla
2015-05-30T00:00:00Z
Tivemos problemas apenas com o wifi, o da casa estava desativado por algum problema técnico e tivemos que pegar o do apartamento dele que era vizinho. Porém o sinal era fraco e muitas vezes parava de funcionar. No mais, bem localizado e Erick nos recepcionou muito bem.
Carolina
2014-05-22T00:00:00Z
O apartamento corresponde ao anúncio. É pequeno, mas funcional. Acomoda perfeitamente um casal e está bem localizado, próximo a duas estações de metrô. Os contatos com Erick foram bastante tranquilizadores, já que ele nos prestou todas as instruções necessárias para o acesso ao apartamento. Fomos bem recepcionados com um delicioso vinho. Pretendo voltar.
Fabíola
2014-01-02T00:00:00Z
A experiência foi bastante positiva. A casa está muito bem situada, e tem tudo o que precisamos para ter uma boa estadia. O Eric é uma simpatia, e dá boas ajudas para quem está na cidade pela primeira vez. Disponibiliza mapas, e várias livros com informações úteis sobre a cidade. Voltaria a repetir a experiência.
Liliana
2014-02-24T00:00:00Z
Both the flat and Erick were perfection. Centrally located, safe, and very enjoyable. As a single woman, all of these things were important. The location is simple to find and you can get to anything in Central Paris very easily. The flat has a unique charm, with the loft sleeping area being cozy and comfortable. Bathroom is nice by European standards. There was even a hair dryer provided! I will definitely recommend this location to all my friends and colleagues in the future. Erick is a incredible ambassador for the Airbnb community.
Joelle
2014-10-08T00:00:00Z
We lived this studio! Very charming and comfortable. Eric was very helpful and nice.
Jenn
2016-04-20T00:00:00Z
Great location,good communication with Eric, I used laundry twice and spread my clothes on a frame near the heat with a safety distance. The mattress are comfortable, what else I can say ?if I come to Paris again ,i will still choose this room
keli
2016-02-06T00:00:00Z
Tipo de Quarto
Casa inteira/apto
---
Tipo de Imóvel
Apartamento
---
Acomoda
2
---
Quartos
Paris, Île-de-France, França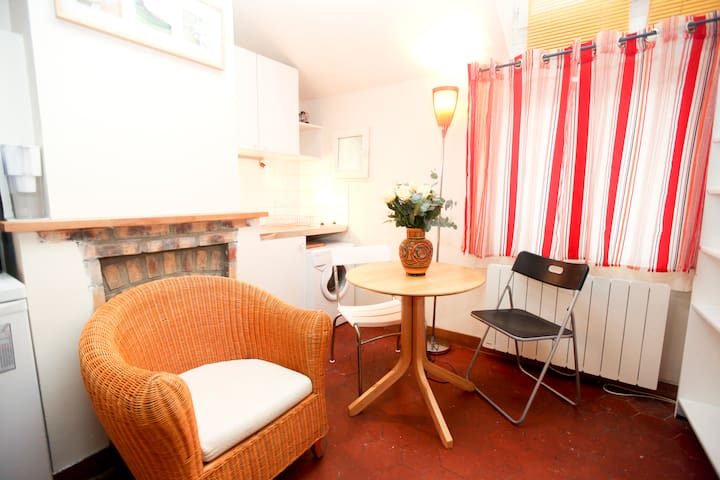 apartamento estúdio inteiramente renovado, com duas portas francesas de frente para uma varanda ensolarada; metros de distância da Gare du Nord e Gare de l'Est, no 5º andar de um edifício pura "Haussman"
Localizado no 5º andar de um edifício em estilo Haussmann (3 metros tetos); o estúdio light-banhado tem duas portas francesas de frente para uma varanda ensolarada onde você vai gostar de ter o seu pequeno-almoço. O estúdio está equipado com uma confortável cama de casal. Há uma kitchenette totalmente equipada, onde você será capaz de preparar as suas refeições. O estúdio está equipado com um aparelho de televisão e acesso à Internet. Há também uma condicionado ar. escadaria magnífica, mas sem elevador!
O estúdio está idealmente localizado entre a Gare du Nord (uma saída ao pé do edifício) e Gare de l'Est com todas as ligações (Metro, RER, ônibus) que lhe permitirá chegar em poucos minutos da Opera e Galeries Lafayette / printemps Lojas de departamento (uma paragem de RER), les Halles (uma paragem de RER), le Marais ou Bastille. acesso directo por RER de Charles de Gaulle Airport.
Excelente apartamento próximo a Gare du Nord. Único inconveniente talvez seja a escada, mas compensado pela excelente vista de Paris do balcão do apartamento.
Eduardo
2017-02-09T00:00:00Z
Our checkin was very smooth, we didn't manage to meet with Franck and Patrick as they had their own holiday at the same time but their friend Wilson was waiting for us and showed us through the apartment. It was so clean and beautifull absolutely loved the balcony. A full guide book of all Patrick and Franck's recommended places was provided in hard copy which was very usefull (english speaking taxi drivers numbers for example) Franck and Patrick left thier phones numbers so we could contact them if we had any problems, but because everything was spotless and very well organised we never had any reason to contact Franck and Patrick. If we ever decide to come back to paris we will definitely contact Franck and Patrick again!
Marcin
2015-08-24T00:00:00Z
The studio is great: beautiful space (georgous wooden floors), lots of light, cozy, perfectly equipped kitchen & super clean. Building is old parisian classic - really nice! Patrick and Franck are perfect hosts - super friendly, always ensured everything went smoothly & nothing was too much to ask. We absolutely enjoyed our stay and would recommend this place to everyone
Jennifer
2017-01-15T00:00:00Z
The Apartment was as described and was very clean and modern, with a lot of amenities. It's a nice renovated studio apartment in a cool 1980s Paris building. Great lighting, a nice bed, great natural sunlight to wake to and close to multiple metros. I would highly recommend this Air BnB if wanting a nice place to stay with a stove and refrigerator. A great way to save some money while in Paris is to have a nice home cooked breakfast. Also, when the weather is warmer the outside patio is great!
Kevin
2016-03-24T00:00:00Z
We absolutely loved staying at the studio and would not hesitate to recommend it. We arrived late and tired from the Eurostar and Patrick and Franck were there to greet us with a smile and show us around. It's all you need for a few days in Paris and thankfully within a 10 minute walk of Gare du Nord or Gare du Lest. The studio is lovely and warm and the bed is very comfortable. They gave us some great trips for local food shopping also. Having coffee on the balcony was a real treat. Thanks for a great stay, Ritchie & Jamie
Jamie & Ritchie
2014-11-29T00:00:00Z
Vi hadde et fint opphold i studioleiligheten til Patrick og Franck. Kommunikasjonen var svært god, vi ble tatt i mot på en veldig hyggelig måte. Vi fikk også lagre bagasjen vår på utreisedagen, noe som var veldig ok. Leiligheten ligge veldig sentralt til med alt du kan ønske av butikker, restauranter etc. i gangavstand. Vi gikk stort sett over alt, men du har super tilgang på offentlig kommunikasjon hvis du vil ta buss, tog, metro etc. Leiligheten var veldig ren, pen og hadde tilgang til alt vi kunne ønske av utstyr. Vær forberedt på at leiligheten ligger i 5. etasje uten heis, så ikke ta med for mye og tung bagasje. Vær også forberedt på at nabolaget kan oppleves litt utrygt på kveldstid. Vi anbefaler denne leiligheten på det varmeste - takk for oss :)
Helene
2016-10-13T00:00:00Z
We had a wonderful stay at Franck and Patrick's Studio. The location between Gare du nord and Gare de l'est makes it easy to see a lot of Paris on foot and else the next metro station is only three minutes away. The interior design is picked with much love for details and is simply beautiful. The balcony is small but very lovely. You can find everything you need for a breakfast and some cooking in the kitchen. The studio is located on the fifth floor without an elevator but the hall and staircase are totally worth the walk. Franck and Patrick's recommendations for restaurants, bars and food shopping are great and you should definitely try them. They really had given a lot of thought into the studio and providing an unforgettable stay for their guests. We would definitely return for another stay in lovely Paris! Kim & Alex
Alexander
2014-06-11T00:00:00Z
Super accueil, prévenant et efficace, le studio était d'une propreté impeccable, superbement décoré, contemporain. Quelques attentions (eau, capsules café...) pour dépanner. Super situé entre gare du nord et gare de l'est donc hyper pratique pour celui qui fréquente ces gares. Bref TB.
Jean-Edouard
2015-02-19T00:00:00Z
Tipo de Quarto
Casa inteira/apto
---
Tipo de Imóvel
Apartamento
---
Acomoda
2
---
Quartos
Paris, Île-de-France, França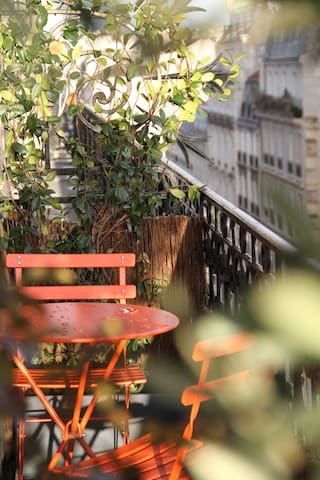 Ferme aménagée en appartements, RDC, Salle à manger, cuisine ouverte sur salon, canapé convertible, 1 chambre, 1 SDB, coin calme, 6 restaurants accessibles à pieds (1 à 4 min). 10 min de l'aéroport de Roissy CDG, 20 min de Paris, 25min de Disneyland, 20min du parc Asterix
Appartement rustique et moderne à la fois.
Vieux village de la ville de Tremblay en France, calme, granges aménagées en appartement, parc , centre équestre , restaurants gastronomique...
Hayat's place is great if you're looking to stay close to CDG for that early flight. On the other hand, it is located in a town quite a distant outside Paris, but the area is wonderfully quiet and rustic, it's a great experience! For me, you're getting more than your money's worth staying here. She's very prompt and helpful with everything. She made sure we were okay on our way to her place, and her mother was there to welcome us and showed us the place (in French, but we get the drift :D) and let us checked-out later. You truly feel welcome! My family and I really really enjoyed our stay at Hayat's!
Izyan
2016-12-29T00:00:00Z
정말 최고에요!! 완전 짱짱 ㅎㅎ
승연
2016-12-31T00:00:00Z
Wonderful host and place to stay!
Gabi
2017-01-15T00:00:00Z
Appartement très agréable proche de l'aéroport. Propreté, fonctionnalité, accessible pour tous car en rez-de-chaussée. Hôtesse charmante, à l'écoute de nos besoins, conviviale. Je conseille vivement cet appartement adapté pour 4 personnes pour les voyageurs à proximité des aéroports. Merci Hayat pour votre sens de l'hospitalité. Josiane Meyer - Suisse
Josiane
2016-12-25T00:00:00Z
Perfect little apartment in the perfect location with parking. We needed to get to the airport and to the centre of Paris and didn't want to be bothered by the hustle and bustle of the centre of Paris. Apartment had everything we required and Hayat was friendly and helpful.
Susannah
2016-07-29T00:00:00Z
Super appartement, hyper fonctionnel super bien placé pour se rendre à L'aéroport. Hayat est une Super hôte et met tout à disposition pour que le séjour soit parfait.
Fabien
2016-10-18T00:00:00Z
-
Philippe
2017-03-05T00:00:00Z
Ravie de cette nuit passée chez Hayat. Elle est très disponible, sympathique. Son logement très proche de la navette pour l'aéroport nous a permis de bien nous reposer dans la chaleur et le confort. Merci.
Hélène
2016-12-21T00:00:00Z
Tipo de Quarto
Casa inteira/apto
---
Tipo de Imóvel
Apartamento
---
Acomoda
4
---
Quartos
Tremblay-en-France, Île-de-France, França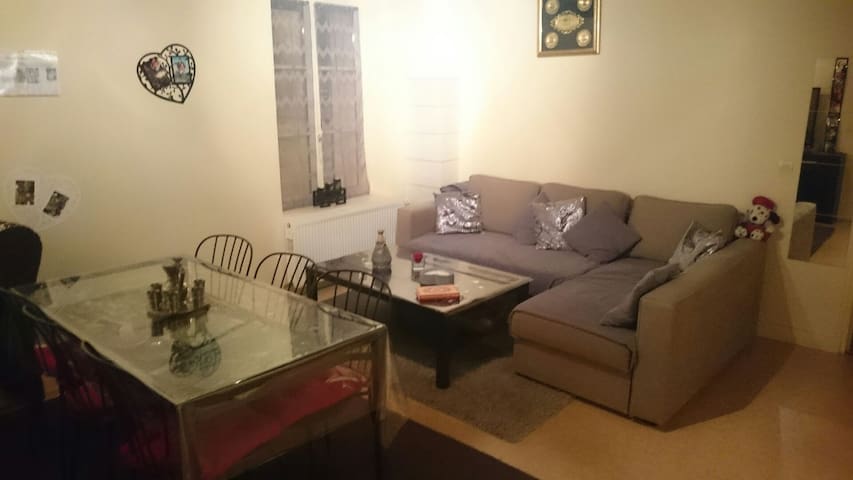 beau F2 avec terrasse - proche Aéroport CDG - Gare RER B "Vert Galant" - Parc des Expos Villepinte. Environnement calme et verdoyant. A proximité du logement, à 10 mn à pied : Carrefour Market ET également des petits commerces de proximité (boulangerie, boucherie, la poste.....) Parc Asterix : 20 mn en voiture (par la A1 à proximité) Disneyland : 35 mn en voiture (par la A104 à proximité)
Tipo de Quarto
Casa inteira/apto
---
Tipo de Imóvel
Apartamento
---
Acomoda
4
---
Quartos
Tremblay-en-France, Île-de-France, França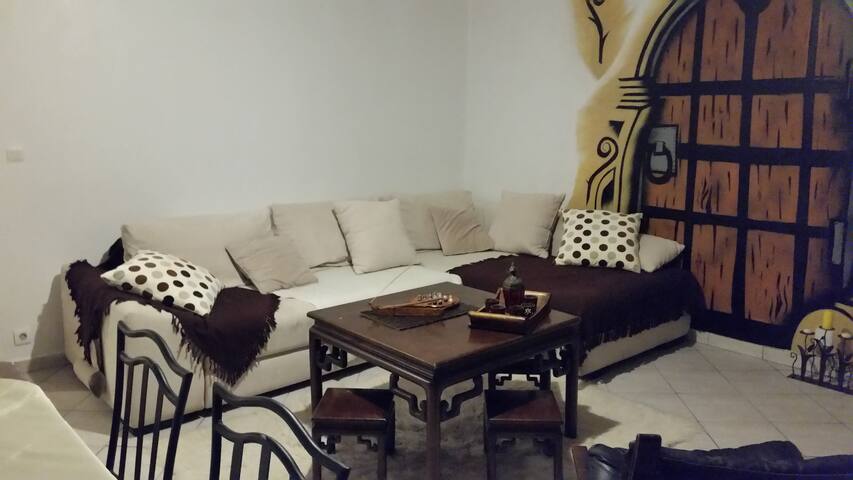 Renovated bedroom in a quiet and safe neighborhood. Near CDG, le Bourget, Stade de France, Villepinte and downtown Paris. You can either access it by train or we can help you arrange car transportation at a small fee. Chambre privée rénovée dans un quartier très tranquille. Proche de CDG, du Bourget, du Stade de France, de Villepinte et du centre de Paris grâce à la ligne de RER B (Vert Galant). Nous pouvons vous aider à arranger un transport en voiture.
We offer you a nice renovated bedroom that includes the followings: - A double bed with linen, pillow and duvet - Welcome amenities incl. french cakes and croissant, coffee, tea, milk, juice, candies, boiler, bottle of water, soap and shampoo - A desk - Towel - Wardrobe You will have an access to the bathroom as well as the living room, balcony and kitchen (only fridge and microwave). The apartment is located 15 minutes walking distance from Vert Galant RER B station, in a safe and quiet neighborhood. Nous vous proposons une belle chambre que nous venons d'aménager et qui inclut: - Un lit double avec couette, oreillers et draps - Un plateau d'accueil avec madeleine, croissant, bonbons, thé, café, lait, jus, bouteille d'eau, une bouilloire, savon et shampoing - Un bureau - Serviette de toilette - Penderie Vous aurez un accès à la salle de bain, salon, balcon et cuisine (uniquement le frigo et le micro-onde). L'appartement est situé à 15 minutes à pied de la gare de RER B Vert Galant, dans un quartier calme.
Goli est une hôte adorable ! On se sent très rapidement à l'aise. Tout est fait pour que l'on passe un bon moment, des petits en-cas et boissons, ou simplement un gel douche et un shampoing, qui nous attendent à l'arrivée dans la chambre. Goli sait recevoir et partage très facilement !
Mathieu
2017-01-06T00:00:00Z
Goli & Freddi sont des hôtes merveilleux. Accueil très chaleureux, Goli Et sont mari sont des personnes souriantes, accessibles et à l'écoute de leurs invités. La chambre est confortable, très propre et possède tous les aménagements que l'on pourrait trouver dans une chambre d'hôtel (penderie, draps de bains, set de savon et shampoing Et petit plateau déjeuner + bouilloire). Je retournerai chez Goli sans aucune hésitation !
Sacha
2017-04-11T00:00:00Z
Goli et son mari sont des gens tous simplement géniaux! Ne connaissant pas le lieux et les alentours, ils ont su m'indiquer comment me rendre chez eux très clairement, j'y suis arrivée avec une grande facilité. Ils ont eu l'extrême gentillesse de venir me chercher à la gare en plus...! Nous avons partager un super moment ensemble lors de la soirée. Goli et son mari sont accueillants, chaleureux, amusants, tout ce dont on peut rêver ! Ils ont eu l'extrême gentillesse de m'aider à me rendre plus facilement au lieu de mon concours, ce qui m'as rendu le plus grand service. J'ai pu être dans les meilleures conditions possibles pour aller passer mon concours. En bref.. ce sont des gens supers, toujours prêts à rendre service et vraiment très gentils et très attachants. J'oubliais, l'appartement est parfait et très propre! Je vous les recommande vraiment sans hésiter, j'ai même hâte de revenir si l'occasion se présente! Merci encore pour tout, c'est un réel plaisir d'avoir croiser leur route ! :)
Manon
2017-03-22T00:00:00Z
Merci Goli
Isa
2017-02-13T00:00:00Z
Un logement qui correspond parfaitement à la description de l'annonce. Je garderai un très bon souvenir de mon passage chez Goli. Avec Goli, autour d'un dîner que nous avons partagé ensemble, nous avons eu un échange très constructif autour des différents sujets de la vie de tous les jours. Goli est une dame discrète avec Beaucoup de principe et d'empathie. Expérience à renouveler dès qu'une occasion se présentera.
AMINE
2017-03-15T00:00:00Z
Nous avons très bien été reçues, accueil très chaleureux. Belle rencontre et de bons conseils. Je recommande !
Aurore
2017-01-21T00:00:00Z
Goli est quelqu'un de formidable ! Souriante, accueillante, généreuse et qui est soucieuse de notre confort. Mon séjour s'est parfaitement bien déroulé, l'appartement est top et la chambre aussi. Je recommande fortement ce logement !
Johanna
2016-11-04T00:00:00Z
房东太太很热情,很友好,家里很干净,房间很温暖,还提供很多样式的早餐,有一只很可爱得猫。
Weiqian
2016-10-16T00:00:00Z
Tipo de Quarto
Quarto privado
---
Tipo de Imóvel
Apartamento
---
Acomoda
2
---
Quartos
Tremblay-en-France, Île-de-France, França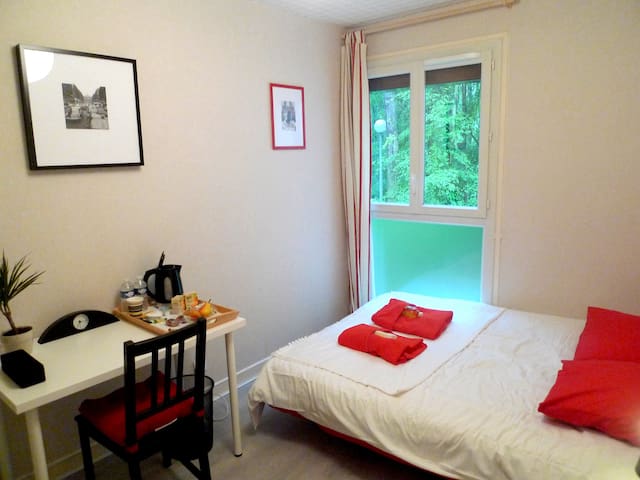 Mon appartement est très proche de l aéroport cdg , du parc des expositions de Villepinte et un peu plus distancié de paris.Des moyens de transports vous permettent de vous y rendre facilement et a moindre coût. Mon logement est chaleureux et cosy.
Amazing experience. Sabrina went above and beyond, as she helped us tremendously with travel and was very flexible with our arrival. Communication was very prompt. Sabrina's apartment is perfect if you need to get to the airport quickly, especially early in the morning, as it is a 15 minute ride away.
William
2016-12-08T00:00:00Z
The place is clean, and very close to the airport. We took the bus outside of the apartment, which took us in a 30 mins ride to the CDG airport train station. As we were also there for a 19 HR layover, Sabrina also drove us into the heart of Paris (for the equivalent fee of an Uber). Sabrina is very congenial and friendly. Note that there is no wifi and the entrance to the apartment is not well-marked. Improving its accessibility is the only thing we would recommend. But the apartment is clean and you cannot beat the value. We would definitely recommend to those needing to be close to the airport.
Charlotte and Jon
2017-02-13T00:00:00Z
Deuxième cours séjours chez Sabrina qui a été parfait. Logement agréable et bien situé
yann
2016-11-29T00:00:00Z
Sabrina es una anfitriona excelente y simpática. La casa tiene de todo, aunque la entrada es oscura.
Sara
2016-11-25T00:00:00Z
Très bel appart et très bien situé de l'aéroport Charles de Gaulle. Hôtesse très sympa et serviable
Anne-sophie
2016-10-02T00:00:00Z
Sabrina's apartment was exactly how it is described. It is in a great location if you're staying over to get the to the airport the next day as there is a bus stop just down the street that runs to CDG. Sabrina met us at the apartment and showed us everything. Even though she speaks very little English and we spoke even less French, we were able to make ourselves understood and everything went well. The apartment was very clean and comfortable.
Leah
2017-03-14T00:00:00Z
L'appartement de Sabrina est impeccablement propre et confortable. Sabrina est très disponible et arrangeante.
Marie-Odile
2017-02-08T00:00:00Z
We book Sabrina's apartment since we had one night lay over in Paris. The location is convenient if you need to stay in Paris only few hours. There's a bus which takes you to the airport for 2€. The apt was clean and cozy. Although the communication was a bit difficult since Sabrina doesn't speak English, we made it and she also organized a pick up from the airport for 15€.
Nicole
2016-12-31T00:00:00Z
Tipo de Quarto
Casa inteira/apto
---
Tipo de Imóvel
Apartamento
---
Acomoda
2
---
Quartos
Tremblay-en-France, Île-de-France, França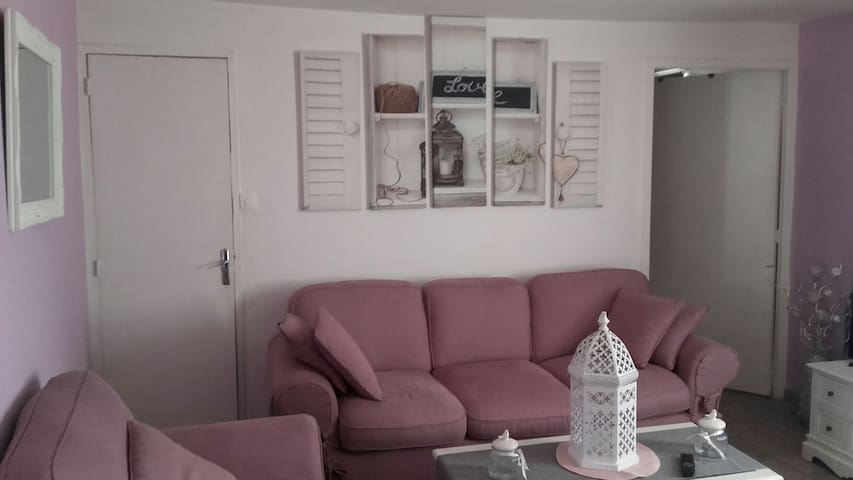 Dans un quartier calme et boisé, venez vous reposer dans une maison chaleureuse. La chambre peut accueillir deux personnes qui pourront profitez de la cuisine, et des accès rapides et direct vers l'aéroport Charles-de-Gaule et Paris.
Chambre chaleureuse avec armoire bureau et table de nuit. Ambiance familiale et conviviale avec possibilité de déjeuner ou de dîner avec nous, il est tout à fait possible de faire sa propre cuisine. Je vous accueillerais avec plaisir(URL HIDDEN) Equipements: serviettes et draps fournis, chauffage central, internet-WIFI.
L'appartement se situe à proximité d'une gare de RER B (Vert-galant), ce qui permet de joindre Paris (Gare du Nord) en 30 min et l'aéroport Charles-De-Gaulle en RER (30 min). Nous sommes également à 30 minutes du Parc des Expositions(URL HIDDEN) C'est un logement idéal pour les voyageurs qui ont besoin d'être à la fois à proximité de Paris, du Parc des Expositions et de l'Aéroport Charles de Gaulle. Le grand complexe AEROVILLE de Luc Besson, un grand centre commercial, un complexe de cinéma unique en France et un grand espace de restauration, se trouve à 30 min de la maison avec le T'bus, et 10 min en voiture.
I only stayed the 1 night but her place is really nice & is very close to the CDG airport so its really convenient if you're nearing the end of your trip or just need a place to stay before your flight (like me). Although she doesnt speak much english, she is very kind & also showed me the bus to take to get to the airport (which is right outside her apartment and goes directly there). Overall it was a great stay!
Kelsey
2017-04-03T00:00:00Z
Really nice rooms, sweet host, who provided in all our needs. Everything was nice & was happy to stay here :) !! Host was very polite & even offered us a drink, when arriving & a spare key, if needed.
Danny
2015-07-05T00:00:00Z
Ghislaine Is a very nice host and friendly, Everything is exactly like in the photos. Apartment is wide , modern and very clean. very nice bedroom and comfortable. Location is ok, only 12 min from CDG by car. Neighborhood is fine. Free parking is excellent. the kitchen area is very well equipped and the wi fi was reliable.
Neofytos
2016-10-22T00:00:00Z
The host canceled this reservation 9 days before arrival. This is an automated posting.
Chantal
2016-02-20T00:00:00Z
We stayed for 5 nights with Ghislaine and her daughter Jessica. What a wonderful experience. Public transportation was easy to use to get to their place and their directions were great. They welcomed us with open arms and made us feel like family. The room, kitchen, bathroom and living spaces were great. They were great providing helpful information and even making sure we had an umbrella when we left on rainy days. This was our first experience with airbnb and it will not be our last. I only hope that when we return to Paris next year that their place is available.
Peggy
2013-06-02T00:00:00Z
Un accueil très chaleureux. Une famille très gentille et un lieu tres propre. Parfait en attendant le décollage! Et merci, après 20 sans j'ai renoué avec les épinards. Très bonne tarte! :)
Celine
2013-06-21T00:00:00Z
I'd like to thank Ghislaine and Jessica for letting me share their space for the night I spent in Paris. They were gracious hosts. The apartment is clean and comfortable and is a 35/40 minute ride to/from CDG airport.
Ben
2014-05-31T00:00:00Z
My boyfriend only stayed with Ghislaine and her daughter Jessica for one night, but upon arrival, we felt very welcome. The bed was comfortable after 28 hours of air travel. It took about 30-45 minutes to get to her place using metro and bus. Even though we arrived late at night (1am) to their place, they stayed up to welcome us. Comfortable room, advertised accurately, very kind hostesses! I would stay here again! :)
Valerie
2014-06-26T00:00:00Z
Tipo de Quarto
Quarto privado
---
Tipo de Imóvel
Apartamento
---
Acomoda
2
---
Quartos
Tremblay-en-France, Île-de-France, França
Ce logement est tres bien situé et très calme. La pièce à vivre est confortable et tres bien équipée. La chambre est séparée avec un lit très confortable et une salle de bain bien agréable. De plus Adeline est très réactive. Nous conseillons ce logement sans hésiter.
Xavier
2017-03-12T00:00:00Z
Appartement calme et très propre. Il y a tout pour passer un bon weekend !
Julie
2017-04-09T00:00:00Z
Très bon logement
Corentin
2017-02-05T00:00:00Z
Tipo de Quarto
Casa inteira/apto
---
Tipo de Imóvel
Apartamento
---
Acomoda
2
---
Quartos
Paris, Île-de-France, França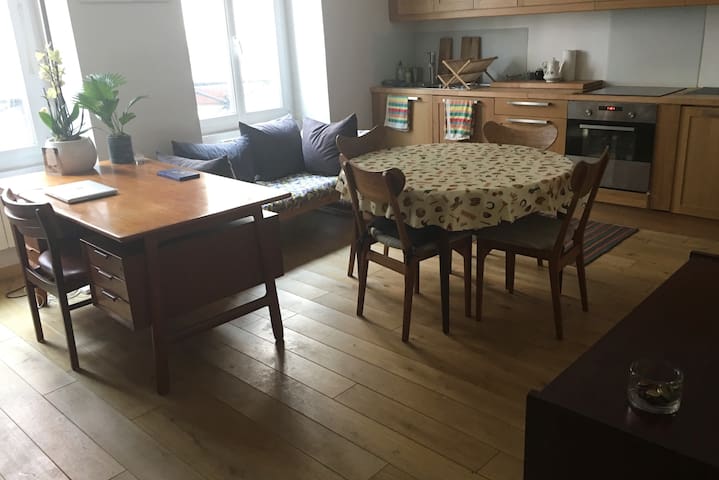 Appartement avec entrée indépendante comprenant une chambre, un salon -cuisine équipée , cuisinière electrique, lave linge, micro onde, canape, Tv et wifi. Commerces à 100 m, gare rer 25 minutes a pied, bus à proximité,proche aeroport roissy. 30 km de Paris.
C est un quartier calme, ambiance " comme un air de vacances" avec le terrain de pétanque à proximité.
Catharine e sua família são excelentes anfitriões, uma linda família com grande coração que nos fez sentir em casa. O bairro é tranquilo e bonito com supermercado à 100 metros. A estrutura que ficamos foi ótima, cama confortável e bom banheiro.
Joaquin
2015-10-16T00:00:00Z
Overall it was a nice stay. It's a cellar room, so naturally that gives it a certain atmosphere. It is located close to the airport and the fairground and there are some nice restaurants nearby. Ideal for drivers, as there are plenty of parking spaces in front of the house and most things are out of walking distance.
Achim
2016-10-20T00:00:00Z
Déjà fait : accueil sympathique Nous avons pris 2 nuits + 1 nuit supplémentaire
Aime
2016-02-21T00:00:00Z
Très bon accueil, des hôtes sympathiques et disponibles. Le logement est fonctionnel, équipé convenablement et bien chauffé. Dans les placards on y trouve les produits de première nécessité.
Aime
2016-02-20T00:00:00Z
Nous avons passé, ma fille et moi, un très bon séjour. Le logement est bien équipé et fonctionnel. Il est bien situé pour les accès aux transports en commun. Le quartier est calme, proche de commodités. Nos hôtes très sympathiques et arrangeant. Un grand merci à Catherine et Vincent. Bonne continuation. Elaura et Régis
regis
2016-07-13T00:00:00Z
I stayed for one night. The neibourhood is quiet. Leader supermarket is 150 m away. The one bedroom is en-suite minus a toilet. Toilet is in the hallway. The Kitchen/lounge is good size with well equipped utensils plus a drum type washing machine. Catherine is very helpful and friendly. She left me some food on my arrival which was great.
Philip
2015-11-03T00:00:00Z
Excellente nuit au calme dans un petit appartement très agréable non moin de l'aéroport CDG idéal lorsque vous êtes en transit pour un départ à l'étranger ou en vacance pour visiter Paris tout en voulant rester en retrait et au calme de la capitale !
Jean-Yves
2015-10-12T00:00:00Z
Logement très fonctionnel avec salon/cuisine et chambre séparée. Les hôtes quant à eux étaient arrangeants et agréables.
François
2016-03-12T00:00:00Z
Tipo de Quarto
Casa inteira/apto
---
Tipo de Imóvel
Apartamento
---
Acomoda
4
---
Quartos
Tremblay-en-France, IDF, França
Just 19 kilometres from Paris and close to Disneyland, this sunny studio features WiFi, a furnished terrace and garden access, creating a convenient base for 3 guests in Tremblay-en-France.
Located just 19 kilometres from Paris, this beautiful studio apartment provides 3 guests with the perfect location for visiting Disneyland or the Villepinte Exhibition Centre. The lounge is ideal for unwinding after a day of exploration. Sink into the comfortable sofa and curl up with a good book. Alternatively, take advantage of the outstanding amenities on offer, including a flat-screen TV with satellite channels, a radio, a DVD-player and WiFi. The kitchenette is well-equipped for cooking up your favorite meals. Alternatively, cook outside on the barbecue and dine on the furnished terrace. The shared garden is perfect for an after-dinner stroll. You are sure to have a great night's sleep in the comfortable sleeping area which features one double bed and one convertible sofa. Furthermore, the single, spotless bathroom sports a bath tub and WC. An ironing centre and desk are provided for your convenience. End cleaning, linen, towels and the local tourist tax are all included in the rental fee. Public parking is available nearby. Smoking is not permitted, but pets are not allowed.
This gorgeous apartment and its close-to-everything location make it the perfect choice for families visiting Paris. You'll find Roissy Airport, Disneyland Paris and the Villepinte Exhibition Center nearby. There are also superb restaurants located at 500 metres and a supermarket 100 metres from your door. The owners of the studio can assist with securing a rental car. Paris (at 19km) is loved for its famous sites, but it is also highly romantic with grand boulevards, aesthetic wonders and cafe life. If you only have a short time, a few other must-see sites within a short train ride of the apartment include the Place de la Bastille, the Notre-Dame Cathedral or the city's famous museums including the Louvre, the Musee d'Orsay or Meudon's Rodin Museum. If you venture slightly further, on foot or with a short metro ride, you'll see the Eiffel Tower, the Avenue des Champs-Elysées and the Grand Palais. An afternoon of people watching along the banks of the Seine is an absolute must if time permits. The famed Versailles castle and garden can be reached in about an hour. Golfers will want to check out the Golf Paris Resort, and families may want to spend a day at Disneyland Paris, just minutes from the studio!
Tipo de Quarto
Casa inteira/apto
---
Tipo de Imóvel
Apartamento
---
Acomoda
3
---
Quartos
Tremblay-en-France, França
I am renting an extra room for short stays 5-10 days.
Bien comme il fait
FABRICE
2015-05-19T00:00:00Z
Tout est parfait, merci Brian:)
FABRICE
2015-04-24T00:00:00Z
Tipo de Quarto
Quarto privado
---
Tipo de Imóvel
Apartamento
---
Acomoda
1
---
Quartos
Tremblay-en-France, Île-de-France, França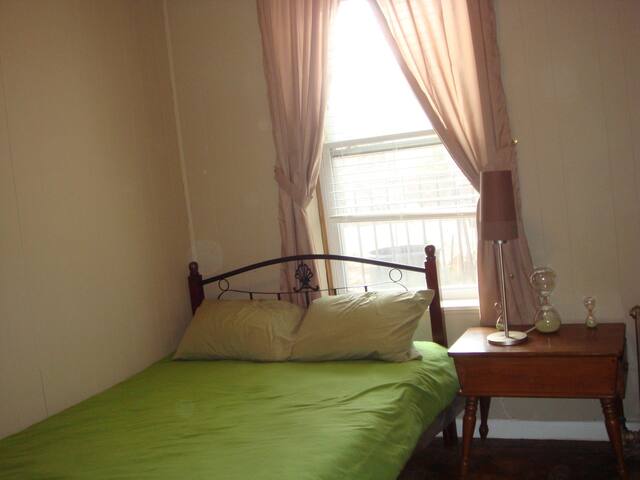 Chambre privée dans appartement F3. Partage des pièces communes, wifi. Literie et linge de bain fournis. Situé a 15min à pied du RER B Vert Galant et proche du Parc des Expo de Villepinte et de l'Aéroport de Roissy CDG. 20 m du stade de France
Je devais passer des examens au parc des expositions pas loin de chez Severine, son accueil m'a donc permis d'éviter de parcourir un long trajet pour m'y rendre. Severine est une hôtesse très agréable et attentionnée, elle m'a bien accueilli et m'a même déposé au lieu de mes examens. Je ne suis pas de nature très bavarde mais nous avons tout de même bien discuté... Concernant le quartier il est paisible, entouré d'espaces verts c'est un plaisir de s'y ballader. De plus la gare se trouve à moins d'un quart d'heure à pieds de chez Severine, ce qui est très pratique.
Stephane
2015-05-14T00:00:00Z
Très bonne accueil de Séverine qui est très sympathique et arrangeante. Le logement est très confortable, au calme dans un immeuble très propre. Je vous le conseil vivement.
Nicolas
2014-09-27T00:00:00Z
La communication avec Séverine a été facile et rapide. Le verre d'accueil et le petit déjeuner étaient sympas. Ses conseils pour le resto étaient avisés. Son appartement est situé dans un quartier calme proche d'un parc. Le parking est aisé. Idéal si on doit se rendre à l'aéroport cdg tout proche.
Jean-Francois
2014-09-17T00:00:00Z
I really enjoyed my stay with Severine. She was a very lovely host and she even offered to pick me up from the train station nearby. Her home is just as described. I would definitely stay with her again!
Amy
2015-07-17T00:00:00Z
The room was really nice and comfortable in a quite big flat. Its not far away from the train station. As I visited an exposition, it was very close to get there. With the train you get also really fast into the city center, like 20min. The area is calm and I slept really good in the bed. Severine was a very friendly host and gives information about everything you need.
Tanja
2015-12-04T00:00:00Z
très bon Séjour chez Séverine ! Quartier calme, Hôte très agréable !
Camille
2014-09-29T00:00:00Z
Severine was a great host especially for my last minute booking. Offered to get me from the train station as well! Of course my silly self got off at the wrong stop haha and she even prepped things in the morning for me to have coffee
Monique
2016-08-04T00:00:00Z
Since the beginning, Severine was great! She answered my messages quickly and I the place was near the expo and RER train to downtown Paris. Severine made me feel extremely welcome: she has a very organized, cosy and clean apartment. She gave me lots of attention: I had a problem with lost baggage and she helped me to solve it, she gave me all information about Paris and lifts to the expo and train station. I would come back again and recommend the place to my friends!
Bea
2015-01-24T00:00:00Z
Tipo de Quarto
Quarto privado
---
Tipo de Imóvel
Apartamento
---
Acomoda
2
---
Quartos
Tremblay-en-France, Île-de-France, França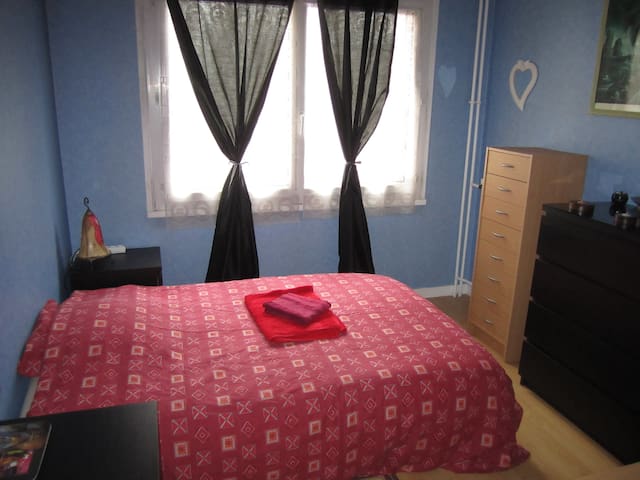 Appartement 2 pièces au 3 ème étage d'un petit immeuble situé dans un quartier pavillonnaire. Salle à manger avec canapé lit/coin cuisine équipée/wc/salle de bain/chambre 2 personnes. Paris, aéroport CDG, parc des expositions, cop 21 sont à proximité
Ce logement se trouve au 3 ème étage sans ascenseur d'un petit immeuble. le coin cuisine comprend un micro onde, un lave vaisselle 9 couverts, un four et une plaque de cuisson à induction. La salle à manger est lumineuse et comprend un canapé d'angle 4 places, une table à manger 4 places et une tv avec les chaînes TNT. La salle de bain comprend une vasque 1 personne, une douche baignoire et un lave linge. La chambre comprend un lit bas de 1.40 m par 1.90 m, des étagères de rangement et une fenêtre velux.
Immeuble situé dans un quartier pavillonnaire. A 5 minutes à pied de l'immeuble se trouve un parc forestier départemental et une rue commerçante avec toutes les commodités ( restaurant,commerces). A 8 minutes à pied se trouve la gare du vert galant (RER B) et à 2 minutes se trouve l'hôpital privé du vert galant.
J'ai loué l'appartement de Franck pour des raisons professionnelles pour une personne qui a été très satisfaite de son séjour. La communication avec Franck est très facile, l'appartement était conforme à la description : tout s'est très bien passé ! Je recommande sans hésiter.
Charlène
2016-10-23T00:00:00Z
L'appartement de Franck est idéalement situé pour quiconque souhaite se rendre au parc des expositions. Placé dans un immeuble calme il correspond parfaitement aux photos et est très pratique pour la vie de tous les jours. Franck s'est mis en quatre pour notre arrivée tardive et départ matinal. Bref, tout s'est très bien passé, au plaisir, Stéphane.
Stephane
2016-07-12T00:00:00Z
C'est la deuxième fois que j´ai loué l'appartement de Franck. Franck est un superb anfitrion avec un appartement très impressionant. L´appartement c´est sur une quartier charmant, très confortable et agréable et c'est comme s'apprécie sur les photos Sans doute, c´est un appartement pour de loue pour être de travail ou pour les vacances, puis que c´est très proche de Centre de Paris ou pour aller à Disneyland. Merci Franck pour tout.
ISRAEL
2016-02-03T00:00:00Z
recommandé a 100%
Magel
2017-01-23T00:00:00Z
Superbe appartement avec tout le nécessaire pour y vivre et bien plus encore. Franck est très agréable et surtout très arrangeant au niveau des horaires il trouve toujours une solution... il n'hesite pas se rendre a 200% disponible pour ces hôtes. Je recommande a tous vous ne regretterez pas votre sejour dans ce charmant cocon
Magel
2016-02-05T00:00:00Z
Franck nous a très bien accueilli et l'appartement est proche des transports en commun. Un peu loin du centre de Paris mais très pratique pour nous car nous sommes resté dans la banlieue de Paris. Je recommande!
Daniel
2016-01-02T00:00:00Z
Appartement bigger than the pictures, really nice place quite. Not so far from airport and RER B, 8 min by walk. Easy to park the car. Forest behind for play with kid or run. All that you need are in this appartement.
Richard
2016-02-26T00:00:00Z
Неплохой бюджетный вариант. В 10-15 минутах ходьбы rer и автобусы, продуктовый супермаркет. Wifi работал отлично.
Marina
2016-06-19T00:00:00Z
Tipo de Quarto
Casa inteira/apto
---
Tipo de Imóvel
Apartamento
---
Acomoda
2
---
Quartos
Tremblay-en-France, Île-de-France, França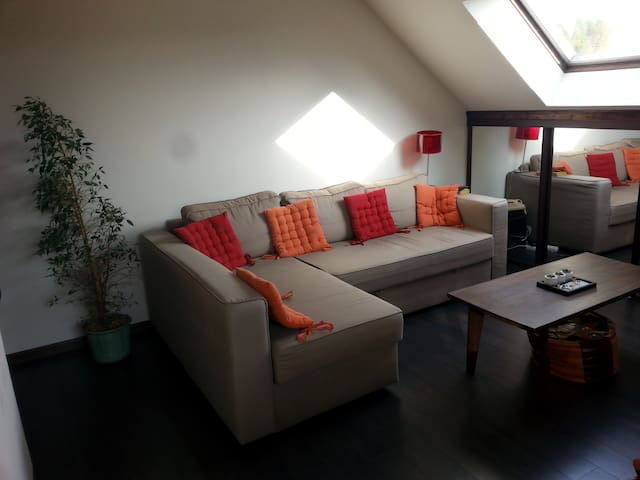 Mon logement est proche de les restaurants. Vous apprécierez mon logement pour le confort et l'emplacement.
Tipo de Quarto
Casa inteira/apto
---
Tipo de Imóvel
Apartamento
---
Acomoda
5
---
Quartos
Tremblay-en-France, Île-de-France, França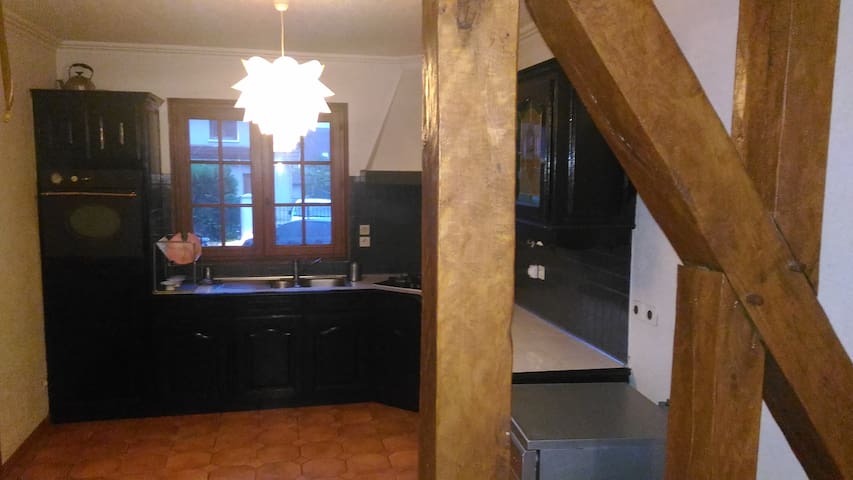 1

–

18

de

300+ Alugueres de Apartamentos
Insira as datas para ver o preço total. Taxas adicionais aplicáveis. Podem ser adicionados impostos.