Insira as datas para ver o preço total. Taxas adicionais aplicáveis. Podem ser adicionados impostos.
新しい家が立ち並ぶ、きれいで静かな住宅街。 すぐ近くに散歩できる大きな公園があります。 便利なスーパーや本屋さん、コンビニ、図書館も近いです。 元気な7歳3歳2歳の子どもがいます。
It is the lively house where 5 families live in. Children sometimes want you to play with you and may go to the room. The room where you'll be staying in is the second floor. A restroom and the washroom are on the second floor, but a kitchen and the bath are on the first floor, so please use there. We are glad if we can make friends with a guest.
In my neighborhood , there is a large park, library, convenience store, grocery store, book store, and so on. The nearest station HARUTA is 10 minutes walk from my house. The distance is about 900m away. NAGOYA is second station from HARUTA, it takes 10 minutes. After having approved, I send a detailed map.
从机场坐名城线到名古屋站,再换乘JR东山线坐到春田站下车,打卡出站后从左手边大门出(左右各有一门),再沿着左手直走…之后请用谷歌地图导航,大约十分钟左右就到了。看到7-11便利店离目的地就不远了。之所以要写的这么详细是因为我们是晚上到的,根据之前评论里的介绍走错方向,绕了好大一圈,最后还是Miki不放心开车出来寻到我们后载我们回去的
vivian
April 2016
It is a fantastic experience to stay in Miki's place, her family are so friendly and the 3 kids are so cute. I am highly recommend to stay at her place.
Yonghau
September 2015
나고야역에서 jr선으로 10분거리이며 마을도 깔끔합니다~ 지내는동안 아이들과 놀기도하며 다양한 얘기도 나눌수있어서 좋았습니다~ 정말 친절하게 대해주세요~ 나고야지역을 여행계획중이신분들 추천드립니다~
changhyun
February 2016
Miki-san is a wonderfull person with a cute family, she is super friendly just like her kids and her Husband. She made me delicious breakfast everyday. I spent 2 weeks long in her house and i enjoyed my time with her kids and also cause of the good atmosphere what she created. Overall the house and the room is perfect and clean, 10min away by walk you can reach the train station in Haruta and after another 10min you are in the center of Nagoya. Basicly Miki-san house close to everything! Btw i will definitly go back if i will have the situation to see Miki san family! Good place, good ppl for good price ! :)
Péter
September 2015
The room and bathroom was clean and comfortable, kids are cute. We had wonderful experience at the Japanese house. Thank you Miki.
Youngah
April 2016
寧靜的住宅區,距離春日車站大約10-15分鐘路程,夜晚會比較僻靜,沿路有7-11及okay便利店,要留意名古屋到春日的鐵路班次,房間非常乾淨整齊,但房門無鎖
Mei
January 2016
温かいご家庭で短い期間でしたが、つくろぎととてもいい時間を過ごさせてもらいました。 I stayed for a day. Is pended a good time. I want to stay one more.
Miho
December 2015
东西很齐全,非常漂亮的房子!虽然不便宜,但也值了。缺陷是有点偏,但优点也不少,女主人英语可以沟通,非常勤快,早上还会为你做超丰富的早餐!如果你试过在日本寻找早餐店的话,你就知道这早餐的意义了!日本几乎没有早餐店,都是自己弄。三个孩子非常可爱,非常活泼,会主动走过来跟你打招呼。
Hin
October 2016
Tipo de quarto
Quarto privado
---
Tipo de Imóvel
Casa
---
Acomoda
2
---
Quartos
1
名古屋市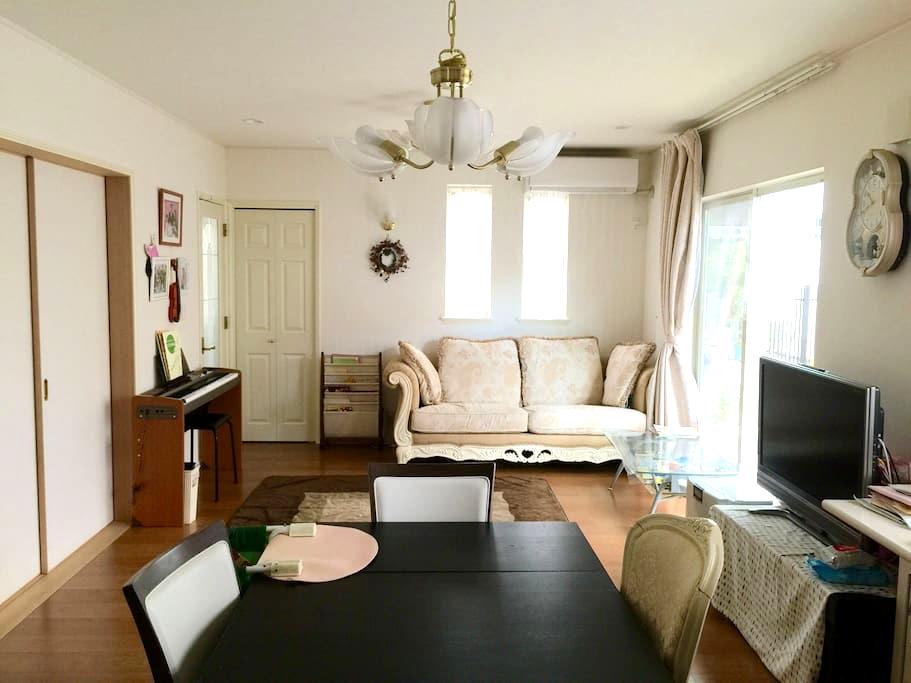 6parking lots, a toilet, a kitchen, a table and chairs, a refrigerator, a rice cooker, an electric pot, a shower, and a washing machine available. Close to convenience stores, a pharmacy, restaurants, cafes, a public bath, and a hospital.
2 futon sets and 3 sleeping bags are available. For extra beds, rental futon sets are available (2160yen~) There is a main house behind and host family stays close.
Festivals, parks, Tsushima shrine, a movie theater in a shopping center 8 mins walk to a Post office Locally special breakfast service called 'morning' in cafes around this area. They usually serve free (or with just a little extra) bread, salad, egg if you order a cup of drink by 11:00am. 6 parking spaces available. 1 min walk to a bus stop. 10min to a train station by car. 1.5 hour to the Centrair airport by Meitetsu line and bus or taxi. There is a bus to Nagoya or Sakae from a bus stop very close to our place. It takes about 45 mins to Nagoya and 55 mins to Sakae directly. Many English books to read especially children's books. Put them back to the right shelf. To use the house during the daytime, reservation is necessary with extra fee. If not, check-in and out each day to stay more than 2 nights. Possible to leave luggages anytime.
とても快適でよかったです。最後にご家族でお見送りしてくださって良い滞在になりました。
旭彦
December 2016
部屋がかなり広くて、オーナーさんも非常にフレンドリーでした
wx
February 2017
普段は英会話教室として使っていらっしゃるスペースを提供されているため、他のところよりも格安で利用させていただきました。 部屋もかなり清潔で、広く、設備等も充実していました。 立地も、名古屋の中心街から車で25分と悪くなかったです。 本当にありがとうございました!
Takeshi
February 2017
とても綺麗で広いお部屋です。無料の駐車場もあり、子供連れで伺った私達にはありがたい事ばかりでした。最後ご家族でお見送りもしていただいて、非常によかったです。
森田
November 2016
とってもいい空間でしたー!
Junya
December 2016
Tipo de quarto
Casa inteira/apto
---
Tipo de Imóvel
Casa
---
Acomoda
5
---
Quartos
1
津島市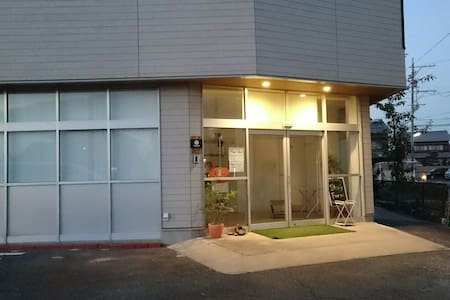 3 mins walk to JR KANSAI Line KANIE Station and 10-12 mins to Nagoya Station. The room is on 1st floor. The living room, dining room, kitchen, bathroom and Toilet are on the same floor.
1 double-bed and 1 Japaness Futon Your room is on 1st floor. The room has round 14 square meters. There are very comfortable. The living room, dining room, kitchen, Bathroom and Toilet are on the same floor. 你们的房间在一楼。房间大约有14平方米。客厅、餐厅、厨房、浴室和卫生间也都在一楼。 You can use all the commonn areas like the living room, dining room and kitchen. We are happy to interact with you. Feel free to ask any question and ask for advic
The located in a residential neighborhood, but have many restanrant, Sushi, Izakaya, Yakiniku, Cafe(KOMEDA cafe), Italian food 3 min walk to convenience store 5 min walk to supermarket and restanrant
Mei is a wonderful host! She is really kind and the room is perfect (very wide and clean). She help us to get the train and cook a delicious breakfast. I would really recommend to stay in her house :)
Manel
October 2016
I definitely recommend anyone who travels at Nagoya stays in Mei's house. She prepared delicious breakfasts every morning when I woke up. You will have a nice own room, bathroom, and with shared shower. Thank you Mei : )
Roger
September 2016
Mei is hands down the best host we've ever had. She picked us up from the train station, showed us the neighborhood and restaurants, and took us to a local onsen (hot springs) which was amazing during this cold weather. She made us top notch breakfast each morning. The house is prefect. Very spacious and clean, really nice bathroom and shower. Washer dryer full kitchen, this is a dream stay if you want a few days out of the big city. Awesome stay and the best host your could ask for. Thanks Mei!
Kevin
December 2016
特别棒!房子在离jr站不到十分钟的地方,很安静,房东太太人超好,房间在一楼也特别大,是我在日本这几天睡的最大的屋子了,各种都很方便,临走还品尝了一顿早餐,再次感谢!!!满分好评!!!
Zhen
October 2016
非常干净,很温馨,非常高兴能碰到热情体贴的房东
代红
September 2016
駅から近く、清潔でゆったりしたお部屋、アメニティーもすばらしく本当にお勧めです。ホストさんのお気遣いと朝食も最高で、素晴らしい初Airbnb体験となりました。ありがとうございます!
桂子
August 2016
作为不会日语的我第一次到日本的第一晚,这里是非常明智的选择,且不说房间干净舒适,女主人是中国人,沟通无障碍,在旅行交通上的建议帮助非常大。尤其发现我有些感冒,还帮我配了两天的药给我带着,这对我能顺利完成后面的旅程起了不可估量的作用。Mei亲自烧的早餐也极为丰盛。非常美好的一次入住体验。谢谢Mei
Peng
December 2016
The host is very kind that she picked me up to the house. She prepared SUPER NICE breakfast for us and offered so much help to us and we really appreciate it. We look forward to go back again soon!
Rita
April 2016
Tipo de quarto
Quarto privado
---
Tipo de Imóvel
Casa
---
Acomoda
3
---
Quartos
1
Ama-gun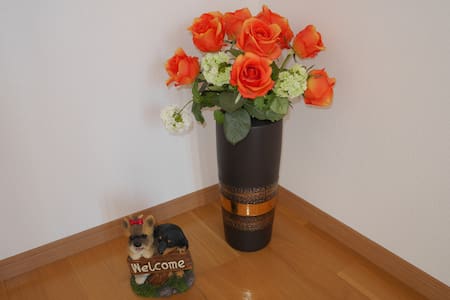 最寄りのスポットはレストラン・ダイニング。我が家の自慢は雰囲気。リスティングはカップル、ひとり旅、子ども連れファミリーにぴったりです。
Tipo de quarto
Quarto privado
---
Tipo de Imóvel
Casa
---
Acomoda
4
---
Quartos
1
Ama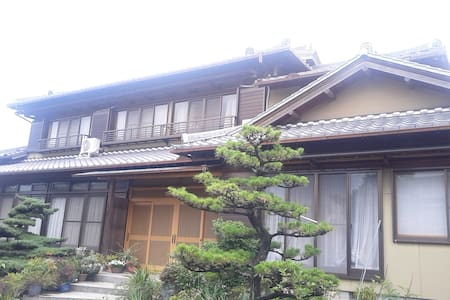 It takes 10 minutes to walk to the closet station. And it costs 15 minutes to go to Nagoya station by train. I have only one bedroom and one bed. So I only accept female. I also have a living room and a dining room. Maybe u can cook some delicious food if u want. Big supermarket , convenient ,DVD store, book store, 100yen shop,big park around my house. And I can speak Chinese ,Japanese and English . So u don't have to worry about that. Waiting for ur coming. Please message me before u making an order.
Comfortable place to stay
Jessy
February 2017
家の近くにtsutaya bookstore、スーパーなどがいて便利でした ホストも親切でいい旅になりました
jinyoung
January 2017
Perrier is very nice to us and her home is really warm and lovely. She also made lots of memo to mind us lots of things. The experience was really good.
佳妤
January 2017
丁寧に洗濯機やタオルの使い方について説明があり、過ごしやすかったです。 名古屋の西なので交通の便があまり良くないかも知れませんが、バスを使えば十分です。 ありがとうございました。
Kako
February 2017
Tipo de quarto
Quarto partilhado
---
Tipo de Imóvel
Apartamento
---
Acomoda
1
---
Quartos
1
名古屋市中川区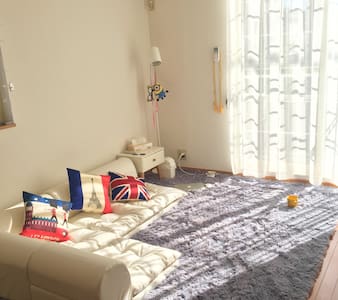 最寄りのスポットは甚目寺駅、甚目寺観音、七宝焼アートヴィレッジ。自転車の距離ですが鉄板ダイニングBarBa-Boonは味も接客もお勧め。 名古屋駅から約10分、最終電車も0時1分まであります。 キッチンは備え付けのものとは別に自作バーカウンターキッチンを追加しました。お酒好きな方は一緒に一杯やりましょう。 カフェ風インテリアには拘りがあります。オーディオにもこだわっているのでリラックス出来る空間をお約束します。 リスティングはひとり旅にぴったりです。ペット可物件ですので、しつけの出来ている子なら同伴可能です。猫を一匹飼っていますので、アレルギーの方はご注意下さい。
The description of the place fits Yuuki's place accordingly. His place has quite good atmosphere and it was interesting to peek inside a Japanese guys house. Yuuki served me tasty breakfast before I left and I had good time talking with him. Yuuki was very easy to contact through the AirBnB app and even though I had to change the arrival time he was alright with it and when I finally got to the station he was waiting there. I spoke Japanese with Yuuki so I can't really tell what kind of time non Japanese speaker would have there, but I found my stay there overall great.
Henkka
October 2016
Tipo de quarto
Quarto privado
---
Tipo de Imóvel
Apartamento
---
Acomoda
2
---
Quartos
1
Ama-shi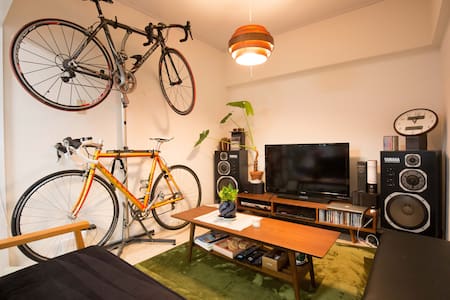 最寄りのスポットは木田駅。
NEVER try this, the host accepted my request and my money, and then never replied on the day I was there, and I found out that even the address is wrong (other people live there and noone has ever heard of that name) ぺてん!!!ご注意ください!絶対に選ばないでください!
Florian
February 2017
Tipo de quarto
Quarto privado
---
Tipo de Imóvel
Apartamento
---
Acomoda
1
---
Quartos
1
Ama