Guest house on over an acre. This property is close to Joshua Tree National Park and Joshua Tree Retreat Center. Also, close to 29 palms base. This property features a private patio with grill.
This room has a separate entrance and you may be as private or talkative as you like. Most people that stay with us say it is like renting the whole property because everything is private. We are very laid back and will help you with any questions you may have about the property or surrounding city. The room has a toilet and sink. There is a brand new (private) outdoor shower (bathing suits are recommended but not needed because the shower is very private). Showers can also be arranged in the main house if weather is too cold. You will also have full access to a grill and patio. Pool access June 1st-September 15th
I love the quietness of the desert. Star gazing is amazing!!
My friend and I enjoyed our stay at Joe's place. The room looks just like the photos and is very private and comfortable. It was perfect home base for our Joshua Tree visit.
Blythe
2016-12-31T00:00:00Z
Great and reasonable stay. Very close to Joshua tree national park!
Justin
2017-03-09T00:00:00Z
Great place thanks!
Joshua
2017-01-24T00:00:00Z
We had a great time at Joe's. The apartment was very clean and nicely furnished. We really loved the outdoor shower. We would definitely recommend :-)
Julia
2017-02-08T00:00:00Z
I stayed here for one night only but it was great! Conveniently located near Joshua Tree, this place is perfect to crash at after a day's exploring. The backyard is super cool.
Mikael
2017-03-14T00:00:00Z
Incredible hosts! Would stay here again in a heartbeat.
Matt
2017-02-12T00:00:00Z
This room was just what we were looking for! Very comfortable, with lots of little thoughtful amenities. Perfect place to stay when visiting Joshua Tree!
Max
2017-01-29T00:00:00Z
Great, clean and calm place. Good bed, good furniture. The outdoor shower is perfect for the situation!
Thais
2017-04-06T00:00:00Z
Tipo de Quarto
Quarto privado
---
Tipo de Imóvel
Casa
---
Acomoda
3
---
Quartos
Twentynine Palms, Califórnia, Estados Unidos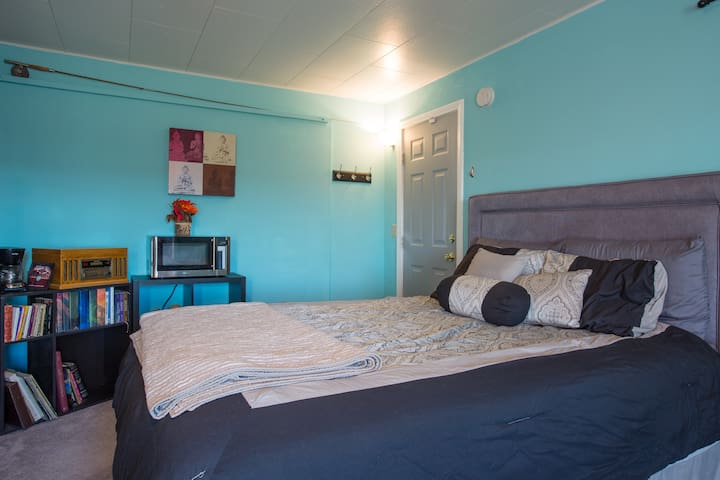 Chocolate Drop Guesthouse is a cabin perched atop ten pristine acres on the highest point in the city of Twentynine Palms, with complete privacy and magnificent views. The guesthouse is a cosy studio (320 sq ft) near the big house where we live, with a luxurious bed and filled with modern amenities: high-speed wifi, streaming video services (Netflix etc.). Near all shops and minutes from Joshua Tree National Park, this is a perfect getaway for a solo adventurer or couple.
This is the newly-renovated guesthouse, on the grounds of our main house, set on 10 acres with amazing views and hiking through a boulder-strewn wonderland. There is private parking, and a private entrance - you won't interact with us unless you want to. The house itself has a near-full kitchen (toaster oven instead of conventional oven) with all the staple supplies. Spacious bathroom. Wireless broadband and smart TV.
The house sits atop a hill near Chocolate Drop, a Hershey Kiss-shaped hill that rises above the rest of Twentynine Palms (the summit of Chocolate Drop is a pleasant and easy hike from the house). At the bottom of the hill is a grocery store and gym; less than five minutes away is downtown and its many restaurants and bars. About seven minutes away is the entrance to Joshua Tree National Park (the good entrance, not the clogged one in Joshua Tree village). Star gazing is stunning here.
This place was great. Comfortable and exactly what we were looking for after spending a few day camping in Joshua Tree.
Kelsey
2017-03-21T00:00:00Z
Exactly as pictured/described; with the added bonus of two amazingly chill and sweet hosts. Three if you count the dog, which I do, because he hung out with me for my entire evening and returned in the morning to say good day! Places are great but people seal the deal and Antony and Tina are SO real and welcoming. Ps bed and pillows are out of this world; that's more of a warning because I had the worst time escaping them
Rebecca
2017-03-29T00:00:00Z
We had a great time! The hilltop guesthouse is small, nevertheless it was big enough for the two of us and our 1-year-old. It is beautifully decorated, and has everything you need. We asked for additional towels, and Antony brought some down right away. The chairs in the front are very comfy, we enjoyed sitting there when the little one was already in bed. The location is perfect for exploring Joshua Tree Park, where we went both days. No complaints whatsoever. Thank you, Antony, for sharing this little gem!
Eva
2017-04-07T00:00:00Z
Antony was a great host, with great local knowledge. Alot of care is put into the property and the place was cute & clean. We enjoyed our morning coffee sitting outside on the chairs enjoying the great view. It was a perfect location to explore Joshua Tree National Park.
Brent
2017-03-11T00:00:00Z
Antony's guest house was a perfect, comfortable spot to enjoy Joshua tree. The guest house is right next to the hosts main house, which was not clear from the description. But this was not an issue and we had lots of privacy. Defiantly recommend this air bnb to others!
Leia
2017-03-01T00:00:00Z
This is a cozy and comfortable studio, in a great location and with beautiful views. Perfect for visitors to Joshua Tree NP. Tina and Antony were wonderful hosts, very attentive and generous. The place is exactly as described, and I highly recommend it (and the hosts).
Juan
2017-02-20T00:00:00Z
We had a great stay at Antony's place. Super cute spot - calm and quiet, but also in town and close to Joshua Tree NP. Comfortable and cozy.
Faith
2017-03-20T00:00:00Z
Charming hosts and a lovely stay in the quiet heart of Twentynine Palms with views of hills and the valley below. Conveniently located to east entrance Joshua Tree National Park and restaurants.
Crocus
2017-02-24T00:00:00Z
Tipo de Quarto
Casa inteira/apto
---
Tipo de Imóvel
Casa
---
Acomoda
2
---
Quartos
Twentynine Palms, Califórnia, Estados Unidos
The Indian Cove home is newly remodeled with all new appliances located less than a mile from the free Joshua Tree National Park entrance at Indian Cove. The home comes with gas fire pit, barbeque island, hot tub, and pool table. Wi-Fi and cable TV is included in all bedrooms. Views of the rocks and city lights for miles. Easy access to the house with all paved roads to the house. Just minutes from big city conveniences. Guests from all backgrounds are welcome in my home. Pet friendly back yard.
The home is located about five miles to the west from the city of Twentynine Palms and about nine miles to the East of the Joshua Tree Village and less than a mile from the free Joshua Tree National Park entrance at Indian Cove.
The neighborhood is in a small quiet area surrounded by desert and open land. The home is located about five miles to the west from the city of Twentynine Palms and about nine miles to the East of the Joshua Tree Village. Come enjoy the peaceful atmosphere of being just far enough away from any city or big town chaos.
We had a great stay here. We were a family of 4 (5 year old and an infant) and we used the house to the fullest! Fires, hot tub, game room, Netflix, board games... you name it, Allen has it there. Great kitchen and grill that we used every night. We will most likely be requesting more time here in the future.
elyse
2017-03-05T00:00:00Z
Loved having Netflix in both bedrooms. Would stay here again if my travels took me this way.
Mathias
2017-02-19T00:00:00Z
We had a beautiful stay! Wonderful beds, we slept so well..the back yard was fenced and totally safe for our dog. Everything was super clean and welcoming.. Allen came to say hello and offered us tips about the area.. Thank you Allen! Anna
anna
2017-02-23T00:00:00Z
Indian Cove was a great place! The backyard is super private and spacious for stargazing :) Very clean and modern, and Allen was so friendly and came by to explain things further. Would stay here again in a heartbeat!
Vanessa
2017-03-03T00:00:00Z
The house was perfect for a Joshua tree getaway with friends. Allen was nearby and super responsive to our questions. We wish we could have stayed longer!
Helena
2017-03-01T00:00:00Z
House was super clean and outdoor area was amazing. Very nice setup.
Tyler
2017-03-17T00:00:00Z
This house was perfect for our visit to Joshua Tree. The location is great with park trails just down the street and a main park entrance not too far away. The house itself was really, really, really nice -- so clean and tidy with the most comfortable beds. The best part of the house is the outdoor space. The hot tub and fire pit were a slice of heaven for the chilly March nights! Wish we could have stayed longer.
Karla
2017-03-07T00:00:00Z
We had a great time at Allen's place! We had plenty of space to hang out in and had a great time jacuzziing and playing pool every night! The place was also conveniently located near an entrance to Joshua Tree National Park which was great for hiking. Really couldn't have been a better set up, and Allen was really helpful and able to help whenever we needed him. I would definitely come back if I have the chance!
Amanda
2017-03-23T00:00:00Z
Tipo de Quarto
Casa inteira/apto
---
Tipo de Imóvel
Casa
---
Acomoda
4
---
Quartos
Twentynine Palms, Califórnia, Estados Unidos
Close to Joshua Tree National Park. This is a special property with an original nostalgic feel of a 29 Palms desert classic. This 1.8 acre back house features 2 bedrooms and 1 bath, with original 60s retro kitchen vinyl flooring and original cabinets and wood paneling. The views looking over the base and valley are simply amazing, and there is an additional patio area. You can rest assured that you will have all the comforts of home including freshly laundered sheets and towels.
Unique back house built on 1.8 acre lot in town. The house has original characteristics such as original linoleum flooring and wood paneling on walls. The views of the 29 Palms military base and the expansive desert valley is simply amazing. Although close to town you get a great feeling of privacy here. Photos from local photographer are exhibited throughout the house.
29 Palms is known as the city of murals, with many of the murals depicting our local military service men. This 1.8 acre property has a total of 3 units on it. The back house is the only Air B n B unit. Very quiet neighborhood with only a few neighbors, yet close to town for convenience. Amazing views. Take a trip to Joshua Tree National Park. Go to Palm Springs for the day. Check out a concert at the World famous Pappi and Harriet's in Pioneer Town. Close to an awesome local park, Lucky Park. Lucky Park has a swimming pool open to the public during the summer months, soccer and baseball fields. a large playground area, work out stations around the park trail, as well as a skate park for kids and racket ball courts.
Second time staying there and the place is awesome. I highly recommend staying here if you're looking for a quiet get away that is close to Joshua Tree.
Jeremy B.
2016-12-11T00:00:00Z
Felt as though we were staying at Grandma's house - everything immaculately clean and cozy, albeit dated. The location was great for our visit to Joshua Tree; we toured the park, checked into the house, went out for dinner and easily returned to the national park to enjoy a ranger-guided moonlight hike, then quickly were back "home" again. The weather was exceptionally cold, windy and rainy during our stay but we were comfortably warm - including the bedroom which a previous guest complained was cold - by keeping the door to Bedroom #2 which we didn't use closed throughout our stay. We hope this house will be available to us again when we return to Joshua Tree later this year.(URL HIDDEN)recommend locating the house during daylight hours since street lighting is poor and (SENSITIVE CONTENTS HIDDEN)Maps gave us erroneous directions. Fortunately the bright blue house trim and the house number on mailbox was easy to spot in daylight as we cruised up and down the street.
Susan
2017-01-13T00:00:00Z
Very nice place, really close to the Joshua Tree National Park, with a useful and cosy gas fireplace. Zach was really responsive, I highly recommend this place.
Samuel
2017-01-23T00:00:00Z
This home is the perfect spot for a quiet getaway! When we arrived, everything was spotless, and the home was well-stocked with necessities for the stay. Zach was communicable and replied almost immediately whenever I reached out. Simply, this was an excellent, excellent stay. Easily 5 stars
Bryce
2017-01-08T00:00:00Z
Good location to the entrance of Joshua Tree National Park. It was very cozy and was very reasonably priced!
Mylissa
2017-01-10T00:00:00Z
This property was awesome! Loved the views, well equipped kitchen, and cozy fireplace. Also only a short drive from town and about 20 mins or less to Joshua tree. We would definitely stay here again, thanks Zach!
Jessica
2017-01-02T00:00:00Z
Property was as described, easy to find and access and very clean, and Zach responded to all question promptly. Only thing I'd suggest is getting more glasses to drink out of (there were just 4 mugs when we stayed), we didn't do any cooking but the kitchen was fairly basically stocked with equipment. Nice little place for a stopover.
Effie
2016-12-06T00:00:00Z
This is a great place to jump from for exploring the park. Has a certain charm, vintage because it's old, not styled so. Be sure to note the lock box code for a super easy check in.
Peter
2017-02-09T00:00:00Z
Tipo de Quarto
Casa inteira/apto
---
Tipo de Imóvel
Casa
---
Acomoda
4
---
Quartos
Twentynine Palms, Califórnia, Estados Unidos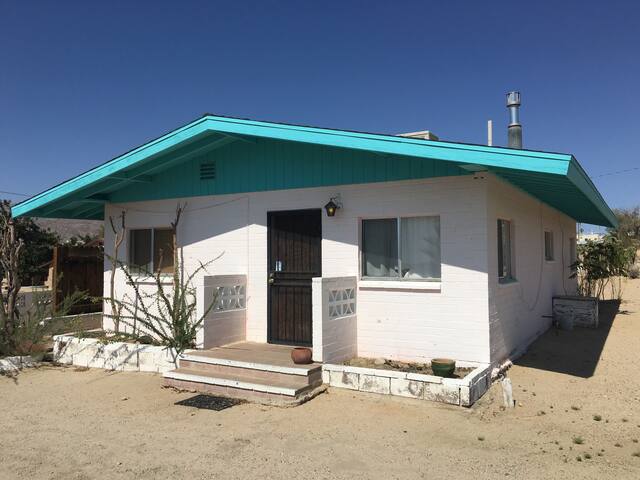 Two rustic, no frills homestead cabins on 5 acres in a great area. Main cabin is your sleeping cabin. Second cabin a few steps away is your bathroom cabin. About 1.4 miles (as the crow flies) to the Indian Cove entrance station. Short drive to either 29 Palms or Joshua Tree entrance to the Park. Isolated and private, yet easy access to amenities in either JTree or 29 Palms. Nice old west vibe with great views and lots of privacy! An authentic desert experience!!
Rustic, authentic desert experience! Original 1950's homestead cabin (12' x 16') with new queen bed, kitchen sink and counter-top with microwave, toaster oven, and under-counter refrigerator. Second cabin (12' x 16', and just a few steps away) was built to match the style and feel of the original homestead, and contains shower, toilet, sink, and full-sized refrigerator. You will have sole access to both cabins during your stay. Both cabins have electric baseboard heaters to keep you warm in the winter and evaporative cooling ("swamp" coolers) to keep you comfortable in the summer (please ask owner prior to using swamp coolers to be sure they are on and functional). Twin Tanks Homestead will provide a comfortable rustic experience, but be advised: No TV, no internet, no stove or oven. I want to provide the most accurate description I possibly can so you can plan accordingly and have a great experience! Unless you can make it in a microwave, toaster oven or BBQ, you will likely need to pack in your own food or eat out. There is a 12-cup Mr. Coffee, ground coffee, and creamer provided (Note: Please remember to turn off the coffee maker, as there is no automatic shutoff). Dishes and utensils provided. I'm still working on this property and you can expect it to improve over time. There is a nice deck off an old vintage trailer which you are welcome to use (the deck, not the trailer!). Please note that there may be some ongoing work on the trailer during your stay, but we will do our very best to keep the noise down and to honor your privacy! I've also just completed a backyard patio area with a new fire ring and lighting. There are two old water tanks on the property (used back in the day before city water was available) and an old GMC truck. There is also an old trailer that I am in the process of fixing up. If you enjoy photography, these items will provide some great backgrounds for your pics! From the property you will enjoy great views of Copper Mountain and the Marine Base to the north, and Joshua Tree/Wonderland of Rocks to the south.
When I first started coming out to this area, I was (and still am) so impressed that a short 2-hour drive from suburbia and you feel like you are on another planet!! So completely different, rural, quiet, dark starry nights, and big open desert views. And even with a strong feeling of being very remote and private, you are a short drive east or west on Hwy. 62 to grocery stores, restaurants, and other conveniences. Kind of the best of both worlds!
The twin tanks property we stayed at was exactly what we were looking for. It is a quaint house and we were delighted that Peter let us stay there. Even though he was not able to make the trip to clean the property between the last visitors and us, he was very cool about letting us tidy up ourselves and waiving the cleaning fee. Location wise, it was the perfect mix of secluded (a short ride on a dirt road off the highway) and centralized (only a 10 minute drive from both towns of Joshua Tree and 29 palms). We were very happy with our stay, and Peter was very accommodating.
Lia
2016-01-06T00:00:00Z
I stumbled across Peter's place on Air BNB and I was pleasantly surprised to have the exactly the experience I wanted to get. I left LA's hustle on a Friday night and headed east to his humble abode. It was fantastic! The nights are magic in this location and even the days are gorgeous for exploring. His Two Tanks resort makes you feel like you have your own private piece of getting back to nature. I will be returning here. This place is isolated in a way that gives you a great sense of creativity that you've been craving. Thanks Peter. This was priceless.
Josh
2016-08-28T00:00:00Z
This place was great! Loved the location and the seclusion. Got to wonder around by myself in the desert, which was exactly what I wanted to do.
Katy
2016-10-20T00:00:00Z
Peter's place is the perfect desert getaway, and we couldn't have asked for a better place to stay on our first trip to Joshua Tree. The cabin is cozy and comfortable. Loved the whole aesthetic - every time we walked outside we kept noticing more stuff! Conveniently located to the park and the town of 29 palms. Peter gave us great directions to get here and kindly checked in to make sure we were warm enough (we were-the heaters work great!) Would love to stay again next time we can visit JT. Thanks again!
Melanie
2016-12-20T00:00:00Z
Peter is great and his place is incredible. Peter is very communicative and available. His place is clean, convenient, and just the perfect amount of rustic. I thoroughly enjoyed my stay and would highly suggest this homestead to anyone looking for a nice, quiet place close to JTNP.
Jared
2016-01-11T00:00:00Z
Peter's place was a nice desert getaway for us. Twin Tanks offered us all the amenities we needed and Peter was very considerate and helpful in every way. We really appreciated the clear instructions he provided for everything from the coffee maker to what to do before we left. Twin Tanks is a lovely, peaceful place and we would stay there again.
Laura
2016-10-18T00:00:00Z
Peter's place is the reason why I use Airbnb. It's full of flavor and character. My husband and I have traveled around the world, and we always try and find places off the beaten track that are both close to the earth and culture. This place is it. In many ways, I felt like I had plopped down into a SoCal version of a Steinbeck novel--dusty, open landscape, worn-out shoes decorating a weathered tree, old water tanks above the landscape, and us enjoying a cup of coffee on the porch of a 1950s homestead, watching the sunrise paint the sky every morning. What else is there?! We brought our camping stove and cooked our meals on the picnic table while listening to their iPod stocked with Dylan and wilco. We spent our days in the park. October is the time to go. 75 degrees and sunny. See you again, Peter. Thank you.
Leighann
2016-10-30T00:00:00Z
Had an amazing writing retreat at the twin tanks cabin. Peter was great from the start & made the whole situation extremely comfortable & inviting. He even left a bottle of wine out for me to enjoy during my stay. Will definitely be back to visit soon. Thanks again Pete!
Ryan
2016-01-21T00:00:00Z
Tipo de Quarto
Casa inteira/apto
---
Tipo de Imóvel
Casa
---
Acomoda
2
---
Quartos
Twentynine Palms, Califórnia, Estados Unidos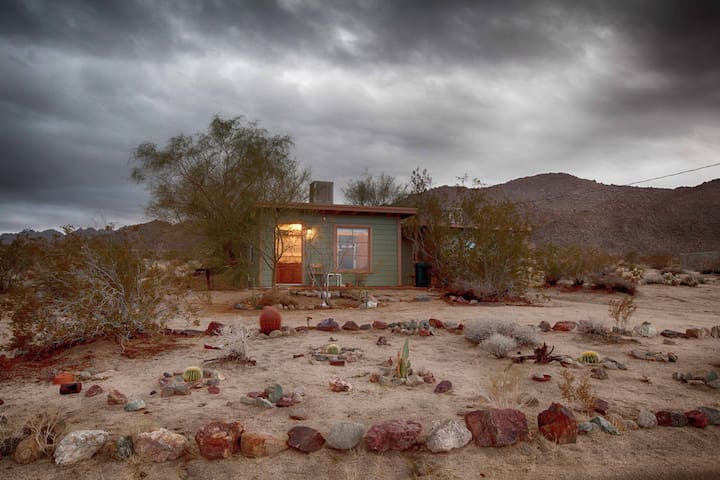 Beautiful and unique home, 2 Bedrooms each with own bath, styled in a western motif. The private patio is a lovely, quiet & relaxing area, with pool, jacuzzi and barbecue. Joshua Tree National Park headquarters is less than 1/2 mile away.
The Parkview is decorated to the nines with a Western motif. The entire space provides for a cozy and spacious retreat, with enough space for four to sleep very comfortably. Each bedroom has it's own bathroom, with toilet and tiled shower. The living room has a cozy fireplace, perfect for the colder nights during winter months. During the summer, the main patio includes a 9 ft deep pool just steps away from the front door. Weekly housekeeping available!
Joshua Tree National Park Headquarters is just 1/3 mile down the road. The Sky's the Limit Observatory is around 2 miles away, with stunning views of the clear, starry skies. For food, we are closeby many restaurants and are within 2 miles of two different grocery stores. Down the main road, you can visit Joshua Tree or Yuca Valley for even more restaurant and shopping options, or we are 55 miles away from Palm Springs if you're looking to make a day trip to the playground to the stars!
Awesome place with everything you need to have a good time
Thomas
2016-09-26T00:00:00Z
Cindy's listing was in the perfect spot for our group. We explored Joshua national park a lot and the 29 palm entrance is five minutes away. During the day we spent most of the time in the pool, which was the main reason why we picked Cindy's place. Great place for two couples.
Marisa
2016-07-25T00:00:00Z
Cindy's Desert Resort is a outstanding great place! We came there as a family of 4 after a 3 and a half week round trip up and down California right in the middle of a summer heat wave and both Cindy and her place did everything to make us feel at home and to let is chill and relax, as much as this is possible at 110°F. The pool is magnificent, settled in wonderful vegetation and all kinds of small and big artefacts, most in Mexican and native American style. The apartment is really spacious and can be made dark in the summer, so that you can get away from the scorching sun. The design is similar to the outside and thus very nice to look at if you're not necessarily a friend of Bauhaus minimalism and clear lines and structures. The AC worked very well, as did all kitchen appliances and washing machine + dryer. The huge king size bed in the large bedroom is about three feet from the ground which the kids found so attractive that we had to leave it to them and move to the small but cozy en-suite second bedroom. Cindy's been very nice to us and the kids, as has been here friend and the young lady staying next door in the small apartment, She was around whenever we had any questions (not many) and was always happy to chat but respected our privacy at the same time. In short, the three days we stayed were the best in terms of accommodation during our entire vacation and Joshua Tree NP, literally next door to Cindy's, has got a lot to offer, even in the summer. The whole area feels a little like out of this world, at least from a European point of view. Thanks Cindy, we'll come by again one day in the hopefully not to distant future!
Bjoern
2016-08-17T00:00:00Z
After a marathon trip from NYC via Las Vegas, Cindy was waiting to welcome us with open arms. Such a friendly and courteous host! The property was immaculately clean, fully equipped and surprisingly roomy. It was really reassuring to know that Cindy was next door to assist with anything we needed, yet we had total privacy. A wonderfully peaceful stay in a most welcoming place. Thank you Cindy & Don!
Neil
2016-07-07T00:00:00Z
Cindy's place is very spacious, cozy and clean; just as advertised. The location is superb, very close to the park entrance and on a quiet street. We arrived late at night (almost midnight) and Cindy insisted on waiting for us and showed us around. We had a wonderful stay.
Yixi
2016-11-26T00:00:00Z
My husband and I stayed for 4 nights. Cindy and Don were wonderful thoughtful hosts. We stayed in a 2 bedroom at Parkview. The suite was beautifully decorated and we felt right at home. It had everything we needed to cook with. Including some spices and condiments. The yard is wonderful and thoughtfully decorated. The pool was awesome and refreshing. When Don asked us if we would like to use the hot tub. He warmed it up, lit some incense and turned on the lights. Cindy and Don set up their fire pit and provided some delicious S'mores. They are terrific, kind and very accommodating. We would absolutely recommend staying with them. I hope one day we will have an opportunity to come back. If not we would love to have them come and stay with us in Halifax, Nova Scotia. Thanks again Cindy and Don
Michel
2016-10-13T00:00:00Z
Our stay at Cindy's was great - We rented both of Cindy's listings so it was the perfect space for 7 girls. The house and yard was full of so many unique treasures, it added to the Joshua Tree experience. We spent most of our time hanging by the pool, but the location was also a short drive to main Joshua Tree and Pioneertown. Would definitely recommend Cindy's as top place to stay if you're headed to the desert!
Kelly
2016-07-18T00:00:00Z
My guests and I headed out to the desert about a few busy days in LA and Cindy's place could not have been more perfect! She and Don were great, warm hosts and the unit was full of character and impeccably decorated. Maybe the best part was the pool and outdoor area, which was spacious and lovely. The location is great, very easy to find and nearby the west Entrance of Joshua Tree National Park. It was exactly the desert oasis we were looking forward too. By the end of our stay, we all agreed that we should have booked a few more days and would love to come back. Skip Palm Springs if you're going to the Mojave Desert and stay here instead. Thanks Cindy!
Candice
2016-09-01T00:00:00Z
Tipo de Quarto
Casa inteira/apto
---
Tipo de Imóvel
Casa
---
Acomoda
4
---
Quartos
Twentynine Palms, Califórnia, Estados Unidos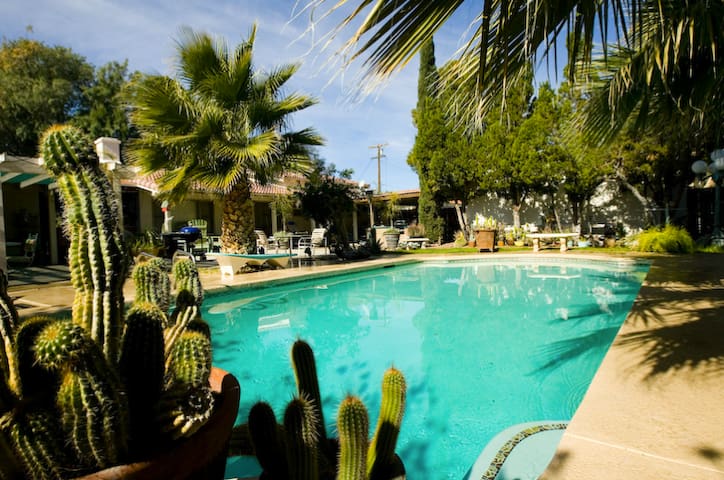 You want desert? You got it! Welcome to Feldspar, a homestead from the 1950's that has been transformed into the perfect desert getaway that offers modern conveniences with a retro vintage feel. Here you will have complete privacy.
The home sits on 5 Acres of untouched desert so the last thing you will have to worry about is noise or anyone interrupting your stay. You even get to drive down a dirt road to access the property. Look out the window, sit in the hot tup, or just step outside and you will have an unspoiled panoramic view of amazing sunrises and sunsets. At night you will see more stars than you have ever seen in the night sky. Use my telescope to get a closer look. Proximity. Just 5 minutes from the main entrance to Joshua Tree National Park so you can spend the day exploring the park and come back to a warm shower and the comforts of, well, not camping. Also just 15 minutes from the town of Joshua Tree where you can pick up original desert artwork or grab a great meal at one of many awesome restaurants. You're also a half-hour drive to Pioneertown where you can take in some live music and dancing at the legendary watering hole and Indie Mecca Pappy & Harriets. Comfort. Feldspar has one private bedroom with a Queen-size bed as well as a sofa that makes into a double bed in the living room. This is the perfect place for 2 couples or a small family. Not to worry, there's also a no-frills army style cot for any "fifth-wheels." There's also a fully stocked kitchen with new appliances and gourmet Calphalon pots and pans. So stop by the grocery store or farmer's market in Joshua Tree and load up! Music: There's also an iPod/iPhone 5/6 dock in the bedroom. Movies. A 42-inch flat screen HD TV with a DVD collection featuring some of the classics like Raising Arizona, Spinal Tap and The Big Lebowski just to name a few. Board Games. That's right. Monopoly, Scrabble, Dominos and UNO! Most importantly, breathe in the fresh air, soak up the sun and enjoy yourself. You are "getting away" after all. Still have questions? Just ask. Always happy to answer.
This place is Great. Its nice, clean and quiet. If you want to get away for a bit, this is the place. You will not be disappointed. I had a great time with my dog. The private fenced yard was great. Suzanne was wonderful, and very pleasant. I highly recommend this place. I cant wait to go back. Thank You Debbie
debra
2016-01-03T00:00:00Z
Get away from it all right here! We loved this home. It had everything you'd ever need, and the view of the stars was the best in my life (and I grew up on a farm). Such beauty and energy surrounded by homestead land minutes from the town of Twentynine Palms. Clean, safe, and a place I'd return to again and again.
Patrick
2015-10-17T00:00:00Z
My boyfriend and I had an amazing time once again at Feldspar! We love coming here! Always a great experience:)
Mel
2015-09-16T00:00:00Z
Suzanne's place was amazing! My wife and I were looking for a honeymoon getaway close to Joshua Tree and her home could not have been more perfect. We enjoyed every minute of our stay! The bed was a super comfortable queen size, the living room was great and the couches were more comfortable than the pictures made them seem (there was even a great selection of movies to choose from). The kitchen was very well equipped, we were able to cook breakfast every morning. Keep in mind that the house is pretty isolated away from towns with dirt roads leading to it from the main road. That made star gazing 100 times better in the hot tub with no lights around us. Also heads up, water is very precious in Feldspar. Because it's so isolated, they have to have it transported to their water tanks. We had to time our showers well after we realized the water would turn off midway through if we weren't careful! We would definitely recommend this place and would love to return again in the future! Suzanne was very responsive and helpful to all the questions we had and even let us check out a little later on our last day to accommodate our travel schedule.
Will & Genevieve
2015-11-13T00:00:00Z
Suzanne's place was great! Posted pics are accurate, loved the hot tub. Place is 10min drive to Joshua Tree, perfect! Suzanne's directions as well as check-in/out were seamless. Thanks so much.
Rcn
2015-10-24T00:00:00Z
Had a lovely stay over the long holiday weekend at Suzanne's property. Nice little private and secluded area part of Twenty Nine Palms only a few miles from the entrance to JT Park. Loved the fenced in yard for the dogs and the hot tub during the cold nights were a nice little treat.
Julia
2015-12-01T00:00:00Z
Suzanne's house is an amazing experience. Far away from the hassles of the city, yet modern in every other way. Chilling in the hot tub under the stars was a lot of fun. The house is well maintained and Suzanne has documented everything one needs to know. Thank you so much for letting us stay there :-)
Pratik
2016-07-05T00:00:00Z
I stayed here for three nights with my friend and three dogs. It was exactly what we were looking for and exactly as described. Suzanne was accessible but we also had complete privacy throughout our stay. This place is remote and excellent for stargazing. The Jacuzzi works great and is very well-maintained and clean. Everything here is new and well cared for. I will definitely stay here again.
James
2015-07-29T00:00:00Z
Tipo de Quarto
Casa inteira/apto
---
Tipo de Imóvel
Casa
---
Acomoda
4
---
Quartos
Twentynine Palms, Califórnia, Estados Unidos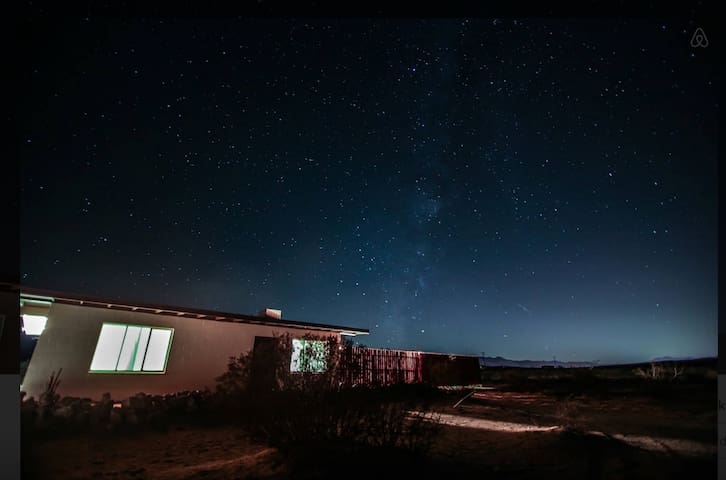 The Old Dale Compound is located 3 miles from the 29 Palms entrance to Joshua Tree National Park and 1 mile from the National Park Headquarters. The Pool House is an open and comfortable getaway -- a perfect launchpad for your great desert adventure, or to just soak up desert vibes. Hang out by the PRIVATE pool/jacuzzi with double doors opening to the game room, or cozy up to the wood stove. Great for families and groups, pets on leash are welcome. Guest house on same property also available!
Check us on Instagram @olddalecompound ! This spacious 1,100 sq foot post WWII house is located in 29 Palms, in close proximity to Joshua Tree National Park, Wonder Valley, and comfortable driving distance to Historic Pioneertown (with Pappy and Harriet's Pioneertown Palace), the Lander's Integratron, and Palm Springs. This house provides a perfect vacation-feel and lots of space for everyone to be comfortable. There are two bedrooms, each with a view of Joshua Tree National Park, queen bed, and plenty of closet and dresser space. The master bedroom has an attached bathroom and direct pool access. The other bedroom has a writing desk and is adjacent to a bathroom. The reading room with pullout couch and leather chair is a perfect place to lounge and enjoy the peaceful feel of the desert. The spacious living room with fire place, comfortable couch, smart TV, pool table and dart board opens up to the gorgeous desert-landscaped backyard with pool and hot tub. Enjoy dining inside at the round vintage mid-century modern dining table or outside next to the pool. The kitchen is fully stocked with all needed cooking items, as well as a full-sized fridge/freezer, microwave, toaster, drip coffeemaker (coffee from Joshua Tree Coffee Company and tea provided), blender, and teapot. An assortment of teas and locally-roasted organic coffee by Joshua Tree Coffee Company is also provided. The bathrooms are fully stocked with towels, soap, shampoo/conditioner, and a hair dryer is also included. Robes and pool towels, as well as a washer and dryer, make it easy to relax and enjoy your stay at the pool house. The Old Dale Compound is in a quiet neighborhood with just a few houses on the street. The pool house is situated within a walled estate next to a guest house. Both houses are owned by Tim and Faith and are available for rent through airbnb. Although on the same property, the pool house and guest house are very private and each have their own gated entrances. The pool house backyard, including the pool and hot tub, is surrounded by a concrete block wall providing lots of privacy during your stay.
Local Must-sees: 5min north entrance to Joshua Tree National Park, Tortoise Rock Casino, Wonder Wellness Yoga, Twentynine Palms Art Gallery, Old Schoolhouse Museum, Creative Center, Twentynine Palms Inn, Downtown Josh Lounge, The Virginian 10min 29 Palms Marine Base 15min downtown Joshua Tree--Beatnik Lounge, Joshua Tree Art Gallery, JT Trading Post, Art Queen, Instant Karma Yoga 20min The Palms Restaurant 40min Pappy and Harriet's, Integratron Eateries: 5min Thai Cafe, Rocky's New York Pizzeria, The Palms Mexican Restaurant, Ribs and Co, Andrea's, Palm Kabob, Twentynine Palms Inn, Kitchen in the Desert 15min Natural Sisters, Pie for the People, Crossroads Restaurant, Joshua Tree Saloon
We stayed in the old dale compound for 3 nights and it was great! The house has any amenities you need to have a couple of fun (billard, darts, barbecue..) and/or relaxing (pool, hot tub, bbq..) days. Tim was very nice and answered all our questions really quick. To stay in the desert was new for us (the dry heat), but fortunately the house has two cooling systems. The town of Twentynine Palms is quiet but has a couple of groceries nearby (3-5min with the car).
Julia
2016-07-01T00:00:00Z
One of our best AirBnB ecperiences yet. We didn't want to leave. The Compound is tastefully furnished and offers all the necessary amenities. Super close to the gate into Joshua Tree National Park. The pool is a dream, couldn't get the kids out and the hot tub is a nice treat after a hot day in the desert. Love the location at further out on 'the long straight road that takes you out of the cold'. More real desert living than Yucca Valley or Palm Springs and truely 'Outside'. No wonder the place attracts musicians and artists.
Britta
2016-08-29T00:00:00Z
Faith's communication was timely and she was very attentive to our needs. She was there to meet us when we checked in and also gave us a tour. Everything was exactly as advertised. The property was clean, spacious, private and close to the park entrance. Our stay was everything we hoped it would be. We will definitely return in the future and have actually recommended The Old Dale Compound to a friend!
Lynn
2016-10-05T00:00:00Z
This place is an absolute gem! It was comfortable, private, Tim and Faith had great communication, incredible experience. Just minutes away from Joshua Tree National Park entrance, plenty of food options nearby. One thing that needs to be mentioned is the amazing star gazing from the back yard! Beautiful! We will be back!
Danny and Elizabeth
2016-08-13T00:00:00Z
This place was the perfect getaway! I love the way it is decorated and the pool was great!! Tim and Faith were very helpful upon arrival and took the time to show us what we needed to know for the weekend (how to turn the hot tub on, using the cooling system, etc.). We would definitely stay here again!
Renee
2016-07-04T00:00:00Z
The house was awesome! The backyard was private and our dogs loved the backyard. The only issue we had (since I'm 7 months pregnant) was that the A/C didn't work. It blew air, but it only blew hot air. The swamp cooler kept it at about 80, but a little A/C would have been great. We'll definitely be visiting again.
Amber
2016-08-15T00:00:00Z
This was our first Airbnb experience and we could not be more pleased! The Old Dale pool house had everything we needed to enjoy a relaxing weekend away from home! Tim and Faith have paid close attention to detail in every area of this spacious home. The amenities and decor made us feel cozy and welcomed, like we were staying at a relatives house. There was even a highchair available for our 18 month old to use! Our 3 kids enjoyed the pool table, dart board and the pool while mommy and daddy enjoyed some alone time under the stars in the hot tub! We didn't want to leave! I really have nothing bad to say about our trip! If I could make one suggestion, it would be some unbreakable plates and bowls. That was the only thing that made us nervous because we didn't want our kids to break anything! We had paper plates and avoided any accidents! If we're ever in the area again, we'll definitely be booking this home away from home!
Karla
2016-08-22T00:00:00Z
Tim's and Faith's home was the perfect place for a short holiday weekend stay. While they were out of town, they stayed in close communication and gave me all the information I needed. Once my husband and I arrived, the house had everything. The pool and backyard of course, is a huge draw, but everything is well placed and very clean. The backyard is an oasis, where you can cook out, relax, and splash around. The pool table and dart board were also great touches and kept our stay fun. Also big kudos to the well stocked kitchen, we cooked the whole time we were there, since there were many grocery stores close by, and the kitchen was great to cook in. Would highly recommend this place!
Mona
2016-07-07T00:00:00Z
Tipo de Quarto
Casa inteira/apto
---
Tipo de Imóvel
Casa
---
Acomoda
6
---
Quartos
Twentynine Palms, Califórnia, Estados Unidos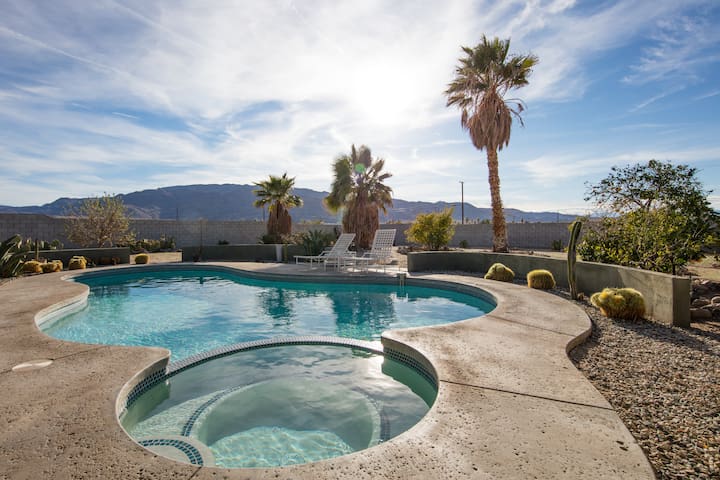 Comfortable, romantic, remodeled homestead cabin in Wonder Valley that has everything you'll want from space and views to furnishings and access to spa and above ground pool. Pet friendly. 10 mi from 29 Palms, Marine Base and Joshua Tree NP.
To call the Lucky Dog Resort a true desert paradise is an understatement. Perfectly chilly outdoor above-ground pool plus a well-heated hot tub, a fenced-in art yard with BBQ and fire pit, and a lovely cabin with all amenities, including excellent AC and an extremely comfortable bed, plus the nicest, coziest futon couch ever. Plenty of towels, linens, toiletries, cooking equipment, full dishware set, really anything you could possibly want. CD/cassette/record player, DVDs and a TV with reception to boot. Our personal favorite was the small library, including a fascinating, well-researched book detailing the history of 29 Palms and the surrounding desert cities. Jill was a very gracious host. She welcomed us in person, as we called her upon arrival to say hello, but then allowed us our privacy as we settled into our stay. We were able to enjoy a flexible check-in/check-out time and the fridge was stocked with wine, beer, and plenty of water bottles. Jill showed her good character when our dog unfortunately exhibited a spate of extremely bad behavior, but Jill was calm, cool, and collected about it. (Her dogs were friendly and well-mannered.) The hiking around the property was gorgeous, and our toddler had great fun splashing around for hours in the kiddie pool. Words and pictures can't express the beauty of this property - you must experience it for yourself. Our family can't wait to return.
John & S
2016-06-20T00:00:00Z
Jill was a lovely and welcoming host. The Lucky Dog Resort couldn't have been more perfect. If you want to get away for a bit and unwind, this is the spot. We especially enjoyed the starlit sky from her hot tub. Joshua Tree park is a short drive away so make sure to take advantage of it.
Marko
2016-09-25T00:00:00Z
Jill was amazing - very hospitable, sweet, and friendly. We fell in love with Luck Dog Resort. I'm looking forward to going back again :)
Marla
2016-05-31T00:00:00Z
The Luck Dog Resort is a beautiful spot, and perfect for those looking to for some quiet solitude and/or a romantic vacation. There's plenty of amenities - full kitchen, TV, DVD player, hammock, hot tub, croquet, book, record player, etc. Plus you have the panoramic view of the desert that simply cannot be beat. Jill was very accommodating and offered advice about a local bunch spot. I came there to dos one writing, and left feeling great about it. Highly recommended!
Josh
2016-04-11T00:00:00Z
A quintessential desert retreat. The cabin feels incredibly quiet and secluded but is a still a relatively short drive from town, with walking trails immediately accessible in the hills across the road. Jill was a great host -- as were her dogs, Roy and Olive, who were very welcoming to our canine traveling companion. We would consider ourselves lucky to return to the Lucky Dog Resort!
Peter
2016-10-17T00:00:00Z
Jill's place felt like home! Wasn't sure what to expect being this was our first Airbnb stay but it definitely led to high expectations for our next one. Once driving into the property you start to the small details that makes Jill's place special. I'm glad I was able to experience walking around the yard appreciating the time and thought her art had in them. She let us check in & out at any time which made us feel even more welcomed & the location was perfect. Definitely will be back!
Lizette
2016-11-20T00:00:00Z
Looking for a quick get away, my friend and I took a trip out to the desert from Orange County. We arrived Friday afternoon after a sound bath at the Integratron in Landers. Jill was unable to meet us when we arrived on the property but fear not, she was easy to keep in touch with and we were able to get ourselves in just fine. We loved all the art made from recycled materials that surrounded the exterior. Although it was hot outside, the inside of the house was nice and cool. There is one bed and a futon. The tv and DVD's, books, magazines, etc. were some things we occupied a little of our time to. The bathroom and kitchen are very nice-plenty of utensils and dishes to use for cooking with. The bathroom had toiletries if you didn't bring any or forgot to bring your own. Outside we rested in the hammock and fully enjoyed the hot tub while the sun set. What a beautiful experience. We will definitely think about staying here again next time we want to take another adventure out to the desert!
Lindsay
2016-04-24T00:00:00Z
My boyfriend and I loved our stay with Jill. The private yard is whimsical and large with places to sit, a BBQ, fire pit, and more. The hot tub and pool were clean, inviting, and a lot of fun. The night sky in the desert was bursting with stars. We had a lovely stay. Jill is a champion and was a hero to us. We made the mistake of following GPS to the house, which, as we now know, is very much discouraged in the desert cities because some roads that GPS directs you to are actually impassable in real life. Learn from us and follow the directions she gives you! Because of our mistake, we got stuck in the sand at 1:30am about 200 yards from the house. Jill rescued us in her truck. She was sweet, calm, good-natured, and directed us to the complimentary chilled bottle of white wine she left us in the fridge. In the morning, she not only brought us some eggs and butter, but she and her friends successfully extracted our car from the sand. She's a really nice person and her place is truly beautiful, private, and romantic.
Holland
2016-05-30T00:00:00Z
Tipo de Quarto
Casa inteira/apto
---
Tipo de Imóvel
Casa
---
Acomoda
2
---
Quartos
Twentynine Palms, Califórnia, Estados Unidos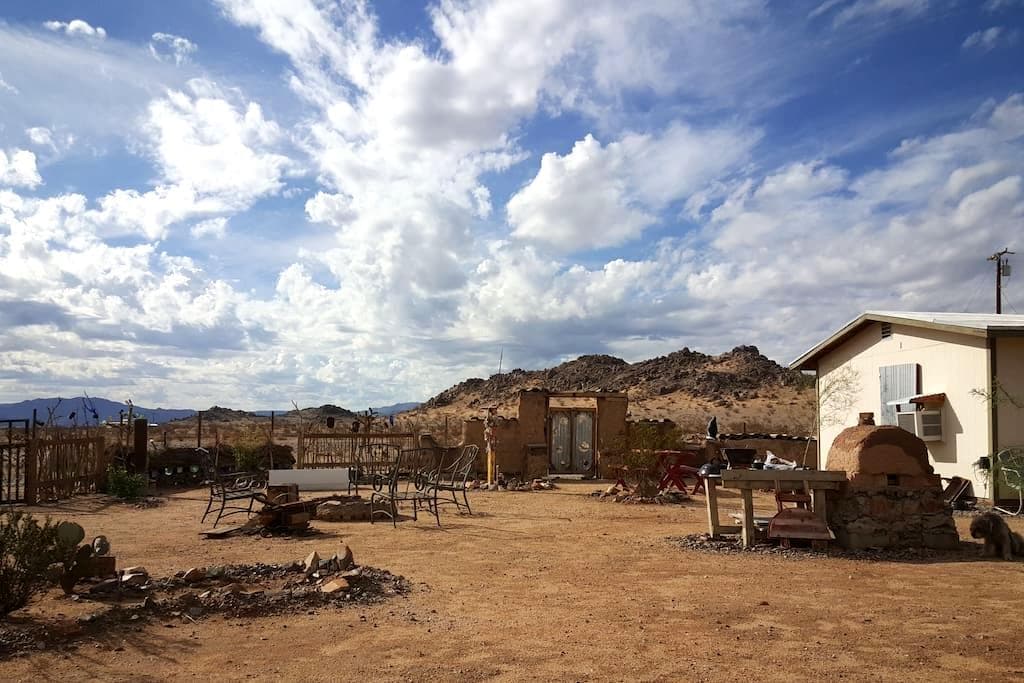 The T. House is a separate structure on the grounds of the designer and artisan Lili T. ((URL HIDDEN) Originally a garage - it's now a light infused fabulously airy loft-like guesthouse that's very private and accessible at the same time.
Food: Stater Brothers: 4 miles east on Hwy 62 in 29 Palms VONS: 12 miles west on Hwy 62 in Yucca Valley Eating out: Lunch and dinner at the 29 Palms Inn Breakfast and lunch: Crossroads in Joshua Tree Breakfast and lunch: La Copine in Landers (Thursday-Sunday 9-3) Lunch and dinner: Pappy and Harriet's in Pioneertown (reservations recommended for dinn(PHONE NUMBER HIDDEN)) Entertainment: Pappy and Harriet's - best honky tonk west of the Mississippi fabulous live acts Nice stores: BKB ceramics JT (I'm biased - they carry some of my designs) Sights: Joshua Tree National Park - obviously… Pioneertown Walk down Mane Street and experience this historic Western set. Noah Purifoy Outdoor Museum Noah S. Purifoy ((PHONE NUMBER HIDDEN)) was an African American visual artist and sculptor, co-founder of the Watts Towers Art Center. In the 80s Purifoy moved his practice out to the Mojave desert. He lived for the last 15 years of his life creating ten acres full of large-scale sculpture on the desert floor. Constructed entirely from junked materials, this otherworldly environment is one of California's great art historical wonders. The Integratron Take a sound bath in this historical structure. It's a resonant tabernacle and energy machine sited on a powerful geomagnetic vortex in the magical Mojave Desert.
What a great first Airbnb experience: Lili was gracious and the private house made you feel like you if the desert all to yourself. Very close to Joshua tree. I highly recommend it!
Paul
2016-06-13T00:00:00Z
Lili's house was exactly what we were looking for. Remote, authentic and very well kept. Lili's communication was great - she was very flexible and helpful. Highly recommended!
Sarah
2016-11-27T00:00:00Z
This place was perfect for us! It was private, quiet and cute with everything we needed. We felt very welcome and it was spotlessly clean. The host provided extras that we asked about such as a cooler and ice packs, which were great for carrying out lunches and drinks into the national park, and even let us do a load of laundry. There is a lot of indoor space, so if you like to spread out, you can do that. The desert lies right outside the fenced yard and you can stroll among cacti, black-throated sparrows and jackrabbits. It's a good location - back from the main road so it's quiet - and near two different entrances to Joshua Tree National Park. We loved hiking during the day and then returning to shower and relax in a comfy, cool spot.
Dorie
2016-05-11T00:00:00Z
T. House If you're looking for a peaceful, flawlessly curated mid-century modern desert getaway, look no further than the T. house. Lilli was a responsive, kind and inspiring host. She encouraged us to roam and explore the enchanting desert, but also provided excellent recommendations on the best food and experiences in the area when we inquired. The T. House is located between my three favorite areas to explore in the Twentynine Palms area; Pappy & Harriets, the Integratron and the gem of them all—Joshua National Tree Park. You've seen the beautiful stock photos, and the instas of the park. Joshua Tree is a place that you will not forget. The stars are magical, the light from dawn to the dead-middle of the night is sublime. I hope you feel the same sense of wonder we did as we watching the amber twilight turn to a pastel rainbow watercolor sunset, and fade to a finale of glittering stars so mesmerizing that that we couldn't help but pull the car over, lay out a blanket and stare in awe. The T. House is an ideal location to make all of your desert dreams of rejuvenation and stress relief come true. Book it. You won't regret it.
Salee
2016-09-04T00:00:00Z
I had the pleasure of staying in Lili's Airbnb. She was a very gracious host and the space she created is very peaceful, thoughtful and clean. This was the perfect getaway from the big city of LA and instantly when I arrived the soothing environment melted the stresses of living in metropolitan off of me. I look forward to returning I was well rested after the stay but I had no idea there's so much to do in the area. Also the AC works terrific and there's a covered car port to make living with the desert heat more manageable.
Sipho
2016-05-30T00:00:00Z
I never imagined I could ever be as cozy as we were on our stay ! The night sky views are amazing, and so were the morning sunrises. Our host was such a sweetheart and had our best interest in mind at all times, it honestly was a treat to meet her ! Since we ventured here in the summer, we were so grateful that the AC was on and all the amenities were there and well stocked, it honestly could not have gotten any better, and hopefully I get to venture back to the T. House soon !
China
2016-07-04T00:00:00Z
Couldn't have spent the weekend in a more gorgeous space. Lili was very kind and generous. We would definitely come back to the T House for our next Joshua Tree adventure!
Lauren
2016-03-28T00:00:00Z
The T House was great accommodations for our Joshua Tree getaway. The house was airy, bright, spacious, and very comfortable. Everything about the stay was convenient and easy. Would definitely stay here again!
ellen
2016-05-02T00:00:00Z
Tipo de Quarto
Casa inteira/apto
---
Tipo de Imóvel
Casa
---
Acomoda
3
---
Quartos
Twentynine Palms, Califórnia, Estados Unidos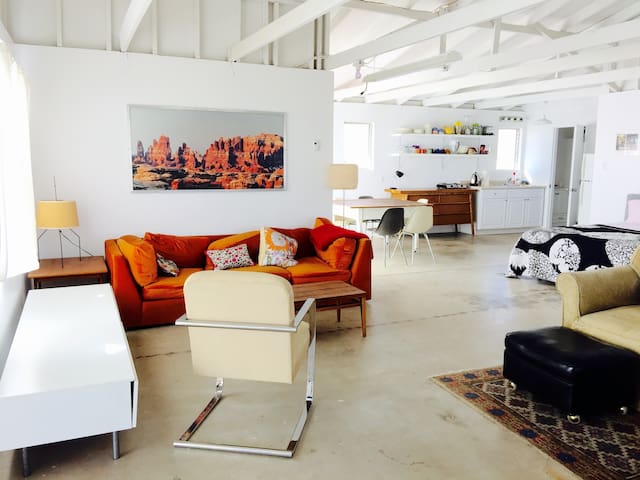 This cozy desert retreat is close to the North entrance of Joshua Tree National Park and just 10 minutes to downtown Joshua Tree! Relax in the cowboy tub after a hike in the national park, play some music around the fire pit while star gazing and still enjoy the comforts of a kitchen, shower and cozy beds! Come explore, adventure and fall in love with the beauty of the Mojave desert!!!
This home has 1 bedroom with 2 queen beds, and an air mattress is available if you really wanna squeeze a couple more in! Lot's of outdoor living space to enjoy...bbq, soak in the cowboy tank, sit around the fire pit and play the guitar! We really enjoy our time spent here and hope you will!
We had an awesome time at the Mojave house. Tina and Scotts place was perfect for our weekend at desert daze. The house had everything we needed such as pots and pans, a coffee maker, and fresh towels and linens to really make it feel like a home away from home. There's a grocery store about a half mile away which was very convenient. This was my first time using Airbnb and they have set the standard incredibly high!
Christopher
2016-10-17T00:00:00Z
This house is as cute as a button and perfect for a trip to Joshua Tree. Tina was very responsive when we needed her and provided everything we needed for a little weekend getaway. The bonfire pit was perfect for our chilly nights. The house is about 10 minutes from the 29 Palms Entrance to Joshua Tree-- so it was super easy to come and go as we pleased for hikes. Highly recommend for anyone looking for an alternative to camping or a chance to enjoy the town! Thanks!
Molly
2017-02-19T00:00:00Z
Tina's house was fantastic. My husband and infant daughter and I stayed there for 3 nights to explore Joshua tree. It's well situated for the North Entrance which is a much less busy way to get into the park. It's really close to the grocery store as well which is fantastic. Really lovely home and well decorated. We would highly recommend it!
Deb
2017-01-01T00:00:00Z
We came down to Joshua Tree to see the desert in bloom, and could not have asked for a more beautiful, easy, and well-situated place to stay. Tina was easy to get ahold of, and made the checkin process seamless. The home itself is beautifully decorated, thoughtfully stocked, and was the perfect place to relax after long days hiking in the sun!
Shana
2017-04-03T00:00:00Z
This was a beautiful home, and even better than we expected. It was my mom's first time in an airbnb and she was so excited about this place she wants to live there lol!! I really loved staying here and will be back if I ever return to twentynine palms! Great location, great place!!
Katie
2017-03-27T00:00:00Z
Great place to stay! Close to Joshua tree national park , Palm Springs ...thanks
Tutzu
2017-03-13T00:00:00Z
My boyfriend and I loved the style of the house. It is very well organized and styled. The kitchen is very well equipped and the house is only a block away from stater bros, as well as conveniently close to Joshua tree!
dominique
2017-01-12T00:00:00Z
Tipo de Quarto
Casa inteira/apto
---
Tipo de Imóvel
Casa
---
Acomoda
4
---
Quartos
Twentynine Palms, Califórnia, Estados Unidos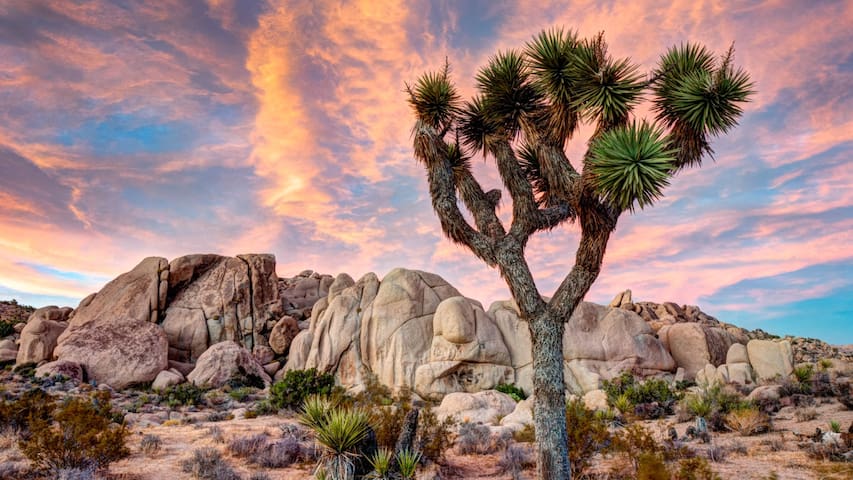 Awesome 2 bedroom 1 bath home with fresh remodel and unique furniture.
Down town 29palms. Close to jashua tree national park. 2 miles from Marine Corps base.
Andy's place was perfect for our Joshua Tree trip! Located conveniently close to the Park entrance (Oasis side), it was a great base camp to explore the desert. Andy was quick to reply to any questions, and he had heaters on for us upon arrival. The place is spacious and clean, equipped with nice linens and he also provided extra toiletries. I would definitely recommend this listing and stay here in the future!
Carly
2016-12-29T00:00:00Z
Great place to stay
John
2017-03-16T00:00:00Z
Cute clean little house with VERY comfortable beds and a nice hot shower and nice towels. Good location...less than 5 minutes away from the north entrance of Joshua Tree National Park and close proximity to restaurants (including a decent Mediterranean restaurant down the street). We are grateful to Andy for accepting our reservation with short notice.
Joseph and Kaycie
2016-12-30T00:00:00Z
This place was so nice and cozy. Andy made sure that everything was clean, cozy and comfortable! The house offers all new appliances and looks like he just remodeled the home. To add there is all new furniture. The beds were comfy too!! Wifi and cable available and easy to set up! He even left toiletries for us to use! Will definitely be back again!
Monica
2017-02-25T00:00:00Z
Andy is too good, nice and kind! Thank you very much!
Yumika
2017-03-12T00:00:00Z
Andy made our Joshua Tree excursion as easy as possible by opening up his wonderful home to my dad, brother, and me. After a day of driving and hiking through the park, we just wanted a restful place to spend the night. Andy's place was above and beyond our expectations. You can tell he's put a lot of thought into the needs of his guests. He's a great communicator with a clean, comfortable home. I highly recommend this place, especially for those looking for a homy feel with great proximity to the north entrance of the park!
Matthew
2016-12-09T00:00:00Z
Andy was very helpful before and after I booked by answering all my questions. We had everything we needed in the home when we arrived from items necessary to prepare meals to simply relaxing. The home is near an entrance to Joshua Tree National Park which was convenient. Andy made checking in and out, and everything in between, very easy. Thank you Andy!
Aysha
2017-01-01T00:00:00Z
Andy's place is beautiful and spacious . Beds were very comfortable . Decor is very pleasing to eyes. Communication was great. Overall a wonderful stay
Sweta
2017-01-02T00:00:00Z
Tipo de Quarto
Casa inteira/apto
---
Tipo de Imóvel
Casa
---
Acomoda
4
---
Quartos
Twentynine Palms, Califórnia, Estados Unidos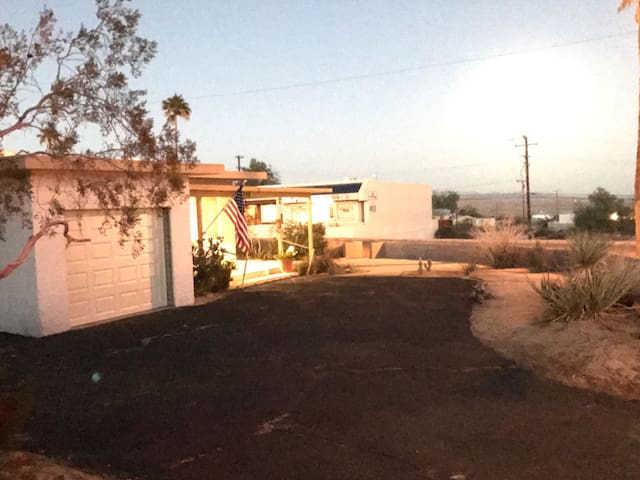 Find your peace in the desert in my studio cabin on 5 acres of untouched land surrounded by what feels like miles of desert at your door steps, yet just minutes from food and shopping and the East entrance to the Joshua Tree National Park. Only 1/4 mile off the pavement on a well maintained dirt road, the calm of the desert is to be had in the zen rock garden, enjoy the campfire and stars, or lounge on the Cal-King bed.
Many of these cabins for rent are down a long and bumpy dirt road. My place is just off the pavement on a smooth dirt drive. Its close to town, but far enough to have the privacy and solitude you expect from the desert.
Quiet secluded peaceful atmosphere.
Michael was a fantastic host. He was easy to reach, able to answer any questions we had, and provided a beautiful space. Can't recommend any more highly!
veronica
2017-03-19T00:00:00Z
Great and vibey desert getaway!
Anders
2017-01-29T00:00:00Z
Great place to get away and enjoy the peace and quiet. Comfortable, easy, and offers everything needed for a weekend stay. Really enjoyed having the fire pit to relax around in the evening, and my pup appreciated the open space in the back. Close to Indian Cove entrance, which is my personal favorite. Also a short drive to the best restaurants and shopping in Joshua tree.
Natasha
2017-02-12T00:00:00Z
Great place!
Daniel
2017-04-02T00:00:00Z
Michael was incredibly responsive and pleasant. We wanted to drop a car off before check-in time so we only needed to take one car into the park; Michael worked with us to drop by sooner, pick up a key, leave a car and get a jump start on our hikes. His cabin was comfortable and well located to get to the park within 15 minutes or so. We made breakfast in the morning and ate on his patio furniture outside to take in the view. I definitely recommend Michael's cabin if you're looking for a quiet and authentic atmosphere for two.
Allison
2017-03-05T00:00:00Z
Michael has a very comfortable cabin with all the amenities and best of all, for us, was the location, just a few minutes from the North entrance to Joshua Tree National Park and under a beautiful night sky - I do astroimaging! Michael is an excellent host, arranging for easy check-in and check out.
Jon
2017-03-26T00:00:00Z
Awesome house, would definitely recommend for a weekend getaway; super quiet area. Very close to Joshua Tree National Park. We loved the outdoor fire pit!
Thomas
2017-02-20T00:00:00Z
It was a comfy place to return to every night after exploring Joshua Tree. My dog loved the air around the house. Burning some logs by the house at starry night was awesome.
Andrey
2016-12-30T00:00:00Z
Tipo de Quarto
Casa inteira/apto
---
Tipo de Imóvel
Casa
---
Acomoda
2
---
Quartos
Twentynine Palms, Califórnia, Estados Unidos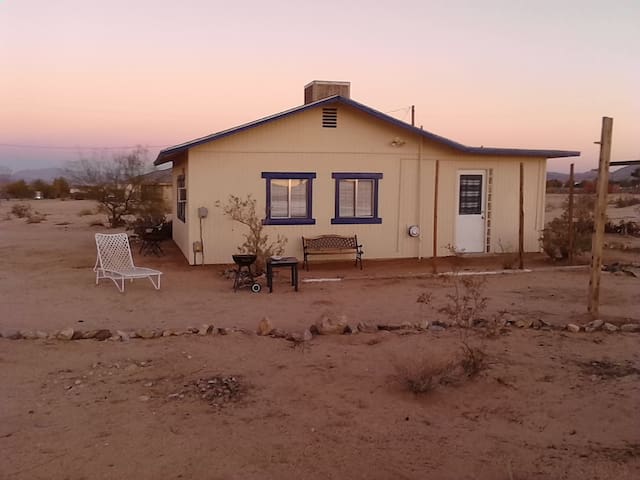 This home was built in 1933 and it is one of the early Homestead Adobe type houses on the High Desert. It has been completely renovated to modern standards and retains its original look and spirit. Joshua tree National Park is minutes away.
The home Has all the modern conveniences with comfortable fully equipped PRIVATE outdoor patios .(BBQ,Fireplace,lounge furniture etc.) There is TVand WIFI Internet access
Our home is in town and very convenient to dining ,shopping and the natural wonders which surround the area. There is a public swimming pool nearby at Luckie Park . The is a golf course in town and you are welcome to use the outstanding golf course on the Marine Corps base ( by appointment)
Love this place - plan on staying here again, Michael was a great host. The photos do not do the place justice- it is so beautiful
Caleb
2017-02-27T00:00:00Z
Great stay!! This house was even better than the pictures. Beautifully decorated, interesting, and clean. We loved walking around the cactus-filled yard and watching the hummingbirds. The mountain backdrop was awesome to see every morning, and the bed was so comfortable! Michael even stayed up past midnight to greet us when our travel plans got delayed and was so kind and understanding. Would absolutely stay here again!
Bek & Addison
2016-10-22T00:00:00Z
Francesca and Michael's place is fantastic. It is very close to Joshua's tree park and at driving distance from Kelso dunes, Palm spring and other unique locations. The house itself is quite lovely. I should also add that the owners are very responsive. Highly recommended!
luciano
2017-01-01T00:00:00Z
Very stylish, very comfy Southwest style cottage with nice backyard and a great library.
Jeremy
2017-01-16T00:00:00Z
Michael and Francesca are great hosts. They met us at check in to show us around and answer any questions about the area. Their home was the perfect place to enjoy the peaceful magic of Joshua Tree. The location was close to the entrance to the park. Their home was clean and comfortable, felt like we were at home as soon as we stepped inside. Michael was always available for any questions but also respected our privacy. Their catcus adobe was perfect for our month long stay. The kitchen was well equipped with utensils/cookware, bed was comfortable, and main living space had everything needed for relaxing and lounging. Great wifi!! The yard was the perfect spot for laying out during the day and enjoying the stars at night. We would recommend this home to anyone and would definitely love to stay again.
Ben and Karen
2016-12-05T00:00:00Z
This house is perfect. The location is great -- easy to get to everything in and around Joshua Tree, and the way Michael & Franchesca decorated and restored the place is fantastic. Tons of charm and authenticity with a great vibe - plus - the place was totally clean when we arrived. The kids found a cool lizard in the back yard that kept hanging around and I loved walking around the cacti with all the blooming flowers. We will definitely try to stay here again next time we come to the JT area - we really felt like we got lucky and landed an awesome place for our spring break.
John
2017-04-05T00:00:00Z
The house is super cute. Amazing location - so close to the park and fun places to eat. Very comfortable and authentic. Sleeps 4 very easily. Michael and Francesca were both very nice, informative and responsive.
Matthew
2016-04-24T00:00:00Z
The home was very well kept and the decor was nice. Would book again!
Kim
2017-01-30T00:00:00Z
Tipo de Quarto
Casa inteira/apto
---
Tipo de Imóvel
Casa
---
Acomoda
4
---
Quartos
Twentynine Palms, Califórnia, Estados Unidos
The House of the Rising Sun is an off-grid solar retreat in Wonder Valley. Light-filled, cozy and secluded with breathtaking 360 degree views. This is your perfect desert getaway.
Welcome to the House of the Rising Sun, a 1 bedroom / 1 bath off grid solar home located in Wonder Valley. The house is bright, airy and spacious with views that extend every direction. This secluded location allows our guests to fully experience the beauty and wonder of the High Desert. Located 20 minutes from the North Entrance to Joshua Tree National Park, this is the perfect space to explore all that the Mojave has to offer.
Wonder Valley is a rural community surrounded by magnificent mountains. Artists, outsiders, dreamers and do-ers have all called this valley home. It is a place of wide open skies, tranquility and peace. It's a short drive to the south entrance of Joshua Tree National Park, downtown 29 Palms (restaurants, shops, art) and Joshua Tree. Further afield but still close enough for day adventures are Yucca Valley, Pioneertown, Pappy & Harriets, The Integratron, Morongo Valley and Palm Springs. DRIVE TIMES: Las Vegas (LAS) – 3 hours Long Beach (LGB) – 2 hours 45 minutes (without traffic) Los Angeles (LAX) – 2 hours 55 minutes (without traffic) Ontario (ONT) – 2 hours Orange County-John Wayne (SNA) – 2 hours 30 minutes Palm Springs (PSP) – 1 hour 20 minutes San Diego (SAN) – 3 hours
We were attending a wedding at the nearby 29 Palms Inn so we decided to stay at House of the Rising Sun for a long weekend to make a get-away out of it. I can't express how peaceful and magical this location is! The house truly is off the grid, about a 20 minute drive from the nearest amenities, much of which is on a well maintained unpaved road (we did it no problem in our 2 wheel drive Toyota Matrix) Once there, there is not a sound save the wind and the howling coyotes, just the beautiful desert on all sides surrounding you. You can see the lights of the neighbors houses in the distance, but you truly feel that you are all alone with the elements. The house is gorgeously decorated and all the amenities worked great, it's really impressive that a full house can function on solar power alone! The bed was comfy. We loved watching the amazing sunsets from the circular fire pit until the stars filled the sky. A truly rejuvenating escape from the bustle of the world. We can't wait to come back!
Kate
2017-03-22T00:00:00Z
Tipo de Quarto
Casa inteira/apto
---
Tipo de Imóvel
Casa
---
Acomoda
4
---
Quartos
Twentynine Palms, Califórnia, Estados Unidos
A very quiet, peaceful, daytime retreat followed by a blanket of stars. One bedroom sleeps two comfortably while the large living area can sleep two. There's a kitchen, dining area and evaporative cooler. I have a two night minimum.
In the heart of Wonder valley, the little cabin is just far enough off the trail to feel the quiet peace of the desert and close enough to town if a need arises.
I love the peace and quiet and the changes which occur to the look of the landscape through the course of the day. One of my favorites is moonrise from the window next to the bathtub and sunrise as well!
Pros: Secluded location in the desert (what we really wanted for this vacation), View, Safe, Got everything that's needed, Vintage, Fast communication with host Cons: No internet (Not really anything to complain because its absence was already noted in the description but who would not want that. I use ATT and got 4G so I was able to exchange emails while I was off work), Dusty (I dont think it was sand from desert because I am usually allergic to dust paritcles and I did sneeze numerous times as an allergic reaction) Overall, happy stay. I would come back once the renovation is complete and when maybe it is cleaner (it's a personal pref).
David
2017-03-13T00:00:00Z
Great place!
Angel
2017-03-20T00:00:00Z
Michael's prairie house is a fantastic get away spot to relax in the desert, its secluded and beautiful. It has a great living room and kitchen area with large windows making sure you take in the fantastic view of the beautiful property—same thing goes for the beautifully rustic bathroom that has desert views from the large bathtub. Michael was flexible with late check in time and our dates moving around. Great stay near Joshua Tree National park.
Mads
2016-03-09T00:00:00Z
What a wonderful place!
Josef
2017-02-12T00:00:00Z
Our stay at Michael's place was great. We brought our dog and we could let him run around the property without any problems. The place looks just like it does from the pictures. I liked how there were windows all over the building to look out from and see the landscape. The property itself is pretty secluded with one house across the road. The property was fun to walk around and see all the interesting things. At night, you can lay down outside with blankets and watch the stars. The kitchen had everything we needed and more. Our stay here was very fun and I would recommend it to anyone trying to get away. My boyfriend and I both have T-mobile and were able to get good signal.
Jenny
2017-03-29T00:00:00Z
Michael and Lisa's place was very unique and perfectly placed just outside Joshua Tree park. It was super private and rustic, with 360 degree views, lots of natural light, and amazing sunsets thanks to the huge windows on all walls. As said in the description, the place is in progress and we're sure the final product will be great! The finished parts have taste and charm that show the potential of the place. The as-yet unfinished parts didn't bother us at all, but due to the renovations, the floor and surfaces were quiet dusty and sandy; we even had to shake out our bedsheets. We would have preferred more cleanliness and felt less comfortable than we would've liked for that reason. For the price, we expected cleaner floors and surfaces, though that may be more challenging to achieve than we imagine when you live in a windy desert (and when you're renovating your home!) The grounds are pretty eclectic, with trailers and a dilapidated car which echo the kind of ramshackle decor inside. Definitely good for Wild West photo shoots! Beware dogs or children as there is broken glass on the ground outside. Michael and Lisa were very responsive and great to communicate with. We'll be on the lookout for when the renovations are done, as this is a truly special place!
Jeremy & Karen
2017-01-08T00:00:00Z
Micheal was a great host and his house in the desert was perfect for our family. If your looking for a peaceful getaway from the city this is the place we would like to stay here again and our kids liked it too.
Shanebrenda
2016-02-01T00:00:00Z
Micheal was not around, but did not need to be. His place is beautiful, bright and very quiet and isolated. We would definitely stay again!
Justin
2015-09-15T00:00:00Z
Tipo de Quarto
Casa inteira/apto
---
Tipo de Imóvel
Casa
---
Acomoda
4
---
Quartos
Twentynine Palms, Califórnia, Estados Unidos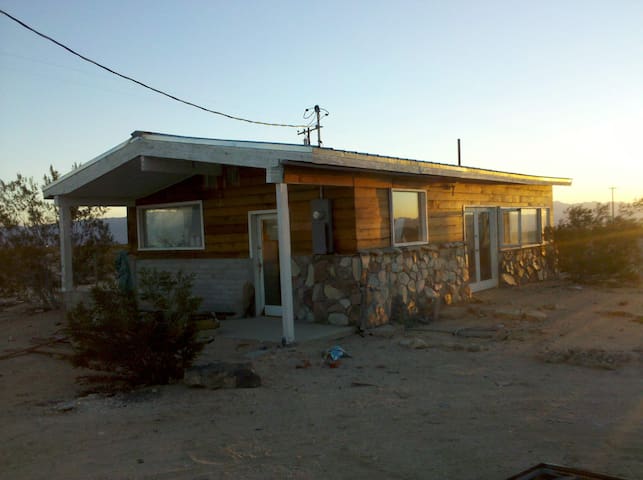 "Marmalade Skies" is a desert house with beautiful views of the desert, mountains and the city. The house is 5 minutes away from the Joshua Tree National Park Utah trail entrance, and about a mile away from "The Tortoise Rock" casino. "Marmalade Skies", as the name suggests, provides you with beautiful breathtaking views of sunset and is perfect for stargazing and enjoying the quite desert nights on the private backyard deck.
I had a great time here. It's location is perfect, nice and close to the park and also town is very accessible. I would definitely come back.
Charlie
2016-11-27T00:00:00Z
What a great find! Clean and well cared for. This is our second stay and highly recommend the house
Kim
2016-12-28T00:00:00Z
Great location if you're going to Joshua Tree - right outside the park. Well equipped kitchen and perfect patio for relaxing after a long day of hiking. We were happy with our decision to stay here.
Allison
2016-10-18T00:00:00Z
Very nice and functional house located a ten minute drive from Joshua Tree. Comfortable kitchen and beds with a good shower. Great spacious backyard. The house could use some more decorations, but offered an excellent and comfortable stay. Yalda was very responsive as a host and check-in was a breeze.
Charles
2016-12-22T00:00:00Z
It was a pleasure staying here at Marmalade Skies. The home is spacious and very comfortable! We especially loved the outside deck and backyard area where we sat and talked for hours watching the sunset over the mountain. Very convenient to stores and the national park which was a huge plus especially since we still felt like we were out in nature. Would most definitely stay here again on future trips to Joshua Tree / 29 Palms. Beds were comfortable, place was clean and smelled fresh/clean. Full kitchen set up, really not a whole lot more anyone could really ask for!
Jessica
2016-11-13T00:00:00Z
The host canceled this reservation 53 days before arrival. This is an automated posting.
Kellie
2016-12-27T00:00:00Z
It's cute and the pics are true to what you'll experience when you arrive. Bring wood if you think you'll want to have a bon fire and def bring a blanket to take in all the night skies have to offer.
Jessica
2016-11-06T00:00:00Z
While the property is very close to the park, the house itself is poorly maintained. When we arrived the master bedroom window was broken out of the frame. Very drafty and creepy. The bathroom is functional, however the tub doesn't really drain correctly and the sink leaks water all over the floor. The bathroom window is also broken, so you are unable to close it. The place does not actually have heat. There are too small space heaters that take the chill out, but we had to sleep in sweaters and socks. Beds were comfortable and the kitchen is very nice. The house is in a cute residential neighborhood.
Anna
2016-12-04T00:00:00Z
Tipo de Quarto
Casa inteira/apto
---
Tipo de Imóvel
Casa
---
Acomoda
4
---
Quartos
Twentynine Palms, Califórnia, Estados Unidos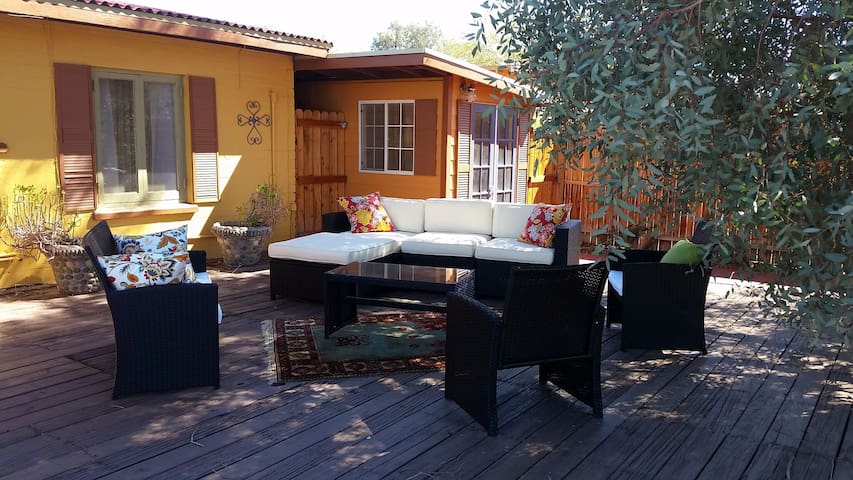 The Tile House is a magic place. A vortex in the desert of love and space. This is the place to retreat and unwind, find yourself, breathe and explore. Not available or appropriate for parties or large gatherings. A spot to meditate, cook, and watch the sky, the clouds and stars at night. A healing, colorful environment for rejuvenating your spirit and soul.
A two bedroom house with outdoor hot tub and gorgeous views, and gated courtyard with firepit. Queen-sized beds, picture windows, cotton linens, and towels. Fabulous and reliable WiFi. iPod dock with speakers. Full Kitchen, refrigerator, coffee maker, mixing bowls, wood-burning stove, swamp cooler. Laundry facility on site. Fireplace and pellet stove. Dog-door for your pet to access a fenced and secure yard. Great for large get togethers or a romantic getaway. Sleeps 4 comfortably but also has a sofa sleeper for a kid. Cradled inside and outside by a mosaic made of Mexican tile, smalti, handmade Perry Hoffman ceramics, tile and fused glass, found desert tiles, found objects, stained glass and ceramic bric-brac, THERE you find yourself situated in complete silence, watching the desert light crawl across the fast and intricate landscape which is ALL around you. 7 miles from the town of 29 Palms and the east entrance to Joshua Tree National Park. 360 degree views amid the peace and quiet, beauty and wonder, where indoor and outdoor osmosis expands your exposure to the desert. Touches of luxury, whimsy, and function make the visitor feel safe but also adventurous. Perry has been working on his roadside attraction / museum / gallery / magic spot / mosaic house since it began in 2000. 11 years later, 800 sqft were added, and approximately 2500 sqft of mosaic applied and grouted. Glass fused baubles, hand made ceramics and a magical desert. This desert homestead turned beacon of love vision is waiting to reach the stars. The Tile House sits in the middle of the vast and open desert. You need not walk two feet to be a part of the wilderness, now it is up to you to look around both macro and micro and see what you can see here. Jack rabbits, cottontails, ravens, scorpions, desert iguana, snakes, Gambel's quail, lesser night hawks, owls, coyotes, roadrunners, sphinx moths, and kangaroo rats, flash floods, dust devils, lightning storms, sunsets, summer rains, empty roads, wildflowers, and cacti are some of the things you might happen to see. Walk gently in nature. At night, absorb the clear starry skids, and August and November meteor showers. Remember, there are rusty bits and broken tiles in the sand. This is a work in progress. Be careful and don't walk about barefoot. You have been warned. Not recommended for children, unless prior arrangements and agreements are made. You are ironically completely alone in the middle of nowhere and the center of the universe.
Loved the tile house experience, what a magical fantasy portal~☆
Eline
2014-02-10T00:00:00Z
Tile house is a sweet desert dream come true. Perry, a solid gold host!
Emma
2014-05-04T00:00:00Z
Was looking for a unique weekend away from Los Angeles and definitely found it in the tile house. There were a lot of amazing corners to explore and it made the desert feel even more magical. Perry was great, communicative and made it known that he was available. Highly recommend!
Mark
2014-07-22T00:00:00Z
It's even more amazing than the pictures. Every time we turned a corner there was another small world to marvel at. Perry made it easy and private. I would bring friends and travelers here, perfect way to experience the California desert.
David
2015-05-27T00:00:00Z
We had such a great time staying at the Tile House! It was in the middle of nowhere, and we loved it. It is by far the most unique space I have ever stayed in, and the decor is crazy and out of this world. We loved the fire pit patio hangout, and the fenced in yard was perfect for our pooch who spent a lot of time exploring the huge yard. The house was much bigger than the photos look, and the kitchen was excellently equipped with all the pot/pans/utensils we needed. What a gem!
Chelsey
2015-02-17T00:00:00Z
Incredible home - Had the best weekend... No complaints whatsoever, can't wait to go back!! <3
Daniel
2017-02-20T00:00:00Z
Unbelievable experience. I absolutely loved the sense of freedom Perry's tile house/art inspires when you stay there. Will definitely hope to be back again soon! Only wish was that I had stayed longer!! Thank you for the inspiration Perry!
Rafael
2015-05-20T00:00:00Z
Tile House is a really unique experience Perry has created in this colorful slice of the desert. He was very easy to work with on a last minute reservation, and the space is even more extraordinary than expected!
Joseph
2016-09-13T00:00:00Z
Tipo de Quarto
Casa inteira/apto
---
Tipo de Imóvel
Casa
---
Acomoda
4
---
Quartos
Twentynine Palms, Califórnia, Estados Unidos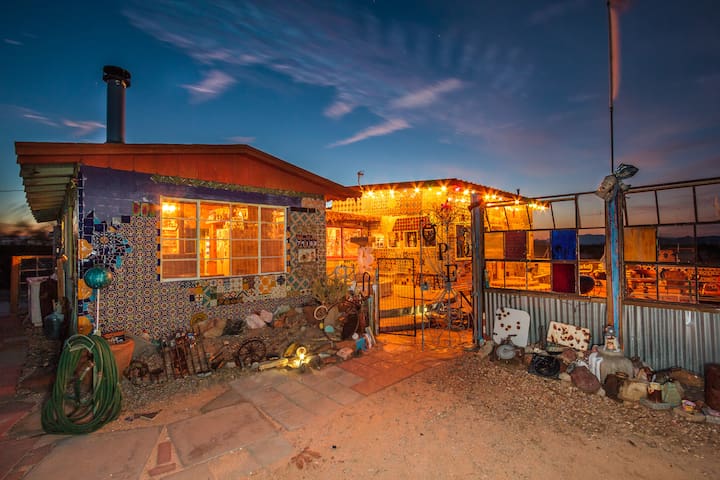 Twentynine Palms - Airbnb
:
Média de

4.88

de

5

estrelas, de acordo com

974

avaliações de hóspedes
1

–

18

de

300+ Alugueres de Casas
Insira as datas para ver o preço total. Taxas adicionais aplicáveis. Podem ser adicionados impostos.