Hermosa y limpia habitación privada de vacaciones especialmente para Airbnb abrió en Ueno. Todos los muebles y la electrónica son completamente nuevos. Un superintendente garantiza la seguridad. El comedor, cocina, WC y ducha instalaciones son compartidas con otros guests.Pokemon Ir punto caliente!
Ueno es una ciudad extremadamente atractiva numerosas instalaciones de ocio y lugares de fantasía mientras que conserva las antiguas culturas y costumbres de Japón. El parque zoológico de Ueno, el Museo Nacional de Ciencias Naturales, el Museo Real de Ueno, muchos templos y santuarios, el Onshi Parque Ueno, y su proximidad a la zona de Asakusa hacen Ueno el sitio de turismo más popular en Japón que todos los turistas a Japón casi siempre visitar. También es muy fácil viajar en tren desde la estación de Ueno. Desde la estación de Ueno, se puede ir a las siguientes estaciones sin ningún tipo de transferencias. ·Estación Aeropuerto de Narita (línea Keisei) ·Estación de Asakusa (Tokio metro línea Ginza) ·Estación de Akihabara (línea JR Yamanote) ·Estación de Shinjuku (línea JR Yamanote) ·Estación de Shibuya (línea JR Yamanote) ·Estación de Tsukiji (Tokio metro Hibiya Line) ·Estación de Ginza (Tokio metro Hibiya Line) ·Estación de Roppongi (Tokyo Metro Hibiya Line) ·La estación de Ikebukuro (línea JR Yamanote) ·Shin-Okubo estación (JR Yamanote Line) ·Estación Yoyogi (línea JR Yamanote) ·Estación de Harajuku (línea JR Yamanote) ·Estación de Ebisu (línea JR Yamanote) ·La estación de Shinagawa (línea JR Yamanote) ·Estación Shinbashi (línea JR Yamanote) ·Estación de Tokio (línea JR Yamanote) Llegada Salida Check-In: 15:00 o en cualquier momento después. Abierto por la noche es siempre bien! Salida: 10 am o en cualquier momento antes. Early Check-In / Late Check-Out: por favor pregunte. ※Importante. Usted puede guardar su equipaje antes del check-in y después de la salida (sólo el día). Por supuesto, se puede utilizar gratis-WIFI en la habitación.
·Hay un 24 horas tienda cercana. ·También hay muchas tiendas de marcas de lujo y restaurantes que son famosos y populares en Japón. ·Farmacias libres de impuestos y tiendas de artículos electrónicos también están a poca distancia. ·Debido a que es cerca de la calle principal, se pueden parar fácilmente un taxi.
The place is very nice, clean and quiet. Most of all it close to train station 御徒町 and 京王上野站 to airport. I will definitely come again for my next trip to Tokyo!
Pacino
2017-02-21T00:00:00Z
This place is very near Ueno station just like walking for 5 minutes from train station. The room was fine for me. The manager of guest house is very nice and kind.
Chayut
2016-12-27T00:00:00Z
很方便,manager人很好,也比想象中好找很多~
可
2017-03-22T00:00:00Z
良い旅です。とてもいい宿です。
希毅
2017-01-28T00:00:00Z
ありがとう
Jia
2016-11-04T00:00:00Z
駅近4分で 値段が安い割には 近くにコンビニもあり 部屋も片付いてたので 比較的よかった
Hoshi
2016-11-12T00:00:00Z
• ใกล้สถานี ueno ใกล้ subwayใกล้ตลาด ใกล้ตึกม่วง ใกล้ร้านสะดวกซื้อ ห้องพักไม่ใหญ่มากแต่คุ้มกับราคา มีลิฟต์ไปถึงชั้น8 มีร่มให้ยืมด้วยเวลาฝนตก เราสามารถเอากระเป๋าไปฝากไว้ก่อนถึงเวลา check in ได้ ถ้าเรา check out ออก ก็สามารถฝากกระเป๋าไว้ก่อนได้ แล้วค่อยกลับมาเอา ราคาเหมาะสมพัก7คืน 2 คน ราคา $251 ถูกมากๆ คนไทยไปพักเยอะเหมือนกัน แนะนำที่นี่ค่ะ
Tuksina
2017-03-21T00:00:00Z
개인실이 있어서 너무 좋았고 1인용 숙소에 있다는 느낌 들었어요 가격대비 너무 좋아요 만족합니다.
HongSeok
2017-03-01T00:00:00Z
Tipo de Quarto
Quarto privado
---
Tipo de Imóvel
Hostel
---
Acomoda
3
---
Quartos
Taitō-ku, Tōkyō-to, Japão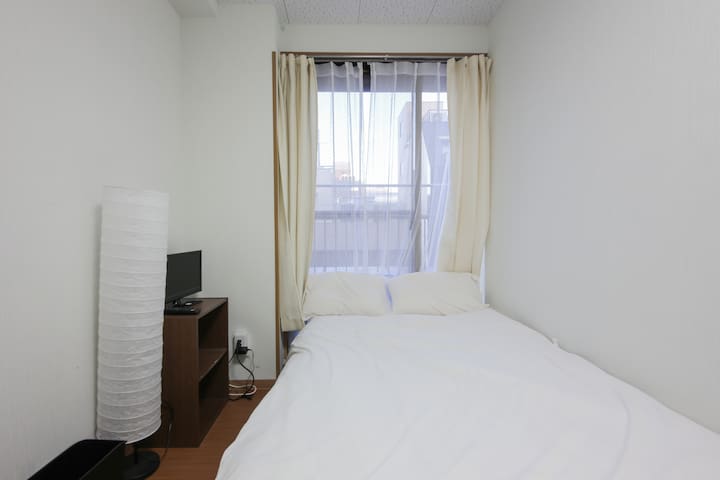 Max 4 osoby přijatelné. Je to nejlepší místo jako základ pro okružní. Nejbližší stanice: Chiyoda Line "Yushima" 1 min. Procházka. Ginza Line "Uenohirokoji" 4-min. Procházka. (JR) Yamanote Line "Okachimachi" 6-min. walk.Wi-Fi router pro bezplatné zapůjčení.
Vnitřní výzdoba je v japonském stylu. Stěna papír právě vymalovaný. Zdarma minerální voda je připraven.
Ueno, Okachimachi, Akihabara jsou oblasti na nohou.
Hideo was very kind helping us to get to the apartment and providing all the necessary information. He also provided all the amenities we needed and even more. The apartment is very nice, clean, comfortable with everything we needed, specially the air conditioner and portable wifi. The apartment is very close to Yushima metro station and few minutes walk from train station. More than that, the apartment is very close to convenience stores, restaurants and many other stores and the beautiful Ueno park and zoo. Since we wanted to visit Akihabara, we couldn't find a better place to stay. I definitely recommend Hideo's apartment.
Ricardo
2016-07-14T00:00:00Z
Hideo is a great host ! He was very convenient on the check-in/check-out, very friendly and welcoming. The apartment is very well located : only 3min from the closest metro station and 5 min walk to the beautiful Ueno Park. Very cool area, lots of nice little restaurants and other entertaining places. Super memories, thanks Hideo :)
Zoé
2015-09-01T00:00:00Z
Hideo was a great host, very attentive and helpful. The department has a very good location, very near to Ueno station and Ueno park.
Gerardo
2016-03-24T00:00:00Z
We had a lovely and authentic experience staying at Hideo's apartment. I never thought I would use the computer, but it was really useful to beat jet lag! We fell in love with the bathroom! Even if it was to share, we sidn't see anyone and was 100% clean and tidy. Even though we were prepared to sleep right on the tatami, he prepared for us 3 big comfortable beds! The room is spacious, fully equiped with air purifier, a/c, remote controled light, etc. Even the bathroom was waiting for us with toothbrushes, towels, and everything you could possibly need! Totally recommended.
Ramiro
2016-10-21T00:00:00Z
房东家里是很日式房间,家里厨房设施齐全,还准备了茶,我们住的是7层,8层就是浴室洗澡很方便,浴室干净整洁,也比较宽敞。我们住在上野这交通很方便,离上野公园,秋叶原,上中,都很近,房东家有阳台,晚上喝着茶看着东京的夜景,感觉很不错,房东人也很好,我们不会日语,房东用简单的中文告诉我们,可以去尝尝日本的特色-拉面。总之是一次很不错的住宿体验~
晶晶
2017-01-27T00:00:00Z
숙소 바로 아래에 편의점이 있어서 좋았네요 걸어서 역까지 가는데 시간도 얼마 안걸리고 아키하바라랑 가까워서 돌아다니기 매우 편함 4명이서 사용했는데 불편한건 없었다
수찬
2016-04-04T00:00:00Z
房子的位置很好,旁边有三个地铁站,我提前到了忘了通知房东,害得他赶回来替我开门非常感谢!房子空间很大很干净,三个人三张床也不拥挤。虽然浴室在楼上共用,但是并没有碰到其他人使用。唯一就是卧室临街,早上车流声大很难睡懒觉。
WT
2016-05-09T00:00:00Z
Really nice traditionally styled apartment. Lots of space and nice big shower area. Check-in was very straightforward. Close to Ueno park. Great place for a few friends to stay. I would recommend this place.
Rodney
2015-09-03T00:00:00Z
Tipo de Quarto
Casa inteira/apto
---
Tipo de Imóvel
Apartamento
---
Acomoda
4
---
Quartos
Bunkyō-ku, Tōkyō-to, Japão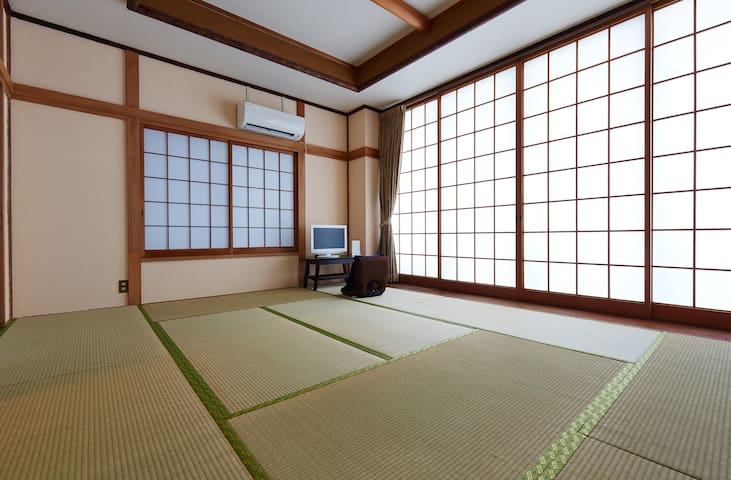 There are air-conditioner and refrigerator in the room which was decorated last year.The toilet, bathroom, washing machine, microwave are shared with other people. Two years ago renovated separate rooms, air-conditioned room with a fridge. Toilet, bathroom, washing machines, microwave ovens and other common 5 minutes walk away from the 3-minute walk from Okachimachi Station on the Tokyo Ueno Station. Mattresses and quilts will be prepared prior to arrival. My listings close to the nightlife, public transportation, downtown, parks. I listings for adventurers and business travelers traveling alone.
위치가 오카치마치역 2분 거리라서 정말 좋습니다. 바로 아메요코로 갈 수도 잇습니다 깨끗하고 조용합니다.
기현
2017-02-19T00:00:00Z
좁지만 매우 쾌적하였습니다. 가격대비로는 최고인 듯. 狭いがとても快適でした。価格比では最高. It was small room but very comfortable.
Seok Ho
2017-03-07T00:00:00Z
All good & nice
Seok Ho
2017-03-04T00:00:00Z
入住的大部分是中国人,所以没有语言问题,靠近上野站,附近很繁华
yuqin
2017-04-02T00:00:00Z
Location is a little bit hard to find.Yet,rest of them are great.
Harvey
2017-03-29T00:00:00Z
혼자서 잠깐 머물기에는 정말 좋습니다! 상가랑 근접해있고 먹거리도 많으며 오락실,면세점등 다양한 시설들이 5분거리내에 있답니다. 단. 방음이 잘 안되있어 옆방 통화소리도 다들립니다...
Hanki
2017-02-14T00:00:00Z
its a nice place to live,location and the price both suitable for person to travel in Tokyo who has a boundary.
弯
2017-04-03T00:00:00Z
Tipo de Quarto
Quarto privado
---
Tipo de Imóvel
Dormitório
---
Acomoda
1
---
Quartos
Taitō-ku, Tōkyō-to, Japão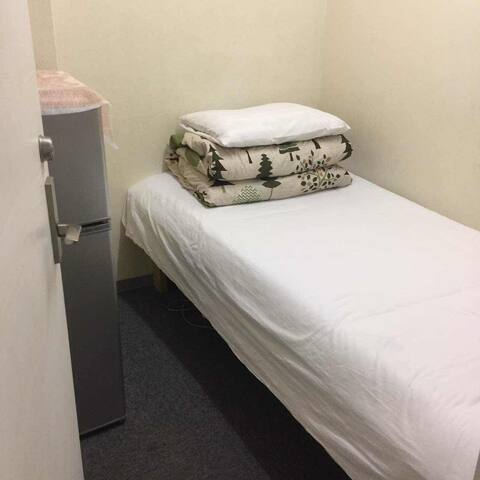 ♪ Bienvenue à YUMI APT à Ueno / Yushima (上 野 / 湯 島) ♪ Un studio privé à Ueno / Yushima, le quartier HOTTEST à TOKYO! Ueno / Yushima ne dort jamais - Le meilleur endroit pour les affaires, Art, Mode, Nourriture et Boissons et Soirées !! S'il vous plaît lire mon article attentivement !! Je vous donne des informations détaillées sur ma chambre sur la liste.
★ nouvellement aménagées ★ PERFECT Situation - distance de marche de 5 stations ★ gratuit Pocket WiFi (Vous pouvez l'apporter partout pendant votre séjour!) ★ 4 personnes peuvent rester - 1 grands lits doubles et 2 ensembles de taille unique Futon ★ Machine Laundry dans la chambre Un studio comprenant cuisine, salle de bains & Machine Laundry -Chambre 1 Double size / 2 ensembles de taille unique Futon / Table / TV / Free Pocket Wi-Fi / Climatisation / Chauffage / etc ... - Cuisine Réfrigérateur / Micro-ondes / Bouilloire / Vaisselle / Vaisselle / - Salle de bains Baignoire / Sèche-cheveux / serviettes / Body & Savons Hand / Shampoo & Conditioner - Machine à laver (Nous avons la machine à laver dans la salle)
Ueno Station à Taito-ku est connu comme le "Porte du Nord", car il est au départ de la gare des chemins de fer en provenance de Tokyo à destination de la région de Tohoku au nord du Japon. Le terminal accueille 10 chemins de fer, y compris le JR Nagano Shinkansen Line. Il est un centre-ville de premier plan rivalisant avec Ginza, Shinjuku, Ikebukuro et Shibuya. A Tokyo Ueno-onshi-koen Park, qui englobe une vaste zone à l'ouest de la gare d'Ueno, il y a une concentration d'institutions culturelles telles que: Ueno Zoo, le premier zoo au Japon; Tokyo Metropolitan Art Museum; Tokyo Bunka Kaikan (Cultural Hall de Tokyo); le Musée national d'art occidental; le Musée national des sciences; et Musée national de Tokyo, offrant tous leurs visiteurs loisirs et de détente. Le parc est particulièrement fréquentée au début Avril quand les gens se réunissent pour profiter de la vue des fleurs de cerisier évanescentes. Le marché Ameya-yokocho, appelé "Ameyoko" pour faire court, est situé dans la zone sous la structure de chemin de fer élevé entre Ueno et Okachimachi Stations. Cette zone utilisée pour être l'emplacement d'un marché aux puces en plein essor, immédiatement après la fin de la Seconde Guerre mondiale. Il y a un certain nombre de magasins qui vendent tout de produits alimentaires de base à des biens de grande classe importés, à des prix raisonnables, et par conséquent, il est toujours bondé avec les acheteurs. Les bonnes affaires spéciales de fin d'année, en particulier, sont devenus l'une des scènes qui ajoutent le charme poétique à la saison, ce qui reflète la vie des gens ordinaires de Tokyo. Yushima Tenman-gu se trouve à Yushima, Bunkyo-ku, Tokyo. Le sanctuaire est pensé pour avoir été fondée en 458, et plus tard, en 1355, inscrit l'esprit de Sugawara Michizane, qui avait été banni de Kyoto à Kyushu et est mort en disgrâce. Le sanctuaire a reçu une protection puissante du 17ème siècle en avant, en particulier, lorsque le Japon était régie par le shogunat basé à Edo (Tokyo). Un éminent savant et calligraphe, Sugawara Michizane était adoré comme un dieu de l'apprentissage, apporter un flux constant de visiteurs avec des espoirs scientifiques ou littéraires au sanctuaire. Aujourd'hui encore, de nombreux étudiants visitent le sanctuaire cherchant des bénédictions pour leur réussite aux examens d'entrée.
New and modern apartment Quiet place and walking distance to shopping street and ueno park.
dennismffoo
2017-03-30T00:00:00Z
유시마역과 가까워요 우에노역과는 거리가 좀 있어요 주변에 돈키호테와 편의점과 맛집이 많아서 좋아요 호스트분과 메세지가 빨라서 좋아요
해준
2017-02-28T00:00:00Z
유시마역 바로 옆에 붙어있습니다. 바로 뒤쪽에 있는 신사도 가보시면 좋아요. 우에노역으론 도보로 12분정도 걸립니다. (아키하바라 까지는 20~30분정도 잡으시면됩니다. 직선거리는 짧은데 언덕이 있어요)숙소 크기는 여자가 지내도 3명정도. 남자가 세명에서 자면 약간 좁다는 느낌이 강할것 같습니다(짐이 많다면 두명이 한계일듯함다). 헤어드라이어기는 없으니까 꼭 들고가시길. 이외에 세면도구는 치약칫솔 말곤 딱히 안챙기셔도 될정도로 충분합니다. 편의점은 주변에 세븐일레븐있습니다. 숙소 앞에 자판기 하나있고 24시간 반찬가게도있는데 맛은 별로네요.
준모
2017-02-20T00:00:00Z
Ottima ubicazione, vicina alla stazione della metro di Yushima e alla stazione JR Okachimachi. Vicino a Ameyoko e a Ueno. A chi piace camminare in non molto si può raggiungere Akihabara e Asakusa. Appartamento pulito, il letto è di una piazza e mezza e i due futon sono molto comodi. Lo consiglio per massimo 3 persone. Molto soddisfatti.
Gloria
2017-03-26T00:00:00Z
Tipo de Quarto
Casa inteira/apto
---
Tipo de Imóvel
Apartamento
---
Acomoda
4
---
Quartos
Bunkyō-ku, Tōkyō-to, Japão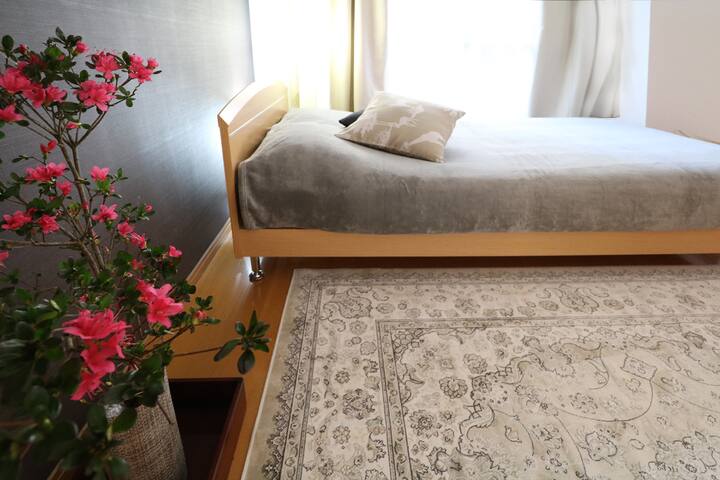 New acolhedor apartamento por 8 minutos a pé da estação JR Ueno! Novo apartamento confortável por 2 minutos a pé da estação JR Okachimachi! Ótimo acesso a Asakusa, Skytree, Akihabara, Ginza ... etc Incríveis local para ver flores de cereja Perto da tradicional rua de comércio japonês restaurantes incontáveis e dept. perto
Quartos de 25㎡ em areWe oferece quartos de 25㎡ em tamanho, que é duas vezes maior que nas proximidades Outros hotéis regulares ". Cada sala inteira é para seu próprio uso privado. É o mesmo que qualquer hotel regular. 1,2 milhões de camas de casal 1m sofá-cama TV 32 polegadas Frigorífico Forno de micro-ondas Máquina de lavar ADSL (Wi-Fi, somente) ar condicionado chaleira quente Aspirador de pó
Os mais populares Takeya centena de lojas de departamento e da rua pedonal Ameyoko para a chegada do apartamento a 2 minutos a pé no Japão, comer e beber de cada tipo de Shuhen, loja de conveniência, bancos, e oferece conveniência sem precedentes. Mais famosa cereja de Tokyo Ueno Park, andando chegada.
這裡很安靜,像家一樣,kimu人很好
YI-YU
2016-10-11T00:00:00Z
位置真的超级好,旁边就是阿美横町,唯一不足就是床是1米2的两人人完全不够地,我和老公一人睡床一人打的地铺。
na
2016-04-03T00:00:00Z
房东人很nice,房子离地铁站非常近,出行很方便。
安_曼安
2015-11-17T00:00:00Z
위치는 JR 우에노 역에서 걸어서 10분 거리정도로 좋은 편. 5분 거리에 METRO 역도 있어서 좋았습니다. 집은 작지만 깨끗한 편이었습니다. 위치는 바로 찾았지만 어느 건물인지 한눈에 알아보기 힘들었습니다. 큰 불편함 없이 2박 3일동안 잘 사용하였습니다.
April
2016-06-28T00:00:00Z
必要な物が揃っていて、便利でした。 洗濯機も清潔で、ベランダに洗濯物も干せて良かったです。壁にかわいいステッカーも貼ってあって、明るい雰囲気でした。 駅やコンビニも近くて便利でした。お世話になりました!ありがとうございました。
Kaori
2016-07-04T00:00:00Z
交通方便,房子十分乾淨,房東回應得很快,並且很耐心解答問題。
Law
2016-03-15T00:00:00Z
房子地理位置很好,坐车很方便,附近有多庆屋(如果买东西去这里比较好)和各种便利店。从确定入住房东就一直跟我(SENSITIVE CONTENTS HIDDEN)联系,有问题也都很快回答。大写的32个赞!
馨
2016-05-03T00:00:00Z
交通實在是非常方便 而且晚上也很安靜 離購物地區也很近 下次來還是會想住~
YiLuen
2016-02-24T00:00:00Z
Tipo de Quarto
Casa inteira/apto
---
Tipo de Imóvel
Apartamento
---
Acomoda
3
---
Quartos
Taitō-ku, Tōkyō-to, Japão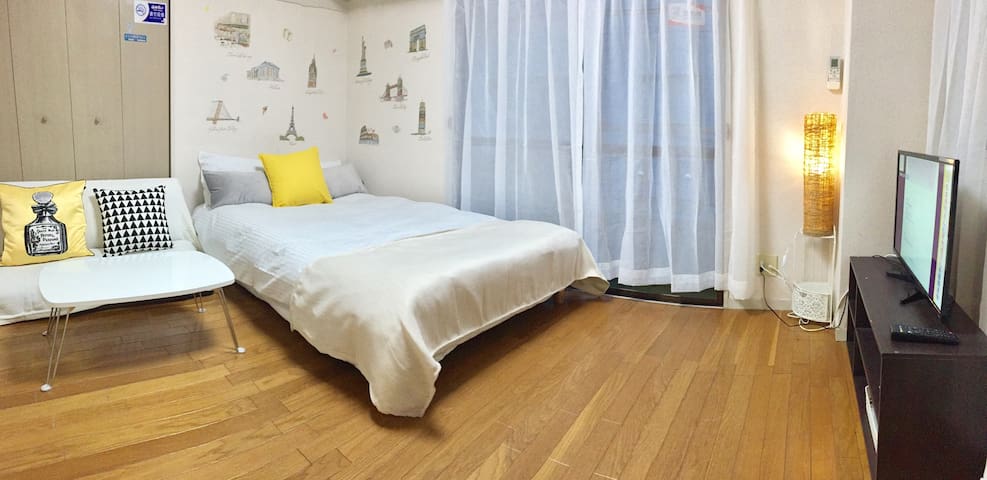 Sunny & Cozy!! Located conveniently in the cultural centre of Tokyo! Walking access to 4 stations - Okachimachi (JR Yamanote), Yushima, Hongo-Sanchome, Keisei-Ueno(60min direct train from Narita Airport!) Walk to Tokyo Dome, Ueno, many historic temples and shrines, beautiful parks & botanical gardens.Lots of restaurants in area including several Michelin★Restaurants. Room comes with 2 cross bikes - great for cyclists, couples, adventurers and business travelers! Come for a cruise!! :D
Sunny and cozy space in a secure building in a historic and cultural center part of Tokyo. Very short walk to 4 different stations and various restaurants and local shops. If you like to cycle there are an abundance of hotspots within cycling distance to keep you well occupied on your trip!
The Bunkyo area is a special "ward" which literally translates to Culture Ward. It was a home to notable literati and scholars since the Meiji period. It is also known as the home of the famous Tokyo Dome, judo's Kodokan(where the famous sumo matches are held) and the most prestigious University of Tokyo (Hongo Campus). The apartment is also very close to Ueno - very popular for its large park, street markets, Ueno Zoo and the World Heritage listed museum which often showcase masterpieces by Japanese artists as well as western luminaries.
Great apartment in a wonderful location. Kyle met us at Ueno Station and took us there in a quick cab ride. His overview of the apartment and places to eat were invaluable (especially as it was so very late at night). The bed fit my 6ft husband and the curtains blocked out the light, so we were happy little sleepers. Hot water for the showers and washing machine made our stay very comfortable. I'd be more than happy to spend another week in Ueno if I could stay here again!
Bernadette
2016-08-08T00:00:00Z
The overall experience at Chuck's apt was great. Chuck was very helpful, I couldn't get the Michelin restaurant reservation without his help. The location of the apt is accurate and convenient. Close to subway station. Yushima and Ueno park, even Abika are within walking distance The room is comfortable for one person, will work for two but no more. It's clean and neat, and the bikes are good to use. It's a cozy place for travelers exploring the city.
Yiding
2017-02-24T00:00:00Z
Jennifer
2017-03-30T00:00:00Z
Chuck was a fantastic host! So friendly, helpful and very fast to respond. Nice apartment with lovely amenities and a good location for those keen on walking. Apartment is a little small for 2+suitcases, but which Japanese apartment wouldn't be? Can be noisy since windows face the street, so light sleepers might struggle. All in all, a great experience!
Kate
2016-11-03T00:00:00Z
So good, we came back again for a few nights :)
Ammie
2017-01-09T00:00:00Z
I got everything I need at this place and an extra bike to ride around. The location is close to Ueno park and a nice pound with flowers. The apartment has portable wifi with fast connection. Recommended if you wanna stay around Ueno.
Wahyu
2016-07-31T00:00:00Z
駅近!! お部屋がとても清潔感が綺麗!! 困った時は瞬時に対応していただきました また利用したいです!!
Natsumi
2016-11-22T00:00:00Z
De los mejores alojamientos que hemos tenido en Japón. La disponibilidad de las bicis perfecta para Tokio. 100% Recomendable.
Daniel
2016-08-14T00:00:00Z
Tipo de Quarto
Casa inteira/apto
---
Tipo de Imóvel
Condomínio
---
Acomoda
2
---
Quartos
文京区, 東京都, Japão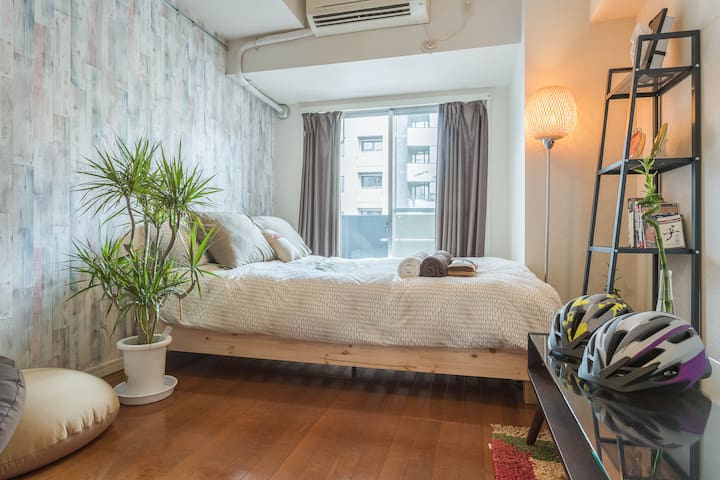 Bright,Clean,& Stylish Apartment ・Direct Line from Narita Airport ・10 mins On Foot from JR& Keisei Ueno Station ・JR Okachimachi Station 7 minutes on Foot ・Yushima Station 1 minute On Foot ・Easy Train Access ・Free Use of Pocket WiFi ・Check IN & OUT Time Negotiable (please inquire before making a reservation) ・Family&Friends Accommodation Welcome! ★Units in the Same Building★ https://www.airbnb.com/rooms/17032705 https://www.airbnb.com/rooms/12591722 https://www.airbnb.com/rooms/12592231
Bright, Clean, & Stylish Fully Furnished Apartment. Hello Everyone! Thank You for visiting my Listing Page! My Goal is to provide you a Safe, Clean and Comfortable Home away from your Home. I would like to share to everyone the Fascinating Attraction of my Country. I am excited to help travelers have a more comfy and interesting stay in Japan. I will help you make your travel Enjoyable & Memorable! If you have questions please don`t hesitate to ask, I will be happy to assist you. ================================== ★Awesome Location ★ My house is just a few minutes walk from the nearest station Ueno Station. Ueno (上野) is a district in Tokyo's Taitō Ward, best known as the home of Ueno Park. Ueno is also home to some of Tokyo's finest cultural sites. OTHER UNITS in the SAME BUILDING https://www.airbnb.com/rooms/17032705 https://www.airbnb.com/rooms/12591722 https://www.airbnb.com/rooms/12592231 =================================== ★Awesome Space★ The Apartment is designed with Beautiful & Stylish Interior. Fully Air-conditioned & has lots of Amenities . ・1 Semi Double Sofa Bed (bedding are inside the closet) ・1 extra futon (Mattress Sets) inside the closet ・Toiletries,Bath Towels,Face Towels, Shampoo,Conditioner,Body Soap, Hand Soap, Tooth Brush w/ Tooth Paste, & Hair Dryer are provided ・Well equipped Kitchen with everything you need for cooking & eating ( Microwave, Refrigerator,Built in Stove) ・Free use of Pocket WiFi during your stay ・Washing Machine for you to use during your stay "Washing Detergent" is provided ・Cleaning Tools Can accommodate up to 3 persons. =================================== ★Awesome Connectivity★ Enjoy our FREE WiFi !!! Stay in touch with family and friends. WiFi enables you to use all your WiFi enabled devices (cellphone, iPods, tablets, laptops ). You can bring it with you when your out & stay connect to the internet anywhere you go! ================================== ★Easy Access ★ Ueno Station is very convenient for travelling. ★From Narita Airport about 45 minutes with No Transfer Needed by Keisei Sky Liner! ★From Haneda Airport about 37 minutes Haneda to Hamamatsucho Station by Tokyo Monorail then Transfer to Keihin Tohoku Line for Hamamatsucho Station to Ueno Station After you have made your reservation, I will send you everything you will need on your Check In Day and lots of helpful stuffs and recommendations. Hope you will love & enjoy the area around Ueno! ======================================= ★Others★ Check In & Check Out Time Basically, Check In is at 15:00 PM & Check Out is at 11:00 AM. But if you need a time adjustment please inquire, it depends on the bookings that are scheduled. I will try to accommodate you and respond to your request whenever possible.
Vibrant area full of places to eat, drink, shop and relax.
We stayed in this home for 5 nights and were completely satisfied; from the room itself to the great host. The room was exactly as shown in pictures and described by other reviewers as well. The entire home was very clean and well kept upon our arrival. The host had enough toiletries to last us our entire stay and more! In addition to the room, the host provided very useful information for us to optimize our enjoyment of Tokyo! He provides an online manual of various online tools to help determine places to visit and eat! He also was available via Airbnb chat during our stay. I would highly recommend this place for anyone visiting Tokyo! I hope to return to this wonderful house should I be in Tokyo again!
Amber
2016-08-12T00:00:00Z
Nice and clean apartment. Less than 5 min walk to the nearest metro station. At least 3 convenience stores in immediate vicinity. Friendly host replies within 2 hours. Will definitely stay here again.
Damien
2016-09-24T00:00:00Z
great location, nearest station will be okachimachi. if you don't take keisei skyliner, I suggest to stop at okachimachi (from narita/tokyo), 1 stop before ueno, it's closer walk. many restaurants in the neighborhood and shopping too. room is clean, it's a bit small and may be can add more hanger for clothes as if travel with family (children), we need to have more space for them. wifi is strong. instructions is clear. although there are 2 padlocks, so if one doesn't work, try to find another padlocks at the other end.
Yulie
2017-01-08T00:00:00Z
ที่พักทำเลดีมาก สะอาด สะดวกสะบาย สำหรับนักช้อปปิ้งค่อนข้างใกล้ตลาด ameyoko และใกล้ๆที่พักจะมี Don Quijote เปิด 24 ชั่วโมงคนไม่เยอะ สามารถเชื่อมต่อรถไฟได้หลายสาย JR-Okachimachi สถานีเดียวถึง JR-Ueno และ TokyoMetro-Yushima,Ueno-hirokoji
Pimchanok
2017-01-03T00:00:00Z
Bien situé. Logement petit mais fonctionnel.
Natacha
2017-04-10T00:00:00Z
This department is great! The living environment is comfy and tidy. It is also near to several train stations and with numbers of 24-hours restaurants nearby which is very convenient. Yet, it will more suitable for 2 people to stay at. Still, our family would recommend this department to our friends!
Pui Lam
2017-02-15T00:00:00Z
Good
Acid
2016-06-20T00:00:00Z
С хозяином лично не встречались, но он всегда оперативно отвечал на наши сообщения, прислал подробные инструкции, как добраться до квартиры и т.п. Жилье соответствует описанию. В квартире есть путеводители на английском и немецком языках. Район удобный, в 2-3 минутах ходьбы от квартиры есть станция метро, если пройти минут 10 еще несколько станций других веток метро и JR. Мы были в конце декабря, на улице температура днем была около +10, ночью +2...+4, поэтому в квартире температура опускалась до +14 и возможно ниже, для русских, привыкших к центральному отоплению и +26 в квартире зимой, это не комфортно, кондиционер поднимал температуру максимум до +21.
Kseniia
2016-12-31T00:00:00Z
Tipo de Quarto
Casa inteira/apto
---
Tipo de Imóvel
Apartamento
---
Acomoda
3
---
Quartos
文京区, 東京都, Japão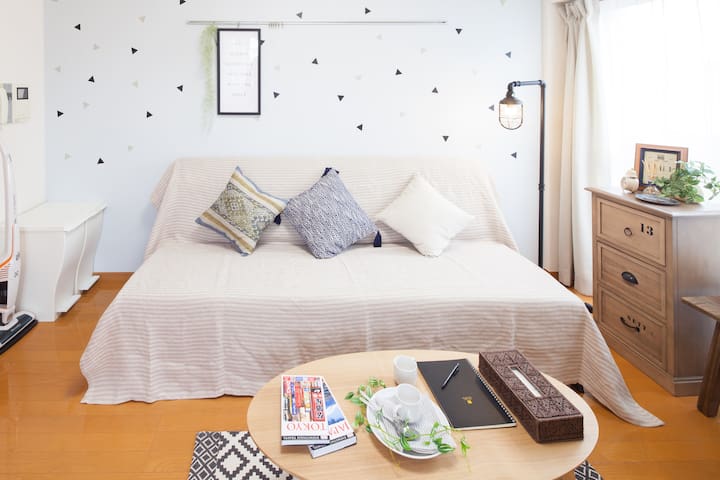 FREE Wifi Pocket Portable Équipements aussi importants 3 minutes à pied de la gare JR Ueno. L'accès facile à une variété de la ville de Tokyo. Dépanneur ... 30 sec. marche WiFi gratuit Pocket.
Type de lit: lit double × 1 Futon japonais Bed × 1 Chambres: 1 Cuisine: 1 (avec petite salle à manger) Type de chambre: Chambre privée Il conserve toutes les nécessités quotidiennes *Installations ·Haute vitesse Wi-Fi ·Machine à laver ·Anneau de gaz ·Cuisine système ·Busroom ·Salle de repos ·Papier toilette ·Sèche-bains ·Bol de toilette avec chaude système de chasse d'eau pour l'utilisateur de lavage ·Climatisation ·Four micro-onde ·Réfrigérateur ·Équipement ensemble'S les femmes et les hommes * Ustensile de cuisine Poêle à frire, spatule, couteau de cuisine, planche à repasser, chauffe-eau de coupe, four micro-ondes * Système de table Plate, verre, tasse tasse, baguettes, fourchette, cuillère ·Cintre ·Serviette de bain ·Serviette de visage ·Sèche-linge ·Shampooing, revitalisant, savon pour le corps, savon pour les mains ·Détergent, un agent de ramollissement ·Tissu *Accès Il est sept minutes sur un train et à pied de la gare de Shinjuku Il est à 11 minutes à pied de la gare de Shinjuku Il se trouve à 5 minutes à pied de la gare de Shinjuku Nishi- Il se trouve à 6 minutes à pied de la gare Okubo Shibuya, Harajuku, Roppongi, Ueno est proche si j'utilise le train. J'envoie un manuel de maison avant de rester. Voilà pour l'explication. S'il y a un endroit intéressé, contactez-moi à nouveau
The location could not have been better, and we really appreciated the excellent directions Yuji made available. The room was a little small for us four blokes however.
Benedict
2016-07-15T00:00:00Z
Location is great, just a few minutes walk from one of the JR Ueno station's entrance. The area it is located in is safe and quite at night, but only a few minutes walk to the busier area in front of the Ueno station and large market. Place is as described and looks like the pictures. Yuji provided a great guide to find the place and it also had English translations of how to use all the appliances.
Brian
2016-05-08T00:00:00Z
It is great location. Very close Ueno station!great experience with convenient location Yuji is very nice person, thanks for you help!and I would recommend anyone who is thinking of staying Ueno.
Samuel
2017-03-08T00:00:00Z
Great location for accessing all areas. Close to the JR station, restaurant and shopping center.
Ariel
2016-12-20T00:00:00Z
Petit appartement juste a coté de la station Ueno (vraiment a coté), et silencieux (on attend pas les train). C'est mieux de prendre pour 2 personnes, parce qu'a 4 ca devient très très petit! Propre et avec tout l'équipement nécessaire.
Thibaut
2016-04-09T00:00:00Z
The apartment was cozy and clean in a convenient location next to Ueno station. It was a perfect place for a couple, and we enjoyed our stay. Some noise from the trains was audible at night, but nothing too disturbing or loud. The host provided clear instructions on how to reach the apartment and get the keys. On the downside, the building management clearly did not approve of Airbnb guests (big signs in English were posted in the building lobby which made it clear), and we felt like we had to sneak in and out of the apartment, which was uncomfortable. In the end we didn't have any actual trouble though.
Aino
2016-08-28T00:00:00Z
Very comfortable and new place. All the mod cons. Great shower. Great location
Kate
2016-04-25T00:00:00Z
素敵なお部屋です。JR上野駅もコンビニも近いです。ホストさんは優しくて、返事gs速かったです。
YUMING
2016-09-29T00:00:00Z
Tipo de Quarto
Casa inteira/apto
---
Tipo de Imóvel
Apartamento
---
Acomoda
4
---
Quartos
Taitō-ku, Tōkyō-to, Japão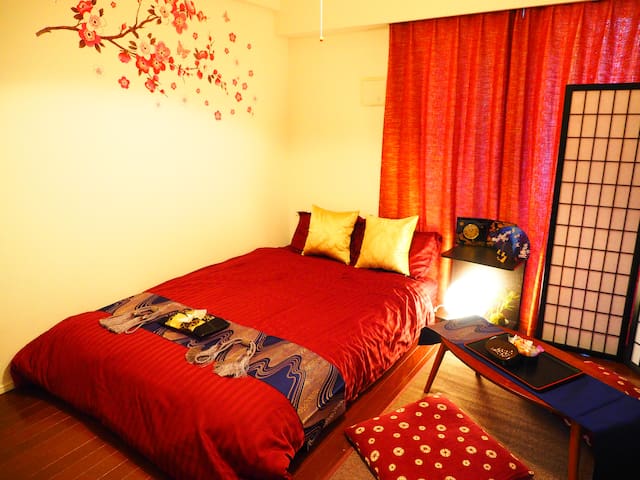 The location is very good!!! * JR Ueno Station / Walk 3 min. * Keisei- Ueno Station / Walk 5 min. * JR Okachimachi Station / Walk 1 min. * Ameya-Yokochō / Walk 1 min. There are a lot of restaurants and shopping centers around the apartment. It's a very popular area in Ueno. The pocket Wi-Fi is lent free. Towels, slippers and toothbrushes for the number of people prepare. There are also hair dryer, air cleaner, electric kettle, microwave, refrigerator and washing machine.
Ameyoko is just around the corner! Is a very convenient location, such as shopping! There are a lot of restaurants and shopping centers around the apartment. It's a very popular area in Ueno.
地點非常方便 走路到上野Skyliner或是都營地鐵站都很近,地點好到無法挑剔,步行就可到阿美橫町,附近百貨公司、藥妝、餐廳、超市,幾乎是要什麼有什麼,而且房東人還超好,會幫忙協助解決問題,非常推薦
ChiaYu
2016-09-28T00:00:00Z
This place was great, good location only a few mins walk from ueno station/park/zoo. The price is led than half of the local hotels with more space. Bathroom does have more ceilings, but that is pretty common in Tokyo.
Shea
2017-03-21T00:00:00Z
ที่ตั้งดีมาก ใกล้สถานีรถไฟฟ้าและตลาดอาเมโยโกะสุด ๆ It's locate on very nice location nearby subway station and Ameyoko market.
Phrin
2017-02-24T00:00:00Z
Akira was a great host and did not hesitate with helping me with any questions. He speaks English and Japanese what makes conversation easy. The flat was as described and is equipped with all amenities. The neighborhood is nice and provides quick access to any sightseeing spot.
Marius
2016-03-29T00:00:00Z
Great little apartment in Ueno. Excellent location near subway & Ueno park and lots of places to eat.
Veronica
2016-01-03T00:00:00Z
ห้องพักถึงจะเล็กไปนิด แต่สะดวก สบายมาก เหมือนอยู่ที่บ้าน Akira น่ารักมากคะ ตอบคำถามเร็ว และที่ชอบมากๆคือทำเลห้องพัก ดีมากๆๆ ใกล้กับตลาดอเมโยโกะ และตึกม่วงมาก ( ถ้าใครเคยพักที่ Sardonyx ueno hotel ) จะถัดไปอีกหนึ่งซอย คือใกล้กับ รร.นี้เลยคะ จะออกไปเดินช้อปปิ้ง กลับดึกแค่ไหน ก้อสบายใจได้คะ ซอยไม่เปลี่ยว ปลอดภัย ถ้ามาเที่ยวญี่ปุ่น ยังไงครั้งหน้าก้อจะกลับมาพักที่นี่อีกแน่นอนคะ Thank you Akira We like you apartment so much . We will come again here.
Waraporn
2016-03-22T00:00:00Z
everything is perfect!! very good location
Monthon
2017-04-02T00:00:00Z
It's close to Okachimachi station about 2-5mins walk. And 10mins walk from Ueno. Super convenient to find food, convenient store and shopping street all day. However bathroom is quite small and soft shower water. Bed is only one single bed + extra bed for addition guest. So it will be greater if Akira can change 1single bed+extra bed to be double bed + single bed. And your spare extra bed shouldn't be in room. Otherwise Japanese bed sheet is another option for extra guest. However Akira is the very good and prompt response host.
Montree
2017-02-12T00:00:00Z
Tipo de Quarto
Casa inteira/apto
---
Tipo de Imóvel
Apartamento
---
Acomoda
3
---
Quartos
Taito-ku, Tóquio, Japão
VENTA apertura! Wi-Fi gratis 8 minutos a pie de Ueno st! ☆ 3min a pie de Nezu st! ☆ TOKIO uni 15 minutos a pie! ☆ A poca distancia del Museo Nacional de Arte Occidental, patrimonio de la humanidad! Se puede ver skytree Tokio desde el balcón! Todas las habitaciones disponen de cerradura con keys.women pueden sentirse seguros. -5min / ¥ 160 a Tokio st -41min / 2470yen al aeropuerto de Narita -30min / 610yen~ al aeropuerto de Haneda -3min A Akihabara, 5 minutos a Asakusa -11min En Ginza, Roppongi 16min Por favor cualquier pregunta!
Bienvenido a Ueno Ikenohata Shinoba DOUX Casa! Completar ー habitación privada·Todas las habitaciones con llave Esta habitación en la 4ª planta. Esta habitación puede acomodar hasta 2 pueblo.-Es posible poner camas futón japonesas adicionales. Hay dos grandes ventanas. La habitación está equipada con simplemente 1bed, una ventana, un pequeño escritorio, una lámpara de escritorio, toalla, y un acondicionador de aire. limpiador facial·· loción loción de leche·desmaquillante· Aire acondicionado, televisión, Wi-Fi gratuito, nevera, microondas, cafetera, tetera eléctrica, cocina de arroz, aspiradora, lavadora, secadora, plancha, secador de pelo x 2, cocina de gas, cucharas, tenedores, palillos, cuchillos, vasos, platos , vasos, sartenes volar, ollas, etc. Wi-Fi también es gratuita. No fumar en la casa. El tabaquismo es el espacio en el balcón de techo en el quinto piso. Las habitaciones se pueden cerrar con llaves para que las mujeres puedan sentirse seguros. ☆ La sala de estar en la 5ª planta es un espacio abierto donde se puede ver la Skytree de Tokio desde la ventana grande. También puede salir a la terraza cubierta para relajarse. ☆ La casa está equipada con un televisor de pantalla grande y un gran escritorio. oportunidades de intercambio para los huéspedes de todo el mundo. Tenemos todos los utensilios necesarios en la cocina para cocinar su plato favorito. ☆ 2 cuartos de ducha en el sexto piso y lavadero incorporado en la parte posterior también. Si vas más a la espalda y abre la puerta, hay una vista generosa para disfrutar mientras se hace la colada. Secadora también está disponible. ☆ baño de Onsen / pública de al lado, donde se puede curar su cansancio en el agua negro onsen "Kuro-yu" de Tokio. ☆ total de 3 baños en la segunda, tercera y cuarta planta. Sin curar tienda de jamón en el primer piso. ☆ En el popular parque de Ueno, se puede disfrutar de los cerezos en flor en primavera, y también las hojas de otoño. El Museo Nacional de Arte Occidental, patrimonio de la humanidad está cerca. Otras muchas galerías de arte, museos y lugares de interés turístico están a poca distancia. Kyu-Iwasaki-tei jardines, el zoológico de Ueno, Ginza Yanaka, Nezu santuario, y la Universidad de Tokio también están a poca distancia. Rakugo y Ameyoko también se convertirán en sus experiencias maravillosas.
Esta es una casa de huéspedes. Sin curar tienda de jamón en el primer piso 2ª planta - 2 habitaciones de estilo japonés y un aseo. 3ª planta - 4 habitaciones de estilo occidental y un aseo. 4ª planta - 4 habitaciones de estilo occidental y un aseo. 5ª planta - Una sala de estar, un balcón de techo y una cocina. 6º piso habitaciones -Ducha y un espacio de lavandería. - En el popular parque de Ueno, se puede disfrutar de los cerezos en flor en primavera, y también las hojas de otoño. El Museo Nacional de Arte Occidental, patrimonio de la humanidad está cerca. Otras muchas galerías de arte, museos y lugares de interés turístico están a poca distancia. - Kyu Iwasaki-tei-Jardín (旧 岩崎 邸 庭園 Kyu-Iwasaki-tei teien) Es la antigua finca del clan Iwasaki quienes fueron los fundadores de Mitsubishi; el nombre Kyu-Iwasaki-tei significa Construcción antigua Iwasaki. El local cuenta con tres edificios: una casa de estilo occidental diseñado por el arquitecto británico Josías Conder, una casa japonesa y una casa de billar, y cubren un área de unos 17.000 metros cuadrados. - 15 minutos a pie de Yanaka Ginza Se puede caminar y comer allí mientras disfruta de un ambiente retro. - Nezu Santuario (Nezu 根 津 神社-jinja), establecida en 1705, es un santuario sintoísta ubicado en Bunkyo, Tokio, (URL HIDDEN) es famoso por su Festival de la azalea (Tsutsuji Matsuri) que se celebra en sus terrenos desde principios de abril hasta principios de mayo. - 落 語 En Japón hay una forma de cómic de entretenimiento llamado "rakugo" (narración cómica), que ha existido desde hace aproximadamente 400 años. Cuenta con una persona que retrata a muchos personajes diferentes. El narrador se sienta sobre un cojín y hace girar un cuento usando solamente un tenugui (toalla fina japonesa) y un sensu (abanico plegable) como accesorios. El artista se llama un rakugo-ka (narrador cómica) y en los cines que se especializan en rakugo en Tokio y Osaka, las actuaciones tienen lugar todos los días. Oedo Ueno Hirokojitei Un boleto el mismo día cuesta ¥ 2000 Ueno Nagatani Edificio 2F, 20/01/10 Ueno, Taito-ku, Tokio Suzumoto Entretenimiento Teatro (Suzumoto Engei-jo) 2-7-12 Ueno Taito-ku, Tokio 2.800 yenes para los adultos, 2.500 yenes para los estudiantes menores de 24 años: se requiere identificación del estudiante, 1.500 yenes para los niños (alumnos de primaria) 【】 Rendimiento durante el día abierto a las 12:00 a las 12:30 Fin de inicio a las 16:30 【】 Abrir el concierto a las 17:00 horas de inicio a las 17:30 horas a las 20:40 Fin -Ir Al zoológico de Ueno para ver los pandas! 9-83 parque de Ueno, Taito-ku, Tokio 600 yenes para los adultos, 300 yenes para los estudiantes de la escuela secundaria Abierto: 09:30-17:00 Cerrado los lunes - ア メ 横 UENOst-Ameyoko - Ameyoko (ア メ 横) es una calle concurrida de mercado a lo largo de la línea Yamanote rastrea entre las estaciones Ueno y Okachimachi. El nombre "Ameyoko" es una forma abreviada de "Ameya Yokocho" (caramelos tienda de callejón), como los caramelos se venden tradicionalmente allí. Por otra parte, "Ame" también es sinónimo de "América", debido a que una gran cantidad de productos estadounidenses utiliza para estar disponible allí cuando la calle era el sitio de un mercado negro en los años posteriores a la Segunda Guerra Mundial. Hoy en día, diversos productos tales como ropa, bolsos, cosméticos, pescado fresco, alimentos secos y especias se venden a lo largo de Ameyoko. Horario de apertura y cierre de días dependen de las tiendas individuales, pero las tiendas suelen abrir alrededor de las 10:00 y cierran alrededor de las 20:00. Muchas tiendas permanecen cerradas los miércoles seleccionados. -15 Minutos a pie de la Universidad de Tokio
位子很好,距离上野公园很近,就是房间小了点,然后洗漱台感觉设置的不太好
晨颖
2017-04-04T00:00:00Z
Very nice and affordable accommodations. Guesthouse is clean and the hosts quickly reply to any messages. Easy to find and being right by Ueno park makes it easy to explore this and the Asakusa area. Great price. Highly recommend.
Lindsay
2017-04-10T00:00:00Z
Although it takes about 10min walk to the subway, but while walking you can see all the famous sights in Uneo, so it's acceptable. If the weather is good, the rooftop view is magnificent. Highly recommend!
leito
2017-04-02T00:00:00Z
Tipo de Quarto
Quarto privado
---
Tipo de Imóvel
Apartamento
---
Acomoda
2
---
Quartos
Taitō-ku, Tōkyō-to, Japão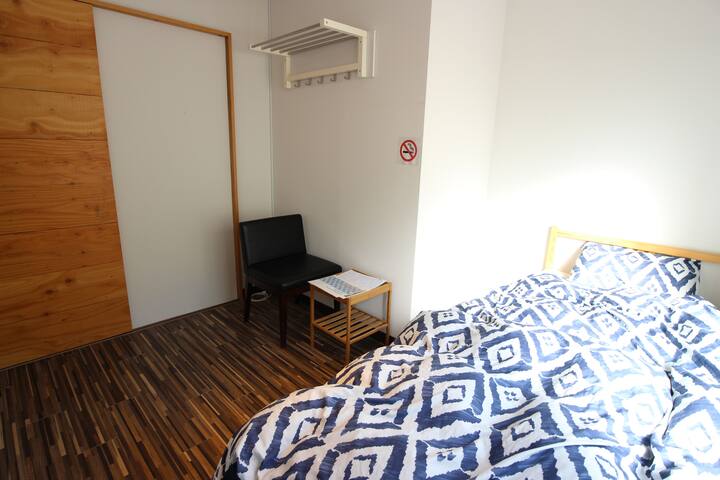 Tento pokoj je velmi dobrým místem pro sightseeing.Nearest stanici .. Chiyoda linky "Yushima" 1min pěšky. Ginza Line "Uenohirokoji" 4min pěšky. (JR) Yamanote Line "Okachimachi" 6min chůze. (JR) Yamanote Line"Ueno" 10min chůze. Snadný přístup příliš mnoho poblíž stanice Wifi router zdarma pronájmu.
Tento pokoj je takový pěkný japonský styl místnosti. Prosím, podívejte se na všechny fotky. Mám 4futons můžete zůstat maximálně 4people !! Put set nábytku v místnosti. Tam jsou vhodné skladovat [otevřený 24 hodin] Je to 30sec pěšky. V blízkosti stanice Yusima. Tam jsou velké množství restaurací. Snadný přístup do města. BYT Úrovňový, 4 -Has s výtahem V pokoji -Koupelna -Toaleta -Beds -Aircon VYBAVENÍ / ZAŘÍZENÍ -Měsíční 7gigabajt dat mez Pocket Wi-Fi -1Air klimatizace -Pračka -Šampon -Body mýdlo nebo mýdlo -Osuška -Face ručník -Fén KUCHYNĚ VYBAVENÍ -Cups -Mugs -Příbory -Nádobí -Lednička
Z bytu Ueno parku je tak blízko. Ueno Park je velmi slavný třešňových květů v Japonsku. (Březen a duben) Ueno (Ameyoko trhu) v docházkové vzdálenosti. Akihabara je jízda na vlaku 2min. K dispozici je elektrická město.
super location, clean authentic Japanese apartment near great food and the beautiful Ueno park!
Cynthia
2017-03-23T00:00:00Z
가격이 저렴한 장점이 있습니다. 전철역에서 가깝긴하지만 주요 환승역인 우에노역까진 가깝지 않습니다. 3명까지는 괜찮습니다. 4명 이상은 좁습니다. 겨울철에 목욕이 힘들었습니다. 너무 추웠습니다. 조용하고 방해요소가 적어서 좋습니다.
Minwook
2017-01-21T00:00:00Z
Nice traditional apartment,we had a very pleasant stay. But some of the equipments can be improved.The location is really convenient for us to go anywhere.
Zhixin
2016-08-24T00:00:00Z
交通很便利 房東回應快 但房間比原本預期小 共用浴室不太方便 且房間的設備感覺不夠舒適和乾淨(廁所未有垃圾桶 寢具不乾淨 冷氣遙控器壞了)
嘉淳
2016-08-03T00:00:00Z
公寓所在位置相當便利,鄰近城市捷運站,從這裡出發到東京的各個地點都十分方便。房間裝修十分有日本風味,可體驗ㄧ下日本傳統的生活起居方式。唯一的缺點是緊挨交通繁忙的馬路加上隔音效果不十分好,即使半夜時還是會受到來往汽車噪音的干擾。
Ken Hung
2016-06-10T00:00:00Z
This place was so nice. Very cool Japanese style, nice roof top and bathroom. Bed is on the floor. Would stay again!
Amanda
2016-10-28T00:00:00Z
传统日式的入住环境,地理位置不错,走大概10分钟就是秋叶原最大的免税电器商场,离浅草寺和上野公寓不是很远,我们就入住一个晚上总体感觉还可以,只是洗澡是在7楼若一个人,上去有点怕怕O(_)O~
Zhou/xuehong
2016-08-17T00:00:00Z
总体挺好 就是要拖个箱子自己抬上三楼后才能坐电梯到四楼,浴室要预约时间是公用的,隔音确实不太好,不过总体还行
婷婷
2016-08-26T00:00:00Z
Tipo de Quarto
Casa inteira/apto
---
Tipo de Imóvel
Apartamento
---
Acomoda
4
---
Quartos
Bunkyō-ku, Tōkyō-to, Japão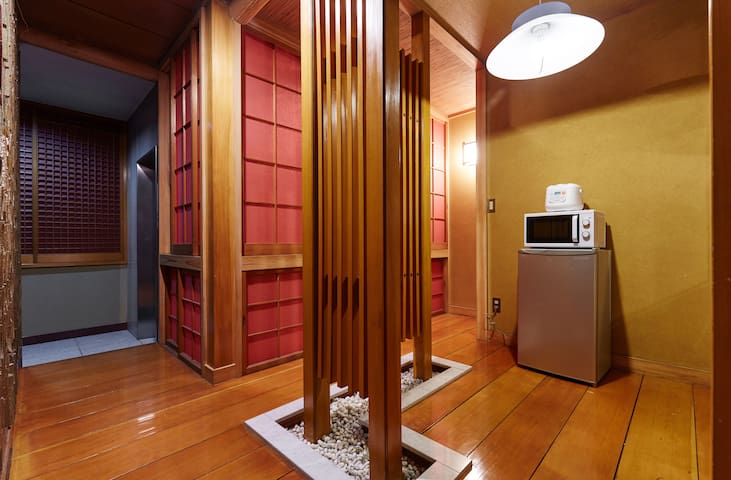 Situé à seulement 2 minutes à pied de la station de Yushima. Il est également accessible à pied à Ueno et Akihabara. Comme il est situé dans endroit attrayant, vous pouvez facilement trouver un restaurant, Izakaya, bar et boutique. Et il est pratique pour vous d'aller partout dans Tokyo.
【En vedette】 Cet appartement est situé dans le quartier Ueno où endroit attrayant de Tokyo. Il est un endroit idéal pour se réveiller le matin chaque jour. Dans les 10 minutes à pied de Ameyoko achats steet et Parc d'Ueno. En plus de cela, vous pouvez facilement accéder partout dans Tokyo. Qui plus est, vous trouverez facilement un bon nombre de boutiques, grands magasins, 24/24 heures commodes magasins, restaurants et bars. La rue où l'appartement est situé sur est très calme et zone de sécurité. Donc, je vous assure la sécurité de votre séjour à mon appartement. 【A propos de l'appartement】 Il y a 27,55 mètres carrés ((PHONE NUMBER HIDDEN) pieds carrés). MAXIMUM - 4 Adultes -1 Lit double -1 Canapé-lit -1 Futon (matelas de japonais) -Salle (shampooing et savon sont préparés) -Salle de bains conditionneur -Air (froid / chaud) -Four micro onde -Sèche-cheveux -Cuisine outils de cuisine -BASIC -Machine à laver -Frigo -Clean Serviettes de toilette et draps de bain -Tea Et thé vert -Free Pocket Wi-Fi (vous pouvez le prendre avec vous pendant que vous restez ici) -LA TÉLÉ -Fer Et planche à repasser -Tokyo Guide -Tea, Café, thé vert bonus de -spacial bonne Granola !! (vous devriez être accro au goût)
Le dépanneur le plus proche Adresse: 24/03/11 Yushima Bunkyo-ku Tokyo Family Mart --------------------------- 1 min Le plus proche Seven-Eleven Adresse: 16/03/13 Yushima Bunkyo-ku Tokyo Seven-Eleven --------------------------- 2 minutes L'épicerie la plus proche Adresse: 2-11-8 Yushima Bunkyo-ku Tokyo Kagaya ----------------------------- 8 minutes L'hôpital le plus proche emargency Adresse: 1-1-5 Sendagi Bunkyo-ku Tokyo Hôpital École Nippon médicale ------------------- 26 mins
We had a great time at this apartment. It's a wonderful location. The apartment is perfect for two people.
Anita
2016-10-27T00:00:00Z
We had a great stay at the apartment! Takanori was very attentive and quick to respond, even when we had emergency situations. Everything was clean and prepared for us upon arrival. It was a really cozy place to come back to after a long day of touring the city! It's also located right by the exit of a subway line that connects it to many other tourist attractions in the city.
Mary
2016-08-23T00:00:00Z
Takanori is a good host, taking good care of all. The apartment is clean and suit for a couple with nice location, 24hours convenience stories are so close by, I'm glad to introduce this wonderful place.湯島站離上野御徙町、上野廣小路,轉乘丸之內線、銀座線、JRline 都很方便。
Jakie
2017-03-03T00:00:00Z
It was our first Airbnb experience and definitely a pleasant stay. The host was so thoughtful. The details you wanted to know are all included in the info and instructions. The house is located in a very quiet neighborhood and yet still close to the Yushima metro station. Superb location! Two convenient stores are just around the corner. Highly recommend this house to anyone looking for a quiet place to stay in Yushima or near Ueno area.
Youchiao
2017-04-02T00:00:00Z
Excelente lugar, está muy bien ubicado, un lugar muy cómodo para dos personas, amplio y en un vecindario tranquilo, ampliamente recomendable. Takanori es un súper anfitrión, atento y dispuesto a ayudar y dar buenas recomendaciones.
Juls
2016-12-22T00:00:00Z
Location is closed to JR Okachimachi for those who used JR all pass. There are Lawson, Family Mart and also 7-11 nearby. The room was clean and had necessities as a serviced apartment. However, the room seemed to be small to fit 4 people with 4 luggages.
Porntipa
2016-12-31T00:00:00Z
Very simple appartement but clean. Quite cold (we were in March) and only the bedroom can be warmed. Takanori gives clear informations how to reach the appartement and replies immediately in case of problem. He leaves a free Wi-Fi walker you can take with you during your visites in Tokyo to have free internet everywhere, which is very usefull. Neighborhood is calm and you c'est easilly reach different metro stations by foot.
Lisa & Julien
2017-03-18T00:00:00Z
Very conveniently located. The apartment is certainly good value for money, but it is rather small (to western standards), including the bed for example, and a bit impersonal. Everything was extremely well organised, and the place was very clean.
Frans
2017-03-25T00:00:00Z
Tipo de Quarto
Casa inteira/apto
---
Tipo de Imóvel
Apartamento
---
Acomoda
4
---
Quartos
Bunkyō-ku, Tōkyō-to, Japão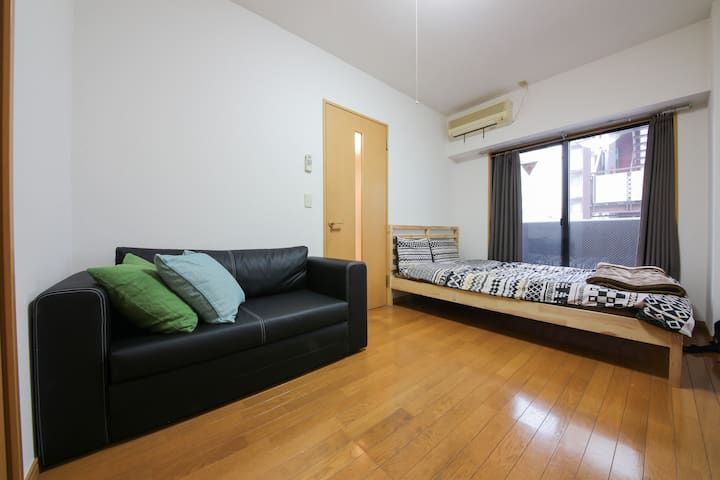 ・New cozy apartment by 2 mins walk from Ueno st.! ・Great access to Asakusa, Tokyo Skytree, Akihabara, Ginza...etc ・Awesome spot to see cherry blossoms ・Close to the traditional Japanese shopping street ・Countless restaurants & dept. nearby *Please make sure that you have read and understand "House Rules" before booking!
・A new, clean & well-designed room -2 single beds -Cozy sofa -Terrace with wood desk & chairs -Wide and beautiful Japanese style tub with shower -All furnitures are new -All towels/ sheets/ beddings are clean -A pair of fresh bath towel & 1 face towel are provided for each guest ・Equipment - Portable WiFi router *Attention: The data speed will be limited once the Portable Wif(URL HIDDEN)device reaches a certain usage. Heavy data(URL HIDDEN)transmission such as video streaming& heavy files(URL HIDDEN)transfer would make it slow. If you have this kind of(URL HIDDEN)need, I strongly recommend you to rent b(URL HIDDEN) (URL HIDDEN)yourself. -AC -32' flat screen TV -Washing machine -Fully-equipped kitchen -Fridge -Electric kettle -Hair dryer -Vacuum cleaner -Luxurious shampoo and conditioner -Body soap -Hangers
・What's nearby? -1 min walk to the convenience store -4 mins walk to the supermarket -Few mins walk to lots of restaurants -10 mins walk to the Ueno Park -Walking distance to the Tokyo National Museum ・Look around by train/ metro -5 mins to Asakusa(Tokyo metro Ginza Line) -11 mins to Ginza (Tokyo Metro Ginza Line) -12 mins to Tsukiji fish market(Tokyo Metro Hibiya Line) -14 mins to Tokyo Skytree(Transfer at Asakusa st. to Toei Asakusa Line)
The location of the apartment is great for people enjoy the park、museum and convenient transportation to everywhere in Tokyo since it near the subway station. However, the building has put on a note that states prohibition of Airbnb usage of the apartment.
Chingmin
2016-09-19T00:00:00Z
非常非常棒的一次經驗。這是我第一次到日本自助旅行,很感恩能遇到這麼親切的房東。房間擺設跟照片完全一樣,非常乾淨舒適。重點是離上野站真的很近,且房間附近很多販賣機,又離便利商店和一些餐廳很近。位置非常好找,且房東的指示路線非常詳細。真很值得!!下次來東京還會想要住這裡!!!!
信呈
2016-02-25T00:00:00Z
This house is great in location and the facility makes me feeling home. It's wonderful to be here in samurai season.
梅菊
2017-04-08T00:00:00Z
good location
Korntak
2017-02-20T00:00:00Z
This apartment is very nice and Yukie response my questions very fast. The instruction to go this apartment is very clear with PDF ! Location is close to Ueno station. I will stay again if i return to Tokyo
Calvin
2016-05-02T00:00:00Z
- The place is clean and exactly like photos - 2 c-stores nearby, 1 vending maching right in front of the building - close to major train station, easy to commute by train - walking distance to Ameyoko Market
supannikar
2016-12-12T00:00:00Z
Very close to the metro and JR station. The room is cozy and clean, like home. The kid enjoy watching trains passing by at the balcony. You can go to Ueno Park by walk.
Xu
2016-06-11T00:00:00Z
Yukie's and Airin's apartment is in the good location near Ueno station.The apartment is easily to find and suitable for 2 persons and 1 child.Yukie is a good host. She is flexible and helpful. We would directly go back to Yukie and Airin's place. Thanks for a great time! ที่พักอยู่ในทำเลที่ดีใกล้สถานี Ueno ใกล้ร้านสะดวกซื้อและร้านอาหารหลายร้าน ในห้องมีสิ่งอำนวยความสะดวกครบ ห้องน้ำค่อนข้างกว้างกว่าตามโรงแรมทั่วไป เป็นที่พักที่แนะนำเลยโดยเฉพาะถ้าเดินทางด้วยshinkansen
Passagorn
2016-05-09T00:00:00Z
Tipo de Quarto
Casa inteira/apto
---
Tipo de Imóvel
Apartamento
---
Acomoda
2
---
Quartos
Taito, Tóquio, Japão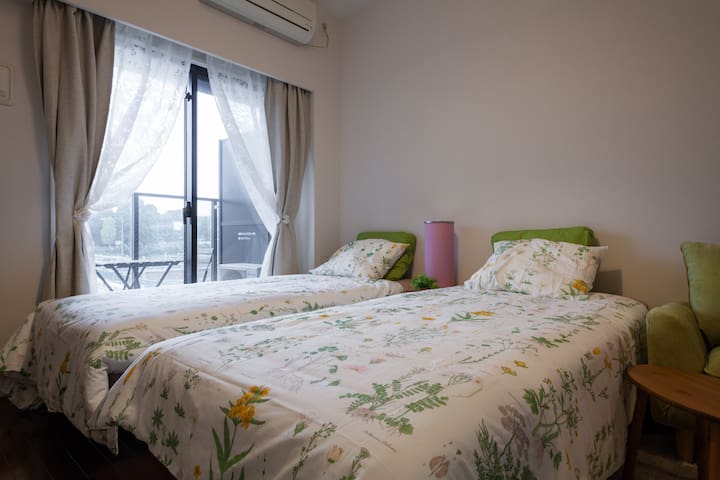 Il est un grand plaisir de vous présenter à l'appartement, qui est situé à Ueno. Le logement est une forme de charte unique, les appareils de meubles équipements complets, parce que le gestionnaire à côté, toutes sortes d'information et de consultation sur le tourisme est très pratique.
Ueno doit avoir son charme en tant que destination touristique. Non seulement Ueno culture et les coutumes japonaise ancienne, il existe de nombreux éléments de la mode moderne et de divertissement I, est un endroit très attrayant, si célèbre. Il y a Ueno Park, National Science Museum, Musée de la Forêt Ueno, il y a beaucoup de temples et sanctuaires, également de quartier d'Asakusa est très proche, donc est de touristes japonais sont des attractions populaires au Japon NO.1.
* Un dépanneur environ 24 heures. Beaucoup de restaurants populaires et célèbres magasins de la marque au Japon. * Pharmacie et d'appareils ménagers en franchise supermarchés aussi dans la fourchette de distance de marche. * Il est facile de prendre un taxi près de la route principale.
Best deal, price is right and very near ueno market and ueno station!
Yan
2017-03-04T00:00:00Z
房東很熱情, 地點靜中帶旺, 便利店, 停車場, 商店街, 燒肉店, 幾分鐘路程就到了, 靠近jr, 地鐵, TX, 想去那都方便 !! 靠近アメ橫丁, 買生果手信再到機場超方便, 10分鐘路程有日式澡堂, 感受日文文化! 很推薦這個地方
Vincent
2017-02-12T00:00:00Z
這房間位置超好徒步去上野公園才十幾分鐘,靠近三個不同的火車站(JR的御徒町駅, 東京Metro線的仲御徒町駅, 都營地下鐵線的上野御徒町駅)徒步才7分鐘左右,去那裡也超方便,首推上野動物園600Yen入塲已包括(爬蟲類館)徒步才廿幾分鐘,從成田機場搭去京成上野駅才一個多小時1030Yen, 到達京成上野駅徒步回去才15分鐘,隨和友善的房東還主動提出到火車站迎接我們呢!感覺好像貴賓一樣啊!想去那裡房東也可以告訴你怎麼去,房東的熱情招待和幫忙讓我們覺得有朋友在異鄉一樣;房間乾淨整齊有足夠空間掛衣服及放行李箱,還可以放一張枱兩張櫈在內裡坐坐呢! 加大的Queen size雙人彈弓床褥還很舒服呢!房子整體簡單舒服,我們下次再回來東京也一定會再租這房間及推介給朋友啊!
Bean
2016-12-16T00:00:00Z
地點非常便利, 走去地鐵或JR都很方便, 房間也收拾得很乾淨, 房東夫婦人很好, 熱心為我們介紹周邊以及有趣的地方, 是個值得推薦的好房源, 唯一美中不足的是沒有電梯, 這對滿載而歸回國的人實在不太方便XD
丸子
2017-02-09T00:00:00Z
Thx so much for such a convenient homestay right in the middle of town! Really really easy to access public metro like in 5 min or so. Recommend to anyone who's planning to enjoin a free exploration in Tokyo. ;)
Hang
2017-03-11T00:00:00Z
房东人很好呀,给老人订的,非常体贴
stella
2016-12-21T00:00:00Z
房東熱情好客, 房間離skyliner站近,推薦來上野的旅客
Kinman
2017-04-01T00:00:00Z
我們第一次的自助旅行,非常幸運訂到這麼棒的房子,乾淨舒適設備齊全就像住在家裡一樣,晚上非常安靜,床鋪也很舒服,很久沒有這麼好的睡眠品質了.交通非常便利,無論是搭私鐵,都鐵或JR都很方便,步行幾分鐘穿過一條很有特色的商店街就可以到達新御徒町站,每天出門都可以一邊逛商店街一邊去車站真的是一大享受啊!步行就可以到秋葉原和上野公園,上野公園旁邊就是阿美橫町,要是發現什麼東西沒買齊可以很快速的補貨哈哈~房東很熱情,有時候迷路了還可以跟她求救,她都會很仔細地為我們報路,而且我們退房的時候她都把床單拆去洗了(原來床單真的會洗呀~),我們是晚上的回程飛機,她也不介意我下午3點才退房,真的是大推的好房東!下次有機會一定會再住這邊!
Sammi
2017-01-10T00:00:00Z
Tipo de Quarto
Quarto privado
---
Tipo de Imóvel
Apartamento
---
Acomoda
2
---
Quartos
Taitō-ku, Tōkyō-to, Japão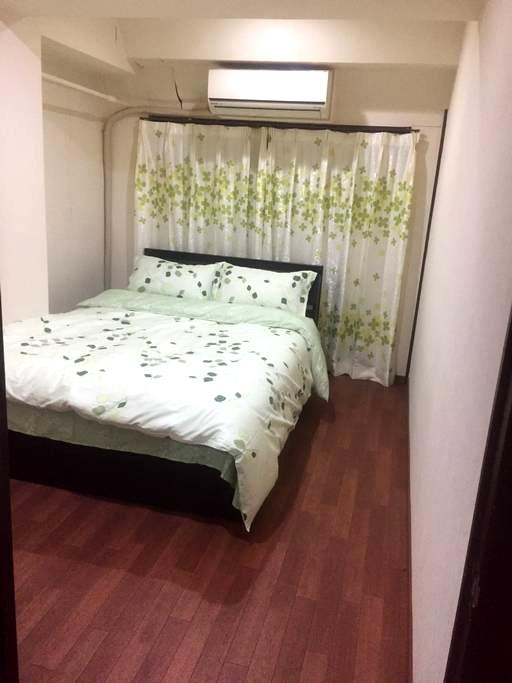 Baño y WC es una habitación diferente. Utensilios de cocina, vajilla también equipado. Habitación tienes que decorar moda.
Akihabara, Tsukiji, Ginza, Akasaka, Roppongi, que irán de la estación de Ueno Tokyo Metro Hibiya. Desde la estación de Ueno Ginza Line Asakusa Kaminarimon 5 minutos, es de 27 minutos a Shibuya. Es muy conveniente.
Ueno es una ciudad, se encuentra el antiguo sabor. Hay un restaurante chino en el barrio. restaurante japonés, también hay cocina italiana. tienda de conveniencia también están cerca. De todos modos, es útil habitable.
Everything was clean, the bed was comfortable, and the kitchen had everything we needed to make breakfast.
Heather
2016-07-05T00:00:00Z
The apartment is cozy, but is well equipped with everything we needed. The size is good for the 2 of us. However after our shopping spree the apartment seems to shrink as our shopping bags increase in number! The apartment is located in a quiet area. There is a Lawson across the street which is very convenient. However, it is a 5 minutes walk to the Ueno line Iriya entrance. From that entrance, it is yet another 5 minutes walk to the actual subway. To walk to where the shops and restaurants are, it probably took us 15 minutes from the apartment, and close to 20 minutes to the Kensei Ueno line where we took the Skyliner to Narita Airport. We didn't mind a little bit of a walk to where the "action" is, so it worked out for us. Mie is usually very quick in responding to our questions. There was a couple of times we waited a bit longer for the reply, but Mie is always very helpful. We enjoyed staying with Mie.
May
2017-01-16T00:00:00Z
房間空間雖不大但設施齊全,乾淨整齊,附近環境寧靜,距離上野車站10分鐘內腳程,容易行走,值得再租。
Benny
2017-03-06T00:00:00Z
Notre hôte nous a facilité notre arrivée, ses instructions étaient très précises et simples. Le rapport qualité prix est parfait. L'appartement bien agréable, la résidence de standing.
Sophie
2016-09-02T00:00:00Z
Mie's apartment is around 7 minute walk from the Ueno Station. Her apartment is very clean and tidy. The shower in the bathroom is good! Other than that, Mie is a very friendly and helpful host. She helped us a lot during our stay in her apartment. Even she don't know English but she's trying her best to understand our needs and ensure we have a great time during our stay. We will definitely stay at your house again when we visit Tokyo!
Rane
2016-01-16T00:00:00Z
Airbnb 提供的確認信內的地址定位有問題(4 Chome-27-9 Higashiueno Harmony Residence Ueno no Mori 401, Taitō-ku, Tōkyō-to (PHONE NUMBER HIDDEN), 日本),無法在(SENSITIVE CONTENTS HIDDEN) map 精準定位,應該提供純日文的地址。或以"上野ホテル-uenohotel"當作地標來做導引會更好。正確位置在上野ホテル-uenohotel的馬路對面灰色大樓,巷口有Lawson便利商店。 房東會說中文也很客氣的回答各種問題,房況良好設備齊全,但是電視櫃與電視應該固定好以免地震或小孩推倒。
Benny
2016-10-11T00:00:00Z
위치를 클릭하면 바로 구글지도와 연결되지 않아 애먹었습니다. Ueno Hotel 맞은편, Lawson 건너편으로 찾으면 수월합니다. 2인에 적당하고, 3인째는 소파를 침대로 바꾸어 사용합니다. 히터가 천정에 있어 방 윗 부분만 따뜻하고 아랫부분은 따뜻하지 못한 경향이 있습니다. 간단한 선풍기로 실내 공기를 순환시킬 수 있으면 훨씬 따뜻해질 것 같습니다. 수건은 하루분을 제공하고, 다른 날은 게스트가 직접 세탁하여 사용해야 합니다. 아침 식사는 주로 우에노역에 가서 해결했습니다. 전반적으로 청결하고 조용한 편입니다.
Jeong-Hun
2016-12-17T00:00:00Z
Great place. Fast response from the owner. Very close to JR Ueno station (about 5 min walk) and very convenient as there is a convenient store (Lawson) just in front of the building.
Jay
2017-02-18T00:00:00Z
Tipo de Quarto
Casa inteira/apto
---
Tipo de Imóvel
Apartamento
---
Acomoda
3
---
Quartos
Taitō-ku, Tōkyō-to, Japão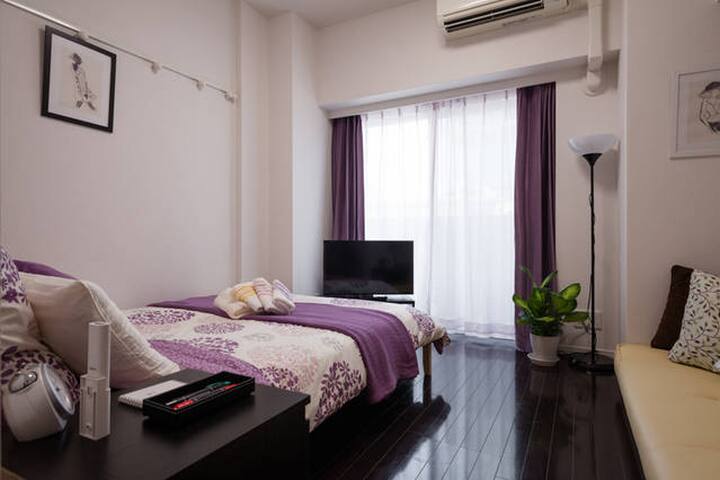 Thank you for visiting my listing page. The room is on the top floor. And you can enjoy the scenery of old east Tokyo and Tokyo Sky Tree from the room. About 8-12 min walk from JR Line/Ueno sta & Keisei Line/Ueno sta. I'm looking forward to your stay!!
Before booking request, please read the details of my room and all house rules, and do the last authentication (Verified ID) of airbnb. Thank you. ***** About the room ***** ★The room is 26㎡ on the top floor with security system and elevator ★Maximum 3 people (2-3 adults or 2 adults + 1 child) ★1 Japanese Semi-double futon + 1 Japanese single futon ★Clean & cozy (you can relax and sleep well) ★Free pocket wi-fi (you can take it outside) ★The shower and bathtub ★Amenity (Shampoo, conditioner, body soap, hand soap, towel and hair dryer) ★A kitchen (refrigerator, microwave, cookware, tableware, cutlery) ★Air conditioner (cool, warm) and washing machine with wash powder ★Closet with clothes hangers ★There is instruction of the electrical appliance and the equipment in the room ★A convenience store(1min walk) ★Many restaurant and cafe in the area ***** Check in / Check out ***** ★Check-in 16:00 check-out 11:00 ★After the reservation, I'll send PDF(map and how to check-in/out) ***** Access to Ueno ***** ★From Narita Airport *JR Line (Narita Express) Narita Airport →Tokyo sta (transfer JR/Yamate Line) → Ueno sta *Keise Line (Keisei skyliner) Narita Airport →Ueno sta (direct) ★From Haneda Airport *Tokyo Monorail Haneda Airport → Hamamatsucho sta (Transfer JR Yamate Line) → Ueno sta *Keikyu Line Haneda Airport → Shinagawa sta (Transfer JR Yamate Line) → Ueno sta *Airport Limousine bus Haneda Airport → Tokyo sta (transfer JR/Yamate Line) → Ueno sta
O anfitrião não poderia ser mais gentil e atencioso. A experiência foi excelente e o apartamento, sem dúvida, foi o melhor que já fiquei através do Airbnb. É super limpo, muito bem localizado, decoração minimalista e com toda comodidade necessária. Recomendo com toda certeza! Muito obrigada Yoichiro!!!
Leticia
2016-11-02T00:00:00Z
the place is small but clean and bright,and the location is good. the furnitures are all ready!it's a good experience.
ZHANG
2016-02-21T00:00:00Z
We had the most functional and attractive apartment during our stay in Ueno (Tokyo). I felt a special appreciation for our host and determined that the start of travel was in large part due to our host and his attention to detail. Absolutely great location by the way.
Bill
2016-02-09T00:00:00Z
居住地點環境寧靜,步行5分鐘內到達可退稅超市與便利商店,步行約10分鐘可達捷運車站,提供攜帶型wi-fi機可拿到戶外上網相當方便。
Steve
2016-04-06T00:00:00Z
Our stay in Yoichiro's apartment was really wonderful! Everything was in its place, clean and with plenty of small details we really enjoyed. The neighbourhood is quiet but just 5 minutes walking you're close to Ueno station with a lot of nice restaurants and fun ambiance. We only stayed a couple of days, but next time we'll come back for a longer stay :)
Raphaël
2016-02-24T00:00:00Z
Very informative Host with good communication. All done with professionalism. Close to Akihabara and Ueno. Very convenient and quiet location. Will stay again. Many Thanks to Yoichiro. He is the best.
Bernie
2015-09-22T00:00:00Z
从机场过来很容易就可以找到这里,周边几个地铁站走路只需5-7分钟,房间虽然不大提供了一切的必须品,洗澡水大而且温度合适,周围有很多吃饭的地方,楼下可以吃到鳗鱼饭,晚上街道很安静。此次旅程住在这里很满意,下次来东京应该还会住这里。
Wei
2015-10-10T00:00:00Z
We stayed for 6 nights at Yochiro's apartment and we were pleased with our choice. The directions to the apartment were very clear and easy to follow. The apartment is wonderfully quiet, clean, comfortable and tidy and has a good view of the neighbourhood. Ueno park is a few minute's walk away as are good inexpensive restaurants around the station. The location is superb for public transport (close to Ueno station) and it was a perfect base for exploring Tokyo. It has a washing machine and you can dry clothes on the balcony - which we were very grateful for during a warm rainy September! I would highly recommend Yochiro's apartment and would definitely stay there again!
Lesley
2016-09-24T00:00:00Z
Tipo de Quarto
Casa inteira/apto
---
Tipo de Imóvel
Apartamento
---
Acomoda
3
---
Quartos
Taito, Tóquio, Japão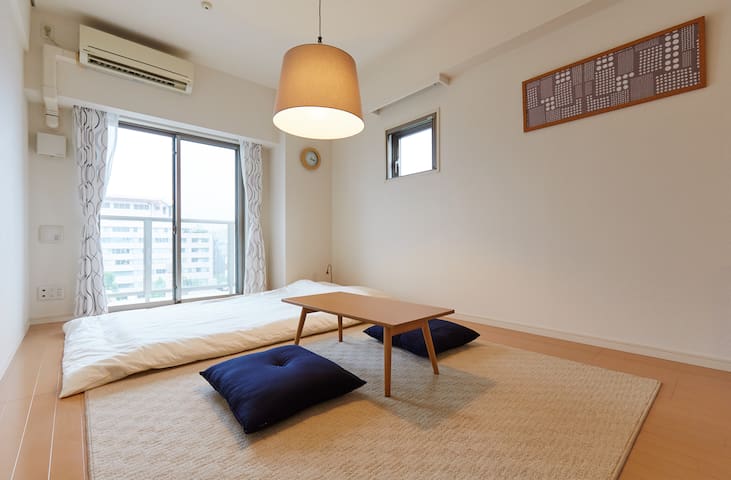 Clean and comfortable 1 Bedroom Apartment with kitchen, Bathroom (with tub and sink), and separate toilet room. Located within 3~8 minutes walk of multiple railway stations, including JR Ueno, Keisei-Ueno, JR Okachimachi, Ueno-Hirokoji, Yushima, etc... Nearest station is Yushima and Ueno-Hirokoji, which are just 2-3 minutes' walk away. JR Ueno and Keisei-Ueno gives you great access from Haneda and Narita Airport. Countless stores are in the area such as convenience stores, drug stores, etc...
1 Bedroom Apartment/Flat with Balcony (smoking is allowed only on the balcony)/the room is on Ground Level The room has kitchen utensils and variety of amenities, so it's very convenient and comfortable for all kinds of guests; couples, families, friends, as well as those on a business trip. [Accommodation] Maximum 3~4 guests, 1 loft bed & 1 semi-double bed(for 1~2), 1 semi-single, separate bathroom and toilet, kitchen, balcony [Bedroom] Bedding, futon(quilt/duvet), face towels, bath towels, extra bed sheets, blankets, DVDplayer, hangers, vacuum cleaner, air conditioner, steam clothes iron, guest notebook, hair dryer, Pocket wi-fi, amenities(*) [Kitchen/Hallway Area] Washing Machine (detergent is available), Microwave, Refrigerator, Electric Jug, Cooking Pot, Frying Pan, Ladle/Utensils, dishes and cups, spoon&forks, chopsticks, room slippers, etc.... *Following Amenities are available: Make-up Remover, Skin toner and milk, tooth brushes, cotton puff, cotton buds, Kleenex, Shampoo, Conditioner, Body Soap, Hand Soap
-Just 3 mins. walk to the Okachimachi area. Ameya Yokocho or "Ame-Yoko" market is only 5 mins. away, where you can buy various food, esp. a variety of fresh fish and fruits. There are variety of food stalls, Izakaya bars, pubs, and other drinking places, and souvenir shops as well. It is so close to the room that you can even buy food at the market and enjoy cooking back in the room. Also, Marui (one of the best department stores in Japan), Matsuzakaya(well-established department store), Yodobashi Camera (large home electronics retail shop), Don Quixote(popular discount shop), and many other retail shops are in the area. -7 mins. walk to Ueno Station. Ueno Park which is right in front of Ueno St. is one of the best sites to enjoy cherry blossoms in spring and autumn leaves or tints in fall. Ueno Zoo known for cute pandas, several museums, restaurants, and even Starbucks are all located inside the huge Park. A few minutes' walk will take you to Yushima Tenmangu Shrine located near Yushima Station, and you will find many good restaurants in the vicinity. Moreover, it has great access to & from Narita and Haneda International Airport. It's a truly great sightseeing base!
Perfecto! El departamento estaba equipado tal como se describía, Cuando vuelva me quedaría otra vez allí, muy espacioso, cerca del metro y locales comerciales. Gracias!
Anita
2017-02-24T00:00:00Z
Yuu's apartment is a wonderdul place. it is very clean, tidy, make me feel very confortable and the location is near train station and the station is central to the city. the security of apartment use double lock, feel safe during the period i live in. and Yuu is a nice host. He cares and helps me a lot of my trip.
Mario
2017-03-04T00:00:00Z
Located in a convenient location and is a nice apartment
saku
2017-03-12T00:00:00Z
Trés bon logement n'hésité pas pour le prix ça vaut largemant le coup a deux pas de ueno et de la station JR d'okachimachi ou du metro ! Très bonne communication avec le propriétaire.
Marceau
2017-03-31T00:00:00Z
위치도 좋았고, 방도 쾌적했습니다.
Jaeseong
2017-04-02T00:00:00Z
Great location, clean, comfortable, and quiet . I recommend this room. If i go to Tokyo again, I will stay at this room.
Wachirayan
2017-01-23T00:00:00Z
The location is great – just a few min from metro and railway station. Yuu have sent us very clear guideline to show us the way walking to the building, how to get the key and how to get in the apartment by self. It is really good that we occupy a whole apartment though it is not big - but big enough for 2 of us. The flat is clean and tidy. There is a clear guideline to teach us how to operate the household appliances and, there is all sorts of household items we need. Wifi functions good. Happy to recommend it.
Emily
2017-02-27T00:00:00Z
The description of the apartment matched what was offered. There is also a small balcony if that helps, and the ground floor location is good. The pocket wi-fi was very helpful, we had little problems accessing the net even with 4 devices tethered onto it. The location is also fantastic, with easy access to many subway lines and also the Shinkansen and JR lines. I would strongly recommend this place to those travelling in a group.
Ryan
2017-02-05T00:00:00Z
Tipo de Quarto
Casa inteira/apto
---
Tipo de Imóvel
Apartamento
---
Acomoda
4
---
Quartos
文京区, 東京都, Japão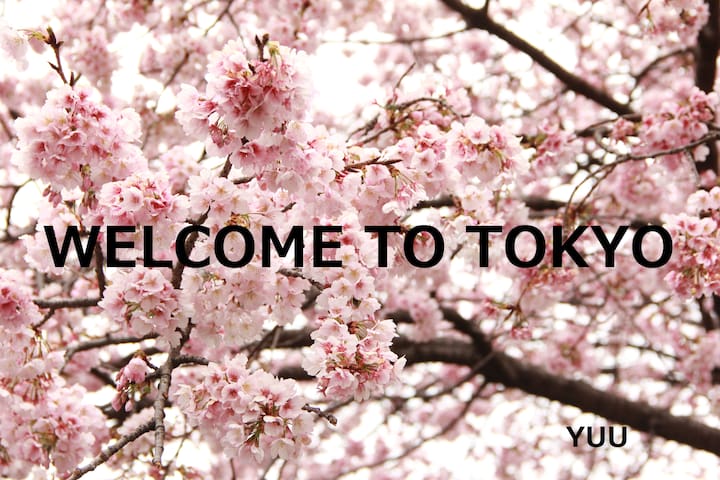 Very convenient for sightseeing 这是一套两房的公寓,只出租其中一间卧室。 提供齐全的生活用品。毛巾需要您自备哦。 公寓位于东京台东区的御徒町,附近有四个车站,最近的只需步行2分钟便可到达。步行到上野只需10分钟。周边具有浓厚的东京本地生活气息,美食,购物,商店街等都在房子周边。地理位置非常方便。 如果您来东京旅游,请来这里住宿是非常合适的。 有什么问题都可以联系我哦~
附近有多慶屋總店、上野公園、上野動物園、御徒町通りアメ横、美食街、購物街等。均步行可到達。 住的地方比較安靜,步行幾分鐘可到達熱鬧的街區。
Tipo de Quarto
Quarto privado
---
Tipo de Imóvel
Apartamento
---
Acomoda
3
---
Quartos
台東区, 东京, Japão