300+ Alugueres de Apartamentos
Byt je oddělen s vlastním vchodem. Městské železnice (S-Bahn) je jenom 7min pryč a trvá 25 min jízdy na Mariánském náměstí (radnice). Má plně vybavenou kuchyň.
Rádi bychom, aby pobyt našich hostů útulné jako je to možné a pokusí se ubytovat žádné další přání. Obývacího pokoje s 1 lůžkem (1,80x2,00) a jeden válendu (1,40x2,00), TV, WLAN, Stereo je zařízen v přátelských a světlých barvách. Kuchyňská linka vybavena mikrovlnnou troubou, lednicí, troubou, washingmachine příbory a nádobí a kávovarem Nesspresso Žehlící prkno, vysavač Koupelna se sprchovým koutem vtip Celková plocha 46 qm Restaurace, (čínské, bavorských, italské, řecké, mexické), obchody a S-Bahn během 7 minut chůze Dálnice exit 2,5km S Bahn (městské železnice Systém má frequeny 20 minut ve dne a v průběhu obchodní hodinu 10 minut. Trvá 25min do CityCenter. Více informací můžete získat z našeho TravelGuide nebo Reiseführer
I přes nejnovější poznatky Vaterstetten udržel hodně z jeho bývalého venkovského charakteru. Velmi blízko k ní lze rozdělit do kopcovité, zalesněné oblasti nádherné chodit nebo pěší turistice. Ebersberg Forest, Wildlife Park Poing, stejně jako četné zařízení koupání v této oblasti Vás zvou na různé volnočasové aktivity. Krytý bazén, velké sportovní centrum, různé jezdeckých center a mnoho sportovních klubů završují sportovní potěšení. , Pro nákupy, tam jsou četné druhy obchodů k dispozici. Dokonce i lékaři, banky a úřady jsou v dosahu.
The room was really nice, clean and comfortable. Doris and her husband are one of the nicest people we hv met during our trip in east Europe. They took care of us like we are family. If we got to come here next time, we will not hesitate to stay with them again.
Kittipum
2016-09-20T00:00:00Z
Wir hatten das liebevoll eingerichtete Appartement der Familie Packulat für unsere Freundin und ihre Tochter angemietet, da diese uns für eine Woche in Vaterstetten besuchen kamen (wir selbst wohnen auch im schönen Vaterstetten). Das sehr schöne Appartement mit seinem hellen und freundlichen Ambiente können wir ausnahmslos weiter empfehlen. Es war perfekt ausgestattet, super sauber und ließ absolut keine Wünsche offen – was freilich an dem tollen Engagement der Gastgeber liegt! Das Appartement ist mindestens genauso schön wie auf den Fotos zu sehen. Unsere Freunde haben sich während ihres Aufenthalts dort super wohl und super aufgehoben gefühlt. Sie haben hervorragend geschlafen und sich bestens erholt. Die Familie Packulat ist ein ganz besonders herzlicher Gastgeber. Sie ist immer für ihre Gäste da, nimmt sich Zeit und steht als Ansprechpartner gern zur Verfügung. Das ist sensationell! Die Freundlichkeit ist spürbar und wir finden dies ganz außergewöhnlich. Wenn wir wieder einmal Gäste haben, werden wir uns bestimmt wieder an die Familie Packulat wenden. Etwas Besseres kann unseren Gästen gar nicht passieren. Vielen herzlichen Dank für alles! Ein riesengroßes Lob und Kompliment an die Gastgeber für das tolle Appartement und die tolle Fürsorge! ...auch im Namen Ihrer Gäste und unserer Freunde Britta und Lara
Andrea
2014-10-18T00:00:00Z
Die Wohnung war wunderschön und sehr geräumig. Die Wohnung ist liebevoll eingerichtet und die Küche war aussergewöhnlich gut ausgestattet. Alles wunderbar! Doris und Rainer sind unglaublich nette und zuvorkommende Gastgeber, am liebsten wären wir noch länger geblieben. Falls wir wieder in München sind, dann wäre die Wohnung unsere erste Wahl (auch wegen Doris und Rainer :-)) Mit der S-Bahn sind es rund 20 Minuten bis zum Marienplatz, was völlig in Ordnung ist, da die Bahn sehr regelmässig fährt. Top und gerne wieder!
Benjamin
2016-09-14T00:00:00Z
We highly recommend staying at Doris and Rainer's. They've set such high standards in every aspect - cleanliness, amenities, hospitality, warmth and comforts of a home like no other! The location of the apartment is excellent, close to the metro station, supermarket and restaurants. We were extremely happy staying with them, and they were the perfect hosts, ensuring our well being, picking us up from the metro station, and sending us to the airport on the last day of our stay. Huge thanks Doris and Rainer!! You've made our stay in Munich so memorable! We'll definitely be staying here on our next visit, without a doubt!
Pat
2016-12-13T00:00:00Z
The host canceled this reservation 139 days before arrival. This is an automated posting.
Carmyn Joy
2017-03-02T00:00:00Z
The place is the best you can wish for! We stayed there for 1 month and it was a pleasant stay. The flat is very clean and tidy, and has everything needed: kitchen fully equipped, washing machine, tv, a large wardrobe, and other things which make the apartment cosy and homelike. It has a warm floor, so it was never cold in the flat. It is quiet and also has window blinds, so nothing bothers during sleep. We felt ourselves at home during our stay. Doris and Rainer are welcoming and helpful hosts and warm-hearted people! We enjoyed a lot our stay and we would gladly come back. Thank you Doris and Rainer!
Nina
2016-12-04T00:00:00Z
Doris was a lovely hostess, caring and very friendly. beautiful fully equipped apartment in a quiet area, the apartment is Near train station and shops. Thereby allowing to quickly be in the center of Munich. we had a great stay.
philippe
2013-07-16T00:00:00Z
Ich muss echt zugegeben, dass ich den Aufenthalt im Hause Packulat echt überragend fand. Ich wurde nach einer langen Anreise wirklich herzlichst begrüßt, sie und ihr Gatte sind ein absolut freundliches und weltoffenes Paar. Sie nehmen sich die Zeit und kümmern sich wirklich intensiv um ihre Gäste, Fahrpläne und Infoblätter waren direkt vorhanden und bei einer Frage musste man einfach nur oben klingeln. Das Haus selber befindet sich in einem ruhigen und sehr schönem Stadtteil. Das Apartment ist sehr schön eingerichtet, sauber und mit der Liebe zum Detail versehen. Man fühlt sich direkt wie zuhause. Größentechnisch reicht das Apartment wunderbar für eine Kleinfamilie aus und ist besonders reisenden aus dem Ausland zu empfehlen. Willkommenskleinigkeiten wie Schokolade, Apfelsaft und sogar ein kleine Flasche Wein haben das ganze wirklich perfekt abgerundet. In der Küche waren Kleinigkeiten wie Kaffee-Kapseln, Pfeffer und Salz, alle Bestandteil der vollausgestatten Küche. Das Bad war schön geräumig, gut ausgestattet (Föhn, Ersatzzahnbürste) und wie alles andere absolut sauber. Zusammenfassend kann ich sagen, dass der Aufenthalt echt herausragend war. Noch mehr als das wirklich besonders gute Apartment muss ich an der Stelle die Familie Packulat herausheben, die Hilfsbereitschaft, die Freundlichkeit und die Hingabe für ihre Gäste ist äußerst lobenswert. Ich werde gerne wiederkommen. :)
Hendra
2014-07-26T00:00:00Z
Tipo de Quarto
Casa inteira/apto
---
Tipo de Imóvel
Apartamento
---
Acomoda
2
---
Quartos
Vaterstetten, Bavaria, Alemanha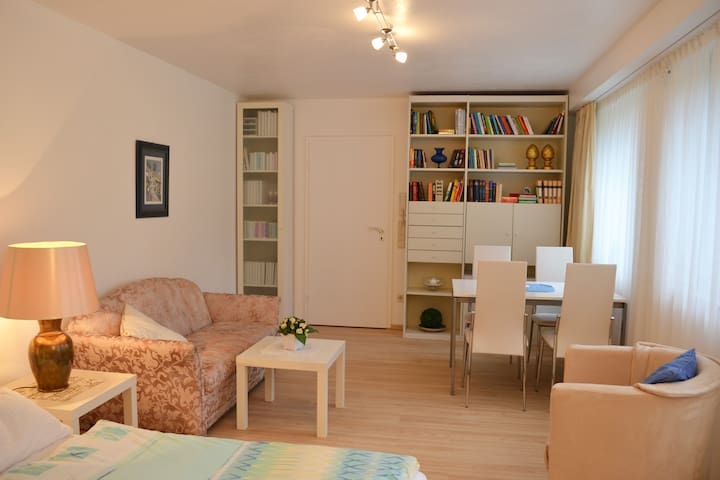 Meu apartamento fica em uma área verde tranquila. Você vai adorar a minha oferta devido a: as pessoas, o clima, a luz ea área circundante. Meu lugar é bom para um casal.
Tipo de Quarto
Casa inteira/apto
---
Tipo de Imóvel
Apartamento
---
Acomoda
2
---
Quartos
Vaterstetten, Bayern, Alemanha
Recentemente renovado, moderno, quarto muito confortável em um grande, brilhante apartamento de 2 andar (cozinha, sala, varanda grande), tecnicamente totalmente equipada. SUA casa de banho privativa PRÓPRIOS! Próprio frigorífico! TV por satélite Full HD. Wifi grátis. Home theater (5.1) Video on Demand. Melhores arredores de Munique. Muito calmo, ambiente seguro. Estacionamento gratuito na casa! Apenas a 20 minutos (trem ou carro) para Munique Center / Fair Ground 10 min. Grande oferta localmente: gastronomia, esportes, lazer, compras ... aluguel de curto e longo prazo.
INSTALAÇÕES Este belo, moderno e muito confortável sala privada está disponível para visitas curtas e prolongadas. Você também terá a sua própria casa de banho sala separada / duche e WC instalações, washingmachine, secador de cabelo e espelho de maquilhagem incluído e com toalhas e roupa de cama em curso prestados. Além disso, o uso compartilhado de uma descontraída sala de estar / jantar / varanda e uma cozinha totalmente equipada estão incluídos. O quarto possui uma televisão por satélite full-HD, um frigorífico de estilo mini-bar, acesso à Internet Wi-Fi, além de mobiliário contemporâneo elegante. Sob pedido, terá acesso a sua própria linha w telefone directo. telefone indivíduo - No. (chamadas grátis dentro da Alemanha possível), Rádio WiFi Internet, com milhares de estações em todo o mundo Rádio, um Tablet - ou Notebook PC, Impressora-Access, o acesso ao Home Theater. Quer visitar a área de Munique em negócios ou a lazer, este apartamento está em uma localização muito conveniente, com excelentes ligações de transportes em todas as direções. ALOJAMENTO O apartamento tem dois andares. A sala de hóspedes e casa de banho privada, juntamente com sala de estar comum e cozinha são no primeiro andar. O quarto é perfeito para 1 até 4 viajantes de negócios, mas também ideal para 1 a 4 pessoas de férias. Contanto que o seu grupo é até 4 pessoas o alojamento é em um quarto. I pode receber até no máximo 6 pessoas - mas apenas mediante pedido em separado anteriores e não disponíveis no recurso "reserva directa 'da Airbnb: Se o seu grupo é 5+ eu posso oferecer um pequeno quarto de hóspedes adicionais no segundo andar superior, onde eu como anfitrião fazer também (URL HIDDEN) mais de 4 pessoas reservem 1 ou 2 pessoas fora do grupo terá acesso ao meu pequeno e encantador quarto de madeira. Eu chamo-lhe o meu "Aconchegante Cuddle-Box" (= CCB). É uma sala de sauna remodelado, assim como um beliche com algum espaço de armazenamento, 7 metros quadrados, com cama de casal, próprio frigorífico, prateleira e uma cadeira - todos feitos de madeira e muito fofinho. A casa de banho 2.ª está localizado em frente, possui clientes própria pia e chuveiro que é compartilhada (o CCB também pode ser reservado separadamente aqui no Airbnb no caso de o quarto grande é ocupado -. A partir de 20 euros por taxa de noite) Todas as instalações comuns, como cozinha, sala de estar, varanda lata de cours também ser usado por clientes que ficam na minha CCB. Para CCB Infos, reserva-Calendar consulte imagens e descrição da minha segunda lista aqui na Airbnb: https://www.airbnb.de/rooms/15141741. Por favor, tenha em mente: no caso de você são um grupo de 5+ verifique se o CCB está vago em suas respectivas datas ou apenas perguntar antes de reservar ... :-) LOCALIZAÇÃO O apartamento está situado a uma curta caminhada do transporte público ( 'S-Bahn') Estação, os trens vão a cada 10-20 minutos de 05:00 até 01:30 dia seguinte. A paragem de autocarro situa-se na minha casa. Bus disponíveis Mo-Sat horária. Também sempre Estacionamento grátis perto da casa (50-80 metros). Sempre estacionamentos suficientes disponíveis (ao contrário em Munique City, onde muitas vezes você precisa de cruzeiro muito tempo para encontrar espaço de estacionamento ...) DESTINOS da cidade de Munique centro da cidade de Munique, está apenas 15-20 minutos (= Transporte Público 'S-Bahn' ou de carro) e é apenas 25 minutos para Oktoberfest-do-chão. A Munich Trade Fair Exhibition Center também está por perto, a 8 minutos de carro, 20 min w. Transporte Público, e os maravilhosos Alpes Bávaros são de fácil acesso. Lojas locais / Alimento / SPORT Lojas e 6 supermercados nas proximidades (5 min), 1 supermercado orgânico com um café agradável (3 min), Resaurants bávaras e internacionais (Itália, gregos, chineses, Índia, Thai tudo betw. 2 a 8 minutos a pé) e alguns agradáveis beergardens em curta distância, também extensas instalações desportivas e ginásio próximo. BEM VINDA! Eu muito ansiosos para recebê-convidados, tanto da Alemanha e ao redor do mundo, independentemente de cor, religião, crença. Eu gosto de 'Multikulti "e a variedade de pessoas e histórias de vida individuais ou interesses ... :-) Bem-vindo a Munique, bem-vindo ao meu lugar na Vaterstetten!
I stayed at his place for 2 days. To be honest, it can be felt like a little bit far from the city center, but for me it didn't really matter and I could take the S-barn for free as an Eurail passer. The room was really clean, quiet, and organized. Just perfect for me. And the last day before leaving, we had some wine together, and good conversation about life. Cuz I traveled alone, sometimes I felt lonely but he became my friend. Anyway, thank you for being so kind and making my first trip in Germany peaceful and wonderful.
준우
2015-07-31T00:00:00Z
Matthias ist ein netter Gastgeber. Das Zimmer ist bunt und mit viel Mühe eingerichtet - das sieht man. Auch wenn es nicht meinem persönlichen Geschmack entspricht habe ich mich dort wohl gefühlt. Super ist, dass man die Waschmaschine nutzen darf und Matthias gegen ein geringes Entgelt ein leckeres Frühstück zaubert! Matthias war stets freundlich und unaufdringlich. Ich konnte mir ein Fahrrad leihen und damit problemlos zur Arbeit (Bosch) und zum S - Bahnhof fahren ( 4-5 Minuten entfernt). Vaterstetten selbst ist recht langweilig, aber mit der Bahn ist man innerhalb von 20 Minuten in der Münchner Innenstadt!
Lukas
2013-08-28T00:00:00Z
Es war das gemütlichste Zimmer, das ich über Airbnb bisher hatte. Schöne Einrichtung, man fühlt sich direkt Zuhause. Freundlicher (ebenfalls IT-affiner, wie ich auch) Kontakt und bei meiner Ankunft standen Obst und Getränke bereit. Insgesamt eine sehr positive Erfahrung, und beinahe schon schade, dass ich fast nur zum Schlafen da war. Auch die Umgebung ist angenehm und ruhig. Der Ort ist ca eine halbe Stunde von München City entfernt, aber die Stadt ist mit der Bahn dennoch gut erreichbar. Ich würde jederzeit wieder kommen.
Thomas
2016-09-11T00:00:00Z
Ich kann Matthias als sehr vorbildlichen Gastgeber weiterempfehlen! Bei der Gastfreundschaft hat es an nichts gefehlt, Matthias hat sogar an einem Abend sehr lecker gekocht :-).
Daniel
2015-05-07T00:00:00Z
This is my first AIRBNB experience. It was a pleasant experience staying at Matthias place. It was very clean and tidy. It was 10-12 minutes of walking from train station, supermarket was near by and also a Pizzeria (300 mts) in the vicinity. Host Matthias is good host. Overall the staying was a great experience for me (at least nothing to worry)
Shivaprakash
2016-09-15T00:00:00Z
Matthias is a super great host, his place is clean, quiet & wonderful. He often offered me meals and tea with splendid hospitality.I will definitely consider his place, If I will come again to Munich. Matthias was making this place stand out from the other's by creating a wonderful atmosphere. I often enjoyed the intellectual and funny dialogues I had with him. Meanwhile, he was able to provide tons of instructions/guidance about Munich whenever it required to help my time utilized in an optimal way. Thanks.
Althaf
2015-03-28T00:00:00Z
Sehr sauber, sehr freundlicher Empfang, liebe-, geschmack- und geistvoll eingerichtetes Zimmer. Wirklich zum Wohlfühlen; freue mich schon auf das nächste Mal. Von den leckeren Pfannkuchen, die Matthias zum Frühstück zubereitet hat, werde ich noch meinen Enkeln erzählen.
Michael
2013-07-18T00:00:00Z
War nur eine Nacht, aber alles wunderbar und unproblematisch.
Fred
2014-01-28T00:00:00Z
Tipo de Quarto
Quarto privado
---
Tipo de Imóvel
Apartamento
---
Acomoda
6
---
Quartos
Vaterstetten, Bavaria, Alemanha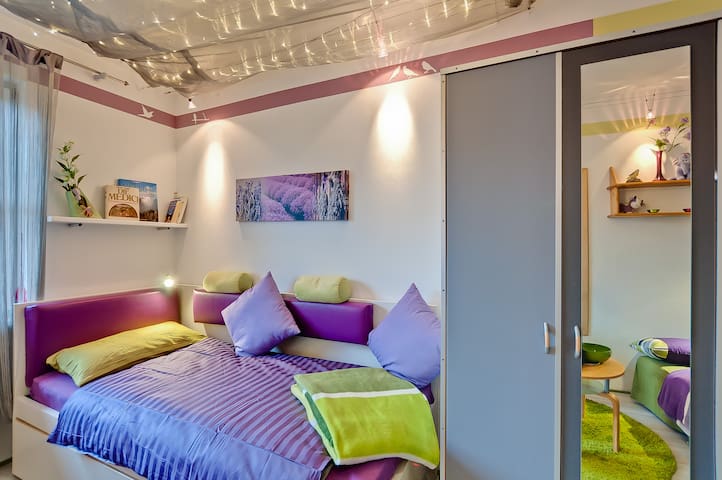 Land Share Apartment / Together A very bright apartment with many windows. My guest or guests sleeping on the sofa bed and the second guest, I have a sleeping air mattress) The apartment is located on the 2nd floor, with kitchen and bathroom. Many shops and the train is only 8 minutes away
The two room apartment, bathroom and kitchen with 60sqm, 15 kilometers before Munich in Vaterstetten the apartment has its own entrance and can be reached with the S-Bahn 4 and 6 Baldham. There is a fitted kitchen with a fridge and a stove and a dishwasher cinema screen, utensils for cooking is Available. A large sofa bed with linens. The good transport links (A99 motorway Munich - Passau only 1 km away) and proximity to the New Munich Trade Fair. The city of Munich is about 20 km away. Parking is right in front of the house Available. Within 8 minutes, there is a very good Italian as a German restaurant and lots of shopping facilities (Rewe, Lidl, Aldi, etc.). The S-Bahn can be reached in 8 minutes. A very nice apartment to spend a few days in Munich.
from 22 clock it should be something quieter so, the neighborhood is not disturbed;)
Ich hatte einen super Aufenthalt bei Rochdi. Er hat mich an der Tür empfangen, mir alles gut erklärt. Das Bett war schön vorbereitet, Wolldecke und Bettdecke und Handtücher waren auch bereits bereitgestellt. Obwohl ich ihn nur am Abend der Ankunft gesehen habe, waren es angenehme 2 Nächte. Weiterzuempfehlen!
Stefan
2015-10-18T00:00:00Z
top Typ! nur zu empfehlen! respektiert die Privatsphäre ist aber für einen gutes Gespräch zu haben. (:
Hendra
2015-10-11T00:00:00Z
tiptop! gerne wieder!
Hendra
2016-06-23T00:00:00Z
alles tip top wie immer!
Hendra
2016-05-01T00:00:00Z
Ein vorbildlicher Gastgeber und ein sehr netter und aufgeschlossener Mensch! Die Privatsphäre wird zu 100% garantiert, dennoch immer für ein interessantes Gespräch gut, wenn man abends die Zeit findet. Zimmer/Bad ist sauber. Ich hätte sogar mein Zug verpasst und wurde zum nächstgelegenen S-Bahnhof gefahren. Kurz: Der BESTE Gastgeber, den ich bisher hatte!
Alex
2016-01-15T00:00:00Z
Alles tipptopp!
Hendra
2016-09-25T00:00:00Z
alles tiptop wie immer!
Hendra
2017-01-23T00:00:00Z
I enjoyed my stay. nice and clean house in a quite area. Rochdi is an extremely nice and friendly person. Everything was ready when I arrived: blankets, towel, house keys and wifi password.
Bashir
2016-04-08T00:00:00Z
Tipo de Quarto
Quarto partilhado
---
Tipo de Imóvel
Apartamento
---
Acomoda
1
---
Quartos
Vaterstetten, Bayern, Alemanha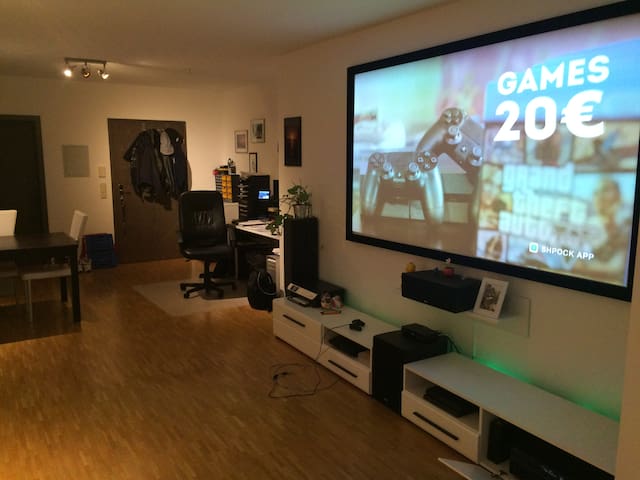 Diese kuschelige und ruhige 3 Zimmerwohnung 118 m² mit eigener Küche, Bad, WC, zwei Schlafzimmer, eigener Eingang im Souterrain eines Zweifamilienhauses, liegt supergünstig zur Messe IMC und Gewerbegebiet Grasbrunn.
Diese kuschelige und ruhige 3 Zimmerwohnung im Souterrain eines Zweifamilienhauses und liegt supergünstig zur Messe IMC und zum Gewerbegebiet Grasbrunn . Es gibt zwei Schlafzimmer. Ein Schlafzimmer hat ein Bett 180x200, begehbarer Kleiderschrank, ein Wohnzimmer mit Küche und Essbar. Das Bad hat eine Dusche und das WC ist extra. Das 2. Schlafzimmer ( Studio) hat 38,5 m² hat 2 Einzelbetten 1m x 2m. Eine Couchecke und einen Waschtisch. Bettwäsche und Handtücher sind für Sie bereit. Für die 5.Person könnte die Couch im Wohnzimmer zu einem Bett umfunktioniert werden. Zur S 4 oder S 6 geht man 3 min zu Fuß. In 20 Minuten sind Sie am Marienplatz und in 30 Minuten auf der Messe. Mit dem Auto sind es nur 10 Minuten zur Messe. Parkmöglichkeit vorm Haus, Internetzugang, alle Einkaufsmöglichkeiten ( Apotheke,Bäcker, Banken, Blumen, Boutiquen, Drogerie, Fischladen, Gemüseladen, Reinigung, Supermarkt, und gute Restaurants zu Fuß schnell erreichbar. Unweit vom Haus sind Wiesen und Wälder, die zum Joggen und Frischlufttanken einladen. Es gibt ein großes Sportstadion, in dem Europa Leichtathletikmeisterschaften u.v.m. stattfinden. Es gibt Fitness- und Tanzstudios in walking distanz. Unsere Hunde Mary und Josy werden Sie freundlich begrüßen haben jedoch keinen Zugang zu Ihrer Wohnung. Wir freuen uns auf Sie! Die Wohnung hat einen eigenen Eingang. Wenn es meine Zeit erlaubt, stehe ich Ihnen gerne mit Rat und tat zur Verfügung. S4 und S6 in 3 Minuten zu Fuß erreichbar.
Man ist in der Natur und trotzdem so nah an München.
I have enjoyed the stay at Gabi's. Got a warm welcome with cold beer in the fridge and some fruit, which was very rewarding after a long travel to Munich/Vaterstetten. The property description is accurate: spacious, quiet, well furnished and equipped and super clean. It takes only 4 minutes to the S-bahn and only about 13 minutes to the technology park (Red hat/LEGO/OpenText/etc). Thanks Gabi!
Radoslav
2016-04-08T00:00:00Z
Gaby's was a wonderful safe and clean place to stay at. We thoroughly enjoyed our stay there
Nisha
2016-09-22T00:00:00Z
Die Buchung und der Empfang war einfach und herzlich. Das Appartement ist ruhig gelegen und es wurden uns sogar Chips und Bier sowie auch eine Schale voller Früchte offeriert. Die Wohnung befindet sich nur gerade 3-5 Gehminuten von 2 feinen Restaurants (Inder & Italiener) entfernt. Ebenso kommt "Mann" in diesem Radius an Bankomaten vorbei, welches je nach Situation sehr hilfreich sein kann! Innert 10 Gehminuten finden Sie sogar einen kleinen Laden für das alltägliche wohl. Um zu Parken gib es diverse Möglichkeiten rund um Haus. Ich würde die Wohnung für meine "Arbeit" wieder mieten. Service und Hilfsbereitschaft seitens der Vermieterin runden das Angebot ab.
Marvin
2016-04-17T00:00:00Z
Barbara ist eine super Gastgeberin und die Wohnung war einfach herzlich. Perfekter Aufenthalt für die Messe und wir kommen immer wieder gern. Herzlichen Dank für alles!
Carly
2015-11-14T00:00:00Z
Angenehme Unterkunft. Alles bestens geklappt
René
2015-09-16T00:00:00Z
Super Gastgeberin, nette Wohnung!
Mark
2016-04-01T00:00:00Z
Greatest AirBnB experience I have had so far! Communicating with Gabi beforehand was very easy as she was extremely quick to respond. She provided us with detailed directions on how to get from the airport to her house and was there to greet us when we arrived. Her and her daughter were overwhelmingly hospitable (in the best way possible). The apartment was just as great as the photos and though the location is about 20-25 minutes out of the city centre, it is easily accessible by train. I highly recommend staying at Gabi's and will absolutely be staying here during future visits to Munich. Thank you Gabi & Kacy!! Xoxo
Emily
2015-09-21T00:00:00Z
Tipo de Quarto
Casa inteira/apto
---
Tipo de Imóvel
Apartamento
---
Acomoda
5
---
Quartos
Vaterstetten, Bavaria, Alemanha
Apartamento para não fumadores bonito com sala de jovens, cozinha, casa de banho com banheira e uma sala de estar com sala de jantar e uma varanda. Existe também um espaço de garagem disponível. Apartamento em uma área tranquila no final de uma rua jogo. 5 minutos do S-Bahn, a Munique e da feira comercial de cerca de 20 minutos. Não é adequado para pessoas com alergia cão. Na varanda pode ser fumado.
Tipo de Quarto
Casa inteira/apto
---
Tipo de Imóvel
Apartamento
---
Acomoda
4
---
Quartos
Vaterstetten, Bayern, Alemanha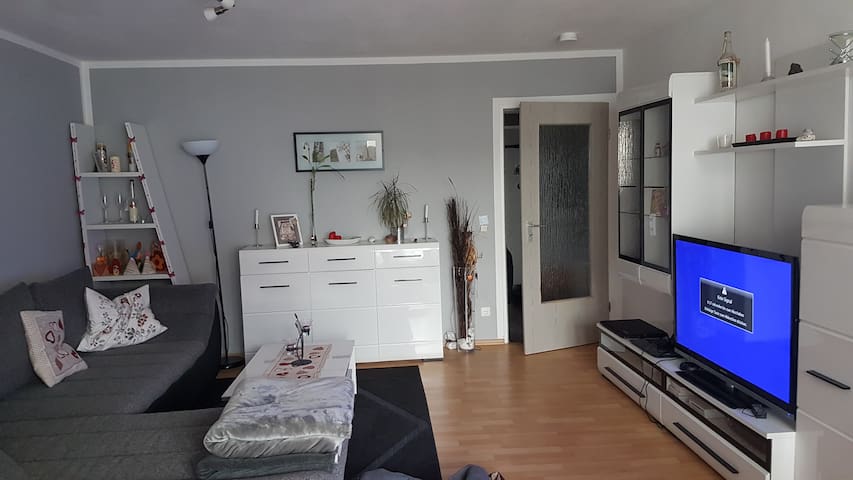 Tipo de Quarto
Casa inteira/apto
---
Tipo de Imóvel
Apartamento
---
Acomoda
6
---
Quartos
Vaterstetten, Bayern, Alemanha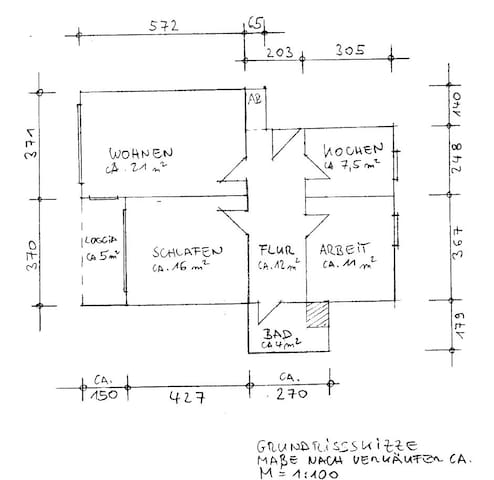 Mini Loft Cozy Uma grande cama, um sofá grande uma cozinha e um banheiro com um chuveiro. 4 minutos da estação "Baldham" eo supermarked de distância, com o trem você tem que dirigir 20 minutos para Marienplatz e redondo cerca de 30 minutos para Oktoberfest.
Estação de trem e supermercado apenas 4 minutos de distância
Tipo de Quarto
Casa inteira/apto
---
Tipo de Imóvel
Apartamento
---
Acomoda
3
---
Quartos
Vaterstetten, Bayern, Alemanha
Es war eine wunderschoene Zeit bei der Familie Esser, Sie waren sehr nett und hilfreich auch. Ich werde Ihnen wieder besuchen!
Sara
2013-08-15T00:00:00Z
Ich habe eine sehr schöne Zeit bei der Familie Esser verbracht. Liesel & Lothar sind fantastische Gastgeber: sehr herzlich, lustig & hilfsbereit. Das Zimmer hat einen wunderschönen Blick in den traumhaften Garten, den ich sehr genossen habe. Die Wohnung ist kreativ & stilvoll zugleich eingerichtet und ich habe mich sofort wohl gefühlt. Absolut empfehlenswert und ich werde weiterhin in Kontakt mit Liesl & Lothar bleiben.
Sue
2013-10-06T00:00:00Z
Liesl is the best host I have met on Airbnb. She is warm-hearted, friendly, helpful and always smiling. the stay in her place was perfect experience in Munich.
Zhen
2016-10-02T00:00:00Z
The stay was lovely! Liesl has taken good care of me and made sure I had a good stay. Location is perfect and very quiet (after a long fair day rest is very usefull). The Bauma could be reached within 20 minutes by taking the country roads. The room was lovely and the bed was super. Great atmosphere in the appartment. I will definitely come back when I have to stay in the Munich area.
Erwin
2016-04-15T00:00:00Z
I had a marvelous stay in Liesl apartment! The locations is good about 10 minutes (or less if you speed walk)walk away from the station . The room is exactly as portrayed on the picture. The bed is really comfortable. Liesl was helpful , friendly and made me feel welcome from the moment we've met. All in all I highly recommend Liesl as a host.
Petra
2014-03-23T00:00:00Z
I found my host Liesl an open minded person, communicative, willing, curious, affectionate, intelligent, educated, natural, organized and with good humour. The experience here, with her family and friends, was particularly positive, unforgettable and very satisfying, and I feel grateful for that. During my stay here, I talked with previous guests who came to visit her and also spoke highly of her. This is clearly a place where hosts and room go beyond expectations, and when one is lucky enough to get here, one can feel privileged.
Enrique
2014-05-07T00:00:00Z
Ich habe mehrere Wochen bei Famile Esser gewohnt und ich fühlte mich sehr gut jeden Tag. Ich würde gerne diese schöne Zimmer auch für die nächste Mitbewohner empfehlen. Die Gastgeber sind freundlich und hilfsbereit. Vielen Dank Frau Liesel und Herr Lothar
Zoltán
2012-05-29T00:00:00Z
Habe selten so freundliche, lustige und gebildete Gastgeber gehabt!! Vielen Vielen Dank Liesel & Lothar!! Very friendly, funny and cultured host!
ibrahim
2012-02-03T00:00:00Z
Tipo de Quarto
Quarto privado
---
Tipo de Imóvel
Apartamento
---
Acomoda
1
---
Quartos
Vaterstetten, Bavaria, Alemanha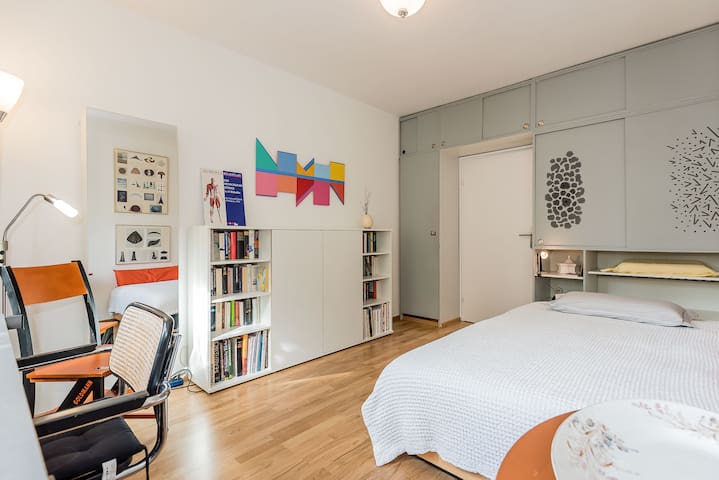 18m² Zimmer in 2er WG / Wohnungsgröße: 55m² /2er WG ( 1 Mann ) /Rauchen nicht erwünscht /Studenten-WG
The host canceled this reservation 6 days before arrival. This is an automated posting.
Jonas
2015-10-06T00:00:00Z
Tipo de Quarto
Quarto privado
---
Tipo de Imóvel
Apartamento
---
Acomoda
1
---
Quartos
Munique, Bayern, Alemanha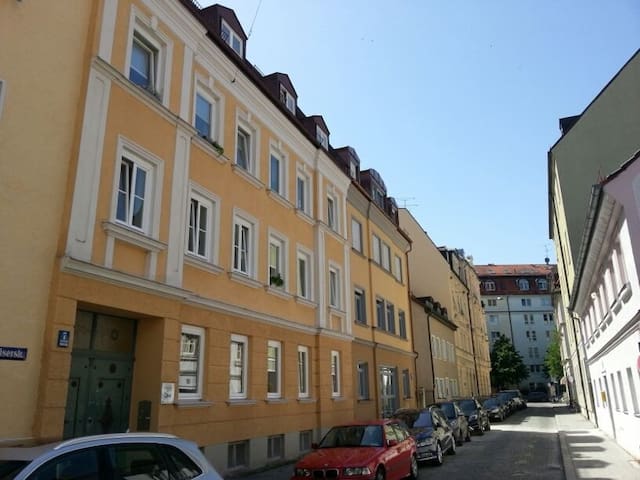 Una habitación para una persona (posiblemente un niño) en alquiler en el subsuelo. Yo vivo en el apartamento y estoy presente. A sólo 30 minutos del centro de Munich y el Oktoberfest o 10 minutos a la feria en coche!
El apartamento está situado en Vaterstetten, a sólo 15 km del centro de Múnich. Messe München está a sólo 4 km de distancia. Yo vivo en el apartamento. se alquila una habitación en el sótano (cama doble), así como el uso compartido de la sala de estar, cocina, baño y jardín de uso.
Vaterstetten es tranquila, pero es central a Munich. Todas las tiendas principales (Aldi, panaderos, etc.) están a poca distancia en 5 minutos.
We were fully satisfied with the service, house owner was very pleasant person, would recommend for everyone.
Sergey
2013-10-10T00:00:00Z
Tipo de Quarto
Quarto privado
---
Tipo de Imóvel
Apartamento
---
Acomoda
1
---
Quartos
Vaterstetten, Bavaria, Alemanha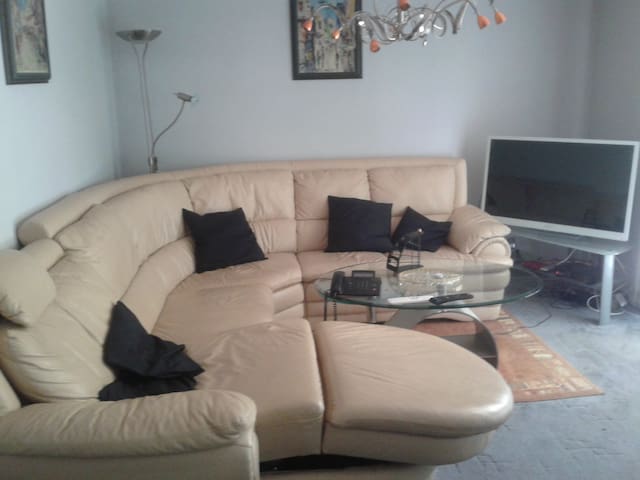 The stylish Artist Studio is situated in Munich's city center, very close to Marienplatz, Viktualienmarkt, Maximilianstrasse & the Oktoberfest is only 15 min away. Surrounded by many restaurants and bars in walking distance. The studio was designed and renovated with a loving hand and a love for the fine things in life, so you get plenty of amenities and high standards. The place is perfect for two people (and one child). Easy to reach from the airport in just 35min.
The Artist Studio is an airy space with all you need for your stay in Munich, close to bars, restaurants and the Viktualienmarkt. Walking distance to Marienplatz in less then 5min. Easy to reach from the airport via S-Bahn in 35min. A small kitchenette fully equipped.
This studio unit was in an apartment building that was very close to Marienplatz and shopping. A short walk and we were there staring at Glockenspiel. No need to take public transport. A private parking garage (Parkhaus Rieger City) was only 50 meters away. While there was some delay in our check in, it was because we did not have internet access while in the car on our way from Vienna. And so, we were unable to communicate smoothly with Jan. But when we did get internet access, and Jan told us that he would be at the front of the apartment in 15 minutes to receive us, he arrived there as he had told us. Check-out was a breeze. Overall we would recommend this place(URL HIDDEN)
Tony
2016-11-08T00:00:00Z
Loved this quaint studio in downtown Munich! Very modern, really homey place. A great stay in Munch!
Cecily
2016-11-12T00:00:00Z
Location, location, location! This apartment is in such a fantastic spot! Right in the middle of everything, but nice and quiet at night so you can get a good nights rest. Lovely, clean apartment. I highly recommend! We loved the city guide, too!!
Kendra
2016-10-10T00:00:00Z
Great location with good walking distance to 2 stations. Sonja and Jan provided great map and list of interesting places to go. The apartment was extremely clean and modern with all the amenities you could ask for. Make sure you visit the farmers market, which is only 2 minute walk
Mark
2017-01-20T00:00:00Z
Fantastic apartment for visiting Munich. Extremely central and very cosy. We loved our stay here.
Roisin
2016-11-02T00:00:00Z
Great place, nicely désigned easy to use, clean and quiet. Very close to Munich altstadt Sonja and Jan were easy to contact for the arrival that was smooth I strongly recommand Thanks
ben
2016-10-06T00:00:00Z
I cannot recommend this studio enough!! Not only was it beautiful and quiet the location was spot on. We loved our stay, less than a 1 minute walk to an organic market, there is a laundry just around the corner and its only a 5 minute walk to Marienplatz. Sonja & Jan were warm and welcoming and we continued to use the Map they created to explore Munich once we returned from our journey around Bavaria. Thank you Jan and Sonja!!
Chanda & Zak
2016-10-28T00:00:00Z
Очень чистая и тихая квартира, расположенная в центре города. В пешеходной доступности общественный транспорт, достопримечательности, рестораны, кафе, магазины. Очень понравилось всё, могу рекомендовать всем.
Yulia
2016-11-06T00:00:00Z
Tipo de Quarto
Casa inteira/apto
---
Tipo de Imóvel
Apartamento
---
Acomoda
2
---
Quartos
Munique, Bayern, Alemanha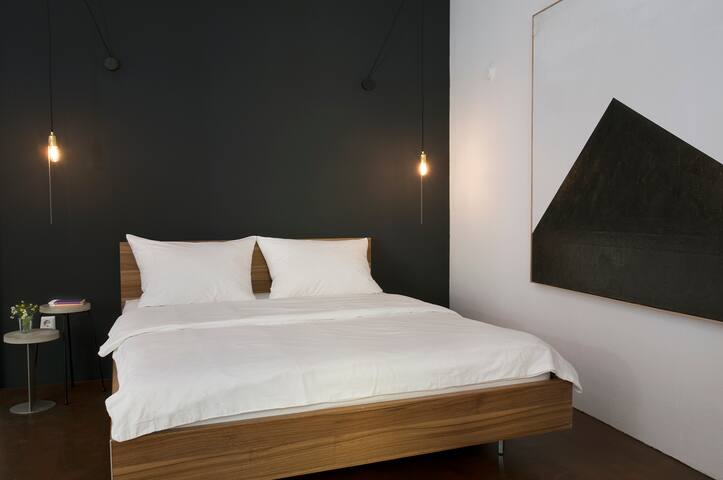 Cozy, bright and charming studio near U-Bahn (Hohenzollernplatz), just 10 minutes from central station and 15 minutes from Marienplatz (city center). Lively area full of restaurants,cafes and bars.
The host canceled this reservation 166 days before arrival. This is an automated posting.
Stefan
2017-04-02T00:00:00Z
7 stars on communication. You'll have everything you want and perfectly accessible.
Jean-Philippe
2017-04-05T00:00:00Z
Tipo de Quarto
Casa inteira/apto
---
Tipo de Imóvel
Apartamento
---
Acomoda
2
---
Quartos
Munique, Bayern, Alemanha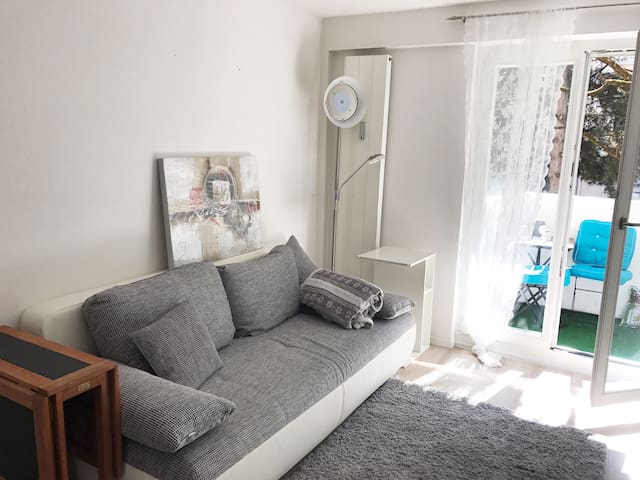 A flat (33 sqm) with kitchen, big bath and a living room. The bus station (Drosselweg) is about 4 minutes from here. You need 4 minutes when you want to enter S-Bahn. Munich´s inner city is about 15 minutes from here with S-Bahn; the fair´s also. Free Internet. In case you are also looking for a supermarket - its about 6 minutes from the flat. Around the corner there is also a nice bar where you can have dinner or drink some cocktails... Have fun and enjoy your stay!
Really nice apartment that is in fact bigger than on the photos. Harry was very attentionate and made me feel welcome. Munich center is about 20/30 min away with the metro. I definitely recommend staying at this place
Cédric
2017-04-09T00:00:00Z
Tipo de Quarto
Casa inteira/apto
---
Tipo de Imóvel
Apartamento
---
Acomoda
2
---
Quartos
Munique, Bayern, Alemanha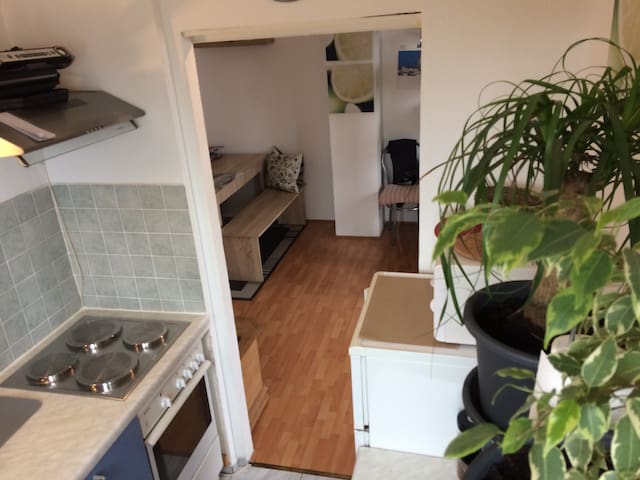 Getreu dem Motto klein, aber fein, wartet hier eine kleine frisch renovierte Wohnung im ersten Stock eines Reihenhauses auf euch! Die Lage ist sehr zentral und trotzdem kann man im nahen Biergarten die Vögel zwitschern hören. Ich freue mich auf euch!
Hallo lieber Gast! In unserem kleinen Häuschen habt ihr ein ganzes Stockwerk nur für euch alleine! Dort wartet auf dann eine kleine eigene Küche, ein Bad und ein gemütlicher Wohn-Schlafbereich auf euch! Der Wohnraum beträgt in etwa kuschelige 25 Quadratmeter und ist mit allem ausgestattet was das Herz begehrt! Dear English-speaking guests, please understand that my command of English is very limited. If you don't mind this, I warmly welcome you to my house! (My daughter Eva will then be your contact person and take care of your needs! Also a little booklet in English with all the important information is provided for you!)
Ihr wohnt hier in einer kleinen kunterbunten Reihenhaussiedlung, der Maikäfersiedlung. Gleich um die Ecke kann man im schönen Biergarten unter Kastanien ein kühles bayrisches Bier genießen. Ein Supermarkt, ein Bäcker und ein Apotheke, sowie ein Schwimmbad und zwei Parks sind auch nur ein paar Minuten entfernt.
Excelente anfitriona, monika es muy amena. La recomiendo.
Ariel
2016-09-21T00:00:00Z
A small, clean and comfy flat near the center. The tram is just a few minutes away. Monika also is a great host, very friendly and welcoming.
Jan
2016-06-14T00:00:00Z
Ich war mit der Unterkunft sehr zufrieden ! Klein aber fein und sehr gepflegt ! Monika ist die beste Gastgeberin die man sich wünschen kann !
Torsten
2016-07-13T00:00:00Z
Monika's place is lovely. A perfect suite that has all the essentials: comfortable bed, nice bathroom, kitchenette. House is less than 10 min walking to the underground metro. Darling little neighborhood. Felt very safe and we had an excellent stay! Thank you Monika & Eva!!
Amy
2016-12-19T00:00:00Z
This place was amazing! It's a little apartment in the second floor of Monika's house; only a five-minute walk to the Metro, but in a residential neighborhood. The apartment was extremely clean, cute and cosy. I'd definitely stay here again if visiting Munich! It made me feel like a local, even if only for a few days. Monika doesn't speak much English, but there was never a communication problem -- her daughter was able to answer any questions that I had.
Kaitlyn
2016-12-09T00:00:00Z
Аll was the best and many thanks for staying in your apartment! Great host, very hospitable, all necessary items are in the apartment, and also it was very pleasant for me that cookies and fruits were on the table :) Very tiny, but super comfortable apartment!!! Merry Christmas and Happy New Year!!
Maksim
2016-12-25T00:00:00Z
Mein Aufenthalt bei Monika hat mir sehr gut gefallen! Monika hat mich aufgeschlossen und freundlich begrüßt, mir die Wohnung gezeigt und mir Einkaufstipps und Wegbeschreibungen gegeben. Die Wohnung ist sehr geschmackvoll und gemütlich eingerichtet und war sehr sauber. Monika hatte sogar frisches Obst und Süßigkeiten bereitgestellt. Vielen Dank, Monika! Ich komme gerne wieder.
Sophia
2017-01-28T00:00:00Z
Monikas kleines Häuschen ist wundervoll gelegen, ruhig aber dicht an der U-Bahn mit der man ganz schnell in der Innenstadt ist und auch zur Messestadt ist es nicht weit. Die Unterkunft war schön eingerichtet und sehr sauber.
Ulrike
2016-10-07T00:00:00Z
Tipo de Quarto
Casa inteira/apto
---
Tipo de Imóvel
Apartamento
---
Acomoda
2
---
Quartos
Munique, Bayern, Alemanha
The Flat is located in Munich East. PTS is perfect. In front of the door you'll find the Bus Station. The Bus will bring you every 10 mins to the Trainstation Trudering. There you' ll find the U2 and S4. Only 2 Station to the Munich Fairgrounds and 18 Minutes to Munich Central Station. With the car you can access the whole munich area in maximum 30 minutes. The room ist quiet and bright and has all ameneties you need to have a nice stay in Munich. The big balcony completes the offer.
Bus, Taxi and Shopping in front of the door. City and Nature are neighbors. Very close to the munich fairgrounds.
Ob Supermarkt, Thai-Massage, Friseur, Apotheke und Bus. Alles ist nicht weiter als 100m von der Wohnung entfernt bzw. wirklich direkt vor der Haustüre. Trudering ist ein wundervoller Stadteil am östlichen Rand von München. Schöne Wälder und Landschaft auf der einen Seite und die Stadt gleich auf der anderen Seite. Kurz zusammengefasst: Dorfidylle trifft Stadtleben.
We had a really pleasant and nice stay at Ghiats's flat. I defenetely recommend it. Thanks Ghiath for your hospitality
Eduard y Mar
2017-02-07T00:00:00Z
We had such a fun time staying at Ghiath's place. The flat was very comfortable and clean. The location is quite close to the Munchen Messe so it takes you about 10 minutes by car. Ghiath is a very warm and kind person with a good sence of humor, so I would definitly recomend a stay there.
Uršula
2017-02-21T00:00:00Z
It was a good stay. The room was very nice and it was very easy to travel to the main part of the city.
Shannon
2016-10-25T00:00:00Z
Хозяин из Сирии в соседней комнате, но интелегентный и внимательный. Бывают у него гости, но ночью тихо , не беспокоит никто.
Oleg
2017-01-18T00:00:00Z
Very things are satisfied. Daniel will not show off, there are one roommate open door and pass the keys to us. We are happy to use the kitchen and cook here.
Benny
2016-11-11T00:00:00Z
This is a great place to stay. Very close to bus stop that can connect to other public transit to get to Munich sites. Very clean, roomy and in a nice area. Restaurants and grocery store very close by.
Janet
2017-03-26T00:00:00Z
Daniel & Ghiath son muy amables, simpáticos y nos asesoraron sobre todo lo que necesitamos, el cuarto es lindo y cómodo pero para una o dos personas, si viajan con niños no lo recomendaría, la zona en la que se encuentra es muy hermosa,segura y tranquila. Sólo se encuentra algo lejos del centro pero con el bus o tren se llega en unos 20min. Volvería a hospedarme en lo de Daniel & Ghiath.
Gerardo Gabriel
2017-03-20T00:00:00Z
The Room is cozy and Ghiath was very nice. We'll come back soon:)
Sabrina
2017-04-02T00:00:00Z
Tipo de Quarto
Quarto privado
---
Tipo de Imóvel
Apartamento
---
Acomoda
3
---
Quartos
Munique, Bayern, Alemanha
Apartment located in elegant Art Nouveau building of the early twentieth century in the posh and exclusive residential district of Bogenhausen, one of the finest areas of the city of Munich, just next to the subway stop Prinzregentenplatz. Light and space in a modern atmosphere distinguish this studio apartment. Ideal for couples or small families with one or two children. This thirty-nine square-meter unit is very quiet, in a back yard and has space for up to four guests (note: not two separate bedrooms!). The modern open kitchen is equipped with stove, oven, refrigerator, coffee maker, kettle, toaster and microwave. The necessary items for daily use in the kitchen, as well as cutlery, crockery and glassware are also available. Bedroom and living room are in the same room (studio-type apartment). There you will find a cozy king size double bed (200cm x 190cm) and a leather sofa, which is used as sleeping accommodation for up to two persons (190cm x 140cm). If you are traveling with a baby, we can provide a baby cot. The beds are covered with premium bedding. A chest of drawers and two wall wardrobes for your clothes are there, too. A 32-inch TV with local and international channels and a DVD player and a stereo system for your entertainment are at your disposal. The apartment has a bathroom with window. Toilet, shower and sink are there for you. Towels, toilet paper and hair dryer are provided. For your important documents and valuable objects a wall-safe is available. Infrastructure: Within two hundred yards from the apartment you will find everything you need for your daily needs. The underground station Prinzregentenplatz (U4) is about fifty meters away. You will receive an environment map with restaurants, supermarkets, pharmacies and other useful services in the neighborhood. Free wireless Internet access is available in this apartment. If you want to discover the Bavarian metropolis you can use our bike. Please book these bikes in advance. It is a non smoking apartment. For smokers: please smoke outside in the courtyard. Parking is free on the streets. We look forward to your stay.
Sehr schöne und aufgeräumte Souterrain-Wohnung. Dahinzukommen ist allerdings gewissermaßen schon ein Detektivspiel. Da ich aber Typ Abenteurer bin, fand ich's eher herausfordernd! Insgesamt sehr viel Liebe zum Detail! Unbedingt die Anreiseanleitung mitnehmen oder eine Telefonnummer von Alex.
Mathias
2016-07-05T00:00:00Z
We are a family of four - two kids of 3 and 7 years old stayed in the apartment for one night. Instructions how to get there, where to park and where to collect keys - were perfect! Good location with shops and restaurants near by
Marina
2016-05-04T00:00:00Z
숙소 자체는 깔끔하고 좋았는데 반지하였어요..초콜릿도 챙겨주시고 전체적으로 괜찮았습니다
보미
2016-08-22T00:00:00Z
This well equipped apartment is very nice. Alex sends detailed instructions which was helpful. Location is great close to transit. Would recommend this unit to others.
New
2014-06-06T00:00:00Z
Very close to transportation and clean!
Milagros
2017-01-17T00:00:00Z
We had a wonderful stay in this apartment, was only there 2 nights but instantly felt at home. The apartment has very good transportation links with city center and was plenty spacious enough for four of us.
Roderick
2016-07-10T00:00:00Z
I reached out to Alex about an hour before we left the states for Germany to check on availability for the following day. To say he was accommodating would be an understatement. He sent all the directions and confirmations within minutes and we were all set when we arrived the next morning. The apartment is clean, safe, and worked perfectly for our short holiday. It is located steps from a subway stop and only a few stops from central station. This was for the Miami Apartment.
Kimberly
2016-11-16T00:00:00Z
La descripción se corresponde con la realidad. nos hubiera gustado saber que la casa era un bajo que daba a patio interior. La zona es residencial y muy bien comunicada con el centro.
cristina
2015-12-10T00:00:00Z
Tipo de Quarto
Casa inteira/apto
---
Tipo de Imóvel
Apartamento
---
Acomoda
4
---
Quartos
Munique, Bavaria, Alemanha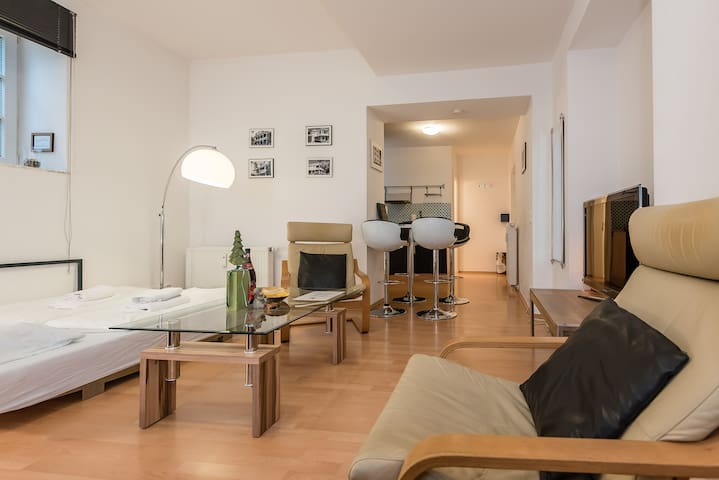 Bad mit Badewanne Wc Küche TV Balkon mit Blick über München Einkaufsmöglichkeiten im Olympia Einkaufzentrum mit direkter Verbindung von der Wohnung aus mit dem Fahrstuhl 15 Minuten ca zum Oktoberfest
Tipo de Quarto
Casa inteira/apto
---
Tipo de Imóvel
Apartamento
---
Acomoda
4
---
Quartos
Munique, BY, Alemanha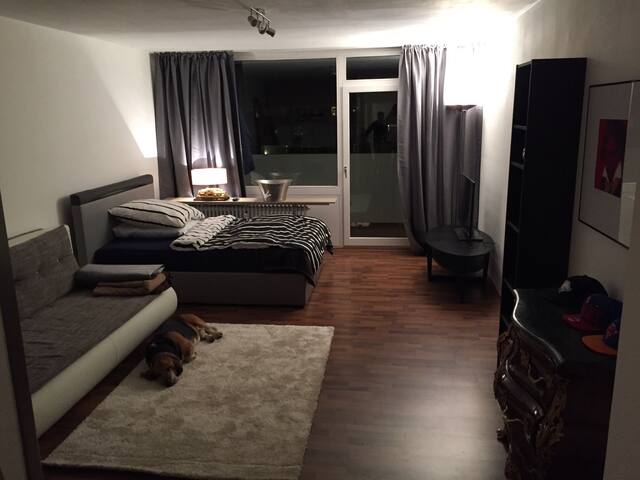 Vaterstetten - Airbnb
:
Média de

4.81

de

5

estrelas, de acordo com

524

avaliações de hóspedes
1

–

18

de

300+ Alugueres de Apartamentos
Insira as datas para ver o preço total. Taxas adicionais aplicáveis. Podem ser adicionados impostos.