Insira as datas para ver o preço total. Taxas adicionais aplicáveis. Podem ser adicionados impostos.
Vera's place was just like home. Me and my family had a lovely stay at her apartment at Borgo Pio. The street is full of cafes, take aways, bars, bakeries and most importantly gift shops. The Vatican is a stone throw away from this place and ideal if some one is coming for a pilgrimage. I would certainly recommend it to fellow diplomats and would advise them to park their cars near the vatican where they can find free CD parking places if you are coming by car. Excellent experience and wouldn't mind coming back again. Thanks Vera. Ciao
Murad
January 2016
Notre famille a passé un excellent séjour chez Vera "I colori di Borgo Pio". L'appartement est accueillant, confortable et calme. Vera a été très à l'écoute
Emmanuelle
April 2016
Our host was great, met us at the apartment and showed us where everything was. The apartment met all of our needs. The location was perfect for what we wanted to see while on the 1st leg of our journey. Sights were a very short walk away, and shops and restaurants were on the same street. Some great pastries and gelato!
Leslie
March 2016
I was wonderful holiday in Vera's apartment! Vera was responsive and quite active in communication. Apartment is lovely and our family of 5 stayed in high comfort. Listing is very accurate however it cannot express friendly atmosphere and kindness of our host. Apartment is 2 blocks from Vatican and even in the city center we always walked and enjoyed history of Rome. Metro station is about 10 minutes walk, several restaurants and shops open till late night make it easy for all arrangements after sightseeing.
Petr
February 2016
Le séjour s'est très bien passé. L'appartement est très bien situé très proche de la place saint pierre et l'accès aux sites de Rome est très facile même avec des enfants. l'appartement est très fonctionnel, l'immeuble est très calme ainsi que la rue. séjour parfait.
fabrice
October 2016
Location Location Location. The apartment is adequate but the location is spectacular. Great value for the money. You will not be disappointed. Relaxed pedestrian street with shops and restaurants five minute walk from the Vatican. Also about seven minute walk to the yellow tourist bus that circles Rome, and is included in a Roma Pass. The checkin was pleasant. I wish we had paid more attention to the instructions on using the heater, but that was my fault. Quiet and the neighbors were universally pleasant. You get an entire apartment, not rooms in someone's house. Vera responded promptly to our emails and helped us find gluten free food. We used the kitchen for cooking due to food allergies. But Rome is one of the most gluten free friendly places I have ever been, only Ireland is better. The building elevator is tiny slow and hard to use so we used it only to transport luggage. The apartment is in the second floor and we walked. However, these are minor things. I hesitated to write about this great location and our fabulous experience because we hope to book this apartment again and want it to be available. We will definitely return. My best AirBnB experience yet.
Philip
November 2016
We were hassled about arrival time from around 2 months before our arrival. This continued right up until and hour before arrival. There was only one bedroom, not two as listed at the time of our booking and no air conditioning to be seen as stated. We were contacted 2 weeks before arrival by Vera stating that the air conditioner had broken. When we asked if it could be fixed in the next 2 weeks we were urged to cancel our booking. On arrival when we inquired about any existence of air con it was also suggested we find another place if that's what we wanted. Very rude. I suspect this apartment is one of many that this 'host'runs as the level of harassment for arrival time was quite extreme and eventually we were told that it must be between 4 - 5 pm. I have the texts still to verify this. The conduct of this host was completely unacceptable to us. Beyond this, in the middle of Rome summer we had no air con, and no or broken fly screens. We had the choice of either sweltering in the heat, being eaten by mosquitoes or having our privacy compromised. We have used many Air bnb places on our travels so far but this one takes the cake. The personal touch that Air bnb provides is sadly lacking in this place. We will be more careful in the future.
minna
September 2016
This apartment is extremely well-located, and I cannot imagine there would be many places for visitors to the Vatican City to stay so close to St Peter's Square. We even had a procession pass by the door on Sunday evening which was a delightful surprise! The apartment was as clean and well-appointed, almost all as advertised and suitable for my family of five using all the beds and the sofa; however Wi-Fi connection was not reliable and apparently limited to 450MB per day. The hot, humid weather during our stay meant that we had to open our windows during our stay; unfortunately this led to the entry of mosquitoes and street noise (some very late at night!). These small annoyances did not detract from our visit which was thoroughly enjoyable and I thank Vera for her introduction to the Airbnb stay in her home.
Christopher
July 2016
Tipo de quarto
Casa inteira/apto
---
Tipo de Imóvel
---
Acomoda
4
---
Quartos
1
Borgo, Vaticano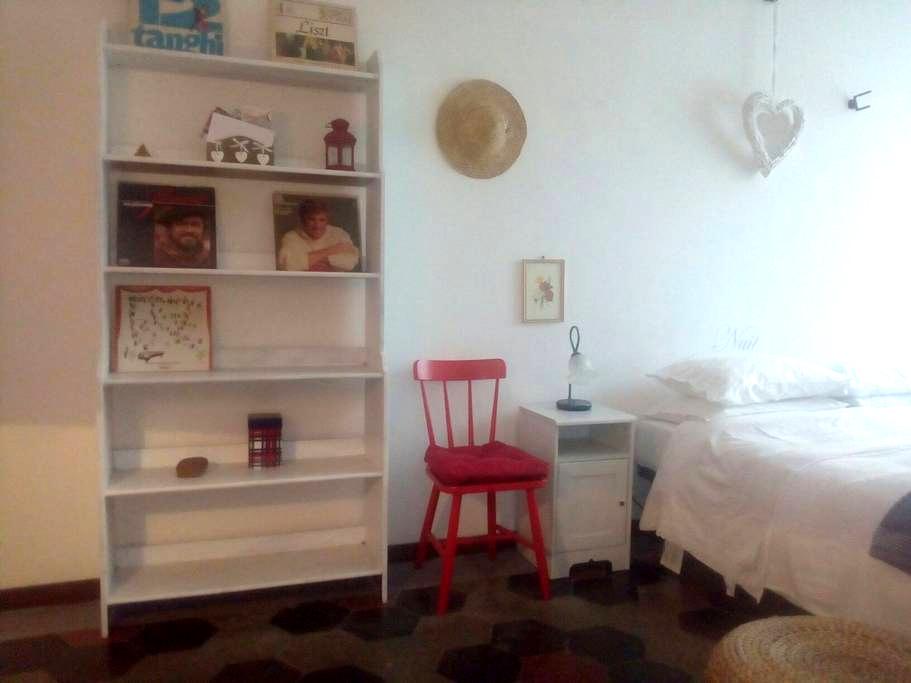 This location was absolutely perfect for a visit to Vatican city. Everything including St Peter's Square and Basilica and the Vatican Museum were all within a short walk. The apartment had close access to groceries, restaurants and the Metro. We were however disappointed with some elements of cleanliness and ran into issues with a clogged shower drain and overloading the power system causing the breaker to blow.
Colin
August 2016
Muy buena ubicación, muy espacioso para varias personas
Diego
August 2016
All was excellent. Salvatore is a great host and the apartment is like the photos, very luminous and close to the Vatican.
Pau
June 2016
The apartment was larger than expected and centrally located. The Vatican and other attractions are within walking distance. Public transportation is a block away. There is a bakery, grocery store, restaurants on the street and also near by. The apartment was clean, well furnished, comfortable and we enjoyed our stay. Alessia arranged airport pick up and drop off service for us. This was a nice touch especially after a long flight. There was a slight miscommunication about the meeting point for our driver. I texted about the problem and immediately received a reply and phone call! I'd book this location again. Thank you for hosting us.
Aurora
October 2016
Muy buena ubicación, el alojamiento muy amplio nosotros éramos siete y estuvimos muy cómodos.
Diego
August 2016
Все было хорошо Заселили вовремя Приятные люди Жилье именно такое как мы и ожидали All was fine settled in time Nice people Housing is such as we expected
Wladimir
October 2016
Can't get much closer to the Vatican and lots of room to spread out for our family of five. Great communication before and during the stay and really enjoyed our visit. Easy to get on metro but everything is walkable and no shortage of things to see in Rome. Hope to stay here next time!
Ty
December 2016
It was a great experience actually living in a Roman apt! We loved the apt and all the amenities, we felt very safe, the apt is great and in a great location! Can wait to book again next time we visit Rome!!!
Antonio (Tony)
September 2016
Tipo de quarto
Casa inteira/apto
---
Tipo de Imóvel
---
Acomoda
7
---
Quartos
2
Prati, Roma vaticano