Benavente house is a guest house where you will feel immediately at home. We have Wiffi throughout the house, Room 2 has a shared bathroom. Free Coffee, if the room is booked we have others available. Airport 15 min Usac 5 min Zoo 15 min Pacific Mall 3 Blocks Live area 15 min Parks Irtra 15 min Majadas 15 min Oakland Mall 15 min Miraflores Mall 15 min Macdonalds & Dominos Pitza 5 min Ciclovia 4 blocks Aguilar Batres 2 Block Public Transit (Transmetro) 3 Blocks
We offer one Private Bedroom with 2 shared bathrooms and closeth with storage. A great benefit of this location is that we are just minutes distance to the vibrant atmosphere of Aguilar Batres and Majadas (a great number of shopping malls and office buildings makes this area a bustling business centre of Guatemala City.), with super shopping, restaurants, banks and 24 hour grocery store. For those needing parking, this Suite has one space which may be available and is in front of the House. Washer machine is available in the house or you can use the Coin wash and dryer machine just three blocks from the house. You will appreciate that the Suite is furnished with all the comforts of home, and the kitchen is equipped for simple daily needs. Bedrooms have sheets, blankets, pillows and space in the closets. The kitchen has plates, glassware, cutlery, cooking dishes, pots and pans. Every comfort is considered to make this a comfortable home away from home for you and your family. It is ideal for those in transition, immigrating, or for somewhere to live while renovating their own homes. Another Rooms CASA BENAVENTE ROOM #1 https://www.airbnb.com.gt/rooms/10695430 ROOM #2 https://www.airbnb.com/rooms/11293514 ROOM #3 https://www.airbnb.com.gt/rooms/11340066 ROOM #4 https://www.airbnb.com.gt/rooms/11433319 ROOM #5 https://www.airbnb.com.gt/rooms/11435666 ROOM #6 https://www.airbnb.com.gt/rooms/11453349 Retalhuleu (Near Abaj Takalik) VILLA 32 "PARADISE NEAR IRTRA" https://www.airbnb.com.gt/rooms/9273225 VILLA 16 "TROPICAL PARADISE" https://www.airbnb.com.gt/rooms/11565040 Puerto Vallarta (Mexico) VILLA VALLARTA https://www.airbnb.com.gt/rooms/11602191
Pase una buena noche, no hay ruido del exterior, todo estaba muy limpio y ordenado, no tuve contacto con el anfitrión pero siempre estuvo pendiente! Sin duda siempre estará en mis opciones! Saludos :)
Maria
2016-11-28T00:00:00Z
No llegue pero el contacto fue inmediato
Guillermo
2017-02-05T00:00:00Z
Kind host! Even though we never got to meet her.
Joakim
2016-10-17T00:00:00Z
Clean room, comfortable bed. Close to different food options and malls. Also the area is really safe! Cozy was very kind in offering different suggestions of things to do, places to visit while i was there. Would def recommend the place.
Daven
2016-11-23T00:00:00Z
Clean and the bed was very comfy. Definitely recommend.
Dominic
2016-10-14T00:00:00Z
It's a quiet clean place close to Transmetro.
Sebastian
2016-10-01T00:00:00Z
queda ubicado cerca de centros comerciales, transporte publico, el lugar es sencillo, pero tiene lo suficiente para poder trabajar a gusto.
Alejandro
2017-03-26T00:00:00Z
Cozy was a fantastic host and provided us with a wonderful space to stay for the evening. She was quick to respond to any questions we had and was very helpful in recommending cool local spots to check out. Parking was a breeze, which is always a plus! I would absolutely recommend Cozy's space to anyone passing through Guatemala city.
Antonio
2016-12-07T00:00:00Z
Tipo de Quarto
Quarto privado
---
Tipo de Imóvel
Casa
---
Acomoda
2
---
Quartos
Guatemala, Guatemala, Guatemala
My place is close to ATM, supermarket, drug store. 2 miles away are shopping malls, restaurants all kinds... from tacos, sushi, burger king or just some good Guatemalan coffee!. You'll love my place because of How close it is to everyhting. Antigua is 30 min and so is Pacaya Volcano. The house itself is cozy if you rather stay and relax. Beds are comfy and you can enjoy the jacuzzi!. My place is good for couples, business travelers, families, big groups, and furry friends
Tipo de Quarto
Casa inteira/apto
---
Tipo de Imóvel
Casa
---
Acomoda
6
---
Quartos
Guatemala, Sacatepéquez, Guatemala
Near the Areopuerto, excellent location close and easy access to the most beautiful areas of the city. It has a welcoming environment surrounded by nature. wiFi has a private bathroom, tv. ideal for relaxing after a long journey. Or to know the city of Guatemala.
House YoGano We are located 2 min from the Airport. Near the most beautiful areas of the city of Guatemala. The house has 2 bedrooms. The master bedroom has a private bathroom and the room has a king size bed ideal for couples television. The house has a garden and sitting area. The house has a small restaurant where you can taste the best Guatemalan food. Each room is rented separately.
Located in a very quiet and safe residential. It has 24-hour security . A park and walking area. It has malls and supermarkets nearby.
The location was excellent and we were able to organise transport with our host for 30Q. This worked really well for us as we had an early international flight. Ana introduced herself after we arrived to see if we needed anything which was nice. We were disappointed that there was a party held at the property the night of our stay. It was close to our room and very loud.
Anne
2017-03-19T00:00:00Z
Amanda's house is really close to the airport and located in a safe residential gated community. Communication and service were excellent. Amanda's sister brought us to the mcdonalds when we were hungry and her boyfriend brought us to the airport in the middle of the night (40q). Would stay here again if i had an early flight out of Guatemala City.
Floortje
2017-02-18T00:00:00Z
Endroit central et près de l' aéroport, propre et tranquille
Marc
2017-03-14T00:00:00Z
Amanda and Ana were wonderful hosts! They were waiting outside their home for us when we arrived, and they were kind enough to wake us up in the morning for our flight. The room was very cozy and comfortable--and conveniently located near the airport! =)
Sobia and Rizwan
2017-03-24T00:00:00Z
Very nice family in a peaceful location close by the airport. We arrived after a 10 hours bus ride and we were greeted with coffee and homemabe chocolate cakes ! The restaurant is also very good ! Amanda and her family know how to make you feel at home. See you in Bordeaux !
Oceane
2017-03-08T00:00:00Z
The host was very friendly. Quick response, informative and helpful. The room was very clean and comfortable. They took me to the airport very early in the morning and on time. It was in a safe and secure residential area close to the airport. I would highly recommend staying with Ana and Amanda.
Debby
2017-03-22T00:00:00Z
Great place to stay if you would like to be in a nice neighborhood next to the airport. It's a super safe gated area. You can easily take Uber if you would like to go to city center. Amanda was really great at communication, answered all my questions and helped me a lot. I ate breakfast and dinner at the restaurant that they have right in their house. It was delicious. Amanda's boyfriend drove me to the airport at 4:30am, which was an amazing help!! Thank you!
Katya
2017-02-11T00:00:00Z
Muy bien por una noche. Cerca de aeropuerto, limpia, confortable y Amanda estaba muy amable y ayudadle. Además recibimos un desayuno muuuy rico y podemos Check-Out cuando quisimos :) 100% recomendable!
Isabel
2017-01-24T00:00:00Z
Tipo de Quarto
Quarto privado
---
Tipo de Imóvel
Casa
---
Acomoda
2
---
Quartos
Guatemala, Guatemala, Guatemala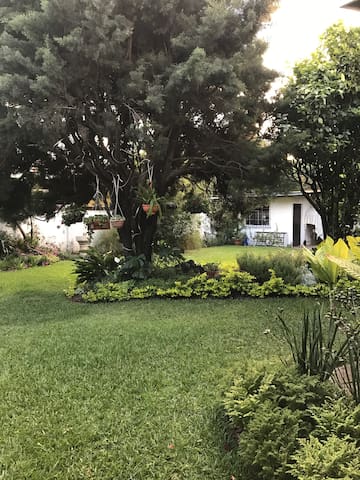 Nuestra casa está cerca de todo. Estamos a sólo 3 minutos del aeropuerto lo cual lo convierte en el lugar perfecto para alojarse después de que su avión ha aterrizado o el lugar perfecto antes de su partida. Quédese con nosotros por una noche o más.
Es lo más cercado a casa que vas a obtener. Nuestra casa es muy cómoda. Puedes usar la cocina, el comedor, la sala, jardín y lavandería. Tenemos un baño adicional en el primer piso.
Vivimos en una colonia cerada entonces es muy seguro salir a caminar, correr o hacer ejercicio en las caslles si así lo deseas. Puedes usar nuestras biciletas también. En la colonia tenemos dos tiendas pequeñas que venden cosas básicas como vegetales, harinas y otros elementos básicos para cocinar.
It was a very quick stay as our flight arrived late and we flew out early the next morning. Perfect place to stay for airport transfers. Maria and her brother were very helpful. They called us a cab for an early morning pickup, offered to order us food and made sure we had everything we needed.
Britta
2017-02-24T00:00:00Z
Lo esperado, limpio y confortable. Pero difícil comunicación si no es por taxi o transporte privado al centro de la ciudad
Jorge
2017-03-17T00:00:00Z
Probably the kindest and friendliest people I have ever met on an Airbnb stay. The house is very comfortable. They really looked after me. Mynor gave me a lift to the airport when I was more than willing to pay for a taxi. The house is so close to the airport, so makes for a great stay over on a late or early flight. I enjoyed walking around Guatemala city and the museums that I was recommended.
Elizabeth
2016-12-27T00:00:00Z
Todo bien!!
Ruby
2017-04-01T00:00:00Z
We enjoyed our stay at the house. Mynor picked us up from the airport and provided us with contacts for takeouts as it was pretty late and we arrived very tired and hungry! The room was extremely large, very clean with a comfy bed and the bathroom was great with a nice hot water shower. Thoroughly recommended.
Jocelyn
2017-01-06T00:00:00Z
My hosts were so accommodating and friendly! I wasn't that familiar with Guatemala City so they helped me get around and find food too. I'll definitely be back if I get the opportunity!
Katie
2017-03-11T00:00:00Z
The area we stayed in was nice and clean. We had access to the living area, kitchen, and dining area. They offered 30 q for washing and 40 q for washing and drying clothes which was what we really needed after our visit to semuc. No complaints.
Krystal
2017-03-26T00:00:00Z
Mynor's house was very close to the airport making it very convenient since we got in late and my bag did not come until the morning. Mynor picked us up from the airport and brought us back to his house. He was nice and welcoming. We had plenty of space in our room. I would recommend staying here if you need to be close to the airport.
Hetta
2017-03-25T00:00:00Z
Tipo de Quarto
Quarto privado
---
Tipo de Imóvel
Casa
---
Acomoda
6
---
Quartos
Guatemala, Guatemala, Guatemala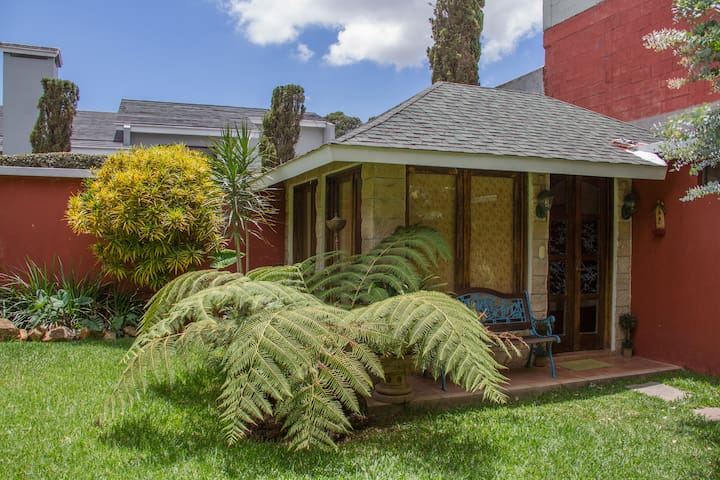 Apartamento menos de 3 minutos do aeroporto em um h24 colónia de forma segura. lugar perfeito para descansar antes ou depois de seu avião. Para uma ou duas pessoas. Aqui você pode usar a sala como você deseja ou usar a cozinha. Há acesso de fora para fumar.
O apartamento é em dois níveis. No fundo da sala de jantar e sala de estar com TV (Netflix) e Internet e encontrou a cozinha. Há também dois pequenos acesso externo (só aqui você pode fumar). Na parte superior há 2 quartos e um banheiro compartilhado.
Menos de 2min aeroporto aqui é uma colônia privada para proteger todo o dia e noite. Se você pode cozinhar aqui .. Também na colônia há uma cozinha local e barata de jantar na casa da minha namorada onde eu trabalho como um cozinheiro. Lá você pode tomar café da manhã (eu me pergunto se mais cedo) ou almuerzar por cerca Q25
The host canceled this reservation 21 days before arrival. This is an automated posting.
Kelsey
2017-03-22T00:00:00Z
We would totally recommend staying with Cyril if you only need one night to relax after or before your flight. It's located very close to the airport and Cyril picked us up and drove us also to Antigua the next day, cheaper than a taxi. The apartment is clean and in a guarded area, we felt very comfortable. Cyril offered us to use his stuff to make breakfast. We also had really nice and interesting talks. Would stay again!
Nadine
2017-03-01T00:00:00Z
Cyril picked us up from the airport and also arranged transport for us to Antigua for the following day. It was great staying with him. His home was very close to the airport which was perfect for our one night stay! Thanks again Cyril!
Christina
2017-02-22T00:00:00Z
Cyril and family are wonderful hosts. There was a glitch in where exactly (which property) I was to stay, but that was quickly solved. This is the perfect place to stay if your flight is late night/ early morning, just a quick 5 minute trip by taxi. Cyril provided me a lovely breakfast, super coffee, and offered me transport to Antigua. Highly recommend if you are moving in or out of Guatemala City.
Mauriah
2017-03-18T00:00:00Z
The bed was very comfortable and the proximity to the airport was excellent which was great for my early morning flight. The bathroom was pretty dingy and I opted not to take a shower in it because it was rather unclean. The other guests were a bit noisy which mad for an uncomfortable stay. Unfortunately there are no restaurants within reasonable walking distance so I went without dinner for the evening. But I made my early morning flight so location worked well and can't beat the price. I'd advise bringing your own food if you don't have a vehicle.
Melissa
2017-03-21T00:00:00Z
Cyril and his girlfriend are really great people. They even picked us up from the AirPort late and drove us to the bus next day. They were very helpfull and kind. We Will stay here again for sure and recommend you to stay there ;)
Pernille
2017-02-09T00:00:00Z
A perfect spot!! Clean! Close to the airport! Cyril is super helpful and even pick us up from the airport and carried our heavy bags! He offered us breakfast and provided bottle water. He also helped us get to where we were he added next!
Allie
2017-01-14T00:00:00Z
Cyril made us feel very welcome from the beginning and was super helpful with everything. Our Spanish is not the strongest nor Cyrils english but we had no issues in communicating with one another. Super close to the airport and great value of money, this is why we chose to stay here. A super clean and beautiful house, highly recommend staying here if you have an early morning flight!
Kiani
2017-01-13T00:00:00Z
Tipo de Quarto
Quarto privado
---
Tipo de Imóvel
Casa
---
Acomoda
2
---
Quartos
Guatemala, Guatemala, Guatemala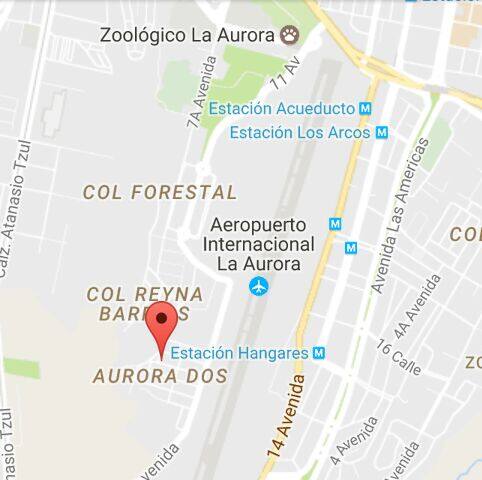 This is a beautiful house with a friendly and homely environment. Located in a residential street, it has a quiet location very close to Interamerican Road and near to downtown, airport, Antigua Guatemala. It´s a strategic point to go to different tourist sites in the country.
Our house is a mixture of architecture, colors and unique elements; Which make it different, warm and welcoming.
The neighborhood is very quiet, safe in a friendly atmosphere. It has green areas with tables and benches; where you can be or walk. There is no problem if you stay out al night; it is a very safe place.
This was a nice homely place. Kendell was very helpful and shared a lot of information. He was extremely flexible, and went out of his way to make sure he provides good options/suggestions. His dog hatchi is definitely something to look forward to - cute and so excited, it is hard to take your eyes of him!
Radhika
2017-01-02T00:00:00Z
Quedarnos en la casa de Kendell y su familia fue una muy linda experiencia, nos hicieron sentir como en casa, realmente muy buenas personas, nos ayudaron con muchos consejos de lugares a visitar y muchas cosas más. Compartimos lindos momentos , y Mirian nos hizo una riquísima cena, nos llevamos un lindo recuerdo de Guatemala gracias a ellos. La casa está equipada con todo lo que se necesita, muy limpia y en zona bien segura. Está bien ubicada ya que es cerca a Antigua Guatemala y a la ciudad de Guatemala.
Martin
2017-01-28T00:00:00Z
Muy buena experiencia quedarme en la casa de Kendall, fácil acceso, zona segura y su casa muy acogedora, cabe recalcar que superó mis expectativas en todo aspecto, limpio, ordenado y todos en la casa nos hicieron sentir como en casa, la comunicación es todo y eso no faltó desde la reservación hasta al salir de su casa, recomendado al 100
Danno
2017-03-05T00:00:00Z
Tipo de Quarto
Quarto privado
---
Tipo de Imóvel
Casa
---
Acomoda
2
---
Quartos
GT, Guatemala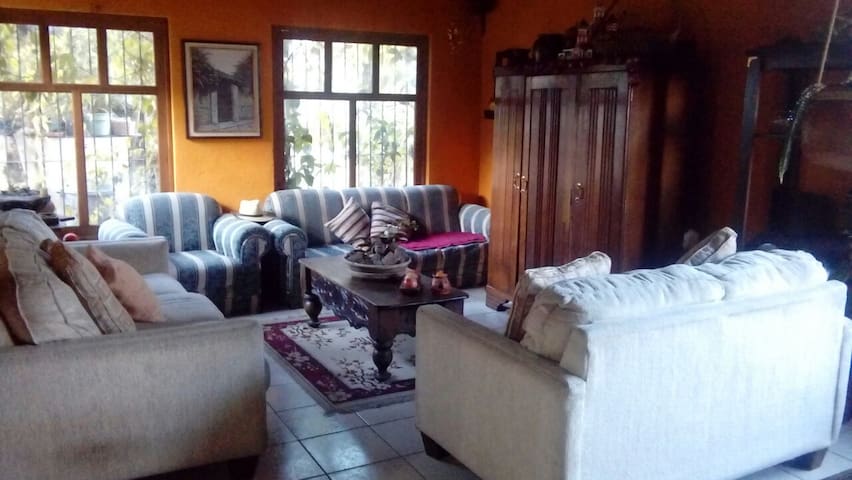 Centros comerciales, cerca de Amatitlan y costa sur
Tipo de Quarto
Casa inteira/apto
---
Tipo de Imóvel
Casa
---
Acomoda
4
---
Quartos
Guatemala, Guatemala, Guatemala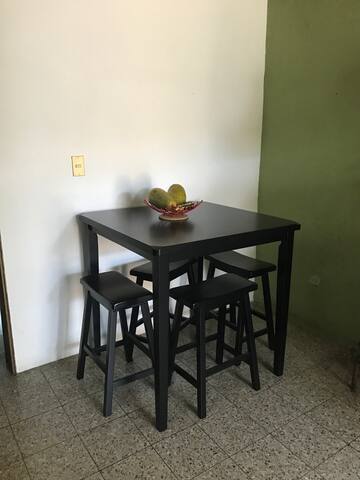 It has a garden of 4000 vrs2 pool to the delight of guests, barbecue , pizza oven , covered social area 200mts2 , hot water , well, 24 hour security guard , basket court, Volcano view , 15 min of Antigua. Fresh Air
No hay ruidos basura, solo viento y diversos pájaros.
Paradisiaco lugar con muchisima tranquilidad y bellas vistas naturales con todas las comodidades que puedan pedirse. Una experiencia inolvidable y relajante. El Sr. David se queda corto describiendo lo bello de su casa muy cerca de todas las comodidades de la vida moderna (Guatemala Capital) y tambien muy cerca del historico lugar declarado patrimonio de la humanidad (Antigua Guatemala). Uno de los mejores viajes familiares que hemos hecho. Gracias Don David! This place is paradise! What a relaxing laid back place with natural beauty and all the comfort you might expect and need within reach. Unforgettable experience! "Don David" as my family and I call him falls way short of describing just how beautiful this place is and how convenient his house is. This place is very close to Guatemala City and Antigua Guatemala, a UNESCO declared "patrimony of humanity" city. This is certainly one of the best trips (if not outright the very best) that my family and I have taken. Thank you Don David!
Carlos
2016-09-05T00:00:00Z
This has been an incredibly beautiful place to stay. The property is a little piece of isolation. Great 180° views. There's a little meadow at the bottom that attracts an impressive variation of birds, butterflies, insects, and other wildlife. There's a majestic avocado tree next to the meadow. The whole place is surrounded by wilderness. Manuel, the caretaker, is very helpful and nice. David has been helpful and flexible. I hope to stay here again...this is a special place. Come if you want to be outside. The house is nice and cozy, but the main character to this place is the surrounding environment. We witnessed some breathtaking lightning shows here. I could go on and on... Internet is so-so; a bit limited if you are doing business. But you can buy wireless internet for pretty cheap and bring it with you. Reception is good.
Austin
2016-07-12T00:00:00Z
The host canceled this reservation the day before arrival. This is an automated posting.
Luis Eduardo
2016-12-29T00:00:00Z
I love staying here. Very peaceful and well managed place. Came for a second time--this time for an entire month.
Austin
2017-02-17T00:00:00Z
What can we say- we are in love with this beautiful little house!! Amazing view, very comfy and very helpful people- due to the fact that we Went their for medical purposes we didn't spend much time in the house but it's amazing if you are on real vacation! We will definitely stay at this place whenever we go back to Guatemala
Edith
2016-05-21T00:00:00Z
La casa y el lugar están muy bien cuidados, tiene una vista increíble hacia el Volcán de Agua, quedamos muy satisfechos con las atenciones de Don David y las personas que trabajan en la casa. Recomendada y sin dudarlo volvería a elegir esta casa para una próxima oportunidad!
Rosario
2016-03-27T00:00:00Z
Todo perfecto, Don David y su esposa son personas muy amables y cordiales, nos explicaron todo y como hacer de mi estadía la mejor. La Granja es espectacular y un lugar increíble para descansar, sin duda alguna de los mejores lugares de Guatemala.
Alberto
2015-08-18T00:00:00Z
Muy satisfechos con la casa de campo y la atención brindada. La casa está muy bien cuidada, ofrece espacios con muchos cuidados y detalles. No dudaria en regresar, verdaderamente fue una estadia muy agradable y relajante a tan solo 12 min de la Antigua.
Gerardo
2016-01-01T00:00:00Z
Tipo de Quarto
Casa inteira/apto
---
Tipo de Imóvel
Casa
---
Acomoda
5
---
Quartos
Mixco, Sacatepéquez, Guatemala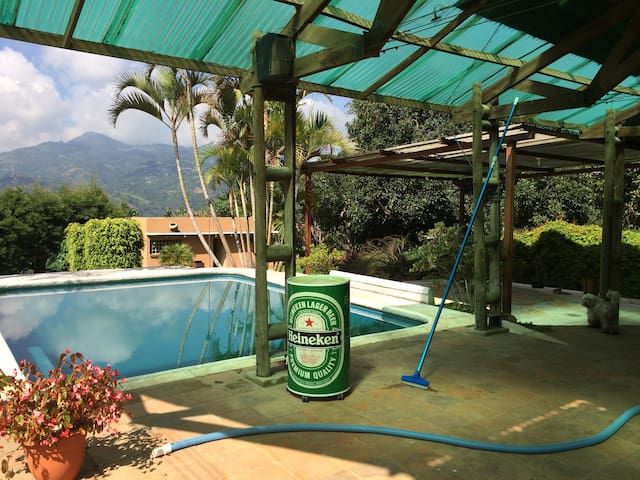 It is a very cozy house with everything you need to make you feel comfortable, is located at a strategic point for the airport "La Aurora", and also to visit Antigua Guatemala (more tourist site in Guatemala) is also located a few meters from the main exit that takes you into the Pacific Ocean. It is a good meeting point to go anywhere in Guatemala, and it is a few minutes from the city of Guatemala there is not so much traffic.
Tranquilo Limpio Seguro
Muy seguro
Tipo de Quarto
Quarto privado
---
Tipo de Imóvel
Casa
---
Acomoda
2
---
Quartos
Villa Nueva, Guatemala, Guatemala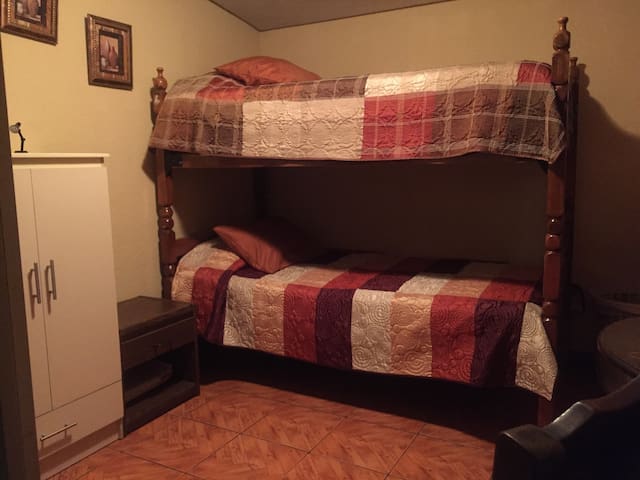 Linda casa en sector industrial de la ciudad, a la par de la Universidad de San Carlos. El residencial es en extremo seguro. Cuenta conn 2 habitaciones y un eatudio, garage para 3 carros, cable, cocina equipada, cuarto de servicio y 3 jardines.
Tipo de Quarto
Casa inteira/apto
---
Tipo de Imóvel
Casa
---
Acomoda
4
---
Quartos
Colonia Villa Sol, Guatemala, Guatemala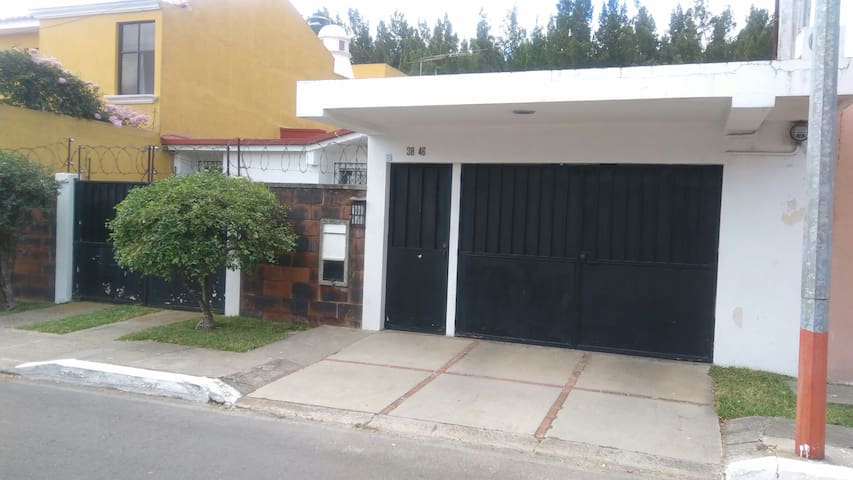 Excellent cozy place for family or groups, plenty of shops 5mns away, transportation nearby, or private transport can be provided.
Tipo de Quarto
Casa inteira/apto
---
Tipo de Imóvel
Casa
---
Acomoda
5
---
Quartos
Villa Nueva, Guatemala Department, Guatemala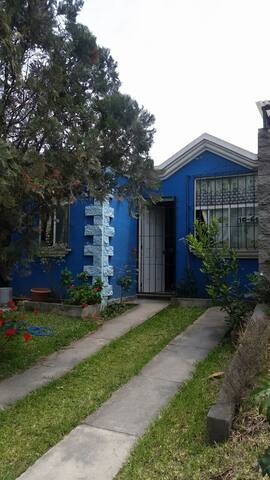 Our place is close to Airport. You'll love it because of the views and quiet. It is good for couples, solo adventurers, business travelers, and furry friends (pets). You can use it as your first stop in the city before the crazy adventure or you can use it as your last stop to regroup before going home. Either way, we'll be happy to accomodate you.
Vicky and her husband were amaizing hosts! I highly recommended them to anyone staying in Guatemala City area!
Natacha
2017-02-23T00:00:00Z
Paikka siisti ja mukava. Sijaitsee lähellä lentokenttää, mutta kaukana keskustasta, mikä kannattaa ottaa huomioon. Vicky on ystävällinen ja auttavainen. Pidin todella hienona asiana, että hän hoiti minulle kyydin Antiguaan, minne menin seuraavana päivänä.
Jenni
2017-03-16T00:00:00Z
Tipo de Quarto
Quarto privado
---
Tipo de Imóvel
Casa
---
Acomoda
2
---
Quartos
Guatemala, Guatemala, Guatemala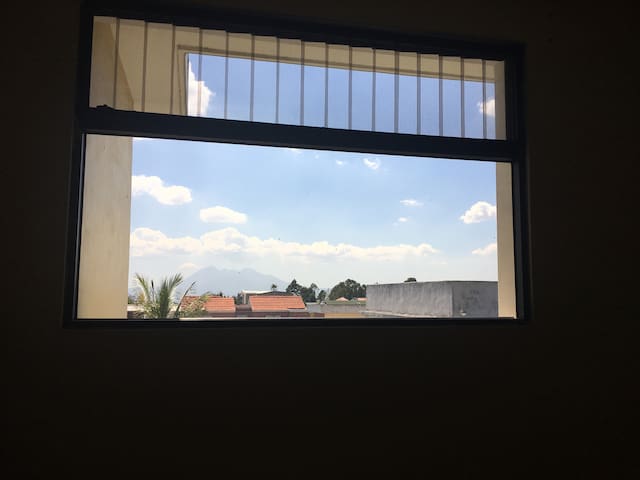 A nice and cozy wooden house near public transportation, just 5 minutes walk along a quiet and safe neighborhood, nice room with ample lighting, ample parking inside and outside the home, as well as a spectacular view of volcanoes in Guatemala ...
quiet and safe residential neighborhood, near establishments ... Pharmacies, restaurants, barber shops, clinics, supermarkets.
Tipo de Quarto
Quarto partilhado
---
Tipo de Imóvel
Casa
---
Acomoda
2
---
Quartos
Guatemala, Guatemala, GT, Guatemala, Guatemala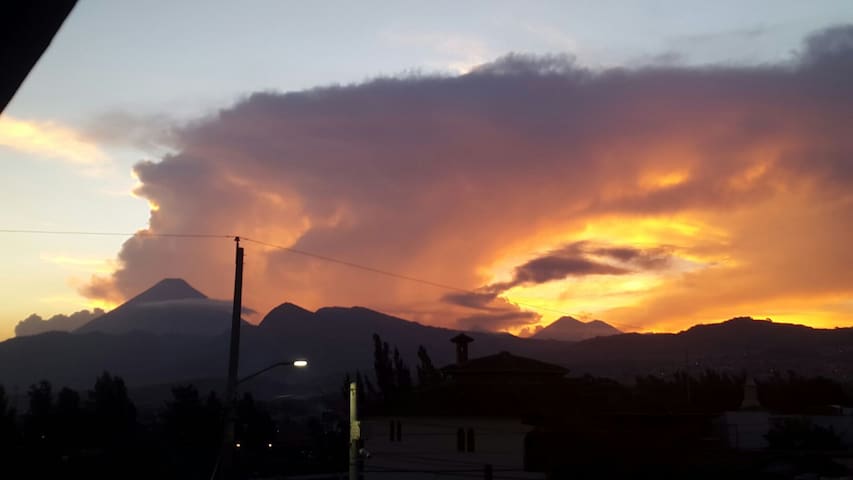 Casa Benavente es una casa de huespedes, donde enseguida te sentirás como en casa. Cada una de las seis habitaciones de la casa es única. Contamos con Wiffi en toda la casa, Room 3 posee baño compartido.
We didn't expect much, given the price. We had to really argue with our shuttle driver to even take us to this address. Just needed a place to sleep and shower for one night on the way out of GUA. The only way to find it is by the numbers on the house. No names or signage. The guards next door had no idea what I was talking about when I asked about it. Was quite confusing. The entrance resembles a black garage. There is one tiny bathroom and shower (with no hot water and clogged drains) shared between three rooms. Outside there were loud neighbours and people partying until very late. In the morning (Sunday) around 7am there was what sounded like a music festival with extremely loud music and people screaming. When we left we were harassed by drunk people on the street right outside the door.
Olle
2017-04-09T00:00:00Z
Recomendado lugar para los que visitan ciudad de Guatemala!
Adela
2016-11-25T00:00:00Z
Very nice place To Stay in GC. Enjoyed My Stay And The place was very clean. The staff Helped me get a taxi to The AirPort had everything secured prior To My arrival. Highy recommend this place! Oh And.. There are Hot showers! *excuse The typing, IT Is due To The language settings On my phone*
Tiffany
2016-06-09T00:00:00Z
Me senti muy bien, muy bonito el lugar, la zona en donde esta ubicado es muy buena
Jonathan
2016-08-13T00:00:00Z
El lugar es bastante cómodo y bonito. La ubicación es también favorable para llegar a cualquier destino y el vecindario se veía seguro y tranquilo.
Julio
2016-10-06T00:00:00Z
This place was really convenient for us as it was very close to the Tika bus when we arrived and also very close to the Trans Metro to get around town. The place was very clean and the kitchen was well equipped.
Marc
2016-10-22T00:00:00Z
Nice,clean place. Cozy and houskeeperin zoila are very frendly and helpful. I feel me safe :) Thanks
Daniela
2017-02-23T00:00:00Z
I stayed here for 1 night as we were traveling through Guatemala with my infant daughter. I found the property to be very clean, in a safe neighborhood close to food and shops, and very comfortable for the price. Hot water is a must in Guatemala city and not every property has it. Also, wifi was very fast - I work online and had no issues.
Sara
2017-02-16T00:00:00Z
Tipo de Quarto
Quarto privado
---
Tipo de Imóvel
Casa
---
Acomoda
2
---
Quartos
Guatemala, Guatemala, Guatemala
Te va a encantar mi espacio porque es Mut tranquilo y seguro
Nicole's place is cozy and beautifully decorated! Her house is located in a secure and family-friendly neighborhood. Our stay there was comfortable in every sense. Thank you for a wonderful stay!
Antonio
2017-01-01T00:00:00Z
Die Unterkunft ist sehr sauber, schön eingerichtet und bietet mitten in der Stadt einen ruhigen Rückzugsort. Nicoles Haus kann ich ohne Einschränkung weiterempfehlen.
Verena
2017-03-06T00:00:00Z
Tipo de Quarto
Quarto privado
---
Tipo de Imóvel
Casa
---
Acomoda
2
---
Quartos
Guatemala, Guatemala, Guatemala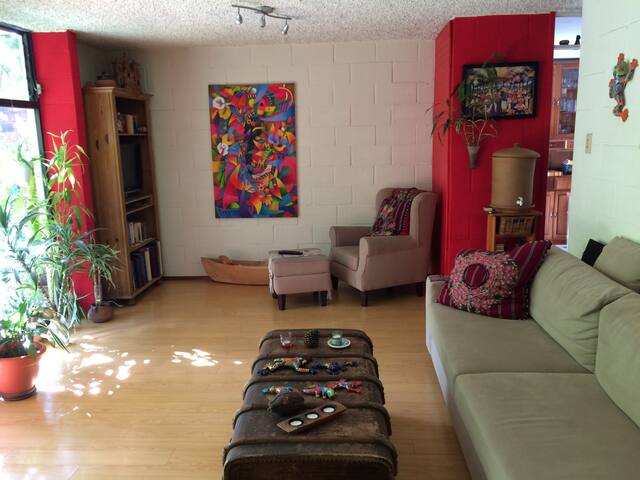 Pisos de madera exclusivo condominio 20 minutos de Antigua Guatemala Centros comerciales cines restaurantes comodas habitaciones atencion personalizada
Espacio amplio y confortable comodo y placentero
Es un vecindario exclusivo en donde pudes salir a caminar con toda seguridad y en el boulevard principal tenemos acceso a equipo para ejercitarnos y caminar libremente
Tipo de Quarto
Quarto privado
---
Tipo de Imóvel
Casa
---
Acomoda
2
---
Quartos
Guatemala, Guatemala, Guatemala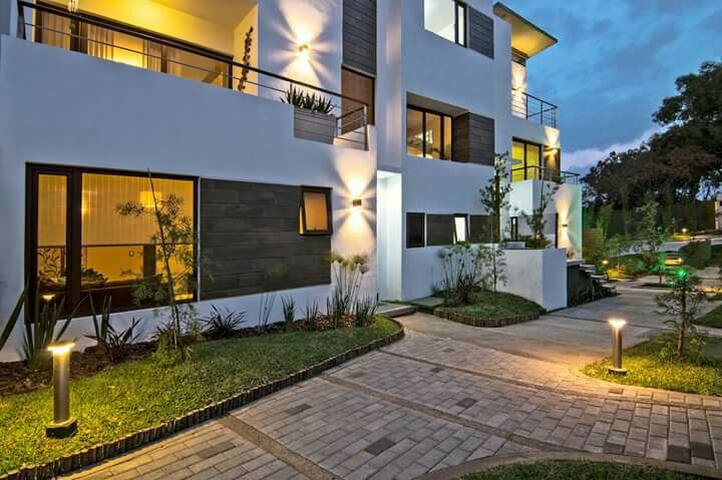 COLONIA RESIDENTIAL STREETS AND AREAS WITH GREEN LARGE, ideal for jogging, biking, ETC. VERY CLOSE TO STOP DRIVING TRANSMETRO ZONES 1, 6, 9, 10, 18, ETC., BICIMETRO STOP AND BICYCLE CICLOVIA
Tipo de Quarto
Quarto privado
---
Tipo de Imóvel
Casa
---
Acomoda
1
---
Quartos
Guatemala, Guatemala, Guatemala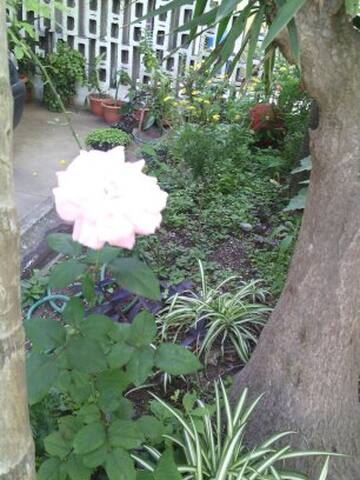 A minha casa será perfeito para a sua aventura na Guatemala! Nossa casa está muito perto de qualquer lugar. A uma curta distância você pode encontrar lugares para comer e explorar. Além disso, você pode apanhar o autocarro em qualquer lugar que você precisa. Vivemos em um bairro seguro e nossa casa é tranquila. Recepção no aeroporto Como um serviço adicional, oferecemos para buscá-lo no terminal do aeroporto ou de ônibus por US $ 12,00. Mi alojamiento es bueno para parejas, aventureros, viajeros de negocios y grupos Grandes.
Um bairro muito seguro, limpo, perto da natureza.
La habitación súper cómoda y ubicado en una zona cercana para ir caminando al centro histórico de la ciudad.
J Alexis
2016-12-30T00:00:00Z
Last minute change of "accommodation" and placed in mother's house which was very suspect.
Tarun
2016-12-27T00:00:00Z
I've stayed in Airbnb accomodations in several countries all over the world the last few years and this was by far the best! Mynor and Wilson are hilarious, kind, patient, and helpful. They showed me around and I learned a lot. They both work hard so be respectful of their obligations but otherwise, couldn't have asked for better hosts. Wuuuuuu!
Jonah
2016-12-13T00:00:00Z
Demasiado agradecido con la estadía, me encantó la habitación y la limpieza, además la ubicación estratégica y las ganas de enseñar la ciudad, cuando vuelva a Guatemala de fijo volveré aquí . Muy recomendado!!
Roberto
2016-12-31T00:00:00Z
Pour y être resté que 3 nuits c t bien. Mais je n' ai pas trouvé comment cuisiner alors peut être que plus longtemps aurait été problématique. Cependant c calme et sécurisé et c rassurant avec ce qu on lit sur le Guatemala.
Yan
2017-03-31T00:00:00Z
Un lugar único en la ciudad. Cerca de todo. Los anfitriones son muy amables y serviciales, excelentes guías. La vista es muy buena.
Martin
2016-12-05T00:00:00Z
Mynor s un excelente antiftrion! Atento, respetuoso y tiene una excelente comunicación, mil gracias por tus atenciones! =)
Adry
2016-11-25T00:00:00Z
Mynor and Wilson were really good hosts, they picked us up at the airport and we're helpful providing information. The place is nice and comfortable.
Naz
2017-01-13T00:00:00Z
Tipo de Quarto
Quarto privado
---
Tipo de Imóvel
Casa
---
Acomoda
4
---
Quartos
Cidade da Guatemala, Guatemala Department, Guatemala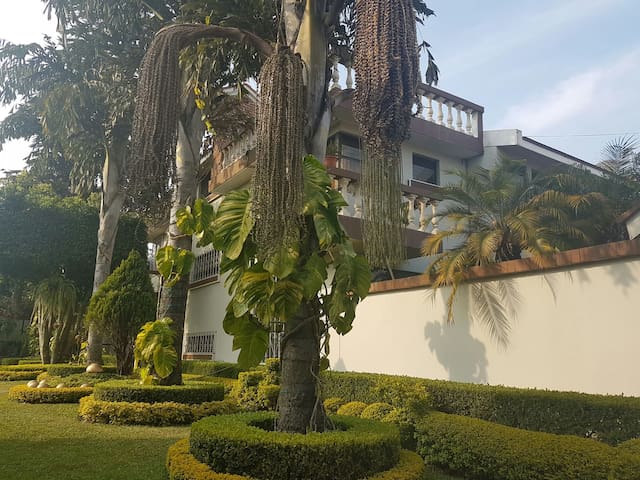 1

–

18

de

300+ Alugueres de Casas
Insira as datas para ver o preço total. Taxas adicionais aplicáveis. Podem ser adicionados impostos.