Fully-equipped house great to get away from the city, with numerous activities to do. Perfect for big groups and families because of its great capacity. Plus, you won't have to move to have a great time as we have a home cinema, barbecue, archery...
The house has got : On the ground floor: 2 bedrooms, one double and one triple, each with its own bathroom. plus a completely renovated kitchen. The main floor has 3 invididual rooms and two double rooms. It also has a kitchen of its own, two bathrooms and a living space with a fireplace. Finaly the third floor is a massive room with balcony and movie screen.    It also has private green spaces, a garden with a barn, a couple of terraces...
It is a very small village, perfect to get away. But incase you want to go to a bigger town there is one 5 minutes away by car where there are shops, bars and restaurants. And another one 15 minuted away with a medieval town. It's surrounded by a really amazing environment with both high mountains and waterfalls, ideal for hiking. Whats more, the path of the senses passes through our door!
Para empezar no vimos a eoin ningun dia. Los tres pisos no estaban comunicados, habia que salir a la calle para subir del de abajo al segundo, y la cocina que estaba en el segundo piso estaba sucia y como si llevara sin usarse mucho tiempo. Incluso habia comida caducada en los armarios. En los baños cepillos de dientes, en el dormitorio de matrimonio un armario con tazas y una estanteria con ropa usada y sucia y en los dormitorios las camas solo con funda de colchon y una colcha. Sartenes muy malas usamos la paellera para cocinar. Lo unico bueno la calefaccion
Juantxo
2017-01-01T00:00:00Z
La estancia ha sido muy agradable en una casa acogedora. Hemos disfrutado de un bonito fin de semana de invierno, con buena calefacción y paisaje idílico. Tiene que ser precioso también en las demás estaciones del año.
aloña
2017-01-22T00:00:00Z
Hemos tenido una estancia super agradable. La casona es perfecta, muy amplia y con todo lo necesario. Desconectamos y los niños disfrutaron muchísimo gracias a su amplio jardín y a las cosas q Eoin tenía para poder jugar, tanto mayores como pequeños. Sin duda repetiremos.
Carolina
2015-10-12T00:00:00Z
Eoin nous a accueillis très chaleureusement mes amis et moi. Il s'est assuré que nous ne manquions de rien. Nous étions 12 à passer 3 nuits à Villabasil pour le réveillon. La maison est agréable. Elle est constituée de deux parties : on accède au 2eme et 3eme étage par l'extérieur. Tous les niveaux ont du chauffage, beaucoup de chambres et la pièce du haut est vraiment superbe. Nous avons passé un très bon moment là-bas. Eoin nous a laissé Fog, son chien; Il s'agit d'un gros chien mais il est vieux et très gentil (ne rentre pas dans la maison). Les alentours de la maison sont très calmes et la nature est sauvage. C'est parfait pour qui veut s'éloigner de la ville et se déconnecter. Cette belle maison me semble particulièrement adaptée pour des vacances à plusieurs familles. Eoin, au plaisir de se revoir!
Maëlle
2016-01-02T00:00:00Z
Muy espaciosa y comoda para mucha gente
Carlos
2017-02-19T00:00:00Z
Hemos pasado un fin de semana muy agradable en la casa de Eoin, con una recepción calurosa (con tarta incluida!), una casa llena de rincones especiales y desconectados de la ciudad. Las habitaciones y los espacios comunes son amplios y tienen todos lo que puedes necesitar en una casa. Sólo hemos echado en falta una nevera grande para guardar bien toda la comida porque ibamos diez personas.
Saioa
2015-09-13T00:00:00Z
Met us right on time!
Theresa
2016-07-12T00:00:00Z
Una casa llena de rincones especiales y con multitud de actividades por hacer. Con un montón de espacio para que los niños jueguen y disfruten. Hemos tenido una estancia muy agradable y hemos quedado encantados con la zona. La acogida de Eion fue muy grata y le agradecemos que esperara con paciencia a pesar del retraso.
Mª Carmen
2016-07-28T00:00:00Z
Tipo de Quarto
Casa inteira/apto
---
Tipo de Imóvel
Casa
---
Acomoda
12
---
Quartos
Villabasil, Castilla y León, Espanha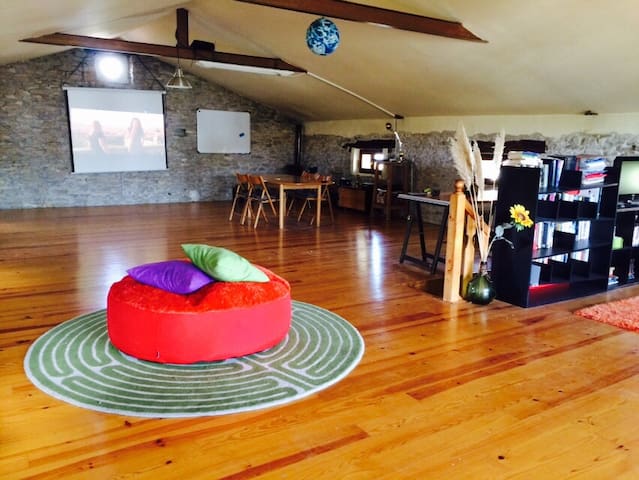 Tem três quartos com camas de casal, dois banheiros, sala, cozinha, comer jardim de lazer. Nossa casa acolhedor está localizado a 4 km de Quincoces, em uma tranquila aldeia de Valle de Losa, a atmosfera rural tranquilo e vai fazer você desfrutar seu tempo livre.
vista
Tipo de Quarto
Casa inteira/apto
---
Tipo de Imóvel
Casa
---
Acomoda
6
---
Quartos
San Martín de Losa, CL, Espanha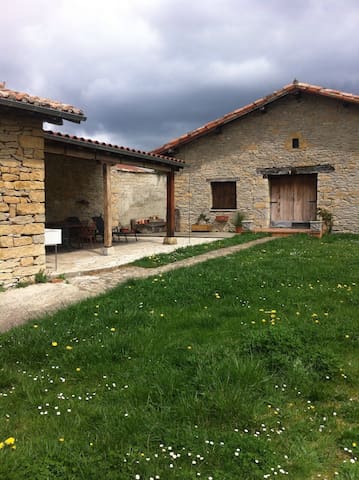 Una antigua cabaña de 1700reconvertida con cariño en una casita rustica de piedra y madera. Situada en un pequeño barrio de casas pero con total privacidad, está rodeado por las espectaculares peñas de Angulo. Dispone de jardín, chimenea, barbacoa...
We had a wonderful stay in Ainhoa's 'Casa Rural'. Every aspect of the casa exceeded our expectations. Ainhoa welcomed us in a very clean house, gave us a tour, her mother even baked us a cake! Lovely. Highly recommenced!
Tim
2016-07-14T00:00:00Z
La casa está muy muy bien, perfecta para ir con niños. Tiene un jardín precioso, preparado con juegos para niños y la parte de arriba de la casa también tiene una estancia con un espacio para ellos. Hemos estado muy a gusto y el bizcocho que nos preparo la ama de Ainhoa estaba riquísimo. Muy recomendable.
Ainara
2016-06-06T00:00:00Z
A beautiful house, clean and very silencious , convenient for the children: a beautiful garden a playing room with some toys and everything !! The only problem is that it's about an hour to go to Bilbao and Vittoria-Gasteiz and the road is difficult before the high way !
Frédérique
2015-10-28T00:00:00Z
Por mucho que busque un punto negativo a la casa, a Ainhoa o al sitio me es imposible encontrarlo todo era perfecto A pesar de nuestro retraso (importante) Ainhoa nos recibió con una sonrisa la casa es muy acogedora, esta cuidada hasta en los más pequeños detalles y pensada para hacer la estancia de todos más agradable: para los pequeños juegos y para los mayores también ! el entornor imejorable: en plena naturaleza, sin ningún ruido con unas vista magníficas... el sitio es tan especial que no quieres irte..
Anne
2015-11-09T00:00:00Z
La casa estuvo mejor todavia de lo que habiamos imaginado. Ainhoa nos recibio con una riquisima tarta y todo los necesario para que los 7 niños que traiamos, de todas las edades, se sintieran a gusto. Nos informo muy bien de las visitas y rutas que podiamos hacer, y cuando no estabamos fuera los niños se lo pasaron genial jugando en al jardin a los aventureros. Tranquilidad y paz, montaña y descanso, 5 dias perfectos!
Paloma
2016-08-27T00:00:00Z
Un lugar idílico en un marco de una belleza natural impresionante. La casa y el jardín son perfectos para ir con niños; además Ainhoa lo mantiene todo limpio y ordenado. Está apartada del mundanal ruido, solo se oyen animales. Cobertura telefónica solo con Orange.
Gloria
2016-10-23T00:00:00Z
Everything was fantastic. I would highly recommend. The place was well stocked and clean. The hostess was friendly and helpful and obviously had made a big effort to make the house lovely for guests. If you want peace and seclusion in the middle of the country it the perfect house. It also has a wood burner, a BBQ and a hammock.
Zoe
2016-10-20T00:00:00Z
La casa esta muy bien, limpia y con espacio suficiente. La parte del atico encanto a las dos niñas que fueron y el jardín, que al gozar de buen tiempo los disfrutaron. Ainhoa nos recibió estupendamente, muy agradable, y que decir del bizcocho que preparo a modo de bienvenida. Recomendable.
Javier
2016-09-25T00:00:00Z
Tipo de Quarto
Casa inteira/apto
---
Tipo de Imóvel
Casa
---
Acomoda
8
---
Quartos
Las Fuentes, Castilla y León, Espanha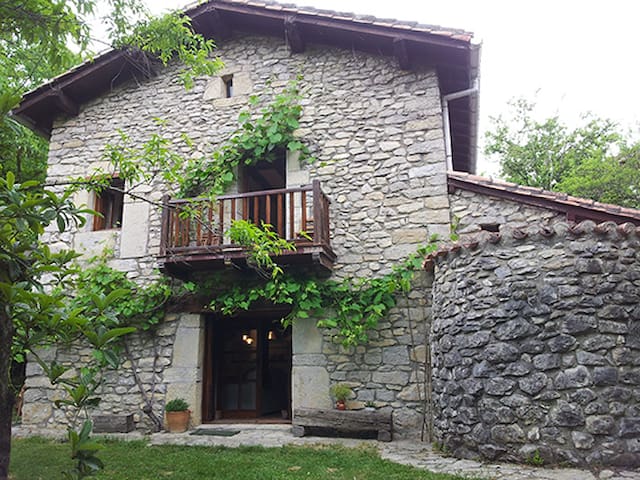 Es una casa de piedra y madera totalmente rehabilitada, en un entorno rural de una gran belleza natural. La planta baja dispone de cocina-salón, una habitación doble de matrimonio y un baño completo, la planta alta de una habitación de dos camas.
Es un edificio tradicional rehabilitado,
La casa esta en un pequeño pueblo ganadero de 20 personas, rodeada de bosques que invitan a descansar y pasear, a 10km se encuentra Espinosa de Los Monteros,un bonito pueblo donde cada martes se celebra un animado mercado.
Tipo de Quarto
Casa inteira/apto
---
Tipo de Imóvel
Casa
---
Acomoda
4
---
Quartos
San Pelayo - Merindad de Montija, Burgos - Castilla y León, Espanha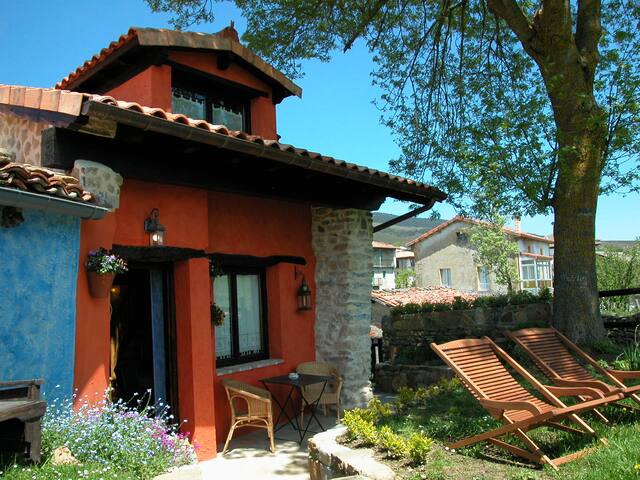 Pierre et poutres en bois en montagne rural, rénové et meublé. Il a trois étages. L'étage supérieur et le milieu avec deux chambres plus salle de bains. Rez-de-chaussée séjour avec cheminée et cuisine. idéal pour promenades dans la nature avec des cascades, route romaine Irus, églises romanes vallée boisée, etc. Vous pouvez consulter le site Web dans ce domaine: tur(URL HIDDEN) Bilbao se trouve à 40 minutes en voiture, 50 km.
Les clients resteraient dans la chambre haute où il y a deux chambres privées, salle de la bibliothèque avec un canapé et un bureau et d'une salle de bains privative. La nature artistique et l'environnement est très précieux. Mena Valley est également déclarée comme un lieu privilégié pour l'observation de l'espace stellaire et les étoiles la nuit. La proximité de Bilbao signifie que vous pouvez facilement aller et retour dans la journée. Laredo ou Castro Urdiales en Cantabrie sont aussi des lieux que, dans une heure, vous pourrez profiter de ses plages et de l'art. Il y a des grottes dans l'environnement pour les touristes. La maison offre trois étages est typique de cette région. Être plantes indépendantes est en appréciant une certaine intimité.
noiseless quiet small town. In the village there are two bars and a castle tower. There is a playground to fifty meters from the house for children.
The host canceled this reservation 159 days before arrival. This is an automated posting.
Cécile
2017-02-25T00:00:00Z
Tipo de Quarto
Quarto privado
---
Tipo de Imóvel
Casa
---
Acomoda
2
---
Quartos
Lezana de Mena, Castilla y León, Espanha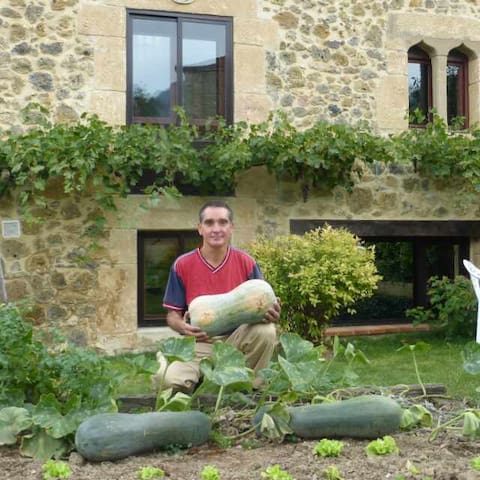 Todo perfecto, nuestra familia (bebé de 17 meses y niño de 5 años y 2 perritas) ha estado muy a gusto, no dudaríamos en volver. La casa es muy bonita y cómoda y el entorno precioso. 100% recomendable si te gusta el senderismo, ya que hay infinidad de rutas de todas las dificultades, aunque también está muy bien para hacer turismo rural, y a 1 hora de Vitoria. Eduardo muy amable y atento, nos ha dado facilidades para todo, incluso nos proporcionó una cuna de viaje para que no tuviéramos que llevarla nosotros. Volveremos
RAQUEL
2015-11-21T00:00:00Z
La casa está en un entorno precioso. Son casas nuevas y muy bien amuebladas. Eduardo fue muy amable y nos facilitó toda la información necesaria. Repetiría encantada.
Belen
2016-08-31T00:00:00Z
Una chalet muy bien cuidado y con todo lo necesario para la estancia. Eduardo y su familia han sido muy atentos y nos han facilitado lo que necesitábamos. La ubicación es muy buena, muy cerca del parque de Valderejo y con muchas opciones para hacer senderismo, bici, etc. No nos hemos aburrido ni un segundo.. Hemos pasado 5 días con nuestro pequeño de dos años y nuestra perrita que han disfrutado del jardín tanto como nosotros.
Oihana
2015-09-22T00:00:00Z
La descripción del anuncio era perfecta, y nos sentimos muy agusto en casa. El pueblo recomendable para los amigos de la tranquilidad y el monte.
Golo
2016-04-01T00:00:00Z
nos encanto la experiencia en la casa de Eduardo,la casa esta fenomenal y se descansa placidamente y encima esta muy cerca de un monton de rutas para hacer senderismo en un entorno preciosom,Eduardo y su familia muy amables y disponibles para cualquier problema o ayuda en cualquier momento .muchas gracias y repetiremos
Natxo
2016-10-19T00:00:00Z
Todo perfecto, pasamos una Linda semana, chalet con todas las comodidades, anfitrion muy amable. À recomendar
Vandesquille
2016-08-08T00:00:00Z
Ha sido una grata experiencia, la casa super equipada, en un pueblecito maravillosamente tranquilo y bonito. Eduardo muy amable y los vecinos amables y simpáticos, que nos hicieron casi de guías turísticos en nuestra estancia. Muy recomendable!!!
Carlos
2016-06-27T00:00:00Z
La casa inmejorable, mucho mejor que en fotos. Estuvimos super cómodos, y Eduardo y su hermana Nerea han sido muy amables y se han adaptado muy bien a nosotros. Nada malo que decir, si buscas desconectar sin duda este es tu sitio de lo alejado que esta. Los vecinos muy amables y en general todo el mundo nos trató muy bien. Sin duda volveremos que nos ha sabido a poco. Si pensais ir, os recomendamos pasear por el parque de Valderejo a caballo, una experiencia increible de la mano de San Román Ranch.
Michelle
2017-03-12T00:00:00Z
Tipo de Quarto
Casa inteira/apto
---
Tipo de Imóvel
Casa
---
Acomoda
5
---
Quartos
Corro, Alava, Espanha
ideal para um fim de semana com a família ou amigos em um ambiente de natureza e caminhadas casa.
É uma casa com muito charme e muito aconchegante. Em um ambiente de natureza e cercado por belos enclaves e cidades que fazem a estanciansea inesquecível. Frio, Pedrosa de Tobalina ou Medina de Pomar.
Gracias Arantza por tu hospitalidad y por preocuparte de que la casa estuviera caliente para cuando llegamos. La casa es cómoda, es tal y como aparece en las fotos y está en una buena zona para conocer las Merindades. El pueblo en el que está la casa no tiene servicios, pero está cerca de otros que sí los tienen.
LAURA
2015-11-30T00:00:00Z
Casa rural. Tal cual como en las fotos. Está en un pueblo cerca de Medina. La casa nos encantó. Ideal para familias!!
Pedro
2017-03-05T00:00:00Z
Las casa es aún más bonita y hogareña de lo que se ve en las imágenes. El pueblo es muy tranquilo y en noches con cielo estrellado es un lugar perfecto para disfrutarlo, desde el se puede con facilidad a muchos pueblos a su alrededor muy pintorescos y dignos de visitar. Arantza ha sido una persona encantadora y ha estado muy atenta en todo momento por si teníamos algún problema, dándonos información de cosas que visitar,... Una experiencia repetí le 100%
Jezhabel
2016-05-03T00:00:00Z
Super séjour idéal pour une famille. De l espace une maison très agréable. Des villageois aux petits soins. Le seul bémol c est qu' il faut prendre la voiture pour toutes activités ou courses ..merci arantza pour ton accueil.
Aline
2016-08-14T00:00:00Z
La casa era como esperabamos y como se veía en las fotos. La zona era totalmente tranquila, que era lo que esperabamos, pero con buenos accesos. Arantza nos ha dado un grab servicio como anfitriona incluso antes de realizar la reserva, ya que nos solucionó las dudas que teníamos antes de reservar y se puso en contacto con nosotros tanto antes de llegar como la primera noche para asegurar que todo estaba correcto y no necesitabamos nada.
Francisco
2016-11-01T00:00:00Z
Estuvimos encantados con la casa, te sorprende lo bien equipada y organizada que esta, desde el principio te dan ganas de quedarte. Arantza fue muy atenta en todo, para repetir y recomendar al 100%. El pueblo está bien ubicado si se quiere conocer la zona y es muy tranquilo que era lo que buscabamos.
HILARIO
2016-08-16T00:00:00Z
La casa como en las fotografías, Arantza nos atendió correctamente poniéndose en contacto con nosotros días antes de la llegada. La casa esta en una buena zona para conocer las merindades. Casa espaciosa y con camas cómodas. Quizás un poco fría en invierno.
Nerea
2016-12-11T00:00:00Z
The house in San Cristobal was amazing, full of character and beautifully decorated, and very comfortable. Arantza was a gracious host, arranging a birthday party for my 10 year old daughter upon our arrival, and inquiring frequently if we were enjoying our stay. The town itself is tiny, filled with friendly neighbours. Delightful!!!!
Mia
2016-08-07T00:00:00Z
Tipo de Quarto
Casa inteira/apto
---
Tipo de Imóvel
Casa
---
Acomoda
7
---
Quartos
San Cristóbal de Almendres, Castilla y León, Espanha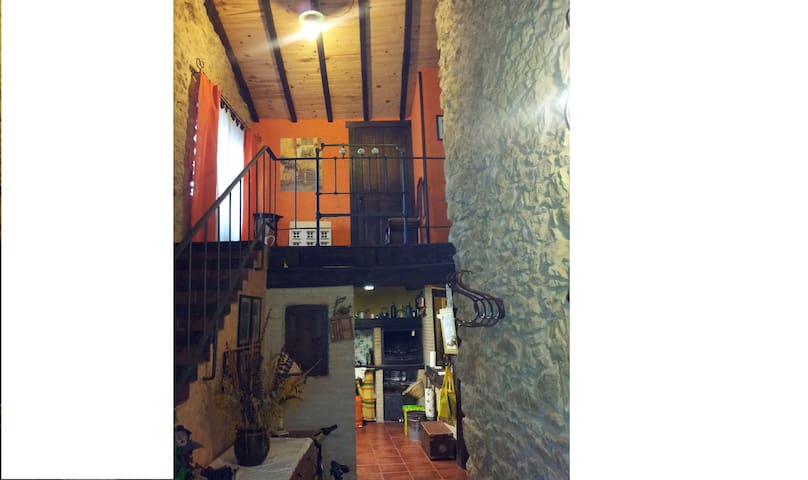 Pequeño pueblo de Valdegovía, entre Álava y Burgos, rodeado de montañas.
Buen sitio para desconectar y relajarse, ideal para amantes de la naturaleza, y paseos por el monte.
Aunque es una zona tranquila, a poca distancia en coche se dispone de piscina climatizada, gimnasio, frontón, biblioteca, restaurantes, así como de una Oficina de Información y Turismo.
Nous avons passé 6 jours dans la maison d'Alejandra avec nos 3 enfants en bas âge. Nous en gardons un excellent souvenir! Notre voyage a été très bien organisé par notre hôte. Nous avions convenu d'un point de rencontre où nous étions accueilli par les parents (des gens adorables... petit regret de ne pas avoir pu parlé plus avec eux ne parlant nous-même pas espagnole) puis nous étions guidés jusqu'à Acebedo. La maison est super! Spacieuse, propre et très joliment aménagée. L'intérieur est comme sur les photos! Les parents d'Alejandra nous ont accueilli avec un gâteau fait maison et du vin local (les 2 excellents!!!). Petit b-mol, la court sur la présentation de la maison ne fait pas partie de la location. C'est dommage. La région est très rural ; idéal pour se déconnecter du stress quotidien. Acebedo est un petit paradis avec des gens très accueillants (nous avons pu faire connaissance de 6 d'entre eux). A moins de 5 minutes : randonnées, des multiples ruisseaux, des aires de jeux pour les enfants dans tous les villages. Prévoir un minimum de nourriture pour les premiers jours, car les commerces sont assez loin. Mais ce n'est pas vraiment un problème, juste une question d'organisation.
Stephanie
2015-08-08T00:00:00Z
Sooo schön! Das war ein ganz hervorragender Aufenthalt. Wir haben mit unseren 5 (!) Kindern beeindruckende Tage in diesem farbenfrohem Traumhaus in Acevedo verbracht. Endlich ein Ort der Ruhe, Erholung und Entspannung und wunderbar harmonischer Atmosphere. Nur keine Angst davor, dass hier mal das Handy nicht geht und es auch kein Festnetz gibt, unten in San Milan de Zadornil ist das WiFi gratis und bei einem genüsslichen Cafe con hielo kannst du deine Emails von zu Hause beantworten. Mit unglaublich viel Liebe zum Detail, stilsicherem Geschmack und dem Blick für Qualität haben die Eigentümer diese friedvolle Oase geschaffen, die hoffentlich nur von gleichsam bewussten Reisenden entdeckt wird. Wir wurden ganz herzlich empfangen, es gab viele Ratschläge zu Erkundigungen der Umgebung und nützliche Tipps für den Ausflug nach Bilbao. Ganz wunderbar! Hoffentlich kommen wir mal wieder in diesen fantastischen Winkel der Welt. Ganz sicher werden wir erneut versuchen dieses Traumhaus zu buchen.
Oliver
2015-08-21T00:00:00Z
La casa és preciosa, còmoda, restaurada amb molt bon gust. La desconnexió és total i la tranquil·litat és un fet. Els amfitrions són un autèntic encant que han fet l'estada més agradable.
Ana
2016-08-19T00:00:00Z
La casa es preciosa y acogedora, con una decoración muy agradable. Nos recibieron los padres de Alejandra y no pudieron ser más amables. El pueblo tranquilo y con unos alrededores muy bonitos. Muy recomendable!!
Leticia
2016-03-27T00:00:00Z
We had a wonderful stay at Alejandra's beautiful house and the countryside near by is beautiful. We climbed two days at Veldegovia which was only a fifteen minute drive away.
Pete
2016-07-27T00:00:00Z
La casa es incluso mejor de lo que parece en las descripciones. Fui a pasar un fin de semana con mi familia y pasamos un tiempo muy agradable. El entorno es una maravilla. La casa dispone de todas las comodidades necesarias y los anfitriones fueron muy agradables. Nos ayudaron en todo lo que necesitamos. Repetiría sin dudarlo
Rosana
2015-11-08T00:00:00Z
La casa merece la pena sobretodo por los padres de Alejandra, que son encantadores. Nos sentimos como en casa,nos recibieron con un bizcocho casero y un vino local, nos dieron calabacín y lechuga de la huerta. La casa es muy bonita, bien decorada y muy limpia. El pueblo es muy tranquilo, para el que le guste desconectar de verdad. Los dos primeros días estábamos sólos en el pueblo y hacia el fin de semana llegó más gente al pueblo. Aprovechamos para hacer alguna ruta x el parque natural.
Isabel
2016-08-08T00:00:00Z
Tipo de Quarto
Casa inteira/apto
---
Tipo de Imóvel
Casa
---
Acomoda
6
---
Quartos
Acebedo, Álava, País Vasco, Espanha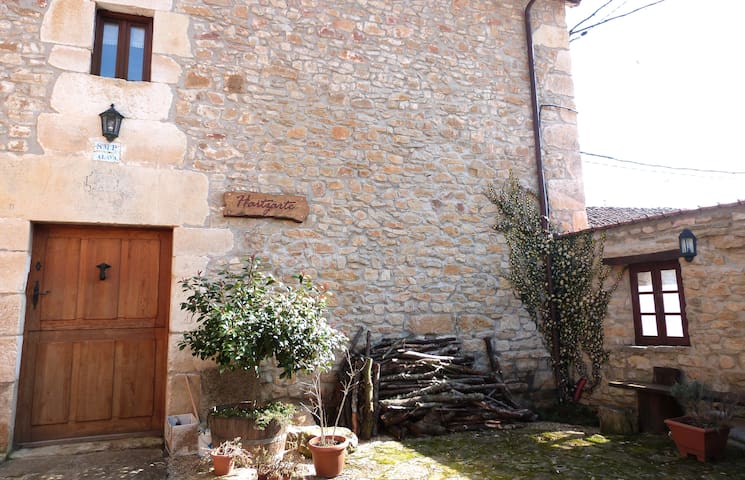 wooden house with two floors ,,,,,, garden of 500 square meters in the historic Medina de Pomar, 80 kilometers from Burgos .... merindades DSE area of Castilla ....
Un alojamiento muy cuidado, buena comunicación, espacioso y con absolutamente de todo.
Jose Manuel
2017-04-10T00:00:00Z
Tipo de Quarto
Casa inteira/apto
---
Tipo de Imóvel
Casa
---
Acomoda
5
---
Quartos
Medina de Pomar, Castilla y León, Espanha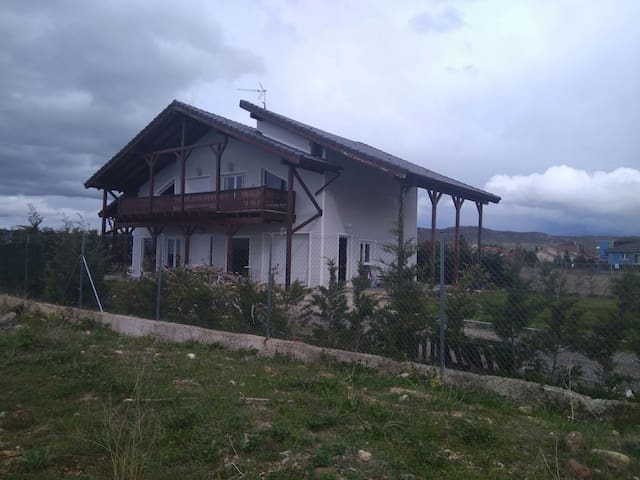 Nerea ma femme, ma fille et moi Ainara, Jaime est venu vivre dans le pays il y a plus de 10 ans. Azalées réhabiliter une maison typique du 1838 et ont décidé de le partager avec vous. Il est une maison très spéciale pleine de lumière, de tranquillité et de détails. Situé dans l'un des endroits les plus idylliques du Pays Basque, moins d'une demi-heure du centre-ville de Bilbao et entouré par la nature, il a tout le nécessaire pour les escapades aventureuses et romantiques ou de détente. On vous attend
Cette chambre est la cabine de la maison se compose d'un lit de 1,50 et un autre 1,20 pour un adulte ou deux enfants, rester complètement clair est équipé de deux chambres à coucher, salon avec télévision, table salle à manger et deux bureaux, très accueillant et très spécial et le charme intime.
La particularité de la zone dans laquelle il se trouve est le réglage, entouré par la nature et avec des vues privilégiées
Tipo de Quarto
Quarto privado
---
Tipo de Imóvel
Casa
---
Acomoda
4
---
Quartos
Álava, País Vasco, Espanha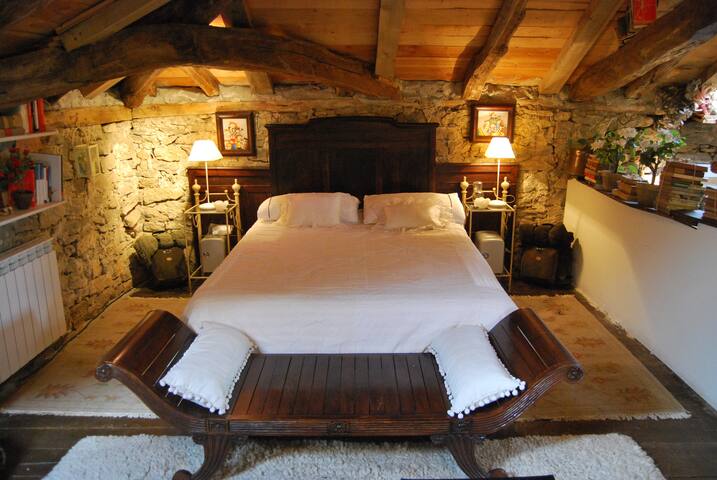 Aquesta casa, situada a Medina de Pomar, és ideal per als turistes agost. Disposa de 3 habitacions, un jardí i Wi-Fi.
Aquesta casa, situada a Medina de Pomar, és ideal per als turistes agost. Disposa de 3 habitacions, un jardí i Wi-Fi. El saló és perfecte per relaxar-se després d'un dia d'exploració. Mentida al confortable sofà i gaudir d'un bon llibre davant de la llar de foc o prendre avantatge de les instal·lacions de l'hotel, incloent Wi-Fi, jocs de vídeo, un reproductor de DVD i una ràdio. La cuina està ben equipada per cuinar els seus menjars favorits. Gaudir de la seva festa al voltant de la taula de menjador amb capacitat per a 8 o fora, a la terrassa, al balcó o al jardí amb vistes al jardí. La casa disposa de 3 còmodes habitacions, 2 incloent un llit de matrimoni i 1 inclou 2 llits individuals. Diversos cambres de bany estan disponibles, un amb banyera i WC i un altre amb una dutxa i lavabos. La casa compta amb un sistema de calefacció central, una rentadora, una aspiradora, planxa, escriptori i productes de neteja. Recordeu que la neteja, tovalloles, roba de llit i l'impost de turisme estan inclosos en el preu del lloguer. L'aparcament està disponible al lloc i és privat. Fumar a l'interior no està permès. S'admeten sota demanda. No es permeten festes.
Aquesta casa, gaudeix d'una ubicació privilegiada que li permetrà gaudir de la seva estada a la zona. Moltes activitats l'esperen en els voltants, com ciclisme, senderisme, golf i tennis. També hi ha bars i restaurants a 800 metres i un supermercat a 100 m. Villarías de golf és a 2 km. de la casa.
Tipo de Quarto
Casa inteira/apto
---
Tipo de Imóvel
Casa
---
Acomoda
8
---
Quartos
Medina de Pomar, Espanha
Cadiñanos es un pueblo del siglo X con una estupenda iglesia románica y una casa palacio de estilo renacentista. Ideal para los que buscan tranquilidad o hacer deporte tanto en pareja como en familia. El río Jerea atraviesa el pueblo y a escasos 50 metros se encuentra una zona que hará las delicias de los más pequeños.
Cadiñanos es un pueblo del siglo X con una estupenda iglesia románica y una casa palacio de estilo renacentista. Ideal para los que buscan tranquilidad o hacer deporte tanto en pareja como en familia. El río Jerea atraviesa el pueblo y a escasos 50 metros se encuentra una zona que hará las delicias de los más pequeños. La casa cuenta con dos plantas y aunque de aspecto rústico, es de reciente construcción con las más modernas técnicas. En la planta baja podrá charlar con los amigos mientras contemplan el fuego de la chimenea y cocinan su plato favorito en la cocina. En la planta superior se encuentran los dormitorios con unas magníficas vistas a la plaza del pueblo y al Páramo. De especial relevancia para visitar son el pueblo de Frías, Ojo Guareña, San Pantaleón con su leyenda del Santo Grial, San Pedro de Tejada o el Parque Nacional de Valderejo. Hallarán una completa información de qué ver o que visitar en (URL HIDDEN)
Cadiñanos es un encantador lugar con sus 50 habitantes en una zona que amenudo se identifica como la cuna del castellanismo. Se podrán hacer actividades como trecking, andar en bicicleta, nadar en el río o tomar el sol.
Tipo de Quarto
Casa inteira/apto
---
Tipo de Imóvel
Casa
---
Acomoda
5
---
Quartos
Cadiñanos, CL, Espanha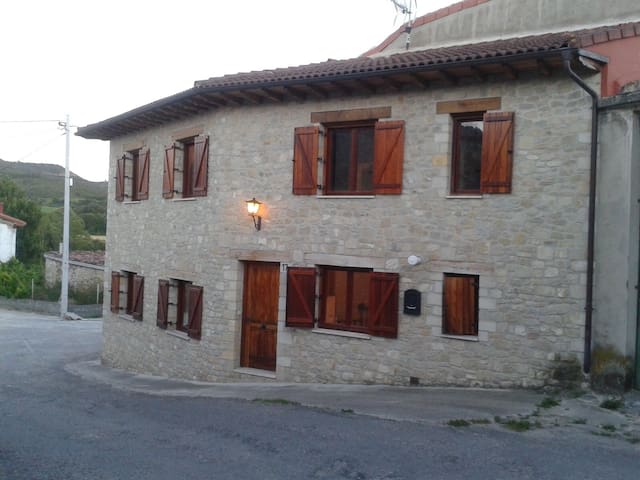 Ons huis is een Casa Rural (landelijk pension) met vier kamers en een appartement in een super klein dorpje met. We hebben een kleine bar/restaurant en een klein zwembad. In de buurt prachtige natuur en oude mooie dorpjes. Alles nog heel authentiek.
De kamers (14-18 m2) hebben een eigen toilet, douche, tv en Wifi. Beneden zijn de (kleine) bar, het restaurant en het terras. Deze worden ook door de inwoners van de vallei bezocht waardoor vaak een gezellige internationale ambiance ontstaat.
Hedeso ligt in de Merindades, een streek met rivieren, bergen, Middeleeuwse dorpjes, etc. Het gebied is zeer rustig en alleen bekend bij een beperkt Spaans publiek. De prachtige dorpen Frías, Oña en Poza de la Sal liggen in de buurt. Het natuurgebied Parque Natural de Valderejo ligt op 7 km. Ook de steden Bilbao, Vitoria en Burgos zijn in een dagtrip te bezoeken. En tenslotte het wijngebied La Rioja is zeer de moeite waard. Zeker ook omdat wij een persoonlijke relatie hebben met een tweetal bodegas die graag een rondleiding verzorgen.
Un tres bon accueil et des hôtes disponibles. Hebergement propre et agréable. Un lieu sympa pour se reposer
Francois
2016-08-24T00:00:00Z
Gran fin de semana, alojamiento perfecto, los anfitriones Desiree y su marido encantadores, a destacar sus desayunos, cenas y poder darse un chapuzón en su piscina UN 10!
Javier
2016-08-29T00:00:00Z
We had some wonderful days at Desiree and Arnoud casa. They were the perfect hosts. We got great coffee wonderful four course dinner and a very nice and large breakfast. If you stay here make sure to have dinner and breakfast. It taste great! Upfront they asked about dislikes and allergies. They gave us some local tips about were to go and what to see around Hedeso and also for the next cities we visited. Peaceful, quite travel sense at it best. We totally recommend staying here and we would love to come back some times.
Claes
2016-04-21T00:00:00Z
Tipo de Quarto
Quarto privado
---
Tipo de Imóvel
Casa
---
Acomoda
2
---
Quartos
Hedeso, Burgos, Espanha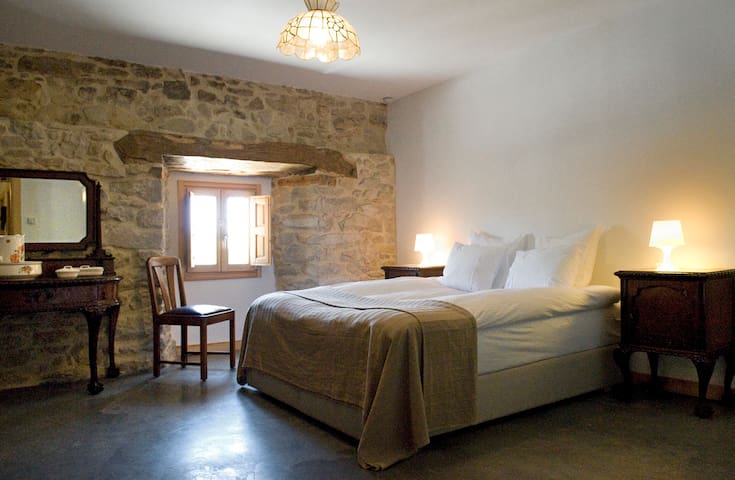 hermosa casa de piedra con una chimenea. Tres dormitorios, sala de estar, cocina y baño. amplio comedor. ideal para unas vacaciones en plena naturaleza rodeado de bellos paisajes. Familiares y amigos.
Un gran fin de semana. La casa es preciosa, muy acogedora, y la anfitriona super maja. Recomendable 100%. Muy cerca de poblaciones con encanto como Frias o Tobera que te sorprenderán
ANA
2016-11-06T00:00:00Z
Très bon accueil. Maison agréable très au calme.
coralie
2016-08-07T00:00:00Z
Tipo de Quarto
Casa inteira/apto
---
Tipo de Imóvel
Casa
---
Acomoda
7
---
Quartos
San Cristóbal de Almendres, Castilla y León, Espanha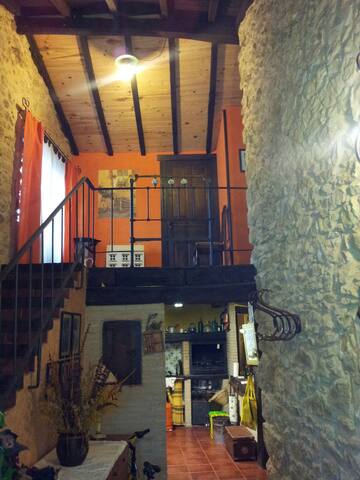 Lugares de interés: Situado en el Norte de la provincia de Burgos, en la zona de Las Merindades. A menos de 100 km. de Bilbao, Santander, Vitoria, Burgos y La Rioja. Zona de interés cultural, gastronómico e histórico. También pistas de esquí.. Te va a encantar mi espacio por La tranquilidad de la zona rural.. Mi alojamiento es bueno para parejas, aventureros, viajeros de negocios, familias (con hijos), grupos grandes, y mascotas. Se alquila por habitación, o por planta. Precio 20€por habitación.
Casa de 4 plantas. Se alquilan las dos de arriba. Amplio jardín con barbacoa.
A 12 km. de Medina de Pomar,una población con supermercados, tiendas, restaurantes, centro de salud...En el pueblo (Nofuentes) hay panadería, farmacia, bares y restaurantes.
Tipo de Quarto
Quarto privado
---
Tipo de Imóvel
Casa
---
Acomoda
15
---
Quartos
Nofuentes, Castilla y León, Espanha
Descubre esta parte de Alava, llena de encanto y rincones naturales, muy cerca del Valle Salado, junto al parque Natural de Valderejo, pegando a Vitoria , Bilbao y Rioja Alavesa, un MOLINO que constituye un marco ideal para el descubrimiento de la naturaleza en su estado más puro.
Magnífica casa, situación, entorno, paisaje, comodidad y familia. Ya estamos pensando en otra escapada para septiembre.
Taide
2016-06-06T00:00:00Z
Tipo de Quarto
Casa inteira/apto
---
Tipo de Imóvel
Casa
---
Acomoda
10
---
Quartos
Araba, Euskadi, Espanha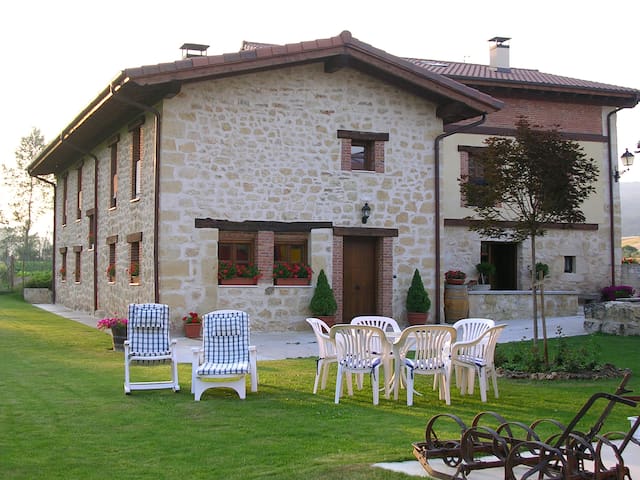 Komfortable Zimmer mit einem 150cm Bett und ein Schlafsofa 120cm (Ikea Hagalund). Sie haben Ihr eigenes Badezimmer neben dem Schlafzimmer mit einem Jacuzzi. Es ist ein Privathaus und das Schlafzimmer ohne Aufzug auf der 2. Etage. Sie haben genügend Platz für Ihre Privatsphäre, mit Zugang zur Küche zum Frühstück Kaffee oder Tee mit Marmelade über Toast oder Cracker.
ideal für Bergwanderungen, Reiten, geht eine der Routen Straße in der Nähe von Santiago speziell von der Kapelle von San Pedro Zarikete Ort. Große Küche in Enkartaciones und Bilbao, Sie Kellereien und Weinbergen von Txakoli besuchen und das Guggenheim-Museum Bilbao (15 Minuten), Torre Loizaga, Höhlen Pozalagua in Karranza, Baskenmützen der Textilfabrik Die Encartada, Brücke Portugalete Bizkaia, erklärte ein Weltkulturerbe von der UNESCO und nur 20 Minuten. Sea-Liebhaber werden am Strand Arena Wassersportarten wie Surfen, Tauchen, Segeln oder einfach nur Sonnenbaden am Strand entspannen.
Magnifica atención por parte de Elena y su marido, todo era exactamente como decía el anuncio, estupendo trato personal y consejos para como orientarse en Bilbao, que nos hacía falta, una casa muy bonita y un placer haber estado allí, lo recomiendo a quien pueda ir
Jose
2016-08-25T00:00:00Z
Muy amable y siempre pendiente de nuestras necesidades y de nuestra mascota, aconsejándonos de actividades y lugares paea visitar en la zona
Jaime
2016-08-07T00:00:00Z
Jolie chambre avec belle vue Acceuil sympathique Le mari d'Elena parle parfaitement plusieurs langues, ce qui facilite la communication!
Philippe
2017-03-31T00:00:00Z
Un buen conversador, entendido en muchas materias y muy amable.
Enrike
2016-09-03T00:00:00Z
Wir wurden sehr freundlich empfangen und bekamen tolle Tipps für Sehenswürdigkeiten in der Umgebung, die wir in der Kürze unseres Aufenthaltes nicht gefunden hätten. Gerne wären wir länger geblieben.
Manuela
2016-08-16T00:00:00Z
Nice, tidy space in a quiet community outside Bilboa. Hosts were very accommodating and friendly and speak multiple languages. Dog friendly space.
Kristen
2016-08-23T00:00:00Z
Muy bien.
Hector
2016-09-18T00:00:00Z
Ha sido una estancia muy agradable. Nos atendió el marido de Helena, un hombre encantador, que nos aconsejó sobre donde ir, qué (URL HIDDEN) habitación súper amplia,al igual q el baño y unas vistas maravillosas. El desayuno riquisimooo, incluso unos tomatitos de su huerto que nos encantaron.Todo perfecto!
VANESA
2016-08-22T00:00:00Z
Tipo de Quarto
Quarto privado
---
Tipo de Imóvel
Casa
---
Acomoda
4
---
Quartos
Zalla, Vizcaya, Espanha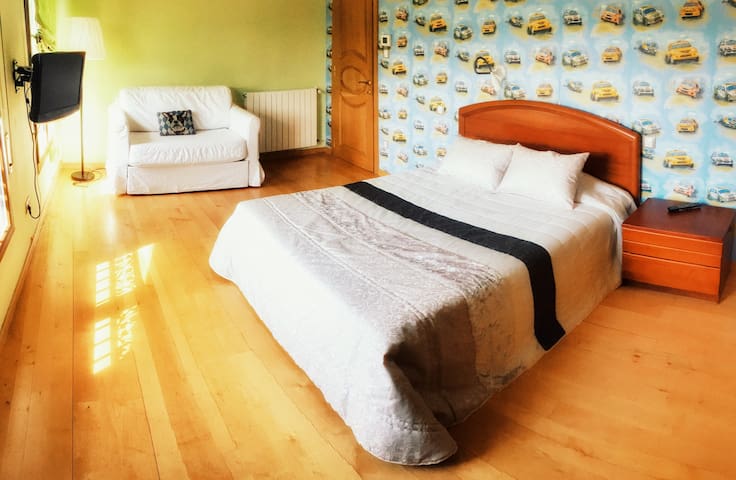 very special house 35 min from BIlbao estaras in full natraleza 15 minutes and 15 minutes Muskiz Balmaseda It is imperative to NOTICE car and country roads, we are in the forest ,,,,, do not panic Prefer not smoking, healthy and vegetarian and quiet people
It is a cottage, incredibly beautiful the easy accessibility but you have to like driving in rural areas House for nature lovers 35 minutes from downtown Bilbao 20 of the Coast, the Palaya nearest Castro Urdiales. A Muskiz 15 minutes and 15 minutes from Balmaseda Wooden house, large terrace with many plants, and with incredible views. I have two dogs, i have two dogs Not very urban housing for people or elegant It is rural and we are in the middle of the field Avis(PHONE NUMBER HIDDEN)mportant need to know to drive well
trankilo surrounded by trees in the neighborhood there are banks, post office, clinic, supermarket and all
Posto completamente nella natura, bellissimo!
Massimo
2016-08-06T00:00:00Z
The place was a bit hard to find because the link from the airbnb site brought us to the wrong place. We called Gloria and she explained us in very good English how to get there. After finding it, Gloria showed us very friendly her cosy and big mountain house and gave us then our privacy. She also had prepared an extra bed for our three years old son which was very nice. Another good airbnb experience!
Joao
2016-08-12T00:00:00Z
Tipo de Quarto
Quarto privado
---
Tipo de Imóvel
Casa
---
Acomoda
4
---
Quartos
Sopuerta, País Vasco, Espanha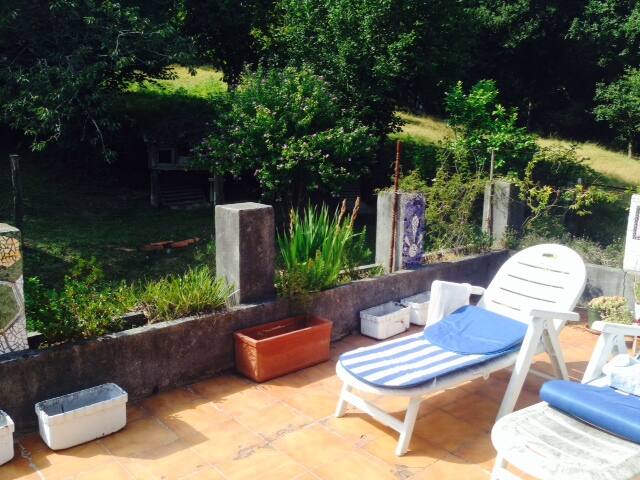 Villabasil - Airbnb
:
Média de

4.29

de

5

estrelas, de acordo com

102

avaliações de hóspedes
1

–

18

de

69 Casas para Alugar
Insira as datas para ver o preço total. Taxas adicionais aplicáveis. Podem ser adicionados impostos.