Romantic interiors with luxury furnishings, outdoor furniture, close to castles, availability Prague and Kutna Hora, swimming in the river, mushrooming, biking, a grill
2-4členou ideal for a family who wants to visit Prague, Kutna Hora, and other historic sites in Central Bohemia. The proximity of the river Sázava, riding a boat. Suitable routes for cycling.
Vše skvělé - pan Mirek byl velmi ochotný a nápomocný, přijeli jsme do připraveného, příjemného domečku s roztopeným krbem - co víc si přát.. Krásná lokalita. Přijedeme zase. ||| Very nicely renovated house, helpful and communicative owner, great location - definitely recommend.
Marek
2016-03-31T00:00:00Z
Wunderschönes Haus in einem märchenhaftem Dorf. Enterier ist perfekt gestaltet. Es ist ideal positionirt für die Personen die Burgen und Schlösser in der Nähe besuchen möchten. Praha, Benesov (Konopischte) und Kutna Hora (mit Beinhaus im Sedlec) sind auch nicht weit entfernt. Wir sind begeistert.
Sladjana & Zelemir
2015-05-03T00:00:00Z
Chaloupka hezká, komfortní, majitelé milí.
Denisa
2016-07-31T00:00:00Z
We've had a lovely week in this charming, spacious and beautifully renovated house. We enjoyed the peaceful garden, the interesting village Rataje nad Sázavou, the gorgeous landscape and surroundings, and nearby towns and villages. In the house was all the practical information we needed, for example hiking maps and advise about parking when visiting Prague. We felt very much at home and we wish to come back soon.
Marion
2015-05-09T00:00:00Z
Krasně jsme si pobyt užili. Chaloupka byla přesně jako na fotkach, možná ještě hezčí. Okolní lesy jsou velmi příjemné na procházky. Mirek nám vše nachystal, výborně komunikoval. Byli jsme maximálně spokojení
Jana
2015-08-22T00:00:00Z
Tipo de Quarto
Casa inteira/apto
---
Tipo de Imóvel
Casa
---
Acomoda
5
---
Quartos
Rataje nad Sázavou, Central Bohemian Region, República Tcheca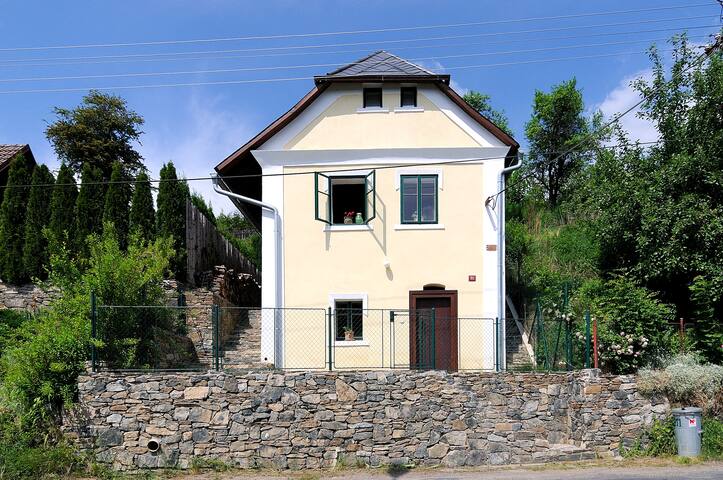 These are two spacious unseparated door. In the vicinity are many opportunities for cyclists and hikers. Magical Posazavi offers hilly scenery and mysterious corners of the Sázava River. On his coming to lovers of castles. Although the kitchen is open, but you love to cook. Ideal for families with children. After agreement is possible to increase the capacity of two other people (single room).
Tipo de Quarto
Quarto privado
---
Tipo de Imóvel
Casa
---
Acomoda
4
---
Quartos
Rataje nad Sázavou, Central Bohemian Region, República Tcheca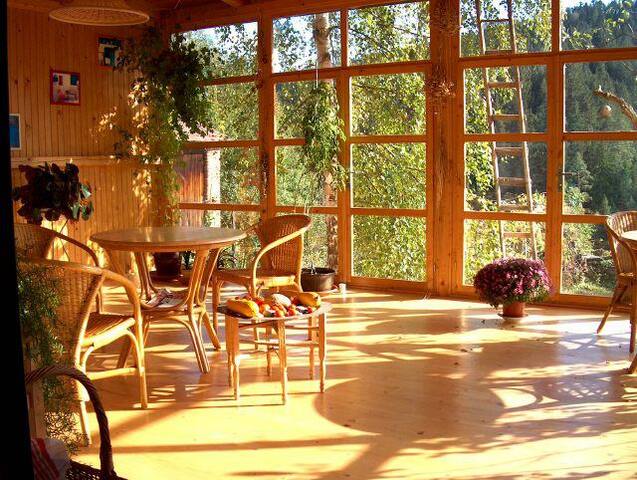 Single-storey bungalow-type house with 16 sqm wooden terrace and the garden. Very quiet part of the village Ondřejov. Suitable for pets (pets are welcomed). Distance to Prague on highway 26 km. The surrounding area is particularly popular among hikers and cyclists. There is a famous observatory in the village.
Not far from the capital, guests use the entire house, terrace and garden, quiet area.
Neighborhhod is quiet, village type. The house is located on the south part of the village few steps from the nature.
Valdimir and his wife were very friendly and prompt in all their dealings with us. The House is ideal for people who have a car and already know the Czech Republic.
Todd
2016-12-30T00:00:00Z
Úžasné ubytování, naprosto bezproblémová komunikace, velmi milý a vstřícný přístup. Bez jediné chyby.
Michal
2017-04-09T00:00:00Z
Ubytovani je moc prijemne, presne dle popisu. V okoli se da chodit na vylety i dobre najist. Komunikace s Vladimirem bez problemu, domluvili jsme se na casu prijezdu, vysel na vstric. Doporucuji
Gabriela
2016-10-09T00:00:00Z
A wonderful home,clean and confortable!The host is a friendly family who will make your stay even more beautiful!
Mihai
2017-01-02T00:00:00Z
Ubytovani bylo naprosto skvělé, stejně jako komunikace s majiteli. Perfektně vybavený domek s velkou zahradou a terasou je idealni pro vetsi skupinku osob, ktere v ni najdou spoustu moznosti vyziti.
Michal
2016-11-16T00:00:00Z
We enjoyed our stay. The house was clean and lovely. The yard/garden was suitable to entertain children. The neighborhood was quaint and peaceful. The drive into Prague had fantastic views and was pleasant. I only wish we could have stayed for longer. The hosts were very kind. We were stuck in traffic and contacted them that we would arrive much later than anticipated and they were very gracious to us. They met us at the house and gave us good tips on how to see Prague.
Robert
2016-10-23T00:00:00Z
Понравилось все !!! Очень милые,гостеприимные хозяева.Ждали нас до позднего вечера.В доме есть все для комфортного проживания,все сделано с любовью.К нашему приезду хозяева включили камин,что-бы в доме было тепло.Новая,шикарная постель.Далековато от Праги,зато тихо и спокойно,шикарная терасса.Хочется вернуться снова.
Anatolii
2016-09-26T00:00:00Z
Tipo de Quarto
Casa inteira/apto
---
Tipo de Imóvel
Casa
---
Acomoda
6
---
Quartos
Ondřejov, Central Bohemian Region, República Tcheca
Dom znajduje się 350 metrów w linii prostej od centrum Mladá Vožice daleko, a jednocześnie w bardzo spokojnej okolicy, aby dobrze odpocząć. W centrum miasta znajduje się kilka sklepów z żywnością, drogerii i sklepów z różnych wszelkiego rodzaju. Stacja benzynowa jest obecne wejście do wioski.
Położenie domu jest izolowana, na 2000 metrów kwadratowych podstawy. Ze względu na swoje położenie jest idealnym miejscem na relaks.
Charakter i panujący spokój, brak przemysłu w okolicy, wiele możliwych miejsc docelowych.
Tipo de Quarto
Casa inteira/apto
---
Tipo de Imóvel
Casa
---
Acomoda
4
---
Quartos
Mladá Vožice, Jihočeský kraj, República Tcheca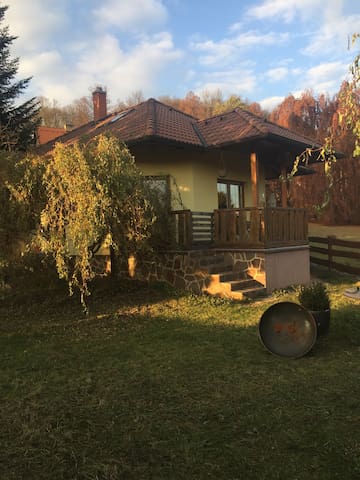 Detached house in the immediate vicinity of the Sazava Monastery, Federal Project meeting - the ability to easily sleep in the attic on a mattress with a blanket in their own sleeping bags. STAING house autonomously in direct Neighborhood of Sazava Monastery project of community meetings - simple sleeping on mattresses in a penthouse in own sleeping bags.
Follow our puttiku can (EMAIL HIDDEN) or (URL HIDDEN)
Puttika in the immediate neighborhood magical Sazava Monastery, one of the oldest monuments of Central Bohemia at all. In addition, on each side of the world within reach of nature and therefore many tourists tempting opportunities.
Spokojenost
Jirka
2017-04-07T00:00:00Z
Tipo de Quarto
Quarto partilhado
---
Tipo de Imóvel
Casa
---
Acomoda
10
---
Quartos
Sázava, Central Bohemian Region, República Tcheca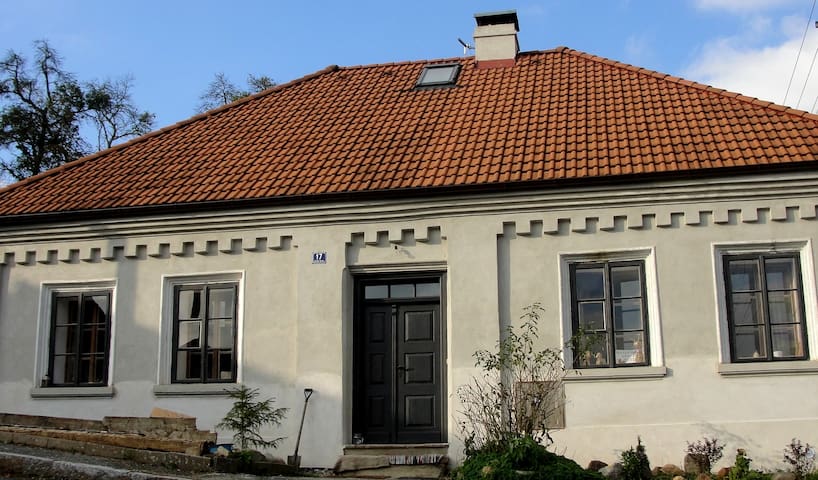 My accommodation is great for couples, solo travelers, business trips, families (with children), large groups and pets (animals).
Tipo de Quarto
Casa inteira/apto
---
Tipo de Imóvel
Casa
---
Acomoda
6
---
Quartos
Loket, República Tcheca
Ahoj! Nabízíme vám útulný dům v přírodě v blízkosti Prahy. Nachází se v klidné malé vesnice a zároveň není daleko větší obce s obchodem a hospody. Ideálním místem pro pěší turistiku, cykloturistiku, kánoe a také golf (golfové hřišti 1 km, tenis, bowling, plážový volejbal také není daleko). Vhodné pro rodinnou dovolenou.
Dům se nachází v jedinečné klidném místě, ačkoliv 40 minut do Prahy. Obec je tak malá, že není ani nazývá vesnice (jen pár domů s pěkným sousedy)
Naše malá obec (ve skutečnosti není ani vesnice :)) je do kopce, v klidné lokalitě. Hodně zajímavá místa v okolí (např ekologicky šetrné kavárnu a bistro Mamacoffee hned vedle řeky Sázavy, Pyšely hrad, Loreta golfový klub Pyšely s krásným výhledem)
The host canceled this reservation the day before arrival. This is an automated posting.
Wilco
2016-09-17T00:00:00Z
Небольшой , но вместительный дом с прекрасным камином. Великолепная тишина и отсутствие суеты добавляло шарма. Рядом есть все необходимое : магазины , пивбары. Немного прохладно , но дровяной камин сделал своё дело. Все довольны.
Vitaliy
2017-01-03T00:00:00Z
Kačka is a very friendly person who tries to help in any way she can. Unfortunately we didn't meet because we couldn't be there in time and she was busy that night so we didn't see the little house. We had good contact and figured it out together. Big up of Kačka and I hope my girlfriend and me will see her little cosy house one day!
Misha
2016-09-05T00:00:00Z
Tipo de Quarto
Casa inteira/apto
---
Tipo de Imóvel
Casa
---
Acomoda
4
---
Quartos
Nespeky, Central Bohemian Region, República Tcheca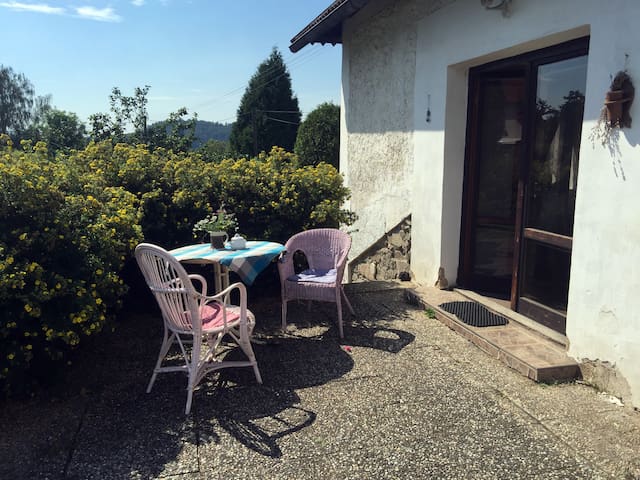 Cozyhouse im Herzen der malerischen Stadt Sazava bietet Platz für 6 Personen. Der Ort ist geeignet zum Radfahren und Wandern. Der Preis gilt für 2 Personen in einem Schlafzimmer. Wenn Sie mehr Menschen die Preiserhöhungen bleiben. Es gibt einen Garten hinter dem Haus, das zum Entspannen oder Grillen genutzt werden kann. Es gibt eine voll ausgestattete Küche und kostenloses WLAN.
Es gibt einen täglichen geöffnet Geschäft Žabka neben dem Haus. Es ist ein Kloster in der Nähe des Hauses in Sázava. Es gibt organisierte Touren 5 mal am Tag im Kloster. In Sázava gibt es eine Glashütte František. Sie können dort eine von Workshops oder Ausstellungen besuchen. Es gibt wunderschöner Ort zum Wandern - bedeutende Landschaftselement Havránky, die am anderen Ufer des Flusses Sázava sind. Hier finden Sie einen ruhigen Ort zu beobachten, Flora und Fauna. Manchmal kann man hier zum Beispiel Eisvögel zu sehen. Es gibt nur wenige herrlichen Aussichtspunkten in Sázava. Sie können mit dem Dampfzug für eine Reise gehen Posázavský Pacific genannt, Hexe von Kindern geliebt. Es ist ein Schloss in der Nähe von Český Šternberk Sázava oder Brauerei Kácov genannt. Sie sollten gutes Beispiel für beliebte ungefiltertes Bier schmecken.
Všetko bolo super! Pekné, útulne ubytovanie. Čiste a plne vybavené. Obchod s potravinami cez cestu je veľké plus. Ešte raz ďakujeme!!
Martin
2016-11-06T00:00:00Z
Very nice house for decent price. Bit older building, but absolutely in perfect shape. Host very helpful, he even prepared a pool for us, but weather was not that hot for children to bath. Parking your car is little problem in the garden as entry it is very steep, but public parking space is available approx 150 meters from the place. A big plus is grocery store Zabka literally over the road which is open 6am-11pm. City center and other interesting places in Sazava are within close walking distance.
Miroslav
2016-07-06T00:00:00Z
Целый отдельный дом за небольшие деньги. Легко привыкаешь к расписанию автобусов и ни каких проблем. Через дорогу магазин, остановка автобуса меньше минуты ходьбы. Я ощущал себя там как дома. Спасибо!
Павел
2016-12-31T00:00:00Z
Vse super. Komunikace vstricna a rychla, ubytovani pohodlne, prijemne, ciste. Predani bytu podle domluvy. Diky a urcite nejsme naposledy!
Jiří
2016-07-18T00:00:00Z
Tipo de Quarto
Casa inteira/apto
---
Tipo de Imóvel
Casa
---
Acomoda
6
---
Quartos
Sázava, Central Bohemian Region, República Tcheca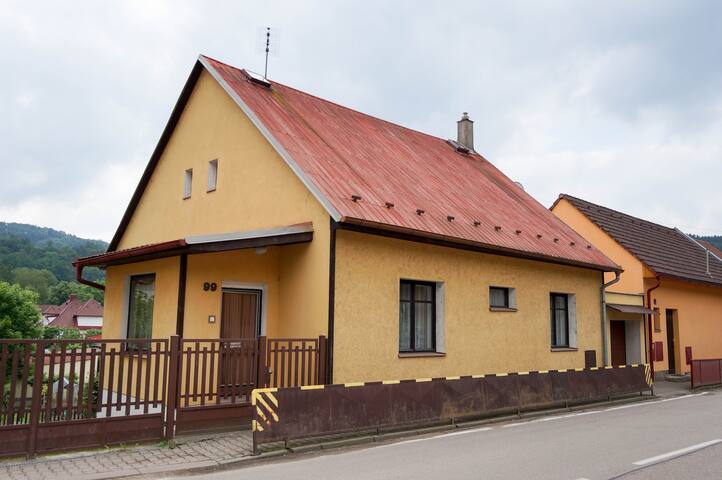 Tipo de Quarto
Casa inteira/apto
---
Tipo de Imóvel
Casa
---
Acomoda
5
---
Quartos
Sázava, Central Bohemian Region, República Tcheca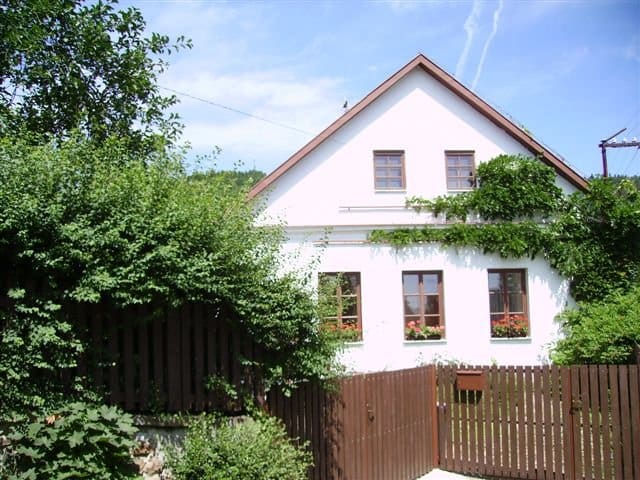 House located in the beautiful Czech countryside. Around 20 minutes drive from the P&R Chodov (Prague) where the car can be parked in a big parking place. From there the metro will bring you within 10 minutes to the centre of Prague. In the morning you can see herd of does in the field infront of the cottage. HORSEBACK RIDING in the countryside with instructor. TENNIS COURT. Ideal for walking or cycling. 4 GOLF courses 17-30min. In the vicinity are many interesting places: Sázava 16 km (the Benedictine monastery overlooking the Sázava river) Sázava river 5 km (one of the most popular river among paddlers; possibility to rent a boat for a various trips) Konopiště 15 km (Four-winged three storey château) Czech Šternberk 16 km (Bohemian castle of the mid-13th century) Jemniště 18 km (baroque chateau from the 16th century with a French garden and English park) Kutna Hora 54 km (significant urban conservation area, UNESCO World Heritage Site) Aquapalace 20 min (Central Europe's largest Aquapark) Monínec 45 km (ski resort, only-one in Central Bohemian region) Prague 30 km
Ondfej es un muy bueno anfitrion, nos atendiò muy bien yagradamos del lugar. Limpio, Tranquilo y bien organizado. Gracias y hasta la proxima.
Dario
2014-11-10T00:00:00Z
Tipo de Quarto
Casa inteira/apto
---
Tipo de Imóvel
Casa
---
Acomoda
4
---
Quartos
Vranov, Central Bohemian Region, República Tcheca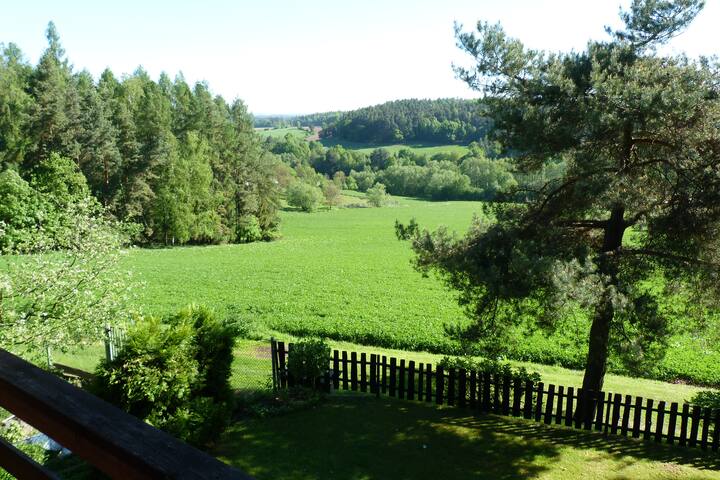 For me, you will love it, because we are a traveler family and we'll show you the beauty of our country house is located in a rowhouse on the edge of town Benesov. The center is a 15-minute walk away. Nearby is a shopping center, hospital. Train and bus station is 1 km away. Our accommodation is great for couples, solo travelers, business travelers and families (with children).
With us you will find beautiful castles, golf courses, towers .Ráda they prepare a tailor-made program and show around. We live not far from Prague on the route Prague - Czech Budejovice. It's easy to find us. You'll love it here in any weather.
We are located near Prague, in beautiful surroundings.
A really nice and cosy home ! Everything was clean and prepared at our arrival. Easy to find and pretty close to Prague. Only positive feedback ! :)
Guillaume
2017-01-01T00:00:00Z
Tipo de Quarto
Casa inteira/apto
---
Tipo de Imóvel
Casa
---
Acomoda
4
---
Quartos
Benešov, República Tcheca
Dům se nachází v malé vesničce Kostelni Střimelice jen 50 km od centra Prahy.Dům nabízí 5ložnic, 2koupelny pro max.10 osob.U domu je velká terasa s grilem a krásným výhledem, zahrada, krytý bazén, sportovní hřiště na tenis,volejbal nebo basketbal.
Rekreační dům Kostelní Střimelice se nachází 50 km od centra Prahy v nadmořské výšce 516m.n.m. Leží 2 km od městečka Ondřejov, kde stojí za zmínku zdejší hvězdárna, založená roku 1905. Dům byl postaven v roce 2001 a bude Vám k dispozici celý po dobu pobytu. Kapacita domu je 10 osob a k dispozici je 5 ložnic. Dům má 2 patra, ve spodní části se nachází prostorná kuchyně s jídelnou, velký obývací pokoj, ložnice a koupelna. V horním patře jsou k dispozici zbylé 4 ložnice, koupelna se sprchovým koutem a vanou a zimní zahrada. U domu je velká terasa s výhledem do krajiny, gril, sportovní hřiště na tenis, volejbal či basketbal, dětské pískové hřiště, skluzavka a houpačka pro děti. Okolní nádherná kopcovitá krajina nabízí mnoho možností pro výlety jak pěšky, tak na kole nebo autem.
We had a fantastic stay at Vojtěch's place, a beautiful, big house with a nice swimming pool, our kids loved it. At arrival we received all the needed information of interesting places and shops in the neighbourhood and of course a one day city trip to Prague. This house is a recommendation for families with kids who want to combine visiting Prague with walks in the Bohemian forests!
Yves
2016-07-24T00:00:00Z
Das Haus liegt in einer dörflichen Gegend, ist aber dennoch gut zu erreichen. Im Umkreis von 30 Minuten Autofahrt sind viele sehenswürdige Orte und Gaststätten. Im Haus hat uns vor allem der Kamin und das Piano einige schöne und lustige Abende verschaft. Auch für eine größere Gruppe (8 Personen) war genügend Ausstattung vorhanden. Vojtech war immer schnell zu erreichen, wenn etwas geklärt werden musste, und jederzeit nett und freundlich.
Martin
2017-04-09T00:00:00Z
Hallo Vojtech, danke für eine tolle Woche! Das Haus ist perfekt, obwohl wir uns auf ein gut ausgestattetes Haus gefreut haben, waren wir doch positiv überrascht! Große Zimmer, moderne Bäder, und so viele Freizeitmöglichkeiten, dass uns niemals langweilig wurde. Das Highlight ist natürlich der Pool! Aber auch der Kamin an einem kälteren Abend war einfach toll. DANKE
Matthias
2016-07-17T00:00:00Z
Der Gastgeber war sehr verlässlich, war immer erreichbar, hatte sehr gute Deutschkenntnisse. Das Haus entsprach absolut den vorgegebenen Bildern und Beschreibungen. Von der Lage war das ruhig und faktisch uneinsehbar. Wir haben uns in der Woche sehr wohl gefühlt.
Werner
2016-06-05T00:00:00Z
Tipo de Quarto
Casa inteira/apto
---
Tipo de Imóvel
Casa
---
Acomoda
9
---
Quartos
Ondřejov, Central Bohemian Region, República Tcheca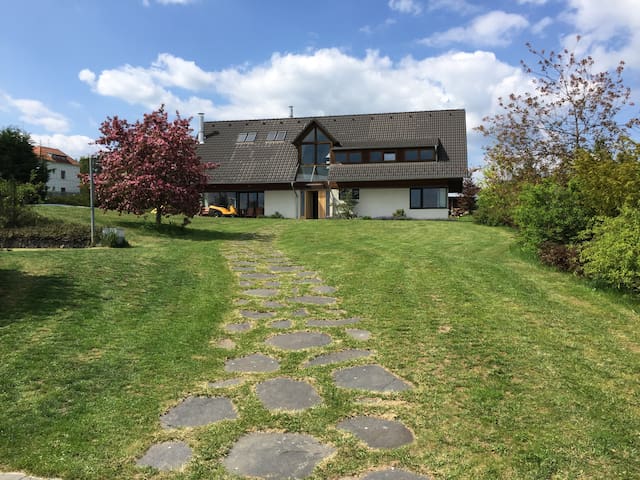 独特的巴洛克式房子里,捷克共和国的文化遗产,(冬季只有6人)提供了多达8人在两间宁静的住宿。私人浴室,酒店的小厨房。适合情侣或一小群朋友。 我们可以为您准备早餐,如果你希望(2欧元/人。)
这是我们住的房子。有对房子的一楼客人提供特别的客房。 我们完全重建了房子,在过去的18年投资在花园里也是如此。所有重建工作被国家权威机构的监督下完成的,因此它尊重这个地方的历史场所精神。
这房子是在这个小村庄的中心,但由于物业的建筑有在花园绝对隐私。杂货店只是几十个从门的房子米(开通每周七天)。
Nice quiet place, in a old fine refurbished building, luxus morning meal incl.
Michael
2016-06-01T00:00:00Z
Příjemné prosté ubytování, které ladí s celkovým prostorem - krásným statkem. Strávila jsem tu sice jen jednu noc, ale dovedu si představit, že pobýt tu týden s rodinou nebo přáteli a podnikat výlety po okolí může být skvělé!
Hana
2017-04-09T00:00:00Z
Tipo de Quarto
Quarto privado
---
Tipo de Imóvel
Casa
---
Acomoda
6
---
Quartos
CZ, República Tcheca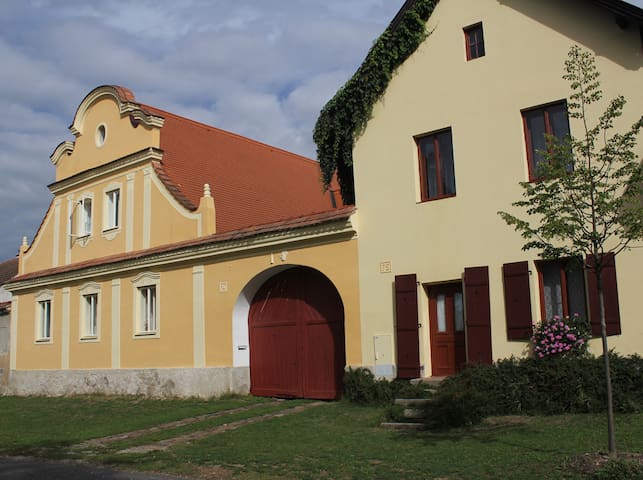 Nedávno zrekonstruovaný rodina letohrádek v chráněné krajinné oblasti Želivka (nádrž chráněna vody pro Prahu). Odpočiňte si v klidné přírodě, udělat nějaké procházky, rybolov, cykloturistika, řeky na koni, houby & beries nástupu nebo navštívit hrady / zámky a gastro-turistiky během dnů a pak relaxovat u krbu ve večerních hodinách;) Možná, že v důsledku ochrany prostoru closeby, je to trochu málo rozvinuté oblasti. Ačkoli to je probouzející se v posledních několika letech, ceny jsou nízké a turisté uvítali.
5 stars is not enough to describe David's house! I and my boyfriend have booked the house for Christmas vacation out of the noisy city. The house is absolutely perfect, it made us feel welcomed with warm and homey atmosphere. Best place for a romantic getaway! We really enjoyed looking at dancing flames in the fireplace while watching movies projected on the wall. Also the kitchen is modern and fully equipped (toaster, dishwasher, coffee machine, microwave, stove and oven) with all dishes, cutlery and cooking tools you might need. The harmony of old good furniture and modern design is remarkable. Beautiful enclosed garden is also included.
Uliana
2016-12-27T00:00:00Z
David was an incredible host. He went above and beyond to make sure we were comfortable and gave us TONS of information, not only about the immediate area but recommendations for Prague and Brno as well. The house was a dream come true! Having a fire in the back yard during sunset was breathtaking. I highly recommend David and Koźli to everyone. The pictures really do not do this listing justice. There's an incredible courtyard and the back yard is out of this world!
James
2016-04-30T00:00:00Z
Úžasný dům, oceňuji čistotu a velkou vybavenost i pro nejvíce náročného hosta. Radi se tu znovu někdy ubytujeme! Děkujeme za krásný pobyt a vřele DOPORUČUJEME!
Viktorie
2016-09-25T00:00:00Z
Its a great place to stay. During the bad weather we really enjoyed the fire place. Fire wood was also provided. The Appartment is fully equipped. Its very large with 3 bedrooms. David was a very kind host. We will come back for sure.
Mathias
2016-11-06T00:00:00Z
The property is well located - about an hour away from Prague but far from touristic areas, which means it's both authentic and low priced. The house was recently renovated and is still a work in progress, but David is investing a lot in it and is aware of everything to be done (it is in perfect shape, but needs minor tweaks).
Ella
2016-08-17T00:00:00Z
Great house and great host! Everything is very clean and neat. Good beds, for all 6 of us. Great place to have a barbecue or start a campfire! Lots to do in the surroundings. David was a really nice guy who invested in you to have a good time. A car is nice thing to have if you want to get around. But in conclusion we really enjoyed the place.
Paolo
2016-07-18T00:00:00Z
The place was more than we expected, cozy, warm and... Perfect. David is great and very understanding. We just loved the fireplace:x :x
Gabriela
2017-01-02T00:00:00Z
David byl už od začátku přátelský a pobyt byl skvělý, zejména příroda v okolí. Rádi ještě místo navštívíme :)
David
2016-07-11T00:00:00Z
Tipo de Quarto
Casa inteira/apto
---
Tipo de Imóvel
Casa
---
Acomoda
7
---
Quartos
Kožlí, República Tcheca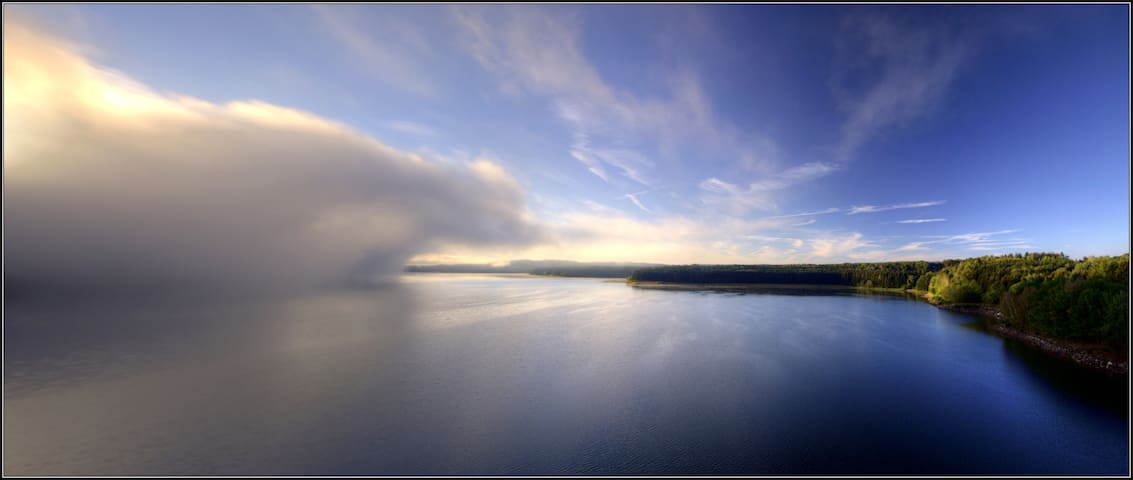 Krásný starý venkovský dům, v nádherné jezero, s dokovací stanicí, velkolepé východu slunce nad jezerem a novogotického kostela na druhé straně. Je to jediný dům přímo u jezera. Jeďte do Prahy 40 minut, Kutná Hora 15 minut. Krásná krajina.
Krásný a velký dům v nádherné jezero s nádherným východu slunce nad jezerem a novogotického kostela na druhé straně, která je v noci osvětlený. Dům je jediný dům přímo u jezera, soukromí na zahradě a krásné vápencové a trávy terasa na druhé straně. Dům má 4 krásně zařízené pokoje a 2 koupelny; K dispozici je (phone number hidden) sq.ft. herna s dřevěnou podlahou, obývací pokoj s nádherným výhledem do místního kostela, krásný koberec s bordó gauče. V kuchyni je dřevo / cihlové barvy s tabulkou, která vychází vstříc 8 pohodlně sedí na velmi staré dřevěné židle. V obývacím pokoji je vytápěna dřevem v kamnech 6, některé s přidáním pohodu velký skla. Dům nabízí jedinečný a úžasný východ slunce na okna na jezero. Když tam je úplněk a jasná obloha, měsíc stoupá nad jezerem, které nabízejí skutečně nádherný výhled a atmosféru. Dům má vinný sklep s téměř konstantní teploty po celý rok. Dům je snadno přístupný po celý rok a je na hraně Vavřince (St.Lawrence) obce. Je zde autobusová zastávka cca 100 metrů od domu a vlakové nádraží 1,5 km daleko vlaky každou hodinu. Autobus jede do nejbližšího města, ale ne často vůbec. Koupání v jezeře je v pořádku, přístup do vody se provádí pomocí dřevěné doku. Plná kapacita grilování je k dispozici. Dvě kompletní windsurfingových prken jsou k dispozici (jeden moderní, jeden starý), kajak dvojité sedlo a jednoduchým trupem ze starého windsurfing desky, pádla, neopreny a plavecké vesty. Malý místního obchodu s potravinami je 2 minuty chůze, otevřeno od 7 hodin ráno do 7 PM každý den. Jen 5 minut jízdy je Janovice, malé město s plnou dostupnosti zboží a služeb a krásným barokním kostelem. K dispozici je typická česká bar asi 100m od domu (otevřeno denně kromě čtvrtka). Malé děti by měly být poučeny, že nemají chodit dolů k samotné jezero, i když to není hluboká. Dům je dvoupodlažní dům a je opravdu historický. Horní příběh není zrekonstruován a přístupu není dána hostitelů, i když kvůli zvědavosti lze navštívit. Dům byl postaven v roce 1890. Lokalita: Praha Centrum Prahy je vzdálené 50 minut jízdy, Kutná Hora 15 minut (město Unesco představovat mimo jiné Barbory katedrály, jeden z nejpozoruhodnějších v Evropě), a dům je ve středu Vavřinec, jen 400 lidí obec z 18. století. Obec je velmi bezpečný, pořádek, klid a ... snová.
Obec je nádherná, klidná a
It was great time there! Really piecefull place and great host. We spend there the whole weekend of absolute happiness. Nothing was a problem. We can just recommend it. Thank you, Alex, for the opportunity to be there.
Eva
2015-07-13T00:00:00Z
A couple of friends and I stayed at the Lake House to celebrate New Year and had a great time there. Alejandro was very helpful, nice and communicative. The lake is super beautiful and the house is cozy once it is heated up. But I'd like to point out again that the fire places are the only heat source in the house! In my opinion that wasn't written clearly in the description. There is one in almost every room so it wasn't cold at all, but it is not just pushing a button to get it worm. Though for everyone with a fable for fire places, like me, it is pretty cool ;) The house is obviously a work in progress, so not everything is too clean or new looking. But nevertheless it is definitely charming :). Also the table soccer is broken, but with the ping-pong table and lots of musical instruments like guitars and a drum kit there is still plenty of cool stuff. If you want to travel with some couples, be aware that some of the rooms have several doors and are corridors to other rooms. So privacy is not always easy. Altogether we had a great time and would love to come back :)
Sarah
2017-01-01T00:00:00Z
Host Alex was very accomodating, very flexible on check in and check out, fast to respond and went over and beyond to arrange local recommendations, bookings. Overall we enjoyed ourselves making use of the table tennis table, outdoor brick bbq, and boards to paddle on the lake. However it is quite an expensive stay for a rather basic set up. Older guests struggled with the sleeping arrangements (beds are quite small and basic) & the lake is more of a pond, as such, while the locals enjoy swimming in it visitors may not. Also note while the village is friendly, charming and quiet the local store and bar and limited in offerings on the food front so be prepared to make a short drive if needed.
Pim
2016-07-13T00:00:00Z
Unfortunately the listing is not accurate. While the listing describes the house as 'charming' and 'stylish,' when we stayed we arrived to a dirty, unfinished, and rustic accommodation. We had no hot water in the kitchen nor the bath. The main source of heat is by fireplace and space heater (which is fine for some, however we travelled with a small baby and had we known ahead of time there was no central heat, we would have selected alternate accommodation). An axe was provided for us to cut our own kindling wood in order to start a fire. The house is also not finished, in that there are exposed wires. The patio is not 'grassy,' it's weeds. Overall this was not a pleasant stay. The house is very rustic, so do not have high expectations if you choose to stay here.
Stacey
2015-11-14T00:00:00Z
Alejandro was very helpful and available despite not being onsite. The house is very charming and the lake access really convenient! We had a great time!
Celia
2015-07-20T00:00:00Z
This was the most interesting Air BNB place we have stayed at by far. It is a big building that the owners have bought and they are in the process if fixing it up as a vacation home/ rental. Alejandro is a super guy and was very helpful. He speaks fluent English and Czech and he knows the area very well, which can come in handy. After two days in tourist-clogged Prague, we enjoyed the peace and quiet of the small village. It is a short drive to Kutna Hora and Prague from here, so it would make a good base for visiting both of these cities, and Alejandro can help you with your tourist plans. We were the first guests to stay at Alejandro's place, and I would say that it was a little rough around the edges, but it is true that I booked the place on the day that we arrived, so he didn't have much time to prepare it for us. As I mentioned above, the place is a work in process, so a lot of the building is unfinished.
Martha
2012-08-09T00:00:00Z
Alejandro is a good host who communicated well with us. The house is very much a work in progress-lakeside location is lovely and the Sedlec Ossuary is only a short drive away. We enjoyed our stay but the it is still early days for this house and whilst clean and comfortable enough there is still work to be done which might mean that those wanting luxury would not quite get what they wanted. But it is good value and reasonably well equipped.
Marian
2015-09-05T00:00:00Z
We, family of four, had a good time at Alejandro's place. The location at the lake is nice and relaxing, and we especially enjoyed the large lawn at the back of the house (lie in the Sun, BBQ). The village is really quiet, the area rural, and Prague and Kutna Hora are in driving distance. Alejandro was very responsive (before and during the visit), friendly and speaks English fluently. As to the house: it is huge (we only used three rooms). It is interesting and has potential but also is a work in progress (there is still a lot to be done). We therefore found the description of the interior to be overenthusiastic. On our arrival we also found the place not to be very clean (on noting this Alejandro did offer to clean). However, the house has a good atmosphere, and we felt comfortable there for the week we stayed.
Rik
2015-08-04T00:00:00Z
Tipo de Quarto
Casa inteira/apto
---
Tipo de Imóvel
Casa
---
Acomoda
16
---
Quartos
Vavřinec, Central Bohemia, República Tcheca
Unser Haus liegt in einem kleinen Dorf in der Mitte des Naturparks nur 30 km vom Stadtzentrum von Prague.We Angebot 6Schlafzimmer gelegen, 3Badezimmer für 12 Pers. und sauna.Outdoor Bereich bietet eine Terrasse mit schöner Aussicht, Grill und Sportplätze.
Unser Haus liegt in einem kleinen Dorf in der Mitte des geschützten Bereich des Velkopopovicko Naturpark. Sie werden Dubiny auf 400 m Höhe finden, etwa 4 km südlich von Velké Popovice Stadt und nur 30 km südöstlich vom Stadtzentrum von Prag. Dieses ruhige und malerische Umgebung ist auch die Mikro von Josef Lada oder Land Baron Ringhoffer genannt. Das Haus hat bauen und wird von Familie Záhorský (Matej, Dominika und ihre kleinen daghters Majdalenka und Maruska), die uns, Sie gibt es geschafft, begrüßen zu dürfen. Sie können das ganze Haus voll ausschließlich für Sie und Ihre erholsamen Urlaub ausgestattet mieten. Das Haus verfügt über eine Kapazität von 5 gemütliche Schlafzimmer (möglich 6) mit optimalen Komfort für 10 Personen. Das Haus verfügt über eine voll ausgestattete Küche mit Essbereich, Gäste-Wohnzimmer, 3 Bäder. Außenbereich bietet eine große Terrasse mit schöner Aussicht, Grill, Spielplatz für Tennis oder Volleyball, Spielplatz für Pétanque, sandigen Spielplatz für Ihre Kinder und Garten mit dekorativen Pools. Herrliche Umgebung und schöne Landschaften locken für Ausflüge mit dem Fuß, auf dem Fahrrad oder auf ein Auto. Mehr auf: (URL HIDDEN)
Sie können Dubiny mitten in der schönen und amasing Natur und peacyful Landschaft. Es ist unglaublich, dass diese Region nur 30 km von Prag ist !! Von der schönsten Stadt der Welt ...;) In Dubiny können Sie rund um viele Einrichtungen finden auch. Sie können viele Arten von Sport (Radfahren, Tennis, Basketball, Volleyball, Boccia, Badminton etc.) üben, oder Sie können zwei große Golfplätze besuchen (4 und 6 km vom Haus entfernt!), Können Sie eines der beliebtesten besuchen und traditionelle Brauerei in Tschechien (nur 4 km in Velké Popovice) oder Sie können eine Menge von Schloss besuchen um (Konopiště, Český Šternberk, Berchtold, Štiřín, Průhonice). Nur 15 km vom Haus entfernt befindet sich die grösste Wasserpark in der Tschechischen Republik (Cestlice). Und schließlich können Sie besuchen Prag .... Der perfekte Ort für Ihren Urlaub !!
Das Haus ist schön groß und der Garten weitläufig. Die Einrichtung ist schlicht aber schön. Matej ist sehr nett und kommunikativ. Er spricht perfekt Englisch.
Frank-Peter
2016-08-08T00:00:00Z
Opis byl bardzo trafny a Matej bardzo pomocny i goscinny. Okolica domu bardzo piekna i dookola domu mnostwo zieleni, pieknie wkomponowana zielen. Jedynym utrapieniem byly osy i komary. Nie wszystkie pokoje mialy zabezpieczenia okien przez siatki. Dom by bardzo przestrzenny i funkcjonalny. Kuchnia wypasozona we wszystkie niezbedne i potzebne akcesoria. Zmywarka do naczy nie bardzo dobrze funkcjonowala. Przypuszczamy ze brakowalo soli w dozowniku. W lodowce gromadzila sie woda pod plastikowymi zbiornikami. nasz pobyt byl bardzo udany i wszyscy goscie byli bardzo zadowoleni. Zwiedzilysmy browar z bardzo ciekawa historia. Okolica i sama miejscowosc bardzo urocza i nasze spacery pozostana nie do zapomnienia. Dziekujemy serdecznie Matej i zyczymy wszystkiego najlepszego tobie i twojej rodzinie! Dubiny bedziemy zawsze bardzo mile wspominac! Chetnie wrocilibysmy z powrotem!
Anna
2015-09-01T00:00:00Z
A really beautiful place definitely worth the stay.
michael
2016-12-26T00:00:00Z
very spaceous house! Matej was a great host who suggests lots of activities in the surrounding and was always available if we have further questions.
Eva
2016-09-26T00:00:00Z
We had a group of ten people and we all had a very comfortable and enjoyable time at Matej's house! It was very large so that everyone had the space they needed to relax and have privacy when needed. The dining room table was large enough for all of us so it was easy to share a meal together. The three full bathrooms were great. Matej was extremely helpful and friendly. We even met him in Prague for an excellent lunch at his Zahorsky Café. We highly recommend this property to anyone looking to stay in the Prague area!
Bob
2015-08-20T00:00:00Z
Matej and Dominika were great hosts. Very friendly and they answer every message very quickly. When we arrived Dominika gave us a short tour around the house and gave us recommendations where to go to, where to eat and directions to the supermarket. She also gave us a map of the area. Very handy! The house is exactly as it is on the pictures. Very large, comfortable, spacious bedrooms and bathrooms. The house is clean en especially suited for families, even with small children. The swimming pool was a big plus, especially because we were there for two of the hottest summer weeks of our lives. The area around the house is nice. We went swimming in the sazava several times and visited Prague. Going to Prague is super easy by going to one of the P&R-parkings. We recommend visiting the local brewery in Popovice. The guide gave us a nice tour (although in Czech:)) through the brewery. The local restaurants are great and serve wonderful food! We had a great family holiday!
Tim
2015-08-15T00:00:00Z
Very nice place and very nice house. Thank you so much we had a wonderful stay!
Karin
2016-07-16T00:00:00Z
Tipo de Quarto
Casa inteira/apto
---
Tipo de Imóvel
Casa
---
Acomoda
12
---
Quartos
Velké Popovice, Central Bohemian Region, República Tcheca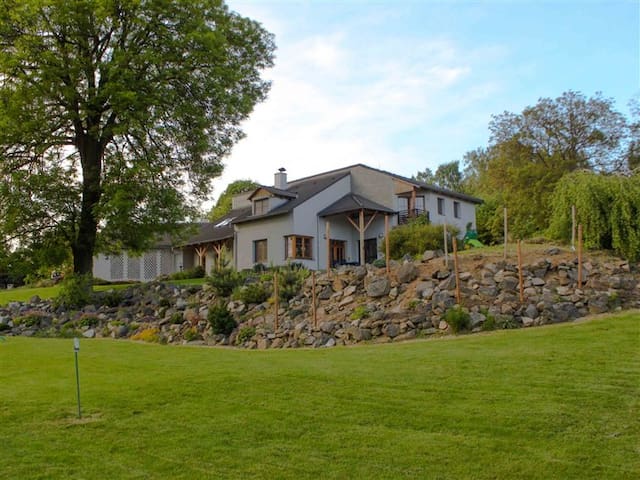 Hello, book your holiday home near all the amenities and assimilate with the local culture. Get to know the region. Take a tour, and enjoy your travels and superb natural environment. If you are looking to enjoy nice village atmosphere and are having kids this is a great chance to rent your unit, which is clean, spacious and light. Near by there is a kid's playground and aqua park is located just 15 minutes in nearest city of Tabor. While you there visit an old time square and go to Prague Zoo
Welcome, to our second home! We live in Prague, Czech Republic, from where the home in the country side is easily-accessible by car, throughout the road E55 in fifty (50) minutes. It serves me, and my entire family, as a get away into the great outdoors. It is convenient, fast, romantic to drive over and experience a peace of mind. Two units, with separate entrances throughout the whole year, ensures that our guests' retreat to nature is complete. Go ahead and discover, how easy it is to be yourself. Ask yourself questions, such us; are you looking for fun, action? Would you like to spend quality time with your family? Maybe, you just want to relax? Remember, you can have it all! I invite you, to come on and take advantage of the safety of our home. Rest assure, it is right on the money. Best Regards, Rostislav Ross Šabatka
Privacy of Home! Well maintained home, large garden, allows you to have private moments with your family. Just imagine the fruit trees, flowers and small fishing pond, inside your home. An ideal place for playing, having fun, relaxing, spending quality time with your family. Have to mention the area, that consists primarily of rolling hills, farmland, and fertile riverbeds. I advise you to stay in the region, which is well known as having recreational value to many. Go for a tour and admire the nature's elevated tablelands, bohemian forests, outdoors and the overall landscape scenery of the country side. Your home is centrally located, so you can access countries like Germany and Austria fast within four (4) hours of drive. Everything is within your reach, so do not wait till the last minute and reserve your home today. Regards, Rostislav Ross Šabatka
This is a rustic and simple home in a small village, but it is so full of charm. Ross was amazing and we couldn't have wished for a better host. He went way beyond the call of duty, picking us up late at night from the station, driving us around the area and helping us book our ski resort. There is a little shop just up the road for basic supplies and the big city of Tabor is only a 15 minute drive away. When it comes to value for money, Ross' home and the Czech Republic in general offers unparalleled value. We would recommend that you rent a car, which will then open a host of opportunities to you - Prague is only 1 hour away, and the ski resort, Moninec, a 12 minute drive. If you're thinking of going skiing, this is a perfect launching pad to do just that. We suggest that you stay at the house and take a short drive to Moninec every day where you can hire skis at a ridiculously low price, experience world class ski lifts and ski instructors, and enjoy a wonderful day in the snow. We cannot recommend this highly enough and we thank Ross again for making us feel so welcome.
Heike
2015-02-28T00:00:00Z
Rostislav is very nice. The house is dated but he is working on improving it. Plenty of interesting places to visit around. Authentic Czech countryside experience.
Martin
2015-09-28T00:00:00Z
Ross and his mother are very nice, sweet people. As soon as we sent our request, Ross was full of nice words for us and made sure our arrival would go smoothly. His mother greeted us, showed us around the house (it is HUGE!), and we met Ross as he came back from work. He even took a day off to make sure we had everything we needed, as his mother doesn't speak english (but with whom it is easy to communicate), so he could be there if we'd needed anything. The house is perfect. There is a spacious, fully furnished kitchen, two bedrooms (one with a double bed, one with two single beds), and a large livingroom (where the sofa can be used as a bed). The backyard is big and they even have sheeps in a separate portion of the land. Also, as Ross' mother lives next door, it is very convenient if you need anything. I would love to have to opportunity to come back here. It is a great get-away from the busy life of the city, perfect for those seeking a quiet time in the country side of Czech Republic and still, only 20 minutes drive from Tabor, which is a nice city where you can find everything you may need. If you are looking for a place for your holiday, Ross' house SHOULD be your pick! Thanks again for everything!
Anabel
2016-04-15T00:00:00Z
Ross and his mother greeted us warmly and made us feel at home. The rooms are big and clean. The garden is huge. Fresh air! Wifi is fine. Nice playground one minute's walk from the house. Market almost across the street. McDonald's is a 10 minute drive away. City of Tabor 15 minutes drive and it has everything. We will come again.
Garth
2015-08-11T00:00:00Z
The reservation was canceled 9 days before arrival. This is an automated posting.
La Vie En Rose
2013-07-14T00:00:00Z
An authentic simple nice house in a small village. The village location is excellent, very close to the highway and to many points of interest. The host speaks very good English and he is friendly and helpful. Highly recommended for outdoor oriented families looking for a simple authentic accommodation at a fair price in a nice village with a grossers store across the road
Nili
2015-07-21T00:00:00Z
Absolutely brilliant hosts. Ross and his mother made us feel very welcome. They were very friendly right from the start during booking process, all the way to the very last day. They both were happy to help all the time, and they really made sure we not only were happy with the property, but also that we were having a good time in the Czech Republic. Everything was as it was listed. The property is a charming farmhouse with a wonderful garden and secure parking inside the gates. All the essentials needed for a holiday home were all included, with comfy beds! The property was very clean. The location is ideal for travelling to Prague, Český Krumlov, Tábor and České Budějovice just to name a few. The neighborhood is a lovely Bohemian village, with the closest restaurant approximately 1km away. We are very happy, with many great memories, and we will be returning very soon!!! We wouldn't have had such a great experience if it wasn't for Ross and his mother.
Olushka
2015-08-27T00:00:00Z
Vi har været meget glade for at bo hos Rostilav.Lige fra den første kontakt har han været meget venlig og imødekommende. Da vi ankom var han der for at vise os hvordan det hele fungerede. Under hele opholdet har vi kunnet ringe og skrive til ham. Meget fin service. På samme måde har lokal samfundet været meget hjælpsomme og venlige. Huset vi boede i har levet op til vores forventninger. Vi vil gerne komme igen.
Steen
2015-08-03T00:00:00Z
Tipo de Quarto
Casa inteira/apto
---
Tipo de Imóvel
Casa
---
Acomoda
5
---
Quartos
Mezno, Central Bohemian Region, República Tcheca
Accommodation Žižkova252 is located in the center of the town Pacov. Supermarkets and post office 50m from the house. Nearest restaurant 200m. The closest pub 50m. Pharmacy 20m. The apartment consists of 3 rooms. Single, triple and quadruple. The rooms have shared showers and toilets. There is a communal kitchen. Everything is newly decorated. After an agreement is possible even breakfast (solved on the spot).
There is very small number of accommodations in Pacov. This apartment is newly renovated and equipped.
Tipo de Quarto
Casa inteira/apto
---
Tipo de Imóvel
Casa
---
Acomoda
8
---
Quartos
Pacov, República Tcheca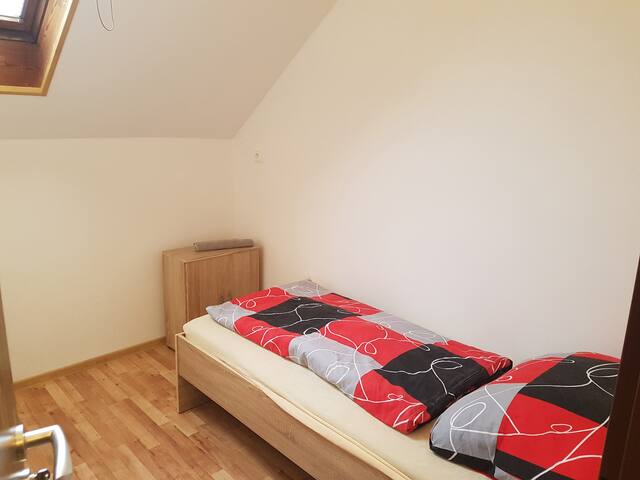 Vlašim - Airbnb
:
Média de

4.32

de

5

estrelas, de acordo com

71

avaliações de hóspedes
1

–

18

de

136 Casas para Alugar
Insira as datas para ver o preço total. Taxas adicionais aplicáveis. Podem ser adicionados impostos.