Descubra casas em Wentworth Falls na Airbnb
Descubra casas inteiras e quartos privados perfeitos para qualquer viagem.
Wentworth Falls, Austrália
Alugueres de férias em Wentworth Falls
Alugueres de férias favoritos em Wentworth Falls
Mais alugueres de férias em Wentworth Falls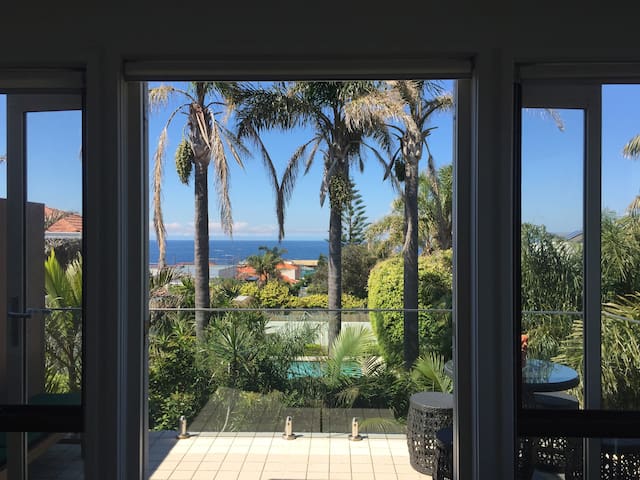 €48
Cosy bedroom in home by the sea
---
Aluguer de Férias

· Wentworth Falls
Light and airy double bedroom with private bathroom. The large house has beautiful water views, a peaceful tropical garden setting, two covered terraces, modern facilities and is less than a seven minute walk to the ocean pool and beach. Our house is your house! Relax in our modern home and enjoy access to all of the facilities. We can offer you advice on all of the Sydney sites and how to get around the city. We are seven minutes walk to Mahon ocean pool, Maroubra beach, scenic walks, cafes and eateries. Twenty minutes to the airport and Bondi Beach by car. Forty minutes to the Sydney City centre by public transport. A two minute walk to the bus stop where you can board one bus and access the Sydney Harbour, the CBD, Bondi Junction, Coogee Beach and Maroubra Junction.

saiba mais
Alyse
We loved our stay at Vilma's house! The house was absolutely beautiful and just a short walk from the beach and ocean bath. Everything was extremely clean and very comfortable. The house is filled with beautiful artwork done by Vilma herself. Vilma and her daughter were so kind and welcoming! We loved chatting and getting to know them. They gave us great recommendations for places to see and even helped us figure out the bus schedule. Would love to go back and stay again, I highly recommend you stay here if you are looking for a place close to Sydney!
J.T.
Vilma is an extremely welcoming and conscientious host. She and her daughter Giselle make you feel right at home. All of the other positive reviews are no exaggeration! The one that stands out most to me mentions "value" because I would expect such a beautiful, clean and peaceful place to be more expensive. I have certainly paid a lot more to receive much less. My girlfriend and I stayed for two days after flying to Sydney from San Francisco and could not have been happier.
Mark
I had a great stay. It was my second Airbnb experience. Great value, Lovely calm peacefull home near the beach. It was great to be made welcome by Vilma and Gisselle. They were willing to chat and also quite happy to let me do my thing. The room was nice, perfect for what I needed, I had my own bathroom so plenty of privacy. Vilma shared her excitement of art and the art work she has in her home. Would definitely stay there again.
Jessica
We had an amazing time in Maroubra! Vilma and her daughter Giselle were great hosts. They helped us to make our time in sydney memorable and were always up to a chat. The advice they gave us was very helpful and we would love to stay there again if we ever get back to sydney. Totally recommend this accomodation!
Jana
Vilma was a great host! She really takes care of her guests! It was lovely to meet her and her daughter! The Airbnb is great and I really regret that I could not stay longer then one night! The spot close to the beach is just perfect!!! Love to come back at some point!
Laura
Vilma was wonderful, and her daughter Giselle was also a sweetheart. They helped me out with everything I needed. Location is impeccable. Must try the pool cafe right down the street. Splendid experience.
Imogen
We stayed for one night in Vilma's airBnB, and wish it could have been for much longer! The house is so lovely, with lots of Vilma's own artwork throughout. Downstairs there is a lovely cute green space, with a nice kitchen, and upstairs is a really chilled living room with an amazing view to the ocean. Vilma and Giselle were friendly, helpful and informative. The bed was super comfortable; we slept like logs (although this may have been due to the 5 hour coastal walk we had enjoyed that afternoon).
Jon
A great location, lovely home and a very welcoming host. I had a great stay, highly recommended.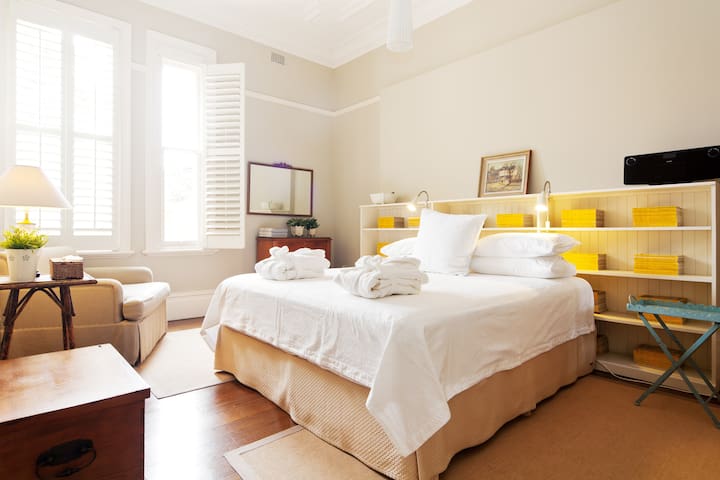 €78
Wentworth Two: appealing, inviting
---
Aluguer de Férias

· Wentworth Falls
One bedroom apartment in a grand heritage residence exuding charm and comfort. Polished wood floors, soaring ceilings, gourmet kitchen. Minutes to Sydney Airport and 6 stops to the CBD by train, it sleeps two in a supremely comfortable king size bed. Wentworth and Gladstone, a pair of grand victorian terraces, were built in the 1880's and today are heritage listed. A local landmark, they were built for rental to 'well to do' tenants. Gladstone, on the left, is now a single residence, while Wentworth, on the right, has been thoughtfully divided into apartments, four of which are rented as holiday accommodation. Recently renovated, Wentworth Two is one such apartment. It has been decorated in a warm and inviting way. The setting may be antique, but the apartment offers a fully equipped modern kitchen with microwave, gas cooktop, electric fan forced oven, and facilities including flat screen TV and Wifi. The bathroom, for your exclusive use, complete with tessellated tiles and washing machine, is off the hall. The french doors open onto the rear sandstone verandah and look out over the rear and private garden. And for newly arrived guests, breakfast on your first morning is 'on the house'. You will be brought a tray packed with freshly heated croissants, ground coffee or Twinings tea, hand squeezed orange juice and muesli - to give you a great start to your first day in Sydney. Guests will have access to secure off-street parking, a shared clothesline and a communal garden. But that is all that will be shared. Everything else on offer in Wentworth Two is for the exclusive use of you, the guest. This is not someone else's home. There are no locked cupboards, no one else's socks in the drawers - only yours! During your stay I am generally going to be available to help with any queries that you might have. We live next door so we are never far away but the house Wentworth is completely separate from our house, Gladstone, and your apartment, Wentworth One, is completely self contained. Arncliffe's location has a lot to offer. On the one hand it is close enough to the city and major transport links to offer easy access by car to the city and beyond. Perhaps you might want to drive to the Blue Mountains for the day? Or explore our beautiful South Coast? Or - if you are happy to walk to the nearest station [a 10 minute walk for me and I am 63] - it offers easy travel by train to the airport, the CBD and Eastern Suburbs [for access to Bondi]. But it is also far enough away from the city hustle and bustle to offer a quieter and calmer place to call home during your stay in Sydney. Banksia railway station is a 10 minute walk from Wentworth One (though the walk back up the hill can really get the blood pumping!). Transport from and to the Airport is available on request. As the current owners of this grand old house, we see ourselves as its custodians and it is a joy to be able to share this wonderful building with the guests of Wentworth Two. Come and experience for yourself its generous proportions, the sense of space and its echoes of a grander, bygone time.

saiba mais
jean
It was the best traveling experience I had ever have! Judy and her husband Tony were really amazing hosts. They had everything we might need. And everything was perfect: the house, the room, the kitchen, the breakfast, the transportation from and to the airport... Thanks again!
Jessica
Judy was an absolute pleasure, as was her beautiful room in Arncliffe! I could not recommend Judy and her room more! The room was decorated beautifully, and when we arrived the heaters were on, and the room was filled with classical music - very welcoming! Judy served us breakfast both mornings - lovely warm croissants, coffee and freshly squeezed orange juice. Finally, Judy went to the trouble of picking us up from the train station when we arrived, and then kindly drove me to the airport on my last day. Perfect stay. Wonderful host, and room! Thanks Judy, for a lovely last farewell in Sydney, Jess
Daniel
Judy and Tony are a wonderful and kind couple who provide excellent service to their guests. Judy took the time to pick us up from the airport and give us a quick tour of the local area, including places to eat and the train stations. The apartment is very neat and clean and has everything you need - a kitchen with utensils, shower with towels, heater, large bed and laundry. To top it off, they serve breakfast every morning of local pastries and freshly squeezed orange juice. I had a great three days exploring Sydney and will definitely stay at Judy's Wentworth when I come back. Highly recommend.
Jenae
As always it is an absolute pleasure to stay at Wentworth!! Old world charm with the luxury of modern day convieneces. Amazing hosts and an amazing house!!! Love every stay!!
Catherine
This was hands down the BEST Airbnb experience I have ever had. From the moment of our arrival it was unforgettable, the garden, music and his and hers bathrobes were amazing. The room was beautifully decorated with stunning interior design, extra special items and the most comfortable bed I have ever slept in. The kitchen, deck and living area were all great as well. Having coffee and tea readily available was amazing. The breakfast which Anne supplied was amazing freshly squeezed orange juice, croissants, and granola and French press coffee... Need I say more? Would highly recommend it to anyone in Sydney local or visiting for the perfect getaway which you do not want to even leave. Thank you for everything we will be back.
Nikita
Stayed in Wentworth two for 2 nights, and it was the best AirBnB experience I have ever had. Been using the site since 2012, in 3 different countries, and this has got to top the list. Beautiful, comfortable, clean and extremely hospitable.
Daniel
Judy & Tony were wonderful hosts and have an absolutely stunning heritage property. Every detail was just perfect and they made the start to our holiday overseas stress free and enjoyable. The pick up and drop off at the airport was very generous and greatly appreciated. Thanks again!
Hannah
Immaculate and so convenient! My husband and I arrived in Sydney after a 3 day mega-journey from the UK - involving 4 flights, 3 layovers and 1 missed plane. It was Christmas, we were exhausted, twitchy and I personally was ready to cry if one more thing went wrong. Luckily we booked here for two night's respite before we began our holiday! We walked (almost crawled) in to find a spotlessly clean, chic little hideaway. The owners brought us a lovely breakfast in the mornings (including a Christmas card and a little gift on Christmas morning!) but otherwise were very discreet. They provided everything we needed, from off street parking to wifi to menus for local restaurants. We very much appreciated our stay and would recommend it highly. :)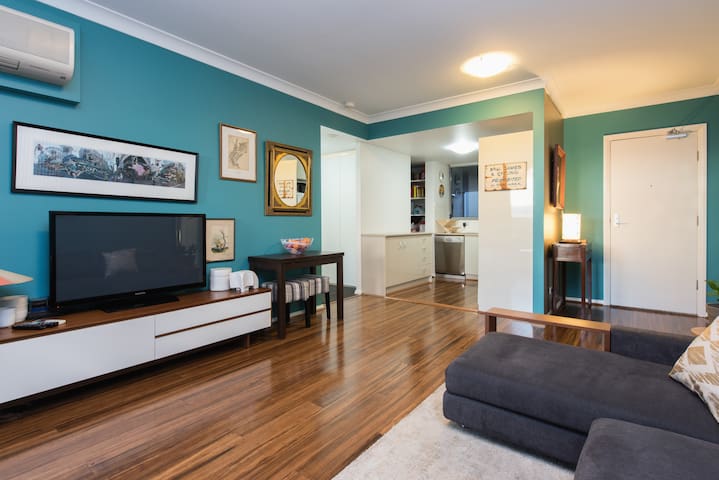 €87
The Biggest Bed in Sydney + Parking
---
Aluguer de Férias

· Wentworth Falls
A stylish, centrally located apartment that really does have the biggest - and most comfortable - bed you will sleep in. Minutes from Sydney's Downtown area and only 400 meters (430 yards) from Redfern Station which gives fast access to all of Sydney. The Opera House and Harbour Bridge are both an easy 40 minute walk, or ten minutes on the City Circle train from Redfern. In the past four years, I have welcomed people from Saudi Arabia, Trinidad and Tobago, Sri Lanka, Iran, Finland, Canada, South Korea, Singapore, The USA, Russia, Malaysia, The Netherlands, India, Norway, New Zealand, The United Arab Emirates, Vietnam, Spain, Indonesia, Germany, Morocco, Ireland, England, Scotland, Wales, Brazil, Egypt, Denmark, Hong Kong and mainland China, France, Switzerland, Japan, Dubai, Mexico, East Timor, South Africa, Austria, Thailand, Belgium and Argentina! You are welcome to stay at my apartment no matter what country you are from. I have hosted Muslims, Jews, Hindus, Christians, Buddhists, atheists and probably other faiths. Very GLBTI-friendly. Very straight-friendly too! All have been welcomed, and everyone always will be at my place. During these times when the world is on edge, travel is a wonderful way for people to connect, and for strangers to become trusted friends. Whoever you are, this can be your home in Sydney. There is secure undercover parking available. I own two apartments on the same street, and I make this available for either apartment to book . If you are driving to Sydney or planning on booking a rental car, please let me know so I can reserve the parking for you and your family, but please be aware that this MUST BE CHECKED in advance. From the pictures of the bedroom, it's hard to gauge just how big that bed is. Trust me, it really is the biggest bed I have ever seen. It's 230cm x 205cm or 90.5" x 81". Huge and comfortable. This is a well-situated, modern apartment, just 12 minutes from Central Station (or five from Redfern Station). The city centre is on your doorstep, and proximity to transport means that the whole of Sydney is easily accessible. The Eastern Suburbs line goes through Redfern, so Bondi Station and the Eastern Suburbs are about 16 minutes away. Bondi and Tamarama Beach are a further 15 minutes by bus from the the station. It's a great city - and this is a great spot to explore it from. The building is six years old, and has lifts, a pool and a gym. The balcony looks westwards, and you can see the towers of the University of Sydney. From the rooftop herb and flower garden, you can watch the sun set over the city to the immediate north. The proximity to the city is one of the key reasons why people choose my apartment, but that does mean there is noise to consider. I have double glazing and heavy drapes which cut out 90% of it and you can read in the comments from guests how calm and welcoming they find the space. But if you are very sensitive to noise, I would prefer that you book my other apartment rather than have a less than stellar experience. But look to the comments from others – people rave about this apartment. The normal check in is 10am and checkout is 8am. This is to allow for cleaning before new guests arrive - but please note that if it is just me here the night before, you can check in as earlier. Handy for early morning arrivals. Same for departure time. I'll be as flexible as I can. I offer free secure storage of bags if you do are checking out in the morning but still have time to sse the town before an early flight. Similarly, as many flight get into Sydney at 7am, people clearing customs and getting into town at 8 are welcome to drop their bags while the cleaner makes it ready for you, and then grab a local breakfast. Please just ask! Airbnb is about affordable travel not cheap accommodation. It's a community built on trust, local knowledge, a common interest in travel and a common believe that staying in someone's own home offers a different and superior experience when travelling. Because of this - and the huge costs of Sydney real estate - I am not able to discount. Ministers, atheists, IT professionals, professional skiers, professional yachtswomen and yachtsmen, artists, social workers, jewellers, accountants, people on their 10th wedding anniversary, 25th wedding anniversary, gay couples, single parents, toddlers, teenagers, film makers, family reunions, old-friend reunions, nurses, business owners, builders, retirees taking a whole year off to enjoy each other's company as they travel the world. Not a bad word from any of them, not a bad word about any of them. The world which comes through your door as an Airbnb host makes my heart soar. Living Room: LCD TV & DVD/BluRay with good selection of quality movies Hi speed wireless Wifi Tastefully & comfortably furnished Large King Furniture chaise longue style sofa for comfortable relaxing and viewing Kitchen: Dishwasher Fridge/Freezer Microwave Oven/grill Espresso machine Crockery, cutlery, utensils, pots, pans etc. Bedroom: Hotel quality bed, bigger than a King size, with deep, comfortable latex mattress Linen, pillows and towels included Large built-in wardrobe with drawers available for my guests Bathroom: Full bath, and shower Towels included Hair dryer Laundry: Washing Machine and Dryer Clothes rack Iron and ironing board The apartment is offered in its entirety. You have the whole place to yourselves! Keys are left in a secure safe for guests who arrive at different times in case my cleaner and I are not around. I try and meet all of my guests at some stage of their stay, as I feel that is is an important aspect of being a host. As well as providing an apartment, I want to welcome you to my city. Proximity to the city! You cannot beat the neighbourhood which abut the Downtown for convenience, and Redfern Station is one of the best for getting EVERYWHERE in Sydney. I love the history, the architecture, the mix of people from every imaginable culture who live side by side on this very modern Sydney village. Redfern is one of the oldest areas in Sydney, and yet this place is so quiet considering how close it is to the middle of Sydney. It's a mix of 19th century terrace houses, conversions and new apartment developments. The area was down-at-heels for years (think New York's Lower East Side), but its proximity to the city and intact history has seen it blossom into a new, funky area (wall to wall retro furniture shops and new small bars) in the last 10 years. The city centre is on your doorstep, and two major railways stations within a five minute walk means that the whole of Sydney is easily accessible. The Eastern Suburbs line goes through Redfern, so Bondi Station and the Eastern Suburbs are about 16 minutes away. Bondi and Tamarama Beach are a further 15 minutes by bus from the station. It's a great city - and this is a great spot to explore it from. In 10 minutes, you are in the CBD, 20 minutes to Darling Harbour, 50 minute comfortable stroll along George St to the Harbour Bridge (I never get tired of riding across that!) or The Sydney Opera House (up there with Empire State, Big Ben, and the Eiffel Tower as amazing architecture which defines a city!) So close to everything, and yet so quiet and peaceful! In 10 minutes, you are in the CBD, 20 minutes to Darling Harbour, 50 minute comfortable stroll along George St to the Harbour Bridge (I never get tired of riding across that!) or The Sydney Opera House (up there with Empire State, Big Ben, and the Eiffel Tower as amazing architecture which defines a city!) Free parking is on offer, but please ask BEFORE BOOKING, as I share between two apartments. If no one has already requested it, it is yours at no further cost! I also provide tea, coffee (with your own espresso machine), cereal and fresh milk for your breakfast. Please cook! The pantry is also well stocked with spices, rice and pasta, oils, tinned tomatoes etc. I am happy to make this available on an honesty system - feel free to help yourself but please replace what you use. No need to replace oils, spices etc if you use the last of the container. Just leave me a note of what to stock up on again! I want to make your stay effortless.

saiba mais
Emily
Great place, great location and Paul couldn't have been lovelier. Would definitely come back.
Michael & Viviane
Paul was the perfect host! He was extremely attentive to our needs and communicated exactly what we needed to know before we needed to know it. His apartment is ideally located and the perfect size for relaxing in Sydney. The stay really could not have been any better.
Janice
This was our first time to Sydney and Paul's place was great! It is close to both Redfern and Central Station making it easy to get around. We were so busy every day and coming back to Paul's place was extremely comfortable and relaxing. Paul is a fantastic communicator. He was very quick to respond to any questions we had. Thank you so much for helping make our visit to Sydney a happy experience, Paul!
Janick
Pauls apartment was a great stay in Sydney! It is very close to the Redfern Metro station, from where you can get almost everywhere in Sydney. It's pretty easy to get into the apartment as Paul gives you very good and easy understanding instructions. The apartment has everything you need (we were 2 people), and Paul even got some cereal and stuff for you in the kitchen! I can recommend this stay to everyone interested in an inexpensive and easy accommodation in this great town!
Izzat
Even though I didn't get to meet Paul, he gave clear instructions on how to get to the building and access the unit. Paul was very welcoming and made sure that everything was okay. Was attending a convention at the Australian Technology Park, the unit is about 18 minutes away; Redfern Station about 5 minutes. There's not exactly much to do in the immediate area around the unit but maps of Sydney and tourist destinations were provided at the door for those that wish to explore. The unit is exactly as described and photographed. Beautifully decorated and very well-fitted; would comfortably fit 2 guests. Would definitely recommend and stay again.
gary
Paul is a very good communicator essential for a quality airbnb experience .Apartment well located for city and airport Redfern area fine no hassles . Well equipped and bed indeed huge ,which can be good and bad! Bit of train noise compensated for by being so close to public transport to all parts of Sydney. Recommended couples of all ages .
Éric
A gem in Redfern ! Highly recommended ! My husband and I spent 4 nights at Paul's unit in Redfern and we loved absolutely everything about it . Not only is the bed undoubtedly the biggest in Sydney, as advertised by Paul, but it is surely the most comfortable. Sheer luxury ! Communication with Paul was seamless and the instructions he gave us to get access to the unit were very clear and easy to follow. The unit is extremely well equipped and very very tastefully decorated. You can tell that a lot of thought and love was put into decorating it. It made us feel at home right away. Paul's unit is in a very sought after part of Sydney, a mere 10-minute walk to Central Station and within walking distance of the CBC and shops and fab restaurants. A perfect location to explore dazzling Sydney. Paul recommended a very good Thai restaurant on nearby Redfern Street and it became our go to place for authentic Thai food. Paul came to meet us on the night of our arrival and we ended up chatting with him and his partner for about two hours which was one of the highlights of our stay. Paul is truly a super host as he went out of his way to make sure we had a fab time in Sydney. Merck beaucoup de tout coeur ! We will definitely love to stay there again !
Sophie
The listing description was very accurate - the place was beautiful and well decorated in a neighborhood where we felt very safe and which had great access to the city center and transportation to everywhere we wanted to go. The kitchen was well equipped for preparation of simple meals, and Paul was generous with cooking supplies. Paul was very welcoming and gave us lots of information about what was going on in Sydney while we were there, as well as being helpful in answering all questions that we had. The apartment was clean and the building was nice. Thanks for a great visit!