Bescheiden zolderkamer in rustieke maar luxe woonboerderij. Ervaar onze gastvrijheid in onze riante tuin en ons huis. Een verblijf is inclusief ontbijt, gemeenschappelijk gebruik van bad en sauna. Wij maken graag contact en helpen je graag in onze omgeving. Maar als je privacy zoekt geven we je de ruimte om je eigen weg te gaan. Ook als ideale uitvalsbasis!! Nijmegen op 10 minuten, Den Bosch op 20 minuten. Op doorreis? Slechts 2 Minuten van de A50/A73.
U verblijft in een oude (1770) verbouwde woonboerderij. Comfortabel en van alle gemakken voorzien. Het pand is rustiek ingericht en uiteraard heeft u toegang tot onze zeer luxe voorzieningen (Sauna, whirlpool, wifi 100mb). Dit op een aantrekkelijke locatie. In 10 minuten bent u in Nijmegen en in 20 minuten in Den Bosch. Het centrum van Wijchen ligt op 10 minuten loopafstand en bevat diverse restaurants en winkels. Wijchen heeft circa 40.000 inwoners. Kennismaken met Wijchen en de omgeving: (URL HIDDEN) De prijs is voor 2 personen en het ontbijt met eitje en diverse broodsoorten is natuurlijk inbegrepen! Huisdier in overleg tegen een toeslag van € 5,00 (contant) per nacht. Een verblijf vanaf 2 weken heeft een groot kortingstarief maar is dan zonder ontbijt. Wees welkom in ons huis en laat je vooral verwennen!
Indien u bij ons logeert kunt u alle kanten op. Zowel met mooi weer als met slecht weer. Daarnaast nodigt onze woning uit tot het bezoeken van enkele historische plaatsen. Wij wonen op 10-15 minuten afstand van Nijmegen en op 25 minuten afstand van Den Bosch. Binnen 5 minuten bent u in een riant natuurgebied, de Berendonck genaamd. Kennismaken met Wijchen en de omgeving: (URL HIDDEN)
Nette kamer met gebruik van het heerlijke whirlpoolbad. Ontbijt was goed verzorgd door Hernanni met verse eitjes! Zeker een aanrader als uitvalsbasis voor Nijmegen.
Karen
2015-03-30T00:00:00Z
Dat we iets eerder arriveerde dan afgesproken was totaal geen probleem. We kregen een hartelijk welkom met een heerlijk kopje koffie. In een relaxte sfeer konden we onze vragen stellen. Het was onze eerste keer bij een gezin. Maar zij gaven ons een "thuis"gevoel. Op zondag werden we verwend met een gebakken ei.
Elly
2015-10-05T00:00:00Z
Hernanni heeft ons erg gastvrij ontvangen. We konden al vroeg op de ochtend terecht. Een prima slaapkamer, luxe badkamer en een heerlijk ontbijtje.
Bas
2015-03-08T00:00:00Z
Such a cute cottage house with great hosts. We were made to feel very welcome by all, including the Dalmatian, Murphy. Easy to find, and nice and comfortable furnishings and amenities. We felt like we were staying with family.
blake
2015-06-04T00:00:00Z
Vriendelijk mensen. Flexibel mee af te spreken. Verder was het voor ons een slaapplek tussen een doorreis te weinig tijd om lokatie te beoordelen.
Robert
2016-10-16T00:00:00Z
Hernanni made us very welcome and showed us around the house and garden. He and Tilly were gracious hosts and provided an evening meal at a small additional cost for which we were very grateful. We had a good night's sleep and great breakfast before getting on our way next morning.
Sheila
2014-09-01T00:00:00Z
Small room on 3rd floor with very good host Mr Hernanni. Luxurious Sharing Bathroom on ground floor Bus stop is just opposite to house Very nice Host (Mr Hernanni) Separate entry Nice garden Equipped shared kitchen on GF Separate entry Good Vegetarian breakfast like bread, butter, cheese, jam, fruit, cornflakes, milk, coffee etc. Considerations: Room size is very small Over priced compare to other BNB locations like (URL HIDDEN) Dustbin changing is not daily. Graveyard view from window Room is on 3rd floor and shared bathroom and kitchen on ground floor. Overall its nice.
Dev
2017-03-18T00:00:00Z
mooie plek, erg vriendelijke ontvangst, helemaal top
Sascha
2015-12-05T00:00:00Z
Tipo de Quarto
Quarto privado
---
Tipo de Imóvel
Bed & Breakfast
---
Acomoda
2
---
Quartos
Wijchen, Gelderland, Holanda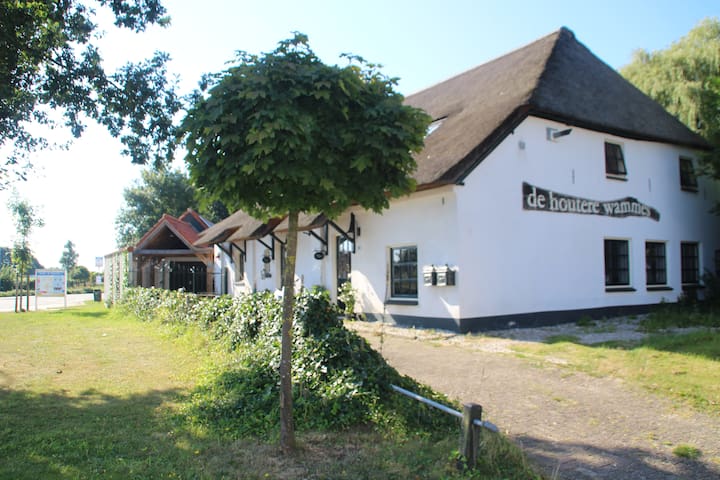 Comfortable cabin in recreation Berendonck, with many opportunities for hiking, biking, water skiing. Pulsing Center in Wijchen by bike. Rent for short or long periods, pets welcome,
Recreation, with facilities within cycling distance.
Tipo de Quarto
Casa inteira/apto
---
Tipo de Imóvel
Cabana
---
Acomoda
2
---
Quartos
Wijchen, Gelderland, Holanda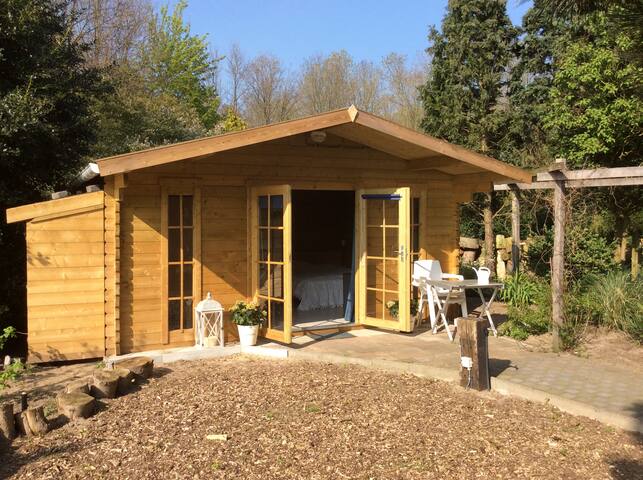 Voor de vierdaagseweek only: Een leuk huis op een acceptabele afstand van NS station Wijchen. Jumbo naast de deur bijna. Een zesde matras aanwezig! Lekkere tuin om uit te blazen, aan de route op 'de dag van Wijchen'.
Supermarkt en bushalte op 100 meter! Centrum Wijchen op 10 loopminuten. Eetgelegenheden genoeg!
Tipo de Quarto
Casa inteira/apto
---
Tipo de Imóvel
Casa
---
Acomoda
6
---
Quartos
Wijchen, Gelderland, Holanda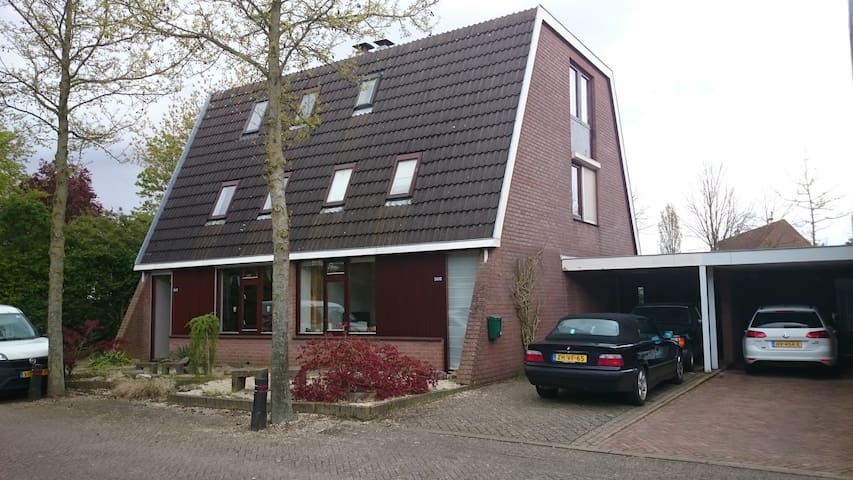 Big apartment in the centre of Wijchen (a village next to Nijmegen), only for rent during the Vierdaagse week (for people who are going to walk). This apartment has 1 big bedroom, a small bedroom/studyroom, a bathroom, a small kitchen, a big living room and big balcony. The maximum amount of people who can stay here is 4. 2 persons can sleep in the kingsize bed, two people on a air mattress or the big couch. This apartment is located 5 minutes from the train, 10 train minutes to Nijmegen.
Tipo de Quarto
Casa inteira/apto
---
Tipo de Imóvel
Apartamento
---
Acomoda
4
---
Quartos
Wijchen, Gelderland, Holanda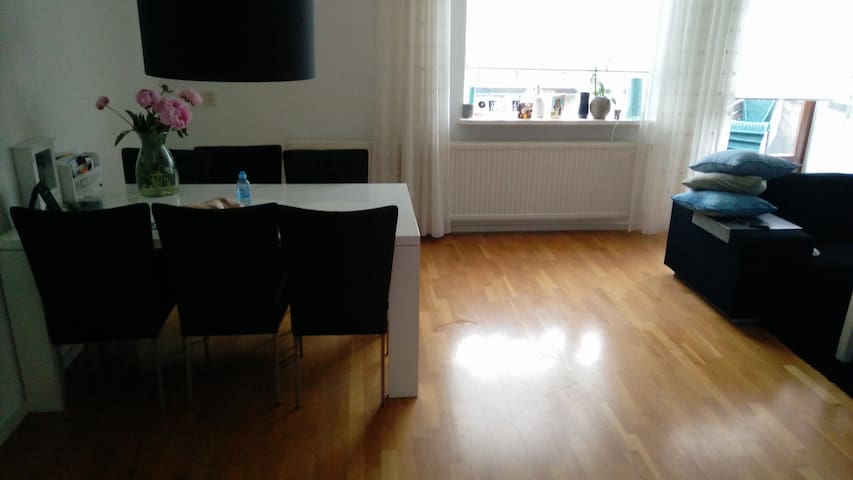 Ideale kamer voor maximaal 3 slaapplaatsen. Lokatie nabij Nijmegen, Snel internet, met werkruimte voor zakelijke doeleinden.
Kamer 15m2 zeer zonnig en ontspannen w / gebruik van de badkamer. Douche bad. Ideale plek als werkruimte op uw zakenreis!
Wij zijn gevestigd in de buurt van de oude stad als Nijmegen en Grave, zeer centraal in Nederland. We wonen dicht bij het strand Beerendonck, een grote bos
Allt var toppen! Husvärden var väldigt trevlig och hjälpsam! Boendet låg i ett lugnt fint område! Vi kommer gärna tillbaka!
Elin
2016-06-14T00:00:00Z
Tipo de Quarto
Quarto privado
---
Tipo de Imóvel
Bed & Breakfast
---
Acomoda
3
---
Quartos
Wijchen, GE, Holanda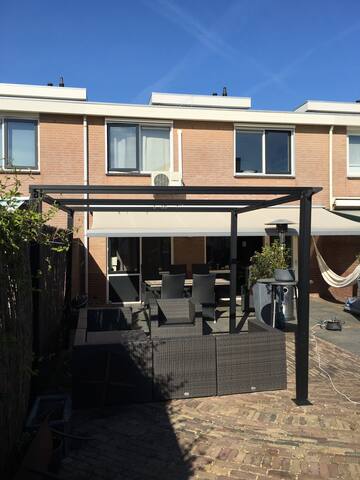 The house has a large, nicely decorated living (60 m2), 2 bedrooms and a fitnessroom with 3 single beds. The kitchen provides everything you wish for. In the garage bikes you can use. A car (2011 Renault Twingo) is available for rent.
The home is situated on the border of a little village. A spacious, sunny and comfortable home in a quiet rural area. 2 Bedrooms with double beds. 3 Single bed in fitness room. Total sleeps 7 + 1 baby bed....1 bathroom.
On the border of a little village with facilities for daily use. Wijchen and Nijmegen are nearby and have all facilities you will need. Nature reserve on your doorstep.
We hebben een erg fijne tijd gehad in het mooie huis van Jack. Het huis was netjes en schoon. Er lag een duidelijke beschrijving en 2 heerlijke flesjes wijn bij aankomst. De tuin was heel groot, groen en omheind, onze honden hebben het er ook heerlijk gehad. Een leuke bijkomstigheid waren de alpacas in de weide naast het huis, wat een grappige beesten! Jack was erg flexibel met de vertrektijd.
Wendy
2016-01-03T00:00:00Z
The reservation was canceled 25 days before arrival. This is an automated posting.
Lukas
2014-04-14T00:00:00Z
Wij hebben 6 nachten genoten van dit mooie huis. 'S ochtends genieten van de konijntjes en vogels in de tuin. De ruime keuken van alle gemakken voorzien en de sfeervol ingerichte woonkamer, helemaal perfect. In Wijchen zelf leuke winkels en gezellige eetgelegenheden. Wij hebben ons prima vermaakt en sluit zeker niet uit dat wij hier wellicht nog een keer terugkomen. Groeten Jolanda Ouwehand
Jolanda
2015-12-31T00:00:00Z
A perfect place! We were two families (2+2; 2+1) stayed for 5 nights. The house is very pleasent, clean, spacious, lovely design & fully equipped. Surrounded by a huge wonderful garden. The place is even better then shown in the pictures. Jack was very welcoming and highly responsive. He was generous to prepare us some groceries, and as it was Sunday and we arrived late in the evening with kids, it was really helpful. The location is perfect for a star trip, 30-60-90 min. from most family attractions. Wijchen is a sweet village with a very good and pleasent shopping center. We highly recommend and surly come back!
Orly
2016-07-30T00:00:00Z
We werden hartelijk ontvangen door Jack en Mayke. Ons gezelschap bestond uit mijn man en ik en twee kinderen en mijn ouders. Er staat een zwembad in de tuin (3,60 rond, 75 cm diep), onze kinderen hebben hier veelvuldig gebruik van gemaakt. De tuin is prachtig en mooi onderhouden. Het huis is ruim en rustig en van alle gemakken voorzien. De fietsafstand naar het centrum van Nijmegen is 10 km. Supermarkt en bijv. grote speeltuin met waterspeeltuin op fietsafstand. Een herhaalbezoek sluiten we niet uit.
Moniek
2015-07-26T00:00:00Z
Heerlijk ruim huis in een rustige omgeving! Enorm gastvrij en van alle gemakken voorzien. Echte aanrader!
Jorieke
2014-06-02T00:00:00Z
Thank you so much Jack and Mayke for letting us stay at your beautiful house during new years eve. The area is very nice, close enough to the shoppingcenter to go there in 10 minutes, but far enough away to enjoy the nature. We did nice walks along the lakes and watched the fireworks on the balcony. And the deers were really just next to the house, just like on the picture. When we arrived there were tulps and whine on the table for us. The house is equipped with absolutely everything you may need and the house guide will answer every question you may have. I can not say enough good things about this experience, it was the perfect holiday!
Sandra & Flo
2015-01-02T00:00:00Z
I stayed here whilst working in Wijchen. Ideal location and lovely home. Very spaciaou, very clean and in a very nice quiet location but within easy reach of Nijmegen. Nature reserve at your doorstep. Good communication. Would highly recommend staying here and I would again and probably will.
david
2014-03-01T00:00:00Z
Tipo de Quarto
Casa inteira/apto
---
Tipo de Imóvel
Casa
---
Acomoda
7
---
Quartos
Wijchen, Gelderland, Holanda
If you like the whole Marches Nijmegen group of 10-12 people will not have to worry about staying ..... great solution to hire this. Five minutes walk from Station Wijchen / ten minutes by train to Nijmegen.
Sleeps ten people. A total of five bedrooms. Four double beds available. Two single beds. Two bathrooms, one with a bathtub. Two toilets, one separate toilet with extra washing facilities.
Ten minutes Public transport to Nijmegen. Five minute walk to center Wijchen.
Goede locatie, goed ontvangen Door de verhuurder
Amy
2016-11-13T00:00:00Z
Mooie grote woning, ideaal voor grotere groepen. Verhuurder is erg flexibel en zeer vriendelijk. Zeker een aanrader als verblijfplaats mocht je de omgeving van Nijmegen willen verkennen. Was een top!
Bono
2016-09-05T00:00:00Z
Heerlijk huis wat uitermate geschikt is voor grote gezinnen / groepen. Wij hebben het er fantastisch naar onze zin gehad.
Lotte
2017-01-02T00:00:00Z
Tipo de Quarto
Casa inteira/apto
---
Tipo de Imóvel
Casa
---
Acomoda
10
---
Quartos
Wijchen, GE, Holanda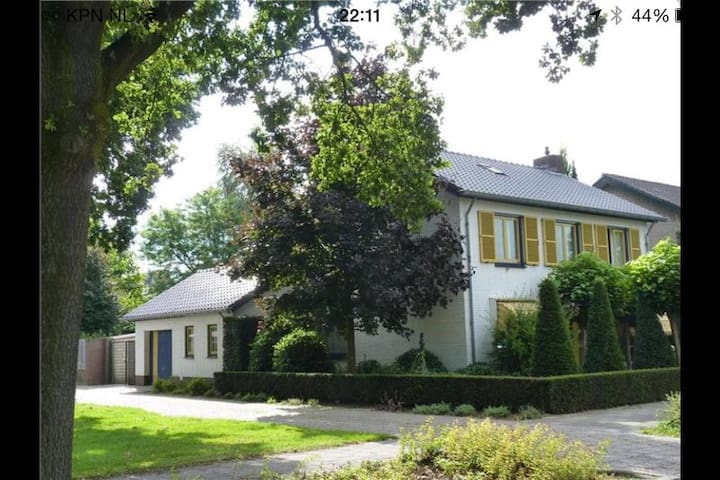 Tien minuten met de trein naar de Vierdaagse. Vijf minuten lopen naar Station Wijchen. Alleen voor de hele week te boeken. Met extra slaapplaatsen uit te breiden.
Tipo de Quarto
Casa inteira/apto
---
Tipo de Imóvel
Casa
---
Acomoda
10
---
Quartos
Wijchen, Gelderland, Holanda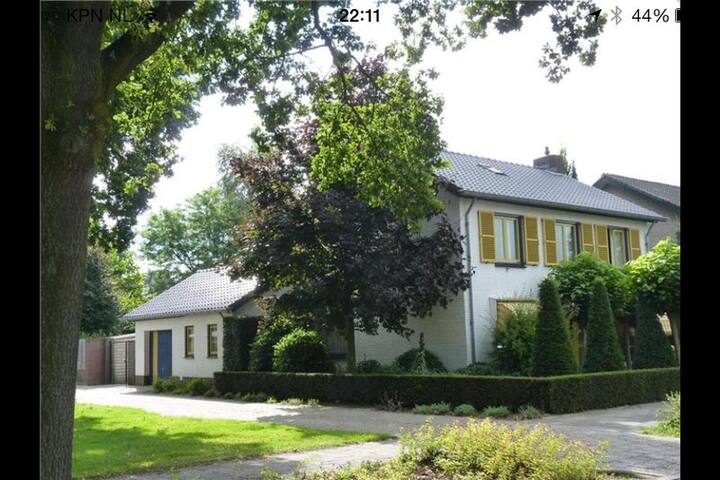 Eigen ruimte met eethoek, tv, bed, keuken en balkon. Ideale plek voor vierdaagse lopers!!!
Tipo de Quarto
Quarto privado
---
Tipo de Imóvel
Apartamento
---
Acomoda
2
---
Quartos
Wijchen, Gelderland, Holanda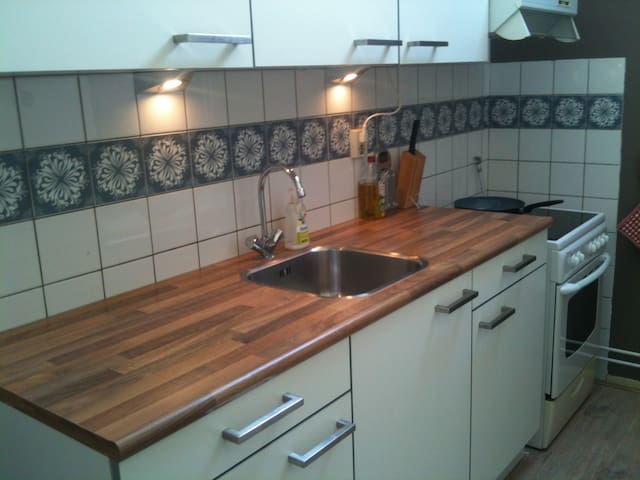 Fijne kamer met balkon en vrij uitzicht over het Keizer Karelplein op slechts 2 minuten loopafstand van het centraal station. Door de geluidswerende kozijnen is binnen van het verkeer vrijwel niets te horen.
Tv en internet zijn uiteraard aanwezig en er staat ook een speakerset om te genieten van je favoriete muziek via smartphone, laptop of tablet. Er kan geen gebruik gemaakt worden van de keuken maar een koelkast, koffiezetter, waterkoker, magnetron, borden, bestek, kopjes en glazen zijn aanwezig. De luxe badkamer met wasbak en douche en aparte wc worden gedeeld.
Menno's Wohnung war für meine Verhältnisse ideal. Sehr zentral gelegen. Nicht weit in die Stadt(Supermärkte etc.) oder zum Bahnhof( auch Flixbushaltestelle in der Nähe). Die Wohnung liegt an einer verkehrsreichen Straße, was aber bei geschlossenem Balkon keinen nennenswerte Lärmbelästigung darstellt. Daher auch ideal geeignet für Geschäftsreisen, Kurzstopps, Erasmus, Wochenendtourismus bzw. Kaffeehaustourismus. Als Gastgeber war Menno aufgeschlossen und hilfsbereit in allen Belangen. Auch ist es klasse, dass eines seiner Zimmer einen Balkon hat, sodass man zum Rauchen nicht die Wohnung verlassen muss. Ich habe eine ganze Woche dort verbracht und mir sofort ein Fahrrad gemietet. Die Infrastruktur in den Niederlanden ist hervorragend, besonders die Radwege. So kommt man schnell von A nach B. Alles in Allem ein gutes Angebot zu dem Preis sowieso. Empfehlenswert++
Lukas
2016-11-21T00:00:00Z
Menno's flat was a good location to stay in and is very close to restaurants, the shopping area and older part of the city. The flat is basic but suited my needs. The only issue is that it was quite noisy.
Alice
2017-02-08T00:00:00Z
Menno's place is a great choice for various reasons.... Firstly, the location is ideal for all coming from the Central train station (it's less than 5 minutes walk)... then, it's also about 5 minutes walking to the city centre and the main street. From there you can see most of the things in town. When it comes to the room, the one with balcony is super cool - I like big windows and light rooms. Hosts are more than helpful, they answer all your messages and are very kind and helpful in any way. When it comes to the cleaness, I'd say 4 (out of 5). All in all, this is a 100% great and a safe place to be. Warmly recommending Menno's place for all coming to Nijmegen! I'd surely take it again.
Dragana
2016-10-02T00:00:00Z
I enjoyed staying there. Nice location, centre, cute small room with balcony and with comfortable bed. And also very quick reply.
Sergeja
2016-05-01T00:00:00Z
Menno is a warm and welcoming host, and his apartment is truly located in the very heart of Nijmegen. The balcony is a nice touch for warm evenings. Having speakers in the room is a big plus, and the free bicycles he offers are a must in the country of bicycles ;) Look no further when planning your stay in Nijmegen!
Dmitri
2016-04-20T00:00:00Z
Menno is a great host. The room is cozy with a single bed, a couch, a TV and a lovely balcony. The place is nicely situated in between the train station and the city centre with each only 5 minutes away. It is a lovely stay at Menno's place.
Kurt C. M.
2016-03-04T00:00:00Z
Very handy location. Suited my purpose of my stay
Tony
2016-09-29T00:00:00Z
Great place, Great host, and the best location
rania
2017-04-01T00:00:00Z
Tipo de Quarto
Quarto privado
---
Tipo de Imóvel
Apartamento
---
Acomoda
1
---
Quartos
Nijmegen, Gelderland, Holanda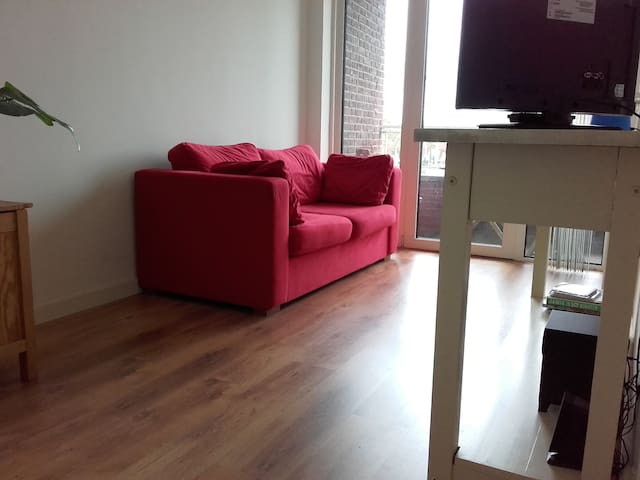 The studio is situated in the middle of Nijmegen city center. Only a 5 min walk from the train and bus (Flixbus stop) station. You are surrounded by restaurants, cafés, museums and cinemas. The cities nightlife is at your doorstep and for nature lovers there's plenty to do around the corner. The studio is suitable for solo adventurers, couples or business travelers...
Wir haben eine Nacht bei Anneloes verbracht das Apartment war super sauber und alles nötige was man brauchte war vorhanden. Das Apartment ist super zentral gelegen und das Preisleistungsverhältnis ist super . Der Check in hat super funktioniert und die Gastgeberin ist sehr freundlich und beantwortet gerne Fragen rund um Nimwegen. Wir kommen gerne wieder:)
Luisa
2017-03-12T00:00:00Z
Very nice flat, well located.
Thibault
2017-03-11T00:00:00Z
Very good, thanks.
antonino
2017-03-03T00:00:00Z
Empfehlenswert!
Andreas
2017-03-13T00:00:00Z
Fijne overnachtingen gehad. Goede locatie in Nijgenegr en netjes verzorgd.
Berber
2017-03-05T00:00:00Z
Great location. Best choice for single or couples short stay.
Peng
2017-04-02T00:00:00Z
Perfect place to visit the city center of Nijmegen. You're in the middle of lovely shops, restaurants and bars. Anneloes was an excellent host, she gave us a warm welcome. The studio was clean, bright and had many extras.
Vivian
2017-03-25T00:00:00Z
Mooi licht appartement in hartje Nijmegen. Schoon en ook euk ingericht!
Luc
2017-03-10T00:00:00Z
Tipo de Quarto
Casa inteira/apto
---
Tipo de Imóvel
Condomínio
---
Acomoda
2
---
Quartos
Nijmegen, Gelderland, Holanda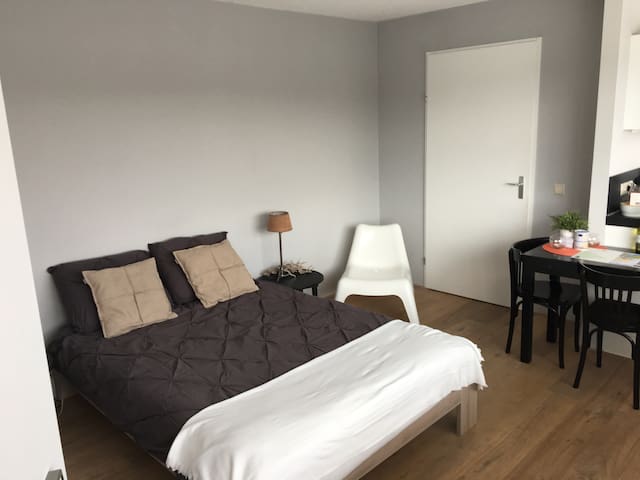 *24m2 living 16m2 bedroom *10 walk min from central station *15 min walk from centre *studio in authentic Dutch house build in 1643 *free parking *private mini garden *super cool and cold bedroom in summer time ! (Basement) *very clean *colourfull, cosy and comfortable *and last but not least: free usage drawing materials :)
Studio with seperate bedroom
Потрясающее место. Реально, прям как все включено. Квартира очень необычная. Спальня в цоколе, но очень уютная. Гостиная наверху (фактически у этажа). Есть абсолютно всё. В квартире тишина.
Vsevolod
2017-04-05T00:00:00Z
Lila was really friendly and the house is comfy :D!
NcKey
2017-04-03T00:00:00Z
Prima locatie voor een schappelijke prijs!
Anne
2017-04-01T00:00:00Z
The host canceled this reservation 111 days before arrival. This is an automated posting.
Robert
2017-03-28T00:00:00Z
Tipo de Quarto
Casa inteira/apto
---
Tipo de Imóvel
Apartamento
---
Acomoda
3
---
Quartos
Nijmegen, Gelderland, Holanda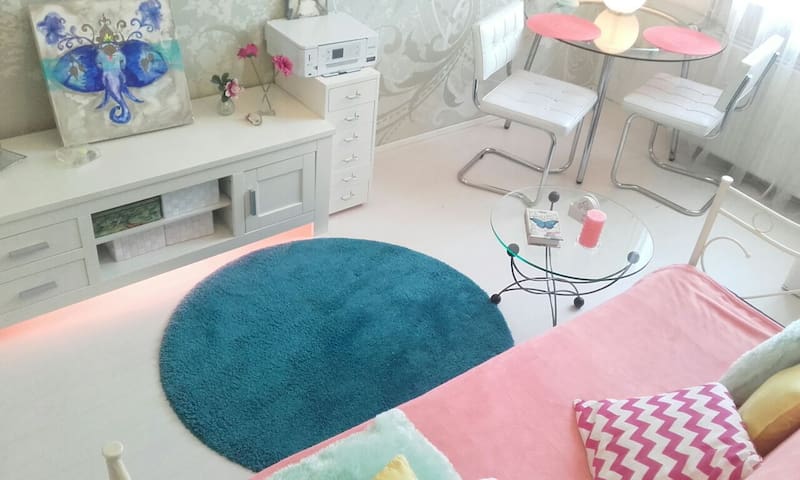 Vaste wastafel ! Gebruik van keuken en badkamer! In de buurt van ziekenhuizen en NXP! Goede busverbinding naar stations Dukenburg en centrum. Goede busverbinding naar universiteit.
Rustige slaapkamer. Gebruik van bad en badkamer. In overleg kan de huiskamer en de keuken gebruikt worden. Evenals verblijf in de tuin, in overleg.
Goede service, goed verzorgd en Mieke is erg flexibel. Een goed bereikbare plek, nog geen kwartier met de bus vanaf het station en veel lunch/diner mogelijkheden
E.
2017-03-16T00:00:00Z
The house and the garden are amazing. You have the bus right next on the street (like 50m) and the breakfast was incredible!
Has
2017-02-13T00:00:00Z
Mieke is a nice and helpful host. She replies quickly and takes care about her guests. The room was perfect for a short rest for 2 people. Price is also very attractive.
Marcin
2017-02-10T00:00:00Z
Wederom een prettige ervaring, flexibel ontvangst, verblijf en mogelijkheden. Goed te bereiken met openbaar vervoer en een prettige rustige locatie. Mieke is op en tot goede gastvrouw en verzorgd het verblijf in de puntjes. Ontbijt is zalig, uitgebreid en smakelijk. Avond maaltijd meegenieten is mogelijk, maar een bezoekje brengen aan het dichtbij gelegen restaurant 't zusje is meer dan een aanrader! De volgende keer dat ik weer in Nijmegen moet zijn, weet ik waar ik een Airbnb boek!
E.
2017-03-23T00:00:00Z
Very cozy and comfortable I enjoyed my stay and the breakfast very much
Natalie
2017-01-26T00:00:00Z
Very hospitable woman, the home is nice and everything is just amazing!
Aistė
2017-02-02T00:00:00Z
Very nice host and a lovely breakfast, the bed was comfy and everything was nice and clean!
Vicky
2017-02-08T00:00:00Z
Dit is een echte aanrader, niet in het centrum, wel een rustige buurt, een zeer gastvrije dame. Mieke hielp me bij het opzoeken van reisroutes ( trein en bus), en was bereid me eventueel op te halen aan het station. Ik vond een mooi verzorgde kamer, met handdoeken, thee en stilte, ... en een rijk en heerlijk ontbijt op een uur dat ik zelf mocht kiezen. De bushalte naar station is op 2 minuutjes loopafstand. Tip : schrijf duidelijk de straatnaam en het nummer op, zelf was ik hier onnauwkeurig, de nummering van de straten is uitgebreid en dat zorgde bij mij voor verwarring.
Carina
2017-03-20T00:00:00Z
Tipo de Quarto
Quarto privado
---
Tipo de Imóvel
Casa
---
Acomoda
2
---
Quartos
Nijmegen, Gelderland, Holanda
Nice private room in Nijmegen-Oost, which is a popular district of Nijmegen. Ten minutes with the bus to the city centre. Walking distance to the city centre is 20 minutes . From station and city center you have to take busline 8 ''Berg en Dal " - get off the bus at busstop Broerdijk - my house is opposite the busstop . The room has a bed, a desk, a sink, television , watercooker and a small fridge. You can also use the kitchen and the balcony. Free parking space.
Within walking distance there are restaurants, café's and supermarkets.
Marieke was very nice to me. She made me feel welcome and respected my privacy. The room is really clean and quiet. I can recommended a stay in Marieke's house to everybody visiting Nijmegen.
Lidi
2015-11-27T00:00:00Z
Marieke's house is very clean and nice. The room have tee and coffee inside. I sleep very well.
Asa
2015-05-05T00:00:00Z
Fijne plek en dicht bij het centrum. Leuke eettentjes in de buurt.
Leonard
2017-01-16T00:00:00Z
A very cosy room and self sufficient room. The host is cooperative.
Tasj
2017-01-13T00:00:00Z
I had a great stay at Marieke's place! The room looks even better than in the pictures. Marieke was very nice and lent me her bike for when i needed, let me use her washing machine and I could also iron my clothes. All in all, a great stay, highly recommended. I would like to mention there are very steep stairs (like almost everywhere in the Netherlands) which would make travelling with a big luggage a bit tricky.
Andreea
2017-04-01T00:00:00Z
Easy to access by bus, close to main station. Good room size, with TV & Teamaker facilities. Feel like mini hotel. Downside is only 1 toilet which is also on down floor and stairs are steep. So, just need to be careful.
manish
2017-02-26T00:00:00Z
Marieke is een lieve vrouw die het mij heel erg naar mijn zin heeft gemaakt. De kamer was precies zoals het was beschreven .Voor mij in ieder geval meer dan goed genoeg . Ik heb geen problemen met de buurt , vind het zelf een nette buurt . Zou in de toekomst graag weer willen terugkomen , dus een aanrader . Een van de voordelen zijn : bushalte dichtbij en supermarkt en eetgelegenheden op loopafstand.
Jozef
2016-07-23T00:00:00Z
I enjoyed the stay and felt very welcome. Marieke was friendly and her flat was very clean. I would highly recommend the accommodation.
Nora
2017-02-17T00:00:00Z
Tipo de Quarto
Quarto privado
---
Tipo de Imóvel
Casa
---
Acomoda
1
---
Quartos
Nijmegen, Gelderland, Holanda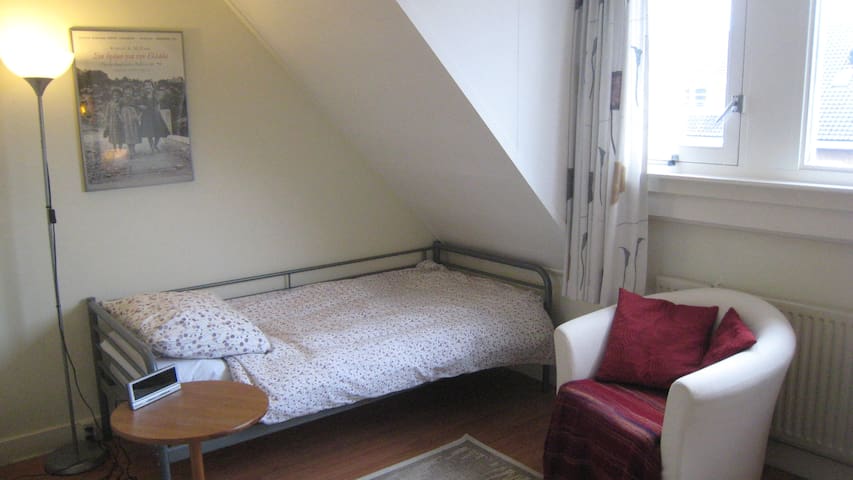 Bed,bath&basement is a very cozy private basement souterrain in a beautiful green/quiet street. You have your own entrance & private bathroom. It's perfectly located;5 min walk to Nijmegen train/bus station and city-center (1h by train to Utrecht/ 1.5h by train to Amsterdam). There is a 2p sized bed and a 2p. sofa-bed. You have free coffee and tea facilities, fast wifi, a fridge and a microwave. Blankets and towels are incl. There are cereals, butter, toast, jam e.d. to make a small breakfast.
A cozy appartment at a perfect location in Nijmegen. A 5 min walk from central train station Nijmegen, supermarkets and city centre. You have your own entrance and a private bathroom/toilet/sink/ shower-bath. The apartment is perfect for 2-4 people. There is a double sized bed and a double sized sofa-bed. Clean towels and blankets, shampoo and soap are included. There is also a fridge, the facilities to make Nespresso coffee and tea and a microwave in the apartment. There are some some fruit, cereals, toast, butter, jam oid to make a small breakfast at the apartment. There is fast WIFI. You can park your car (quiet and safe street) in front of the B&B. Its 1,70 euro each hour to park your car in this street. its also possible to buy a dayticket. You have to walk a 15 min to park for free.
Very cozy, green and quiet neighbourhood close to all the hotspots, city center, supermarkets, restaurants, shops, bars, cinemas, poppodium Doornroosje, Waalkade (river) and the train station. There is a great new cultural hotspot in Nijmegen called the Honigcomplex that is definitely worth to visit for a drink, dinner or party (15 min walk). Its 15 min by bus to Radboud University. 1,5 hour to Amsterdam, 1 hour to Utrecht, 1.5h to Schiphol airport Amsterdam by train. Nijmegen is a very green and beautiful city with a lot of historical monuments, parks, culture and art. Its great to walk in the Ooijpolder or 'from bridge till bridge 5km' along the Waalkade. Nearby Nijmegen there are a lot of public gardens (o.a. de Veluwe, Berg en Dal) and museum.
Sanne's boyfriend met us at check-in and was very helpful. Accommodations were excellent. Everything was clean and welcoming. Location is very close to the train station and the central area.
Raymond
2016-07-21T00:00:00Z
De ontvangst was hartelijk, en de communicatie uitstekend. We hebben een goed onderkomen gehad bij Sanne, het was alleen jammer dat er maar 2 stoelen en een heel klein tafeltje stonden om te ontbijten, terwijl we met 3 personen waren.
Agnes
2015-08-16T00:00:00Z
Wij 3 vrienden, hebben na dagje touren met onze motoren, 1 nachtje bij Sanne gelogeerd. Goede lokatie om uit te gaan in Nijmegen. Sanne is een goede gastvrouw. Het ontbijt was lekker.
Seelan
2015-07-30T00:00:00Z
We stayed in Sannes basement for one night and had a wonderful stay. Nice clean space, lots to read, tea and coffee, a bath: I would recommend this room to anyone.
Patrice
2016-03-15T00:00:00Z
Heel leuk rustig plekje vlak bij het station. Van alles te eten en drinken, dus geen tas vol boodschappen nodig, wat ik ook wel eens heb meegemaakt.
Hennie
2017-02-20T00:00:00Z
Was a great stay, everything we needed was there including a small wine to start te weekend of with.
Hans
2017-02-05T00:00:00Z
Heerlijke plek op een top locatie. Aan alles is gedacht. Er is zelfs wat lekkers voor het ontbijt aanwezig. Het is heel schoon en het bed was heerlijk! Super!
Maud
2016-12-18T00:00:00Z
Perfecte locatie! Prima kamer voor een of enkele nachten.
Martijn
2017-01-15T00:00:00Z
Tipo de Quarto
Casa inteira/apto
---
Tipo de Imóvel
Apartamento
---
Acomoda
4
---
Quartos
Nijmegen, Gelderland, Holanda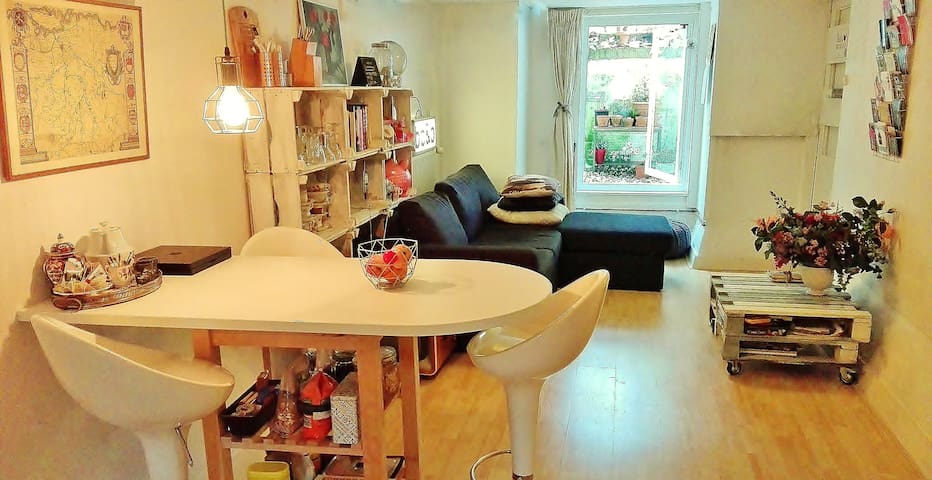 Ons vrijstaande huis staat aan een doorgaande centrale weg in Nijmegen. De kamer bevindt zich aan de rustige achterkant van het huis met uitzicht op een ruime tuin. Auto kan op eigen terrein geparkeerd worden.
Arda vroeg me geïnteresseerd hoe m'n dag was geweest, liet me mijn kamer, toilet en badkamer zien, en gaf me een waterijsje en haar riante tuin om het in op te eten, omdat ik zei dat ik zo'n zin had in een ijsje op deze mooie zomeravond. De 110 jaar oude villa ademt haar rijke historie uit, en ik vond het heerlijk om daarin te slapen. Arda is dermate relaxed dat je dat zelf ook wordt, haar vertrouwen werkt aanstekelijk. Als je een slaapplaats in Nijmegen zoekt, zou ik niet langer twijfelen.
Ellen
2016-05-30T00:00:00Z
Wederom een heerlijk verblijf!
Monique
2015-08-24T00:00:00Z
Arda is a great host. Very kind and helpful. The room was large & cosy and had a window opening to a beautiful garden. The house is close to bus station. Main train station can be reached by bus in 10 min.
Uğur
2016-06-06T00:00:00Z
Weer een nachtje bij Arda geslapen. Een erg vriendelijke vrouw. Het zolderkamertje in een prachtige villa voldeed weer volledig aan mijn verwachting.
Iris
2016-04-08T00:00:00Z
I stayed at Arda's place for two nights at the beginning of December 2014 and I had an excellent experience. The house, a 1905 building, is very charming, the room nicely furnished and very clean. The house in only a 10 minutes walk from the University and a 5 minutes bus ride to the center of Nijmegen. Arda was a wonderful host, very attentive to my needs, helpful and friendly. I would definitely go back and advise friends to stay here.
Aurora
2014-12-03T00:00:00Z
Arda heeft een mooie kamer in een mooi huis. Ze heeft mij zeer goed ontvangen en ik kan de accommodatie aanbevelen.
Ralf
2016-06-09T00:00:00Z
Arda was super welcoming and I would highly recommend the house. It was warm and clean and easy to get to from the University, train station or city center.
Lucy
2016-02-12T00:00:00Z
It has been an awesome experience to come here. The house is a really special place, not only for its beauty, but also for the people who lives in. Arda and her family are really kind people that make you feel at home. It is a big old house close to the university decorated with pretty good taste, art is everywhere here:), big bathroom with bath and shower, you have a cooler and you also can warm your food in a microwave downstairs in the kitchen. I defenitly recommend it, I'd come back for sure!
Mar
2016-01-29T00:00:00Z
Tipo de Quarto
Quarto inteiro
---
Tipo de Imóvel
Vila
---
Acomoda
1
---
Quartos
Nijmegen, Guéldria, Holanda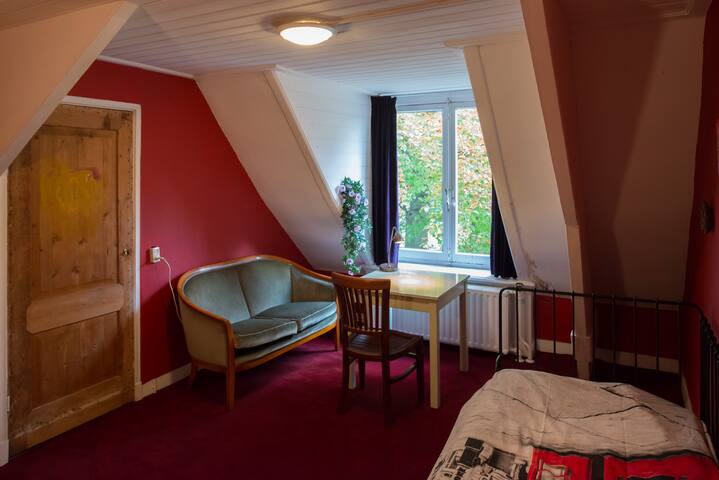 This monumental appartment is situated in the centre of Nijmegen near the river Waal in perhaps the most beautifull street of our town. Unique in atmosphere and location. 650 Metres from Ooypolder, a well- known nature reserve. Almost free parking
Indeed our historic apartment breathes history. The living space of 11 by 4.5 meters (more than 4 meters high) with large Windows on the street side overlooks a street with historic monumental buildings in the direction of (visible) Waalkade. The backside with bedroom&kitchen adjacent to a intimate courtyard offers views of St. Stevens church/tower and the synagogue, where Karl' grandfather was Rabbi. So Karls mother was born here.
The Nijmegen lower town is uniquely situated, right next to the shopping centre and at the same time close to the (quiet) outskirts of the city on the river Waal, 650 m from the beautiful nature reserve Ooypolder. All the historical monuments of Nijmegen are within a distance of 50 to 300 meters. Perfectly accessible by car, public transport or on foot from the railway station. More central and more beautiful you can not be in Nijmegen. Alone across the street, you will find three excellent restaurants in different price ranges, with views and terrace to the river Waal.
Een heerlijk verblijf midden in de stad! Je kijkt je ogen uit bij Cees en José, in de gezellige stad maar nog meer bij de fantastische verzameling boeken.
Yanthe
2015-07-20T00:00:00Z
José & Cees waren wunderbare Gastgeber. Alles war unkompliziert und sehr herzlich. Vielen Dank für eure große Gastfreundschaft und den Aufenthalt in eurer ganz besonderen Wohnung. Anna : )
Anna
2015-10-24T00:00:00Z
Wat je geeft , krijg je terug, het principe van wederkerigheid is bij Jose en Cees in alle opzichten aanwezig. Het gastvrije en persoonlijke verblijf maakt dat deze lokatie meer dan uniek is. En als je op de rode sofa van dit historisch pand zit, neem dan even de moeite om naar de natuurstenen vloer te kijken, de stenen zijn meer dan 350 miljoen jaar oud met allerlei fossielen van zeeleven erin: slakken, inktvissen, koralen en zeelelies.
Meike
2015-12-07T00:00:00Z
Cees heeft ons een warm welkom geheten in dit prachtige pand. Hij heeft veel verteld over de geschiedenis en ons de leuke plekken in de stad gewezen. Cees en José zijn erg flexibel in aankomst en vertrektijden en staan dag en nacht klaar. Een enorm prettige kennismaking!
Marjoleine
2016-11-28T00:00:00Z
Wow!! What an amazing experience to end our holiday. We were open heartily received by Cees & José in the lounge of the Library Airbnb. Treated with snacks and drinks, we had a thorough introduction to the history and current activities of the town. We immediately felt at home. We would recommend this historical apartment to anyone who wish to spend a great time in Nijmegen!
Heleen
2016-05-17T00:00:00Z
Wij hebben een heel fijn verblijf gehad in dit unieke appartement!! We werden ontvangen door Cees waar we een rondleiding van kregen en vervolgens van alles te horen kregen over zijn interessante baan en de historie van het pand. Hij was erg gastvrij en was snel en makkelijk te bereiken. We hopen snel een keer terug te gaan om wat meer van Nijmegen te bekijken en dan weer in dit historische pand te slapen!
Rosanne en Coen
2015-07-06T00:00:00Z
Jose was lovely and waited at the flat for us to arrive. She gave us a short tour and told us where everything is. The location was perfect as I only came to attend an exhibition that was right opposite their flat. It's also very close to all the cafes and restaurants. Probably about 15mins away (by walking) to the train station. The atmosphere of the flat is incredible, surrounded by old books and CDs, it almost makes you not want to step out. For check-out, Jose kept my mom company at the flat whilst she waited for me to finish at the gallery.
Annie
2015-08-25T00:00:00Z
Jose and Cees are incredible hosts and they have exceeded my expectations in all aspects. The place is lovely and a true representation to the Dutch amazing vintage homes. I would definitely stay there again if I am in the lovely Nijmigen. The is amazing and they truly go beyond to welcome the guests into their lovely home. Thanks for great hospitality!
Hesham
2015-09-13T00:00:00Z
Tipo de Quarto
Casa/apto inteiro
---
Tipo de Imóvel
Apartamento
---
Acomoda
2
---
Quartos
Nijmegen, Guéldria, Holanda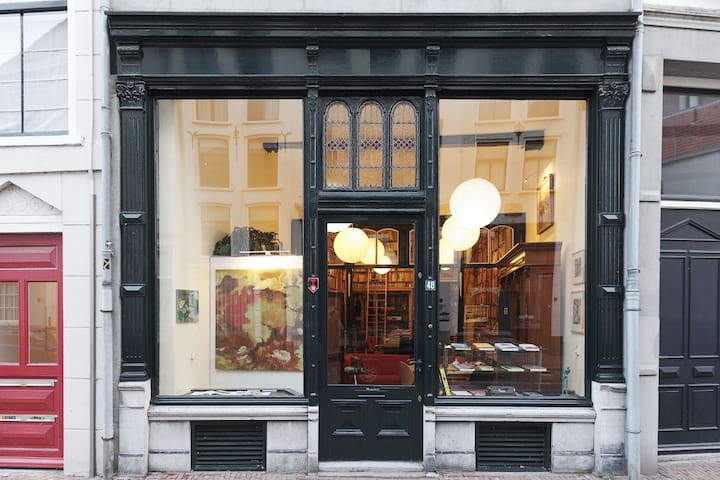 Nice appartment (70m2) with garden (90m2). Near Central Station (5min), city center (5m), University (10m) and Goffertpark (5min). Free parking and supermarket in the street. - Pets welcome if they dont make noise - No smoking - good internet
Perfecte plek als je een weekendje naar Nijmegen gaat. Gratis parkeren en het is te lopen naar de stad. Taxi is ook goed te doen en kost heel weinig. Goede ruimte met een mooie tuin erbij. Brechtje is aardig en goed in de communicatie. Was top
Rene
2017-04-02T00:00:00Z
We hebben met z'n tweeën heel fijn kunnen verblijven bij Brechtje. Het huis had alle benodigdheden en is prettig gelegen. Mijn vriendin had een hardloopwedstrijd en Brechtje had bananen klaargelegd. Super aardig natuurlijk!
Sunra
2017-03-19T00:00:00Z
Brechtje was supernice and helpful. The apartment is cozy and very clean. It is close to the center of nijmegen. The area is nice and quiet. Everything was perfect.
Judith
2017-03-24T00:00:00Z
A good Place to stay some days. Confortable, warm and with big rooms.
Luis
2017-03-10T00:00:00Z
Leuk appartement, zowel dichtbij het centrum als bij het station. Brechtje, een hele aardige vrouw, haalde ons op van het station. De communicatie was buitengewoon goed en alles is perfect verlopen.
Benjamin
2017-02-26T00:00:00Z
Tipo de Quarto
Casa inteira/apto
---
Tipo de Imóvel
Apartamento
---
Acomoda
4
---
Quartos
Nijmegen, Gelderland, Holanda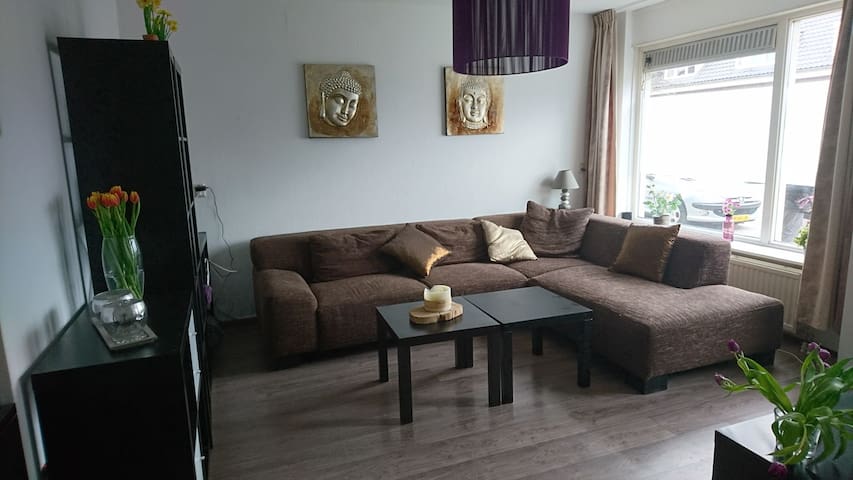 Insira as datas para ver o preço total. Taxas adicionais aplicáveis. Podem ser adicionados impostos.