Esta casa rural está localizado em Salto del Negro, um bairro localizado no coração de Axarquia. 25 minutos de Vélez-Málaga, 35 min de Torre del Mar, 50 min de Nerja e 50 min a partir de Málaga. A partir daqui você pode acessar cidades de grande atração turística como Comares, trilhas para caminhadas, escalada e actividades desportivas como o maior tirolesa na Espanha ao ar livre. Por sua vez, você pode visitar cidades costeiras e praias, bem como desfrutar da vasta gastronomia da região.
Confortável chalé localizado em uma pequena e tranquila aldeia, onde pode desfrutar da tranquilidade da natureza. Tem uma sala de estar com lareira e TV, sala de jantar, banheiro, cozinha, lavandaria e dois quartos (um com cama de casal e outro com cama de casal e cama de solteiro, berço opcional sem custo). Além disso, você pode desfrutar no terraço de um churrasco com vista para os arredores.
Salto del Negro es una barriada pequeña y tranquila de la Axarquía. Se encuentra a tan solo 2 km de Benamargosa, pueblo que dispone de supermercado, restaurantes, bares de copas, cajero, gasolinera y centro de salud; y al que se puede acceder tanto en coche como andando gracias al sendero habilitado recientemente. Para llegar de forma directa a la casa, sólo hay que "copiar y pegar" la siguiente dirección en "(SENSITIVE CONTENTS HIDDEN) Maps": Calle los Barranqueros, (PHONE NUMBER HIDDEN) Cútar, Málaga, España.
Hemos estado muy agusto, la gente del lugar es muy amable y el lugar precioso. Los anfitriones 10/10.
Ángel
2017-04-01T00:00:00Z
I can not explain enough how great Josan and Tere are, after being flexible to my late night arrival, they completely understood when I had to change my plans (flight cancellations) and they adapted to my stay instead being two weeks later, with different numbers and (unfortunately) only one night. I am so thankful for them doing that! The place itself is beautiful and well worth getting up the mountain, the neighbours were friendly the place is exactly as it looks in pictures. Our favourite thing was the terrace and BBQ (Josan even helped us get the things we needed to light it), there were candles for us to light, plenty of towels and blankets and cooking utensils. Check in and out and communication was very easy and considerate. Ideal for couples, friends, and families. The village itself is very small but there are stores 5 minute drive away, and a bigger town about 15-20 with restaurants, stores and even a cinema (and the coast) I will be planning to come back. Thanks Josan and Tere! :)
Sophie
2017-03-26T00:00:00Z
Maravilloso paisaje. La casa es amplia, muy limpia, es un hogar totalmente equipado. Estuvimos 5 personas muy comodos. La gente del pueblo muy agradables. Y Josan y Tere son unos anfitriones majisimos, siempre atentos y colaboradores. Como sitio para ir del 1 al 10 y como anfitriones otro 10. Volveremos.
Alfonso
2017-03-20T00:00:00Z
Tipo de Quarto
Casa inteira/apto
---
Tipo de Imóvel
Casa
---
Acomoda
5
---
Quartos
Cútar, Andalucía, Espanha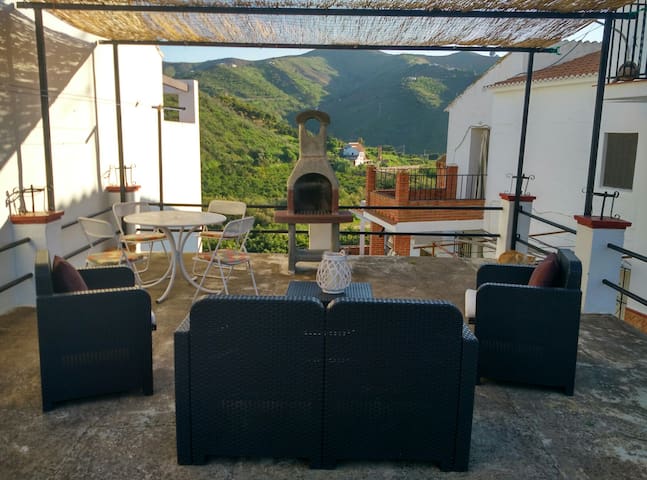 Casa LuCa oberhalb von Benamargosa ist eine einzigartige Location, hell, neu renoviert im Landesinneren der Costa del Sol/ Malaga. 20km zur Küste und idealer Ausgangsort zum Wandern, Mountainbiken, Relaxen, Natur geniessen. Infos unter Casa-LuCa de
Eine offene, freundliche und helle Atmosphäre mit einem schönen Naturgarten machen Casa LuCa einzigartig. 2 gemütliche Schlafzimmer und ein grosser, heller Wohn-/Essbereich mit Küche - besonders ist die hohe Deckenkonstruktion aus Massivholz -, verschiedene Terrassen sind liebevoll eingerichtet und angelegt.
Benamargosa, das Dorf und Zentrum, ist leicht und schnell, auch zu Fuss zu erreichen. Dort trifft man in den Bars und Restaurants viele nette und lebenslustige Andalusier. Auch beim Einkauf in den vielen kleinen Läden ist man als Gast willkommen und sehr gern gesehen.
We had a wonderful stay at this place. It's perfect to get away from the daily routine and recharge your batteries. The house is up on a hill, very solitude and with a magnificient view. You will find enough space for parking. The house is very clean and well equipped. There is a really big dining and living area with large windows - always enjoying the view of the hills and the valley. Two terraces complete the option of catching some sun with a view. When it gets too cold during the winter months you can fire the pellet stove and it gets cozy sitting on the couch. By the way, even in the double bedroom you can enjoy the wonderful view from the bed. The kitchen offers everything you can think of to prepare some meals. You can also barbecue on the terrace. Wifi works perfectly to stay connected to the rest of the world. Depending on your fitness walking there and back to the village Benamargosa takes roughly about an hour. Our host Anne was very helpful. She shows you the way how to get there from the village in person and is always available to answer any question. Thanks for your delicious welcome presents!
Martina
2016-02-17T00:00:00Z
Anne's little house in the hills is a beautiful place in a beautiful location, in the middle of nature.
pepe
2017-02-03T00:00:00Z
Beautiful house in great solitary location in the hills
Natacha
2017-03-25T00:00:00Z
Anne made everything very easy. The house is just beautiful,very light and spacious and comfortable. Everything feels new and it's very clean. The setting is just amazing, on a ridge with wonderful views. I found the road up a bit scary,it's narrow and steep, but my husband who was doing the driving enjouedit!
Rob
2016-12-12T00:00:00Z
We (family with two kids) had a wonderful stay at Anne's beautiful place. The views from the house are really amazing. It is quiet and the house has all things that we needed (including WIFI ;-). We love to come back in future. André & Jeanine
Andre
2016-07-31T00:00:00Z
Anne was een vriendelijke behulpzame verhuurder. Ik kwam 's nachts aan, maar zij stond na één telefoontje na 10 min. bij mij en reed vóór naar het huis toe. Bij aankomst alles uitgelegd en stond er een lekkere fles wijn klaar. Ook had ze boodschappen gehaald voor de eerste dag. Zeer plezierig als je na een lange dag reizen 's nachts vermoeid aankomt. Daarna laat Anne je geheel de vrijheid, maar als je iets wilt weten of ergens mee geholpen wilt worden is een appje naar haar voldoende, alhoewel ik daar nauwelijks gebruik van hoefde te maken. Heerlijke rustige plek, mooi ruim huis met prachtig uitzicht over de heuvels. In de directe omgeving is niet zoveel te doen, je moet eigenlijk wel van wandelen houden en een auto is beslist onontbeerlijk.Jammer was, dat in tegenstelling tot wat ik verwachtte, het publieke zwembad in het dorp helaas nog niet geopend was. Wel een leuk, simpel wit dorp, totaal nog niet toeristisch, met bv een 3 gangen dagmenu met drinken voor 7,50 euro!
Theo
2016-06-24T00:00:00Z
Goed uitgerust, mooi gelegen huis in een zeer rustige omgeving, erg geschikt om te wandelen. We voelden er ons heel snel thuis!
Robert
2016-09-15T00:00:00Z
Our stay with Anne was everything we expeceted and more. An amazing house with all the comfort and a stunning view just from the terrace. Anne received us warmly and explained everything very clearly. She gave us lots of tips around the area on what to do. I can only recommend this house. The house on a location like this is rare to find. We loved being in the mountians, the beauty, the peace and quieteness. It was simply GREAT. Thank you Anne.
Rocco
2016-01-17T00:00:00Z
Tipo de Quarto
Casa inteira/apto
---
Tipo de Imóvel
Casa
---
Acomoda
4
---
Quartos
Benamargosa, Andalucía, Espanha
A restored traditional single storey Finca (Spanish rural property) with swimming pool and breathtaking mountain views. The property has been well furnished and decorated to keep the traditional style of a rustic Finca.
Accommodation is divided into two separate units, with the owners, Keith and Carol, living in the main part of the Finca . They will respect your privacy, but, will be available if you require any help or advice. There is access to a large pool and is a cosy retreat for a couple wanting a relaxing holiday in typical Andalucian country side. The property is south west facing and receives the sun almost all day all year round.
In addition to the larger towns of Torre del Mar and Velez Malaga where there is a hypermarket and modern shopping mall, nearer are the villages of Puente don Manuel and Vinuela where basic supplies can be obtained. There are a number of restaurants in the area, in particular, Chez Spice a traditional Indian and Miguels in Los Romanes, excellent steaks! As well as being a great place to get away from it all, the area is also perfect for outdoor activities, especially walking and bird watching. The picturesque lake at Vinuela is approximately 10 minutes drive away and is ideal for walking and enjoying the wonderful scenery. There are several golf courses along the coast. Granada and the Alhambra Palace can be reached in around 1.5 hours.
We hebben in deze heerlijke finca begin september een super week gehad. Kwamen er op zondag 11 september aan (na uitgebreid contact via Airbnb en app) en werden hartelijk welkom geheten door Keith en Carol , de Engelse eigenaren van deze oase. Ze gaven ons een korte rondleiding in het leuke en schone huisje en wat tips voor de omgeving. De weg ernaartoe (vanaf de doorgaande weg ca 7 minuten over een smalle weg) is wel enigszins avontuurlijk te noemen, maar als je precies de uitgebreide routebeschrijving volgt van Carol komt het goed en went deze ook na hem enige keren gereden te hebben ;-), je komt praktisch geen verkeer tegen. Je bent de auto wel nodig, "even" naar een dorpje lopen is er niet bij. Maar dan krijg je ook wel heerlijke rust en een prachtige omgeving er voor terug. Het huisje zelf is van alle gemakken voorzien, heeft een mooie ruime (en heerlijke) douche en is voorzien van n volledige keuken met magnetron, gasfornuis, waterkoker, broodrooster etc etc. Kruiden , olijfolie etc was allemaal ook aanwezig, je kunt er zelf als je dat wilt dus volledig je maaltijd koken. De eigen patio is voorzien van twee gemakkelijke rieten stoelen, en kijkt fantastisch uit over de vallei die zich uitstrekt achter het heerlijke verkoelende zwembad. Bij het zwembad zijn ligstoelen en ook (gewone handdoeken en) badlakens zijn in je huisje aanwezig. Ook is daar bij het zwembad een mooi prieel waar je lekker kunt zitten en een prachtig uitzicht hebt over de omgeving verder. De foto's geven goed weer hoe het e.e.a. er uit ziet en in het echt is het nog mooier. Wij raden dit dan ook een ieder die absolute rust en een mooie omgeving wil aan, hou er wel rekening mee dat je dus als je iets wilt ondernemen (behalve n wandeling in de omgeving) altijd de auto nodig bent ! Carol en Keith zijn super mensen , zoals al eerder in recensies gezegd staan ze klaar als je iets wilt vragen , maar voor de rest heb je absolute privacy! Een aanrader , deze mooie oase van rust.
Irma
2016-09-18T00:00:00Z
We had a fantastic stay at Finca Anna. We stayed 4 nights and had some active, yet relaxing days. The area is very quiet and beautiful. The road to the house, although not the easiest to find, is absolutely brilliant. Carol and Keith picked us up from the main road to guide us towards the house, which was very helpful. The house itself is adorable. Everything you need is on hand, from towels to everything you'll ever need in the kitchen. The garden is amazingly colorful, the pool is very refreshing and the view is absolutely stunning. Location is good at less than one hour from Malaga airport, about 1,5 hour from Granada (Alhambra is a must!) and Seville and some amazing national parks close by. Keith and Carol are the best hosts; super friendly, easy-going and very thoughtful. They gave us loads of advice on activities, places to eat, etc.. We really enjoyed the company of the dogs too, who would join us whenever we left the door open for them to come in. Overall Finca Anna is a really genuine place to stay, the perfect place to come to rest and enjoy life to the fullest.
Marnix
2016-06-12T00:00:00Z
We had a wonderful week at Finca Anna with lovely hosts, the accomodation and the district are fantastic and we will certainly come back!
Anne
2016-10-31T00:00:00Z
Encantadora estancia en The Annexe. Lugar mágico
Xavi
2016-08-08T00:00:00Z
We can recommend the finca to anyone. The finca itself is very clean, deceroated nicely and good equiped. The pool side and the yard are very beautiful as well (The Pool is clean and refreshing). Carol & Keith are very welcoming. They have great tips but respect your privacy all the time. Their two dogs are very frindly as well. We loved to spend our 9 days at Finca Anna. We will come back for sure. Ellen & Moritz
Moritz
2016-08-27T00:00:00Z
Wonderful place, perfect for two people. Fully equiped kitchen. Marvelous garden and pool, Carol and Keith are the most kind persons!
ana
2016-05-22T00:00:00Z
Very quiet and relaxing location. (Good for meditation). The hosts, Carol and Keith, were very nice and helpfull. The road to the house was a bit of an adventure but ok. The pool, garden and the views were great. Inside the apartment was everything ok. We would stay her again. Thanks for everything!
Marjolijn
2016-08-31T00:00:00Z
We had een great start of our holiday at Finca Anna. Our plan was to mix a citytrip to Malaga with a couple of relaxed days up in the hills. Finca Anna was just the idyllic place we hoped it would be. The beautiful garden and the swimming pool were lovely, just like the area around. Carol and Keith are very welcoming hosts and have enough tips if you want. We loved it here and can recommend it to anyone who wants a relaxed and quiet getaway!
Nicklee
2016-08-02T00:00:00Z
Tipo de Quarto
Casa inteira/apto
---
Tipo de Imóvel
Outro
---
Acomoda
2
---
Quartos
Vinuela, Andalucía, Espanha
Comfortabel vakantiehuisje met alle voorzieningen en privé zwembad te midden van de Andalusische bergen en op slechts 10 minuutjes rijden van de kust (bruisende, maar nog zeer typisch Spaanse Torre Del Mar). Winkeltje en cafeetjes op wandelafstand. Ideaal voor zowel de zonneklopper, de natuurliefhebber, de cultuurmaniak als de sportfanaat (prachtig fietsgebied). 6 slaapplaatsen, volledig uitgeruste keuken (vaatwasser) en badkamer (wasmachine), heerlijk buitensalon met barbecue, privé parking.
A rustic finca in the middle of a tropical valley with mango and avocado trees. relaxing on the sun terrace, dipping in the perfectly kept pool (with outdoor shower) or just reading a book in the outdoor lounge while putting on the bbq ... the only thing you will hear are the birds, the only thing you will smell are the surrounding jasmine trees. Well-equipped kitchen (with dishwasher and all supplies you can name) and perfectly functional bathroom with shower and washing machine. In short: the perfect hideaway in an oasis of nature but with a shop and some local bars at only 300 metres away.
I have travelled around Europe: the Axarquia region is one of the only unspoilt authentic regions in Europe. The best kept secret in Spain, the coast (with all its amenities and restaurants but still traditionally Spanish) being just a 10 minutes drive away.
Nos gusto mucho esta casa tan maravilla. Es pequeña, pero muy cómoda y limpia, con vistas increíbles. Puede ser un poco peligrosa para niños menos de 2 años, pero nada grave. El mar esta a unos 15 - 20 minutos conduciendo. Bram es muy amable y siempre estaba en el punto de ayudarnos. Muchas gracias por todo, especialmente por cosas de cocina: yogur, refrescos, especias y dulces! Esperamos qué volvamos otra vez!
Daria
2017-01-04T00:00:00Z
prachtig uitzicht en fijne zonnige buitenruimte. Comfortabele bedden. Heerlijk rustig omdat het wat afgelegen ligt. goed internet.
louise
2017-04-01T00:00:00Z
Tipo de Quarto
Casa inteira/apto
---
Tipo de Imóvel
Casa de campo
---
Acomoda
4
---
Quartos
Vélez-Málaga, Andalucía, Espanha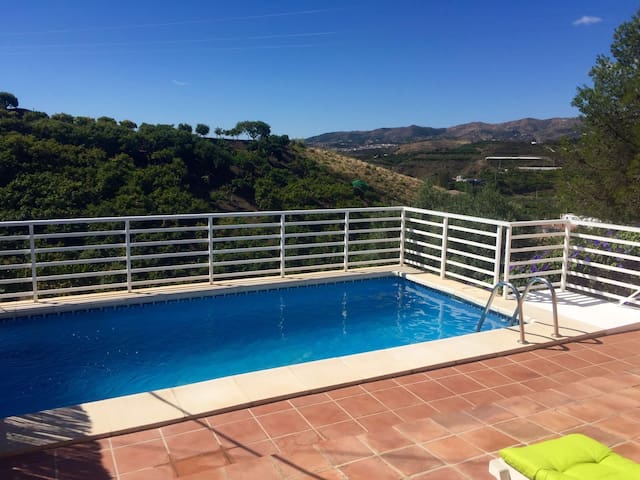 Attractions: public transport, the city center 45 minutes, parks, art and culture.
Tipo de Quarto
Casa inteira/apto
---
Tipo de Imóvel
Casa
---
Acomoda
4
---
Quartos
Benamargosa, Andalucía, Espanha
Casita Buho Real , a very unique space with stunning views. It has one upstairs double bedroom and a single sofa bed downstairs, for an adult/child. Sleeps 2 + 1. Shower room and kitchen / diner/living area. Two pretty terraces,one with table and chairs for al fresco dining . Woodburner to warm the chillier months and a full gas oven with 4 burners. WiFi, Huge shared pool. Very quiet location but not remote. 5mins. drive to the main road. Local shop and bar in the village 4km. Come and relax!
Sympathetically renovated country retreat, on two levels. South facing, views to a wonderful valley. Electric wall heater in the bedroom and a wood burning stove in the living area. Kitchen with full gas cooker and oven. Shower room with washbasin and W.C. Fans in both rooms. Mobile gas heater. A favourite with our guests.
Real Andalusia , tinkling goat bells , birds , butterflies and peace. Wonderful opportunity for walking. Beach and National park 25 minutes drive. Plenty of great restaurants. We have wild mountain goats, foxes and a pair of Eagle owls on the rock behind the house. Situated in the shelter of the rocky outcrop and 337 metres above sea level.
It was a great stay hidden in olive trees. Stephanie and Terry's place is great. You get two terraces for yourself giving you morning and afternoon Sun. It is a big country side house separated in four apartments/ smaller houses three of them rented out to air bnb or other guests. We had a great time, good base to visit anything from Granada to Sevilla.
Julien
2017-04-08T00:00:00Z
We enjoyed everything about our stay in the mezzanine, which is small but very adequate for two (three at a pinch). The collection of three places available for letting has been planned to provide each with its own secluded sitting space outdoors, as well as common use of the pool area. The rural setting is a delight, and the garden is beautifully planted up and well maintained. Well equipped kitchen and comfortable beds. The hosts could not be more helpful, considerate and informative. They have worked very hard to create a really good place to stay.
Philip
2016-04-15T00:00:00Z
Nous avons passés un moment très agréable dans ce charmant appartement. Tout est là, on ne manque de rien aussi bien au niveau matériel que pour découvrir les alentours. Terry et Steph sont adorables et ravis de nous transmettre leurs bons plans! A peine repartis, on à envie d'y retourner pour retrouver le calme,et la beauté des lieux. Tout est pensé pour passer un vrai temps relaxant et tranquille! Merci!!!! We had a lovely time in this charming apartment. Everything is there, there is nothing missing as much on the material level as to discover the surroundings. Terry and Steph are adorable and delighted to share their good plans! Just returned, we want to return to find the calm, and beauty of the place. Everything is thought to have a real relaxing and tranquil time! Thank you!!!!
Sonia
2017-01-01T00:00:00Z
We enjoyed a very relaxing and peaceful stay in the lovely and very tidy Casita Buho Real situated within beautiful surrounding gardens. Steph and Terry are very good hosts and always there to help. We can highly recommend La Calera, the apartment and the location and will be back soon.
Kai
2016-06-27T00:00:00Z
It was a real pleasure to spend some time in Lacaleja. Steph & Terry were friendly, disponible and helpful. The place is lovely and beautiful, perfect to take some rest.
Jeremy
2016-09-14T00:00:00Z
Paradis Andalucia
Jan
2017-03-01T00:00:00Z
My daughter and I had a very warm welcome in Spain. Stephanie did some shopping for us because we arrived on a Sunday and there was a nice fire waiting for us when we arrived (to get the chill out of the apartment before we arrived). Our hosts were very friendly and happy to help when needed. The apartment was comfortable and the view and area was great.
Brenda
2016-02-11T00:00:00Z
Very nice spot in lovely nature. We liked the calmness and peacefulness of the place and relaxed right away. 20 car-minutes to the sandy beaches of Torre del mar, 50 minutes from the airport gave us all we wanted: city-touristic-shoping-hectic, beach chill and countryside sensation from a pool view. We will ask Steph for a "personal" car rental next time because the airport/internet-booking procedure was annoying for us. But thanks to the perfect route plan she sent us in advance we found her right away. Thank you for a great stay at yours and we would not hesitate to come back. Petra and Ulf
Petra
2016-05-22T00:00:00Z
Tipo de Quarto
Casa inteira/apto
---
Tipo de Imóvel
Apartamento
---
Acomoda
3
---
Quartos
Cútar, Andalucía, Espanha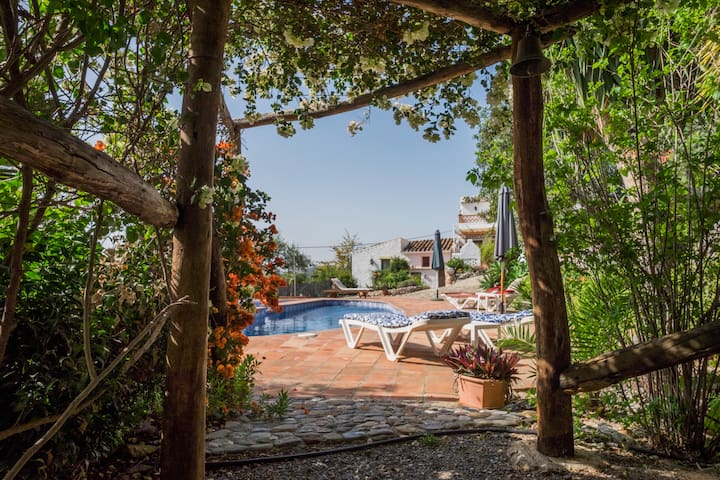 An enchanting and spacious one bedroom cottage, completely self- contained with a private terrace and delightful views over the valley with orchards and vineyards. Free wifi. Licensed as a "Vivienda Rural" by the Junta of Andalucia VTAR/MA/00572
An enchanting and spacious one bedroom cottage, completely self- contained with a private terrace and delightful views over the valley with tropical fruit orchards and vineyards.Situated at the edge of the beautiful whitewashed village of Cútar .The ancient Moorish village of Cútar is far from the tourist trail but only an hour from Málaga airport, 25 minutes from the coast and secluded beaches and within easy reach of the great Andalucian cities of Granada and Córdoba. The 200 year old cottage has been completely renovated in the Andalucian style - preserving the traditional features but with modern appliances that include free wifi. The high beamed ceilings and handmade terracotta floor tiles help stabilize the summer and winter temperatures. The cottage is accessed via a pretty patio in traditional patterned stonework with a large flowering cactus and tropical plants. The door of the cottage opens into an open-plan kitchen and living area with an attractive open fireplace in traditional brickwork. The room is furnished with handmade Andalucian furniture which enhance the Moorish-Spanish feel of the space. There is a CD player and radio, CDs, books, local guides and board games. The kitchen is equipped to modern standards with a gas hob, fridge, microwave, toaster and electric kettle.The spacious, high-ceilinged bedroom has a traditional Andalucian double bed and wardrobe. It has a warm and intimate feel. The bed is made up with best quality white cotton linen, changed weekly. Like the rest of the cottage, the bathroom has a traditional feel, being decorated in hand made ceramic and terracotta tiles. However it is modern and fully equipped including a shower, small bath, bidet and hairdryer. Good quality white cotton bath and hand towels are included .The small,private, south facing terrace completes the suite, overlooks the Cútar valley and Mount Maroma. It includes a small barbecue and ceramic sink. Cútar has a tapas bar (more in the summer), a well stocked general store and a pharmacy. Larger supermarkets, banks and open air swimming pools (open in the summer months) are available a few minutes drive away in nearby villages. A car is essential as there is little public transport. Please note that Cútar is a hill village and may not be suitable for people with mobility problems.
Located off the main tourist routes, Cútar is a charming, unspoilt, traditional village. In the shadow of the large church, the white houses and small narrow streets tumble down the hillside. More than 1000 years old, Cútar is a pueblo blanco (white village), a legacy of the Moorish rule of the area. Because of the very mild semi-tropical climate, farmers grow mangos, avocados, citrus fruits, dates, figs, pomegranate, guava, sugar cane and the heavy, delicious Muscat grapes. The grapes are dried into raisins or made into the famous Malaga muscatel dessert wine The village has between 200 and 300 inhabitants, the population rising steeply during the long summer school break when many dormer and holiday homes fill up. Cútar is perched on a hillside at 330 metres above sea level, and runs down into the valleys overlooking a landscape of mixed fruit farming dominated by vines and olive groves. The entrance to the village has gardens landscaped in the Moorish style. The Church of Our Lady of the Incarnation overlooks it. The church is of sixteenth century Mudejar design and construction, being built on the site of the old Mosque by skilled Muslim craftsmen kept on by the Christians who lacked their building skills. Calle Fuente (formerly Calle Franco) is the artery or main street of the village. All Spanish villages have their tradition of fiestas and ferias. The fiesta is usually a Saint's day feast, the main one in Cútar being that of Saint Roque, the patron saint of the village. There is a gypsy fiesta the Romeria in spring, a summer feria and the autumn fiesta del Monfi with its fair, craft stalls and sales of local food and drink. Needless to say, all parties involve eating drinking and dancing . Today Cútar remains a small, authentically rural Spanish community that demonstrates Moorish traditions in its customs and architecture. The streets are built for donkeys not cars. They are steep and often stepped. Much of the paving and decorative cobbled pathways, in recent times covered in concrete, are now being restored, and the village is sensitive to the value of its Arab heritage. The Cútar Koran is the second most ancient in Spain and testifies to the antiquity and heritage of the village itself, as does the "fountain of paradise" and the sixteenth century church with its unique Mudejar frescos. We can expect a new museum to open this year. There are wonderful views from the terraces which overlook the mountains and hills of the Axarquia. There is a pharmacy, a general store and a tapas bar with a terrace overlooking the valley. Banks, cash machines, supermarkets, restaurants and medical service are 10 minutes drive away in the neighbouring village of Benamargosa. Village pools are open during the summer months a short drive away. This village is genuinely unspoilt - aspects of its history can be found in every part of it and yet it is still unknown to the tourist trade. It is one of the few remaining genuinely authentic secrets of the Axarquia.
La estancia fue muy agradable. La casa muy limpia, con lo necesario paro no tener que cargar con cosas extras(secador, toallas..) ademas de que te dejan usar su sombrilla, juegos de playa.. detalles pequeños pero muy agradables! Al igual que la botella de vino que nos regalaron a la llegada. Como anfitriones muy bien, estaban atentos y si teníamos algun problema o duda estaban totalmente dispuestos a prestarnos ayuda. (Nuestro coche nos dio un pequeño disgusto y John se ofreció a llevarnos a donde quisieramos =) ) En general.... Muy bien =) Y la gente del pueblo genial
Elena
2016-08-21T00:00:00Z
What a lovely place! So peaceful and tranquil in a delightful mountain village! We loved our stay and Judy and John were great hosts. They provided so much information on the area and all the facilities were perfect. A lovely balcony to sit out on to enjoy the views and the sun... and a glass of wine! We would definitely stay again.
Alistair
2016-10-23T00:00:00Z
Alles war gut!
Stergios
2017-01-05T00:00:00Z
We very much enjoyed staying in this cottage in the Malaga province. The village is very quaint and quiet, and within easy driving distance of a number of other villages and of the city of Malaga. We also enjoyed several day walks in the area and some excellent food. Judy and John were very responsive hosts, and the cottage was very comfortable and exactly as described. We found the village to be an excellent location for a quiet break.
Simon
2017-02-03T00:00:00Z
They are perfect and very friendly hosts that welcomed us and helped us with our luggage or any other question. All information, guides, maps even book are provided in cottage. We loved every minute spent there. Non touristic, beautiful uphill pueblo blanco with stunning surroundings..and their "casita" is just perfect getaway.. Furnished with care and soul, and respect to traditional design. We loved lamps and handmade details. The balcony has a barbecue, and a stunning views. Highly recommended!!!
tatjana
2017-01-15T00:00:00Z
We had a wonderful time in the cottage of John and Judy and felt very welcomed. The two are very good hosts and have always good tips and an open ear for you needs. The cottage is really very beautiful and romantic and the view of the terrace is just amazing. Cutar is a little charming village and its not to far from the most beautiful spots of andalusia.
Lisa
2015-08-26T00:00:00Z
Judy and John made us feel really welcome when we arrived at their lovely, traditional 'casita' in Cutar! They even helped us with our luggage! (because you can only get a car so far down the narrow streets) Everything is there that you might need for a home from home holiday experience, even Wifi, but with blue skies, and sunshine wall to wall. Soothing and cool evening breezes wafted throughout the cottage to make up for the lack of air conditioning. The location itself, albeit ten minutes up a winding road on a mountain, was ideal for our exploration purposes. The photos of the cottage also help to give a great idea of what to expect, but the views of Cutar and the surrounding countryside really have to be seen. It's an amazing area when you get away from the Costa del Sol coast itself. Great finds while exploring included the Table Mountain restaurant in Comares, the village of Competa, Julie and Valeri's street food / tapas bar in Nerja and the outdoor municipal pool (entry €2 !) in El Borge! Four hours before anyone else arrived! If you're wanting a Southern Spain holiday and Malaga airport is your starting point, it's well worth considering this little gem! Be prepared though for car hire, you couldn't do Cutar without one! Thanks again J&J for your hospitality! Can certainly recommend your cottage to others!
Andy
2016-06-21T00:00:00Z
Judy e John ci hanno accolto al nostro arrivo. Sono stati molto gentili e disponibili. Ci hanno illustrato cosa fare nelle vicinanze ed in Andalusia in generale e ci hanno dato informazioni sulla graziosa e caratteristica cittadina di Cutar.
NATALIA
2015-08-03T00:00:00Z
Tipo de Quarto
Casa inteira/apto
---
Tipo de Imóvel
Casa
---
Acomoda
2
---
Quartos
Cútar, Andaluzia, Espanha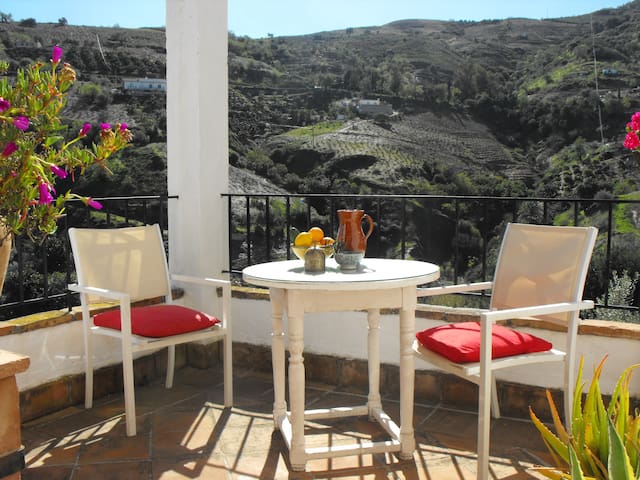 A stay in Casa Jacaranda is an opportunity to witness rural spain with all the luxuries of a modern house and the amenities of the coast. The house is designed around a court yard and pool with the aim of 100% relaxation. Cook or be cooked for inside or outside, lounge by the pool, on the deck, in a hammock or garden with views down to the coast or mountains. This is all within an hour of Malaga airport and 20 mins to the beach or 10mins to the lake. Life is simple, comfortable and easy.
The open plan house which flows from outside to inside means that there is always a place to relax in the sun, shade or water. It is spacious enough for everybody to be together yet easy enough to slope off and enjoy a bit of privacy. The house has been designed around the view and to maximise the benefits of the sea breeze. Unlike many houses built in the area, this house is designed to work efficiently throughout the year. Casa Jacaranda wraps in a U shape around the central courtyard with bedroom 1 opening out directly onto the pool terrace and bedroom 4 with a large window to the rear courtyard. The kitchen has everything you could wish for from an American fridge freezer to a 5 ring gas hob, electric oven and a Dolce Gusto coffee machine. There is a breakfast bar linking the kitchen with the dining area which boasts stunning sea and mountain views through the panoramic windows. The outside is always within a few easy paces so take a seat at the huge shaded table and enjoy the views or you can step down from the mezzanine level dining area to the sitting room with leather sofas and BBC TV which opens on to a shaded terrace. Outside is fully integrated with the inside so the outdoor kitchen is within easy reach of the inside kitchen and fridge. The courtyard opens up to encompass the pool, besides which you can stroll down to the lower terrace to the sun or shade. Or you can wander up to the deck and check out the view. Come sunset you can stroll round to the back of the house enjoying some table tennis on the way and have a drink on the terrace looking over the rural hills as the sun slowly descends after another wonderful day. Bed 1 - double with ensuite including shower, with double doors opening onto the pool. Otherwise you can get to it through bed 2. Bed 2 - this can actually sleep 4 (ideally 2 adults and 2 kids). It has a double bed on the mezzanine level reached by a narrow wooden staircase and a double day/sofa bed below and is situated just across from the family bathroom. Bed 3 - A double room with large wardrobe. Bed 4 - double with ensuite shower room. Family bathroom - double sink, bath and shower. Downstairs wc with basin.l
The neighbours are mostly farmers so you will see the odd donkey tethered up on the track as their owners crop the olives, tend their grapes or clear the brush from under the trees.
This place is amazing! We stayed 5 nights at this beautiful property which is even better than it looks in the photos! Our hosts were so lovely and so helpful right from when we booked - nothing was too much trouble from booking tickets to helping us with our shopping as we arrived very late. The welcome pack was also a really nice touch. We visited Neja Caves, Alhambra in Grenada and Malaga from here and relaxed and enjoyed the peaceful environment this place has to offer. The house has been beautifully furnished and has everything you would need to enjoy your stay with your friends and/or family. It is also very spacious and we particularly enjoyed bbqing and dining outside in the evenings with the lovely view, and relaxing in the hammocks and by the pool during the day. Highly recommended - a great place to explore the area from and to spend relaxing in this beautiful part of Spain we would visit again!
Anna
2016-08-31T00:00:00Z
Very peacefull place. Heating the house quite complicate.
Jussi
2017-02-19T00:00:00Z
We had such a great time staying at this villa for a week, we were the first guests to stay in the very newly finished property and everything was perfectly set up for us. Its a great spot with beautiful views and a lovely sense of privacy despite not being very far away from any amenities. There were only 4 of us staying in the house but it could very comfortably fit much larger groups as there is a lot of entertaining and social space. The modern kitchen was perfect for us as we did quite bit of cooking at the house, and the table in the courtyard was the perfect spot to enjoy the finished result. The pool was a great bonus for cooling off in the middle of the day, and the hammocks in the lower covered terrance were also well used and much enjoyed! Helen and her husband who live next door were extremely helpful throughout our stay and were keen to help with any potential issues or to give us recommendations for things to do. All in all a wonderful stay and we would definitely consider returning!
Katie
2016-08-01T00:00:00Z
We have just spent an amazing week at Casa Jacaranda. The photos just don't do it justice. They have thought of everything to make your stay as relaxing and easy as possible. The house has been beautifully designed and really well thought out. The kitchen is very modern and really well equipped. There are lovely little touches everywhere and loads of space so if you go with another family you never feel like you're on top of each other. Our favourite place to relax was definitely on the hammocks where you get a wonderful sea breeze and can make the most of the amazing views. Helen and Alex made us feel so welcome and couldn't do enough for us. If we needed anything at all they were always on hand to help. It was my birthday when we were there and Helen prepared an amazing authentic tapas feast which was just wonderful. We couldn't have asked for more and it was very reasonably priced. Such a lovely treat! The house is very rural (which we loved) so it's quite a drive to the nearest shops so make sure you stock up as we did. There's a windy, very steep track in parts which at times is a bit hairy so you probably wouldn't want to do it in the dark. That said it is very picturesque and you get amazing views of Lake Vinuela on the drive. Casa Jacaranda is very rural and the perfect place to get away from it all. We felt completely and utterly chilled from the moment we arrived. We didn't want to leave and will definitely be coming back.
Vicky
2016-08-10T00:00:00Z
Super host!!!! Perfect stay and perfect house! Thank you so much Helen. Recommend to everybody!
Carmen Roxana
2016-09-28T00:00:00Z
We had a lovely, lazy week relaxing at Casa Jacaranda. It is perfect if you want to get away from the crowds and relax in peace among the vines and olive groves. The views are stunning, from the sea to the mountains. We had unbroken sunshine for a week and it was very hot - luckily there is a wonderful cooling breeze - we were still in and out of the pool all day! The house has plenty of rustic charm while being finished to a very high standard - clearly a lot of thought has gone into the space. Helen was super friendly and helpful throughout. We were really lucky to find this place available - my guess is it will get booked up fast - can't recommend highly enough!
Ben
2016-09-13T00:00:00Z
Un lugar ideal para disfrutar de la naturaleza, en compañia de amigos. La casa es grande, confortable, luminosa y ofrece muhas posibilidades.: barbacoa, salon con juegos, mesa de ping pon,rutas por senderos, piscina,... hay espacios para todos. Las vistas espectaculares. Helen nos atendió con cariño y amabilidad. Los niños se lo han pasado muy bien. El acceso a la casa es por carretera de montaña, pero merece la pena llegar. Os lo recomiendo.
ana
2016-11-01T00:00:00Z
Tipo de Quarto
Casa inteira/apto
---
Tipo de Imóvel
Casa de campo
---
Acomoda
8
---
Quartos
Velez Malaga, Andaluzia, Espanha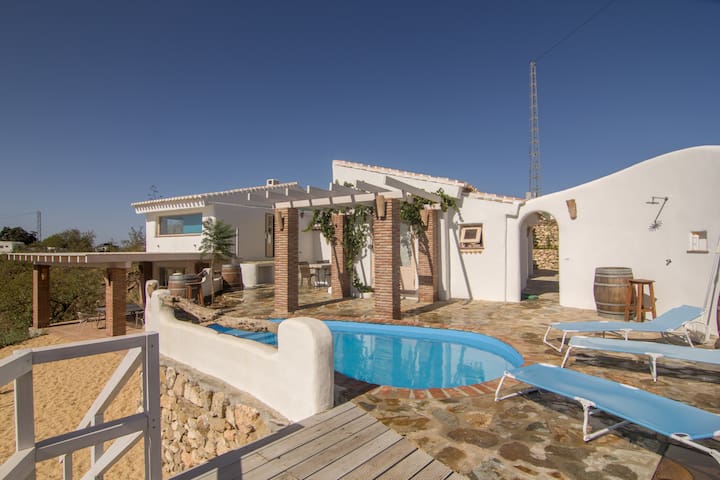 Insolita in the private country house with pool for six people, on top of a mountain where you can see much of the valley of the Axarquia and the beaches of Torre Del Mar. with fireplace, barbecue, satellite and wify. ideal for short breaks and relax.
The house is completely fenced with gardens and outdoor parking, it has a large covered porch with barbecue, a large terrace by the pool with sun porch. It has a large living room with fireplace and satellite TV. fully fitted kitchen, toilet and bathroom, labadora and three bedrooms one double and two doubles, ideal for six people.
Jose is een vriendelijke verhuurder. Heel gastvrij, enthousiast en informatief. We hebben genoten van ons verblijf. Een heel mooi huis op een prachtige plek.
Inge
2017-03-03T00:00:00Z
un casa excelente con unas vistas espectaculares de toda la axarquía , un anfitrión excepcional , amable , respetuoso y generoso , leña para aburrirte quemando y calefacción en las habitaciones , un diez
Jose Angel
2017-01-29T00:00:00Z
Casa en un lugar q merece la pena por sus vistas, con respecto a la casa en si, nada acondicionada, entraba frío por todas las ventanas y puertas, dentro de la casa aún con la chimenea se pasaba mucho frío.
Jesus
2016-02-28T00:00:00Z
Despedir el 2015 en casa de Jose ha sido todo un acierto. El entorno rodeado de viñas, las vistas tanto durante el día como por la noche, el clima, lo bien acondicionada y equipada que estaba la casa y algunos extras que no aparecen en el anuncio como calefacción en todos los dormitorios, secador, plancha, elementos básicos ..... Es un lugar genial para desconectar de la ciudad y bajar el ritmo. Consejo: Queda con el anfitrión para que os lleve a la casa. Olvidate de localizar la casa por maps o similares, te manda a un carril rural de bicicletas.
Claudia
2016-01-03T00:00:00Z
Das kleine Häuschen in den Bergen hinter Velez-Malàga liegt auf der Spitze eines Hügels mit idyllischem Rundumblick auf die umliegenden Bergdörfchen. Es ist ca. 4 km entfernt vom nächsten kleinen Ort, Almachar, wo man auch das Allernötigste einkaufen kann. Dort haben wir uns auch mit José, dem Vermieter getroffen, der uns dann zu unserem Haus begleitet hat. Das Haus war solide und in gepflegtem Zustand, für 6 Personen ausgestattet und alles Nötige war vorhanden. Große Waschmaschine, Spülmaschine, Mikrowelle, Wasserkocher, Toaster, .... Das Haus soll ca. 10 Jahre alt sein und gut in Schuss gehalten. Das einzig Gewöhnungsbedürftige war das Wasser, das direkt mithilfe eines in die Berge getriebenen Brunnes aus den Bergen gepumpt wird. Es war dermaßen kalkhaltig, dass der Kalk sich überall festsetzte. Aber mit ein bisschen Essig konnten wir uns gut behelfen, und ansonsten ist Kalk ja ein gesunder Zusatz im Trinkwasser. Die Zimmer waren auch in Ordnung, ein Zimmer mit einem etwas arg kleinen Doppelbett und zwei weitere Zimmer mit je zwei Einzelbetten. Ein geräumiges Wohn- und Esszimmer, Küche und ein sehr großzügiger Hauswirtschaftsraum, wo auch die Waschmaschine und einige Regale standen. Was vielen Kindern vielleicht wichtig sein könnte: Das WLAN funktionierte ganz gut, wenn man wusste, wo auf dem Grundstück man sich hinbewegen sollte. Der Empfang schwankte etwas, aber was will man auch erwarten, wenn man in den Bergen wohnt. Der Pool war auch sehr gepflegt, das Wasser war sauber und roch nicht zu chlorhaltig. Und mit einem Rundumblick auf die Berge im Pool zu schwimmen war schon einmalig. Die Lage war sehr ruhig, man bekam nichts mit vom Touristengewimmel am Strand, der aber in 20 Minuten entspannt erreichbar war. Dort waren auch die größeren Einkaufszentren und Supermärkte zu finden. Unser Vermieter kam alle 2-3 Tage vorbei, um nach dem Rechten zu sehen und den Pool zu pflegen, war aber auch sofort zur Stelle, sobald wir ein Problem hatten und hat es auch umgehend mit Hilfe eines Handwerkers behoben (Spülmaschine). Alles in allem war es ein sehr schöner Aufenthalt, wir haben unzählige Fotos von traumhaften Sonnenauf- und -untergängen in den Bergen gemacht und erinnern uns auch jetzt noch gerne an die gemütlichen Abende bei Wein und unglaublich leckeren Oliven am Außenkamin.
Christiane
2015-10-29T00:00:00Z
Tipo de Quarto
Casa inteira/apto
---
Tipo de Imóvel
Casa
---
Acomoda
6
---
Quartos
Benamargosa, Andaluzia, Espanha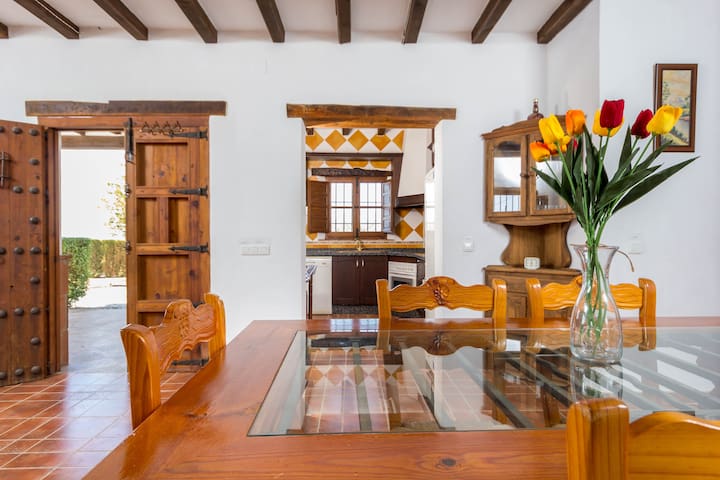 Its breathtaking..this location! You spend your holidays in the middle of magic andalusian nature! No mass tourism, no loud neighbours, no discos...............just birds singing! Thats what is expecting you in this magic surroundings. ANDALUCIA at its best! Still, you drive about 14 minutes and are in the neighbouring villages with little shops and Tapa Bars or restaurants. WINTER OFFERS: 29 Euros per night! There is a fire place. Cosy and warm!
Tipo de Quarto
Casa inteira/apto
---
Tipo de Imóvel
Casa
---
Acomoda
6
---
Quartos
Cútar, Andalucía, Espanha
alojamento de férias no coração de Axarquia, perto da praia e pântano ideal para atividades aquáticas e caminhadas Viñuela. Terraço casa no centro da vila perto de bares e supermercados.
Casa no centro da vila
le logement était conforme aux photos,le village super agréable est très typique .dommage de ne pas avoir vu ana mais maria qui nous a accueilli était très (URL HIDDEN) le recommande vivement mais il faut avoir une voiture cela sera plus pratique.logement correctement équipé avec une terrasse trés agréable. ana est une hôte a l'écoute mais il faut mieux parler espagnole ou anglais.rapport qualité prix genial.
Dillenseger
2016-08-16T00:00:00Z
The host canceled this reservation the day before arrival. This is an automated posting.
Elysita
2016-07-29T00:00:00Z
Tipo de Quarto
Casa inteira/apto
---
Tipo de Imóvel
Casa
---
Acomoda
7
---
Quartos
Benamargosa, Malaga, Espanha
Superb house with lots of space for a family walking distance to the village with all its activities, Jacuzzi on the roof terrace and local pool close by. easily accessed.
The host canceled this reservation 119 days before arrival. This is an automated posting.
Julie
2016-03-07T00:00:00Z
Tipo de Quarto
Casa inteira/apto
---
Tipo de Imóvel
Casa
---
Acomoda
6
---
Quartos
Benamocarra, Andalucía, Espanha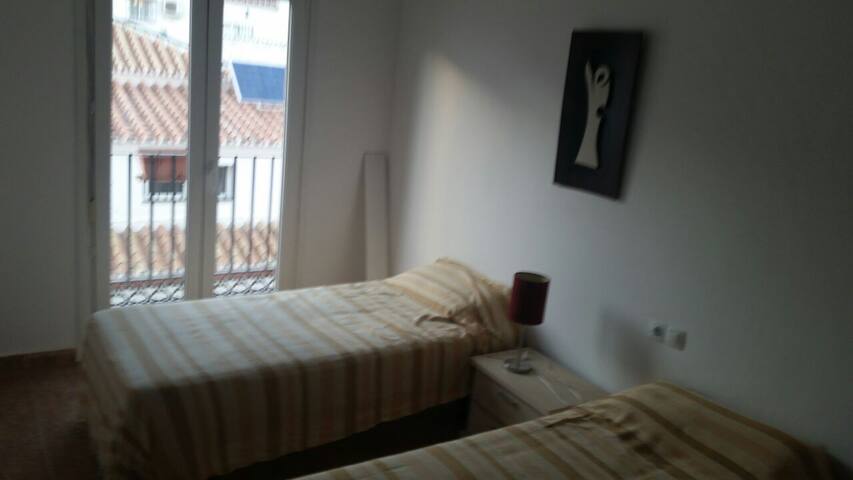 The house stands in Benamargosa. It's only 37 km from Malaga and 14 km from the coast. The house has everything what you need for a great vacation. you'll get a whole house at your disposal near to all the locations that make Andalucia special.
The house had fantastic views . It had ever thing you needed from shower gel to ironing boards. The house was in walking distance to the village which was brilliant for going out on a night if you didn't want to drive . For us and our few days away it was all we hoped for .
Helen
2017-04-04T00:00:00Z
Tipo de Quarto
Casa inteira/apto
---
Tipo de Imóvel
Casa
---
Acomoda
5
---
Quartos
Benamargosa, Andalucía, Espanha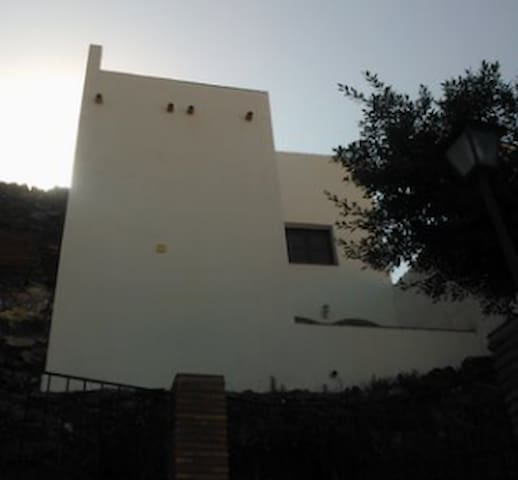 Lugares de interés: Casa Trinidad se encuentra en la Costa del Sol en la región de la Axarquia entre los pueblos de Triana y Benamargosa y el Embalse de la Viñuela. Situada en un precioso paraje de 3500 m2, a las afueras, escondida entre las plantaciones de mangos y aguacates. También hay olivos, almendros y viñas por los alrededores. La casa está rodeada de una superficie de 1800 m2, protegida con una valla adecuada para tener animales. Este es un lugar ideal para alguien que busque un sitio tranquilo donde pasar sus vacaciones y a solo 20 minutos de la playa y los campos de golf de Baviera Golf y Añoreta Golf. Es posible hacer viajes en un día a Granada, Córdoba y Sevilla desde aquí. A una hora en coche se encuentra el aeropuerto de Málaga y a sólo 40 minutos el centro de Málaga. Casa Trinidad tiene un área para el verano de 300 m2, donde se encuentra una piscina de 4 x 9 m2 con escalera romana, una barbacoa con cocina exterior completa de 20 m2, cuarto de baño de 8 m2 y solárium de 90 m2. El precioso jardín de palmeras y arbustos mediterráneos le proporciona abundante sombra. Además de un porche, hay una terraza muy soleada la cual ofrece unas espectaculares vistas de la costa. Hay una amplia sala de estar con una zona comedor y una cocina americana. Desde ahí se puede acceder a dos dormitorios, uno de ellos con cama de matrimonio y una litera, el otro dormitorio tiene una cama doble. El cuarto de baño es muy espacioso y tiene una gran ducha con mampara y un bidé. La casa es de reciente construcción, se encuentra en excelentes condiciones, y tiene muchas comodidades. Se admiten animales. Cómo acceder al Inmueble: Se puede acceder a la casa a través de un carril hormigonado en buenas condiciones. . Te va a encantar mi lugar debido a las vistas, la ubicación, el clima, las zonas exteriores, acogedora casa, piscina de agua salada, abundante vegetación..
Vistas a la montaña y al mar, rodeada de árboles tropicales como mangos , aguacates, palmeras, etc
Tipo de Quarto
Casa inteira/apto
---
Tipo de Imóvel
Casa
---
Acomoda
6
---
Quartos
Velez Málaga, Málaga, Espanha
Casa de la Abuela Ana –Casa Ana– is a place full of beauty. The interior of the house has the touch of the Al-Andalus decoration, legated by the arabic culture in our land. Located in the small village of Triana, a privileged place on the coast route between Granada and Malaga, in central Axarquia. And only four kilometres from one of Europes most important Buddhist Retreat Centers, Karma Guen.
A WORLD OF SENSATIONS. In La Casa de la Abuela Ana we take care of every detail for your confort. It's charming decoration is inspired in the Al-Andalus period. It is fully furnished and equiped for your accomodation so you can spend a wonderful holiday. La Casa de la Abuela Ana is in the unique tropical area of Malaga named Axarquia. Within a short drive by car, you can enjoy the seaside, the mountains or very attractive cities as Granada or Malaga. The local cuisine is known for its quality and cheap prices. AN AL-ANDALUS STYLE HOME. La Casa de la Abuela Ana (Grandmother Ana's House, in Spanish) is a place full of beauty. The interior of the house has the touch of the Al-Andalus decoration, legated by the arabic culture in our land. Flooring, tile and furnitures have been elaborated in the tradicional way. This is how houses used to be in the ancient Axarquia county of the Nasri Kingdom of Granada.
YOUR HOUSE IN THE HEART OF THE AXARQUIA. La Casa de la Abuela Ana is in the small village of Triana (800 inhabitants). This is a privileged place on the coast route between Granada and Malaga, in central Axarquia. An ideal location to travel to unique and charming places. Axarquia is known for its mediterranean and subtropical microclimate. It is, likely, the place with the best climate in Europe and this allows it's inhabitants to enjoy more than 300 sunny days every year. La Casa de la Abuela Ana is in the heart of Axarquia, surrounded by tropical plantations of mangos and avocados and scattered by palm trees. VISIT THE SORROUNDINGS. Travel the roads and trails to discover the landscapes fabulous contrasts. You can enjoy valleys and mountains, clear-watered beaches and pristine coves. Perfect to spend a day in nature. In a range of 25 miles from Triana, you'll reach the most spectacular White Villages of Axarquia: Competa, Nerja, Frigiliana, Comares… These villages are a must-see! Experience their beauty, cuisine and local products and crafts. By car you can enjoy the most precious Andalusian cities. Only 60 miles away is Granada, with the Alhambra, one of the seven Wonders of the World, the bewitched neighborhood of the Albaicin and Sierra Nevada. Only 30 miles away is Malaga with the Alcazaba, the roman theater or the Museum and the birthplace House of Picasso.
The house was easy to find and looks just like the pictures. The rooftop terrace is absolutely amazing. The woman who takes care of the house is so sweet and helpful and her son speaks English very well. Biggest thing was that it smelled slightly of cigarette smoke but we came right after other guests checked out. Also the village can be loud in the evening/at night so if you're a light sleeper you may have some trouble. The house itself was amazing!
Molly
2015-08-18T00:00:00Z
Das Haus ist wie auf den Bildern beschrieben, sehr gemütlich und liebevoll eingerichtet. Die Dachterrasse ist herrlich und hat einen schönen Blick in die Landschaft. Bis zum Meer ist es nicht weit, man braucht allerdings ein Auto. Wir waren zu sechst und haben uns hier sehr wohl gefühlt. Der Kontakt zu Andres war total unkompliziert und freundlich. Vor Ort war die Housekeeperin Susanna für uns verantwortlich und hat sich sehr nett gekümmert. Wir kommen gerne wieder.
Christiane
2016-10-16T00:00:00Z
A nice, clean and cosy apartment and a beautifull view from the terrace. Especially thanks to the neighbours Susana and Marcos for their friendly welcome on first Christmas day!
Lindy
2016-01-03T00:00:00Z
La Casa Abuela Ana es muy acogedora. Dentro del propio pueblecito, dispone dispone de tres habitaciones con camas amplias y dos cuartos de baño con ducha. Esta muy bien equipada. Aire acondicionado en toda la casa Frío-Calor. Un televisor moderno. Cocina en americana pero bien equipada. Un sitio muy agradable para pasar unos días cerca del campo con la familia.
Eduardo
2016-03-01T00:00:00Z
La casa esta muy bien en general,muy bien decorada,acogedora y con todos los servicios en una aldea perfecta para desconectar.
Sandra
2015-03-02T00:00:00Z
Отдыхали в этом чудесном доме большой семьей в марте. Хочется сказать слова благодарности хозяину и его помощнице Сюзанне. Дом прекрасен. Он уникален. В нем есть стиль и шарм. При этом - все сделано с любовью и максимальны удобством: чисто, просторно, комфортно. Горячая вода была всегда, для марта - достаточно тепло. В кухне все приспособлено для семейных обедов. На террасе замечательно загорать днем и ужинать вечером. Триана - маленькая деревня, где по утрам поют петухи. Рядом - магазин, где есть все необходимое.
елена
2016-03-15T00:00:00Z
Andres hat uns telefonisch zum Zielort gelotst, weil wir mit dem Auto aus Deutschland angereist sind. Dafür lieben herzlichen Dank. Darüber hinaus haben Suzanna und Ihr Sohn Marcos uns alle erdenkliche Hilfe geleistet, da unser spanisch noch sehr dürftig ist. Das Haus selber ist viel authentischer als auf den Fotos und so wie man es sich im "wahren" Andalusien vorstellt. Vor allem das Grillen abends auf der Terrasse ist phänomenal. Die Nachbarn sind einzigartig. Wir haben die Flamencoabende mit den Nachbarn genossen und vermissen diese jetzt schon. Die Sauberkeit des Hauses ist top. Für Familien mit Kindern ist das zwei Minuten entfernte Schwimmbad ein Traum. Das ist wirklich ein gepflegtes und wunderschönes 25- meter Schwimmbad mit schon fast familiärer Atmosphäre. Das Meer ist mit dem Auto 10-15 min. entfernt. Malaga selber 30 km und über die Autobahn schnell zu erreichen. Wir werden nächstes Jahr bestimmt wiedekommen!!
Cüneyt
2015-08-09T00:00:00Z
Todo correcto, la casa tiene una decoración muy cuidada y original, el entorno es muy tranquilo y te permite moverte por la zona y encontrar lo que busques sin dificultad.
SANTIAGO
2016-06-28T00:00:00Z
Tipo de Quarto
Casa inteira/apto
---
Tipo de Imóvel
Casa
---
Acomoda
8
---
Quartos
Vélez-Málaga, Andaluzia, Espanha
la villa está recién reformada, todos las habitaciones con nuevo mobiliario, cocina totalmente amueblada, tv, piscina... Está ubicada en un paraje natural con un rio al lado. Ideal para recorridos en bici.
Esta casa es la mejor opción si lo que estás buscando es desconectar. La casa está totalmente reformada y cuenta con todas las comodidades. Un 10, sin duda. El entorno es increíble. Y Vicente, su propietario, a nuestra disposición. Si lo que estás buscando es descansar, leer un buen libro, comer al aire libre y refrescarte en la piscina: no lo pienses, esta es tu casa. El año que viene repetimos!
Bárbara
2015-08-26T00:00:00Z
Ha sido una experiencia genial, Vicente ha sido muy amable y atento, nos ha ayudado mucho. La casa era mejor de lo que me esperaba. Buena ubicación, amplía y en buenas condiciones. Repetiría sin duda en el futuro si vuelvo a Málaga.
reduan
2015-08-23T00:00:00Z
Tipo de Quarto
Casa inteira/apto
---
Tipo de Imóvel
Casa de campo
---
Acomoda
7
---
Quartos
Benamargosa, Andalucía, Espanha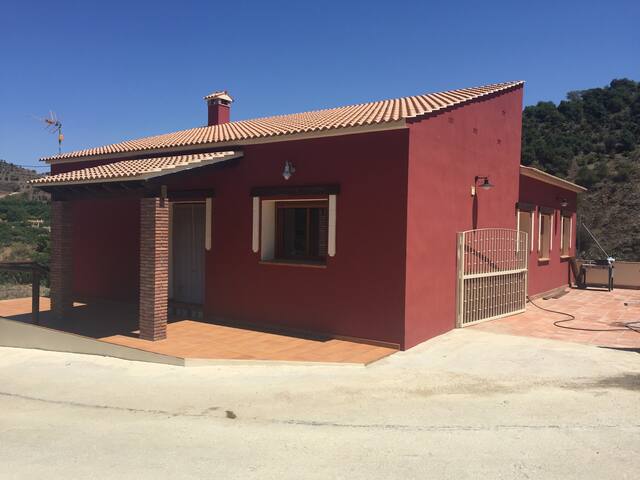 Beautiful villa with breathtaking views of the sea and surrounding hills. Completely renovated with 4 bedrooms and 3 bathrooms, open living room with lounge and dining area and fully equipped kitchen with breakfast terrace. Large pool (8x4) with outdoor shower surrounded by sun terrace with lounge area and barbecue area. Ideal for people and families who enjoy the tranquility, beautiful scenery and beautiful Andalucia.
Casa Almendras is a beautiful villa, rural location in Benamargosa about 1.5 km from the village. The house offers breathtaking views of the sea and the surrounding hills are dotted with almond, mango and advocadobomen. The newly renovated villa has 4 bedrooms and 3 bathrooms. 2 bedrooms have a queen bed (160x200) and each have an ensuite bathroom with shower. The other two bedrooms each have two single beds and a shared bathroom with bath and shower. Bed linen and towels are provided. Casa Almendras has a fully equipped kitchen with washing machine. The kitchen opens onto a terrace where you can have breakfast with beautiful views of the surrounding nature. In the bright and open living room is a sitting area with sofa bed, fireplace and smart TV and a dining area. Wi-Fi is present. Around the large pool (8x4) with outdoor shower is a spacious sun terrace with stunning views. There is also a shaded relaxation corner and a barbecue area. Casa Almendras takes its name from the many almond trees in the 6000m² large property. The house is very private. In the village of Benamargosa are several bars and restaurants. There is a large supermarket with butcher's and a bank. Casa Almendras is the ideal place to fully unwind or use as a base to explore the many beautiful sights of Andalusia. We rent this house only for the first year and therefore offer very attractive rates.
The house is beautifully situated on a hill between the almond, mango and advocadobomen and offers breathtaking views of the sea and the surrounding hills.
Tipo de Quarto
Casa inteira/apto
---
Tipo de Imóvel
Casa de campo
---
Acomoda
10
---
Quartos
Benamargosa, Andalucía, Espanha
Welcome at Holiday Villa "Aventurero"Between the beautiful, peaceful hills of Axarquia, only 17 kilometers from the lively coastal town Torre del Mar, you will find the magnificent Holiday Villa "Aventurero".
Between the beautiful, quiet hills of Axarquia, only 22 kilometres from the lively coastal town Torre del Mar, you will find the magnificent Holiday Villa "Aventurero". The Holiday Villa "Aventurero" has an unique location with a splendid view over the lake and the valley of Viñuela and the mountains of Sierra Tejeda. When the skies are clear, you can even get a glimpse of the mountains of Sierra de Alhama. One of the largest mountain peaks, "La Maromoa" is 2014 meters high. During the winter "La Maromoa" is covered in snow, which is a wonderful view. Because of the quiet location, you will have a great sense of complete freedom. This, together with the variety of views will be an escape from your busy everyday live. It is not without reason that the villa is called "Aventurero" which means adventurer. The magnificent Moresque villa is surrounded by vineyards and almond trees. Downhill you will find pomegranate trees alongside a small stream. The centuries old olive tree offers a comfortably shade during the hottest period of the day for a moment of relaxation. Also from the terrace you have a beautiful view of the surroundings. The solar-heated private pool offers cooling in summer and relax until late autumn. THE VILLA This lovely detached, ground floor villa offers accommodation for 6 persons. The villa has a floor surface of 109 square metres. The total property is 5550 square metres of which 1200 square metres is flat surface. The swimming pool is attached to the terrace by a tile path. All accommodations are accessible by wheelchair. The large terrace, 75 square metres, is covered by a pergola and has a brick barbecue. The terrace and swimming pool are furnished with comfortable sitting and lounge chairs. The property also has private parking space for three cars. The well furnished villa is new and comfortable. It has a terracotta flagstone floor, which is extended to the terrace. The whole villa is equipped with under floor heating, central heating and air conditioning. In the cosy living room there are two sofa's, an armchair and a TV with satellite dish (astra). The living room has four sliding doors to the large terrace. The open kitchen is equipped with a dishwasher, a four-pit ceramic stove, a microwave, a hot air oven and a combined fridge. The dining table has six chairs. In de kitchen extension you will find a washing machine and an extra freezer. The villa has three spacious bedrooms. Two of the rooms have two single beds each. These bedrooms have a common bathroom with a shower and hand basin. The third bedroom has a double bed and bathroom attached. This bathroom has two hand basins, a bathtub and a toilet. All bedrooms have spacious wardrobes and comfortable beds. Measurements: Living room: 7,1 x 4,6 m. Kitchen: 4,7 x 3,5 m. Bed rooms: 3,4 x 3,0 m for the smaller rooms and 3,9 x 3,4 m for the bigger room. Swimming pool: 8,0 x 4,0 m, depth: from 1,2 to 1,8 m.
Surrounding area of Holiday Villa "Aventurero". Nearby is an old farmer's village, Los Romanes (1.5km.), which has retained all of its charm and loveliness. You will find an antique olive oil factory with old implements there, as well as two chapels: one for the holy Milagrosa and one for the Mother of Sorrow. Los Romanes and the village La Viñuela (5 km.) have several supermarkets and restaurants. At a short distance from the Holiday Villa "Aventurero" you will find a Hindu restaurant (1 km). You can easily reach this walking. The village of Alcaucin (14 km.) is worth visiting as well. It is as if time stood still in this village. The authentic old houses seem to stick to the steep mountainside and the narrow streets lead to a sunny village centre where the residents still collect water from a clear-water spring. The village square has cozy little restaurants and terraces. The town Velez-Malaga (15 km.) is a typical Andalusian town with narrow streets, passageways, impressive squares and a beautiful promenade with ancient plane trees and large fountains. There are many little shops and outside the town there are large supermarkets which offer almost everything you could ask for. The supermarkets are easy to reach by car. Along the coast you will find Torre del Mar (17 km.), with its numerous terraces and restaurants. The boulevard contains a wonderful park over a length of 4.5 km. Torre del Mar also has a busy nightlife. Along the beaches of Torre del Mar you can find various excellent fish restaurants, where you can enjoy freshly caught fish. The dishes will be prepared for you on the spot, using authentic methods. We also advise you to take a coastal tour to the medieval fishing village Nerja (41 km.), one of the most beautiful coastal villages in the world. In the village centre only pedestrians are allowed, but you can easily park your car in the parking area nearby the boulevard. Nerja's boulevard leads into the sea as if it were a balcony, which is why it is often called "The Balcony of Europe". From this balcony you can enjoy marvellous views over the ocean. You will also find the famous caves of Nerja interesting, because these caves are used as a theatre. Many well-known musicals and festivals have taken place there. Please clic here for more information. Visiting Granada 120 km. will prove to be a highlight of your stay. Granada is world-famous for the Alhambra palace and the beautiful water gardens. For more information please clic here. The 3485 meters high Sierra Nevada mountains have an Olympic ski resort, which is open from November to May. It can be reached by car in approximately two hours. Make sure to book your ski's and snowboards in time! During the summer you can make the most adventurous mountain hikes, passing by the white Moresque villages. Please clic here for more information. Lastly, Malaga (51 km.) is a large city with an international air- and sea port. It is an amazing city for shopping and has many high-grade fashion shops and beautiful boutiques.
La casa es muy bonita, bien conservada y con unas vistas impresionantes al pantano de la Viñuela. Tiene chimenea , cocina amplia y las habitaciones amplias y equipadas. Es muy luminosa y tiene barbacoa exterior . Repetiré en verano si puede ser. Le falta una valla perímetral porque no es apta para niños pequeños, hay cerca un desnivel importante.
Francisco
2016-01-05T00:00:00Z
A great house with a great location. Everything you need for a comfortable stay. Outdoor facilities are superb. The road to the house is quite steep but negotiable in a normal car. Located between wine and olives. Very private.
Christian
2016-10-19T00:00:00Z
Stunning Property with amazing views. Tucked away at the top of a long and winding road which takes you away from any hustle and bustle. We spent a very relaxing 5 days here.
Nick
2016-06-01T00:00:00Z
C'est une magnifique Villa avec une vue splendide. Vous y trouverez calme et repos. Le logement est clean, bien équipé et possède l'air conditionné. Cela est très important lorsque vous vous retrouvez dans un pays aussi chaud. Je craignait beaucoup la sécurité avant d'y aller mais personne n'est venu nous déranger. L'hôte est très accueillant et répond directement aux questions si besoin. Le seul inconvénient c'est la route qui donne accès à la villa, c'est une route de campagne abrupte mais rien de bien dramatique pour quelqu'un qui gère son démarrage en pente ;). Je suis une fille et je suis très bien arrivé à prendre cette route ;) je vous conseille vivement de vous rendre à cette Villa j'en garde un magnifique souvenir.
Houria
2016-09-12T00:00:00Z
Tipo de Quarto
Casa inteira/apto
---
Tipo de Imóvel
Casa de campo
---
Acomoda
8
---
Quartos
Los Romanes, Andaluzia, Espanha
Insira as datas para ver o preço total. Taxas adicionais aplicáveis. Podem ser adicionados impostos.