"Cabin 36" is cute, clean, cozy and fully separate home conveniently located just .83 miles off I-5 and 3 mi from downtown. It is in a residential area and has old fashioned charm. Has a private back yard, owners live next door.
The cabin is a cute and petite urban cabin around 600 square feet, with two small bedrooms, a living room, bathroom and kitchen. It is called "the cabin" because in 1905 it was a lone cabin on this hill, of course now there is a residential neighborhood built around it but it has kept it's old fashioned charm with high ceilings and original cabinets. It has been given a lot of love over the years so is well cared for, clean, and extremely cozy. There is a good queen bed in one bedroom (yes, it takes up a lot of the space but is very comfy) and a futon in the other bedroom that folds up into a small couch or down to full size bed (perhaps best for kids although our Japanese guests say it feels just like home). There is a desk in the second bedroom so it can also function well as an office space as there is free high speed secure wifi at the Bungalow. There is a flat screen TV, DVD player, and wii game console with games for families. The TV is not connected to cable but gets wifi and is signed in to our netflix account for movie and series watching. The kitchen is fully furnished with dishes, cooking utensils, range, fridge, dishwasher, and dining table as well as plenty of spices and condiments. The Bungalow sits on a large lot with plenty of parking for 2+ vehicles along street and large unfenced yard space, as well as a nice front porch with BBQ, table and chairs and some backyard chairs for relaxing in the sun.
This neighborhood is in transition, it used to be one of the lower priced neighborhoods in the area but with the prices in Seattle skyrocketing we are getting many new homeowners and investors coming in. Most of the houses are cute and well cared for, some, (especially closer to the freeway) are not as well cared for, and many are under renovation, or up for sale... It's an eclectic little residential hill with a number of homeowners and a few rentals (but no apartment buildings) and houses range from big turn of the century craftsmen to this little 1905 cabin with everything in between. The residents also come from every corner of the globe so no one feels out of place here. We live in the house next door and we love it here and are glad to be part of the revitalization of this old Tacoma neighborhood. In terms of crime, despite Tacoma's sometimes bad reputation and homelessness issues throughout the Puget Sound area, (especially near the freeways), here on the hill we are not a target for thieves or vagrants (perhaps due to being on a hill that no one cares to walk up) so it stays safe and quiet here year round. (Except the 4th of July when it is very noisy here, as fireworks are legal on this hill!) There is a casino near the freeway entrance so sometimes you can catch bits of concerts from old 80's bands if you are outside some summer evenings but it is not loud and ends by 10. It is completely residential so having a car is a must, but It is a short drive to the freeway, freighthouse square,Tacoma dome, and downtown.
Loved all the amenities provided here - various coffee options (including a coffee pot and French press!), bagels, cereal, canned items, and I especially appreciated the sulfate-free, paraben-free shampoo and handsoap. Cute, cozy place that I would stay at again. Jeneva was great at communicating, even cautioning us hours before arrival to watch out for possible black ice on the road (it was a very cold weekend!). Thanks a lot Jeneva!
Michelle
2015-12-01T00:00:00Z
Loved our time at Jeneva's cottage - so glad we extended our stay!
Julie
2016-07-12T00:00:00Z
Her little home was wonderful, though my stay was only for a night. 3 of my friends stayed an extra night and had nothing but good things to say. The house had personality, snacks, cautious of allergens and had notes posted about the homes' history.
Krystal
2016-06-23T00:00:00Z
Jeneva is an excellent host and she was able to get me and my crew a last minute reservation. I loved how well maintained her Cabin is, and the cozy feel to it. My one stop shop for business gatherings.
Dionte
2016-11-28T00:00:00Z
Jeneva was a great host. The cabin is in a great location close to the Tacoma Dome and I-5. Cozy, clean, and very comfortable. There was a very handy guide on the coffee table of places near the cabin in Tacoma that are worth checking out. We went to two of them over the weekend and were very impressed. Would definitely recommend the cabin, and would stay there the next time we are in Tacoma.
Nick
2016-02-07T00:00:00Z
This was such a lovely home, and what really took it over the top is Jeneva. She knew we were gluten free, chemical free, dairy free and she catered to all of our needs. She's exceptionally friendly and her kindness made our stay so easy and such a wonderful experience. She had stuff in the fridge for us, board games and puzzles for the kids, Internet and net flix for entertainment. We had a long stay so the washer and dryer were excellent to have available in the house. The house itself was very clean, every nook and cranny was spotless. Jeneva is a very hospitable person. The neighborhood was quiet and clean. And having Jeneva and her family next door was a real plus. Jeneva went out of her way to ensure my kids had a Christmas tree and lights, as they have never seen that before. She went out of her way in so many aspects. Jeneva's home was and is a home away from home. We have booked it again for a few weeks and we're looking forward to it. Love this place and the owners!
Jeni
2015-12-17T00:00:00Z
Jeneva is awesome. She was great, she knew I wanted to do thing ls in Seattle and pointed out that it was a 40 minute drive. She also made sure that there was milk in the fridge and she had everything that I would need for anything. I felt at home and relaxed. Thank you☺
Tara
2016-11-08T00:00:00Z
The cabin was perfect, it looked just like the photos. The neighborhood felt safe to me. Jeneva lives close by, is awesome at answering questions, and helping out when you need her. She was a great host for my first Airbnb experience and was easily accessible by phone. Would book with her again!
Emily
2016-11-01T00:00:00Z
Tipo de Quarto
Casa inteira/apto
---
Tipo de Imóvel
Bungalow
---
Acomoda
4
---
Quartos
Tacoma, Washington, Estados Unidos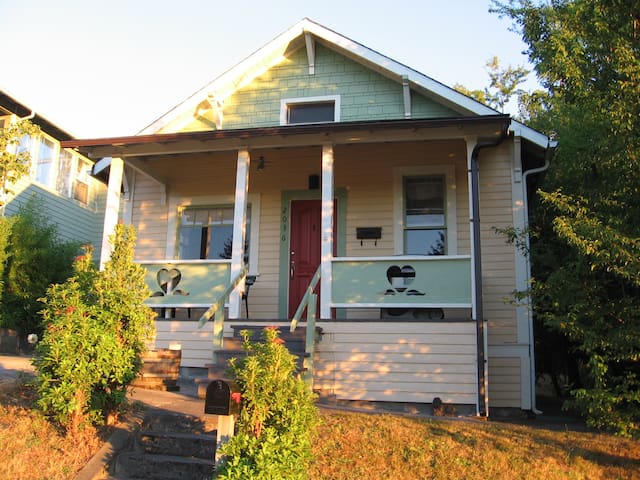 Bright and comfortable apartment located on a quiet street in a residential neighborhood, yet a 5 minute drive to the Tacoma Dome and downtown Tacoma. Very close access to I-5.
Awesome place to stay I would definitely go there again!!
Raul
2016-09-18T00:00:00Z
This little apartment was perfect for my 5 night stay in Tacoma. Super clean,unbelievably quiet- and close to everything. Really good value.. Looking forward to when I stay again in 2 weeks!
Gayle
2016-07-16T00:00:00Z
This was the perfect spot to rest while traveling back from a weekend trip to Seattle from Portland. Tons of parking. VERY quiet street. Easy check in and out. Space was very clean, comfortable and private. Also, very close to I-5 and easy to find. Thank You!
Melina
2016-03-20T00:00:00Z
Lorne and Morgan were very easy to work with and made my stay a pleasure. The apartment over the garage was clean and inviting. The bed rivaled my bed at home and I slept well.
Chuck and Judy
2015-03-26T00:00:00Z
Lorne and Morgan's place was the perfect spot for my mom and I to stay on our trip to the Pacific Northwest. It was cozy and private and easily accessible. We never did meet Lorne and Morgan (maybe next time!!) but loved our stay. It was my mom's first experience with AirBnb and she wasn't disappointed. I will definitely try to come stay again if I'm ever back in the area!
Victoria
2016-10-11T00:00:00Z
Lorne and Morgan were excellent hosts! Morgan was very friendly in our correspondence back and forth, she was quick to respond too! The place was very clean and accomodating. We're very grateful we were able to find their home last minute!!
Xiomara
2016-08-12T00:00:00Z
We enjoyed our stay here. The apartment is as the photos show. We arrived to Tacoma late so appreciated the private entrance. The bed was very comfy! The curtains dont block out much light but we didnt mind as we wanted an early start. Lovely place!
Christine
2015-04-03T00:00:00Z
This little studio was extremely clean, convenient, and affordable. The hosts were available to communicate electronically, and I'm sure if I would have had request, they could have helped in no time, as they live in the main house. I unfortunately had to visit when I was ill, but the quiet and comfortable environment made the experience a bit easier. The bed is comfortable, the location close to different sights and restaurants, and the set-up private. The description is accurate; if you don't mind not having a full kitchen or shower (only bath), I would recommend staying here.
Holly
2016-05-14T00:00:00Z
Tipo de Quarto
Casa inteira/apto
---
Tipo de Imóvel
Apartamento
---
Acomoda
2
---
Quartos
Tacoma, Washington, Estados Unidos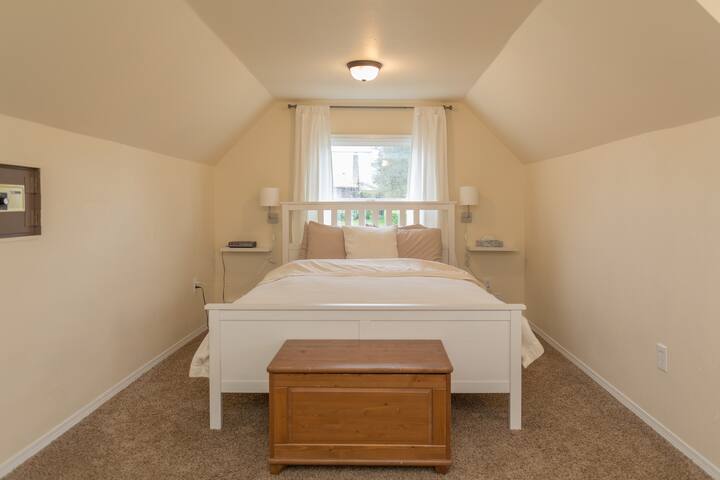 A large cozy den with private entrance located and just minutes to freeways, parks and restaurants and Chambers Bay. Amenities include, free Amazon prime movies, private bathroom, microwave, countertop oven, refrigerator, treadmill.
Private entrance, space to cook, comfortable queen bed and Queen, futon and beautiful room divider.
This was our second stay at Leon's place and our experience was every bit as good as our first. We would gladly stay again.
David
2017-03-26T00:00:00Z
An incredible surprise for us when we first walked in. Pictures don't show just how wonderful it really is. Super comfortable, spacious & private. Everything needed to feel cozy.
Michelle
2016-12-03T00:00:00Z
It's a great setup, comfortable and quiet. We definitely enjoyed our short visit there.
Taylor
2017-02-26T00:00:00Z
Great place to stay! I would stay again. Thank you Leon!
Anthony
2016-12-17T00:00:00Z
As noted in my previous comment my wife and I are looking forward to our 3rd stay at Resort Leon, as we call it now.
Antonio
2016-12-30T00:00:00Z
It was a great place! The bed was VERY comfortable and the room was spacious. Entry and exit was very easy. The place was nice and quiet, no disturbing sounds at all.
Mike
2016-12-09T00:00:00Z
Highly recommend! Very clean, comfortable, & nice. Leon was very quick to respond to any questions. Would definitely stay again if in the area!
Khristin
2017-02-12T00:00:00Z
Leon's place makes you want to leave your shoes at the door... Not only is it immaculate, there's a distinct sense of peace and calm once you enter his little oasis in the city. It's a wonderful spot for a weekend getaway and is well equipped for longer stays. He even includes organic/healthy snacks and water, coffee, tea and juices in the kitchenette, and organic/hypoallergenic products in the bathroom. Leon also includes very detailed instructions for entering/leaving and using his lovely little rental, and is incredibly quick to respond to any questions you might have. We loved our night there and are already planning our next stay!
Jenna
2016-12-25T00:00:00Z
Tipo de Quarto
Quarto privado
---
Tipo de Imóvel
Casa
---
Acomoda
2
---
Quartos
Tacoma, Washington, Estados Unidos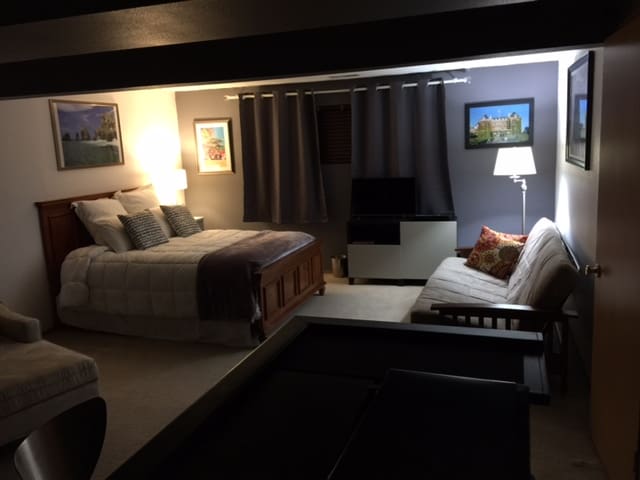 Three story Craftsman in the heart of downtown Tacoma. Convenient, free parking. Dining options and grocery store within walking distance. Gym, Convention Center, museums, and waterfront within 1 mile. Transit center within 2 miles allowing access to Seattle and Olympia. King bed in a large room. Laid back host!
Hardwood throughout, fenced in yard for your small pet, gourmet kitchen, high ceilings, king bed, close access to bathroom, surround sound for you music lovers, smart tv in living room with access to wireless printer.
My neighbors look out for each other and are quite polite and quiet. Many have been in the neighborhood for upwards of 20 years and they are very respectful and hospitable. My home is within walking distance to grocery stores, restaurants, bars, the convention center, and the light rail. Public transportation is easily accessible. Parking is streetside however there is a free parking lot one block away should you have multiple cars. St. Joseph hospital is only 5 blocks away.
Location great, beautiful simple home, bed very comfortable and Karina is great. I definitely hope to stay here again on my next trip to Tacoma!
Julie
2017-03-06T00:00:00Z
Cute home in good location next to down town Tacoma. Easy access to the freeway and very close to many shops and eateries. Would stay there again. Karina is a wonderful host!
Richard
2017-03-27T00:00:00Z
Karina is a natural Airbnb host and took great pains to make me feel welcome and at home. Her home is clean, uncluttered and easy to navigate. The location was only four blocks from my work location and is centrally located with nearly anything you could want (restaurants, stores, gas, grocery stores, etc.) within a 10 minute drive. I had an awesome stay!
Tim
2017-03-19T00:00:00Z
Loved the huge bed! :)
Noreen
2017-04-01T00:00:00Z
This was our first airbnb experience.... We were actually moving from our home just nearby in Lakewood for a three year tour to Japan. I hope she has not ruined us because she was a wonderful host, made us feel at home, which for us and our first airbnb stay, I thought would be hard to relax and get comfortable taking care of all our last minute errands... but Karina not only gave us a place to do that, she made us feel at home even though we were in the process of leaving Washington which we called home for the past ten years. I can't believe that this is the standard of all Airbnb's but We will do it again because of our first experience. Thank you Karina.
William
2017-04-08T00:00:00Z
The location is excellent, 5min drive to Convention Center 10 min to the mall and close to public transportation. Karina is a very friendly and responsive host. I'll definitely give my recommendation for this place.
Echo
2017-03-12T00:00:00Z
Tipo de Quarto
Quarto privado
---
Tipo de Imóvel
Casa
---
Acomoda
2
---
Quartos
Tacoma, Washington, Estados Unidos
This cozy home-away-from-home is close to Downtown Tacoma, UPS, UW-Tacoma, Tacoma General Hospital, St. Francis Hospital, Mary Bridge Children's Hospital, Stadium HS and lots more. The central location, and very comfortable studio will help you remember your trip to Tacoma as a perfect getaway! There's a nice little peek-a-boo view of the water, too. Perfect for couples, solo adventurers, and business travelers.
You'll love this comfortable studio! It is spacious and bright, and has all the essentials for staying for a just day or an extended stay. Beautiful wood floors, luxurious Stearnes & Foster bed, soft linens and high quality finishes is just what you need for a lovely stay. The studio is not set up for small children.
The neighborhood is lively with awesome places to eat, a nearby grocery store and a local high school very nearby--all within walking distance. The building is very quiet and will be like an oasis when you stay. Lots of gorgeous homes to walk around and admire while you're spending time enjoying the area.
The host sent a warm and inviting email making me feel at home even before I arrived. The description was accurate and the location was beautiful. The building is situated in a very lovely neighborhood with charming restaurants and coffee shops accessible by foot. The nearby water view is stunning. The attention to detail in the unit revealed thoughtful reflection of what a guest would enjoy most-- from beautiful glassware to locally famous coffee and cups, bowls of treats, cozy bedding, and sumptuous robes. Making wine available for a small fee added a welcoming touch. The decor was tastefully appointed –an eclectic mix of comfortable, artistic and inspiring furnishings. I found it very refreshing and will take some of these ideas into my own home. I would definitely return and would enthusiastically encourage others to stay here!
Monika
2016-10-20T00:00:00Z
This is without question the best Airbnb I've had, including those over $200. Dana puts a ton of effort into making this space perfect for guests. Exceptionally clean (even the shower liner looked brand new), perfect location, quiet and private, tons of amenities and extras that helped make our stay easy and relaxing. Excellent experience and excellent host!
Melissa
2017-03-12T00:00:00Z
I decided to find an Airbnb in Tacoma rather than stay at the "conference hotel" near the convention center and am so glad I did. Dana's studio apartment was just what I needed to retreat to after a day of meetings and socializing. And the walk to and from the convention center meant I was able to get in some exercise every day. Dana really has thought of providing everything you might need. While I did minor cooking, the kitchen provided all the utensils one would need to prepare full meals. The breakfast items provided were more than sufficient for my four-night stay. The commercial district a block away has a nice selection of restaurants, a well stocked grocery store and coffee shops. I highly recommend staying here and I look forward to returning the next time I am in Tacoma.
George
2017-02-26T00:00:00Z
Shh. This place is awesome. Quite. Comfortable. Clean.
Tom
2016-10-22T00:00:00Z
I had a wonderful stay at this gem of a place! Dana & Lance have attended to every detail- bath robes in the bathroom, breakfast & coffee essentials, and stylish decor. The bed is one of the most comfortable I've slept in! The condo is central to everything and the neighborhood is great for walks. I would love to stay again!
Vasanti
2016-11-09T00:00:00Z
I had a wonderful stay. This is a charming 1920s apartment. Light-filled and stylish. The place was spotlessly clean. Comfortable bed. Hosts were wonderful: accommodating, great communication. Easy as pie to get in and out. They thought of many nice extras and had decorated for the holidays. Would love to stay here again. Highly recommend.
Rachel
2016-12-16T00:00:00Z
We were very happy with the studio, its stylish comfort and cleanliness, and the owners friendliness during the booking process. Our thanks to them. I would love to stay there again. Thumbs up!
Jan
2016-11-14T00:00:00Z
The studio was just as described! Very nicely decorated, clean and comfortable. I loved my stay here and will be staying here again.
annie
2016-11-22T00:00:00Z
Tipo de Quarto
Casa inteira/apto
---
Tipo de Imóvel
Condomínio
---
Acomoda
2
---
Quartos
Tacoma, Washington, Estados Unidos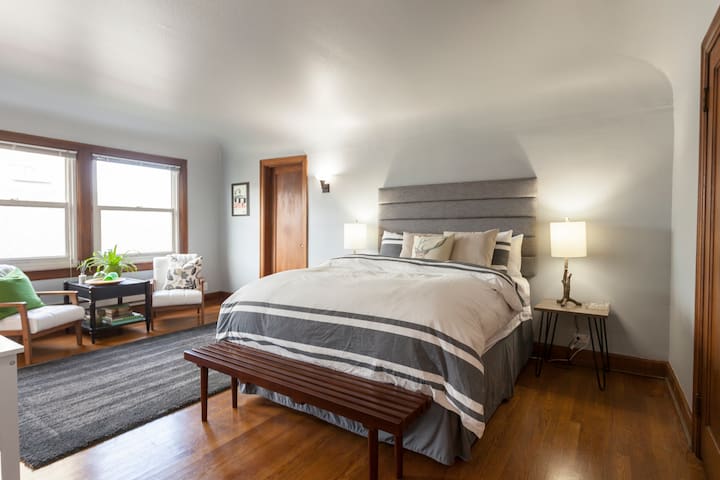 The Milo Room is perfect for traveling nurses, prospective UPS students and teachers, events at the Tacoma Dome, or those simply stopping in Tacoma while taking in the Pacific Northwest!
Welcome to the Balay ni Clarence, a 3 bedroom, 2 bath, 1921 Craftsman home in Tacoma's historic North End. Our home is nestled on a quiet side street just a short 10 minute walk to the University of the Puget Sound (UPS) and local shops and restaurants (see our guidebook). The Milo Room is located on the second floor, has a queen size bed (new Leesa mattress), deluxe linens, all-season comforter, four pillows, towels, bedroom slippers, a bath robe, basic toiletries, a closet, dresser, luggage rack, television with Netflix, Amazon Prime (feel free to use the HDMI cable on your laptop if you'd like) high-speed wireless internet, and a small laptop table and chair if you want to work in the privacy of your room. Help yourself to our kitchen that is loaded with coffee, tea, fruits and snacks, cereal and oatmeal, or join us for a meal and tell us how your trip is going. If you need to do a refit during your journey, feel free to use our washer and dryer. We also provide an iron and ironing board for that special occasion or job interview. We also have a wireless scanner/printer and some office supplies you're welcome to use.
We've fallen in love with this historic neighborhood in the 'City of Destiny." At our fingertips, we have access to artisan coffee shops and roasters, restaurants, breweries, schools (University of Puget Sound, University of Washington - Tacoma, Evergreen College, Bates Technical College, and Annie Wright Boarding School), museums, and the 6th Avenue nightlife.
The house was wonderfully charming, perfectly located, immaculate. The hosts are accomadating and kind. The bed was very comfortable and the room had all the comforts of home! Thank you for an amazing stay
Jamie
2017-04-04T00:00:00Z
We had a wonderful night's rest after a warm welcome from Clarence and Richard. The home is located in a very charming with cafe's in easy driving distance. We definitely would stay again and highly recommend it.
Trisha
2017-04-02T00:00:00Z
Richard and Clarence are awesome! they were very welcoming and friendly and generous. the home was clean and spotless. the area was safe and peaceful. I highly recommend anyone to them
Ali
2017-04-06T00:00:00Z
Tipo de Quarto
Quarto privado
---
Tipo de Imóvel
Casa
---
Acomoda
2
---
Quartos
Tacoma, Washington, Estados Unidos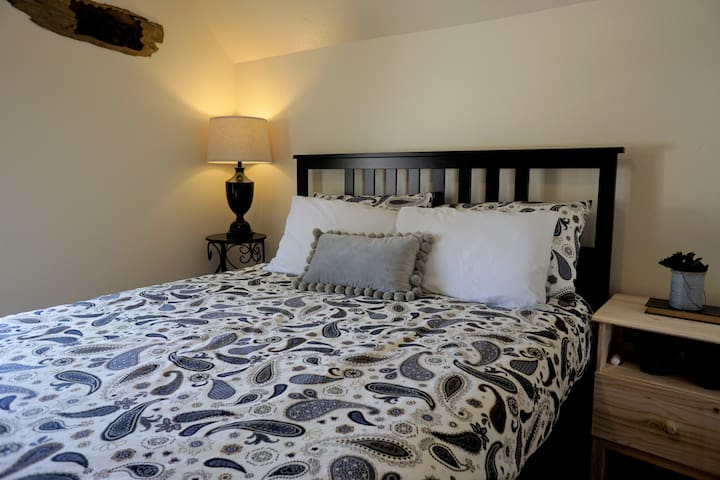 EXCELENTE LOCALIZAÇÃO! Inclui café da manhã! Nossa bela casa fica em North Tacoma. 1 milha da I-5, a curta distância a bancos, supermercados e restaurantes. SeaTac é uma unidade de 40 min. Seattle é a unidade cerca de 1 hora. Ponto de jardim zoológico do desafio & aquário é uma unidade de 5 minutos. Univ of Puget Sound é de 2 milhas de distância. Perto está Schuster Parkway beira-mar com uma caminhada, ciclovias, trilhas, aluguel de barcos, pesca e restaurantes. * FINS DE SEMANA No início do check-in é às 02:00
Temos wi-fi, mini-frigorífico e máquina de café no quarto. Uma cama confortável trenó queen size e espaço no armário com cabides. Uma cadeira confortável para relaxar. Também um espelho de corpo inteiro. Para uma terceira reserva convidado temos um veludo macio colchão de ar superior que está no quarto. A poucos passos do quarto de hóspedes é a sua própria casa de banho privativa com banheira e chuveiro e toalhas e essencial para o seu uso.
Estamos em um bairro calmo seguro, de classe média, com calçadas bem pavimentadas. vizinhos amigáveis.
For being relatively new hosts on AirBNB, Ernie and Lenora seem like pros! They were arguably the best hosts we've had so far! Their house is beautiful, from the great curb appeal, splendid back yard, to the wonderful interior decoration. Lenora greeted us warmly and explained that we had almost free range of their home! The room had many amenities including: a mini fridge stocked with ice, water and juice, Keurig coffee maker, tea, sugar, creamer, mugs and to-go cups, granola bars, and more. There were extra towels, soap, shampoo, conditioner, and other toiletries for the bathroom. I'm probably forgetting many other thoughtful things that they offered, but the point is, they've thought of practically everything! Unlikely, but if ever in the area, we would definitely choose Ernie and Lenora again - highly recommended!
Elise
2016-08-27T00:00:00Z
Lenora is very sweet. She gave me a tour of the house at check-in. The room was very nice, comfortable and clean. She even gave me something for my sore throat! I would definitely use this Airbnb again!
Michaelina
2017-03-18T00:00:00Z
Ernie and Lenora were very friendly and welcoming and had such a beautiful clean home. Definitely recommend!
Kaylee
2017-03-20T00:00:00Z
Ernie & Lenora were very nice and the room is set up great. The bed is very comfortable and they do not live far from a lot. Our uber rides were pretty cheap from their place. My friend and I only stayed a night, but we enjoyed the time we were there.
Haley
2016-09-17T00:00:00Z
These are just the nicest hosts. They can not do enough to make your stay like home. They were our 1st Airbnb experience and we have stayed there three times while visiting family in the area. We would go back in a heartbeat. Thank you both for your hospitality.
Carol
2017-03-27T00:00:00Z
Hosts were very welcoming Beautiful home & lAndscaped yard , comfy bed Even though we were just there one nite, we enjoyed getting acquainted & felt comfortable A quiet and well kept suburban area
kaya
2016-09-05T00:00:00Z
Nice and convenient location for our visit. Lenora and Ernie were very friendly. It was nice to have some breakfast before our departure. We would stay here again.
Mary
2017-04-08T00:00:00Z
Ernie and Lenora were outstanding hosts. They are friendly, respectful, communicate very well, were very flexible with our unusual schedule, and have comfortable accommodations in a beautiful home. The home is walking distance to both fast food and dine-in dining and easy to find. The Keurig and mini-fridge were nice perks in the room. I would stay again if the schedule allows.
Dave
2016-09-12T00:00:00Z
Tipo de Quarto
Quarto privado
---
Tipo de Imóvel
Casa
---
Acomoda
3
---
Quartos
Tacoma, Washington, Estados Unidos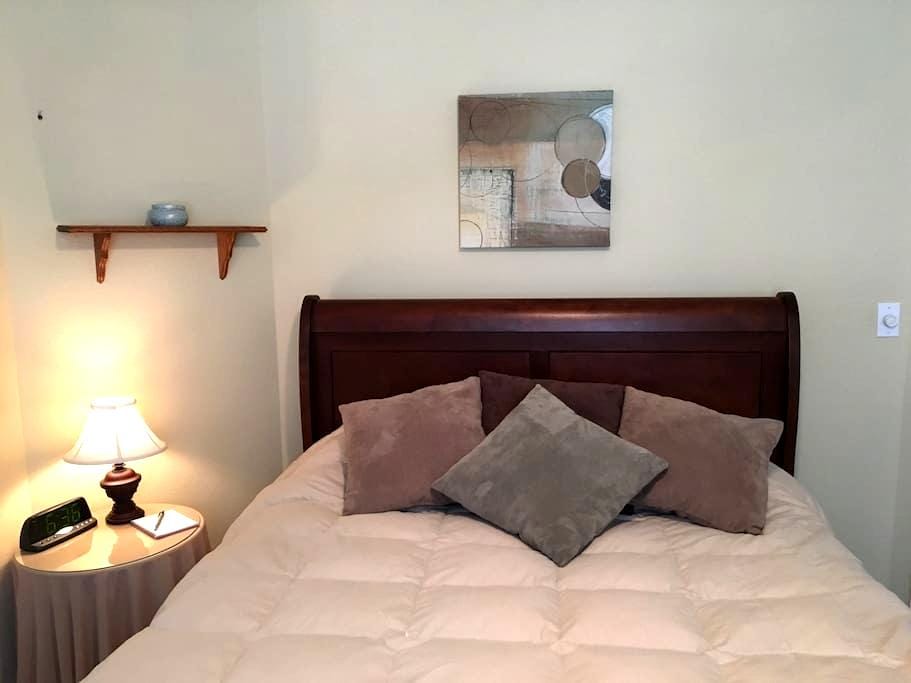 prédio à beira do lago encantador construído em 1903 como um ginásio meninos, convertido em 12 unidades de apartamentos separados na década de 1950. Esta unidade estúdio, com uma área de estar separados por uma cozinha. A unidade está localizada no 3º andar e tem uma vista espectacular sobre o lago.
Originalmente um ginásio para uma escola de rapazes, este encantador complexo de apartamentos 12 unidades, fica em um terreno à beira do lago espaçoso, em um bairro residencial. Esta é no 3º andar, um estúdio para 2 pessoas com 1 casa de banho com chuveiro (sem banheira). Uma pequena sala com vista para o mar e uma cozinha Esta unidade tem uma vista fantástica e todo o conforto de uma casa. Sem elevador. A cozinha totalmente equipada inclui um fogão a gás, torradeira, máquina de café (café, chá, chocolate quente, bebidas frias, como o vinho tinto, cerveja e suco), e um frigorífico. mistura para panquecas e necessidades básicas de cozinha (óleo, algumas especiarias) são fornecidos para sua conveniência. Há um pequeno deck, no 3º andar direito fora da unidade com uma vista incrível. Um pedalinho e canoa verde é fornecido para seu uso. coletes salva-vidas deve ser utilizado. Por favor, lembre-se de amarrar de volta o pedalinho para o cais e deixá-lo limpo e no mesmo lugar que pegar para que os outros hóspedes também podem ter o mesmo prazer. A canoa precisa ser trazido de volta em terra e à esquerda, onde constatada. Todos os outros brinquedos de água pertencem aos nossos inquilinos, por favor, não usá-los.
propriedade lago, cercado por algumas belas casas. A propriedade fica em perto de 1 acre. É um lugar calmo, mas muito perto de restaurantes, lojas e cinema. Fica a uma curta distância de Lakewood Towne Center com restaurantes, cafés, supermercados, cinemas e lojas. 5.1 milhas para curso Chambers Bay Golf 1,67 milhas para Fort Steilacoom Park (um parque de 300 acres) 7,5 milhas a base de Fort Lewis / McChord da Força Aérea. 10.8 milhas para Tacoma Dome, Museu Automóvel da América, o Museum of Glass, e Point Defiance Zoo. 30.2 milhas para o Sea-Tac Airport 42.2 milhas para Seattle 53,8 milhas para Mt. Rainier National Park
A great stay in a newly renovated room !! Communication with Renu was excellent. I was met by Markis and Karen and they took time to show me around the entire property. The room was newly remodeled and very comfortable. The view of the lake out the window is beautiful. The building is currently undergoing renovation, so there was construction debris in the hall. It didn't bother me and I would anticipate they will be done with construction soon. I really enjoyed my stay ... I would definitely stay there again. Thank-you Renu, Markis, and Karen !!
Jay
2017-03-05T00:00:00Z
This was such a beautiful stay for my husband and I and the hospitality was top notch. Absolutely loved it here!!!
Laura
2017-04-01T00:00:00Z
This is a fantastic studio with a homey feel. It is tucked in a quiet area on a beautiful lake with a great view of the lake, feels cozy, is nicely decorated, has a great functional kitchen, a nice bathroom and shower, and all of the essentials in terms of kitchen supplies, cleaning supplies, and linens. The hosts are courteous, gracious, and readily available if needed. You get welcomed with a bottle of wine, good beer, and snacks. This is a place that we would definitely stay at again.
Derek
2017-03-25T00:00:00Z
Great place wish I could of stayed longer.
Jayson
2017-03-02T00:00:00Z
Great Place. Quiet, on a beautiful lake, near to Tacoma for any big city stuff. Lots of extra amenities. Our studio had a great view of the lake, on the third story, but stairs were pretty easy. I had hip replacement surgery 7 weeks ago, and the stairs were spaced out well, with a banister. It's perfect for a couple. Hosts were very gracious and accommodating. Great decor in the studio. The options to boat and hang out by the lake are great, but weather and our plans were not conducive to that at this time.
Mary
2017-03-12T00:00:00Z
Great location and super easy check in and out. The AirBnB hosts live on site and are very friendly and accommodating. Would definitely stay at this place again in the future.
Todd
2017-03-10T00:00:00Z
Place was as described. It was as very comfy and perfect for 2 people. Hosts were lovely, very informative. Snacks and wine were provided which was very nice. Also a nice view of the lake. Will definitely be back!
Mia
2017-03-19T00:00:00Z
Tipo de Quarto
Casa inteira/apto
---
Tipo de Imóvel
Apartamento
---
Acomoda
2
---
Quartos
Tacoma, Washington, Estados Unidos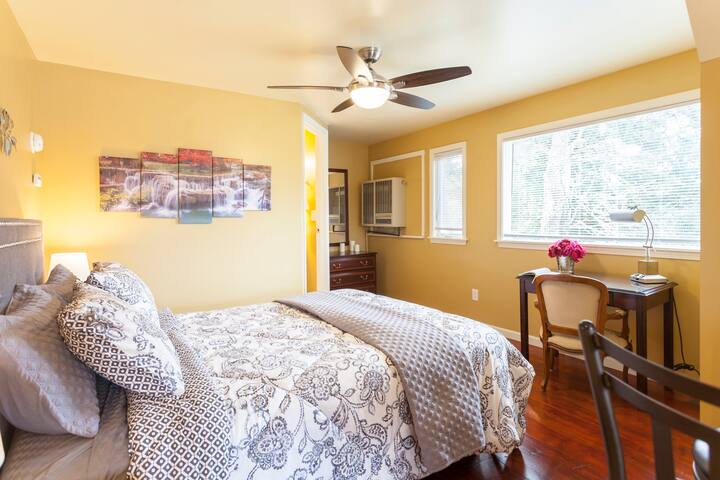 My place is close to Lake Steilacoom (shared dock), parks, trails, Mt. Rainier Hwy, JBLM, restaurants and dining, great views, the beach in Steilacoom, ferries, local art and culture. It's a 50 min drive to Seattle; 30 min drive to Olympia. You'll love my place because of the lake, park-like setting, the quaint neighborhood, the comfy bed, and all the natural lighting. My place is good for solo adventurers, business travelers, and others wanting a peaceful place for relaxation and retreat.
This is a quaint cottage with a loft. The living and dining room area is African themed, with a little Nepali flare. It is peaceful and quiet here with no distractions. You can often hear the birds chirping if you listen carefully. You can also sit by the lake and take in the serenity of the stillness of the water. In summer months, the mornings on the lake are quiet and still, while the afternoons are often filled with boaters.
This is a quiet and quaint, residential neighborhood.
Hilary provides a warm welcome and exceptional hospitality. I highly recommend staying here.
Michelle
2017-01-20T00:00:00Z
I stayed at Hillary's cozy place as I looked for my own. I'd never been to Washington before, but when I stepped in I felt at home. You will never find a more genuine, generous, or caring host than Hillary. (With great communication to boot) Her home is decorated with an eclectic mix of beautiful finds from around the world and is also impeccably clean. During my stay, other guests shared the home and we all shared laughs and food. I booked a room but also gained friends. If I wasn't moving to this beautiful city, I would undoubtedly stay here again!
Iyannah
2017-03-29T00:00:00Z
I literally felt like I picked up with a good old friend I hadn't seen in a while when I met Hillary. One of the first things she said was 'this is your home while you're here.' I stayed for over a week and during our time we shared stories, food, laughs...I think we rolled on the ground laughing a couple times but don't worry, her floor is super clean. I felt so at home, it felt like we had guests staying over while other air bnb guests came through for short visits. Appetizers, stories, and more laughs. You feel very taken care of, and she is a wonderful person who really cares about people. Thank you Hillary for making my stay in that area so incredible!
Claire
2017-03-16T00:00:00Z
Hillary was very helpful in every sense of the word, She made my stay for business and relaxation meld together wonderfully. I easily commuted to Seattle and came home to a beautiful lakeside retreat to relax and unwind.
Ahadi
2017-01-16T00:00:00Z
This is my third visit with Hillary. It's been a wonderful relaxing stay. Hillary is an excellent host creating a tranquil retreat with plenty of perks.
Janyce
2017-01-28T00:00:00Z
I felt so taken care of and she made me feel really at home. I've stayed at many air bnb's before and this is the best one so far. I decided to stay an extra week even!
Claire
2017-03-09T00:00:00Z
Hillary is a very gracious, kind, and considerate host. Her place is immaculately clean, welcoming, and comfortable.
Lucas
2017-03-07T00:00:00Z
Hillary is a great communicator and a very welcoming host. I felt right at home in this quaint cottage across from the lake. Hillary is attentive and thoughtful to the needs of her guest(s).
Judith
2017-02-10T00:00:00Z
Tipo de Quarto
Quarto privado
---
Tipo de Imóvel
Casa
---
Acomoda
1
---
Quartos
Tacoma, Washington, Estados Unidos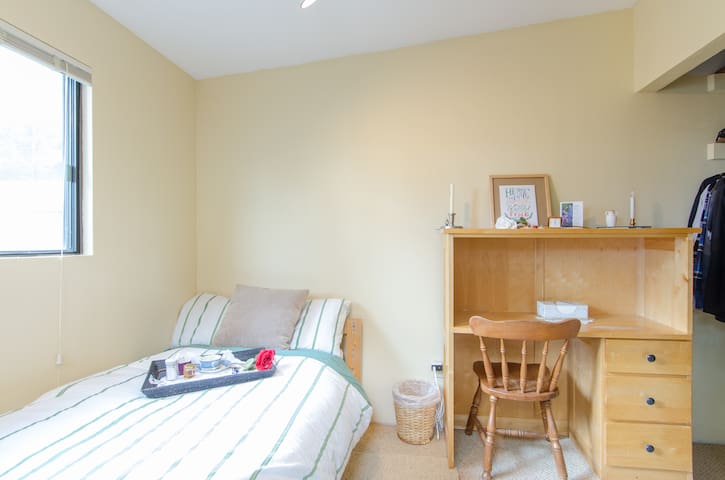 Walking distance to major hospitals, Wright Park, UPS, Parkway Tavern, coffee shops, Stadium District, Downtown and the waterfront. Great for couples, solo adventurers, business travelers, & furry friends (dogs, sorry kitties!). This listing is IDEAL for traveling hospital/medical staff in town for a month or so that prefer not to stay in a hotel or members of the armed forces who prefer to be in town during their travels to JBML. We are open to longer term guests, please message us to inquire.
The space is a mother-in-law suite / entire 3rd floor of a beautiful historic home. It's very private and has pleasant views of Commencement Bay and on a clear day there's a nice peek-a-boo of Mt. Rainer from the kitchenette. The space is truly our own and separate from the rest of the house with the exception of entering through the gorgeous foyer. The floor features a living room with a large flatscreen TV, kitchenette, three quarter bath and bedroom. We provide an Apple TV featuring Netflix, HBO, Showtime as well as basic cable for your enjoyment. The kitchenette features a mini-fridge, sink, glassware & cutlery, a few pots & pans, a counter top cooker, small microwave and coffee maker. Essentially what you would get at an Extended Stay type of hotel. Basic coffee and tea supplies (no cream or sugar though) are provided for short term guests. Towels for two guests are provided along with some light toiletries but we do not guarantee a selection of toiletries so please make sure you have your own. Guests access the home through the main entry and may enjoy the formal living area on the 1st floor during their stay if they wish. Guests do however have everything they need in their apartment to enjoy the privacy of the entire third floor to themselves. Please be aware that we share our home with an Icelandic Sheepdog named Tryggur who is very friendly (and pretty much our child).
The North Slope Historic District is a fun mix of beautiful old turn of the century homes and multi-family buildings. It's very walkable and has lots of character. Great beers on tap at Parkway Tavern a few blocks away. Wright Park is less than half a miles down the road for a nice stroll. Stadium Thriftway is an excellent grocery store also less than half a miles away.
Looking for an affordable and private overnight experience? Look no further. Kristen and company have created a wonderful place to stay on the top floor of their expansive residence. No detail left unattended. Kristen is a warm host, and Trigger (the family dog) will make you feel at home.
Frankie
2016-12-07T00:00:00Z
My husband and I found the perfect place to stay, while visiting our son and his girlfriend, in Downtown Tacoma. Kristen's third floor apt. was clean and comfortable (also a very good value)! The apartment is the entire third floor of a gorgeous, restored, historic home - in a lovely neighborhood. The living room/kitchen area was large enough to sit and visit with two guests. The bedroom was large with nice storage for our belongings. The bed was quite comfortable, with good bedding. The entire space was very tastefully decorated. I am usually a bit picky about lodgings - happily, Kristen's place, will become our #1 when planning future visits to Tacoma. She and her husband, and cute doggy, were the perfect hosts. Kristen even recommended a terrific restaurant with a talented mixologist - near the SAM, in Seattle! Bonus! Couldn't be more satisfied with this discovery. Many thanks to Kristen and company! P & J Stone Evergreen, Colorado
Patricia
2017-01-03T00:00:00Z
Absolutely lovely accommodations and host! Space is nicely appointed, clean and private. Highly recommend!!
Nasim
2017-01-13T00:00:00Z
Kristen contacted me a few days before arrival with tons of information about the rental and the location. She was super thorough. Honestly, I was hesitant to book her place at first because it didn't have any reviews and seemed too good to be true! Obviously I did end up booking it and can happily say that it WAS AMAZING. Probably my favorite airbnb experience. I never met Kristen's husband, but she made me feel completely welcome and comfortable. She was friendly, but not intrusive. The rental space is the top floor of their gorgeous North End Tacoma home and it was better then expected. You walk up a bunch of steps and then there are two main rooms on either side of the stairs. One is a large bedroom with a super comfy bed. The other is a well equipped kitchen/living room with a full bathroom. I didn't have enough time to enjoy all the little things Kristen had available (coffee maker, snuggly blankets, etc.), but I appreciated the extra thought that went into making my stay great. The location is just about the best in Tacoma. Gorgeous houses line the street and you are walking distance from a ton of restaurants/Tacoma General Hospital/Wright Park, etc. My main thing is a good night sleep. The bed was comfy. The heater worked really well and best of all it was QUIET! No kids waking me up in the morning. No cats whining in my ear. Too bad I couldn't stay longer, haha!!
Carolyn
2016-12-05T00:00:00Z
Great location. Lovely neighborhood and easy parking. Room was as promised as lovely bathroom. Would stay again.
Megan
2017-02-19T00:00:00Z
For me personally I try to avoid private room's in houses because what if the homeowners are in a punk rock band and they just gots to practice late into the night? Or maybe the walls are paper thin? If this sounds like you let me put your fears to rest right now, this rental is a STEAL of a deal, Kristen the host makes a point to make you feel at ease and clearly explains the space and the house rules. My wife and I felt free to come and go, and even to play with the family dog Tryggur who is a DELIGHT. Kristen and Danny have a wonderful historic home that is warm, quiet, and well appointed. The space which you rent is a converted attic, and being 6' 2" I was a little leary of low ceilings but I only bonked my head once, and otherwise I could walk around without a care only slightly stooping out of nervous habit, truly a magnificent feat for anyone like me who's walked around in an attic. The kitchen is small but well appointed, and the entertaining space with TV and chairs was perfect for 4 people to enjoy board games, watching football, and a sampling of Tacoma's amazing craft beers. The bed is very comfortable and the bedroom is cozy with plenty of natural light. There is a small staircase with a door at the bottom that separates the rented space from the rest of the house and lends a nice sense of privacy. The bathroom feels spacious for being in an attic space, and the exposed brick next to the toilet and sink is a nice touch, the shower was a little tight as it is tucked into an eave, but I was able to adapt to the space easily and the towels were luxuriously soft and absorbent. The space would be perfect for an extended business stay, but the wi-fi may not be sufficient for video-conferencing or other bandwidth heavy tasks. In sum, would I stay here again? In a heartbeat. Would I recommend this to a friend? YES. To a tall friend? Yes but with some reservations.
Marcus
2017-01-08T00:00:00Z
Comfortable, clean, and cozy. Kristen was great. Apartment was exactly as advertised. House is historic, literally, but updated and warm. Felt like going home. Made me nostalgic. Thank you Kristen.
Daniel
2017-02-11T00:00:00Z
Kristen was an awesome host. She was very accommodating and her place is fantastic. We only stayed for a very short period of time (overnight), but it was the perfect place to rest our heads for the night. We felt at home with the spacious bedroom and comfy living room space. The kitchen was perfect for our stay because it had a mini fridge. The private bathroom was also very nice. The backyard was fenced in and our dog enjoyed using it! This place is the perfect apartment for short or longer stays.
Angela
2017-01-09T00:00:00Z
Tipo de Quarto
Quarto privado
---
Tipo de Imóvel
Casa
---
Acomoda
2
---
Quartos
Tacoma, Washington, Estados Unidos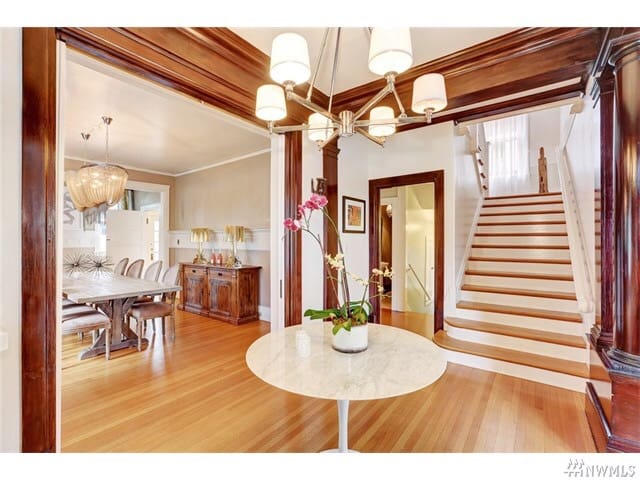 Private room with a shared bathroom good for a solo traveler or a couple looking for nice place near downtown Tacoma right off of 6th Ave near plenty of shopping restaurants and night life all within walking distance
Our place is located right off 6th Ave just 2 minutes from University of Puget Sound ,7 minutes from University of Washington Tacoma campus, 10 minutes from the Proctor District, 4 minutes to downtown Tacoma and right in the heart of all the local nightlife that makes this part of Tacoma so popular. if you are looking for a place right in the heart of everything tacoma has to offer then your going to love our place!!
Our neighborhood is an eclectic collection of artsy, new, and old. Our house is literally steps away from the most popular bars and places to eat on 6th ave. just minutes away from downtown, university of puget sound, pt. defiance zoo and aquarium, tacoma dome, ruston waterfront, and lots of places to eat and shop.
Autumn's place was welcoming! The room was nice and comfortable. Bathroom was easily accessible. We needed a ride to an event at Tacoma Dome and she offered to give us a ride instead of taking Uber. Thank you very much! You're an awesome host! I love the extra effort to make our stay worth while.
Ben
2017-04-02T00:00:00Z
Everything went smoothly. They were friendly and helpful!
Debra
2017-04-03T00:00:00Z
Stayed here while on vacation in Washington. Nice people, very friendly and helpful. Would stay again / recommend.
Bren
2017-04-09T00:00:00Z
Great location. Close to restaurants and University of Puget Sound. Perfect place for someone just looking for a place to rest their head. The owners are super attentive but not over bearing. Great for a business traveler doing work in the area.
Demetri
2017-03-30T00:00:00Z
Tipo de Quarto
Quarto privado
---
Tipo de Imóvel
Casa
---
Acomoda
2
---
Quartos
Tacoma, Washington, Estados Unidos
My place is close to restaurants and dining, family-friendly activities, public transport, and nightlife. You'll love my place because of the comfy bed and the coziness. My place is good for snuggly duos (full size bed), solo adventurers, and business travelers. I like meeting new folks and sharing ideas or talents with interesting people. Whether you need to have solitude or seek some company, this is a quiet, serene and healing environment where you can let your stress go.
The personal guests who have stayed in my home have commented that it was the best sleep ever on my firm full size bed with a 3" memory foam top. The room is quiet and the house is not terribly close to the street. There is a nice window fan that keeps the room cool in the heat and a great heater should the furnace heat be inadequate for you. I aim to maintain just about 69-72 F, most times of the year. During extreme heat, leaving the door to your room open for cross breeze will help keep it cooler in your room. The couch in the room is just a loveseat so unless you are very short or a child, it won't be comfortable for sleeping. You will have your own mini fridge and microwave with a coffee pot and fixin's to make your morning Joe. Since I generally have an abundance of homegrown greens and veggies, I am happy to share. If you need to use other kitchen items, we can cover that when you book your stay. I do provide filtered water for you.
This is a very safe area to take walks, with well lit streets and sidewalks on most blocks. There is a large Fred Meyer just 4 blocks over that has a Starbucks and deli, and a neat little coffee shop on 72nd near Pacific Ave. Spuds is just around the corner, as are several Teriyaki, Mexican, and 2 miles down 72nd you will find Applebees, Olive Garden, Popeye's, Famous Daves BBQ, Sharis, and Elmers, IHop and many other great little independent cafes and eateries. Oh, and of course McDonalds is just 3 blocks easy walk. This neighborhood is uniquely positioned between the Hispanic and the Asian communities for authentic eating experiences while you're here.
Kari was a great host, very hospitable, and pleasant. The room was very clean, comfortable, and had everything we could possibly need in it plus more. The location was perfect, near a blueberry park, Wapato Lake, and easy freeway access.
Shaina
2016-07-24T00:00:00Z
Kari was super friendly and communicated well. The room was exactly as advertised and super comfortable. Great stay and wouldn't hesitate to book again.
Mike
2016-06-24T00:00:00Z
Very comfortable and cozy room and bed! It was nice having the books about Mount Rainier, Seattle and the surrounding area to read. Kari was very kind, accommodating and very helpful! I would definitely recommend staying here if you are planning to see Seattle/Tacoma or if you are heading out to the national parks in the area.
Lauren
2016-08-15T00:00:00Z
We really enjoyed out weekend in Tacoma. Kari keeps her bathroom and kitchen clean at all times! She also kindly shared of her leafy greens with us. Thank you!! The room was a bit smaller than I anticipated, but our needs were perfectly accommodated.
Natasha
2016-07-11T00:00:00Z
Kari was awesome. Very kind and generous. The space was lovely. The bed was insanely comfortable. The neighborhood was quiet and convenient. I really enjoyed my brief stay there. Would recommend to anyone!
Meghan
2016-07-23T00:00:00Z
Nice place. I want to recommend to others.
Lingling
2016-08-16T00:00:00Z
Kari was an amazing host and went out of her way to make sure that I was out and about in enough time to reach my destination with the morning traffic! I'd definitely stay here again if I was in the area.
Chelsea
2016-08-08T00:00:00Z
Our short time at Kari's place was sweet! We got in super late from a concert and had no problems getting in/finding the place when the time came. Thankfully Kari was accomadating even with our late arrival. House was clean and the room was so cozy! I much preferred climbing into the bed Kari provided than a hotel bed. Thanks again Kari! Trivia & Mario
Trivia
2016-09-17T00:00:00Z
Tipo de Quarto
Quarto privado
---
Tipo de Imóvel
Casa
---
Acomoda
2
---
Quartos
Tacoma, Washington, Estados Unidos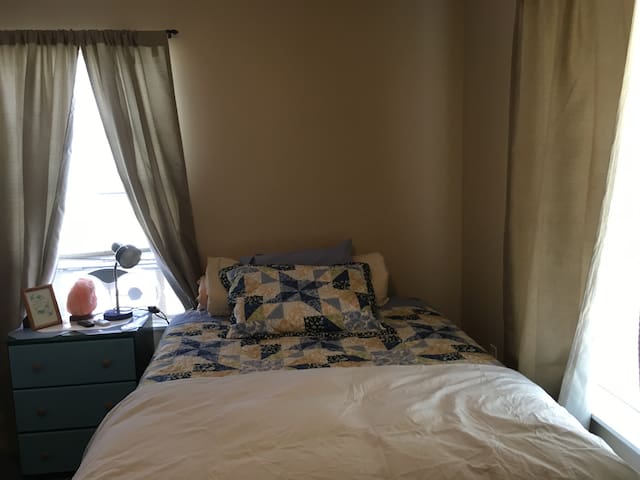 This apartment is located in the Courtney building in the heart of the Hilltop neighborhood. It is above a friendly Pub , a great Pho restaurant and a good natured Pawn shop. This is a central inner city neighborhood that is easily accessible to parks, museums, universities, two major hospitals, St Joe's and Tacoma General. Within walking to Pubs . The apartment is a studio with a kitchen, private bath, double bed, seating area, cable T'V. internet. A Secured Building with free parking.
Welcome to studio "Sunshine daydreams "This is a furnished private studio apartment in a secured building. There is a bed and a table, and a few chairs in the studio.The Kitchen is equipped with your basic cooking needs. If you want to cook a huge turkey dinner, contact me for extra pots and pans. There is internet access and a T.V. with cable and Blue ray DVD player. We have DVD that you can borrow down at the Pawn shop. There are other units upstairs with full time tenants. We ask that you be considerate of your noise level on the other hand you are above a restaurant and a bar and it can be a bit boisterous. THIS can be a fun place to stay especially if you want to hook into the community. This is a FUN and lively neighborhood and you are within walking distance of some great restaurants and pubs. Also within walking distance is a Safeway , a post office and two major hospitals. Tacoma General and Saint Joseph. You are on a bus line. You are close to downtown where the art museums are located and the convention center. The Tacoma dome is 2.5 miles away. Wrights park is a wonderful place to walk , enjoy the arboretum and summer concerts. We have other rooms available in the same building so go to our profile and it will show you our other option and dates. Perhaps you need two rooms ! We might be able to accommodate...
I would say this apartment is even better than the photos. You are a short distance from downtown and walking distance to a couple good restaurants and a grocery store. Would definitely stay again.
Carly
2016-08-31T00:00:00Z
Cozy and warm
Lily
2016-12-15T00:00:00Z
Jodi made us feel so welcomed in her place! We didn't get to meet her but she left us an adorable message on the chalkboard door! If you need a place to stay in Tacoma, her place is great. Convenient to so many restaurants.
Angelina
2016-10-26T00:00:00Z
Jodi and her husband were great! They had fresh flowers from their garden in the room which included Rosemary that I used to cook with(yum!) We were close to the hospital which was good because my husband was having surgery. It was easy to access the apartment upstairs and our arrival couldn't have gone more smoothly. Thank you for a great stay!
Casey&Julie
2016-07-10T00:00:00Z
Very nice place
joy
2017-01-29T00:00:00Z
The place was just as described, great stay. 5/5.
Alex
2016-08-04T00:00:00Z
Jodi was very gracious, I ended up not being able to make it. I let her know the day I was supposed to be there, didn't ask or expect a refund. She was very sweet and offered to give me a discount in the future if I stayed again.
Pam
2016-10-19T00:00:00Z
Adequate for sleeping and overnights.
Sandy
2016-09-18T00:00:00Z
Tipo de Quarto
Casa inteira/apto
---
Tipo de Imóvel
Apartamento
---
Acomoda
2
---
Quartos
Tacoma, Washington, Estados Unidos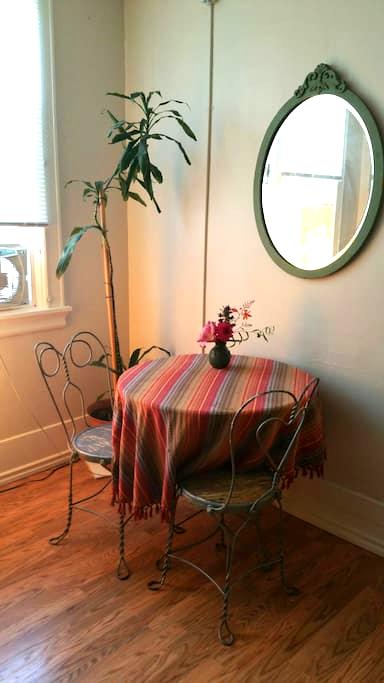 Sensuous room filled with warm natural light & room darkening velvet curtains for a deeply relaxing sleep upon a super comfy memory topped queen size bed and luxury linens. Massage and spa services available upon request.
Perfect for a solo traveler or a romantic escapade this inviting bedroom offers privacy and an array of treasures to delight the senses! Soak in a steany bath and then enjoy a nurturing massage session in my studio across the hall for a deeply relaxing experience! Nestle atop a queen size memory bed with luxurious linens and down comforter. Located in Historic Hilltop Tacoma, surrounded by the elegant Stadium District and world class Wright Park, an easy walk to many compelling areas of interest in the Theatre, Business, and Museum Districts. Home of the internationally renown Tacoma Glass Museum, the LeMay Car Museum, Tacoma Art Museum, Downtown Convention Center, Tacoma Dome events center, University of Washington/Tacoma Campus and the University of Puget Sound in the neighboring Proctor District. Enjoy a wide variety of dining options, walk to the local farmers market, a fine assortment of neighboring pubs and swanky cocktail lounges! To the north approximately 35 miles the city of Seattle is just an express bus ride away. Seattle/Tacoma International Airport is approximately 20 miles to the Northwest - travel times vary but typically it's about a half hour drive. Free unlimited parking directly out front, high speed internet, meditation and yoga room and comfortable lounging spaces throughout the house and yard! 420 friendly on the comfy patio. Enjoy my in-home Massage studio, a quiet sanctuary for meditation and shared relaxation! Happily celebrating 20 years as a Licensed Massage Practitioner please consider scheduling a deeply relaxing and restorative massage session during your stay! 60 min./$80.00 90 min/ $100.00 There are two full sized bathrooms on the middle floor and a powder room next to the kitchen on the main floor. Please make yourself comfortable in the kitchen, media and music room. There is a darling park right next door and a larger city park with trails and a children's water park just a short stroll. This neighborhood offers many interesting places to explore nearby and easy access to the downtown area.
My home is located in a sweet enclave of thoughtfully preserved historic homes just above the theatre district in the downtown corridor. World class performance art and cultural events just a few blocks away! Easily stroll to many interesting and compelling services including a variety of dining options My wired and wonderful neighborhood is filled with establishments offering artisan crafted cocktails and inspired menus! A darling park with a community garden is right next door and a large urban park with a historic botanical conservatory is just around the corner! There is a light rail "Link" that is a short walk away offering access to the Museums and State University District.
This is a wonderful place to stay if you like heritage houses; quaint yet eclectic decor, books of many types, and a wonderfully friendly hostess who is ready to talk or leave you alone, as you like. Great location to see Tacoma, and enjoy the sights. Cheri is super helpful to recommend places to eat and things to see and do. She is also very flexible about comings and goings. Really enjoyed our stay here, and will stay again when we come back.
Gail
2017-03-05T00:00:00Z
What more is there to say, but a warm smile, great conversation and a welcoming home. I was able to book last minute and Cheri made everything easy. The room was full of great books and the bed made for a great night sleep. Thank you.
Sean
2015-10-14T00:00:00Z
Cheri's place is just what you need after a red eye. Warm feeling interior, big heavy comforters, very cool decor and furniture. The neighborhood is also lovely and only minutes from a great park. Loved my super short stay, would definitely go back!
Christine
2016-03-26T00:00:00Z
Cheri is an amazing hostess and her abode is as authentic, comfortable, inviting, real, and as lovely as she is. She communicates clearly and timely prior to arrival and is a accommodating, gracious, engaging, warm and lovely hostess. If your schedule allows I highly recommend booking a relaxing massage with her. Of all my AirBnB stays (5-10), I'd rate my stay at Cheri's as absolutely one of the best. I highly recommend staying here when you're in the Tacoma area. Five Plus Stars in my book! Cheri, Thanks for being such a wonderful hostess and opening your lovely abode to others(URL HIDDEN)
Andreas
2017-01-07T00:00:00Z
Terrific host. Pleasant, clean and eclectic decor. Mermaids welcomed
Egils
2017-01-20T00:00:00Z
It was such a pleasure to stay at Cheri's house. Her home is super comfortable, warm and inviting. I appreciated that she makes her home very much like being at home. Always, it's uplifting to feel the good energy and love that comes from her space. The neighborhood is quiet and safe, with ease of parking. Thank you Cheri and hope to be back someday!
Anissa
2014-11-19T00:00:00Z
I stayed with Cheri for a conference I had in Tacoma. The location is very central and with easy access to bus routes if you don't have a car. The place was clean, the bed was comfortable and she was very welcoming. :) Definitely would stay here again.
CARLOS
2015-10-09T00:00:00Z
Cheri's place is pure magic. We dubbed it the Mystical Magical Mardi Gras Mermaid Mansion. Every corner is a delight for all senses: amazing smelling candles, beautiful details, incredible energy. It was a safe little nest or oasis in the midst of a stressful move. One thing to know is the shower is a bit outdated, but still works just fine, just could matter to some if that is important. And that the cat WILL try and get in your room, which for us was just entertaining. Thanks, Cheri. Look forward to visiting again!
Cara
2017-03-07T00:00:00Z
Tipo de Quarto
Quarto privado
---
Tipo de Imóvel
Casa
---
Acomoda
2
---
Quartos
Tacoma, Washington, Estados Unidos
**Summer Special** We are looking for longer term renters from mid August to October & we are offering much cheaper rates! Inquire via message for more info. ** Our happy little home is a secret gem on a quiet street in the heart of So. Tacoma. It's close to family-friendly activities like the Star Center and parks, public transport, shopping mall, International Dist., free-way, dog parks, bike paths (5 blocks), cafes (Starbuck's 2 min), nightlife (56th St 5 min.)
Our house is a funky 1950's retro inspired (yet very modern) little getaway. We renovated it just this summer so all amenities are brand spanking new. It's cozy and bright, with warm real wood floors, a modern open kitchen layout, and plenty of sleeping space. It's a great place for a quiet getaway that's also near to all the city has to offer. We also have a big backyard and patio with a big fire pit if you want to do a cozy campfire. We also have a garden in the front, and if veggies and herbs are growing you are welcome to partake in the bounty. Be our guest!
Arlington is a unique little spot in South Tacoma and is close to everything! Places of interest: 56th St - lots of local bars and nightlife, restaurants, and local music scene 24HR Starbucks - Voted the most popular coffee shop in Washington! Star Center - park, gym, spray ground/play ground, and so much more! Korea Town - sushi, Korean BBQ, H-mart, Paldo World, Karaoke 7/11 - 2 blocks away, super convenient if you need it
Great to work with.
Matt
2016-10-24T00:00:00Z
The home worked out perfect for us. It was clean, cute and the price was great. The backyard and deck was a bonus and the house was centrally located. Krista was great to work with and we were able to check in early.
Carolyn
2016-10-18T00:00:00Z
Krista's home was BEAUTIFUL! My husband, toddler, and I were in town visiting family and were looking for a comfortable home to stay in for the weekend. We couldn't have asked for anything more. The place was incredibly clean, had a great backyard for my daughter to play in, and was centrally located. They even had a high chair and baby bath wash for us! The home is recently renovated and a total gem.
Jacklyn
2016-10-09T00:00:00Z
We were in town for a long weekend for a local event. It's located in a quiet older neighborhood in South Tacoma, not really a touristy area, but only a couple of minutes from the freeway, so it was easy to get around by car. There was always convenient street parking right out in front. The kitchen was perfect for us to cook most of our own meals. The bedrooms were comfortable. The wi-fi excellent. The well-tended backyard, with covered porch and firepit looked inviting, but we were there for a cold, rainy weekend. The house rules are simple and reasonable. A great value.
M.H.
2017-03-19T00:00:00Z
What a gem!!! We truly enjoyed our stay! Great host! Everything was clean and ready for our arrival!!! Would book again and will highly recommend!
Cheryl
2016-12-09T00:00:00Z
Very good location. Would be lovely in better weather as there is a nice outdoor area.
Kathryn
2017-03-13T00:00:00Z
Krista's instructions were very clear and straightforward. Very comfortable and clean house. My party and I thoroughly and genuinely enjoyed our stay. We really appreciate her hospitality. Thank you!
Michael
2016-10-30T00:00:00Z
The host canceled this reservation 22 days before arrival. This is an automated posting.
Marilyn
2016-10-11T00:00:00Z
Tipo de Quarto
Casa inteira/apto
---
Tipo de Imóvel
Casa
---
Acomoda
5
---
Quartos
Tacoma, Washington, Estados Unidos
This spacious craftsman bungalow will knock your socks off! Serene oasis in the city with a wonderful (and new) kitchen and beautiful hardwoods throughout will provide you with a comfortable and relaxing place to stay while you explore!
This spacious craftsman bungalow will knock your socks off! Serene oasis in the city with a wonderful (and new) kitchen and beautiful hardwoods throughout will provide you with a comfortable and relaxing place to stay while you explore the nearby mountains and Puget sound! I have air conditioning window units in both bedrooms that provide plenty of cold air. I live in a family neighborhood close to I-5 and downtown Tacoma and the convention center. This is a full house not a backyard addition cottage or mother in law. This is a very private 2 bedroom house which sleeps 5 and includes one queen and one full as well as an airbed for the 5th visitor, one bathroom and a HUGE back yard with a large gas barbecue for all your grilling needs! There is a 40 inch flat screen HD TV with a Roku so you can watch either Netflix or Amazon prime, high speed internet, a nice patio set for relaxing as well as a private fenced yard. Extra amenities include a washer/dryer in basement, ample parking in front, a LARGE playpen that can be used as a baby or toddler bed plus a high chair. I provide clean towels, sheets, soap, dish and laundry detergent, microwave and a fully loaded kitchen with pots/pans/coffee/coffeemaker and plenty of cooking utensils. Everything you need to enjoy your home away from home!
It is just a couple blocks off I-5 so its very accessible, I am 1/2 mile to downtown Tacoma and the convention center, the Tacoma dome and the water, the neighborhood is blue collar and there are a lot of families on my street. I am also two blocks from a great park. I am 35 mins to Seattle (38 miles) to downtown. I am 65 miles distance to Rainier approx 1.45 hr drive. I'm 5 mins from downtown Tacoma where there are a ton of things to do and check out like the Glass museum, the Le May auto museum. Children's museum, the waterfront etc. Tacoma is a beautiful and historical town and its a great jumping off point to places like port Townsend, the Olympic national forest, Gig Harbor and loads of parks and sightseeing.
Sweet arty mid century bungalow! Casual and relaxing, easy drive to visit my son, a student at University of Puget Sound. I recommend the Silk Thai Cafe nearby.
Jim
2016-10-24T00:00:00Z
Koshtra was a great host and made sure that we had everything we needed in our stay. Everything was laid out in detail and very well organized for our stay. The house was central to a lot of wonderful things to do in Tacoma. I look forward to staying at this chic, little bungalow again!
Luke
2016-01-03T00:00:00Z
We had a lovely family visit at your place. The location was convenient and we all loved the style, size, ambiance and coziness. I will definitely keep your house in mind for future visits. It would be nice to use your backyard and sunroom in warmer weather, too.
Terri
2016-01-28T00:00:00Z
We stayed here over 3 months while in the area for temporary job and we felt right at home. Koshtra was very helpful in providing information about the area and drop by a few times to maintain the property. While here, Tacoma was in an extended heat wave and Koshtra had an A/C unit delivered to us in just a few days. Beautiful space inside and out. Comfortable beds. Fully stocked kitchen and necessities provided for the entire 3 months day. Great space out back for relaxing grilling and playing especially for a five year old child.
Timothy
2015-09-27T00:00:00Z
My wife, baby son, and I very much enjoyed our stay at Koshtra's home. The beds were comfortable. She provided more than enough of the essentials. Food, drinks, toiletries, and entertainment. The backyard was fantastic and well maintained. We made good use of the patio and its furniture. It's extremely close to downtown and Cheney stadium.
Stephen
2016-05-23T00:00:00Z
Well maintained home in an area with not so well maintained homes. It is convenient and appropriately priced. Host communications and help were great.
Teresa
2017-02-25T00:00:00Z
The house was comfortable for two couples to share. The landscaping was beautiful and the backyard lent a feeling of privacy.
tom
2016-09-27T00:00:00Z
This was our first Airbnb experience and let me just say that we will definitely use Airbnb again. Koshtra, our hostess, was very helpful and informative. She was also very prompt in responding to my inquires. The location of the house couldn't be any better: easy access to freeway, so close to tacoma's best attraction sites, and Costco & mall were within 5 miles. The house was kept very clean and beds were comfortable. I was thankful for the air mattress because two beds weren't enough for all five of us. The neighborhood looked little rough in the beginning, but turned out it was relatively quiet and people were pretty friendly. I heard Tacoma city trash pick up only comes every other Thursday, and the trash bin is bit small. When we got there, the trash bin outside was already 2/3 way full, but we were able to manage somehow. We were thankful for the washer and dryer in the basement. Our overall staying experience was excellent.
Ray
2016-06-24T00:00:00Z
Tipo de Quarto
Casa inteira/apto
---
Tipo de Imóvel
Casa
---
Acomoda
5
---
Quartos
Tacoma, Washington, Estados Unidos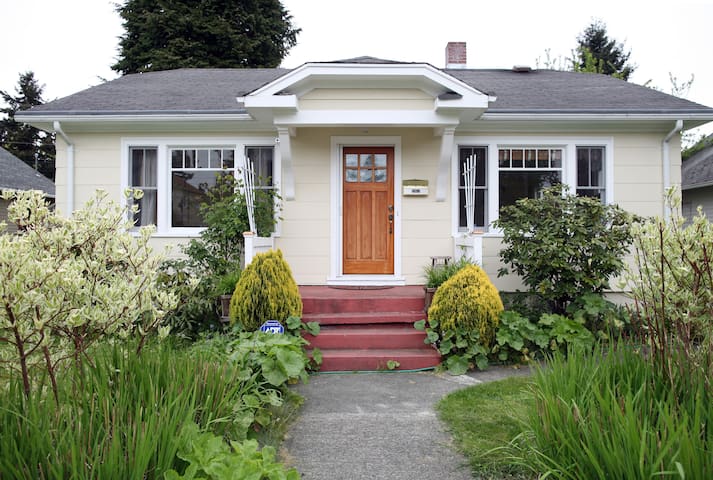 Check in is 3pm to 10pm This large bedroom 14x13 feet is located off the kitchen of my Edwardian House located in Tacoma's Wright Park neighborhood. Relax in the brand new Queen sized Sealy Perfect Sleeper bed with deluxe linens.
Large deluxe room in a home built between 1888 and 1900. The room features hardwood floors with an amazing white shag carpet. No shoes or pets in this room please. Large Queen sized bed with deluxe linens. Desk, over stuffed reclining club chair, 43 inch vizio led tv with Netflix, Hulu and Pandora just to name a couple. FREE high speed WiFi, Full size mirrors Nice over stuffed chair Shared bathroom. Cable TV Free WiFi Desk Desk Music Dock Nice deck Bath Robes in closet for use during your stay. ***Shared bathroom with shower and claw foot bathtub, toilet and sink. Another shared bathroom off the kitchen. Comes complete with a desk with hi speed wireless internet.
We are in a neighborhood that is in the beginning stages of a renaissance in an downtown urban area. And as part of your Airbnb Adventure you will see White, Asian, Latin and yes Black people. This is a very safe area you just have to realize like any big city be aware of your surroundings after dark. We are across the street (behind the house) from Wright Park which has many running trails, basketball courts, children s water park, boccie ball court, horse shoe pits, the Seymour Conservatory and while not exactly in the park but bordering it is The Karpeles Library which is the world's largest private holding of important original manuscripts & documents.The archives include Literature, Science, Religion, History and Art. Among the treasures are .... "The original draft of the Bill of Rights of the United States", The original manuscript of " The Wedding March", Einstein's famous formula " E=Mc2", one million more original documents curated by the owner of this amazing collection. Sounds boring but it's not and best of all its FREE! and only a short stroll from the house Corner store 100 feet away as well as a dry cleaners. Close to many restaurants and bars. across the street from Tacoma General, Mary Bridge Children s Hospital & Group Health Hospital Less than a mile from All these schools University of Puget Sound, UW Tacoma, Evergreen College Tacoma, Annie Wright Boarding School and Bates Technical College
Muito bom o espaço do Jimmy. Foi perfeito! Local silencioso para uma boa noite de sono. Jimmy sempre sorrindo e muito amável com seus hóspedes, o bairro é muito bom próximo ao um lindo parque. Quero agradecer a gentileza de nos conduzir até a igreja para cerimônia de casamento de nossa filha. Um aviso especial aos brasileiros que desejarem ficar em Tacoma, com certeza serão muito bem vindos a casa deste anfitrião. Parabéns Jimmy! Abraços calorosos do Brasil.
Rosi
2016-04-25T00:00:00Z
Just returned from a four night stay at Jimmy's Bnb. In Tacoma to volunteer for the US Open Golf Tournament. Jimmy was a fabulous host and his home was exactly as described. Neighborhood was fine. Would not hesitate to stay here again. Thank you for an excellent experience.
Craig
2015-06-22T00:00:00Z
Stayed in the large private room which was in front of the kitchen and few steps away from the bathroom which seemed like our own private bathroom - these are perfect for a busy travelers like us who wanted to have everything accessible, thought it'll be noisy there but not at all! The complimentary printer is a life-saver as well :-) Jimmy had been a great host and I would definitely recommended his place.
James
2016-09-28T00:00:00Z
Nice communication, ease of booking. Jimmy was around to help if needed but let us get some peace and quiet during our trip.
Erika and Scott
2016-09-30T00:00:00Z
Jimmy was very welcoming and I had a good time talking with him on the front porch. The house was great and I felt at home.
James
2016-04-09T00:00:00Z
From the moment my reservation was accepted I felt informed and welcomed. The room was exactly as pictured. The full bath was immediately off the bedroom and well stocked. There is a large sitting room and fully stocked kitchen available. The host provided an amazing list before I arrived which meant I could leave a few things at home that were provided. Walking distance to a park and restaurants (there are lists and maps in your room). Clean and just the right temperature this was a perfect choice!
Karen
2017-01-13T00:00:00Z
Jimmy was friendly positive and welcoming. We enjoyed staying at his Casa. This was our Second time there and we will be returning again in the near future. Highly recommended.
Mike
2016-09-06T00:00:00Z
Jimmy is a wonderful host and his home provided everything I needed for my short stay in Tacoma. The bed was super comfy and I felt safe and secure in my room.
Catherine
2017-01-15T00:00:00Z
Tipo de Quarto
Quarto privado
---
Tipo de Imóvel
Casa
---
Acomoda
2
---
Quartos
Tacoma, Washington, Estados Unidos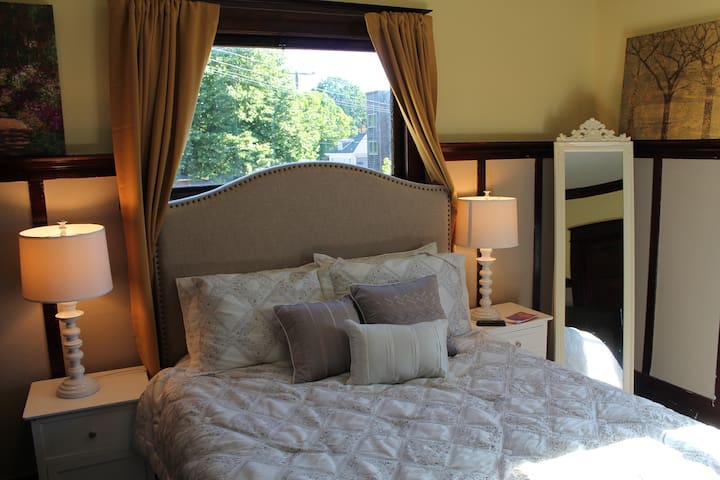 Welcome to our Charming Proctor Suite in the North End. Walking distance from UPS and Proctor and easy access to downtown. The suite is a bright street level daylight basement with your own private entry. Thoughtfully decorated with attention to detail that make your stay relaxing and enjoyable.
If we have other guests on the day you would like to stay. Please see our new listing "Cozy Attic Retreat". http://abnb.me/EVmg/gItxrP3OkB If you're looking for a charming place to stay we would love to welcome you. A comfy Sterns & Foster Queen size bed with Egyptian cotton sheets. Wake up to a Keurig coffeemaker, some fresh fruit, yogurt and a little treat from our local bakery. A great way to start the day. I am meticulous about cleaning. I want you to feel like you're the first guest to walk into the suite. Three blocks away there is a Safeway as well as a high end grocery store, Metropolitan Market. On Saturdays you can fill the fridge with wonderful items from the local farmer's market. Are you celebrating? Let us know:) Amenities: -Lotion -Shampoo -Conditioner -Body Wash -Q-tips -Hair Dryer -Bathrobes -Slippers -Bathroom Scale -High Speed Wireless Internet (dedicated) -Printer upon request (small jobs) -Refrigerator, microwave, kettle and Keurig -Coffee, Tea and light breakfast -HD Cable TV, Netflix and Hulu -Local Magazines -Books, puzzles and games The apartment is a dedicated space (Sitting/Bedroom area, dining room area, small kitchen (sorry, no cooking) with microwave, full sized refrigerator and Keurig. Breakfast items provided: Coffee and Tea and choice of creamer Juice Hard Boiled eggs Yogurt Fruit Handmade Ice Cream from Ice Cream Social Instant Oatmeal from Trader Joe's Pastries from Corina Bakery All items in the space are for your use, including books, games, and puzzles. You have a private street level entrance and the apartment is in the daylight basement of our home. Great natural and ambient lighting. We will do our best to personally welcome you and show you the space. If you have questions about the area, including Seattle, we are very knowledgeable and love to share our favorite local places. If you would like complete privacy we will respect that too. With a separate entrance, you can come and go as you please. If you need anything we are just a text or call away. I love the North End of Tacoma, there is a real sense of community here. We live in a great neighborhood a few blocks from the University of Puget Sound and Proctor. Proctor has a wonderful farmer's market and cute shops. If you're here for business we have a UPS store and a post office in the Proctor district. There is plenty of parking. We are close to the local bus stop that will take you downtown and to the transportation hub. The airport is only a 30 minute drive and a 45 minute to Seattle. (With light traffic) In the summer the back yard is a nice place to escape. You are welcome to come and enjoy the patio and the view of Mt. Rainier.
I love our neighborhood it has a great sense of community and is very walkable. Close to great shops, restaurants, stores, post office, library, and great coffee (the important stuff).
We were thrilled by this suite and the hospitable touches Susan prepared! Susan asked for feedback in advance in order to tailor the breakfast and snack items to our liking. It was fantastic to have an independent entrance and space as a home away from home. The space was comfortable and had so much potential. The only problem was that we did not have enough time to enjoy it all!!!! So many nice touches around! I appreciated that since we were feeling introverted this weekend, we could get all the directions and hints by notes left around :) It was great!
Michelle & Chris
2016-08-14T00:00:00Z
Where to begin? Warm welcome, friendly hosts, spacious suite, fresh flowers, comfortable bed, fluffy pillows, luxurious sheets, delicious pastries, excellent coffee, fruit and fresh juice, ice cream(!), numerous snacks, books and Netflix, thoughtful restaurant advice, every amenity you could possibly need or want, all in a beautifully decorated private suite within walking distance of UPS and the Proctor area. A wonderful place to relax and reconnect with my UPS student. Truly an outstanding home away from home. I hope to stay here next time I'm in Tacoma. Thank you, Susan, Khan and family
Pauline
2016-01-25T00:00:00Z
Susan is an absolutely amazing host and she couldn't have been more accommodating. Her communication is excellent with prompt and thorough responses before and during our stay. The space is filled with up-to-date brochures, magazines, books and a list of her favorite restaurants. The rooms are clean, beautifully decorated, and comfortable. Our daughter slept on the sofa which was perfect. There are games and DVDs for entertainment. Susan's home is located in a lovely neighborhood within walking distance to the cute Proctor District and University of Puget Sound. The kitchen was stocked with tasty treats such as fresh fruit, yogurt, a selection of fresh baked goods, tea, coffee and more. Susan sets the highest standard for an Airbnb. Our weekend stay couldn't have been more perfect and we would return in a heart beat.
Elizabeth
2015-10-04T00:00:00Z
This is where we will always stay when visiting Tacoma. Just the best!
Jim
2016-11-11T00:00:00Z
Susan did an excellent job making Katie and I feel welcome. She went out of her easy to add several special touches to the suite to make our stay very comfortable and easy. This was our wedding weekend and Susan prepared a special wedding day emergency kit and stocked the kitchen with goodies. The suite is very well furnished and it is clear extra effort has gone into decorating the rooms. We highly recommend Susan's suite to anyone looking for a place to stay in Tacoma. Just fantastic.
Neil
2015-07-19T00:00:00Z
We have stayed at several Airbnb properties in different cities, and Susan's lovely suite is far and away the nicest we have experienced. From the lovely decor to the hotel-style amenities to the breakfast items (yogurt and fresh raspberries and hard-boiled eggs and beautiful, delicious local pastries!!) and locally made ice-cream, every detail contributed to our comfort. Susan is as lovely as the suite and willing to guide her guests to area attractions. She has provided resources in the suite to assist decision-making, and quite a library of novels, magazines, games and puzzles! We would definitely choose to stay here on our next trip to Tacoma!!
Marilyn
2016-10-11T00:00:00Z
Susan was incredibly welcoming and her lower unit home was a very comfortably and cozy stay. Thank you so much Susan!
Angela
2015-03-27T00:00:00Z
We've used Airbnb quite a bit over the past 4 years, and Susan really raised the bar in terms of how much attention she puts into her hosting. Even though she was not in town during our stay, she was always available to answer any questions and was extremely responsive. Her space had so many nice personal touches; we'd rather let all of her guests be surprised by her generosity and thoughtfulness when they arrive. She has thought of everything! Needless to say, we could have spent several more nights at Susan and Khanh's and been very happy! We also highly recommend visiting the Olive Branch Tea Room, which was a highlight of our stay in Tacoma!
John & Jenny
2016-08-24T00:00:00Z
Tipo de Quarto
Casa inteira/apto
---
Tipo de Imóvel
Apartamento
---
Acomoda
3
---
Quartos
Tacoma, Washington, Estados Unidos
Parkland - Airbnb
:
Média de

4.99

de

5

estrelas, de acordo com

1146

avaliações de hóspedes
Insira as datas para ver o preço total. Taxas adicionais aplicáveis. Podem ser adicionados impostos.